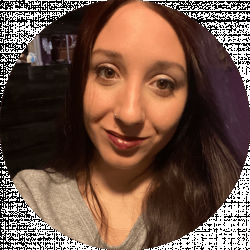 Latest posts by Stephanie Jensen
(see all)
Over the past 10-15 years, the craft beer scene in America blew up thanks to the myriad of breweries that opened. But what is a craft brewery? The Brewers Association states a craft brewery is a small and independent traditional brewing company. And you can find craft breweries in a myriad of different states.
I got into the craft beer scene in my early 20s. Ever since I tasted my first IPA, I was addicted to craft beer. As I got more into drinking quality beer, I learned that there are so many great breweries out there.
Do you want to try craft beer but aren't sure which brewery to try? Here are the top 100 best breweries in America.
I do first want to mention that though I may not like all of these breweries, they're still on this list because they're historic, are popular among locals, and/or received good ratings.
1. Samuel Adams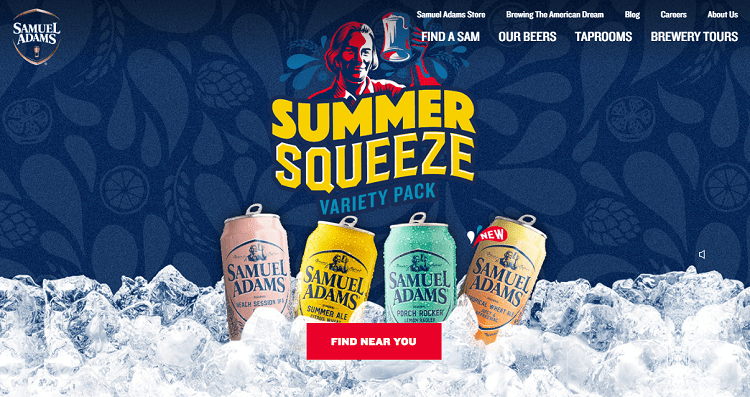 Okay fine, they're not a craft brewery and are way too much of a powerhouse to be considered a microbrew. But there's a reason why they're first on this list.
All of the beer they make is great, especially considering their commercial status. Believe it or not, I don't like the Boston Lager. But some of their beers, such as Cold Snap, are among my favorite beers ever.
Samuel Adams brews that we have reviewed:
2. Yuengling
Alright, this also isn't a microbrew. But c'mon, I had to include America's oldest brewery on the list. Yuengling is most famous for its lager — which is really the only beer I drink from this brewery. It's not the best lager I've ever had, but it's the one I grab if I'm at a dive bar that doesn't have many beer options.
Yuengling brews that we have reviewed:
3. Sierra Nevada
Okay, now I'm on the craft beer. Sierra Nevada has made a huge name for itself over the last few years. This was actually one of the first breweries I discovered when I was first getting into craft beer.
One of my favorite bars always had Sierra Nevada Pale Ale either on tap or in the bottle, and that quickly became my go-to beer for the longest time. I could be biased but I think it's the perfect pale ale. The hop content is impressive but it's also an easy-drinking beer.
SIerra Nevada brews that we have reviewed:
4. Bell's Brewery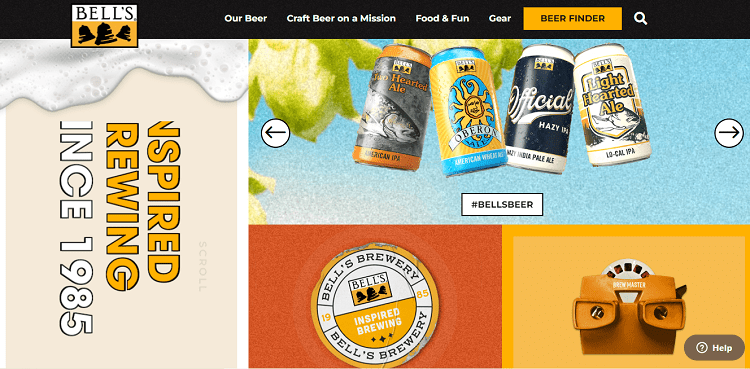 Bell's was another brewery I discovered when I was first getting into craft beer. I'm specifically a fan of their IPA; their Two-Hearted Ale was one I would always grab if I was at a bar or restaurant. Like Sierra Nevada, Bell's is becoming a household name but they also don't cut corners when brewing their beer.
Bell's Brewer brews that we have reviewed:
5. Shiner
Funny story. My brother lives in Austin, Texas. Yuengling recently started selling beer there and everyone there is going nuts. My question is: "why? You have Shiner!"
Shiner is another historic brewery, opening its door in the early 20th century. The brewery was founded by Bavarian brewer Kosmos Spoetzl, who traveled the world before landing in the small town of Shiner, Texas. There, he would make Texas history with his beer.
I could be biased but Shiner probably has the best bock beer you can drink in the US. The taste is beautiful — smooth like a lager but malty enough to give the beer more flavor. At the same time, the beer doesn't have a ton of hops or any other fancy flavors, so you can definitely down several of them.
I understand that Shiner doesn't make authentic bock beers. But at 4.5% ABV, they're light enough to chug and are better-tasting than Bud Light. It's a good thirst-quencher for the hot Texas heat. Plus, you can find Shiner nearly everywhere in Texas.
6. Southern Tier Brewing
Fall is my favorite time of year for many reasons — but specifically, so I can get Southern Tier's Pumking! Southern Tier was formed in 2002 and is from New York. In addition to its Pumking, they have delicious IPAs and pale ales. Every beer I've had from Southern Tier is very pronounced and has an excellent taste.
7. Victory Brewing
I have to be honest, Victory Brewing isn't one of my personal favorite breweries but I understand that they built a legacy in the craft beer industry. Some of its beers, such as Golden Monkey, have become classics.
Victory Brewery was started by childhood best friends, Bill Covaleski and Ron Barchet, who shared a love of home brewing. They formed Victory Brewery 26 years ago and have celebrated countless milestones.
8. Sixpoint Brewing
Surprisingly, this is a brewery I've never tried before. Apparently, their beers are good — not the best you've ever had, but still good. Sixpoint Brewery is based in the Brooklyn neighborhood of Red Hook.
They have been going strong ever since 2004. Today, their beers are widely available and you can find a variety of brews at this brewery, such as IPAs, Pilsners, and more.
9. Cigar City Brewing
I knew I had to include one of my hometown breweries in the top 10 list! I could be biased, but Cigar City is one of the best breweries I've ever tried. They use ingredients and beer styles that reflect both Cuban and Tampa culture.
Jai Alai was one of the first IPAs I've tried and is still one of the best IPAs ever. The hops are prominent but don't dominate the beer.
10. Oskar Blues Brewery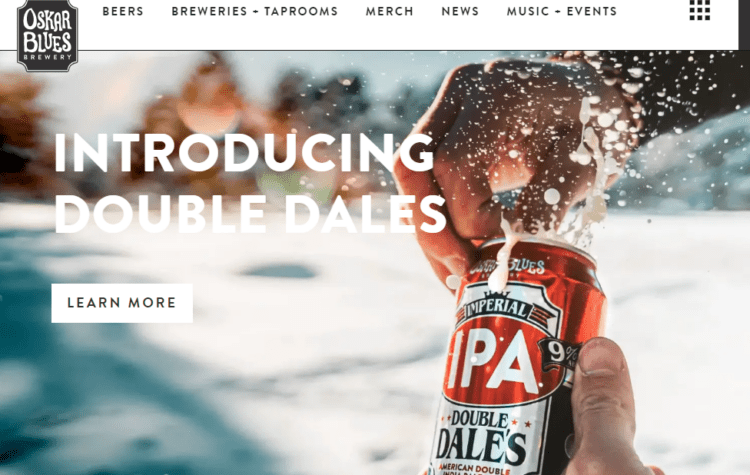 Oskar Blues is another well-known brewery that I've never tried before. Their beers received good reviews from websites like Beer Advocate.
Oskar Blues was formed in 2002 in Lyons, Colorado. Dale's Pale Ale is their most famous beer — a flavorful beer with a decent hop profile, but is balanced well with sweet maltiness.
11. Deep Ellum Brewing
I visited Dallas-based brewery Deep Ellum Brewing a few years ago. Since then, they have grown even more. I specifically remember enjoying the Deep Ellum IPA.
The IPA has a nice bitterness to it but is not too intense. It's the perfect IPA to enjoy with a meal. All of the other beers I've tried from this brewery are solid.
12. Sweetwater Brewing
Sweetwater is another one of the first breweries I tried when I was getting into craft beer. I actually visited Atlanta last year and went to the brewery, was an awesome experience and they also have good food.
My brother introduced me to the 420 Extra Pale Ale years ago. It's a flavorful beer with plenty of bitter hops but is still light enough to enjoy with a meal. It's also crisp enough as a summer beer. I always recommend this beer to anyone who wants an alternative to Sierra Nevada Pale Ale.
13. Stone Brewing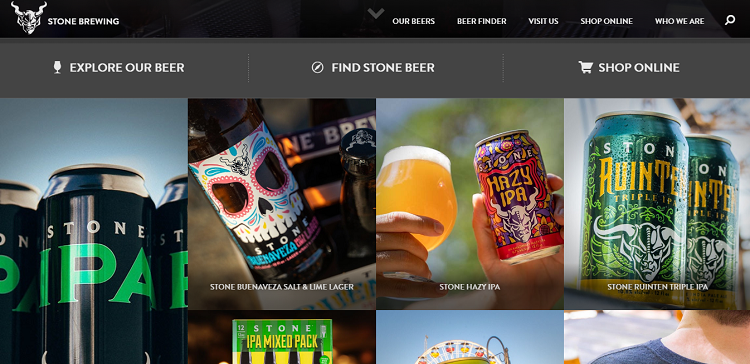 Stone Brewing is one of my favorite breweries of all time and it will always have a special place in my heart. My brother and I have tried pretty much every beer imaginable from this brewery, including all of their limited releases and "Best By" collection.
Their Stone IPA and Ruination Double IPA have always been my go-to IPAs. I've also watched Stone grow to a massive craft brewery and yet they still never change their beers or their image/branding. That's dedication right there!
14. Brooklyn Brewery
This isn't my favorite brewery of all time but they still deserve a spot on this list. Their brewmaster Garrett Oliver and his team have won awards for both their classic and experimental beer styles.
Out of all of its beers, I really like the Brooklyn Lager. It's called "lager" but is closer to an amber ale. The taste is very unique, a combination of sweet and hoppy.
15. Abita Brewing Company
Abita Brewing isn't my favorite brewery and all of the beers I had from this brewery are pretty weak, nothing special. But they're on my list since their beers are widely available and they're a common name in the craft beer industry.
After doing some digging into the brand, I realized I only had their famous beers. I'm reading that their amber (which is more like a Munich lager) is really good. I actually always liked this brewery's branding. Their beers have cool names (such as Purple Haze) and interesting artwork.
16. Three Floyds Brewing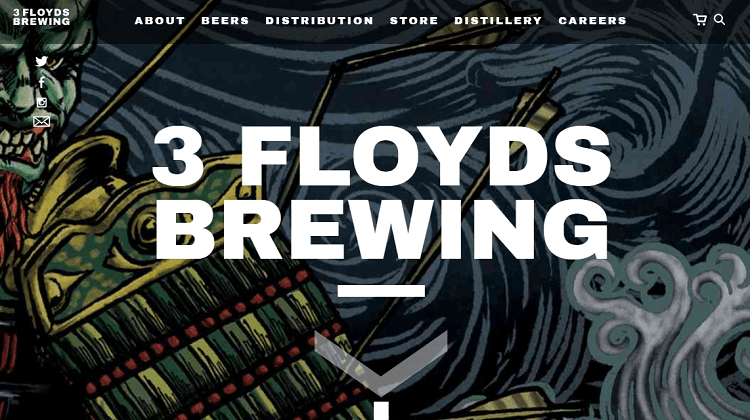 Okay, something is bothering me. I know this brewery but I haven't tried any of their beers. I think my brother likes this brewery and that's how I heard of them.
Anyway. I absolutely love this brewery's branding. They have awesome artwork and their beers have such cool names. Reading reviews, they have a variety of beer styles and they have a good taste. From what I'm reading, their beers are pretty widely available. I'll definitely have to try their beers when I see them!
17. Kona Brewing
My brother went to this brewery when he had his honeymoon in Hawaii. He had nothing but good things to say about this brewery. Their Big Wave Golden Ale is their most famous — I've had that and I like it. But my brother says they have so many other good beers and he said they're one of his favorite breweries now.
18. Ballast Point Brewing
Ballast Point is becoming a classic brewery. This brewery started in 1996 after a small group of home brewers started brewing beer together.
Ever since then, Ballast Point has strived to make beer with the best ingredients and different techniques. Funny enough, I've seen these beers everywhere but can't remember if I tried them or not.
19. Rogue Brewing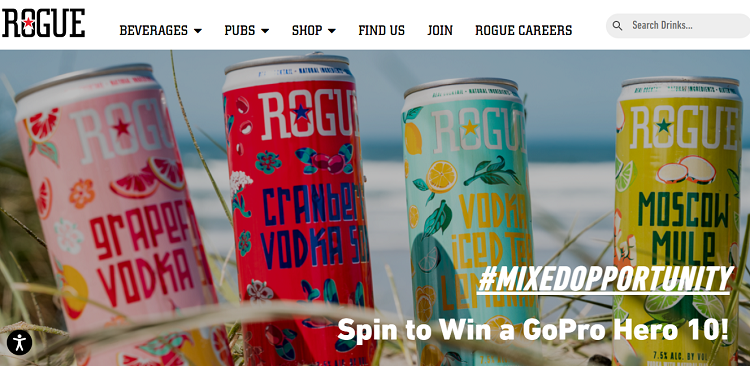 Rogue is another brewery that I've seen everywhere but I never tried their beers. In addition to beer, they also make canned cocktails, spirits, soda, and even CBD drinks.
From the reviews I'm reading, I'm reading different things. Some reviewers say that just about everything that Rogue makes is delicious while others say they're not a fan of the brewery.
20. Flying Dog Brewery
I've definitely seen this brewery and I know I've had their beer, just can't remember which one I tried. I love the branding and the artwork from this brewery — some of the art on their packaging reminds me of Salvador Dali's paintings. Taking a look at their website, this brewery has a variety of beer styles.
21. Revolution Brewing
Revolution Brewing is the largest independent brewery in Illinois. This Chicago-based brewery is one of the later breweries involved with the growing craft beer scene in the U.S. Since it formed in 2010, they have become a leader in the industry due to its innovative brews.
Their founder's story, Josh Deth, is very interesting. He started his career in the craft beer scene by getting a job cleaning tanks at a brewery (it's now closed). Since then, he worked at a variety of other breweries as a brewer. He dreamt of the idea of owning his own brewery.
The first couple of breweries he formed didn't work out, but he caught his big break when he founded Revolution Brewing.
I've had a variety of beers from this brewery and they all taste good. I would love to try more of their beers.
22. Saint Arnold Brewing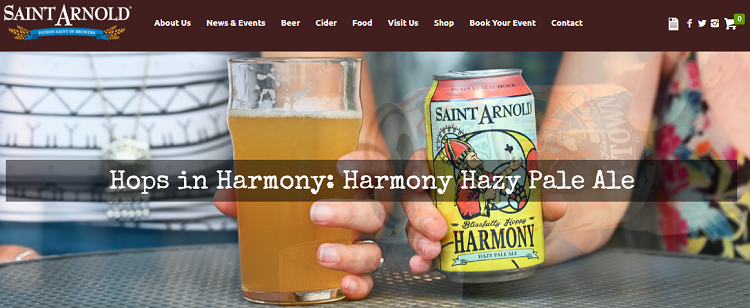 Saint Arnold is the oldest brewery in Texas. They opened their first location in Houston, a city that didn't have a microbrewery at the time, and they shipped their first keg of beer in 1994.
Founder and home brewer Brock Wagner had the idea when he was in college, but didn't form the brewery for seven years. I've never had this brewery but my friends in Texas say they have good beers.
23. Left Hand Brewing
I actually visited this brewery at its Longmont location when I visited my friend in Colorado. They have so many amazing beers, but the Milk Stout and the Peanut Butter Milk Stout are by far my favorites. I definitely recommend the Milk Stout if you're a bigger fan of coffee beers.
24. New Belgium Brewing
New Belgium brewing is okay. I can enjoy its classic Fat Tire if I need an easy-drinking beer and can't find anything else I like. If I had to choose a favorite New Belgium beer, I would have to vote for the Voodoo Ranger IPA.
It's more of an easy-drinking IPA and a good choice for those new to this beer style. However, the flavor is too thin for IPA enthusiasts.
I always did find this company's story interesting. New Belgium Brewing was founded by a couple. They were bike riding in Belgium and came up with the idea to form their own brewery.
25. Founders Brewing Company
Founders Brewing has so many good beers. Their Breakfast Stout is one of my favorites but I think their All Day IPA is their best beer. This beer just tastes great overall. A problem I have with IPAs is so many have strong ABVs. But this one is only 4.7%, so you can coast with a few of these.
26. Deschutes Brewery
I honestly can't remember if I had a beer from this brewery but I've definitely seen its packaging. I'm seeing mixed reviews of this brewery. Some reviewers say their beers are good but others are saying they were disappointed. This brewery still deserves a spot on this list because its beers are so widely available across the country.
Deschutes Brewery brews we have reviewed:
27. Green Bench Brewing
I had to mention another hometown brewery. For the longest time, Green Bench was my hangout spot. They have a spacious inside with a large, beautiful courtyard. They have hosted movie nights, concerts, and a variety of awesome activities here. Nearly every beer I've had here is awesome, but I'm the biggest fan of their IPAs.
28. Bierstadt Lagerhaus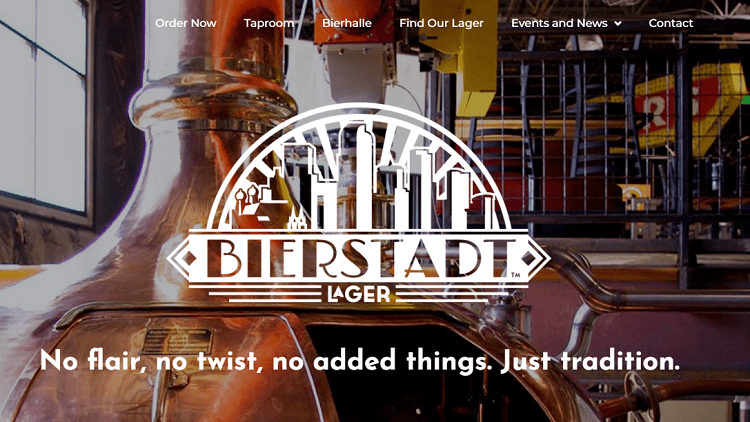 I actually never heard of this brewery, but I'm always down to support a traditional German-style brewery! They do the traditional slow pour with their Pils. You'll also be able to drink all the best German beer styles, such as Dunkel and Helles.
Don't worry, you don't have to go to Pilsen or Munich to enjoy any of these beers. Bierstadt Lagerhaus is located in Denver, a city that is home to so many other amazing breweries.
29. HOMES Brewery
Michigan-based HOMES Brewery is best-known for its sours, hazy IPAs, and tart IPAs. In addition to its variety of delicious beers, HOMES Brewery also makes Smooj, its own take on hard seltzer water. You can try their delicious flavors such as pineapple, lime, and coconut.
30. Kansas City Bier Company
If you're like me and love German-style beers, you'll love Kansas City Bier Company. This brewery brews traditional German beers, including dunkels, weizens, and German Pilsners.
The brewery even uses traditional brewing processes as well as ingredients from Bavaria. This company's goal is to create a comparable experience to the one you'll have in Munich. Their taphouse has indoor Beerhalle-style seating as well as a Biergarten.
31. Allagash Brewing Company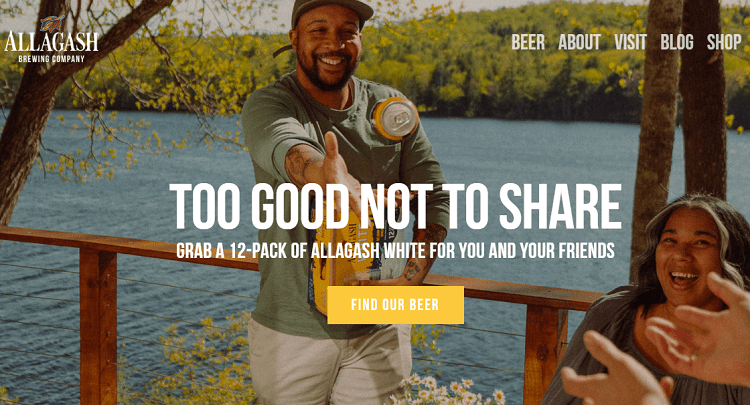 Allagash Brewing Company is a famous brewery located in Maine. They specialize in Belgian-style beers and you can buy their beers in a variety of places in the country.
If you're not sure which beer to try from them, I suggest trying the "Bring Your Own Adventure Variety Pack." This collection features four of their best ales and may inspire you to branch out more with their beers.
32. Lazy Magnolia Brewery
My stepdad loves Lazy Magnolia's Southern Pecan Brown Ale. I always try to get him this beer, but the local beer stores are often out.
In case you're not familiar with Lazy Magnolia, they're Mississippi's oldest brewery. Every beer holds southern traditions, such as the Grapefruit Radler and Good Bug Golden Ale.
33. Surly Brewing Company
Surly Brewing Company was formed 15 years ago. The owners were frustrated because they couldn't find high-quality beers in Minnesota. They started brewing their own beers as a response and later opened up their brewery. Before, taprooms weren't legal in Minnesota.
Surly Brewing took this to the state's Supreme Court, where they won their case. Because of this, pub culture is now a staple in Minnesota. In addition, you can find Surly Brewing beers in 14 states.
34. Schilling Beer Company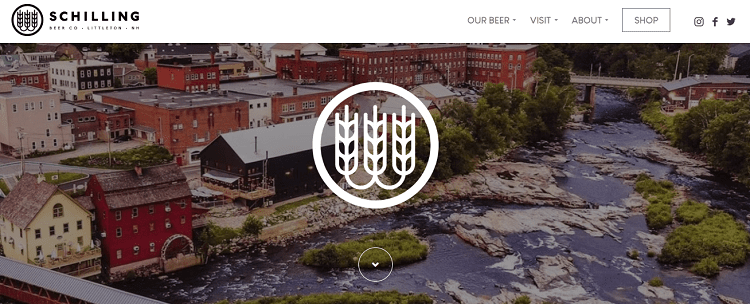 Over 15 years ago, the Cozzens family (the patriarch and his three sons) formed Schilling Beer Company with their friend, John Lenzini. The Cozzens wanted to find a way to commemorate their late grandfather, Dr. RJ Schilling, for who the company is named after.
Schilling Beer Company took inspiration from European beers and culture. If you're craving German and Czech beers in New Hampshire, you'll know which brewery to visit.
35. Troegs Independent Brewery
A group of family and friends in Hershey, PA shared a love of craft beer. So, they created Troegs.
My family is from a city not very far from Hershey and trust me, you can't find many craft beers in small-town Pennsylvania (Yuengling doesn't count).
My brother loves their Mad Elf beer, a holiday ale brewed with honey and cherries. What makes this company unique is they brew beers that they like, not conforming to anyone or letting someone else tell them which beers to make. The result is truly individualistic and authentic beers that you won't try anywhere else.
36. Tennessee Brew Works
If you're visiting Nashville, definitely make a trip to Tennessee Brew Works. In typical Nashville style, this is the best place to visit if you want good beers in live music. The deck is two stories tall — there's lots of room if you want to enjoy the night with a group of friends. Plus, Tennessee Brew Works also has good food.
But what about the beer? What I like about Tennessee Brew Works is you have lots of beer to choose from. Whether you're in the mood for a witbier or an amber ale, Tennessee Brew Works has a beer you'll enjoy.
37. The Alchemist Brewery

My boyfriend and his friends love traveling to Vermont to go brewery hopping. One of my boyfriend's close friends brought him back Heady Topper from this brewery and we both loved it.
What I really love about this brewery is the branding. All of the can designs are so fascinating — whoever does their artwork is amazing.
38. Mountain State Brewing Company
Mountain State Brewing Company was formed in 2005 by Brian Arnett and Willie Lehmann. Even though West Virginia now has many craft breweries, this is the oldest and largest company in the state. This brewery has three taprooms and even a location in Deep Creek Lake, Maryland.
39. Perennial Artisan Ales
I haven't tried this brewery yet but I've definitely seen their beers Apparently, I'm reading that all of their beers are fantastic with Sump Coffee Stout being one of the most popular. Perennial Artisan Ales is based in St. Louis, MO. They're an adventurous brewery, only brewing small batches of handcrafted beer.
This brewery also sources seasonal, local, and organic ingredients whenever it can. This is why their beers are so bold.
They have some of the most interesting beers, such as 17 (imperial stout brewed with mint).
40. Live Oak Brewing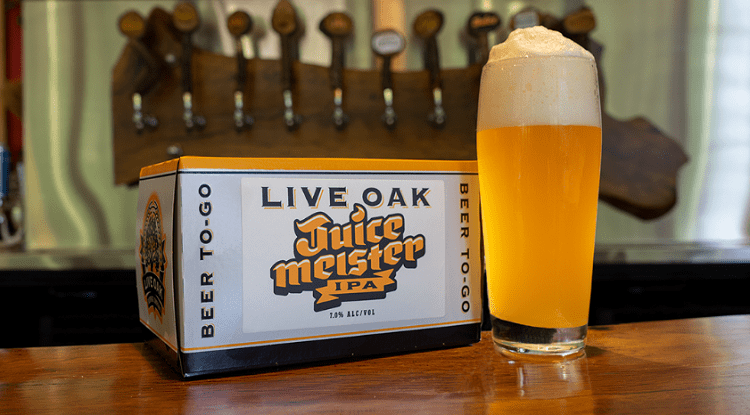 Live Oak Brewing is one of the best breweries I ever tried. They specialize in classic European beer styles and every beer I've had is perfect.
Live Oak Brewing is based in Austin, Texas, and was founded in 1997. I definitely suggest going to the brewery's taproom (it's close to the airport) and getting their fresh beer in the slow pour style.
41. Firestone Walker Brewery
I see this brewery everywhere but I've never tried their beers but I'm interested in trying some. I'm reading varying reviews about this brewery.
Some say their beers are mind-blowing while others are meh. Firestone Walker formed 25 years ago and is based in California. You can get their beers throughout the country.
42. Jester King Brewing
Jester King is a brewery I'm hoping to visit one day. They do more than make farmhouse beers — they are a farmhouse! They have goats and they grow their own produce.
And if they don't grow it, they use local ingredients. If farmhouse ales aren't your thing, Jester King also has a variety of other beers, including lagers, Belgian ales, stouts, and IPAs.
43. New England Brewing Co.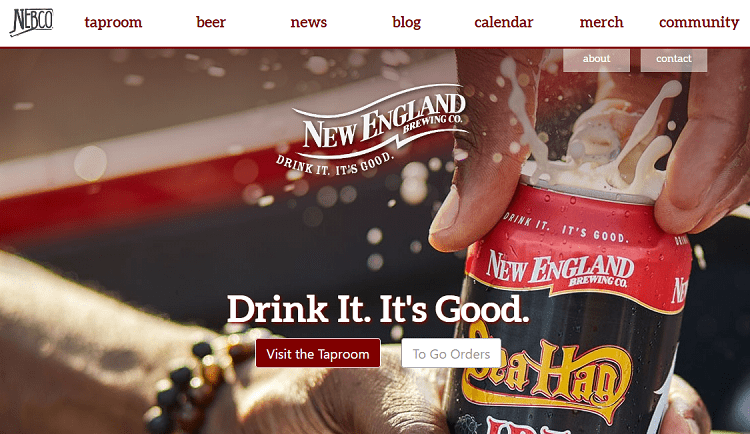 New England Brewing Co. is located in New Haven, CT. The founders had two reasons for brewing beer: passion and they wanted to see if they could brew the beer they wanted to drink. Since then, New England Brewing Co. has grown into one of the most respected craft breweries in the country.
Many of their beers get great reviews, but I'm reading a lot of hype about G-Bot. This is an imperial IPA. In typical New England style, it's hazy in appearance.
As an imperial IPA, this beer is sweeter than your traditional IPA. You get the orange and pine flavors from the hops but also some sweet flavors such as caramel. Even with the mix of flavors, the beer is crisp and well-balanced.
In addition to G-Bot, New England Brewing Co. offers a wide range of beers, from a couple of Berliner weiss beers to strong Belgian ales.
44. Coppertail Brewing
I didn't want to make this list biased. If I did, the first 10 breweries would be in the Tampa area. In all honesty, Coppertail would be number 1 on this list. But I had to list a few other breweries in the country, so I decided to give them a chance to shine.
In all honesty, I've never had a bad beer from Coppertail. If you're in Tampa and find their beers in cans, you'll likely see the Free Dive IPA or the Night Swim Porter, which are two of their most popular beers. Both are absolutely delicious.
If you can, I suggest visiting their taproom. They brew so many types of beer and they all taste amazing on the palate. They also have good food, though the last time I went, they have been out of jackfruit.
45. Cycle Brewing
I have to promote another Florida brewery. Cycle Brewing is a little brewery located in downtown St. Petersburg. I first discovered this brewery around 10 years ago.
DTSP used to have shows all the time and I would stop in Cycle before a show for a good before (and maybe another beer after if they were still open). Ever since I discovered them, they have been growing fast.
I don't know the history of Cycle too well, but I'm reading the owner, Doug Dozark, used to work at Cigar City. Out of all of their beers, the Cream and Sugar, Please Stout is my favorite. It tastes like a good cup of morning coffee, with some malt and chocolate added to the mix. I suggest drinking it fresh on tap.
I also like the Crank IPA. It has plenty of citrus flavors with floral hops. Overall, it's a very nice IPA that I'm sure everyone will love. Cycle Brewing also has other beer styles that anyone will love.
46. Boulevard Brewing Co.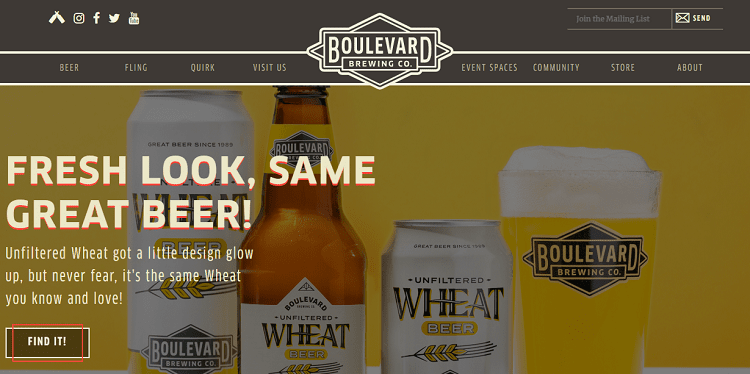 Boulevard Brewing Co. has been growing ever since it opened its doors in the mid-80s. If you find yourself in the Kansas City area, definitely make a stop at this brewery. The taphouse offers a deck and games. This brewery also offers beer tours.
This Kansas City, Missouri brewery is best known for its Boulevard Pale Ale. As a pale ale, it's sweeter rather than hoppy. You'll immediately get a taste of citrus, fruit, and even caramel.
Even though it's sweet, it's an easy-drinking beer. This is a good option if you're new to craft beer or just want a light beer.
Boulevard Brewing Co. brews that we have reviewed:
47. Funky Buddha Brewery
I had to name another Florida-based brewery! Funky Buddha actually started off as a hookah and tea bar, but they expanded to brewing beer. Located in Fort Lauderdale, Funky Buddha has been offering high-quality beers ever since 2013.
I have to be honest, I know I tried beers from this brewery, but I can't remember which ones. I feel like I tried the Hop Gun IPA, though. Looking at their beer selections, the Vibin' Groovable Helles Lager stands out to me.
Let's first cover the Hop Gun IPA, since that's a fan favorite. It's an east coast IPA, meaning it's more on the hazy side. This IPA has a diverse flavor profile, consisting of grapefruit, caramel, and pineapple. However, these flavors are all balanced for a well-rounded IPA.
Unfortunately, the Vibin' Lager didn't receive as good of reviews. I'm reading that though it does have that sweet and biscuity taste from the German malts, it doesn't really taste like an authentic Helles.
48. Russian River Brewing
Russian River Brewing was formed in 1997 and actually started off as a winery before expanding to beers. This brewery is located in Santa Rosa, California but also opened up a second location in Windsor.
They offer high-quality beers, especially Pliny the Elder. It's an imperial IPA that's well-balanced in traditional west coast style. It offers piney and earthy hops that are balanced by malts.
Its brother, Pliny the Younger, is a triple IPA that features fruity and earthy hops. Even though this beer is brewed with malt, it's definitely a hop-heavy beer. But because of the various hops used, the taste is more complex as opposed to just bitter. It's still too intense for a novice, so I suggest trying Pliny the Elder if you're looking to expand when your typical IPAs.
Read also: Comprehensive Guide to Triple IPAs.
49. Four Peaks Brewing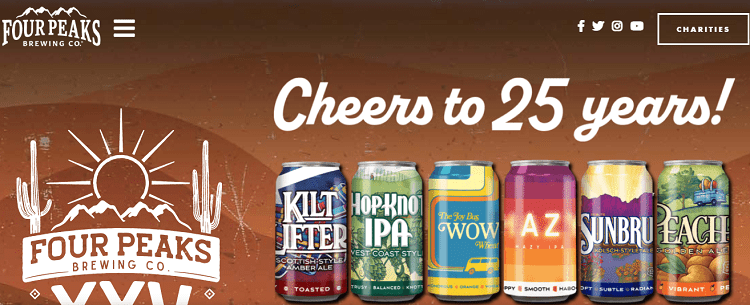 Four Peaks Brewing is one of the most unique breweries I've ever seen. It started as a brewpub in 1997, then expanded to recording and even starting a creamery. Four Peaks is located in Tempe, Arizona, and has two locations in the area.
Four Peaks Brewing is best known for its Kilt Lifter Scottish Ale. It is a dark amber ale. With its malt and fruity content, it's on the sweet side. This is definitely a beer for those who like wine and for anyone who wants a different brew.
50. Harpoon Brewing
A family member actually gave me a shirt from this brewery!
This Boston-based brewery has a variety of amazing brews. It's most famous for the Harpoon IPA, which is a solid take on the classic beer style.
I'm also reading great things about their seasonal Harpoon Winter Warmer, which is an amber ale brewed with nutmeg and cinnamon. While it's known as a winter ale, the delicious spicy flavor is perfect for any time of the year.
They even teamed up with Dunkin Donuts to create the Dunkin Boston Kreme Stout, a milk stout with notes of vanilla and chocolate. However, it got more bad reviews than good, specifically because the earthy hops clashed with the sweet notes.
51. Anchor Brewing
Anchor Brewing is credited with being the first craft brewery in all of America. The brewery traces its origins back to 1871, founded by German immigrant Gottlieb Brekle. However, the first bottled beer from Anchor didn't emerge until one century later.
Anchor has a few core beer styles. The Anchor Summer Wheat beer is on the soft side, featuring subtle notes of lemon and citrus. The Pilsner malts and floral hops balance out the citrus notes. It's a refreshing and smooth beer, good for the season.
52. Lagunitas Brewing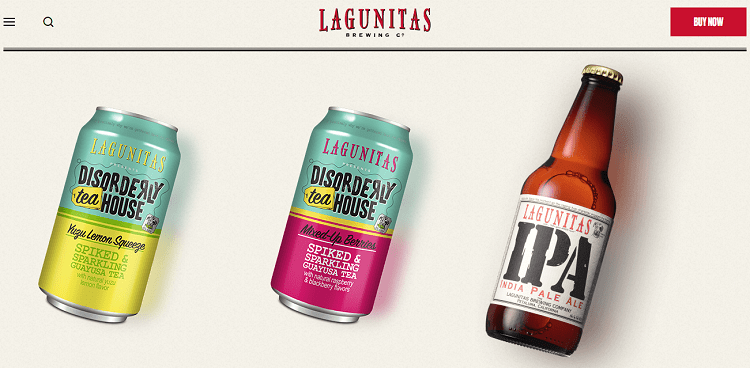 Lagunitas is a brewery founded in the mid-90s and is based in northern California. This was one of the first breweries that I discovered when I got into craft beer.
Their IPA was always a favorite of mine, though I also love A Little Sumpin' Sumpin' Ale. Lagunitas IPA is a great choice for those new to IPAs. While it's hoppy, it has an impressive malt content, so it's well-balanced.
Lagunitas Brewing brews that we have reviewed:
53. Dogfish Head Brewing
Dogfish Head was another brewery I discovered when I first got into craft beer. This brewery has been in operation ever since the mid-90s and is one of the biggest breweries in the entire country.
The Delaware-based brewery became first known for brewing beer with unusual ingredients and for its high-ABV beer styles.
For example, they made headlines with the 17% ABV Bourbon Barrel-Aged Fruit-Full Fort. It's brewed with four kinds of berries and also offers other notes, such as vanilla and caramel. You definitely get the sweet taste of berries and gourmand notes, almost like you're drinking a chocolate raspberry.
However, I know Dogfish Head for its classic IPAs. For example, the 60 Minute IPA is one I still grab. For an IPA, it has a crisp taste. I can easily drink it with a meal.
54. Odell Brewing Co.
Doug Odell formed his namesake brewery after working at Anchor Brewing in the 1970s. In the late 80s, he moved to Colorado and started Odell Brewing. While its growth was slower than other breweries, you can find Odell beers in 19 other states.
I've definitely seen these beers but haven't tried any of them. They have a diverse beer selection and just about all of them received good ratings, so I'll definitely grab an Odell beer next time I see them around.
55. Schells Brewery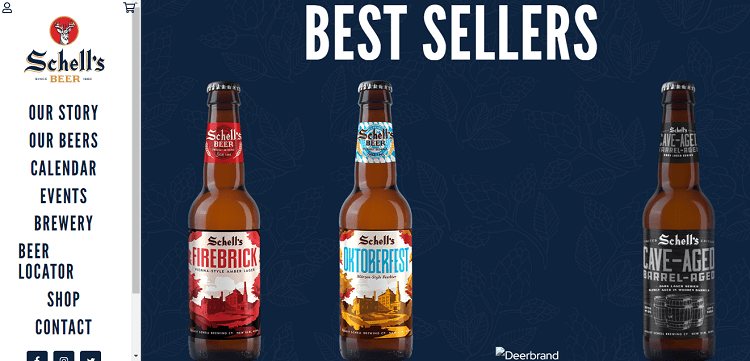 This is another brewery I see everywhere but haven't tried yet. I'm actually reading that this is another historic brewery, founded by German immigrant August Schell in the 1860s.
This brewery is known for its classic German beer styles, such as its Oktoberfest and Bock beers. Today, it's the second-oldest American brewery, right behind Yuengling.
56. Alaskan Brewing Company
Alaskan Brewing Co. is a brewery that has been operating in Juneau ever since the mid-80s, the very first brewery that opened in the area ever since Prohibition. Its amber ale is a favorite among its drinkers. It's a little fruitier than the amber ales I prefer, but it does have a decent malt content.
57. Rhinegeist Brewing
Rhinegeist is one of the newest breweries on this list, opening up its doors in 2013. However, their beers are becoming popular, and this brewery grows every year. The Truth IPA is especially highly rated. It's a smooth beer and has a great taste.
58. BrewDog Brewing Company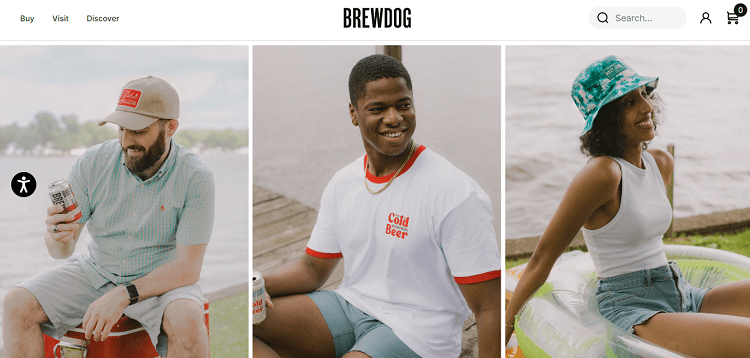 BrewDog Brewing was actually originally based in Scotland and has since moved to Canal Winchester, Ohio. I've definitely seen the Punk IPA before.
It's a hazy-fruity IPA balanced with biscuity malts and pine hops. You get fruity notes of lemon, grapefruit, and banana. Even with all of these flavors, it's a light-bodied and smooth IPA. As a session IPA, it's very drinkable.
59. Toppling Goliath Brewing Co.
I've seen these beers around — never tried them but was always curious. Apparently, they're extremely popular. I'm even reading that people travel far to get their hands on a Toppling Goliath beer. They're also credited with being one of the best breweries in the Midwest.
60. Shipyard Brewing Co.
Shipyard also has a decent pumpkin ale. If I can't get my hands on Southern Tier's Pumking, I grab the pumpkin ale from Shipyard. It has a rich pumpkin taste with the right amount of spice.
It's a solid beer and is perfect for a fall day. This brewery, originally called Kennebunkport Brewing Co., is one of Maine's first brewpubs. This brewery formed in the early 90s and you can get their beers in 40 states.
61. Fremont Brewing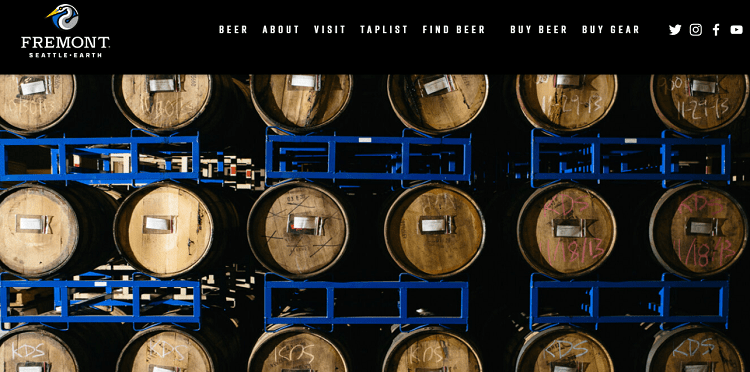 This Washington state brewery is the second-biggest that The Evergreen State has to offer. I like this brewery because they locally source all of their ingredients and use sustainable brewing practices.
From what I'm reading, they make good beers. Some of their brews are very unique, such as the 12 Hops of Christmas. I often don't think of IPAs when I think of Christmas beers.
62. Elysian Brewing Company
Featuring the last brewery reminded me that I haven't mentioned the biggest brewery in Washington, Elysian Brewing. I've only had the Space Dust IPA, which is their most famous beer. It's decent, but not the best I've had. It's hoppy but crisp, more of an everyday IPA rather than an amazing one.
63. Creature Comforts Brewing Co.
Even though this brewery started in 2014, they already made a name for itself. They have a wide variety of beer styles and nearly all of their beers got excellent ratings, though I'm reading their beers are best enjoyed on tap.
64. Five Boroughs Brewing Co.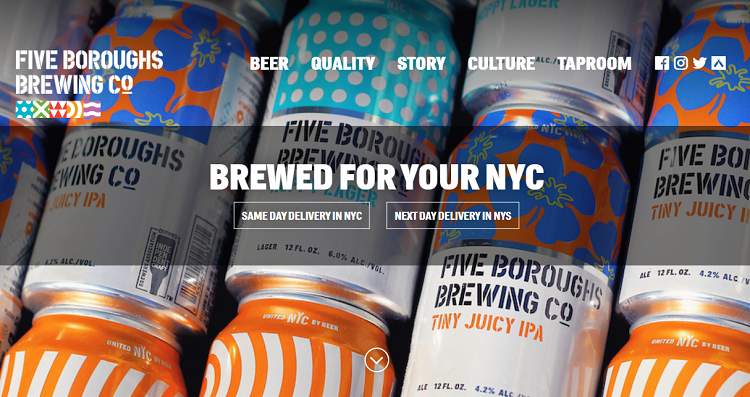 I was just in New York City so the next few breweries I will mention are based in NYC. I had the Tiny Juicy IPA from this brewery. I've been really into session IPAs lately. Before, I wanted the hoppiest beer with the highest ABV. Now, I'm more interested in drinking an IPA with a good taste without getting wasted.
Tiny Juicy IPA is a great starter beer. It's well-balanced with a combination of floral and citrus notes. It's a smooth-tasting beer that's simple yet solid. I hope to try more beers from this brewery!
65. Talea Beer Co.
I had three beers at the NYC LaGuardia Airport, and this beer really got me wasted. But this is probably one of the best examples of a hazy IPA that I've ever had.
It has plenty of fruity notes such as melon, pineapple, and kiwi. Overall, it's a very well-crafted tropical hazy IPA with plenty of hop notes. I also hope to try more beers from this brewery.
66. New Holland Brewing
If barrel-aged beers are your thing, I suggest trying New Holland Brewing. This Holland, Michigan-based brewery was formed in 1997 by Brett VanderKamp who realized his hometown needed some quality beers. Today, they're one of the most innovative breweries and own multiple locations.
This brewery is most famous for its Dragon's Milk Stout, a bourbon-tasting dessert stout that boasts notes of cherries, chocolate, and coffee.
If you want to take this classic beer to the next level, New Holland barrel ages this signature recipe and re-releases it in new forms. The Brandy Barrel-Aged variety had very positive reviews.
Because it was aged in brandy barrels, the beer takes on more oak notes as well as vanilla, chocolate, and coffee. This barrel-aged variety tastes similar to the original but adds more complexity. Many reviewers were saying this is one of the best barrel-aged beers they tried.
67. Pelican Brewing Company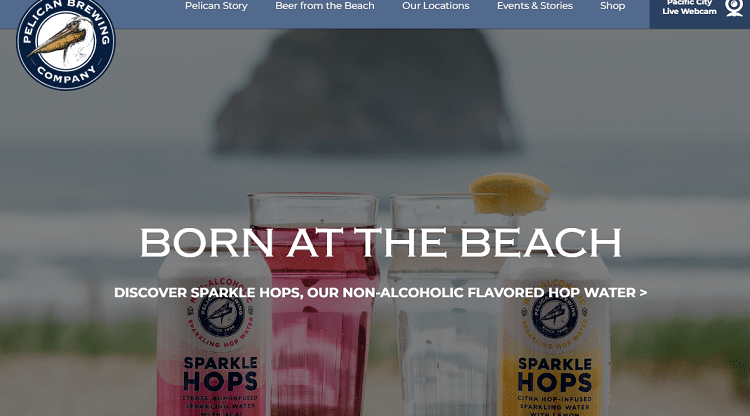 If you're on a trip to Oregon, you'll want to visit this brewery. Not only does Pelican Brewing Company make good beers but their brewery is steps away from the beach. If you want to visit a beach brewery with good vibes and drink beers that don't disappoint, this is definitely the brewery for you!
Out of all of their beers, the Kreamsicle IPA is one of the highest rated. I love creamsicles, but I can't help but wonder what this dessert-style IPA would taste like.
Would it be delicious or taste weird? I'm reading that the orange notes dominate the beer, with sweet malts and piney hops catching the tongue.  It's a light-tasting IPA, good for a beach beer.
68. Lost Coast Brewery
Lost Coast is an award-winning brewery located in Eureka, California. I find this brewery's history very interesting. The brewery's founder, Barbara Groom, used to sell Avon but always loved brewing beer.
She took six years to transform her love of brewing beer into a successful business. Since then, Lost Coast Brewery has become extremely popular.
If you visit their taphouse in Eureka, you'll drink only fresh beers. They also make high-end beers at affordable prices, which is something I support.
I'm reading the best reviews about the Imperial Stout. You'll get tastes of cocoa, caramel, and coffee with a luscious mouthful. Their Hazy IPA also got high ratings. For an IPA, it's drinkable but still bitter. Still, the beer is balanced and tasty.
In addition to a variety of beer styles, they also make nonalcoholic beer.
69. Great Lakes Brewing Co.
Great Lakes Brewing Co. was started by two brothers. The company was founded in Ohio City, a place that hadn't seen a high-quality brewery in several years. After three decades, Great Lakes Brewing Co. makes exceptional beers and still attracts customers who want innovative and adventurous brews.
Out of all of their beers, the Edmund Fitzgerald Porter is one of the most popular. You get tastes of coffee and chocolate but also tobacco. It's won dozens of awards and scored 94 on Beer Advocate.
70. Humble Sea Brewing Co.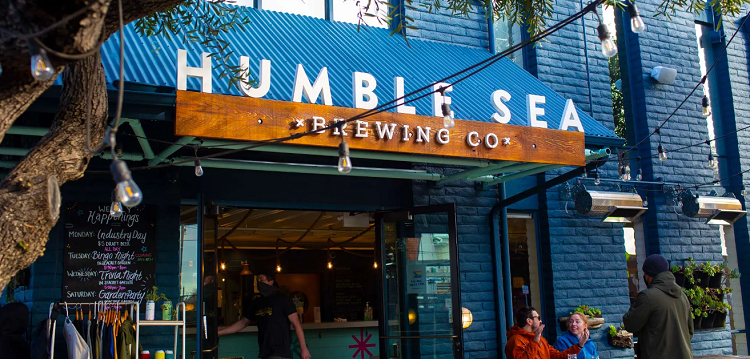 First, I have to say I love this brewery's branding. The logo is a little hammerhead shark! Every other aspect of the brewery's branding and the vibe is very typical of surf California culture. There are other fun aspects to this brewery. If you visit the brewery's taproom, you'll enjoy your beers while close to the beach.
But how are the beers? I'm reading that you should visit this brewery if you want some of the best lagers in California. Their Helle Gud Helles is especially very popular.
71. New Glarus Brewing
New Glarus Brewing is a husband and wife brewery operated in Wisconsin. They produce a variety of popular beers, and their farmhouse ales are especially sought after. Their Spotted Cow Farmhouse Saison has a very Belgiany taste that's light-bodied and crisp. It's a subdued Saison, good to drink as a summer beer.
72. Stevens Point Brewery
Stevens Point is one of the oldest breweries in the country, brewing its first beer in 1857. Even for a historic brewery, they're down toward the bottom because their beers lack taste.
Their beers are great easy-drinking beers or are good beers to have with food. But to enjoy by itself? Their beers are pretty watered down, you'll find better breweries on this list.
73. Minhas Craft Brewery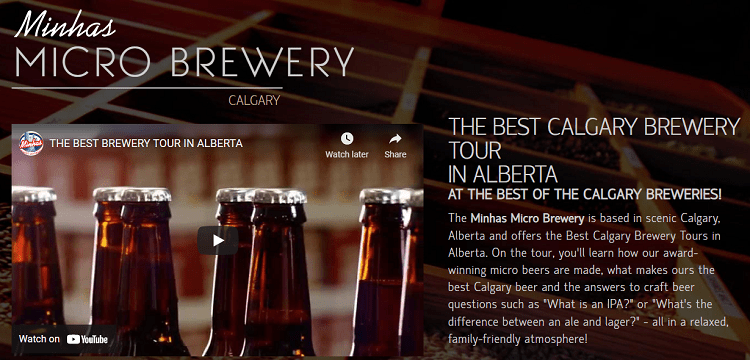 Minhas Brewery is Wisconsin's oldest brewery, opening its doors in 1845. It's located in the historic city of Monroe (best known as the cheese capital of the world). Keep in mind that it has another location in Calgary, but we're focusing on the Wisconsin location here.
It's best known for making Huber Bock, one that you often find at dive bars in the Midwest. It's not the best Bock you'll ever drink. Best to get if you want a cheap beer.
74. Summit Brewing Co.
Summit Brewing Co. is based in Saint Paul, Minnesota, and opened its doors in the mid-80s. It's often called the most underrated brewery in the country. Reviewers have said this brewery often produces pretty tasty beer, but some styles are better than others.
For example, they have a Cabin Crusher Kolsch that's brewed with lemon. The prominent lemon notes make this beer taste more like a shandy than a traditional Kolsch. Nonetheless, it's a good pick if you want a crisp summer beer.
75. Georgetown Brewing Co.
This Seattle-based brewery's slogan is "darn tasty beer." And as the largest independent brewery in Washington State, it seems like it lived up to that name. The brewery is relatively young — founded in 2002. But since then, they have focused on making great beers and giving back to the community.
76. Narragansett Beer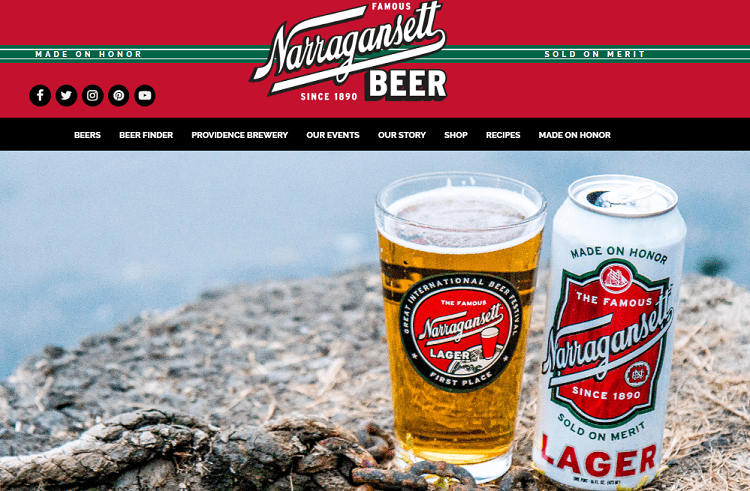 This brewery has an interesting history. They originally opened in the late 19th century but closed down in the 1980s. The brewery was resurrected in the mid-2000s and has become even more successful. They produce a variety of great beers in all different styles, from stouts all the way to farmhouse ales.
77. Long Trail Brewing Co.
Long Trail Brewing Co. was originally called Mountain Brewers and was formed in the late 80s. In the mid-2000s, the brewery moved to Bridgewater Corners, Vermont, and changed its name. Today, they're one of the best-known breweries in Vermont, and they're a favorite among locals.
Long Tail Brewing creates a diverse set of beers, and they're all decent. This is definitely a brewery to visit and drink their beers fresh.
78. 21st Amendment Brewery
Before I review this brewery, I want to start with a little history lesson. The 21st Amendment ended prohibition and repealed the 18th amendment.
I'm reading mixed reviews. This San Francisco brewery is popular among locals, but I'm also reading their beers are meh. Let's take the Hell or High Watermelon Wheat Beer as an example. Reviewers are saying it doesn't have a watermelon taste, but it is a sweeter ale. But it's still a good summer beer.
Because it's a popular San Francisco brewery, I'm mentioning it on this list. But I also suggest researching other breweries in the Bay Area first.
79. Ninkasi Brewing Company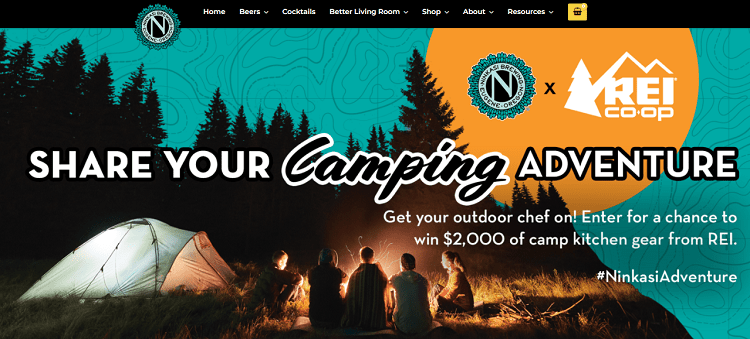 Ninkasi Brewing started when Jamie Floyd developed a passion for brewing beer. He befriended finance professional and beer enthusiast, Nikos Ridge.
When Nikos tried Jamie's beer, the two discussed opening up a brewery. They named their brewery Ninkasi after the Sumerian Goddess of Fermentation. They produced their first beer in 2006 and have been growing ever since.
Ninkasi Brewing is located in Eugene, Oregon, a college town. Jamie and Nikos strived to create an atmosphere where friends can connect over a pint of beer. Since they're now known as one of the largest craft breweries in the country, it's safe to say that this company accomplished its goals.
80. Modern Times Beer
Modern Times is a new San Diego-based brewery that opened its doors in 2013. Even though this is a young brewery, they have been on a steady rise ever since. You can find their beers nearly anywhere on the west coast and they own several brewery locations.
81. Montauk Brewing Co.
Montauk is the newest brewery on this list, only opening its doors in 2021. You can find its can throughout New York City, and nearly all of its beers got good reviews.
82. Oozlefinch Beer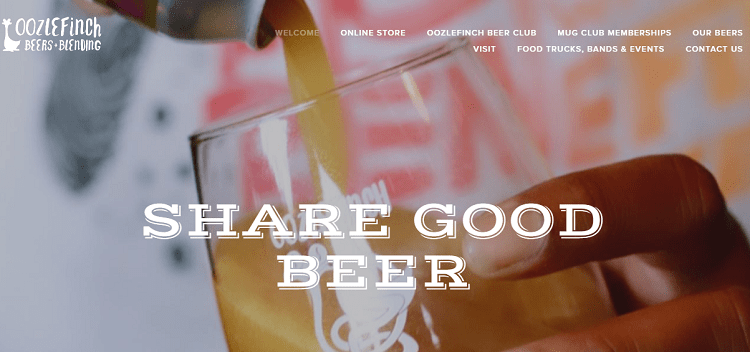 Do you want a good beer while visiting a haunted location? If so, you'll love this Virginia-based brewery. Plus, the location is dog-friendly. Located on a Civil War army base, this brewery is best-known for its sour beers. Even though this brewery is gaining traction, it's often considered a hidden gem in the craft beer world.
Let's take the Astro Poppin' beer as an example. This is a fine example of the sour style, combining the flavors of cherry, pineapple, and passion fruit. It's a more dessert style than your typical sour, with notes of graham cracker.
One reviewer described the taste as a cherry muffin. It's a full-bodied and creamy beer, though it has a nice tartness.
83. Weathered Souls Brewing Co.
I'll have to ask my brother about this brewery. He goes to San Antonio a lot and has gotten to know their beer scene as well as Austin's.
Weathered Souls is relatively new. It was founded in 2016 and has quickly become one of the best-known breweries in the area. You can find their cans throughout the area, and they produce a variety of beer styles, though their West Coast IPA is one of the most popular picks.
They have also gained traction for their Black Is Beautiful Stout which has since been known as one of its best beers. The Black Is Beautiful Stout was brewed to raise awareness of the injustice that affects people of color.
84. Hoof Hearted Brewing
I've never tried their beers, but I absolutely love the fun artwork on their cans. I'm also seeing the Columbus, Ohio-based brewery gaining more traction throughout the country. If you want to visit this brewery, they have two locations in the Midwest.
I also love the names, such as the $120 Nachos Imperial IPA. This beer is described as strong and features a combination of herbal hops and fruity notes. Still, the beer has great balance and seems popular among its fans.
85. Tripping Animals Brewing Co.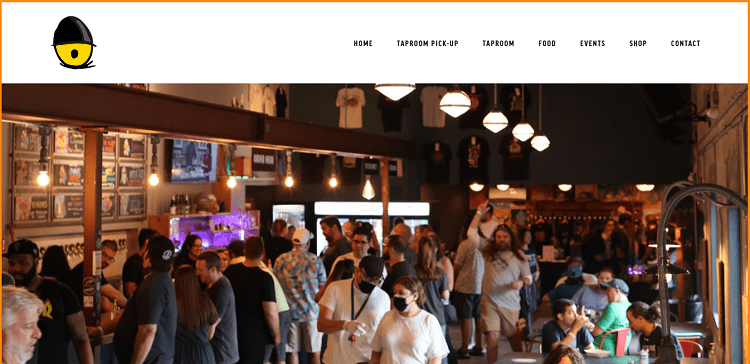 I never heard of this brewery. They're based in Doral, which is a little far from where I live. Doral is a city outside of Miami and is nicknamed "Little Venezuela."
The brewery is known for its silly can artwork featuring various high animals. If you visit the brewery, I'm reading it welcomes a wonderful sense of community and is quickly becoming a Florida favorite.
86. Other Half Brewing Co.
Other Half Brewing Co. started as a popular neighborhood brewery in Brooklyn. Now, they're on their way to becoming an east coast powerhouse. It also opened its second location in Washington D.C.
Formed only in 2020, this brewery already has its core favorite beers and less-hyped styles. The $100 Soft Serve is a good example. It's a sweeter version of the typical wild ale style, but it's still a very good-tasting beer.
87. The Eighth State Brewing Company
I wish I had known about this brewery before. I used to date a guy who lived in South Carolina, not too far from Greenville (where this brewery is located).
I couldn't find any beers I liked in South Carolina. Reading up on this brewery, it received high ratings on Untappd. It is a small brewery, but they have 20 beers on tap. Eighth State Brewing has a wide variety of beers but is known for its stouts.
88. Our Mutual Friend Brewing
Our Mutual Friend Brewing is based in Denver. I visited Denver a few years ago and absolutely loved it. I had some great beers there, but I missed this brewery. Our Mutual Friend Brewing offers a diverse beer selection, from wild ales all the way to pale ales.
I'm also reading that no matter what you drink, all the beers that this brewery makes are high-quality. But I'm reading exceptional reviews for the Time's Arrow West Coast IPA. It's more complex than your traditional west coast, with flavors of honey, grapefruit, pineapple, and pink peppercorn.
The beer features pine hops with hints of sweetness from the malt. Even with this melange of flavors, it's still a crisp IPA and is an overall sohttps://asb.beer/lid beer.
If you're in Denver, make it a point to visit their taproom — I wish I did! Apparently, it's a taproom that harnesses community. The staff will treat you well. The brewery also contributes to charity, working with organizations such as the Colorado Name Change Project.
89. Alvarado Street Brewery
If you're looking for a brewery in Carmel-by-the-Sea, look no further than Alvarado Street Brewery. This brewery produces everything from classic pale ales to imperial IPAs.
I'm honestly not a huge fan of pale ales, but I'm even reading excellent reviews for their 38 Miles Pale Ale. It's a hazy pale ale with spicy hops and biscuity malts. Even with these complex flavors, it's still a crisp beer.
90. TRVE Brewing
TRVE Brewing is an awesome Denver brewery inspired by metal music. I tried their beers when I was in Denver, and I was definitely impressed.
I can't remember which beers I had, so I'm reading reviews from various beers they did. It honestly doesn't seem like this brewery can brew a bad beer and they're hailed as one of the best breweries in the entire state.
As a metal-inspired brewery, its logo and artwork are all inspired by extreme metal bands. I'm a massive fan of heavy metal music, so this branding really speaks to me. If you make it out to Denver, definitely visit this brewery. It's a cool place, and they always have good music playing.
91. Brouwerij West Craft Brewery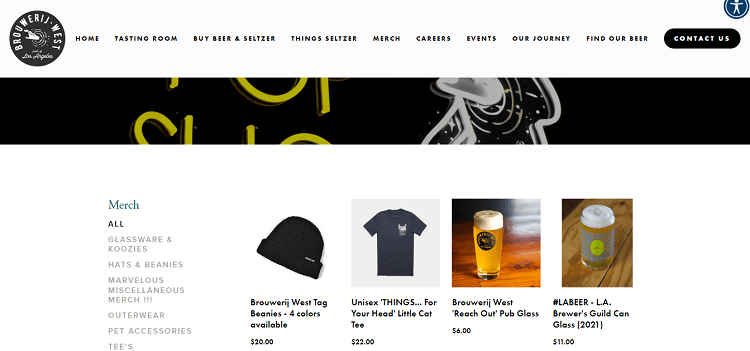 "Brouwerij" is Dutch for "brewery". However, the historic Los Angeles Waterfront is this brewery's home. This brewery has many good beers, but I'm reading the best reviews for its Picnic Lightning IPA. It's packed with hops, so this is no beer for a novice. But the beer is well-balanced with sweet malt and fruit flavors.
92. Notch Brewing
If you want Czech and Bavarian beers but don't want to cross the pond, then check out Notch Brewing in Salem, Massachusetts. They focus on classic styles, such as the Czech Pilsner, but still keep their brews innovative.
Their beers don't skimp on flavor, though I am reading that some of their beer styles may go too overboard with the innovation.
For example, they produced an Altbier in the Dusseldorf style, which is usually in the bitter range. However, Notch brewed a Dusseldorf Altbier that's sweeter. I'm still reading their beers are good, even if they're a bit too experimental.
93. Genesee Brewery
Genesee Brewery is another historic brewery, founded in 1878. But what makes this Rochester brewery stand out is its distinct all-American beer styles.
Their Cream Ale especially became popular in the 60s, inspiring a wave of breweries to make this beer style. Genny's Cream Ale has been enjoyed for generations and is still popular today.
94. Bad Martha Beer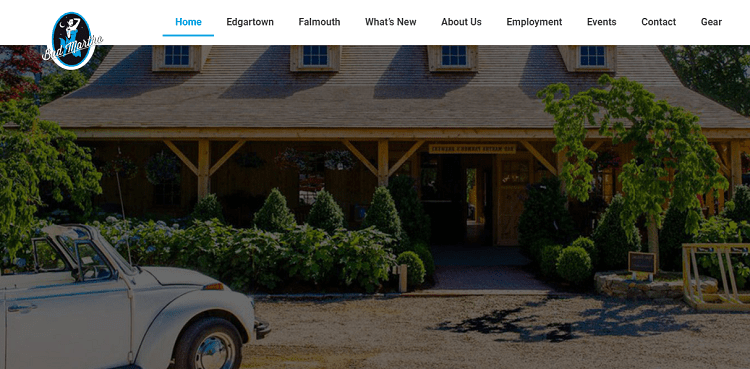 Do you want to go to Martha's Vineyard but like beer more than wine? If so, be sure to stop in Bad Martha. All of their beers are delicious and are the perfect accompaniment to the picturesque views of Martha's Vineyard. The brewery especially has a beautiful garden, filled with various plants and flowers.
Not a beer drinker? Bad Martha is still a good destination to add to your vacation. They have food, host live music, and have outdoor games.
How are the beers? The brewery received a score of 80 on Beer Advocate and is often considered one of the best breweries in the country.
95. The Good Society Beer
The Good Society is a small Seattle-based brewery. Even as a small and relatively new brewery, they have won awards such as a gold medal at The Great American Beer Festival for two years in a row. They regularly donate to non-profits in their community.
But what's their beer like? They don't have many beers, but from what I'm reading, the beers they do have are pretty epic. For example, their Bridge Out Stout is a decent beer if you want something on the sweet side. This brewery also seems to have an impressive food menu.
96. Boxing Bear Brewing Company
Boxing Bear is a brewery based in New Mexico and is known for inciting the beer scene in the entire state. Some of their beers, such as the Chocolate Milk Stout, have won awards. And I'm reading that all of their other beers are great.
97. Bissell Brothers Brewing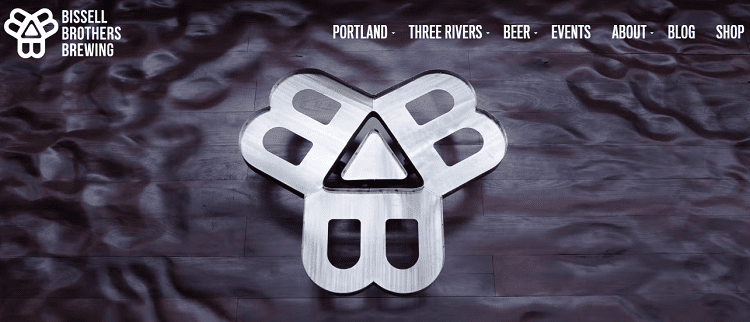 Bissell Brothers is a company that started because they wanted to bring craft beer to the people of Maine. Today, you can find their beers nationally and even internationally.
The brewery becomes more popular with every beer they release. While you can find their beers nearly everywhere, I'm reading it's best to take a trip to the brewery if you're in New England.
As a Maine-based brewery, this company excels in making New England IPAs. They have so many and they're all really good. They also offer more than hazy IPAs, such as German Pilsners and imperial stouts.
98. Cloudburst Brewing
Cloudburst Brewing was co-founded by a former brewer at Elysian Brewing. Today, the brewery has won multiple awards such as The Great American Beer Festival's Brewer of the Year and the bronze medal for the World Beer Cup American-Style Pilsner.
Cloudburst Brewing has only been around for six years, but they're known as masters of their craft.
99. City Built Brewing
City Build Brewing is a brewery based in Grand Rapids, Michigan, a city known for its high-quality breweries. City Built Brewing is only getting more popular, with plans to expand its brewery.
All of their beers have a huge taste. That's because this brewery uses unique ingredients such as exotic fruit and various spices. Some of their beers also have an insane ABV. For example, the 13 Hour Stout has an ABV of 15%!
This is also a great brewery to visit if you have the munchies. Founder Edwin Collazo is of Puerto Rican descent, and the brewery's food menu reflects the local cuisine. One look at the menu and I see yuca fries, tostones, and pastelillos. They also have plenty of vegan options, which makes me happy.
100. Dovetail Brewery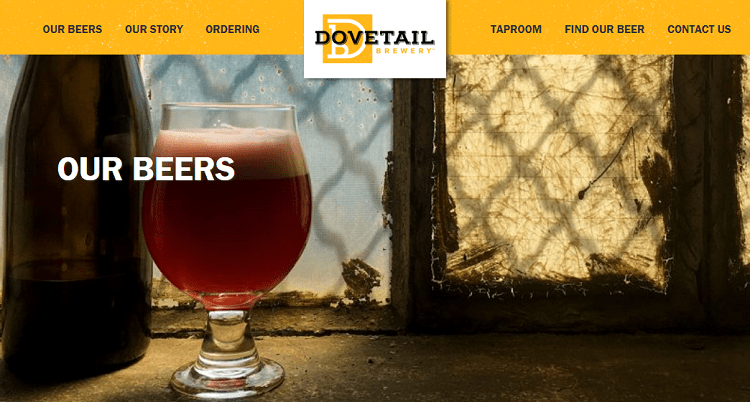 For this last brewery, I wanted to include one that was truly unique. Dovetail Brewery brews beer like the monks did. Dovetail was founded by Hagen Dost and Bill, two American brewers who met in Munich while working toward their Master Brewer Certifications at the Doemens Institute.
They bonded over traditional brewing methods, which inspired them to create Dovetail Brewery in Chicago.
Today, they're one of the most celebrated breweries in the entire country. They offer a range of European-style beers, such as the Helles, Hefeweizen, Kolsch, Rauchbier, and Grodziskie.
I am reading that you can get better beers if you go to an authentic German brewery, but this is probably one of the better breweries in America that offer these traditional styles.
FAQs
Question: What's the most popular beer in America?
Answer: Yuengling Lager is the most popular beer in the U.S., followed by Samuel Adams Boston Lager and Sierra Nevada Pale Ale.
Question: Which state has the most breweries?
Question: What's the best U.S. city for beer?
Answer: Even though California has the most breweries, Portland, Oregon is credited as being the best beer city in the entire country. The city alone has 85 breweries. The next best beer cities are Denver, Colorado, Cincinnati, Ohio, and Richmond, Virginia.
Question: What's the most popular beer style?
Answer: Even if the world of IPAs and stouts, the lager is still the preferred beer style. So much so to where 87% of beers in the U.S. are lagers. The larger name beers, such as Budweiser and Corona, are all lagers. But you can get so many better lagers from the craft breweries mentioned in this list. Even Yuengling has a good lager if you can't find any craft beers.
Bottom Line
With so many breweries in the U.S., it's difficult to choose a favorite. As far as a beer you can find virtually anywhere, Samuel Adams is usually my go-to. This is a nationwide powerhouse brewery, but they make great beers (though I'm not a fan of Boston Lager).
But as far as craft breweries and microbreweries are concerned, I usually choose Cigar City, Coppertail, or Live Oak. For smaller breweries, I definitely suggest Cycle.
I discovered craft beer about 10 years ago, but I'm still discovering new breweries and beers every day. I have a long way to go in my beer adventures, but I hope this list helped out your beer adventure.
Check out these brewery guides if you are visiting: