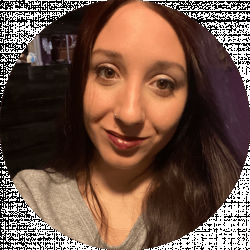 Latest posts by Stephanie Jensen
(see all)
Local craft beer in Chicago is only becoming more popular. And it's no wonder why — Chicago is a hub for everything creative and innovative. This is why the Windy City also attracts tourists, and enjoying Chicago's craft beer scene is a great way to explore the city.
Are you planning a trip to Chicago? Or do you live in Chicago and are looking for brewery recommendations? Chicago is home to some of my favorite breweries, such as Dovetail and Revolution Brewing. Here are the best breweries in Chicago that you should check out!
Bottom Line Up Front
Revolution Brewing is the Chicago brewery that I recommend the most. Even though their craft beers are available all over the country, they have some of the best quality brews in the city. They're also a local favorite, and the brewery is accessible by the transit train, perfect for tourists who prefer public transportation.
My Top Picks at a Glance
Tips When Finding a Chicago Brewery
I will be recommending quite a few Chicago breweries. To find the best one for you, check out my advice to find the best brewery.
Research the Company and Staff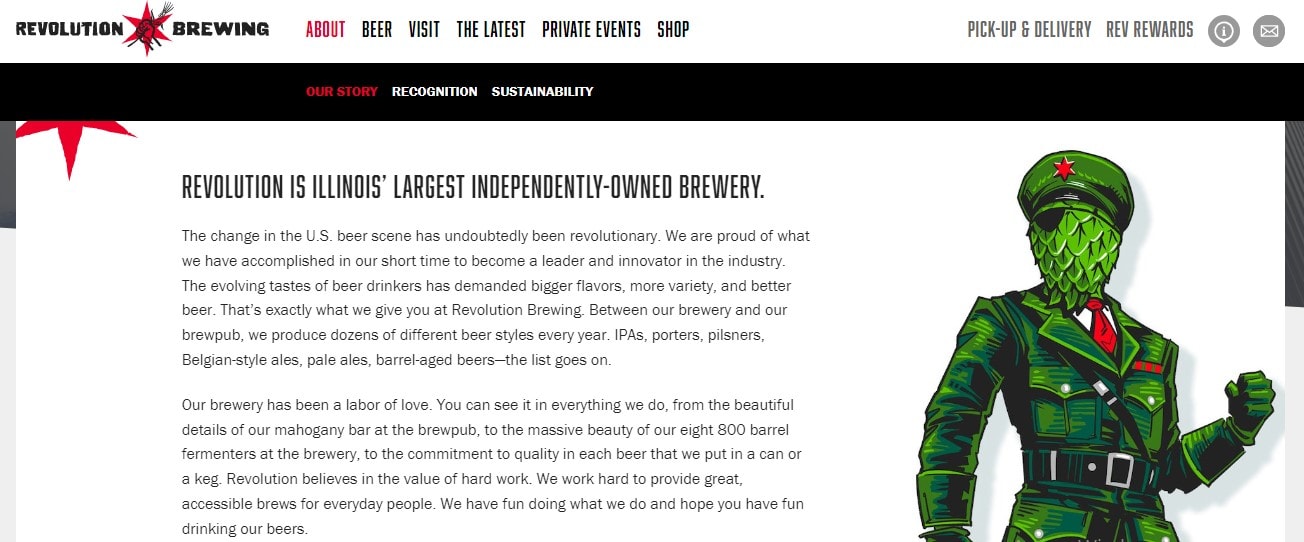 Before visiting a brewery for the first time, do a quick Google search of the company. Take a look at their website and read some reviews. This will give you a better idea of the company and if this is a brewery that you would like to support. Many people don't consider company reputation when choosing a brewery; my brother works in the craft beer industry and has come across some businesses with less-than-perfect practices, to put it lightly.
When reading reviews, pay attention to what people say about the staff. A brewery should hire employees who are also craft beer lovers and can recommend the best beers. It's a plus if the employee can offer information about the brew, such as the types of hops and malt used in the beer. This will tell you that the company hires quality employees and trains them well.
Cost
Craft beer isn't as cheap as PBR, but it is still not crazy expensive. On average, I spend about $7 on a beer. I know this still sounds expensive to some people, but I would rather spend more on a few good beers than chug low-quality brews. You shouldn't spend much more on that; if you do, a high ABV should match the higher price.
If you can, research how much the brewery charges. Most breweries won't offer prices on their website, but you can search Yelp for accurate pricing.
Close Proximity to the City
If you're visiting Chicago, you're probably not driving unless you rent a car. When I travel, I always research where a brewery is. Bonus points if I can walk there or take public transportation, but I always look for a brewery that's a short Uber ride away. I have been to breweries that are far and worth the trip, but these breweries may not be the most convenient options.
Beer Options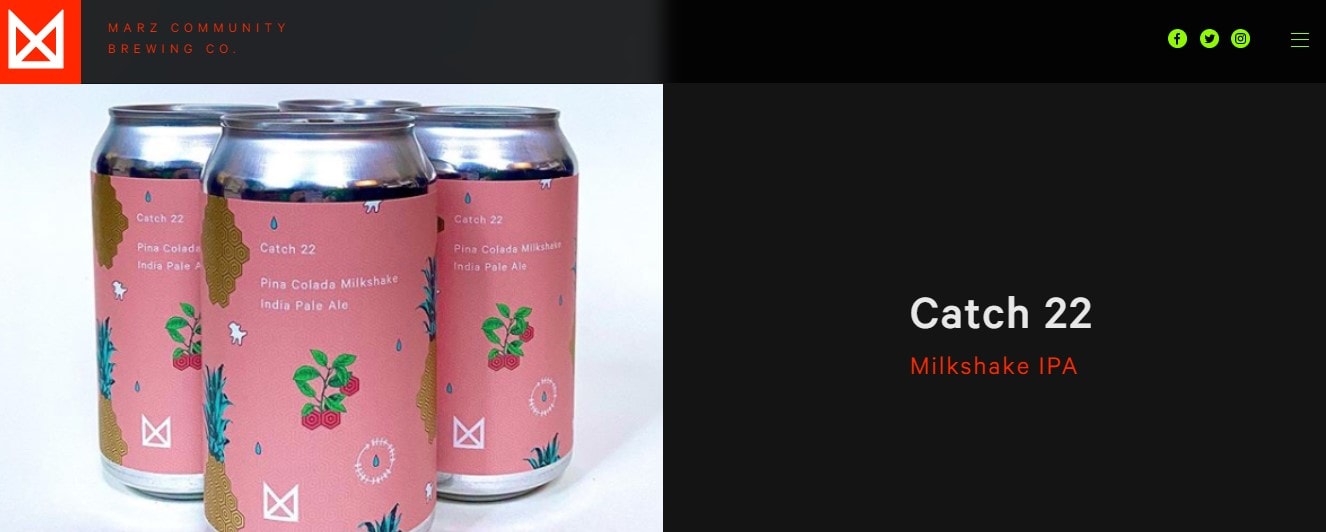 Ideally, a brewery should have a plethora of beer options. It is common to find breweries specializing in one type of beer, but I prefer breweries with various options. For example, I like IPAs but don't want to drink IPAs all night. If you're unsure which beers a brewery sells, look up their website and see what's on tap.
How I Chose These Breweries
Many factors I considered for this list are ones I already mentioned in the last section. For these breweries, I looked at the price of the beers, the brewery's reputation, how long they have been in business, staff reviews, different types of beer brewed, and if the brewery and beer received good reviews.
I also considered other factors. For example, I prioritized breweries that sold cans and bottles at their location. I understand not everyone wants to sit around a taproom and drink. If you're the type who would rather bring some beers back to your hotel room, I found some breweries that can accommodate this preference.
My Favorite Chicago Breweries
Are you ready to discover the best craft beer in Chicago? Here are my favorite Chicago breweries.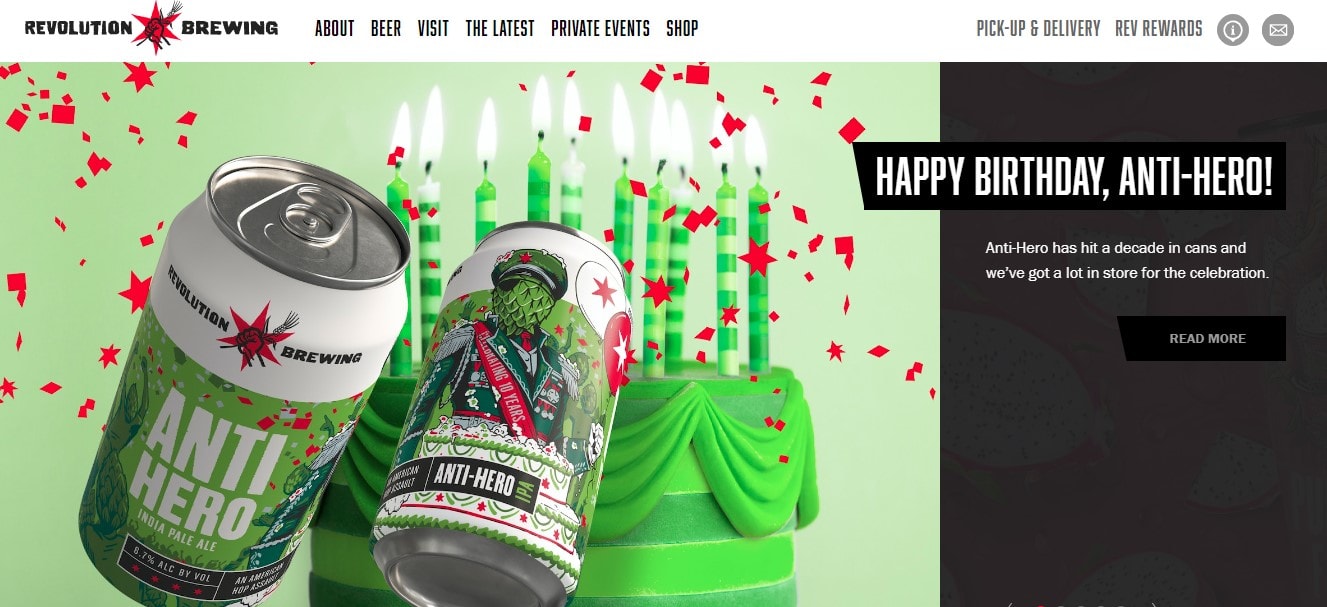 Revolution Brewing is one of my favorite Chicago breweries. Their beers are sold in various states, so you will likely recognize this brewery and its beers. Revolution Brewing was founded under a different name in 2010. Today, they are Illinois' largest independent craft brewery. Their Anti-Hero IPA is one of their most famous beers, and their Freedom line is also popular. They have a massive draft list and also sell canned beers.
If you're not sure what beer you want, don't hesitate to ask the staff members. They're all very helpful and can recommend some great beers.
In addition to its beers, Revolution Brewing also sells food. I see some popular pub favorites, such as pretzels and burgers, but they also have a brunch menu. No matter what you get, their food is some of the best you can get from a brewery.
Pros
Excellent staff
Diverse beer selection
All of their beers are high-quality
I'm a big fan of their artwork
Great food
Big brewery, but they're a local favorite
Cons
Reading that this isn't the most disabled-accessible brewery
Some customers had trouble reserving a table in the past
Revolution can get busy, so it may take a bit to get service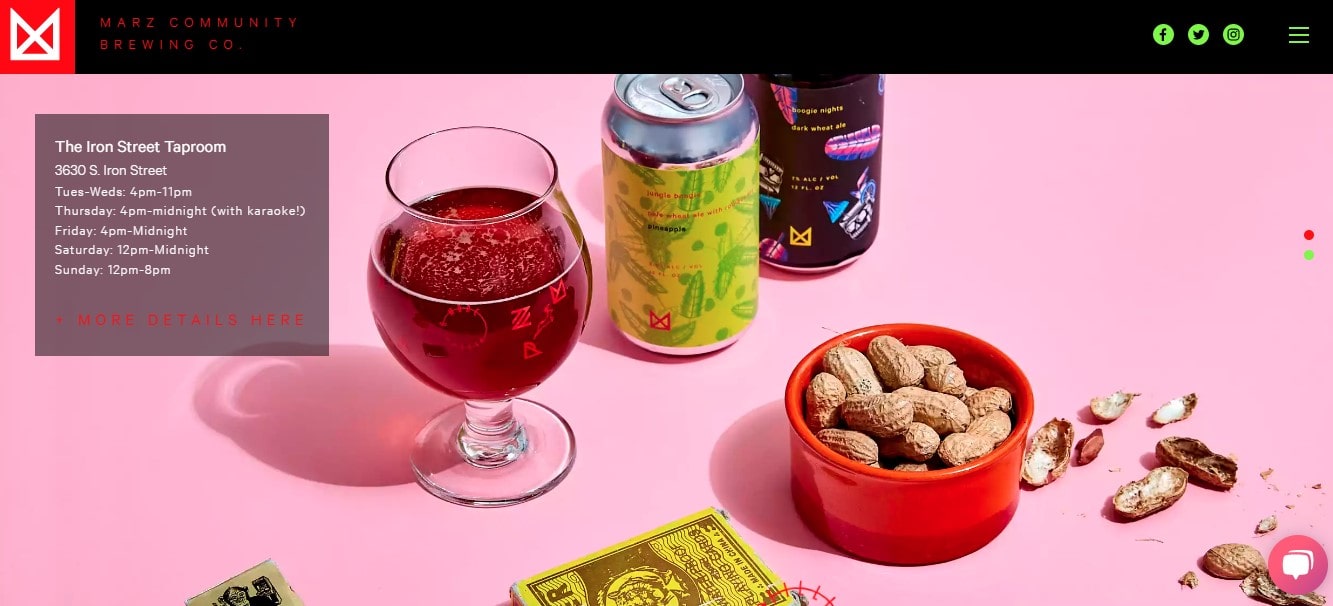 Marz Community Brewery is one of the most unique places in Chicago. This brewery offers arcade games, making this a fun place for all the adults who are kids at heart. Plus, they have cool art in their taproom. I appreciate good art, so this is a massive plus for me.
But I like Marz Community Brewery for another reason. They specialize in experimental brews that you won't find anywhere else.
Let's take Blueberry Jungle Boogie as an example. Jungle Boogie is a wheat beer made with wheat and grain mixed with caramel. Rooibos tea is also added to the mix, finished with blueberry. Some other popular brews include Marz Motel, an exciting take on the classic NEIPA. In addition to a complex hop profile, Marz brews this NEIPA with fruit notes, such as pineapples and berries.
No matter what beer you get, you'll find a brew that was made in a socially responsible and sustainable way.
My only problem with Marz Community Brewery is its food menu. They only serve pizza, and they don't have vegan options. The food menu on their website doesn't work well at all. I like to look at a restaurant's food menu before entering their establishment, so this isn't the place I would visit if I wanted food with my beer.
Pros
Unique and experimental beers
All of their beers have a bold flavor
Different beer types and styles
$7 for a pint, which isn't terribly priced
Lots of great art
Fun arcade games
Cons
A little out of the way
No vegan food options
Their staff didn't get the best reviews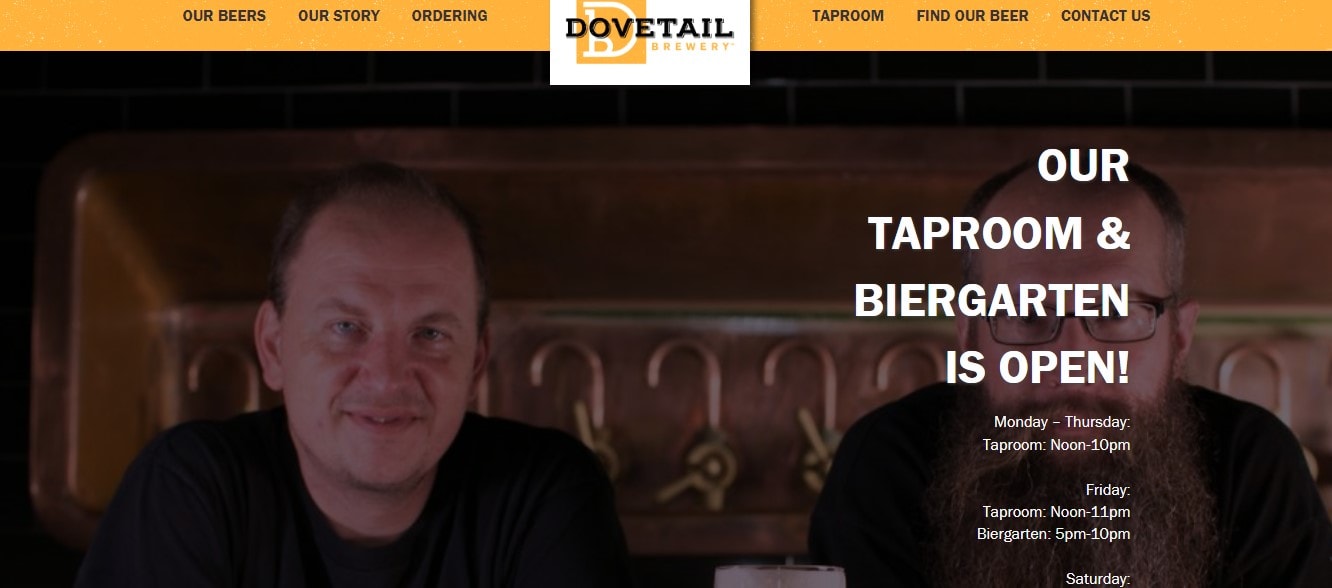 If you're looking for traditional monk beers in Chicago, this is one of the breweries I recommend. This award-winning brewery is best known for its Lager, Kolsch, and Hefeweizen. The two founders met in Munich while they studied at the Doemens Institute for their Master Brewer Certifications. Both founders knew they wanted to take traditional beers and recipes back to Chicago.
But don't think you'll only drink European beers here. They also experimented with their barrel-aged and spontaneous beers, so this brewery still offers beer for everyone.
You'll likely have some questions if you're unfamiliar with traditional monk beers. Fortunately, the staff here is super friendly and helpful. You can sit in the taproom, and they also have a large Biergarten. This brewery is child-friendly, and they allow animals outside.
Pros
Great classic German beers
Traditional beer hall atmosphere
Brewers studied in Bavaria, so they brew authentic German beers
Award-winning brewery
Do offer barrel-aged and spontaneous beers for those who don't like traditional lagers
Cons
Biergarten isn't ideal for those cold Chicago winters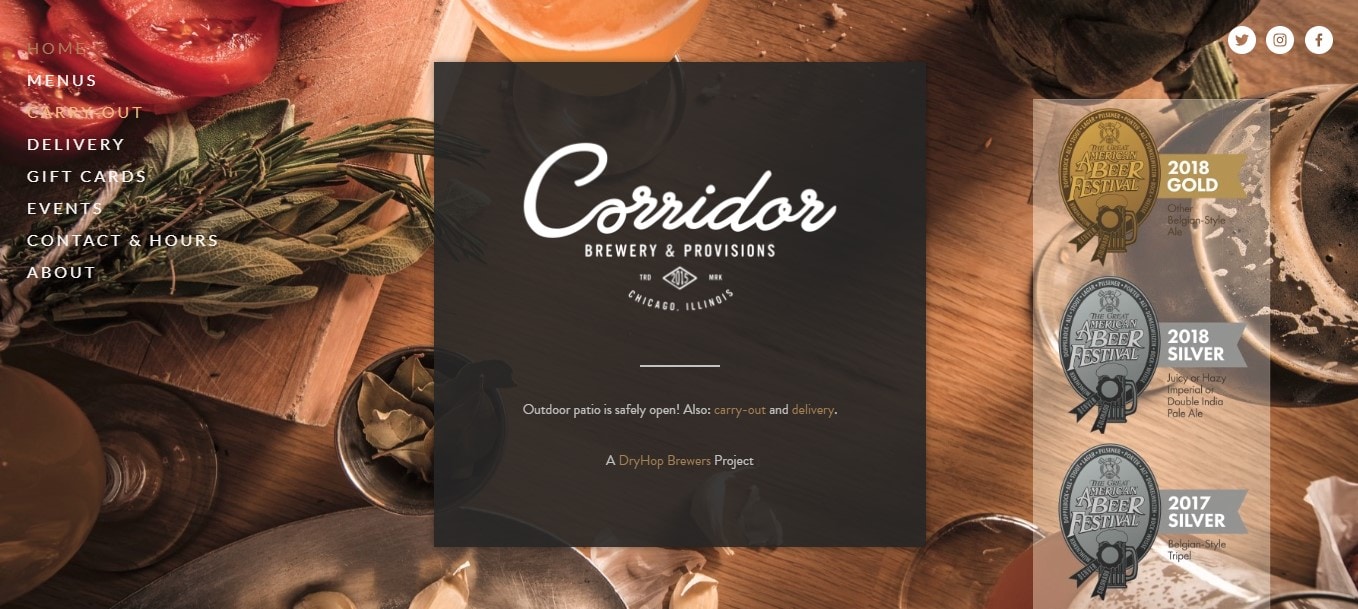 Corridor Brewery & Provisions aims to offer high-quality beer and food under the same roof. This award-winning brewery brews nearly every beer type imaginable — from a classic American IPA to traditional bocks. They also have an impressive seasonal list; I'm writing this during the fall, and they have pumpkin beer on tap. Corridor also has wine and cocktails if you're not a beer drinker.
Some sources compare Corridor Brewery & Provisions to Jester King in Austin. I've been to Jester King before, and they're one of my favorite breweries. Jester King specializes in farmhouse ales, and I do not see these beers from Corridor. However, they do have a delicious pizza menu like Jester King.
Their food menu is one of the best I've seen from a brewery, featuring artisanal and homemade dishes with locally sourced ingredients. They also have a whole brunch menu. I'm not seeing many vegan options, but some dishes, such as the black bean burger, can be ordered without cheese.
Corridor has a great location in the West Lakeview neighborhood, with many tourist attractions and activities nearby. You can also reach the brewery by public transportation.
There are some downsides to Corridor. The taproom is small and can feel crowded, but it's still quiet. There still is an option to sit outside if the taproom is too crowded. They're also a little more expensive than the competition.
Pros
Great beer and food
Outside seating option
Award-winning brewery
Diverse beer selection
They also sell wine and cocktails
Cons
Complaints about rude staff members
Small and crowded taproom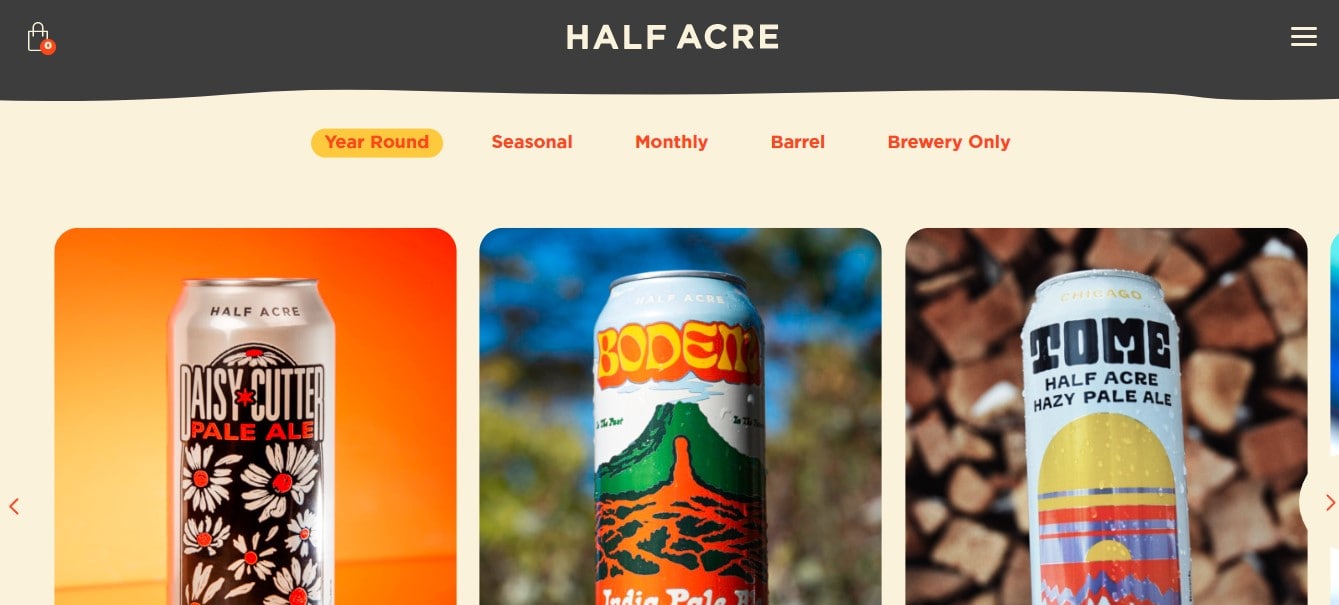 Half Acre Beer Company was formed in 2006, making them one of the first to lead Chicago's microbrew movement. Their beers are available outside Chicago, though they brew draft-only beers. Even if you can find Half Acre beers in your local area, I suggest checking out their taproom for some of these draft-only brews.
I like how Half Acre offers a large taproom plus outdoor seating. Even though their taproom is huge and popular, it's still quiet. Half Acre allows you to bring animals, though I'm unsure if they're only allowed on the patio.
They're famous for their pale ale Daisy Cutter and Pony Pilsner, though I suggest checking out their seasonal and monthly beers, such as the Beer Hates Astronauts IPA.
There are some issues with this brewery, notably its food menu. Their food menu is lacking, and they hardly offer vegetarian and vegan options.
Pros
Large taproom and outdoor area
The taproom is still quiet, even though this is a popular brewery
Animal-friendly patio
Huge beer list, including rotating seasonal and monthly beers
Diverse beer styles
Cons
I see complaints that they're not kid-friendly
Tend to sell and tap out of beers
This brewery is interesting since they use botanicals in their beers. The Strawberry Basil Hefeweizen is the beer that catches my eye. I'm a beer snob, and I only like my German beers brewed the traditional way. However, the strawberry mixed with the typical banana yeast has a fruity yet creamy taste, cooled off with the basil.
As you can see, Forbidden Root is arguably the most adventurous brewery on this list. No matter what beer you get, it will surely be delicious. Forbidden Root also sells wine and cocktails for non-beer drinkers.
Forbidden Root has three locations: Chicago West Town, one on Ravenswood Ave, and even a location in Columbus, Ohio. The West Town menu is extensive but has limited vegetarian and vegan options. However, the Ravenswood location has a whole vegetarian and vegan menu.
I'm reading some complaints about rude staff members. Otherwise, this is a brewery favored by locals.
Pros
Diverse beer selection
Adventurous brews that you won't find anywhere else
Child-friendly
Offer wine and cocktails for non-beer drinkers
Reasonably priced
Cons
Complaints about rude staff members
The Ravenswood location has a better food menu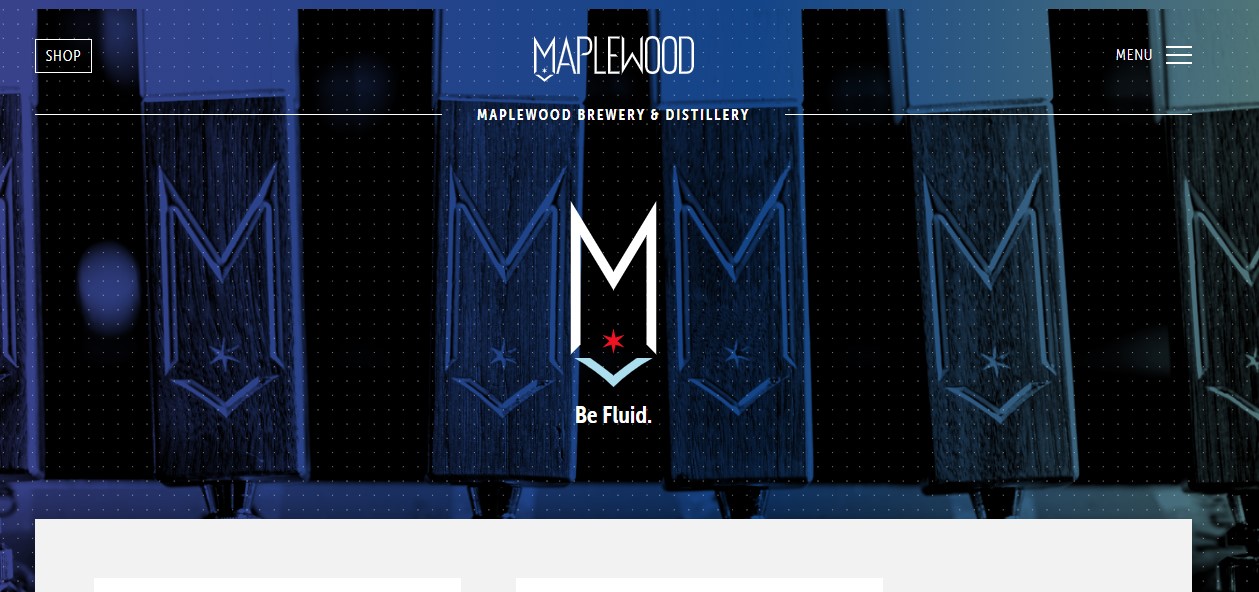 Maplewood Brewery is located in Logan Square, a quirky Chicago neighborhood that offers various bars, restaurants, coffee shops, music venues, and art galleries. I suggest visiting Maplewood if you like both beer and spirits since Maplewood is also a distillery.
They have a massive cocktail and beer menu. I'm obviously more of a beer drinker, but I occasionally enjoy some vodka. If I ever visit this establishment when they open, I will absolutely try their espresso martini, Crack of Dawn.
Since this is a beer website, let's discuss their beer. Looking at the menu, I see everything from Belgian ales to IPAs. They also have seasonal beers, so they have a beer for everyone.
This is a popular place, so it can get loud and busy if you visit during the weekend. Otherwise, the staff here is excellent.
Pros
Great staff
Both a brewery and distillery
Indoor and outdoor seating
Good beer and cocktail menu
Taproom is large
Cons
Can get busy
You have to order drinks at the bar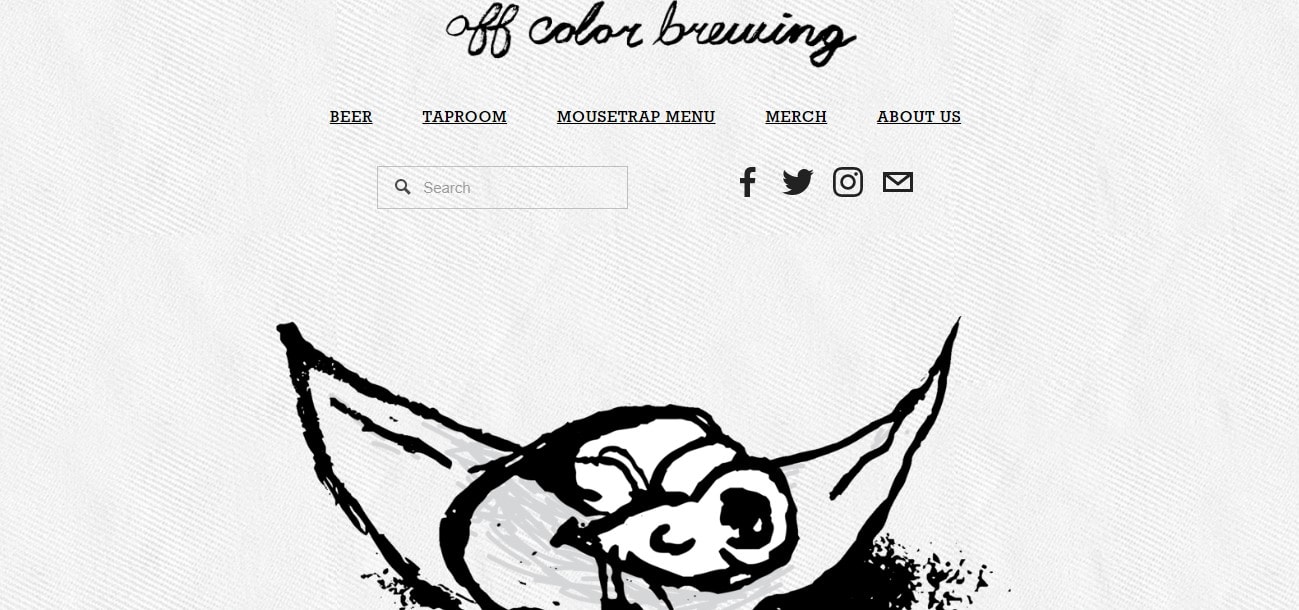 Off Color Brewing was founded by two employees of other breweries. They brought their technical experience to Off Color Brewing, which offers traditional beers. I see farmhouse and classic German beers, but they also have unique brews, such as their imperial marshmallow stout called Dino S'mores.
They also won a gold medal for their Very, Very Far Belgian-Style Ale. No matter what beer you get, you're getting a high-quality brew from some of the best brewers in the city.
I also love the branding. Cute mouse drawings are on their beers, and the artwork resembles the vintage kid's books I used to read. The vibe at the taproom is the same — very silly and casual. They offer many games, so every visit is always fun. Lots of that mouse artwork is displayed around the taproom. The taproom has terrific service, but it can get busy. If it does, know that Off Color Brewing has indoor and outdoor seating.
Pros
Excellent beer
Cute and silly branding — love the mouse pictures
Decent prices
Diverse beer selection
Great staff with knowledgeable bartenders
Cons
The brewery can get packed
Located on Goose Island, it can be challenging to find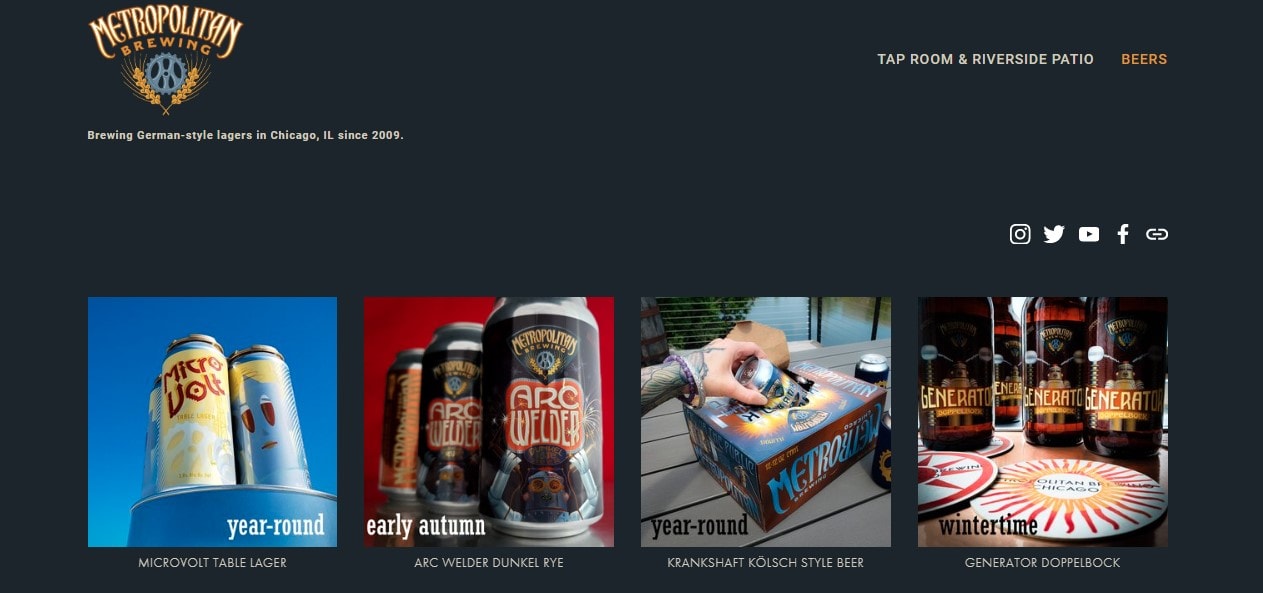 Metropolitan Brewing is another brewery that specializes in traditional German lagers. After trying Dovetail beers, I suggest visiting this place. They have some core year-round beers, such as their Kolsch, and other delicious seasonal beers, such as their Doppelbock. I'm also reading their Oktoberfest beer is one of the best you'll ever get in Chicago. The beers are reasonably priced, especially for the quality you're getting.
The taproom is in a gorgeous location, right on the canal. You can drive up and dock your boat if you have a boat. Their taproom is both kid and dog-friendly. This brewery can get a little crowded.
Keep in mind that Metropolitan doesn't have a kitchen. Instead, they partner with nearby restaurants, and you can get your food delivered to the brewery. They now partner with Arigato Market, a Japanese-Mexican fusion taco restaurant with vegan options. I am reading complaints about rude staff members, so keep this in mind before visiting.
Pros
Beautiful location
Kid and dog-friendly
Delicious traditional German beers
Cons
No kitchen, but you can order food
Complaints about rude staff members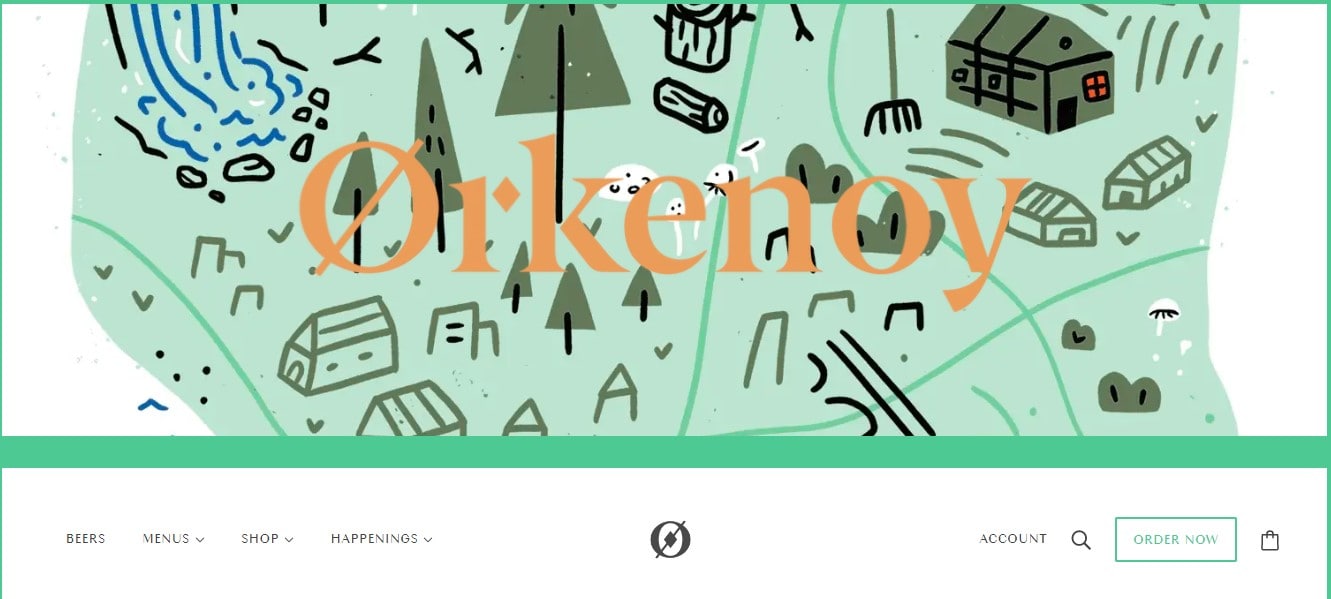 When it comes to the international craft beer scene, very few people in North America acknowledge Sweden's craft beer scene. Orkenoy is a Chicago brewery with a Scandinavian flair. The clean and stylish Sweden design and chill atmosphere are very popular among customers.
There are many European-style beers here, such as the smoked beer grodziskie Django Pennsylvania and French Pilsner Sundae Prairie. They also have unique beers like the breakfast cereal lager Jim Jim Summerset. Orkenoy also has cocktails and non-alcoholic options.
They serve Nordic-inspired food. Their Smørrebrød options are popular. Smørrebrød is an open-faced sandwich that's popular in Sweden. They have plenty of vegan options, which is a big plus for me.
The brewery is located in Humboldt Park, an artistic community with many family-owned businesses and restaurants. I am reading complaints that their hours of operation online aren't updated, so be sure to call first to ensure they're open.
Pros
Swedish-inspired brewery
Calm and stylish atmosphere
Great food and beer
It has cocktails for those who don't like beer
Non-alcoholic options
Have to order through an app, which I prefer
Cons
Hours of operation aren't accurate online
Not eco-friendly because they use a lot of plastic
Isn't the most child-friendly place
FAQs
Question: Is Chicago known for its beer scene?
Answer: Chicago is one of the best beer cities in the entire country! There are 160 breweries in the city, and more are expected to open.
Question: Does Chicago have the best beer scene in America?
Question: I have a large group. Which brewery can best accommodate us?
Answer: Probably Dovetail. They have a large Biergarten that can accommodate a big group. Their Biergarten is first come, first serve, so I suggest contacting the brewery in advance to see if you can reserve a table.
Bottom Line
Out of all of these breweries, I recommend Revolution Brewing. Sure, it may be one of Chicago's most popular breweries, and its beers are available across the country. But they have great beer and food, especially for the price you pay, and excellent staff members. Revolution Brewing also has a diverse beer selection, so everyone can find a brew they enjoy.
The brewery is close to the transit train, so it's accessible to tourists who didn't rent a car and don't want to take an Uber. It's no wonder they're the largest independent brewery in the state.
Check out these brewery guides if you are visiting: