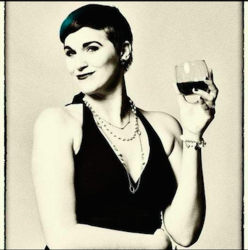 Latest posts by Jessie Dax-Setkus
(see all)
Orange County, California, is home to many great cities like Laguna, Newport, and Huntington Beach, which are all known for their scenic panoramic views and surf scene, but have you ever heard of Anaheim?
Anaheim is in the heart of Orange County as it was one of the first cities founded in Orange County. It is also one of the most populated cities in California and has a ton of things to do.
Anaheim is home to Disneyland, which draws millions of tourists annually, but did you know that Anaheim is also known for its microbrew scene? A literal ton of microbreweries have sprung up in Anaheim that are not only fun to check out but delicious to try.
I have been to many breweries throughout Orange County, but Anaheim is the best brewery and microbrew scene in Orange County by a long shot. A little history about me is that I have lived in Orange County for over 20 years and have also worked a part-time job at the large retailer, BevMo, for over five years just to get to know the local brew, wine, and spirit scene as it is a passion of mine.
I am more than thrilled to share my experience on the microbrew scene in Anaheim. After making the trek to Anaheim and trying quite a few of the breweries, these are my favorites. You should definitely check them out.
Bottom Line Up Front
Picking a favorite brewery in Anaheim is like asking me which of my children I love best. All of them have something special to offer, so it is really hard to select one, and I honestly recommend you try as many of these breweries as possible. However, if you are looking for the most bang for your buck, Ballast Point is probably your best bet since it is in Downtown Disney, so there is a lot to do, not to mention that its beer and food menu are both amazing.
Picks at a Glance
There are many breweries throughout Anaheim, but these are the best breweries in Anaheim to try:
Golden Road Brewing
Brewery X
Bottle Logic Brewing
Bruery Terreux Tasting Room
Brewheim Beer Makers
Nobel Ale Works
Unsung Brewing Company
Modern Times
Karl Strauss
Radiant Beer Co.
Phantom Ales
Ballast Point
Green Cheek Beer Company
A Brief History of Anaheim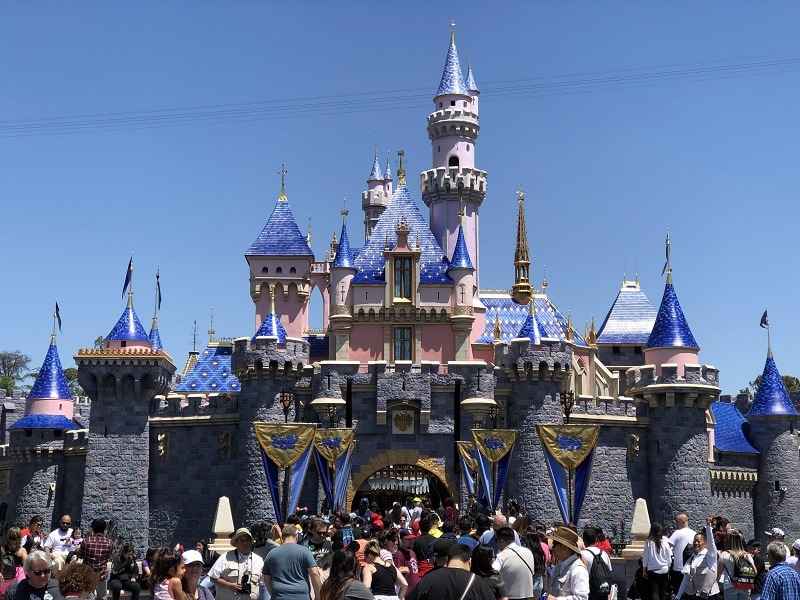 If you think Anaheim sounds like a German name, you are absolutely correct. The name Anaheim comes from Ana, after the Santa Ana River, and Heim, which is German for "home." Anaheim was a largely agricultural town until Disneyland opened in 1955, which, for lack of better words, put Anaheim on the map as a destination to visit as well as a nice place to live. The opening of Disneyland led to the construction of several hotels as well as residential districts.
Anaheim has a ton of things for residents and tourists to do, and the city hosts over 25 million tourists annually. Along with the development of the Disneyland Resort, stadiums for The Anaheim Ducks and The Los Angeles Angels on Anaheim have sprung up. These locations also host many events and concerts annually.
All of this development also led to many microbreweries springing up as well as Anaheim is known for a ton of great breweries to visit for both residents and tourists. Now let's take a deeper dive into which breweries are the best to visit.
The Best Breweries in Anaheim
I included the breweries on this list based on their beer selection, menu and food availability, and extra quirks to make your hangout even more fun. These are the best breweries that all of the locals of Orange County, including myself, recommend.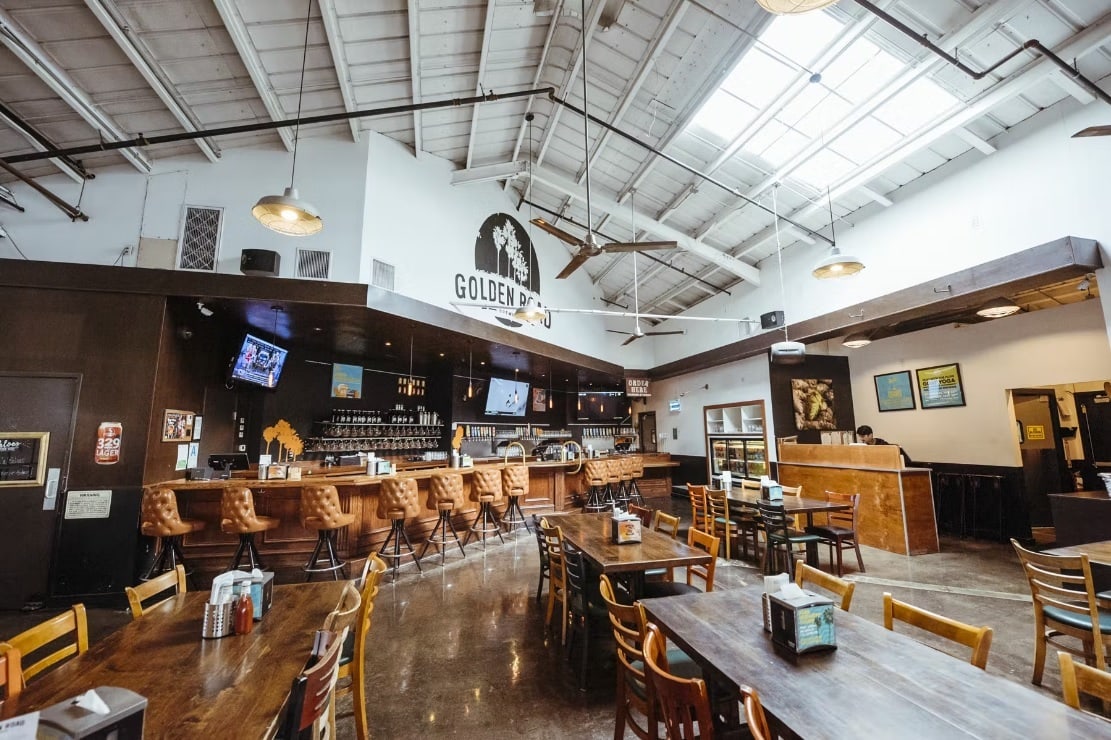 Yes, there are a few Golden Road locations throughout Orange County, but they are far from being a chain. Golden Road Brewing is the first packaged craft brewery in the Los Angeles area, putting craft brew in Orange County on the map, and has now become one of the largest breweries in the area.
Golden Road Brewing is actually celebrating its 11th anniversary this year, and they are releasing a new beer with hops selected from Australia and New Zealand; the beer is called Ride On. This is one of the many special beers that are constantly released at this brewery. Golden Road is said to represent laid-back days in the sun sharing sips of refreshing beer with the sand nestled between your toes while the soothing sound of crashing waves hit the shore.
Some staple brews on the rotation are the famous Mango Cart (along with its sisters Melon Cart, Pineapple Cart, Spicy Mango Cart, and the newest addition Guava Cart.), Wolf Pup session IPA, and Golden State Cerveza. Their beers are known to be crisp and refreshing, and many locals in Orange County buy these beers from their neighborhood BevMo.
Pros:
It's a well-known brand
Mango Cart is a highly regarded product throughout Orange County
The beer is easy to find if you want to sample before you visit
Cons
It is a larger brewery, so it might not have that microbrew scene
Parking is hard to find
Brewery X is so much more than a brewery; it is an experience. First of all, the brewery itself is massive at over 76,000 square feet! Don't think there is any wasted space either. Brewery X has a ton going on in every single one of its rooms at all times.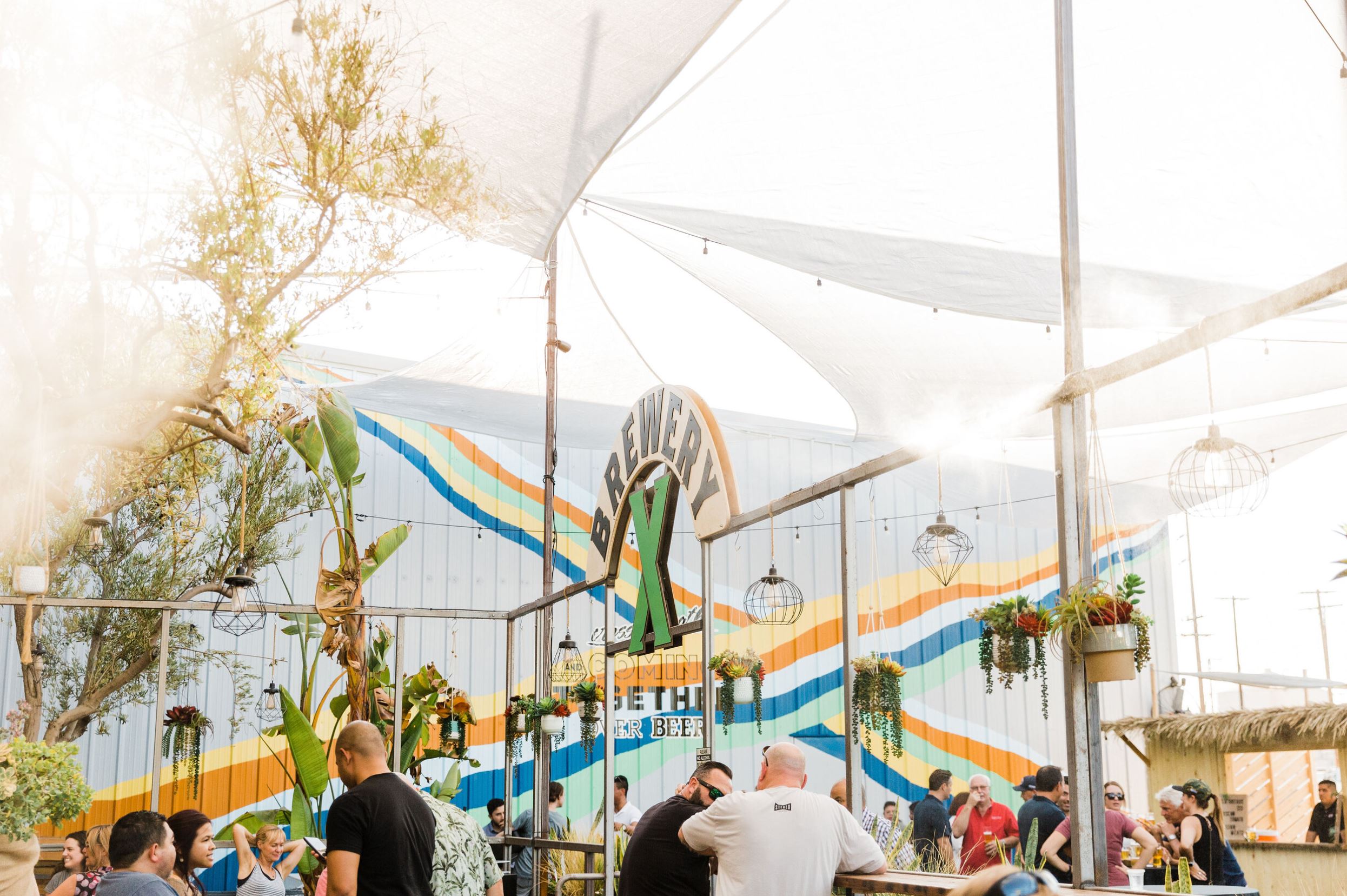 Why is it called Brewery X? The brewery claims, "To us, the X represents crossing paths, coming to a juncture and ending up where you want to be." There are a ton of things to do at Brewery X that bring people together, including concerts, games, beer tasting, food, and more.
You can play games like Corn Hole in various rooms of the brewery, and there are multiple places where you can get a refill rather than standing in line for just one bartender. There is live music to watch and delicious food to order as well.
Finding Brewery X beer outside of the brewery is a little more difficult, though, as it is really only sold at the Honda Center and Angel's Stadium. However, you can get beer shipped to your house from Brewery X.
Pros
There is a lot to do
The selection is huge
There are more private areas along with social areas depending on your mood
Parking is easy to find
Cons
The beer is hard to find outside the brewery if you are looking to sample
Food is not offered, but food trucks are available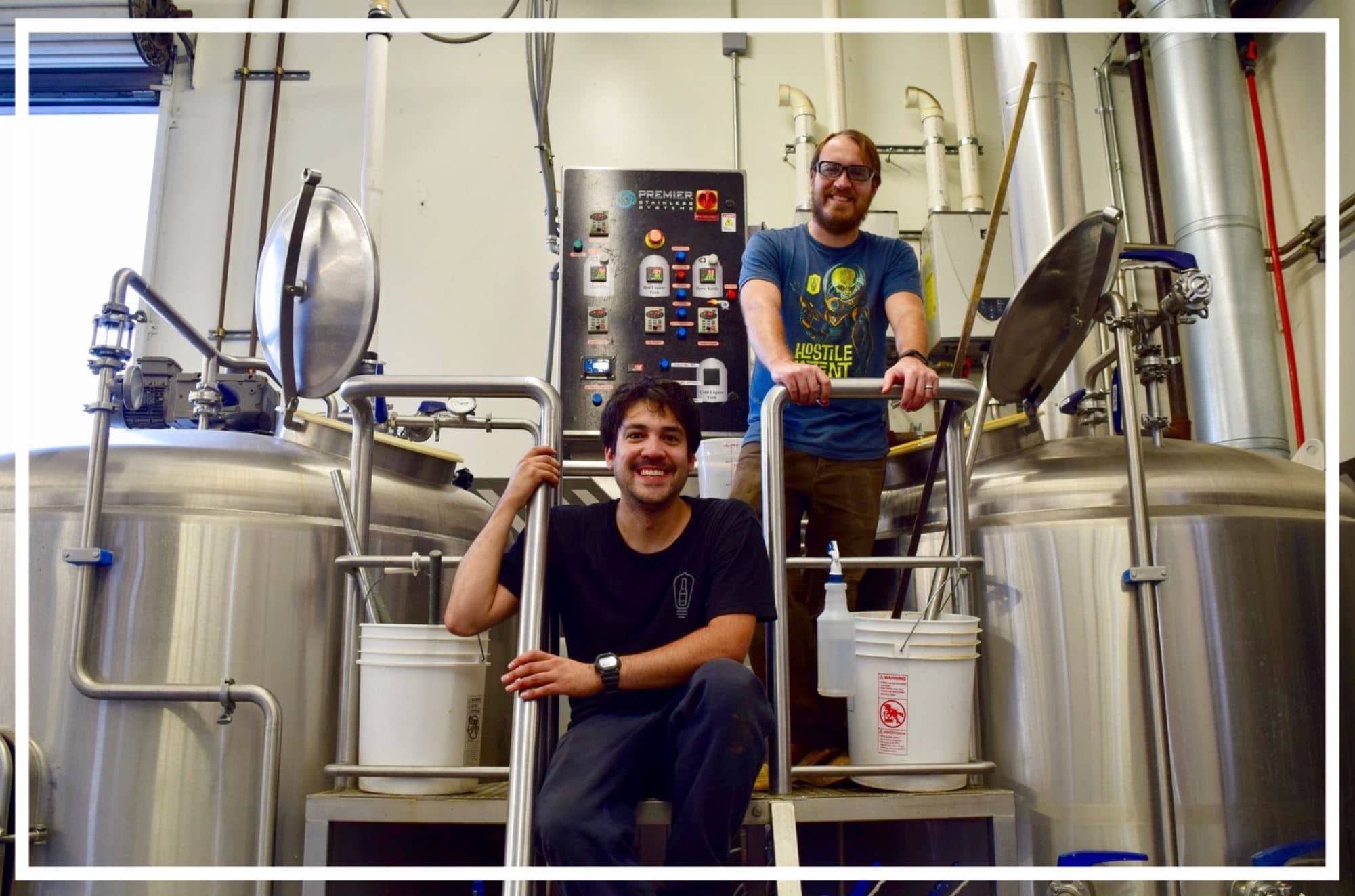 Bottle Logic is a much smaller brewery than breweries like Ballast Point and Golden Road, but that doesn't mean it has a small selection of beverages. There are options of pretty much every beer style available in a large range of ABVs, and even house-made seltzers too. However, the space in the Anaheim Brewery is more of an intimate setting. The bar room is cozy, but there is a bigger room in the back where the brews live that is opened up for events like trivia night.
Bottle Logic also has a variety of games groups can take off the shelves and play for a bit of good fun, and there is always a food truck parked right outside for some good bar munchies. You can find some of their beers at Bevmo, but they have a much larger variety to buy at the brewery that you can take to go.
Another fun tidbit is that it doesn't only sell merch to human fans of Bottle Logic, but it also sells items like dog shirts, harnesses, and leashes to four-legged friends of the brewery as well.
Pros
It has a pretty adventurous beer menu making tasters fun
It hosts fun events like trivia nights
It has games available to play while enjoying beer
Cons
Parking is hard to find as it is mostly street parking
The brewery itself is small
No food menu but food trucks are available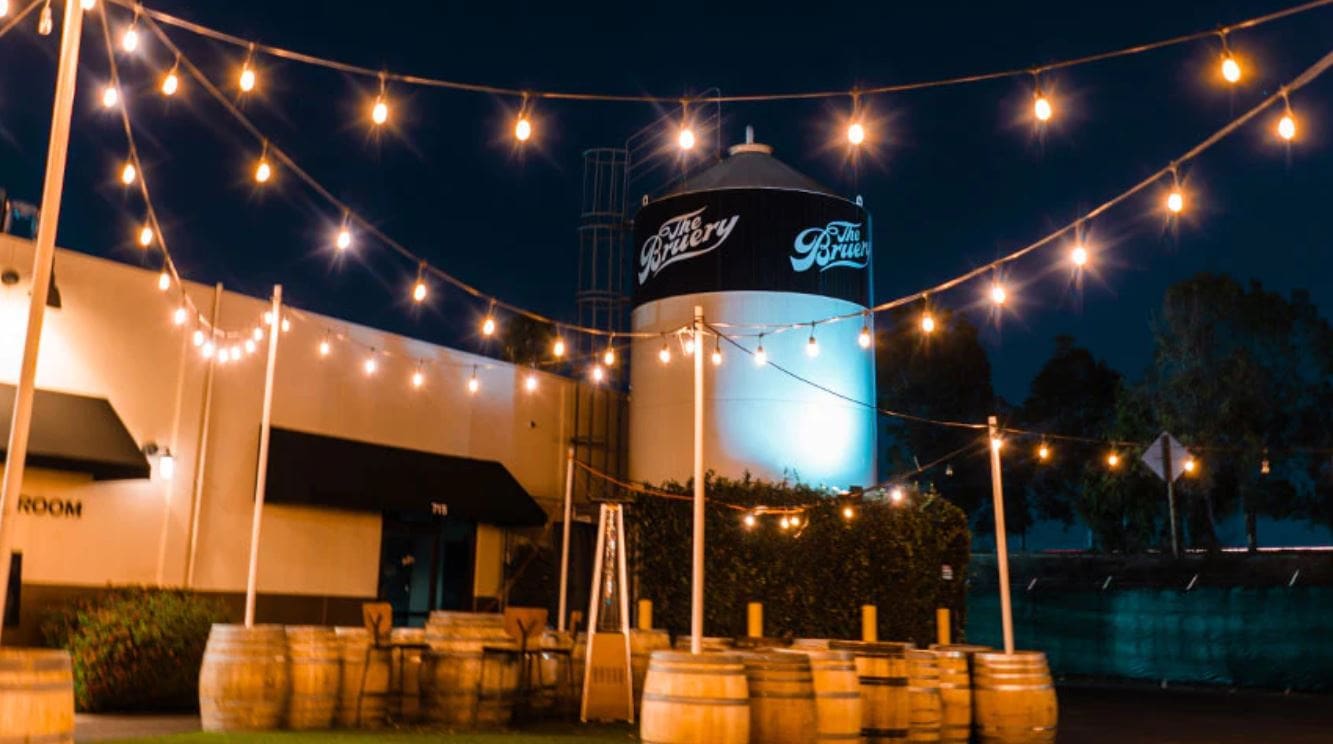 Bruery Terreux, or as it is known by the locals, "The Bruery," is a favorite among residents of Orange County. The Bruery is known for its special releases and beer club, where members get exclusive offers and beers given to them before they are released to the public—if it is even released publicly. The Bruery is also known for its Christmas releases, which follow the 12 Days of Christmas (Nine Ladies Dancing, Five Golden Rings, etc.) Only one flavor is released per year.
The brewery itself is always filled to capacity because of what else but the beers on tap. The Bruery offers very original flavors that locals and tourists cannot get enough of. The three tiers of the brew club is the Preservation Society, Reserve Society, and Hoarders Society (which admits by invite only). Many Orange County residents want to be part of the club, but it isn't easy to get into due to the high demand.
The Bruery also boasts food trucks and outdoor seating to enjoy food and delicious beverages in the beautiful Southern California weather. Like many breweries in this area, you can find some of The Bruery's beers at shops like BevMo or Total Wine, but they will also ship directly to you.
Pros
The special releases are definitely worth trying, especially around the holidays
It is very trendy and always buzzing with locals and tourists
Cons
It is a tiny brewery
It can be hard to find
Getting on the beer club isn't very easy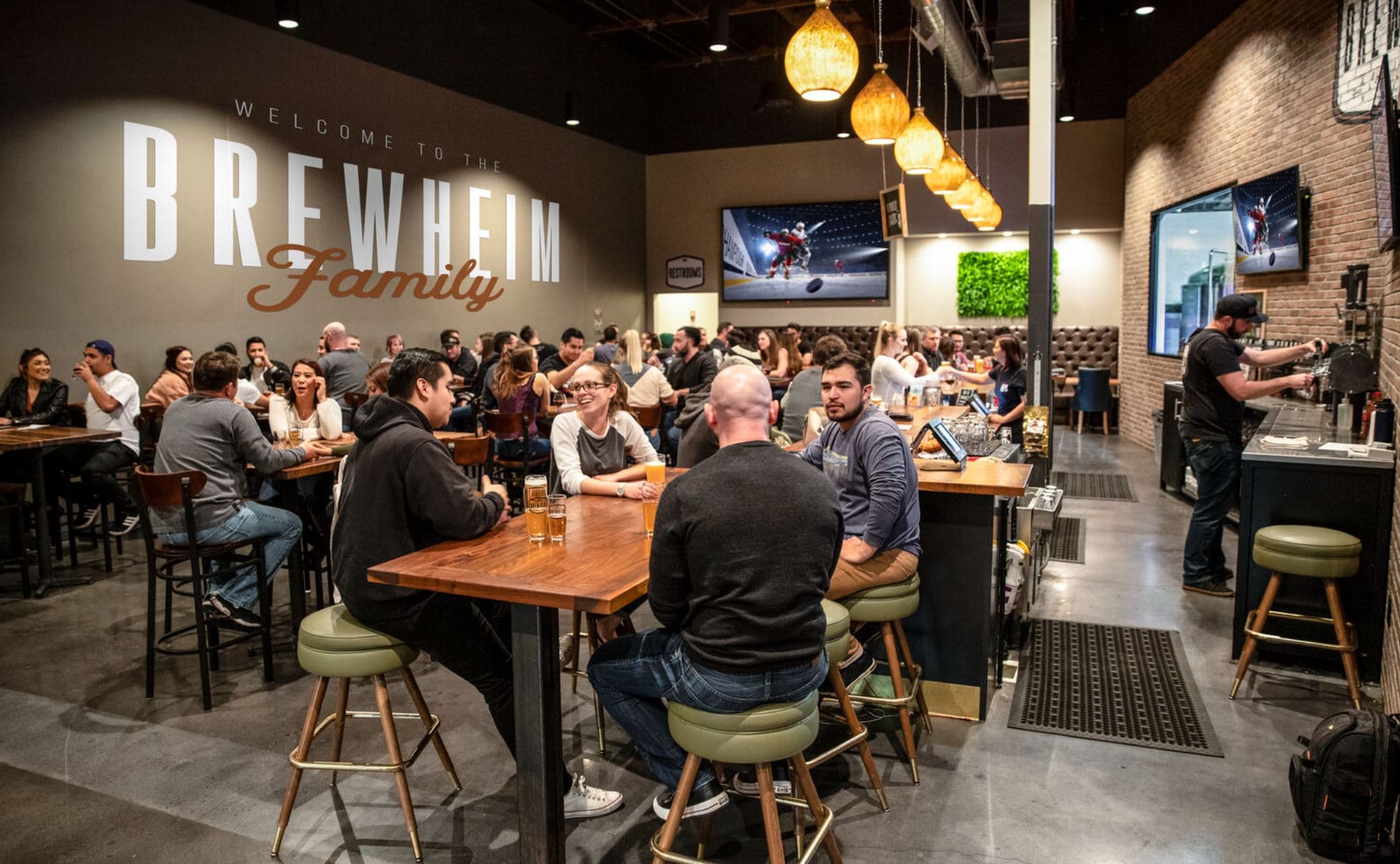 As the "Heim" in Anaheim means home, it does as well at the brewery Brewheim, where this brewery regards its patrons as family. What's cool about this brewery is that it doesn't only sell its house-made beer on tap, but it also offers custom cocktail classics like The Anaheim Mule, which consists of a hard seltzer cocktail mimicking a Moscow Mule. Not to mention there is a large variety of hard seltzers on tap.
Considering Brewheim is a smaller brewery, it still boasts a variety of beers on tap from pretty much every style and ABV. There isn't any food available, but the taproom is designed to make you feel like you are drinking at home while sipping on beer there. You are also welcome to host private events at Brewheim as well.
Brewheim's beer is only available at the brewery as they are a smaller establishment, unlike breweries like Golden Coast and Ballast Point.
Pros
It gets busy but not as busy as a larger brewery
Very comfortable and chill environment
Custom cocktails are fun drinks to try
Cons
It is hard to find the beer outside of the brewery to taste beforehand
There is no food menu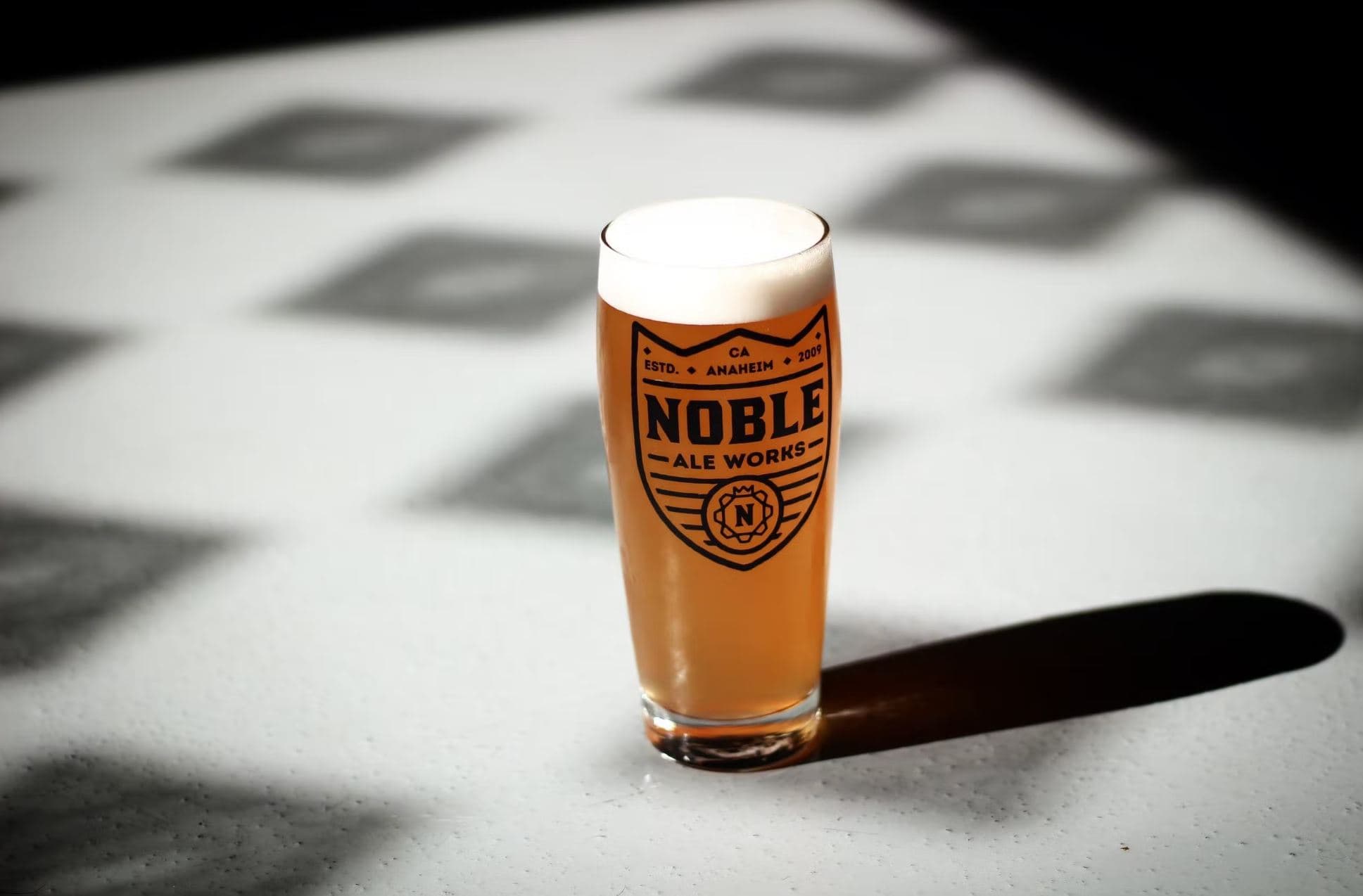 Noble Ale Works is a buzz for many locals all over Orange County. What's fun about Noble Ale Works is that it allows you to bring your dog along for a night of fun. There might not be a kitchen on-site, but there are usually food trucks close by, and the brewery allows you to eat your food inside.
Noble Ale Works is known for rotating their tap menu a lot, but they always have their staples available. These staples include Big Whig, Nose Candy, and Naughty Sauce.
Another thing this brewery gets major props for is the service. The staff is known to be extremely chill and will talk your ear off about the brewery's selection if you want to learn more about what you are sipping on.
Like many of the breweries on this list, you can find beer from Noble Ale Works at retailers like BevMo and Total Wine, but you can also shop at the brewery itself.
Pros
The service is some of the best in the industry
The brewery is dog friendly
The brand is well-known as well as their headlining beers
Cons
There is no food menu available, but food trucks are nearby
It doesn't have a website to check out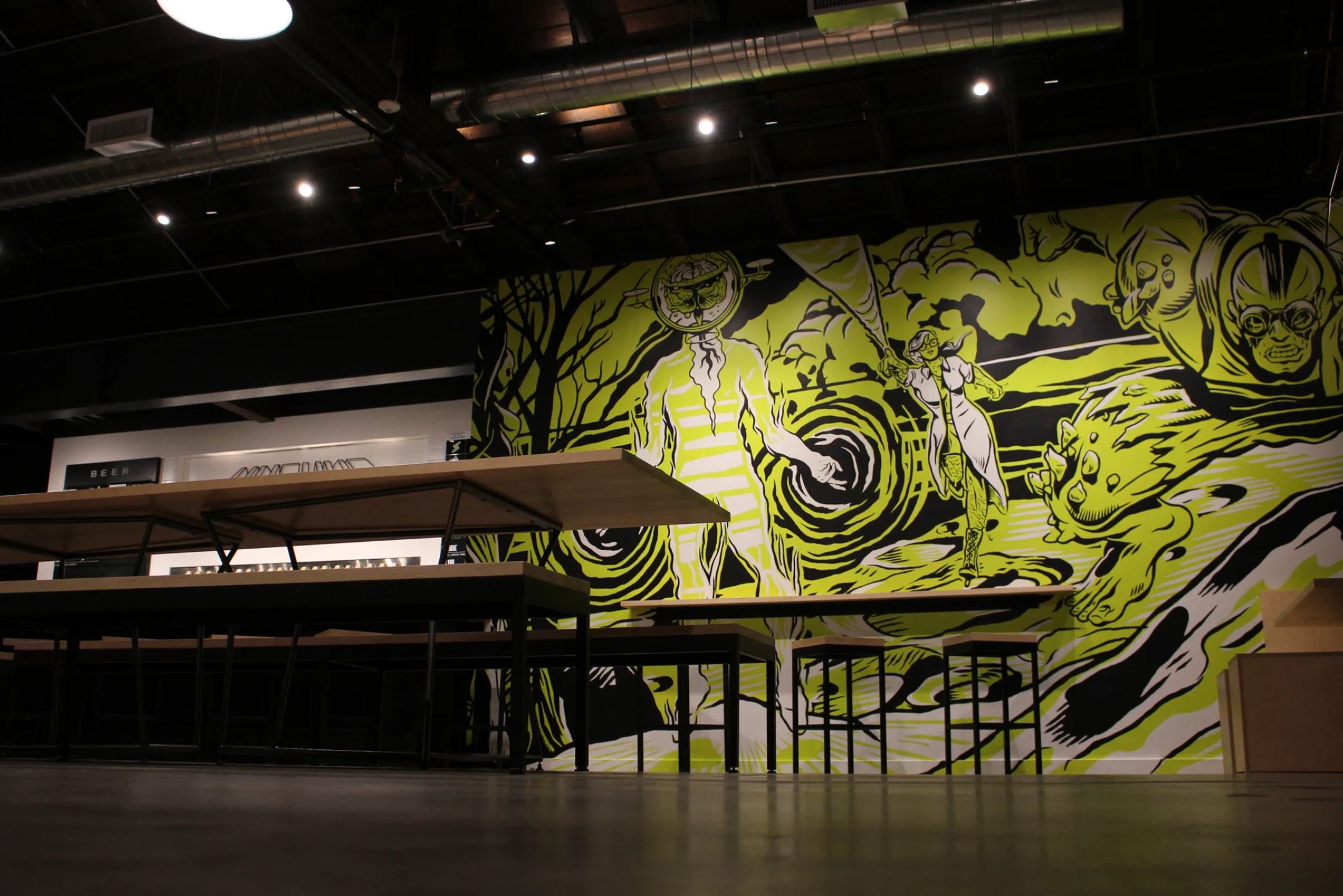 Unsung Brewing Company is another hidden gem in Orange County. What's so awesome about Unsung Brewing Company (outside of their delicious beers) is its giving nature. If you check out their Facebook Page, the brewery is constantly giving to great causes like Cystic Fibrosis. It is also a brewery that welcomes four-legged friends and provides sweet merch for them like bandanas. Did I mention it's comic book themed? Yup, it sure is.
Unsung Brewing Company prides itself on "creating beers of uncanny flavor and depth that play well with food." This means, yes, there is always food available at Unsung Brewing Company. Some of their most popular brews are Propeller Head, Buzzman, and Metaplex. Along with its usuals, the selection is massive and constantly rotating as the brewery is coming up with new flavors for the masses to try.
Pros
It does a lot of charity events, so your money goes towards a good cause
It is dog friendly and sells dog merch
Food is available at the brewery
Cons
It is very popular, thus making parking very hard to find
It is pretty crowded very regularly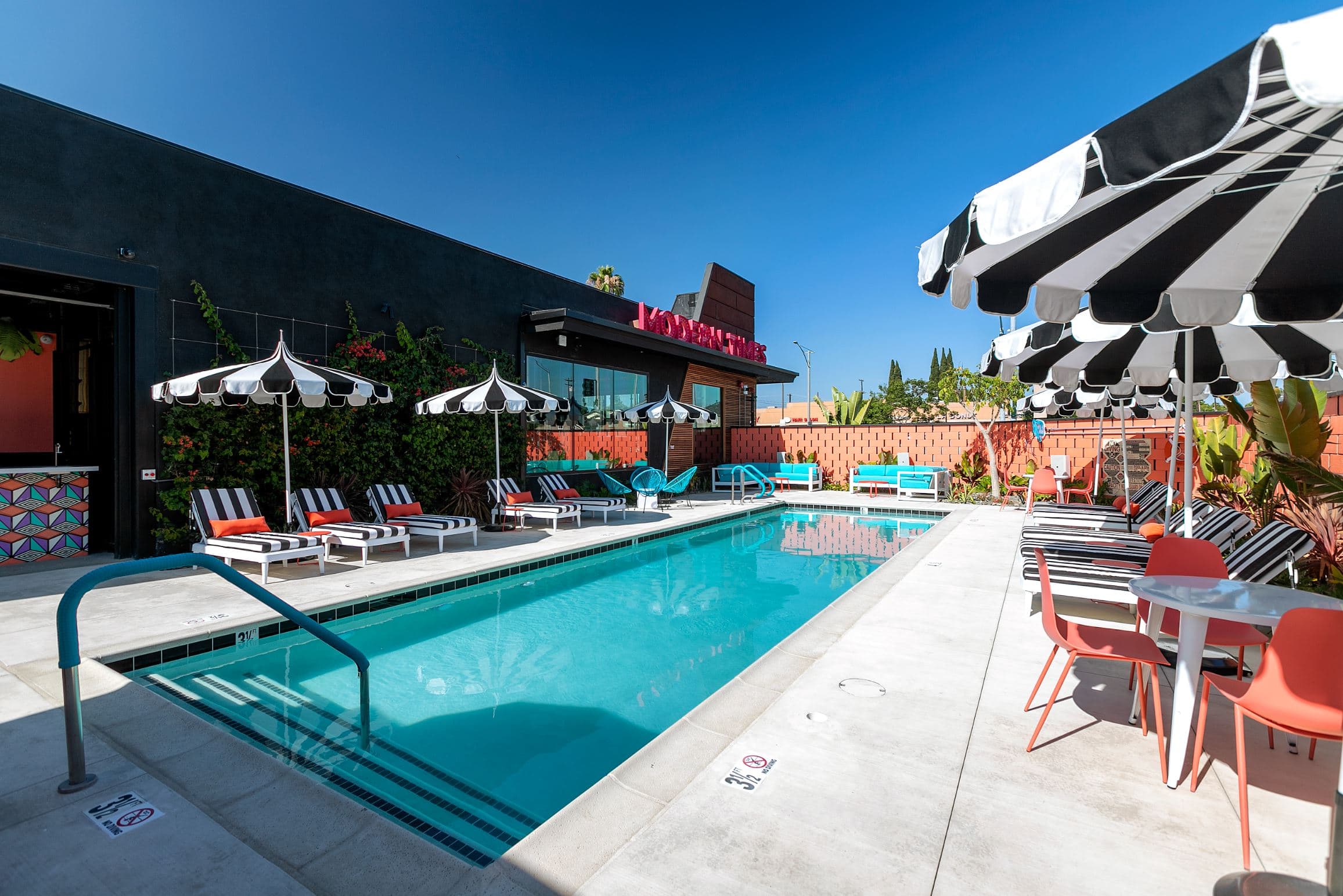 What's awesome about Modern Times is it isn't a one-trick pony. In fact, it brews beer along with quality cups of coffee. Modern Times is known for its deep, rich coffee flavors like Mexico La Canada, Idea Machine, and Bourbon Barrel Aged Nicaragua Segovia, to name a few.
Again, don't think this brewery only specialized in coffee flavors; it also has an amazing selection of hop-forward IPAs loaded with fruity flavors like passion fruit, orange, and guava. Check out Modern Times' website to get an overview of what beers, ciders, and coffees will be on tap when you visit.
Grab a quality six-pack of Modern Times brews at the brewery itself or retail shops. Sometimes you might even be lucky enough to find them at the grocery store.
Pros
It has a wide selection of beer and coffee
It has a swanky pool to check out
Its beer is very easy to find around Orange County
It also has a wine list
Cons
Only serves vegan food (great for non-meat eaters, not great for meat connoisseurs)
Not open super late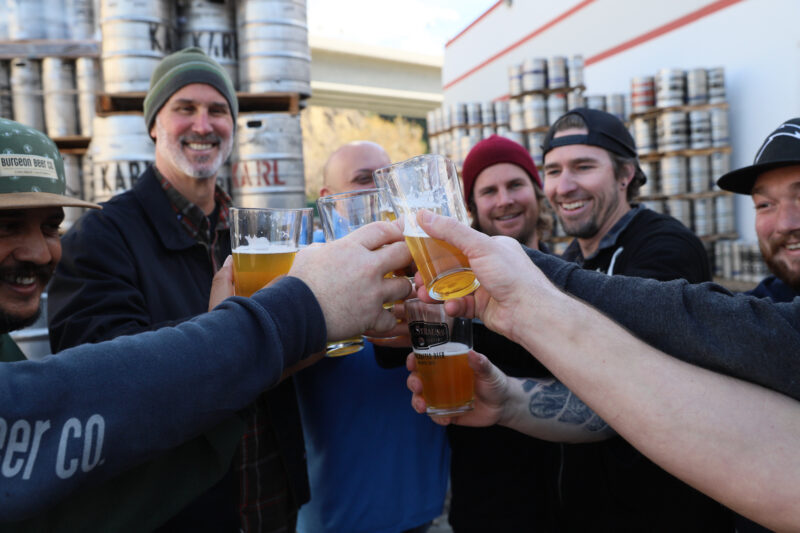 Karl Strauss is no small potatoes brewery. In fact, it has many locations throughout Southern Orange County, but a very popular spot to grab a beer is at the Anaheim location.
What really separates Karl Strauss from many of the other locations on this list is that it is actually a restaurant as well. You can grab anything ranging from Ahi poke nachos, salads, burgers, and a massive amount of vegetarian options. You better believe that the servers have recommendations for beer pairing as well.
There are many staple flavors like Boat Shoes, Aurora Hoppyalis, and Mosaic, but the brewery always keeps it fresh by introducing new flavors to the menu. Many of the staple Karl Strauss beers can be found pretty much anywhere where beer is sold, but to try the more adventurous flavors, you have to come into the brewery.
Pros
There are a ton of both food and beverage selections
It is a well-known brand in Orange County and San Diego
Cons
Doesn't have a microbrew feel
Not as social since it is essentially a restaurant with a bar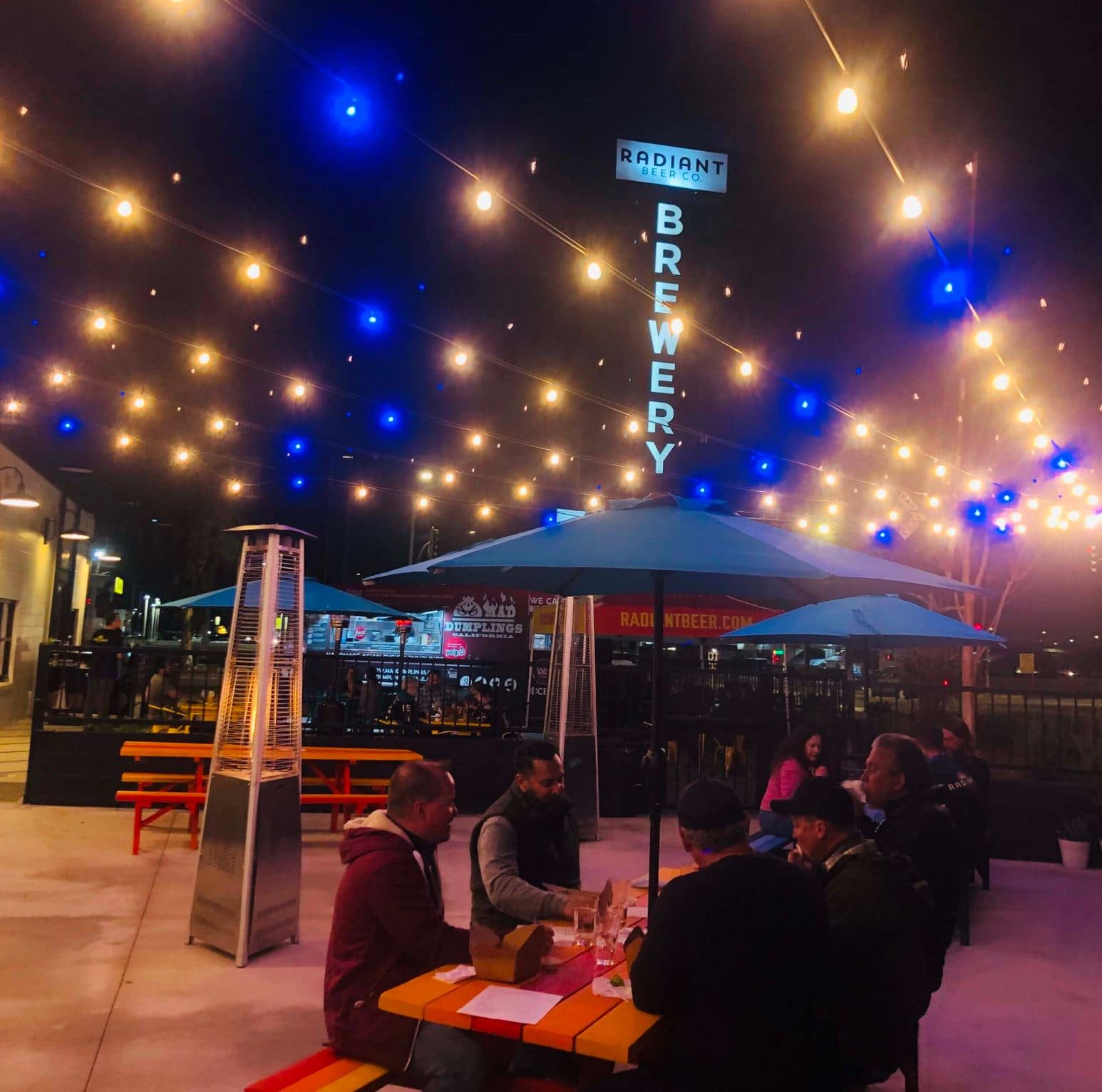 Looking for some awesome deals on pints? Radiant Beer Co. is the place to visit as it boasts an awesome Happy Hour, which includes a dollar off select pints Monday-Thursday from 4-6 PM. If that isn't good enough, some of the drinks at Radiant Beer Co. are a must-try adventure like its soft-serve beer, beer slushies, hard smoothies, and more.
What is soft-serve beer, you ask? Exactly what it sounds like—beer ice cream. The brewery takes its yummy beer and infuses it into a refreshing ice cream treat. It also offers pastry stouts, fruity tarts, and smoothie-style sours as well. There is always an intriguing adventure to try at Radiant Beer Co.
The tap room is also kid and dog friendly, and you can find many of its beers in your local BevMo or Total Wine. The brewery will also ship to anywhere in California.
Pros
It has a happy hour
Menu is very inventive such as soft serve beer and beer slushies
It is dog friendly
Cons
It is a very popular brewery and gets very crowded very quickly
Doesn't have the latest hours
Phantom Ales
There is nothing worse than going to a brewery, having a few beers, then realizing the brewery has absolutely nothing to eat. Never fear; at Phantom Ales, there are plenty of yummy favorites to choose from to go along with your drink. Choose from specialty pizzas, chicken tenders, taquitos, a giant Bavarian pretzel, a bacon cheeseburger, fish and chips, carne asada nachos, and so much more.
There are also a ton of options on tap, including a large variety of beer styles like Anaheim Phog IPA, Beaver Pointe lager, and Reaping Souls imperial stout, as well as hard seltzers in flavors like watermelon and kiwi. However, the brewery is small, so it is first come, first serve until their selection runs out and a tap is changed, which can happen a couple of times in a day. You can pick up beer from the brewery or find it on the shelves of retailers like Total Wine and BevMo.
Pros
There is a food menu available, and it is amazing
The seltzers are delicious and worth a try
Wine is available, and spirits will be soon as well
Cons
Beers run out relatively quickly, so you might not always get what you initially wanted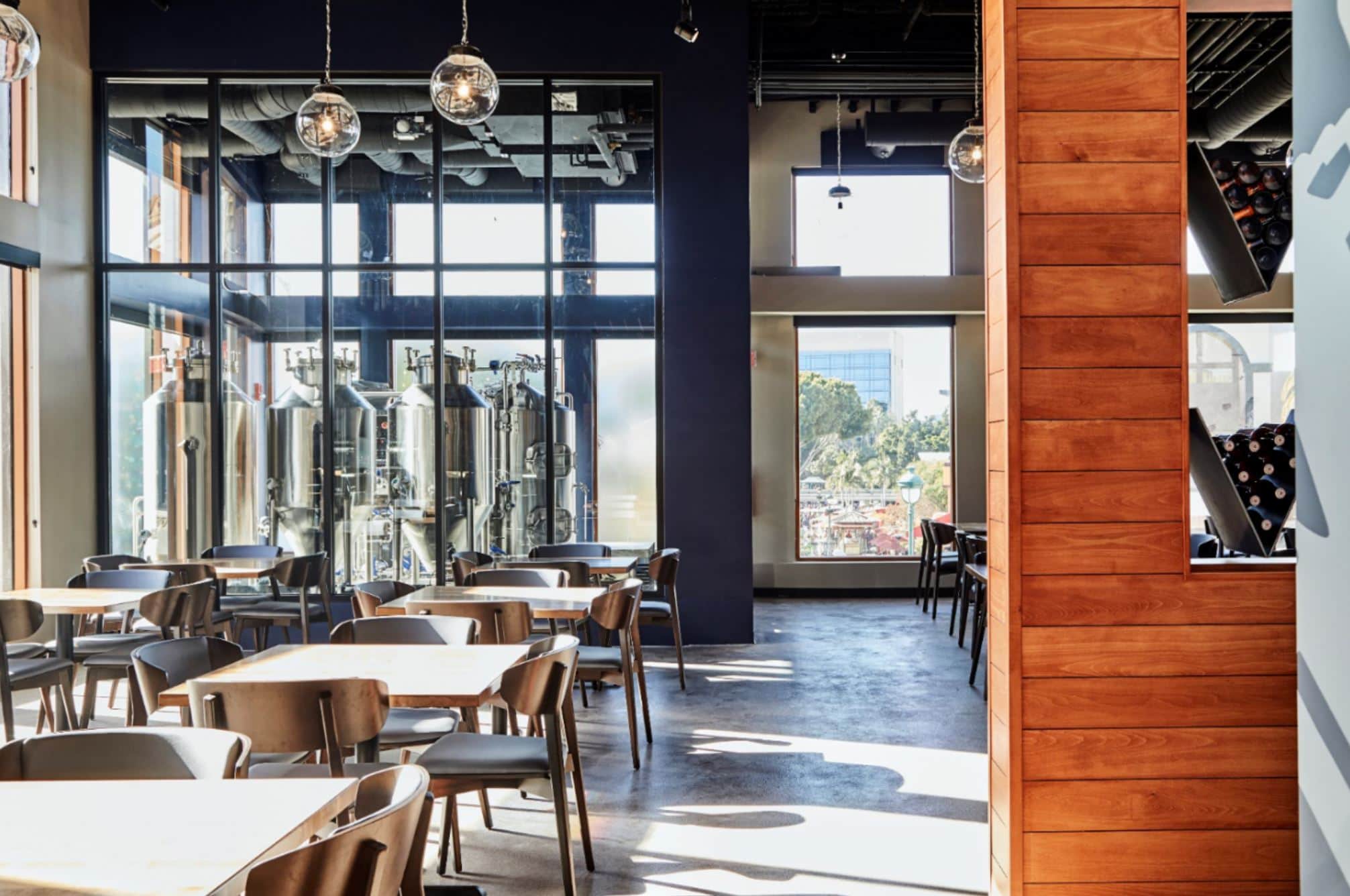 If you live in Orange County, there is no way you haven't heard of Ballast Point. Ballast Point started as a small brewery in San Diego in 1996 and has expanded to a few quite large locations throughout San Diego, Orange County, and Long Beach. One of the most notable and newest locations is the Anaheim location.
The Anaheim Ballast Point is located in the heart of Downtown Disney at The Disneyland Resort. It is among other really fun places like Salt and Straw, Black Tap, and much more. Despite having many restaurants and entertainment to choose from, Ballast Point always has a line out the door. After you grab a yummy drink, you can hop right back into the Disneyland or California Adventure parks without skipping a beat.
The wait is worth it, though. Not only do they have a delicious beer and seltzer menu, which includes all of its staple beers like Sculpin IPA, but they also have a ton of experimental and seasonal beers. Not to mention, the food menu is delicious and caters to meat-eaters, vegetarians, gluten-free, and vegans. You can find Ballast Point's beer wherever beer is sold.
Pros
The Sculpin brand is extremely well-known along with many of its other beers
It is located in Downtown Disney, so there is a ton to do, including Disneyland
The menu is really good and vegetarian/vegan friendly
The beer menu is very expansive
Cons
The brewery is large but gets very busy very quickly
Parking isn't free as it is in Downtown Disney
The patio is first come, first serve, so there isn't always a spot for everyone, and it could take a while to find a place to sit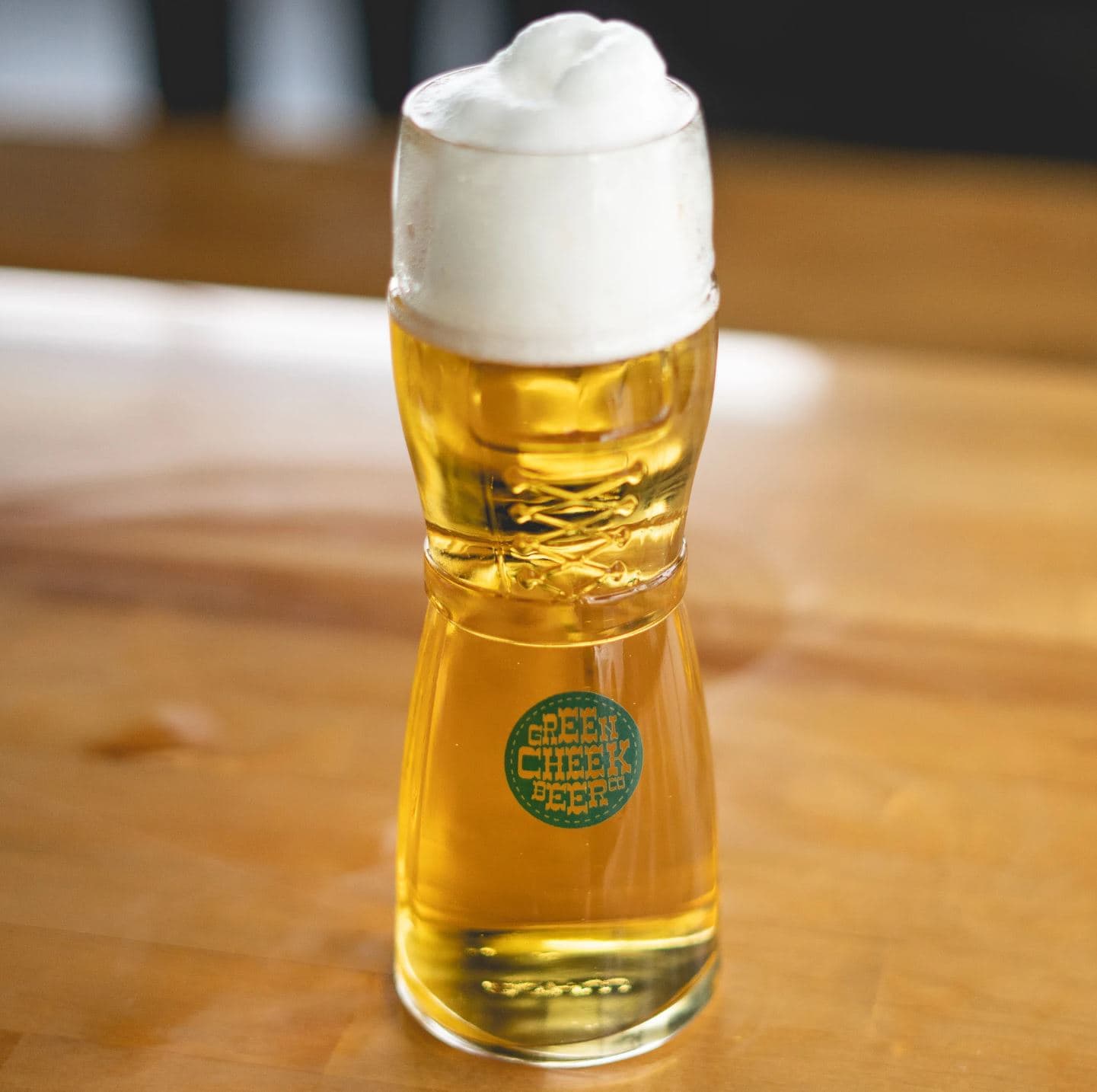 Green Cheek is one of the smaller breweries on this list, but that does not mean it doesn't brew some of the most delicious beer you have ever tasted. Green Cheek Beer Company is a trendy spot for locals to hang out and is pretty packed on the weekends.
What's incredible about Green Cheek Beer Company is its sense of humor. For example, some of its beer names are Why is the Lawn Chair in the Pool?, Crushing is Relative, The Moment When Our Unrelenting Minds Calm and Leisure Takes its Rightful Grasp, First Try (No Warm Ups), and Your Curse is My Blessing.
There is food available as well. The menu isn't huge, but the food is pretty good and caters to vegans and vegetarians. Green Cheek Beer Company's beer is a little harder to find because it is so small, so your best bet is to pick some up at the brewery.
Pros
You definitely get the microbrewery feel
The staff is known to be very cool and knowledgeable about the selection
Cons
There is a food menu available, but it is small
The brewery is tiny, so it fills up fast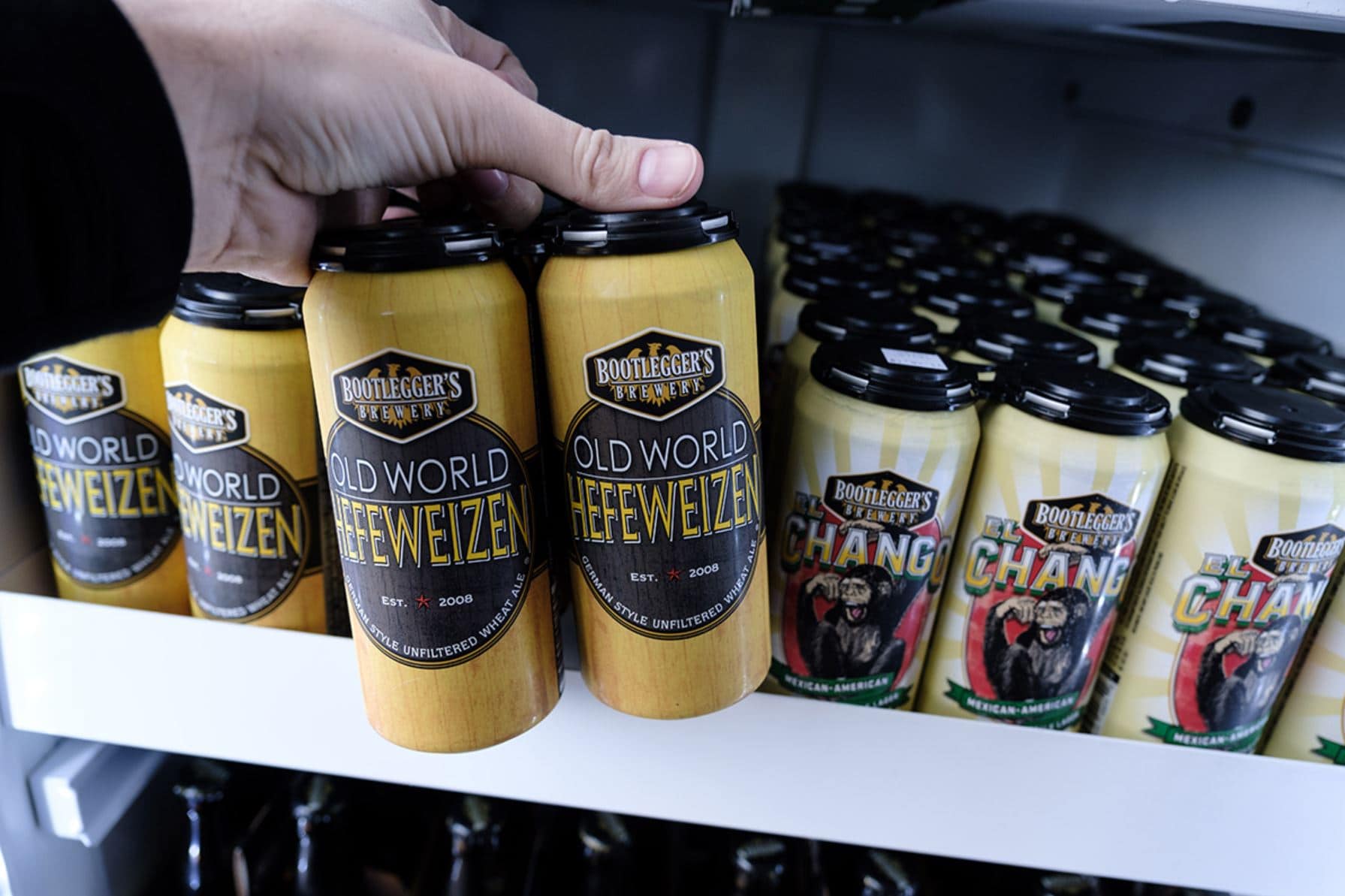 Bootlegger's Brewery is another brewery that started pretty small and now has a few locations throughout Orange County with a name that many residents are familiar with. Bootlegger's Brewery was founded in 2006 by Aaron and Patricia Barkenhagen.
Its first location was in Fullerton, right by California State University Fullerton then has since expanded to Costa Mesa and Redlands. It technically isn't in Anaheim, but it is very close in the neighboring Fullerton (which is why it is only an honorable mention on this list).
It always has its most popular beers on tap, like Chago Mexican lager and Far Out IPA, but it also rotates its menu quite often to ensure fresh, new flavors. It is said that Bootlegger's Brewery, at any given time, has at least ten different beers in tanks, and it brews over 7,500 barrels a year! Bootlegger's Brewery beers can be found at the brewery or major retailers.
Pros
The brewery has been around for a while, and in that time, it has really perfected its beer selection
Very popular with the beer-loving community in Orange County
Cons
No food menu, but food trucks are always nearby
Technically located in nearby Fullerton, not Anaheim (but still very much worth the visit if beer hopping in Anaheim)
Frequently Asked Questions
Question: Do I have to go to the breweries to taste the beers?
Answer: In short, no, you do not in most cases, although some of the smaller breweries require a trip to get a case. California is a state where beer sales are legal within grocery stores, liquor stores, and major retailers specializing in hard beverages. Most of the breweries on this list can be found in grocery stores, but will almost 100 percent be found in major retailers like BevMo and Total Wine. If you want a sure bet, the breweries always have their beers available for take-out.
Question: What is the most popular brewery in Anaheim?
Answer: There isn't necessarily a clear answer to this question, as pretty much all of the breweries on this list are constantly packed to capacity on weekends, but one of the biggest breweries is Ballast Point. Beers like Grapefruit Sculpin are constantly sought out at major retailers, and it's known by anyone from beer enthusiasts to hop newbies.
Question: What's the most popular beer style in Orange County?
Answer: The craft beer scene has really blown up in Orange County, mainly because San Diego County is a close neighbor and is known for its craft beer scene. There are a ton of craft breweries all over Orange County, but Anaheim seems to be a major hub for craft breweries in Orange County. Because of the popularity in the craft brew scene, the most popular beer style in Orange County right now is an ice-cold IPA, although lagers are also popular because of the hot weather.
Final Thoughts
There is no denying that Anaheim, California, is a hot spot for trying amazing and sometimes even overly adventurous beers. Gone are the days where The Disneyland Resort ruled this town as the microbrews have definitely taken a huge claim on the entertainment space.
I don't have a favorite brewery to pick as every one of them has something original to offer. If you have the time, I suggest making rounds to all of them as there is much fun to be had at every single one of these breweries. That being said, if you are short on time and plan to hit Disneyland, a great choice is Ballast Point as it is located in Downtown Disney, so it is a two birds one stone kind of situation.
Definitely visit all of the breweries' social media pages and websites to see if the current selection they have on tap is what you are looking for. Anaheim is a great place to visit if you are looking for an awesome beer adventure for both locals and tourists alike.
Here's a list of the best breweries you need to visit if you are traveling to: