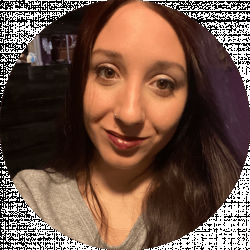 Latest posts by Stephanie Jensen
(see all)
There are many historic breweries in the US, with Narragansett being one of the most notable ones. This Rhode Island-based brewery was founded in 1890 and specializes in classic lagers and ales. They're ranked #32 as the largest craft brewery in America and have attracted a following with their lagers and several shandy flavors.
Are you interested in trying Narragansett Brewery but want to learn more about them first? Here's your Narragansett Beer guide to everything Narragansett, including their most popular beers.
Bottom Line Up Front
Narragansett Brewery was founded by German immigrants and named their brewery after the Rhode Island town they settled in. Narragansett is most famous for producing its historic lager, though it has also produced other beers — everything from different shandy flavors to stouts. This is a brewery you either love or hate, but you can't deny that this brewery has some serious history.
History of Narragansett Brewery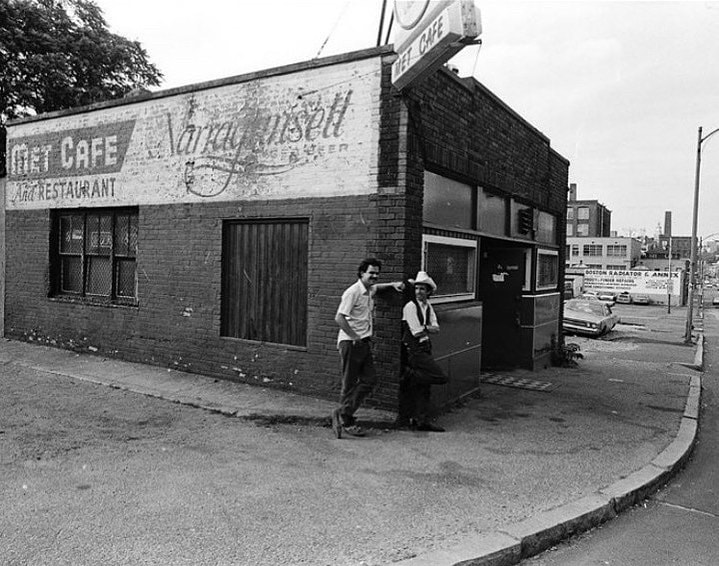 First, let's talk about the brewery's namesake. Narragansett is a town in Rhode Island named after the Native American tribe, and the brewery took the city name as the title of the brewery.
Narragansett Brewery was founded by German immigrants in 1890. In less than 10 years, they became the largest brewery in New England and brewed 115,000 barrels of beer! With the invention of refrigerated transportation, Narragansett transported their beer throughout the New England area. After 25 years, the brewery expanded.
Beer was very popular for many reasons, notably because doctors recommended their patients consumed lager! Narragansett Lager was especially popular among doctors during this time because of the purity of the lager they brewed.
All of this changed during the Prohibition era in the 1920s. Instead of beer, Narragansett started brewing soda to keep their business alive. What a lot of people don't know is that medically prescribed alcohol was still legal, ironically often prescribed to pregnant women. Narragansett produced prescribed beer for various ailments. But Narragansett was 100% back in business by 1933 when Prohibition ended.
From here, Narragansett was there during every other historical event. They were one of the first breweries to can their beer, they became the first alcohol company to sponsor a sports team (Boston Red Sox), and Narragansett became featured in various popular movies such as Jaws. Narragansett was bought out by another company so the brewery could grow. However, the brewery fell into disarray in the early 80s and the brewery closed.
This changed in the mid-2000s a group of local Rhode Islanders (with the help of investors) purchased the brand. Today, Narragansett is independently owned and operated in Rhode Island.
Types of Beer They Brew
Ever since Narragansett reopened its doors, it expanded its brews. Here are some of the most popular beers they produce.
Lagers
Narragansett was always known for its lagers. Lagers are bottom-fermented beer brewed at low temperatures. There are various lagers, from traditional German lagers to dark lagers such as Dunkel beer. Narragansett's Lager is the first beer they brewed, and the original recipe is still brewed today.

IPAs
Love them or hate them, the IPA is one of the most popular beer styles. IPAs are light-colored beers made with higher hop content. IPAs mainly use Centennial, Cascade, Chinook, Columbus, and Citra hops. These hops feature a similar bitter flavor as grapefruit and citrus fruity flavors.
Narragansett's Musik Express IPA is a fruitier one — brewed with grapefruit. This beer uses El Dorado, Simcoe, and Mosaic hops. The flavor is bitter but with some floral and piney flavors added in the mix.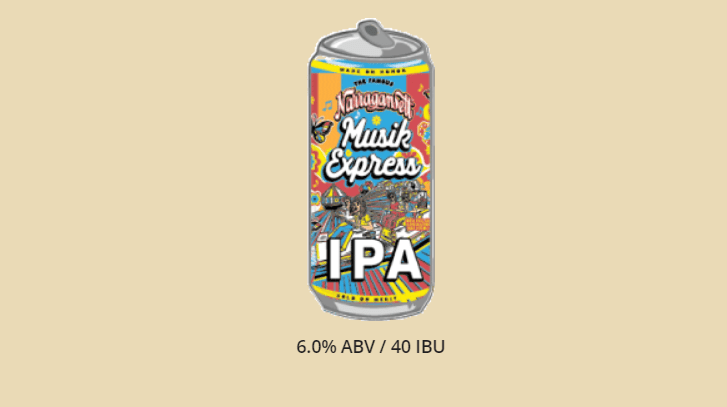 Stouts
A stout is a top-fermenting beer that's dark in color. Stouts come in many varieties, depending on the ingredients used to brew them.
Narragansett has a coffee milk stout made with coffee and other roasted flavors. Milk stouts aren't actually made with milk but are made with lactose, which is the sugar that comes from milk. Lactose adds sweetness to the beer and also contributes to its full-bodied mouthfeel.
For their beer, Narragansett partnered with Autocrat coffee to produce a robust and bittersweet coffee stout.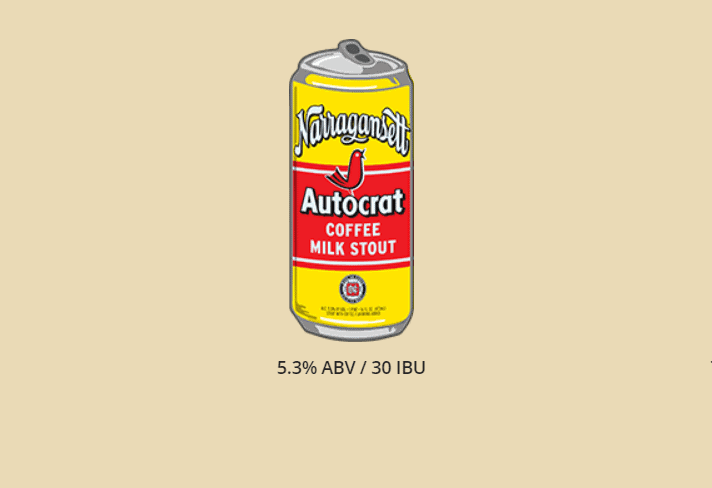 Shandy
Shandy is a beer or cider with fruit flavors, usually either lime or lemon. Unlike beers with fruit flavorings, shandy beers are 50/50 beer and fruit, decreasing the ABV and adding more flavor. Narragansett has various shandy flavors, including lemon and watermelon.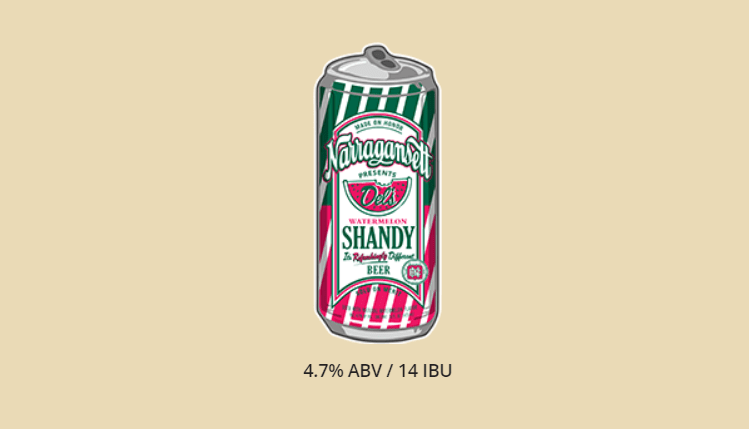 Hard Soft Drinks
Hard soft drinks have become popular, especially among millennials and Gen Z. These generations grew up drinking soft drinks, especially soda, making hard soft drinks most popular among this crowd. As stated in the history section, Narragansett produced soda during Prohibition.
They have a Hard Tea, which is popular among the crowd who aren't into fizzy hard beverages. Narragansett's Hard Tea features tea and lemon flavors and has a 5% ABV.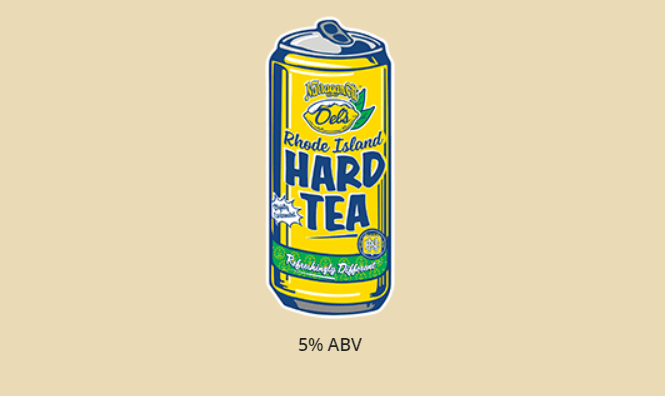 Seasonal Beer
Narragansett offers many seasonal beers. Right now, their Marzen is available. Marzen is the German word for Festbier; historically, the beer was brewed in March (Marzen translates to March) and stored in caves to keep cool for Oktoberfest. The Marzen beer is medium-to-full bodied that's usually amber in color. I've seen some pale Marzens, but they don't have the flavor of a traditional German Marzen.
Narragansett brews their seasonal Marzen with high-quality German hops and malt. Munich malt is used for the toasted and bready flavors, and Tettnang hops for a crisp finish. Noble hops are typically used for Marzens, offering more of an earthy flavor. I honestly think the Narragansett Marzen lacks in body compared to traditional German Marzens.
Narragansett also makes a spiced holiday ale. Holiday ales are usually on the malty side, dark amber in color, and brewed with various spices. Narragansett uses nutmeg, cinnamon, orange peel, and cloves, a perfect flavor combination for the cold Rhode Island winters.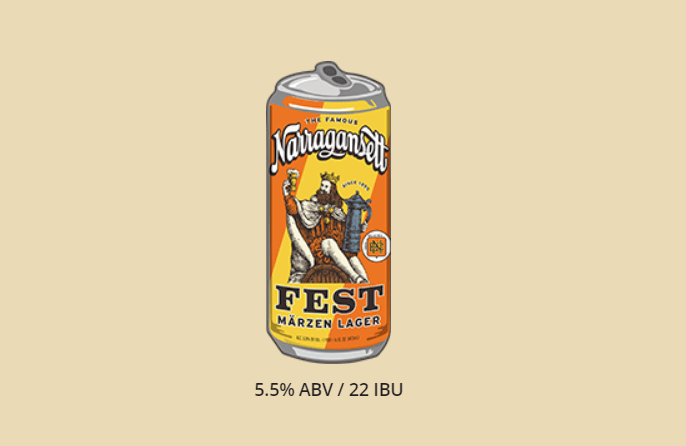 Narragansett Beer
Narragansett has a vast history and has brewed plenty of beer. In this list, I'm mentioning their year-round beers and limited edition beers. They have also released more beers in the past, but I won't mention those here. To learn more about those beers, refer to their complete beer list.
Narragansett Lager
Narragansett Lager dates back to the brewery's opening in 1890. The beer is cleaner tasting than your traditional lager but well-balanced with sweet malts. The hops used are a secret blend of hops originating from the Northwest, which have more of a crisp flavor. Narragansett Lager is golden in color and has a white head that disappears.
I wouldn't drink this if you want a good lager, I would refer you to Yuengling if you want a historic beer that has a full-bodied flavor. But if you want something refreshing for the summer, this beer is a better alternative.
Narragansett Light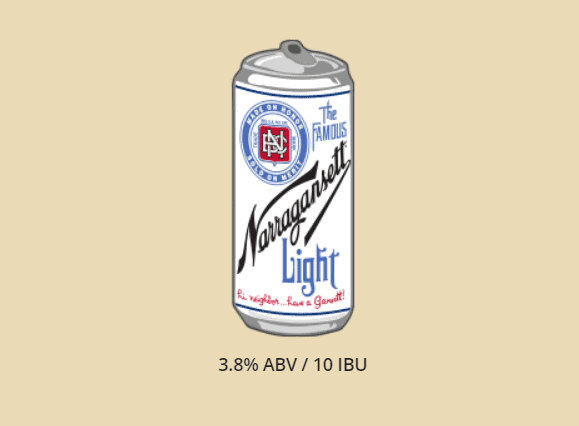 If you want to drink the Narragansett Lager but with fewer calories and alcohol content, then choose the Light variety. Like the original Lager, this one is brewed with Narragansett's secret Pacific Northwest hop blend and six-row malt.
I honestly don't like light beers at all. They have no flavor, and I think they taste like chlorine. This one isn't good, but it isn't the worst light beer. If you want something cheap and light that you can chug quickly, this is a good option. But don't choose this beer if you want to enjoy your brew.
Narragansett Musik Express IPA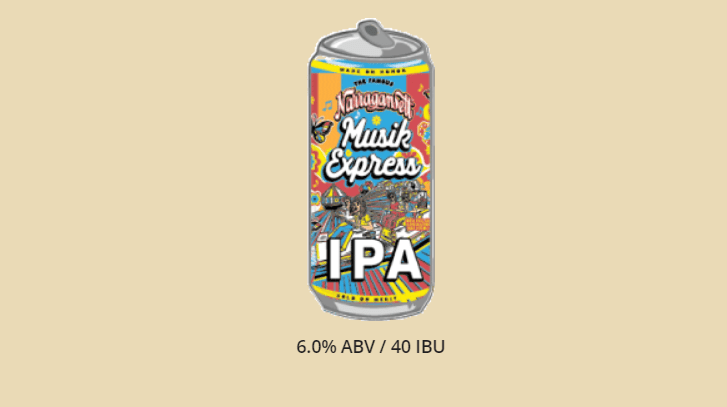 If you're not a fan of super bitter IPAs, I recommend this one. As stated previously, the Musik Express IPA has more of a grapefruit flavor. The fruit notes make this IPA brighter and sweeter than a traditional IPA.
The juicy notes combine with grain notes as opposed to bitter flavors, which will upset IPA connoisseurs. Musik Express is a medium-bodied IPA. I don't think this is the best IPA I've had, but I've also been drinking craft beer for almost 10 years. I recommend this beer to those new to IPAs but don't want anything too bitter or overwhelming.
Narragansett Del's Shandy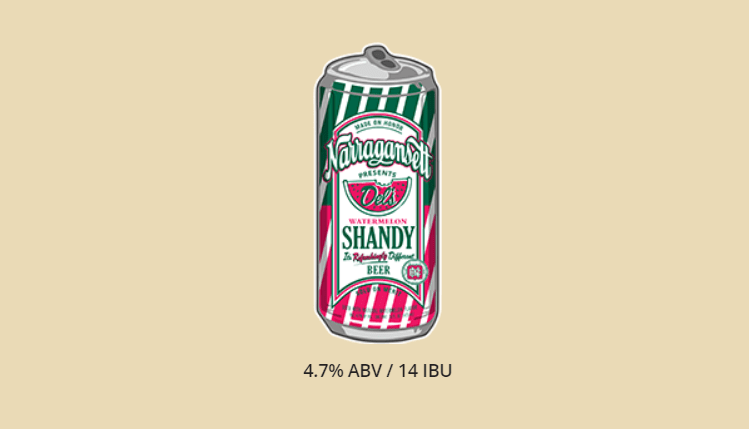 Del's Shandy is Narragansett's most recognizable shandy. Narragansett collaborated with Del's Frozen Lemonade to produce a refreshing lemon-flavored shandy perfect for the summertime. The beer is made by combining Narragansett Lager with lemon concentrate.
A lot of my craft beer friends don't like the shandy beer style, and I can understand why. These beers aren't very complex and taste like either lemon or lime. I like shandy beer because they taste refreshing, especially in the Florida summers. But with this beer, you only taste lemon as if you were drinking a hard lemonade. It doesn't taste like beer at all.
Those who don't like beer would like this one; it's light and bitter but with virtually no hop flavor. But I wouldn't recommend this beer to a beer connoisseur.
Narragansett Rhode Island Hard Tea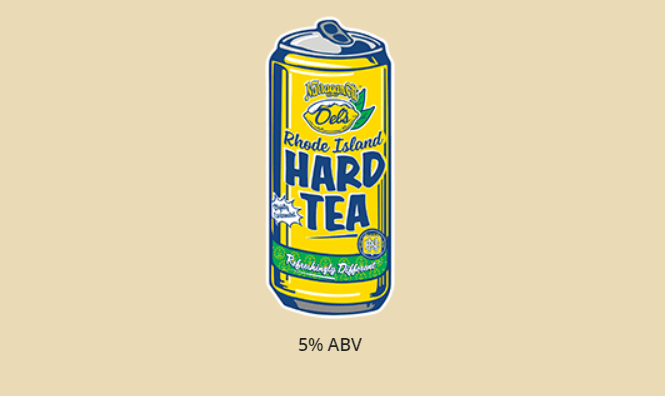 If you like the shandy, I also suggest trying the Hard Tea. Narragansett continues its collaboration with Del to produce this hard iced tea, combining natural tea flavors with lemon for a refreshing summer drink. The drink is carbonated, making it a good option for those who want something other than hard seltzer. Some reviewers described this one as iced tea beer, and I agree. The lemon and tea flavors aren't as prominent as expected.
Narragansett Fresh Catch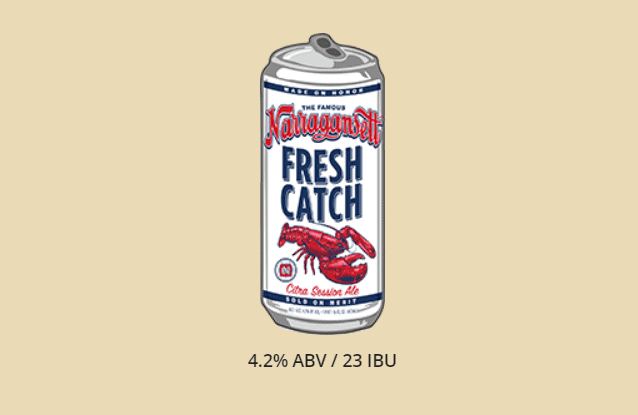 Narragansett is a prominent fishing town, so the brewery wanted to create a beer to celebrate cracking open the first lobster of the beer. Fresh Catch is a golden ale brewed with Citra hops. The beer has a refreshing fruity and citrus taste, perfect for the days you're outside catching lobster all day.
There is noticeable bitterness, but it's not like you're drinking an IPA. I find the body to be on the thinner side, but judging by the ABV, this is the type of beer that you can chug.
Narragansett Fest Marzen Lager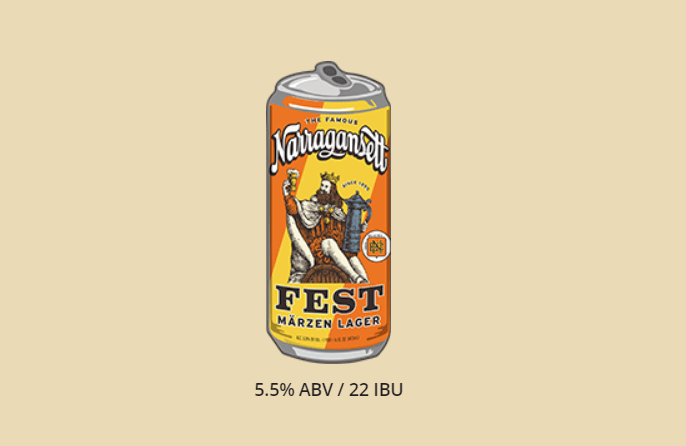 This beer was brewed inspired by the famous Bavarian Marzen. The artwork features King Gambrinus, the legendary Flemish king known to be the inventor of beer. Narragansett hosts an Oktoberfest celebration at their brewery, filled with traditional German food, and you'll see people wearing Oktoberfest garb (lederhosen, dirndls, etc.).
As stated previously, this Marzen isn't completely authentic, but it isn't bad. It has a nice amber color, which I like because I've seen some pale Festbiers. There are mild caramel notes here, but this beer is malty and mild on the hops. I'm not a fan of using Tettnang hops versus Noble hops, but the Tettnang hops get lost in the malt notes.
Narragansett Autocrat Coffee Milk Stout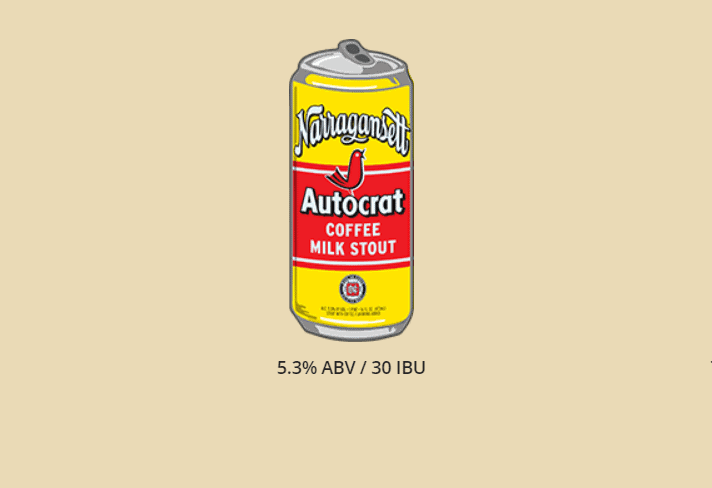 Narragansett collaborated with Rhode Island-based Autocrat coffee to produce a robust coffee stout. There are notes of dark chocolate, toffee, and roasted barley here, giving this coffee stout a bittersweet flavor.
If you're not a stout fan, then I would recommend this to you. The taste is milder than other coffee milk stouts on the market. Even if you prefer a full-bodied stout, this beer is smooth and perfect for drinking throughout the day.
Narragansett Del's Watermelon Shandy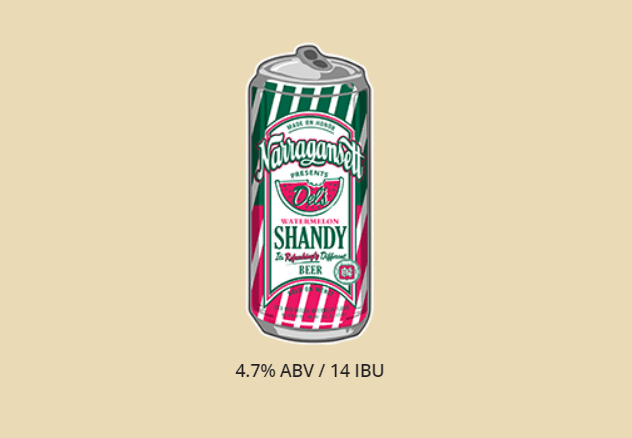 If you're in Rhode Island during the summer, you'll want to get your hands on a watermelon shandy. The beer was made in collaboration with Del's Frozen Lemonade, which also offers a watermelon flavor. The beer combines Narragansett's Lager and natural watermelon flavor for a refreshing shandy.
First, I have to say that I love watermelon everything. I especially love watermelon beer. It sounds strange, but watermelon and beer do go well together. With that being said, I'm all over this shandy. If you think the original lemon shandy is too tart, you would also like this beer. This shandy is more on the sweet side and tastes well with the lager's bready malt.
Narragansett Holiday Ale
Narragansett's festive Holiday Ale is brewed with nutmeg, cinnamon, orange peel, and cloves. It's the beer you'll want to grab after decorating the Christmas tree and when you celebrate any holiday with friends and family. These beers are usually brewed in limited quantities, so they're hard to come by.
As much as I hate to be leaving the fall season, we will be entering the winter season, so I at least have some winter beers to look forward to. The beer has a whopping 7% ABV, but it doesn't taste it. Malt makes up the majority of the taste, with a creamy and smooth finish. There are definitely a lot of cinnamon and clove flavors, which I love. The beer has a medium-to-full body, as do the best holiday beers.
FAQs
Question: Does Narragansett have high-alcohol beers?
Answer: The Holiday Ale is 7%, but that's the highest one I found. Most of their beers are around the 5% mark.
Question: Is Narragansett beer affordable?
Answer: It's definitely on the affordable side. I found a 12-pack (cans) of Narragansett for $12 and looked up prices for some competitors. Corona is about $15, and Yuengling is $13. The only cheaper beer I found was Miller, which is $11 for a 12-pack of cans.
Question: I never had Narragansett Lager. What does it taste like?
Answer: Think of a typical domestic beer, like Busch. I don't think Narragansett Lager is anything special, especially since it has a weird aftertaste. Again, if you want a good and cheap lager, I suggest drinking Yuengling.
Bottom Line
Narragansett Brewery is one of the oldest in the country, founded in 1890. The brewery was founded by German immigrants in the small Rhode Island town of Narragansett.
They're most famous for their lager but have since diversified their catalog and produced everything from IPAs to milk stouts. They also release notable seasonal beers, such as their Marzen and Holiday Ale.
I think Narragansett is a brewery you either love or hate. They're not the worst brewery I've ever had, but they aren't the best, though I have had a few beers from this brewery that are decent. I also find it interesting how Narragansett collaborates with other local Rhode Island businesses. I suggest trying some Narragansett beers for yourself!