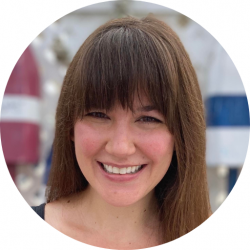 Latest posts by Lauren Vigdor
(see all)
I've never officially lived in Baltimore, but it has become something of a home away from home for me. My partner grew up there, and we have a lot of family in and around the city.
One of our favorite things to do in any city is to check out local breweries, and since he and I each spent over a decade working in hospitality (I spent many years as a bar manager and beverage director), we're often tasked with picking up beer for family parties.
Because of that, I've been fortunate enough to sample the best of what Baltimore breweries have to offer. 
Baltimore doesn't have as many breweries as some US cities, but that doesn't matter since we're going for quality, not quantity. Just like the rest of the country, a lot of the Baltimore brewing industry died out in the 20th century.
It took the city longer to bounce back than some places, but in recent decades Baltimore has seen a brewing renaissance with the opening of several really fantastic craft beer breweries. Below is my list of the best breweries in Baltimore. 
Bottom Line Up Front
I tend to favor certain Baltimore breweries for specific reasons. For example, if I'm bringing beer to a party, I often grab something from Heavy Seas or Union Craft, but if I'm going out, I spend the most time at one of my local farm breweries. 
That being said, The Brewer's Art in Mt. Vernon is my overall favorite Baltimore brewery. The taproom is gorgeous and in a great location, and more importantly, the beer and food are fantastic! 
My Picks at a Glance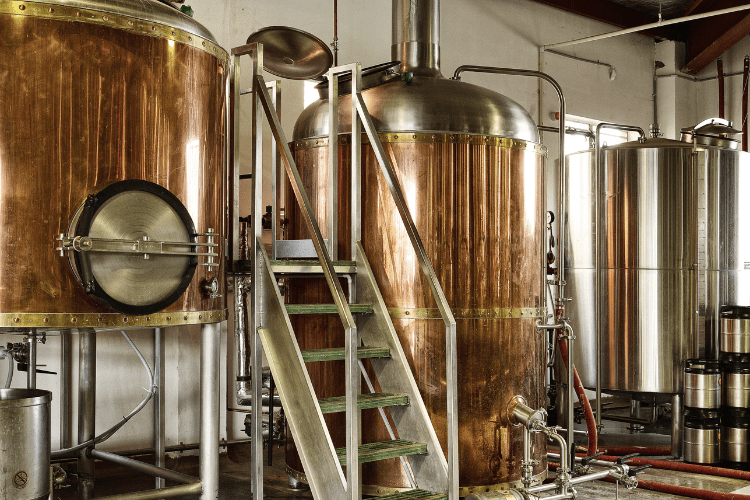 About the Breweries in Baltimore
Baltimore has a rich history of beer and brewing. The city's clean water and harbor access made it ideal for brewing beer in the 19th century. It's also the city where the bottle cap was patented.
There's an entire neighborhood named Brewer's Hill after the historic breweries that once operated there, one of which was the now-iconic National Bohemian.
Unfortunately, most of Baltimore's breweries either didn't survive prohibition or moved out of the city. Currently, the oldest breweries operating in Baltimore opened in the 1990s. 
National Bohemian
I can't write an article about Baltimore Breweries without at least giving the nod to the "official" beer of Baltimore, National Bohemian, or Natty Boh. Although the beer is no longer made in Maryland, it's definitely the most iconic Baltimore brewery. It was founded pre-prohibition and has amassed something of a cult following around the city.
The brewery's one-eyed mascot is something of a folk hero and once got publicly engaged to the Utz potato chip girl. (What, like your city has never done anything weird?) 
The Best Breweries in Baltimore
The following breweries are my favorite in Baltimore. They have comfortable taprooms, an exciting lineup of delicious beer, and they all offer something unique. I prefer breweries that serve food, have outdoor seating, and allow dogs (I don't have a dog, but I like being able to ogle other people's) though none of those things are deal-breakers.
Checkerspot Brewing Co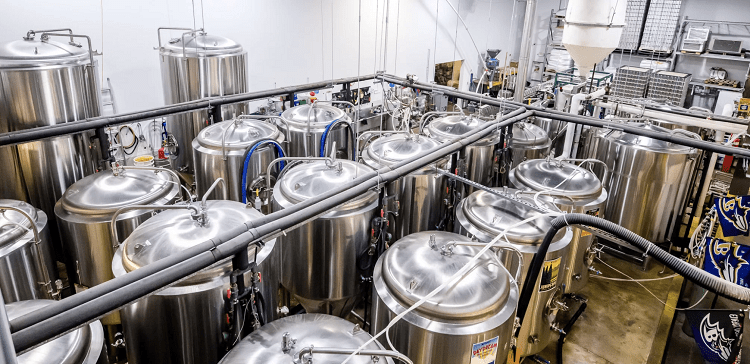 Checkerspot is a great place to hit up before a Ravens game — it's right around the corner from the stadium. They make stellar beers, often with local ingredients, and one of the owners/brewers helped found the Baltimore Beer Babes, a female-centric craft beer appreciation group! 
Checkerspot Brewing Taproom
Checkerspot has a spacious, two-level industrial taproom with plenty of outdoor seating. They offer tours on Saturdays, and dogs are welcome!
The food at Checkerspot is not my favorite compared with other breweries on this list, though it's not bad. They have a somewhat limited selection of snacks and sandwiches to keep you satisfied while you sample their beer.
Checkerspot Brewing Beer
All of Checkerspot's beer is treated to reduce its gluten below detectable limits, so if you're sensitive to gluten, you're in luck! (They also make a gluten-free seltzer for those who are celiac — or anyone who simply likes hard seltzer.)
They mix it up fairly often with seasonal brews, and I particularly love how often they add their own spin to both traditional local and European styles, such as their 395 Rye or their First Whisper ESB.
What to Drink from Checkerspot Brewing
Their kettle sours are particularly magical. Other than those, my favorites are the Juniperus IPA and Hillbilly Gold pilsner. I still haven't had the opportunity to try it, but I've heard they brew a milk stout with crab shells that's excellent. 
Cherspot Brewing Pros and Cons
Pros
Perfect place to tailgate before a Ravens game

Female owner/brewer

Many beers use local ingredients

Open seven days a week, including many holidays
Cons
Don't have a full dinner menu

Unless you're going to a game, there isn't a ton to do within walking distance
Nepenthe Brewing Co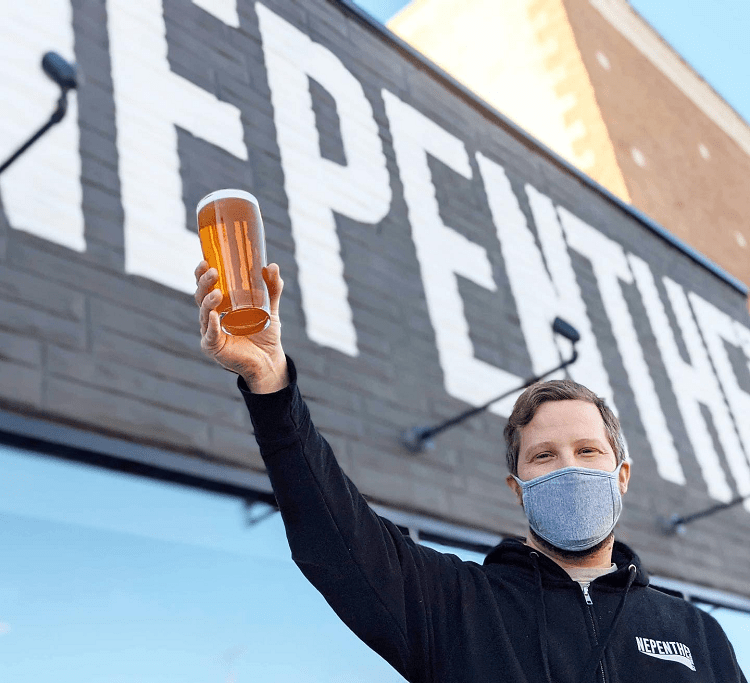 Nepenthe Brewing is a relative newcomer, at least when it comes to the Baltimore brewery scene. They started as a homebrew supply shop before switching gears and becoming a brewpub. Nepenthe is one of my favorite breweries to hang out at.
They've got excellent beer, some of the best food on this list, and they're in Hampden, one of my favorite neighborhoods in Baltimore. Don't you dare visit without checking out Atomic Books next door. 
Nepenthe Brewing Taproom
As I said, the brewery is in an awesome, kitchy neighborhood with a ton of cool vintage shops, boutiques, and one of my favorite bookstores, all within walking distance. The taproom is moody but spacious, and they've got some of the best food of any brewery on this list. 
Nepenthe Brewing Beer
If you can think of it, Nepenthe has brewed it (and if you can't think of it, they've probably brewed that too — I mean, they made an IPA with peaches and vanilla. Seriously though, while their lineup is just as IPA-heavy as any American craft brewery, they make pretty much any style of beer you can think of — from sours, lagers, and kӧlsches to bocks. 
What to Drink from Nepenthe Brewing
Throw a dart at the beer list and drink whatever it lands on. You really can't go wrong. 
Nepenthe Brewing Pros and Cons
Pros
Excellent food

Great location

Tons of styles of beer
Cons
Closed Mondays

Doesn't have as much outdoor seating as some places on this list
Heavy Seas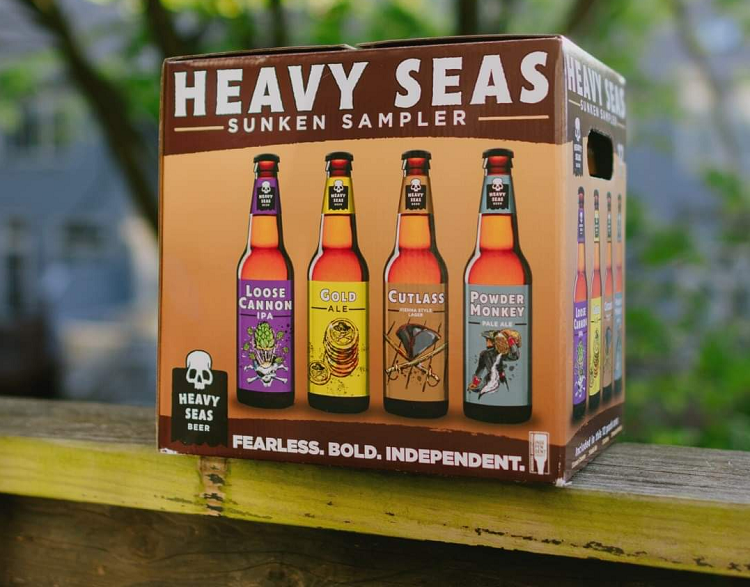 Heavy Seas helped spearhead Baltimore's craft brewing scene back in the 90s under their former name, Clipper City Brewing Company. They've been Baltimore's craft beer pioneers for several decades now and have truly mastered their craft. Full disclosure: I'm a little biased because my brother-in-law used to work for them. 
Heavy Seas Taproom
The Heavy Seas taproom is a little out of the way in Halethorpe, but it's only about five minutes away from the Guinness Open Gate Brewery, and there are worse ways to spend an afternoon than brewery hopping in Maryland.
If you go on a Saturday, you can book a ticket for a brewery tour that includes a beer tasting and a souvenir pint glass for $7.  
The brewery has a huge indoor space and patio, perfect for a group. They've got a burger food truck at the ready in case you get hungry and host regular events and live music in the space. 
Heavy Seas Beer
For me, Heavy Seas is all about big, slap-you-across-the-face IPAs (I believe that's the technical term.) That being said, they have a really solid lineup of easy-drinking beers, and they make some really interesting experimental fruited ales and high-octane stouts.
If you can't make it to the brewery, you'll definitely be able to find their beer on draught all over the city and in cans in Maryland, as well as a few adjacent states.
What to Drink from Heavy Seas
It almost seems too easy, but their flagship IPA, Loose Cannon, is one of my favorite Heavy Seas beers. I say it's too easy because it's wildly popular — you can find this beer pretty much everywhere in Baltimore, but it's popular for a reason, and when it comes to beer, we don't always have to reinvent the wheel. 
Beyond that, I would say the Cutlass Vienna lager and the Powder Monkey pale ale are my next favorites. The last time we went to a Ravens game, my partner and I ordered one of each beforehand and went sip-for-sip because we liked them both equally. 
Heavy Seas Pros and Con
Pros
Really solid IPA-heavy lineup that still offers something for all styles of beer drinkers

Helped kickstart the Baltimore brewery scene as we know it

Beer is widely available
Cons
Heavy Seas has been in the game long enough that it feels like they're not quite as cool as some of the newbies 

The brewery is a little outside the city

Not open Monday or Tuesday
Union Craft Brewing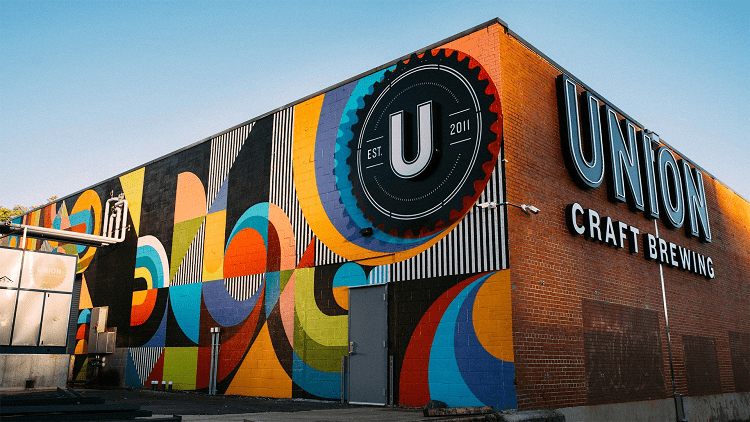 Union is one of my go-to Baltimore breweries when buying beer for a party. As I said before, almost every time we have a family party at my in-laws' house, my partner and I are in charge of picking the beer. (Once you're in the hospitality game, you're in it for life.) 
Union Craft Taproom
The taproom is part industrial space, part European beer hall and beer garden. Well-behaved dogs are allowed in the beer garden, and Well Crafted Kitchen serves wood-fired pizza and snacks out of the beer hall. There's also ice cream and coffee on-site! 
Union Craft Beer
As I previously stated, Union Craft has a core lineup of "something for everyone" beers. In my opinion, the one thing that ties all their beers together is how accessible they are. They also release a nearly unimaginable amount of seasonal beers in all sorts of styles, so if something catches your eye, act fast and snatch it up! 
What to Drink from Union Craft
I like the seasonal Thirst Monster Kolsch and the perennial favorite Zadie's Lager. I had both last weekend at a family barbecue! The Thirst Monster is crisp, herbal, and lightly malty, whereas the Zadie's is the perfect "lawnmower beer."
It's light, refreshing, and very easy to drink. Last winter, I bought their G.O.A.T IPA because I thought the can was cool and was not disappointed in the juicy, hoppy beer inside! 
The Anthem golden ale is always good to bring to parties, especially when you're expecting guests who want a beer that "isn't boring, but isn't too hoppy." (I know someone came to mind when you read that.) The Duckpin pale ale is slightly hoppier and another crowd-pleaser. 
Union Craft Pros and Cons
Pros
Very accessible, crowd-pleasing beers

They offer tours on Saturdays

Beer is easy to find in pubs and stores around Baltimore
Cons
The Brewer's Art

The Brewer's Art might be the winner for coolest taproom in Baltimore. It's located in a historic townhouse and can feel like you're stepping into another world. I have no problem with breweries in large industrial spaces, but there's something refreshing and charming about Brewer's Art's super walkable Mt. Vernon location.
The Brewer's Art Taproom
The first floor of The Brewer's Art features a cozy bar overlooking the street and a spacious dining room. I don't really know how to describe the downstairs bar except to say that it looks exactly like a folk bar I visited in Latvia one time, but that's probably not super helpful.
It's moody, rustic, and welcoming, with hidden corners that are perfect for hiding away and catching up with friends.
The Brewer's Art has a small but well-curated menu of very delicious upscale pub favorites. They also serve cocktails and wine, just in case you've got a non-beer drinker in tow. 
The Brewer's Art Beer
The Brewer's Art specializes in Belgian-style beers, but they brew other varieties as well. They have a limited selection available at the brewery at once and offer a mix of year-round favorites and seasonal brews. 
What to Drink from The Brewer's Art
My favorite beers from The Brewer's Art are the Beasley golden ale and the Birdhouse Belgian pale ale, and I don't think I'm alone there. They're both incredibly easy to drink and make me feel like I'm sitting at a beer café in Europe. 
The Brewer's Art Pros and Cons
Pros
Really good food

Gorgeous taproom
Cons
Closed Tuesdays 

Not open during lunch hours
Honorable Mention: Burley Oak Brewing Company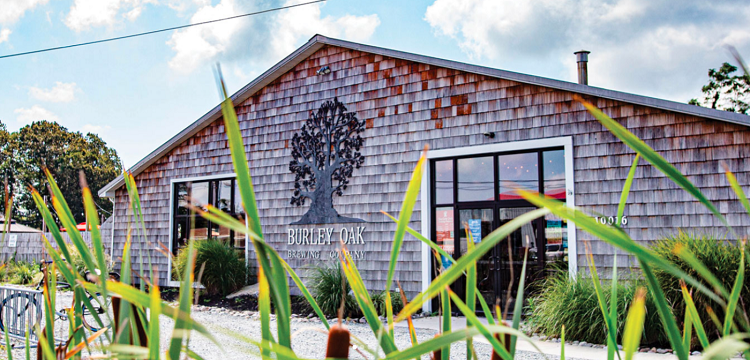 Burley Oak is a little way outside of Baltimore in Berlin, Maryland, but I love them, so I had to include them on this list. Back when I was a beverage director in Boston, I would occasionally get limited amounts of their fruited sours to sell at my beer-focused bar. They were always a hit and never lasted long! 
Burley Oak Taproom
The Taproom is charming and cozy, and they have a large outdoor space with seating where they occasionally host events. They don't offer food at the brewery, but they do allow guests to bring outside food. 
Burley Oak Beer
Burley Oak focuses on sustainability and traditional brewing methods. They brew a variety of styles of beer but are especially known for their fruited sours and pastry stouts chock full of unconventional add-ins like blueberries, bananas, coconut, and even cream cheese!
What to Drink From Burley Oak
My favorite Burley Oak beer is probably the Sorry Chicky dry-hopped sour, but I have to warn you: it's bracingly sour. Any of the J.R.E.A.M fruited lacto-sours are a good choice if you're up for an adventure. Some of them remind me of the soda and candy combinations my friends and I would make as eight year olds left unattended at a sleepover. 
I think the Homegrown session IPA is one of the coolest beers Burley Oak brews. It's a single hop and single malt ale made with barley grown 15 minutes from the brewery and Citra hops. It also happens to be a deliciously clean and super drinkable session IPA. 
Burley Oak Pros and Cons
Pros
Berlin is an adorable town not too far from the beach

Burley Oak makes some of the best sour beers I've ever had

Open seven days a week
Cons
A few hours' drive from the city. Honestly, it might be faster to take a boat. 

Brewery doesn't serve food
Farm Breweries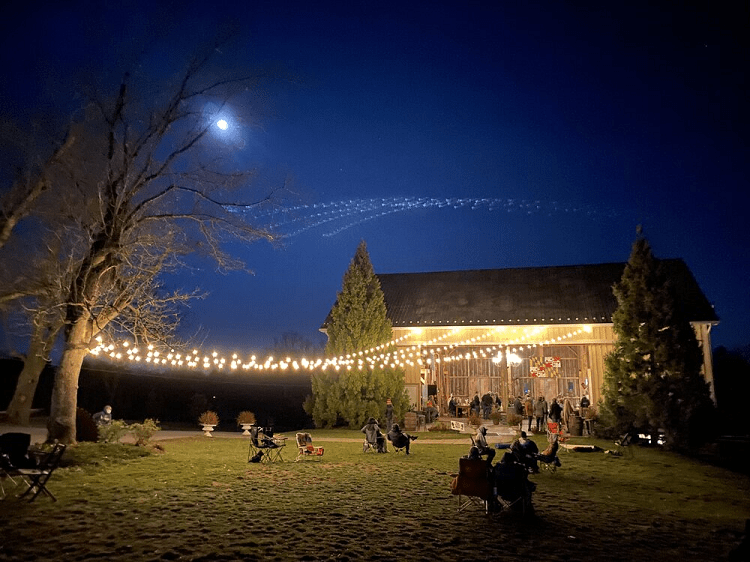 You won't find any in the city, but there are a ton of farm breweries that have popped up all over Maryland, including a few in Baltimore County.
In 2012, Maryland created a law allowing licensed farms to open breweries on their property, provided the beer used some amount of ingredients grown on the farm, whether it be grains, hops, or fruit — how cool is that? 
I love being able to sip a beer while sitting at a picnic table overlooking the fields where the ingredients are grown. I tend to hang out at Big Truck or Inverness since they happen to be close to my in-laws' place, but you can find a list of breweries by county here. 
FAQs
Question: What Beer should I Drink with Maryland Crabs?
Answer: I like to drink a pilsner like Checkerspot's Hillbilly Gold with crabs, but you could always stick with a classic and crack open a Natty Boh. 
Question: What is the Best IPA in Baltimore?
Answer: The Double Duckpin Imperial IPA from Union Craft and the Loose Cannon IPA from Heavy Seas are some of the best IPAs in Baltimore.
Question: How many Breweries are there in Baltimore?
Answer: There are more than a dozen breweries in Baltimore city, with nearly a dozen more in surrounding Baltimore county. 
Final Thoughts
Baltimore may not be home to as many breweries as Portland, Oregon, or Asheville, North Carolina, but there are plenty of phenomenal and innovative breweries within the city limits and surrounding Baltimore county.
Out of all of them, my favorite is The Brewer's Art. The taproom alone is worth the visit, and the Belgian-inspired beers are some of the best in the city. 
Here's a list of the best breweries you need to visit if you are traveling to: