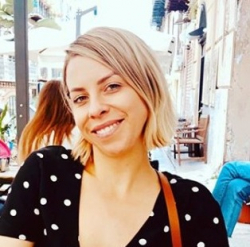 Latest posts by Jodie Chiffey
(see all)
The Lagunitas Super Cluster has pure Citra hops taste with a mid-level body and high carbonation. Crispy and fluffy towards the end, this is a relatively strong IPA. Continue reading our Lagunitas Super Cluster review to conclude if this is the right beer for you.
Do you have a thing for bitter IPA's? If so, Lagunitas Super Cluster is a great beer for you!
Key Features of Lagunitas Super Cluster IPA
Flavor: Fruity flavors with grassy hops and a black tea-like finish
Color: Golden amber with a dense white head
Aroma: Floral, pine, caramel, and zest aromas
Mouthfeel: Crisp and fluffy with a bitter and dry finish
Bitterness: High
Alcohol Content: 8%
What Does Lagunitas Super Cluster Taste Like?
The very flavorful Lagunitas Super Cluster by the Lagunitas Brewing Company is an excellent combination of hoppy hops, delicious malts and yeast. The bitterness of the hops will hit you in the first few sips, followed by a citrusy and malty taste.
Initially, you will be hit by flavored grassy hops with a hint of light mash and tea-like bitter tannins. As you drink it, the hops grow evermore more prominently, and it finishes with a bitter medium astringency and dryness.
It has a faint thymol note to it, which is not very likable. However, with an alcohol volume of 8%, you won't feel the presence as much as it is in the beer. It is hidden quite well!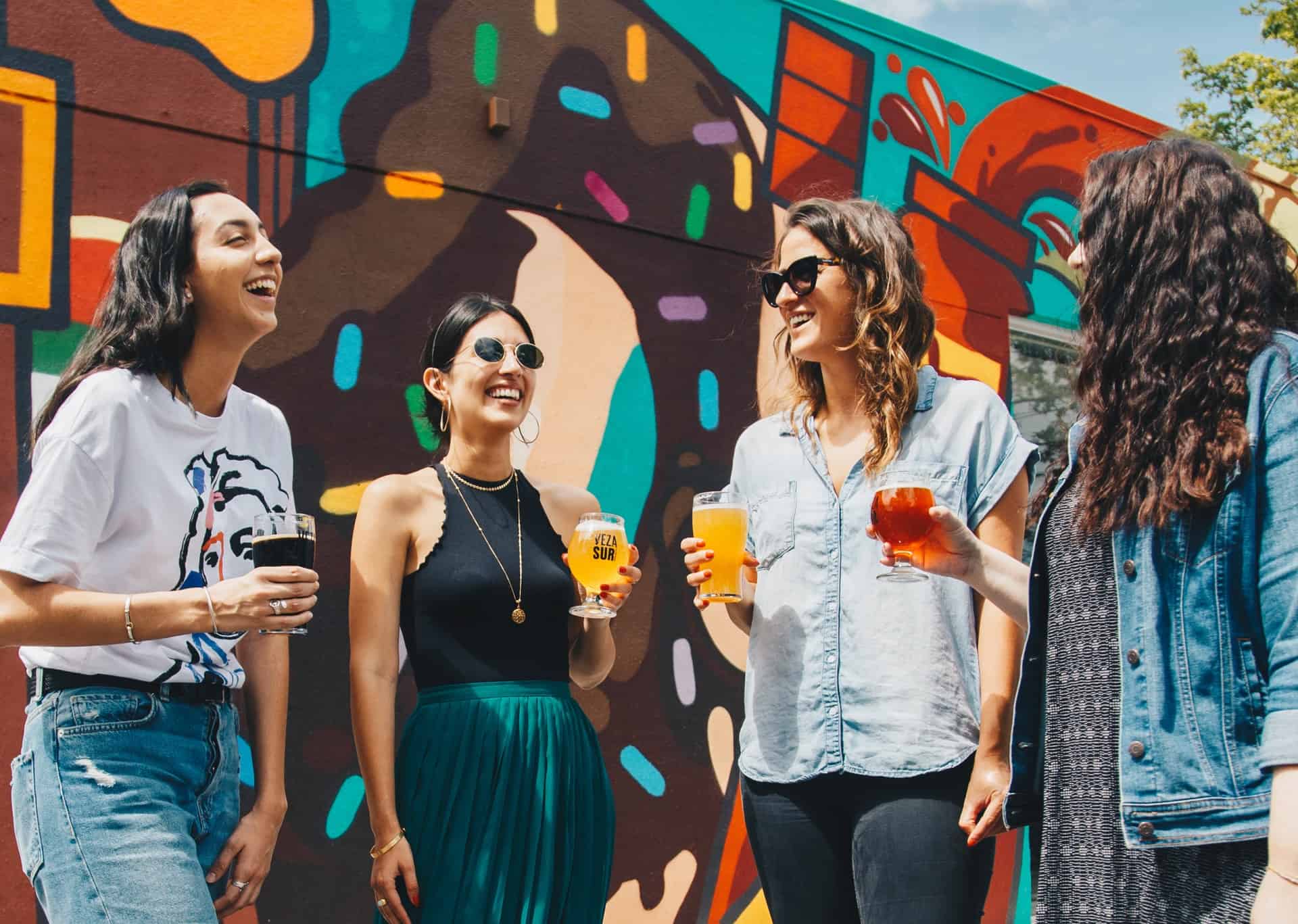 The Color
The pour of Lagunitas Super Cluster generates a dense white head over a stunningly clear golden body, with flowing carbonation from the base. It pours a dark golden color liquid which is less or not hazy at all.
This golden-amber pour has a bubbly appearance with excellent retention. Being a one-finger light head IPA beer, the Lagunitas Super Cluster maintains its lace throughout. However, the head falls rapidly, leaving a soapy lace that is uneven.
The Ingredients
Water
To conduct an effective and smooth brewing procedure, it is mandatory to employ good water. As discussed in the Bass Ale review earlier, water is considered the key ingredient for any beer recipe.
Since the Lagunitas Super Cluster is a bitter concentrated beer, the alkalinity of water is high, and the acidity is low. The alkalinity of water while brewing the Lagunitas Super Cluster must be between 7 to 14 to give it a hint of extreme bitterness.
Hops
The Lagunitas Super Cluster is brewed with only one type of hops, The Citra Hops. Hops are responsible for keeping the Lagunitas Super Cluster frothy and giving it a fresh color and flavor. Moreover, hops give beer its taste and fragrance.
Malt
Malts contribute the most in laying down a solid foundation of Lagunitas Super Clusters' taste. The golden amberish color of the beer is driven straight from the malts used during its brewing procedure.
Yeast
While brewing the mighty Lagunitas Super Cluster, every ingredient plays a role of its own. Similarly, yeast is no exception either. The yeast is responsible for breaking down the glucose particles into carbon dioxide and alcohol efficiently. In fact, not just for the Lagunitas Super Cluster but for any other beer, the yeast functions the same.
The Fermentation Procedure
Fermentation is an anaerobic chemical process that breaks down molecules like glucose. In a broader sense, Fermentation is the foaming that happens during the production of wine and beer, a process that dates back at least 10,000 years.
This process is considered the most critical stage of the Lagunitas Super Cluster brewing. Fermentation is all about giving the yeast the ideal possible circumstances to convert the sugars in the wort into alcohol, carbon dioxide, and the flavors and smells you want. The dissolved oxygen content and ferment temperature are two of the essential factors.
It may take between a week or two for the Lagunitas Super Cluster to be fermented. The fermentation process begins with the wort settling into the fermentation vessel, which is already induced with the yeast.
Once the fermentation of Lagunitas Super Cluster has begun, all sides of the fermenter are filled to prevent air from entering. If the machine's apertures aren't adequately sealed, outside air will likely enter the fermenter and infect the yeast.
As the fermentation progresses, the yeast begins to settle down in the fermenter. When the beer is at its most fermented, it is checked to see if all of the yeast has gathered on the bottom.
After the Lagunitas Super Cluster beer has finished fermenting, the yeast is removed and later extracted to be utilized in future fermentations. As long as the remaining yeast does not mutate and develop an unfamiliar taste, it can be used in the fermentation process of other beers.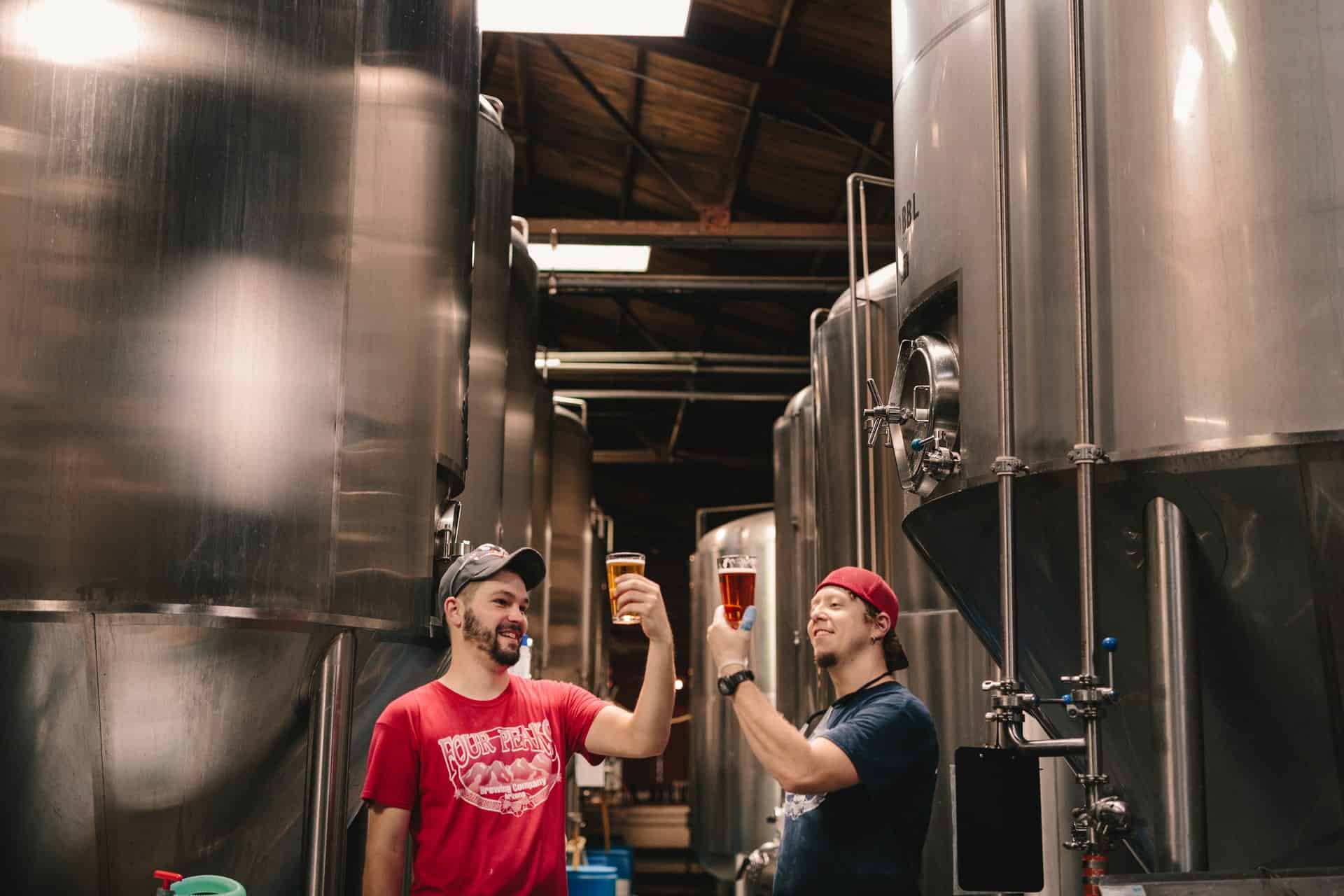 The next step is to determine the amount of alcohol in the sample. The alcohol concentration is determined when a certain gravity level is obtained following fermentation.
If the Lagunitas Super Cluster beer has good alcohol content, the long vent vessel that produces CO2 is closed.
The fermenter has absorbed all of the carbon dioxide now that the vent tube is closed and packed. This begins to build up pressure in the beer, and carbonation is introduced to the fermenter. When the Lagunitas Super Cluster reaches the final stage, extra carbonation is added.
After the beer has been carbonated and the fermentation process is complete, it is allowed to rest. Other solid particles, such as unwanted protein, are removed from the solution during the chilling step. After the liquid has cooled, the leftover yeast settles, collecting and storing it for future fermentations.
As the fermentation process nears completion, the Lagunitas Super Cluster is transferred from the fermenter to the filter, settled and chilled. After that, the beer is transferred to the Bright Beer Tank.
This is where a porous stone is used to impart carbonation to the beer manually. The beer is then shipped to be bottled and kegged.
Lagunitas Super Cluster ABV (Alcohol by Volume)
With an alcohol volume of 8%, the Lagunitas Super Cluster is an easy consuming and delicious double IPA. It is inclined more towards a bitter tasted beer and has an IBU rating of 66. This is relatively higher than the other products of the Lagunitas Brewing Company.
Wondering what OG is? The OG monitors the solids in the wort before fermentation to ensure that a beer's alcohol content is constant. Moreover, the OG of this beer is 1.073, which is pretty neat for a double IPA beer.
This double IPA beer is well-balanced while having a slight bitterness, a medium body, moderate carbonation, and a crisp finish! It gives off a citrusy taste. In other words, it can be pronounced as a fantastic beer to not only satisfy your taste buds but also give you a worthwhile after-taste!
The Bottle Packaging
The bottle packaging of the Lagunitas Super Cluster is modern yet convenient. This Double IPA beer bottle is sleek and contemporary in appearance. The pour comes in a 12.0oz bottle with a one-of-a-kind design. These bottles and cans come in 6-, 12-, and 24-pack cardboard packaging, making them simple to transport.
Where to Purchase Lagunitas Super Cluster?
With time, the products of Lagunitas Brewing Company have become readily popular, and the Lagunitas Super Cluster is no exception either. Beer lovers frequently purchase this great beer all around the world. Thus, the demand for this pour has simultaneously increased, leading it to be significantly supplied worldwide.
The Lagunitas Super Cluster is available through online merchants, including Hop culture, Craftshack, Drizly, and complete vino. You may also get this great beer in supermarkets like Tesco or Walmart. They're also relatively easy to find there.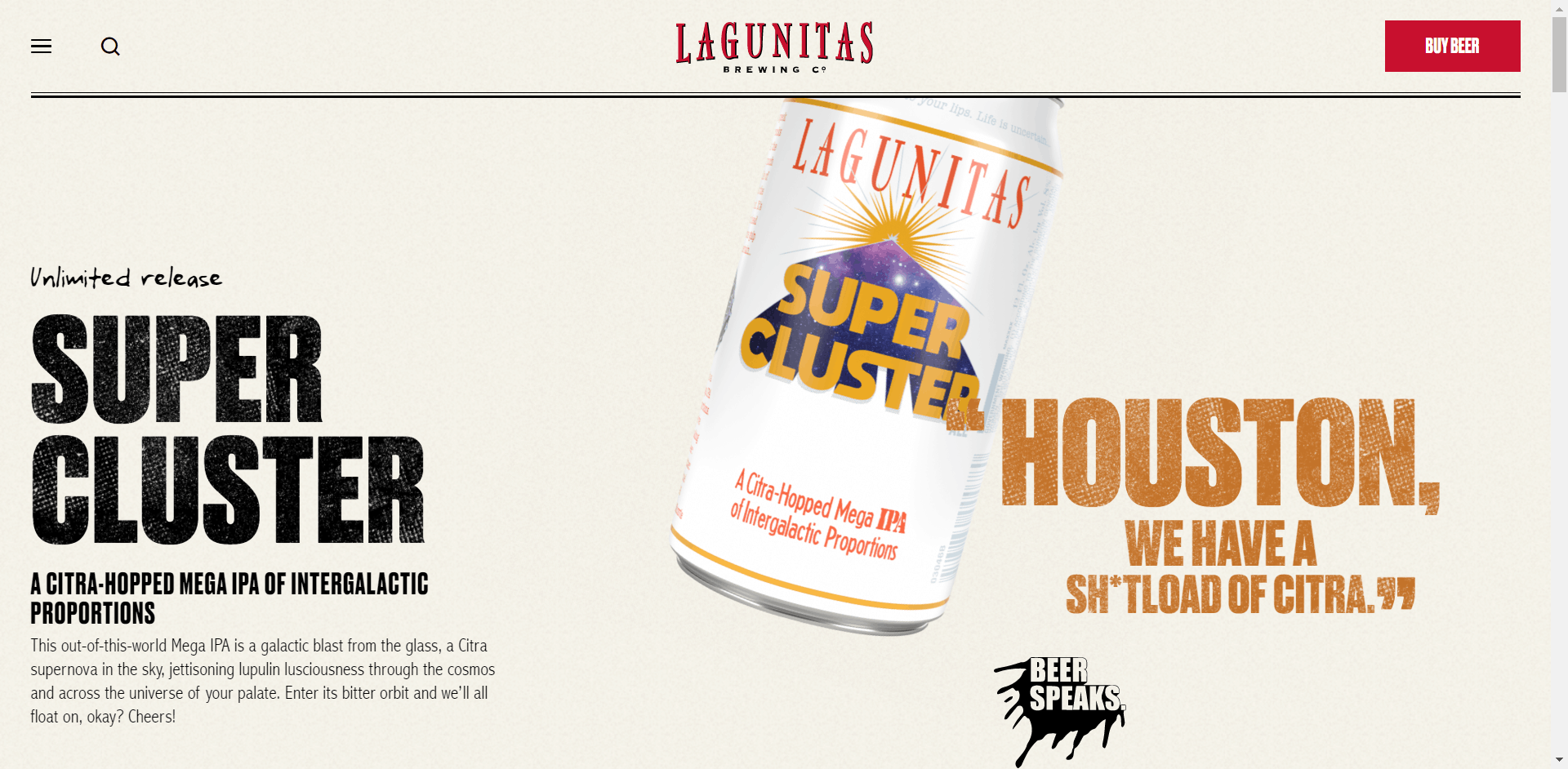 How did Lagunitas Brewing Company Begin?
In 1993, the Lagunitas Brewing Company was started on a kitchen stove in North Carolina. Practicing as a hobby, Tony Magee was crafting beers on a 5-gal homebrew kit. Since then, this company has been crafting outstanding and incomparable hop-forward beers.
After moving to a rented place, Tony brought a new beer concept into being in the late 1995's. He introduced the idea of Indian Pale Ale, which he later shortened to IPA.
From 1995 to 2005, Tony has rapidly outgrown his Forest Knolls apartment and relocated to Petaluma. After a few years, he needed an additional room, so he held a party and instructed everyone who came to collect whatever wasn't fastened to the ground and walk it across McDowell St. to where the Lagunitas Brewing Company still brew today!
From there, in 2014, the Lagunitas Brewing Company and its products kept growing. Soon from Petaluma to Chicago and Seattle, the brand was known widely. It gained more than enough appreciation from the beer critics.
Where is Lagunitas Super Cluster Brewed Today?
Although the Lagunitas Super Cluster is distributed in many states of the USA, such as Petaluma, Manhattan, Seattle and others but till this date, it is brewed and tasted in Petaluma, California, USA.
Pros and Cons of Lagunitas Super Cluster
Pros
Easy to drink
It contains a great combination of Hops, Pine and Citrus
Although the Alcohol by Volume is 8%, it feels like a 5% ABV beer.
Super smooth
It Tastes very hoppy in the mouth in the beginning but doesn't have a robust aftereffect.
Cons
This beer has a relatively higher ABV than the other Lagunitas beers
It is very bitter in taste because of a higher IBU rate.
The flavor duration is brief, and the depth of the flavor is almost nonexistent.
Additional Lagunitas Company Products
Little Sumpin' Sumpin'

A Little Sumpin' Sumpin' is a one-of-a-kind beer. It's a hoppy pale wheat ale with a robust hop finish and a silky mouthfeel that's ideal for IPA enthusiasts yet smooth enough.
Read Related: Lagunitas Sumpin Easy Review.
Lagunitas Daytime IPA
Lagunitas Daytime IPA is a low-carb/calorie craft beer with a resinous, piney, and mild citrus flavor. It is one of the most highly regarded low-carb IPAs in the United States. Lagunitas Daytime IPA is the quick beer you need to call it a day, with fine-drawn tastes like lemon zest, flowery, and somewhat grassy.
Hazy Wonder
This intriguing ferment is packed with fantastic Sabro, Citra, and Cashmere hops for a smooth, tropical fruitiness. A somewhat bitter, thickly foggy phenomenon with an oddly light mouthfeel that keeps you content and wanting more.
Lagunitas Super Cluster Alternatives
Fiddlehead IPA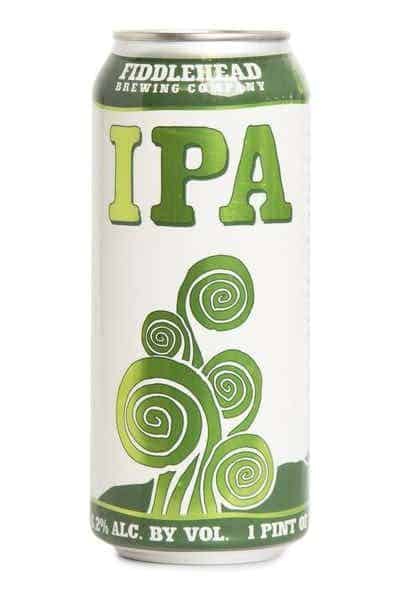 The Fiddlehead IPA is an easy-drinking IPA with a typical old-school aroma, a juicy flavor, and a medium-light body. Three distinct hop strains combine to make this delicious beer.
Goose Island Christmas IPA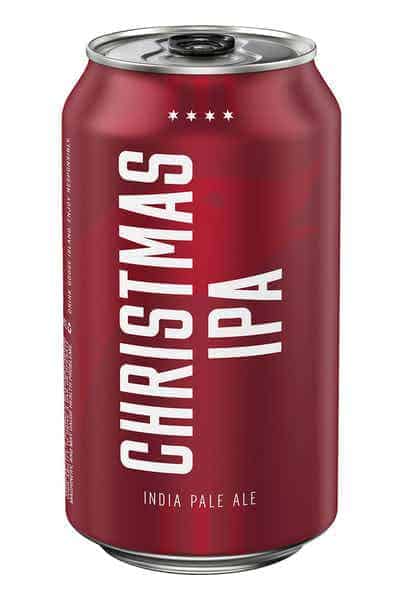 Goose Island's Christmas IPA is brewed with six different hops and a variety of malts. It pours down a reddish copper-colored liquid that has a very long-lasting head.
Mastermind Beer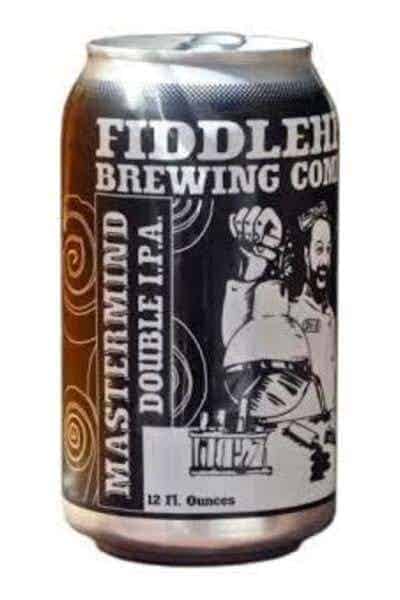 The Mastermind Beer is high alcohol by volume drink with citrusy hops and moderate bitterness. It is orangey, grassy, and herbal in taste, yet an easy-to-drink beer especially given the 8.1% ABV. A must-try!
Frequently Asked Questions
Question: How Many Calories are there in Lagunitas Super Cluster?
Answer: The Lagunitas Super Cluster is a hop-forward beer by the Lagunitas Brewing Company, and it contains around 230 calories in a 12 oZ can.
Question: What is the Taste of Lagunitas Super Cluster Like?
Answer: Although the ingredients and combination of the Lagunitas Super Cluster suggest it as a packed and heavy beer, to much surprise, It has an ABV of 8%; however, it tastes like a 5% ABV beer. Since it is a hop-forward double IPA beer, the company has nailed the idea of Citra hops when it comes to the Super Cluster. Although the alcohol flavor is successfully hidden, the bitterness level is relatively higher as this beer accommodates an IBU rate of 66.6.
Question: Is Lagunitas Super Cluster a High Alcohol Concentrated Beer?
Answer: Compared to the other products of the Lagunitas Brewing Company, the alcohol concentration of the Super Cluster is relatively higher. However, this double IPA beer does a great job of hiding the alcohol. Its ABV is 8%, but critics have reported it tastes like a 5% ABV IPA beer.
Question: Will excessive Consumption of Lagunitas Super Cluster Damage the Body?
Answer: Although drinking the Lagunitas Super Cluster can prove to be very beneficial for the body, excessive consumption of it will be strictly opposed. Suppose a moderate quantity of this beer is consumed. In that case, it can offer you benefits like prevention from inflammation, strong building and maintenance of bones, and help prevent kidney stones from forming. Similarly, like moderate consumption has got pros, excessive consumption has gotten its cons.
Question: Which Hops are Used in the Making of Lagunitas Super Cluster?
Answer: The Lagunitas Super Cluster is a single-hop beer. The basis of the taste of this beer lies fundamentally in the Citra hops. These hops give this beer its overall taste, flavor and smell. Moreover, the Citra hops also determine the flavor of the Lagunitas Super Cluster.
Question: What are the Main Ingredients of Lagunitas Super Cluster?
Answer: The Super Cluster beer is a blend of Citra hops, water, yeasts, and malts. It is a high ABV beer, but the buzz it gives is slight, and the flavor offered is incredible! Unique fermentation procedures and beer crafting techniques were utilized to craft this beer.
Lagunitas Super Cluster Review: The Bottom Line
The Lagunitas Super Cluster is a hop-forward double IPA beer. Created and brewed with only one type of hops, Citra hops, it has a well-balanced flavor. It can be your every week's beer, but the Alcohol by Volume (ABV) might concern you a little. However, rest assured, this beer feels like a 5% ABV IPA rather than 8%.
Easy to drink, light in taste and yet super flavorful, the Super Cluster is one of the best craft creations of the Lagunitas Brewing Company. Get a pint glass out, let the pour drop and experience the magic of Lagunitas Super Cluster with every sip you take.