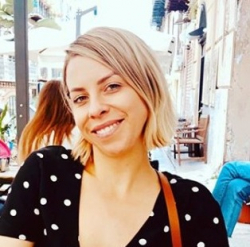 Latest posts by Jodie Chiffey
(see all)
Deschutes Fresh Haze is one of my favorite IPA beers. With its deep orange color and citrusy aromas, this is a great beer.
The Fresh Haze IPA Haze has become quite popular amongst new and old beer drinkers. The delightful orange flavor leaves a fantastic mouthfeel. It carries the combination of citrus and tropical fruit grafted from Mandarina, Simcoe, and Amarillo to perfection!
Key Features of Deschutes Fresh Haze
Flavor: Orange and soft malt body
Color: Deep orange color
Aroma: Citrusy aromas of orange zest, tangerine, and mandarin
Mouthfeel: Creamy and sweet with light carbonation
Bitterness: Light
Alcohol Content: 6.5%
What Does Deschutes Fresh Haze Taste Like?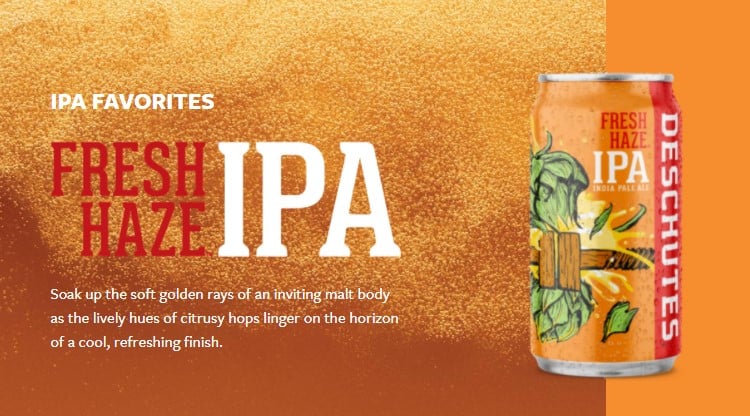 Deschutes Fresh Haze tastes like an orange pop float. The orange creaminess and crunchy carbonation leave a satisfying mouthfeel. What's surprising is that the Deschutes Fresh Haz beer does not contain any fruit, yet it is fruity with a spicy finish.
Deschutes Fresh Haze enlightens the 1990's craft throwback nose malty with more citrusy fruit notes than hops. The first sip leaves a citrusy taste with hints of honey and marmalade. The taste is not out of this world, but really good and refreshing.
The Color
The Deschutes Fresh Haz beer has a deep, shining orange color with a creamy, foamy head. You can tell just from looking at this beer that it's going to be refreshing!
The Ingredients
Deschutes Fresh squeezed IPA is evoked with a pale ale that is richly filled with a citrusy flavor. One can get delighted with the sense of intense grapefruit aroma. This beer is brewed with Mosaic, Nugget, and Citra hops. The ale secures a characteristic bitterness.
Water
The major ingredient for any beer and brewing recipe is water. Deschutes Fresh Haz uses hard water mixed with other ingredients to develop a great taste. It has higher proportions of Calcium Bicarbonate and Calcium Carbonate levels. These high-level minerals dissolve with the other key ingredients, increasing the hops' bitterness and playing a classical role in generating a ferocious taste and finish.
Hops
Deschutes Fresh Haz is specially brewed with the assistance of traditional hops. The hops which add the amazing smoothness in the Fresh Haz are Amarillo, Cashmere, and Mandarina Bavaria.
They are the direct progeny of original east kent hop. Amarillo and Bavaria offer woody, calm, and natural taste to Fresh Haz. In the beginning, they were only utilized as aromatic and bittering hops but hard work there is profoundly preferred to use for aromatic properties and their everlasting qualities.
The Fermentation Process
Deschutes Fresh Haze uses a traditional fermentation method. It is one of the widely used fermentation methods to regenerate the best beer with traditional occurrence. This fermentation method permits yeast to spread on the upper layer, leading to top-notch quality beer.
Further, it can be gathered with ease and stored for a longer period and future fermentation. Another surprising element about the Fresh haze fermentation procedure is that the temperature is kept around 65°F so that the mold strains ferment at the top of the mixture.
Deschutes Fresh Haze ABV (Alcohol by Volume)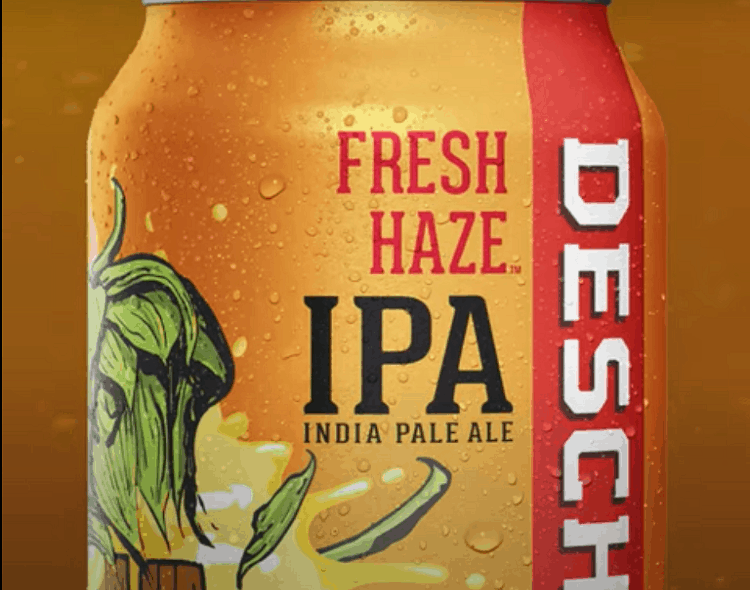 Deschutes Fresh Haze has an ABV of 6.5%, making it a good beer to have at any time of the day, provided you don't have to do any work after.
The Bottle Packaging
Deschutes Fresh Haze is categorically packed in 12oz size bottles. The beautiful logo of Deschutes Fresh Haze is imprinted in the can bottle. These 12oz size bottles are expediently packed in cardboard packages of 6,12, and 24 keeping them fresh for a long time.
Where to Purchase Deschutes Fresh Haze?
Fresh Haze has a huge market in the United States, Europe and now growing in Australia. You can now buy Fresh Haze from almost all leading beer stores and online stores. In addition, it can be purchased from all the convenience stores and leading supermarkets, including Walmart. All the top suppliers typically store a large stock of Fresh Haze.
Major beer distribution channels like Wholesale Wine and Spirits, Alliance Beverage Distributing, and US Spirit Suppliers keep a strong eye on the availability of Deschutes Fresh Haze.
How Did the Deschutes Brewery Begin?
Based in Deschutes River, Gary Fish created a small brew-pub in downtown Bend, Oregon. The idea behind the establishment was to bring the community closer and build a healthy relationship.
Fish established the Deschutes Brewery and Public House just to create a home for the public. The idea was to gather friends, family, and visitors together to create an environment where people can relax, eat food, enjoy music, indulge in conversation, and have a beer.
In the beginning, The Deschutes Brewery and Public House sold just 310 barrels of beer. After decades of hard work and perseverance, today, The Deschutes brewery records sales of over 225,000 barrels of beer annually.
The amount of sales is increasing drastically with the innovation of new products and beer lines. Now Deschutes is one of the leading beer brands in the US, with a large chain of Deschutes Beers also available in many European countries.
Over the past few decades, Deschutes Brewery has expanded further from the original brewpub. Now it has a brewery testing plant in Bend and another brewpub in downtown Portland. Not to mention their tasting room in Virginia.
Since the operations started, Deschutes Brewery has worked hard for community crafting. Pertaining to its success, Deschutes has kept its promise of serving the community by donating to local charities and supporting multiple NGOs across Oregon.
Where is Deschutes Beer Brewed Today?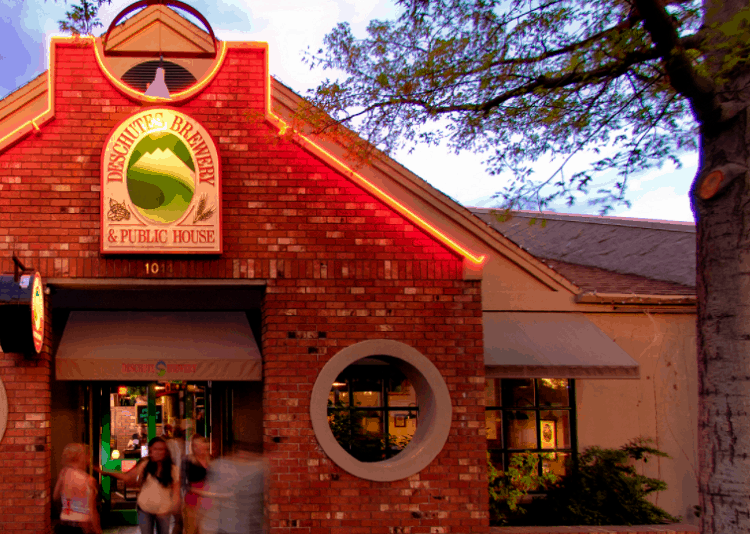 Deschutes Fresh Haze was initially brewed in a single brewery in Bend, Oregon, a small beer passionate city along the Deschutes River inside Deschutes County. Today, there are more than 22 breweries in Bend that brew this beer.
There are 91,122 residents, which makes it one brewery available for every 4,142 beer lovers. The number of breweries is increasing around central Oregon cities such as Redmond and Sun River.
After continuous expansion in the US and other places, Deschutes has become the 8th largest independent brewing company in the United States and the 15th largest brewing company globally.
Pros and Cons of Deschutes Fresh Haze
Pros
Readily available
Refreshing taste
Sweet, citrusy flavors
Mild carbonation
Lasting aftertaste
Cons:
The only prominent flavor is orange
Additional Deschutes Brewery Products
Deschutes has been working hard to satisfy beer lovers with impressive flavors. It has a wide range of products, including The Dissident, Mirror Mirror, The Abyss, Chasin Freshies, Hop Trip, and more. Here are a few you should consider from the company.
Fresh Squeezed IPA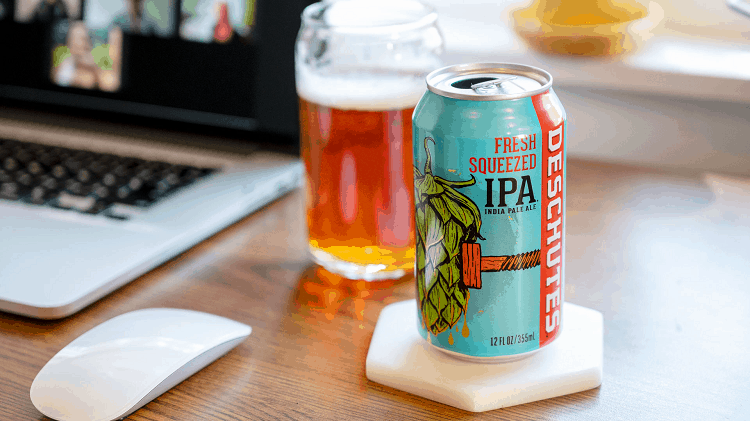 Fresh Squeezed IPA is among the most popular IPAs in America today. It has about 6.4% ABV. The delicious and mouthwatering IPA gets its amazing flavor from a heavy dose of Citra and Mosaic hops. It is full of long-lasting, flavorful malty goodness. However, it is bitter than most beers by Deschutes so keep that in mind.
Squeezy Rider West Coast IPA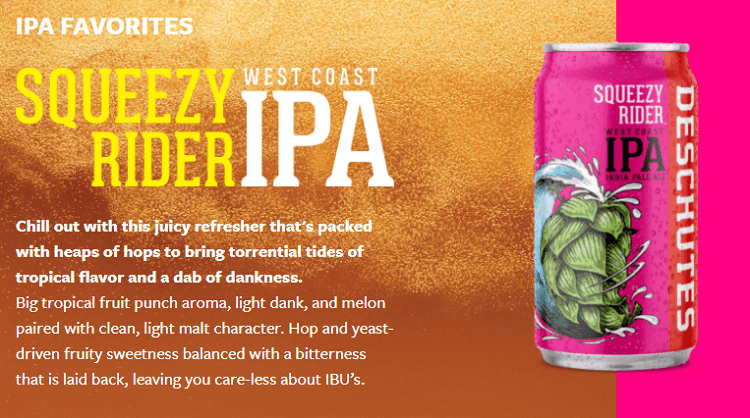 The squeakiest chilled-out beer with juicy refreshers. Squeezy Rider West Coast IPA is crammed with heaps of enjoyable hops to bring torrential tides of tropical flavor. It has a solid 7% ABV and a deep golden color.
This beer is brewed with the hops of delicious cascade, strata, mosaic, and galaxy. Hop and yeast are carried by fruitiness, tackled by the bitterness which is laid back. In this way, you have to think less about the IBU's.
Royal Fresh Imperial IPA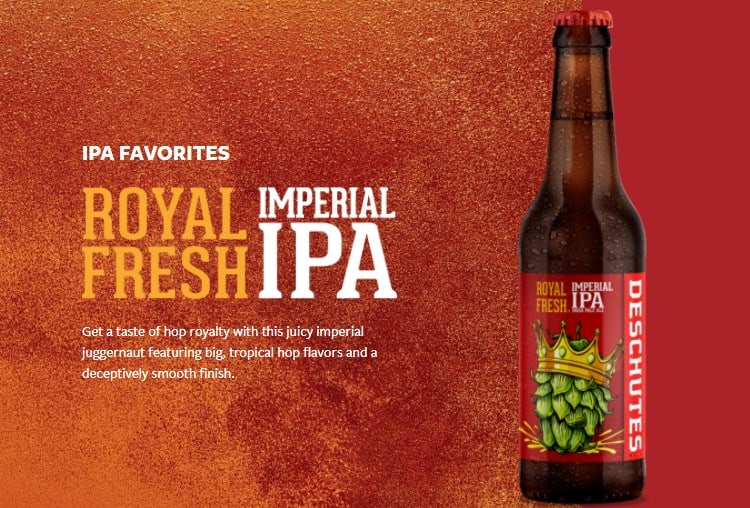 Old school beer lovers will love the Royal Fresh Imperial IPA. This IPA has a mouthwatering taste of hop royalty added with a juicy imperial juggernaut. It also features high tropical hop flavors as well as a deceptively smooth finish. With a 9.0% ABV, this is one great beer to call it a day and have a good time with your friends.
The Abyss ALC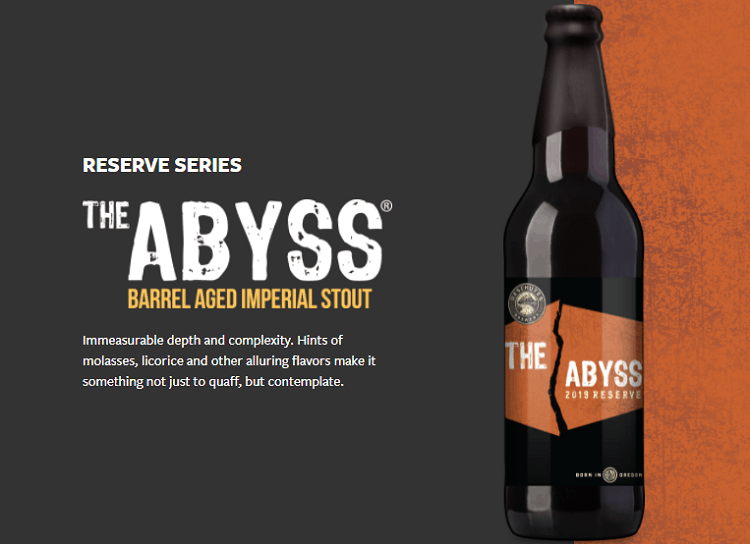 The hardest beer from the company is The Abyss, with an ABV of 11%. The barrel-aged imperial stout contains immeasurable complexity and depth.
Virtues of the molasses, licorice, and further added alluring flavors make it something more than quaff and contemplate. The main ingredients behind this drink are hops full of nugget, delta, and cascade.
Deschutes Fresh Haze Alternatives
Salty Haze #1 – Mango & Vanilla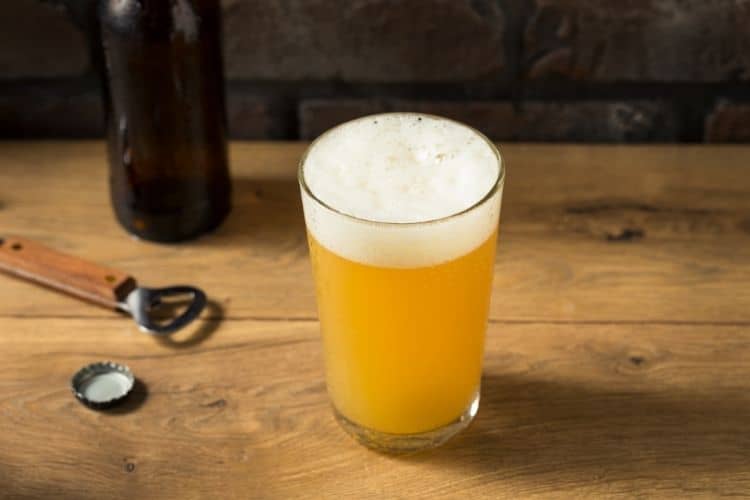 Salty Haze from Barebottle brewing company is one of the most popular beers today and strong competition to the Deschutes Fresh Haze.
It's a top-notch IPA made in America that represents the San Francisco homebrewers. More than 17 different hops are used to create this perfect salty haze. It contains 6.3% ABV with the addition of 49 IBU.
Salted Mangolicious IPA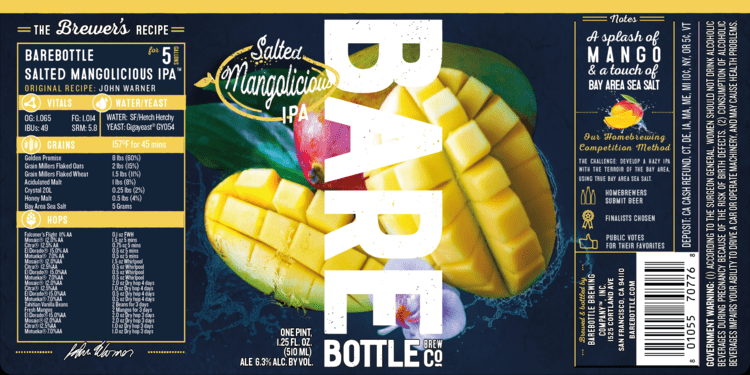 With 6.3% of ABV, this is the most outrageous beer bottle from BottleBrew Company. Pour one finger of the white head into a tulip. It has a hazy cream orange body. The beer smells creamy, fruity with a little undertone of citrus fruits. John Warner created the original recipe. It has 45 IBU.
Firestone Mind Haze IPA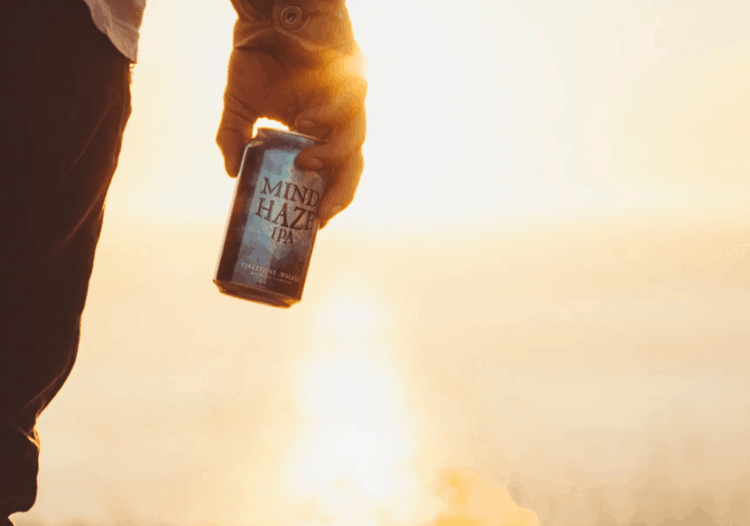 Another great west coast beer to try is the Firestone Mind Haze IPA. Enlightening from the coast of California comes a free-spirited beer made to amaze your perceptions.
The best combination of juiciness and balanced bitterness. It is filled with an imaginative array of tropical hop flavors to serve the beer lover. It has an ABV of 6.2%.
The malts used for brewing are white wheat, Munich, and golden naked oats. The hops are cashmere, Mandarina and Idaho 7, mosaic, and El Dorado as dry hops.
Frequently Asked Questions (FAQs)
Question: Is Deschutes Fresh Haze Too Sweet?
Answer: Not really. Deschutes is known for its traditional and natural ingredients while delivering the best beer. It is made from citrus hops.
According to the company, the Fresh Haze is manufactured from international selection adjuncts and malts, including un-malted wheat, flaked barley, and malted wheat. While it's definitely sweet, it's no sweeter than any other beer out there.
Question: Is Deschutes Fresh Haze Really One of the Best Beers Out There?
Answer: At the beginning of this review, I told you that it's one of my favorite beers. The fact that it's so simple yet so tasty and refreshing is what got me, and millions of others hooked to it in the first place. I review beers for a living, and when I say it's one of the best ones, it's definitely worth a try!
Question: Is Deschutes Fresh Haze Good for Daytime Drinking?
Answer: As long as you don't have any physically exhausting activities lined up, you're good to go! It has 6.5% of alcohol by volume, and each single-serve consists of 19.2 ounces. So consider this a good beer to drink during the day when you have time to enjoy it!
Deschutes Fresh Haze Review: Conclusion
Deschutes Fresh Haze is a fantastic beer, and if you love orange, then you're going to love this beer.
The perfect combination of citrus fruit and a slight bitter finishing keeps the beer high on demand. The beautiful body adds an extra delight for beer lovers. The simple flavors are the reason why I love this beer.