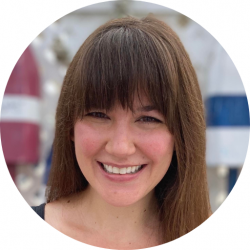 Latest posts by Lauren Vigdor
(see all)
When I lived in Boston, I had a superpower. Every time I moved out of an apartment, within a few years (and sometimes less), a brewery would open up within a block of that apartment. In my early 20s, I lived on a dead-end street in Somerville. Shortly after I moved out of that apartment, Aeronaut Brewing Co opened up at the end of the road. Not long after, I moved out of a place on Elm Street in Cambridge, and Lamplighter Brewing Company opened a block away.
When I moved out of my Winter Hill apartment, Winter Hill Brewing decided to set up shop ON THE SAME STREET, and when I finally left Boston for good, I moved out of my Union Square apartment, right by Bow Street. That's when Bow Market opened across the street, and Remnant Brewing moved in. 
This has led me to draw several possible conclusions:
Breweries avoid moving in until I'm gone

I subconsciously planted the seed for some of the best breweries in Boston

The craft beer scene is thriving in Boston

I overthink things
Luckily, except for that final move, I never went too far. While I never had the opportunity to live across the street from a brewery, I was always within walking distance. 
I spent most of my time in Boston working in hospitality as a bar manager and beverage director. That, along with my proximity to so many great breweries, allowed me to sample the best Boston had to offer.
Below is my list of the best breweries in Boston. 
Bottom Line Up Front
I love all of the breweries on this list, but my favorites are Notch Brewing and Jack's Abby Craft Lagers. I feel guilty calling it a tie, but I couldn't possibly choose between the two! They both make super drinkable beers and have some of the most comfortable, hospitable taprooms I've visited in the country. 
My Picks at a Glance
About Boston Breweries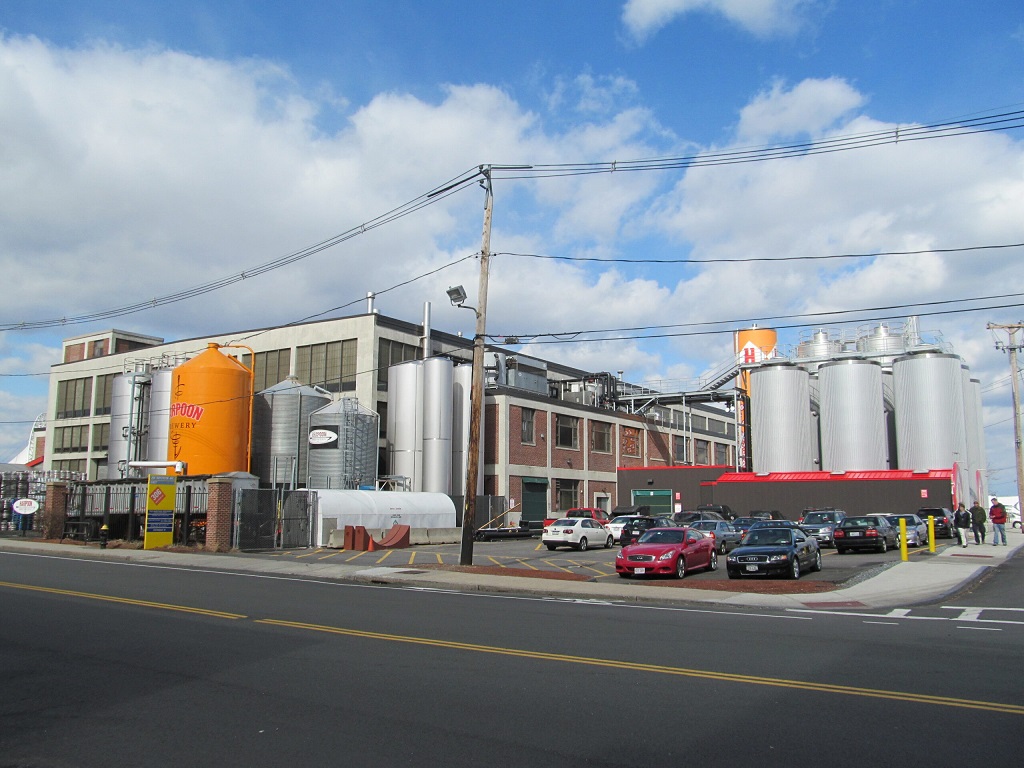 Boston and beer go together like — well — Boston and Pilgrims. The Pilgrims brought beer to Boston when they first landed, and breweries and pubs have existed in Massachusetts since the 1600s. 
Despite prohibition's best efforts, breweries in Boston held out until the 1960s, when they could no longer compete with industry leaders in other parts of the country. The brewing scene was virtually nonexistent in Boston for two decades until two of Boston's best-known breweries, Samuel Adams Brewery and Harpoon Brewery, brought it back in the 1980s. 
Not only did the two breweries revive the Boston brewing industry, but they also helped spearhead the craft beer movement in the United States at large! 
Selection Criteria for Choosing The Best Breweries in Boston
All of the breweries on this list make fantastic beer. That was the number one requirement even to be considered for the list. Beyond that, I chose breweries with comfortable, fun taprooms that I'd want to spend an afternoon or evening (or sometimes both!) sitting in.
I prefer breweries that have outside space and offer food, though it's not a deal-breaker if they don't. I also prefer breweries that are accessible from Boston without a car, though my favorites on this list are some of the hardest to get to! 
Trillium Brewing Company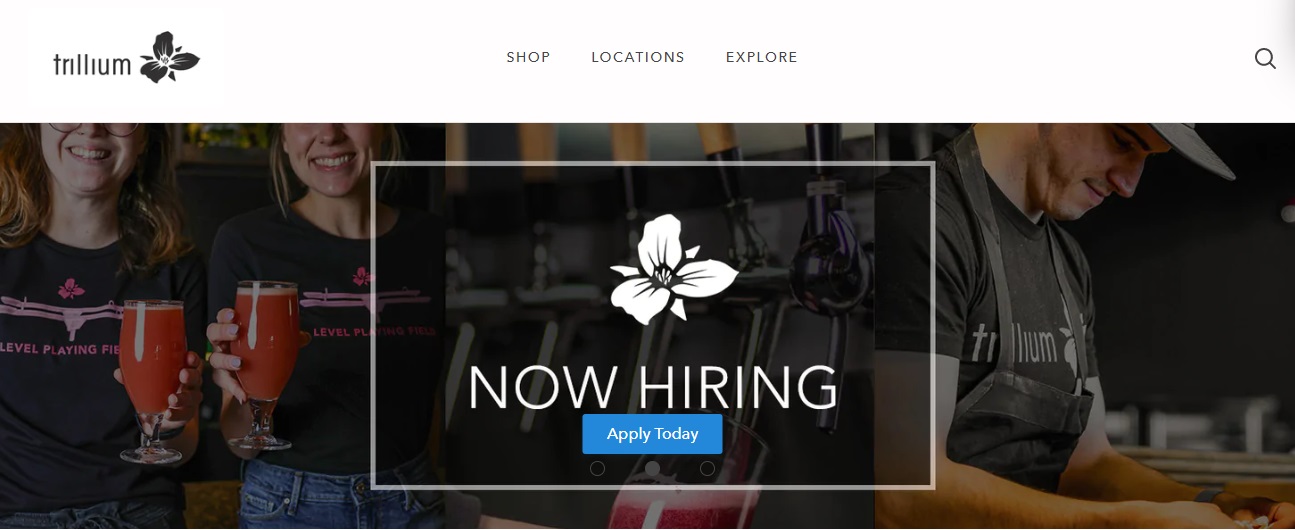 Trillium Brewing makes some of the best-tasting beers in Boston. When it comes down to it, the beer is the most essential part of a brewery, and Trillium's beers are works of art. They specialize in farmhouse-style beers and often use local, seasonal ingredients. Plus, they've got a Connecticut farm and a long-term plan to grow ingredients for their beers and restaurant menus! 
Trillium Brewing Taproom
Trillium has four different locations that you can visit. The Canton and Fort Point taprooms both offer indoor and outdoor seating and have full-service restaurants. Fort Point serves New England farmhouse-style fare, whereas Canton has snacks and wood-fired pizza.
Trillium Fenway is a cool indoor/outdoor space in the heart of Fenway. They don't have a restaurant, but you can grab food from Timeout Market to enjoy with your beer.
Trillium's fourth location, Garden on the Greenway, is a classic outdoor beer garden. They have daily rotating food trucks providing snacks. 
I'm personally partial to the Fort Point location since it was the first that I visited, but I love that you have so many options where you can sit and sip a fantastic Trillium brew! They post staff picks on their site if you want to narrow it down to a loved IPA, pilsner, or just want to experiment with something out of the ordinary. 
What to Drink from Trillium Brewing
I don't think Trillium has made a single bad beer. To be honest, I'm not even sure they've ever made a single mediocre beer. Everything they brew is just spot-on. 
I tend to prefer their wild ales, and I always love anything sour. One of my good friends is obsessed with their dark, barrel-aged beers. They make so many different beers in so many styles, and they keep things fresh by introducing new beers every season. It's impossible to pick a favorite. You really can't go wrong with anything they make.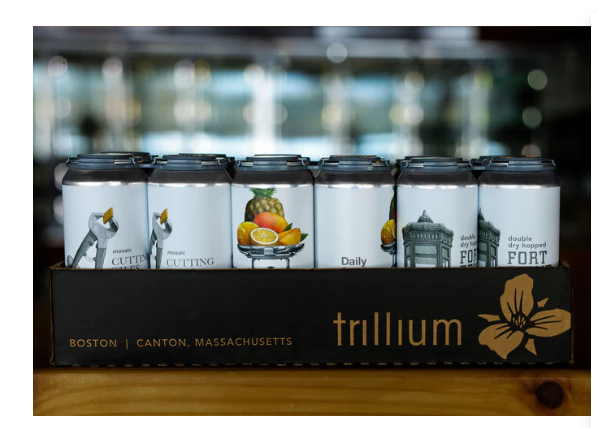 Trillium Pros and Cons
Pros
Some of the best beer in New England including many Boston Lagers and IPAs (the variety is quite impressive)

Tons of seasonal brews, often using local ingredients

Four different locations
Cons
Their beers are on the pricey side, though they're comparable to similar craft breweries
Turtle Swamp Brewing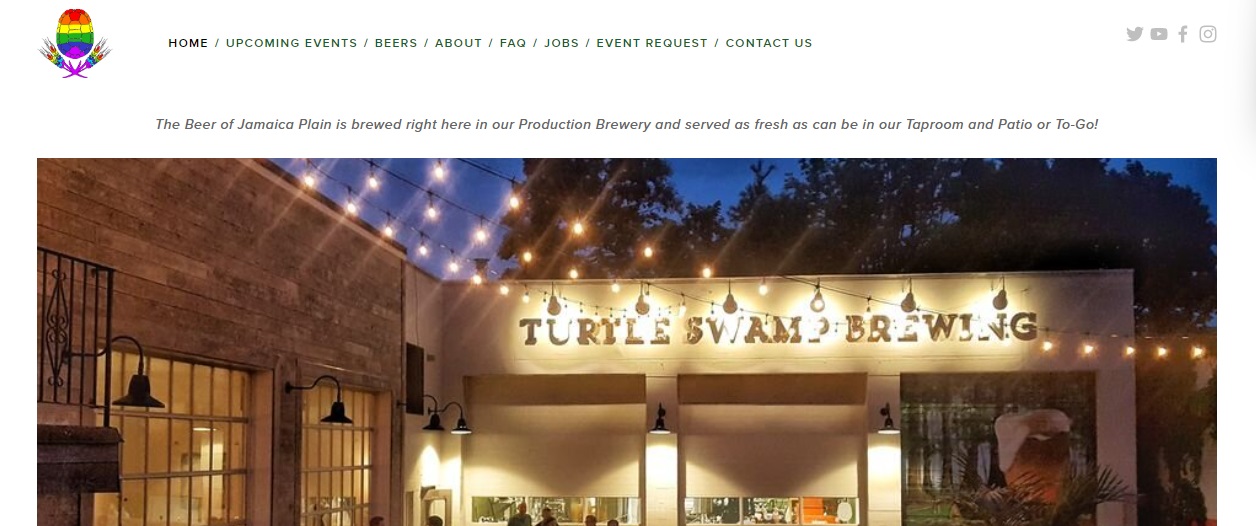 Before prohibition, Jamaica Plain was host to a staggering number of breweries. The proximity to the clean Stoney Brook water made JP an ideal location to brew beer, though none of these original breweries remain to this day.
Samuel Adams chose Jamaica Plain when they opened their brewery in 1984, and they were the lone JP brewery until Turtle Swamp came along in 2017.
Turtle Swap Brewing Taproom
I think that Turtle Swamp has one of the prettiest taprooms in Boston. It's open and airy, with several garage doors that open to their patio. It's a great place to spend a sunny afternoon or warm evening with friends.
They host a ton of events in the space, including standup comedy, movie nights, and live music. Turtle Swamp doesn't serve food, but they will occasionally host restaurant pop-ups, and outside food is allowed. They offer tours and tastings, but only once a month, on the second Thursday of the month.
What to Drink from Turtle Swamp Brewing
Turtle Swamp brews a curated selection of year-round and seasonal beers. My favorites are the Serendipitous Pale Ale and the Nik's Bitter. Both are easy to drink but full of flavor, and I love that they're on the lower-ABV side.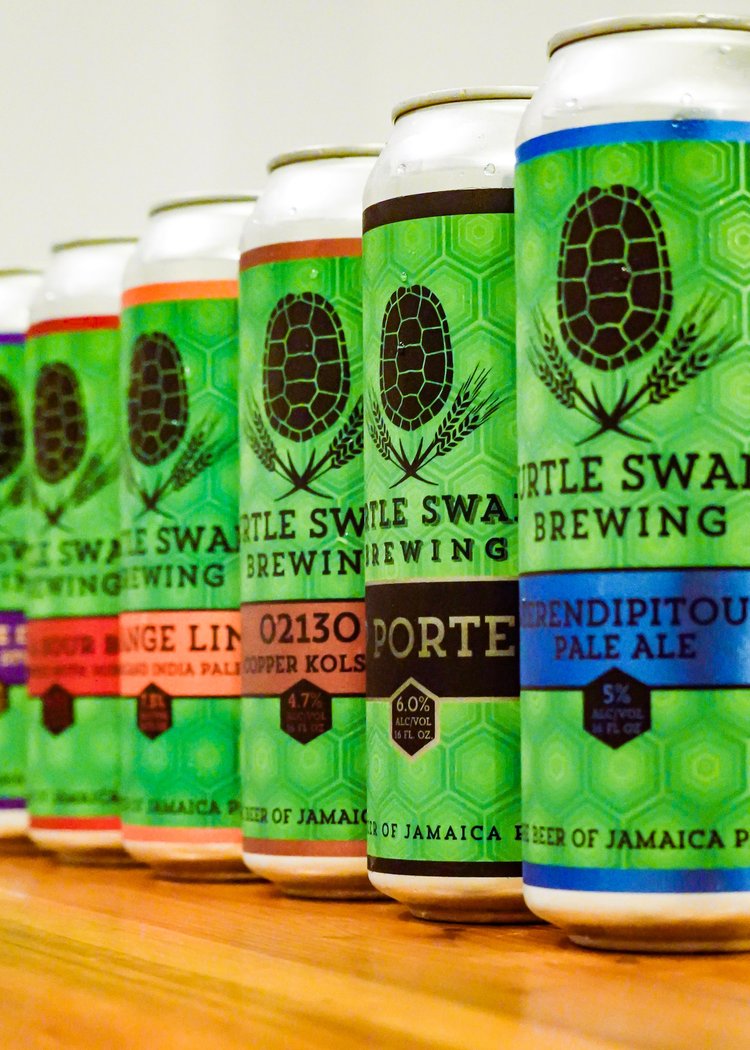 Turtle Swamp Pros and Cons
Pros
Cozy, neighborhood brewery helping to uphold JP's brewing legacy
Great for events and live music
Cons
Don't serve food
Only offer tours once a month
Dorchester Brewing Co

Dorchester is an underrated Boston neighborhood with a sometimes unfair reputation (every city has one.) Dorchester Brewing Co opened its doors in 2016 with a mission to brew great beer and support its local community. Their space is incredible, and their beer is even better. Honestly, they would be a contender for my top pick if I had only had the opportunity to spend more time there when I lived in Boston. Learn from my mistakes and make sure to visit often.
Dorchester Brewing Co Taproom
The best part of Dorchester Brewing's taproom is their "Hopservatory." It's a gorgeous rooftop greenhouse with comfortable picnic tables and incredible views of the city. They've also got a game room and a large patio for those of you who prefer to remain on the ground while you drink your beer.
The brewery partnered with M&M Barbecue to serve food out of their space. Barbecue and beer is a classic pairing, and they get bonus points for having plenty of vegan, vegetarian, and gluten-free options as well.
What to Drink from Dorchester Brewing
IPAs, Sours, and Belgian-style beers are Dorchester Brewing's strongest offerings, but they do make something for everyone, so if you're a stout fan, I promise they won't leave you hanging. My favorites are the Light Year Journey New England IPA and the Punchbowl Sour, which is essentially Hawaiian Punch for grownups. The beer snob in me didn't want to like it, but I just couldn't resist.
Dorchester Brewing Pros and Cons
Pros
Awesome rooftop greenhouse space
Excellent food
Inexpensive
Cons
 Their beers are good, but I haven't had that one Earth-shattering brew from them yet
Lamplighter Brewing Co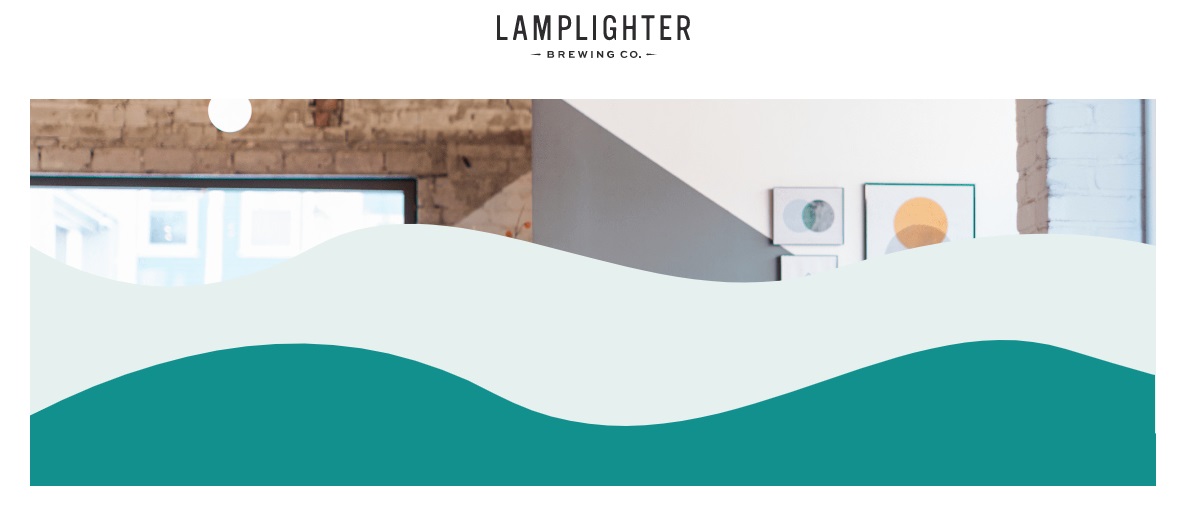 In the thirteen years that I lived in Boston, I probably moved every year or two on average. I can think of at least half a dozen apartments I lived in that were all within a ten-minute walk from each other. (The rental scene in Boston is not for the faint of heart.) All of these apartments were also within a ten-minute walk from Lamplighter Brewing, though many of them predated the brewery.
Lamplighter is one of the smallest breweries on this list, even with two locations, and that's absolutely part of its charm. It's cozy and casual and very much a neighborhood spot. 
Lamplighter Brewing Taproom
The Broadway taproom is located in a former auto repair shop on a very walkable street in one of my favorite Cambridge neighborhoods, Inman Square. Before Lamplighter moved in, I used to walk by the shop daily and think about how beautiful the industrial brick building was. Lamplighter has made the space their own, opening the large windows and garage door leading to the brewery during the summer months and selling beer to go on the sidewalk. 
Inside they have a table and bar seating and a coffee counter serving delicious coffee and snacks. More than once, I've said that if I were ever to open a brewery, it would look similar to Lamplighter.
Lamplighter's newer location is in nearby Cambridge Crossing, and while I haven't had the opportunity to visit, the large taproom looks sunny and inviting. They host regular events in the space and have cheese and charcuterie boards to snack on in the evening.
What to Drink from Lamplighter Brewing
I'm not usually a double IPA girl, but there's something about the Rabbit Rabbit that I love. It drinks like some of my favorite lower-ABV juicy IPAs but is a deceptive 8.5%. The Metric Systems gose and Cloud City IPA are also stellar. 
Lamplighter Brewing Pros and Cons
Pros
Great, very accessible location — no car necessary if you're anywhere in Boston, Cambridge, or Somerville

Broadway location doubles as an awesome coffee shop
Cons
No full dinner menu at either location

Cambridge Crossing location only serves cheese and charcuterie, though outside food is allowed
Night Shift Brewing

Night Shift Brewing has been in my life for a long time now, and I'm so impressed by how they've grown and honed their craft. They started as a pretty scrappy operation, and over the last decade or so, they've expanded into a very consistent, high-quality operation. Their beers are delicious, and they're just really fun to drink! In addition to beer, they also roast their coffee and have dabbled in both wine and cider! 
Night Shift Taproom
I used to work at a bar in Assembly Row, right across the river from Night Shift's Everett taproom. It's a really fun spot with a huge patio. They have regular live music and events like trivia and a weekly "Run Club" that starts and ends at the space. I've never participated, but I have a lot of friends who were motivated to pick up running by the prospect of delicious beer. 
The Everett location doesn't serve food, but they do host regular visiting food trucks. The patio is also dog-friendly, which is rarer than you might think in Boston!
Night Shift has another location at Lovejoy Wharf near the TD garden. This spot is a little more polished-looking than the Everett location, and they serve snacks, pizza, and sandwiches. Everett will always have my heart, but Lovejoy Wharf is more convenient if you're coming from "Boston Proper."  
In addition to these two locations, Night Shift has created a small army of "Owl's Nest" seasonal beer garden pop-ups around the city. They're a great place to spend some time with friends on a warm afternoon!
What to Drink from Night Shift Brewing
The Whirlpool pale ale is my favorite Night Shift beer. I seriously can't get enough of it! The Santilli IPA is also popular among my friend group. They also brew a whole line of hard seltzers that are awesome to take to parties!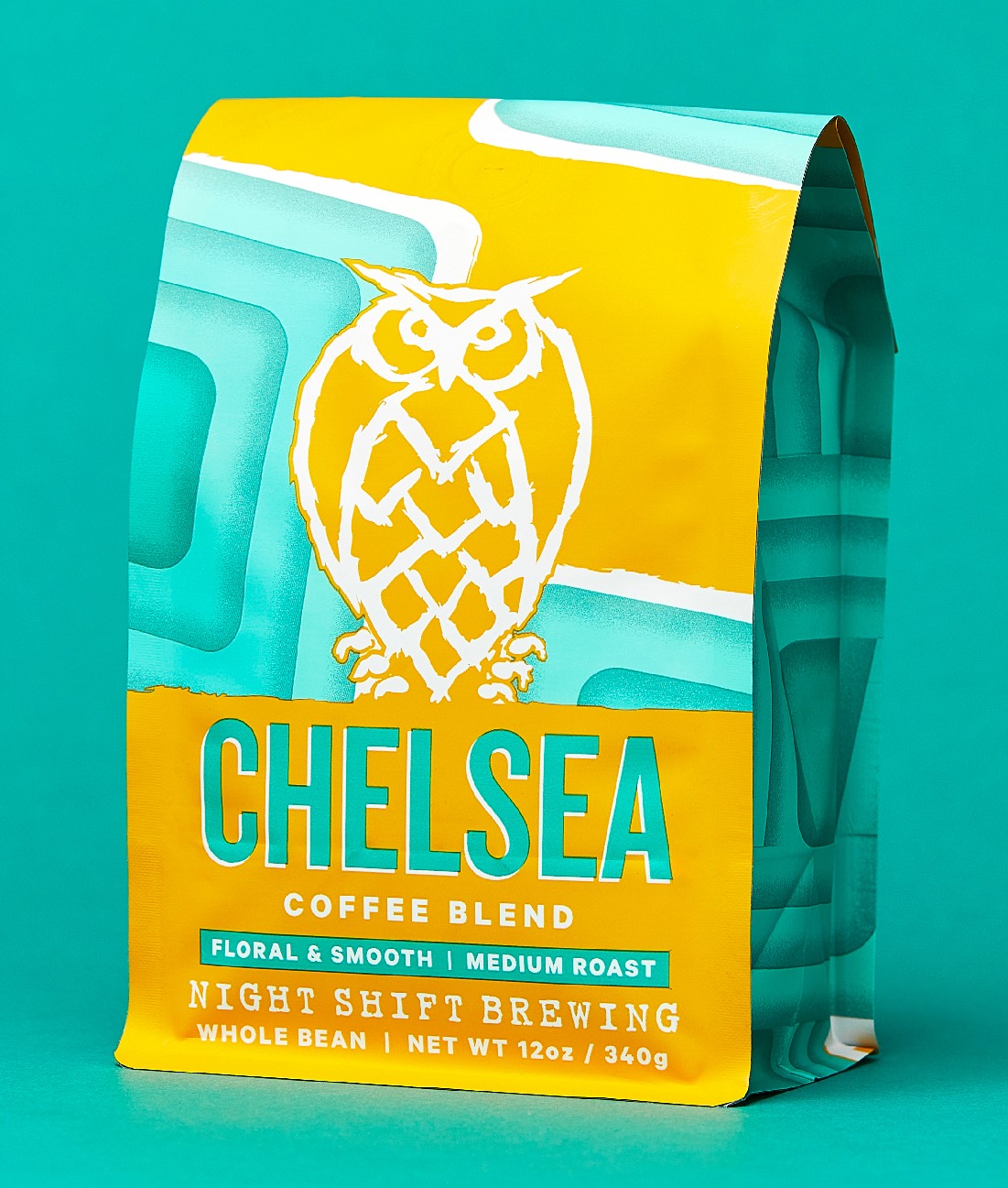 Night Shift Pros and Cons
Pros
Plenty of locations, including pop-up beer gardens, all over Boston

Solid core lineup supplemented with great seasonal offerings

Coffee, seltzers, wine, and cider in addition to beer
Cons
Everett location doesn't have a kitchen

Not as much variety of styles as some breweries on this list
Idle Hands Craft Ales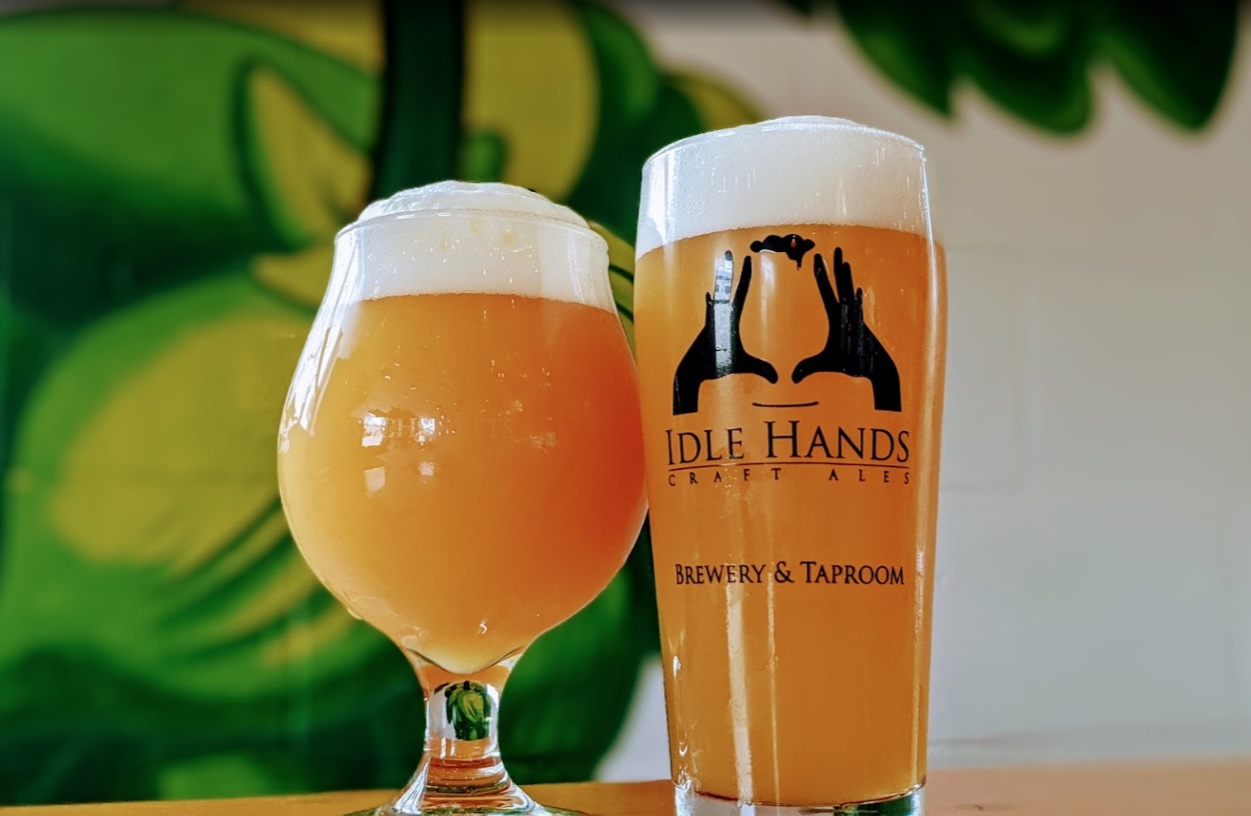 When Idle Hands was founded, it specialized in Belgian-inspired beers. Now that they've been around for a while, they've expanded to other styles, but their roots still lie in Belgium (and a little bit in Germany). 
I love that their beer is different from a lot of other New England breweries. I would always stock their beer on my bar, and they'd be one of the first things I'd offer to people who wanted something "not too hoppy, but not like bud light." 
Idle Hands Taproom
The Idle Hands taproom is your typical comfortable, casual warehouse taproom. It's got a large, dog-friendly patio and more than a dozen beers on tap. They serve snacks, but they also host regular restaurant pop-ups on weekends.
The brewery is a little outside of Boston Proper in Malden, but it's a short walk from the Malden Center Orange Line T-Stop. 
What to Drink from Idle Hands
The Three Card Monte and Proème farmhouse ales are both fantastic if you can get your hand on them, but they're both reasonably limited. They do a fruited sour series called "Kill Your Idles" that's always interesting. I've also spent many memorable nights sipping the very boozy but deceptively drinkable Four Horsemen quad. 
Idle Hands Pros and Cons
Pros
Comfortable, T-accessible taproom

Interesting Belgian-inspired beers

Dog-friendly patio
Cons
No full restaurant on site
Jack's Abby Craft Lagers

After a particularly rough summer season at a new bar we had opened, a fellow manager and I decided that we needed to thank our staff for their hard work on a field trip. We booked a party bus to Framingham to visit the newly-opened Jack's Abby Craft Lagers taproom. 
We had served a lot of Jack's Abby all summer, but they had recently moved to their current location, and we just had to check it out! The day is still one of my favorite memories from my years working in restaurants. The taproom was gorgeous, the staff was unbelievably hospitable, and we got to tour the brewery and feast on pizza and beer!  — I dare you to think of a more fun work trip! 
Jack's Abby Taproom
Jack's Abby is about half an hour from Boston, but it's worth the drive. The space is comfortable and unfussy, with an indoor beer hall and an outdoor beer garden. 
The brick oven pizza at Jack's Abby is worth the trip alone, but if you're not feeling pizza, they've got a ton of other options, including sandwiches, snacks, and German classics like brats and schnitzel. 
What to Drink from Jack's Abby
Jack's Abby exclusively brews lagers, but that doesn't mean their selection is limited at all. Whether you want hoppy, malty, fruity, sour, light, or dark, they've got you covered. Their core lineup is excellent, and they offer a ton of seasonal styles at different times throughout the year. 
The House Lager is my favorite Jack's Abby beer. It's a slightly malty golden lager that's almost too easy to drink. Their Octoberfest, Copper Legend, is my favorite of their seasonal beers. .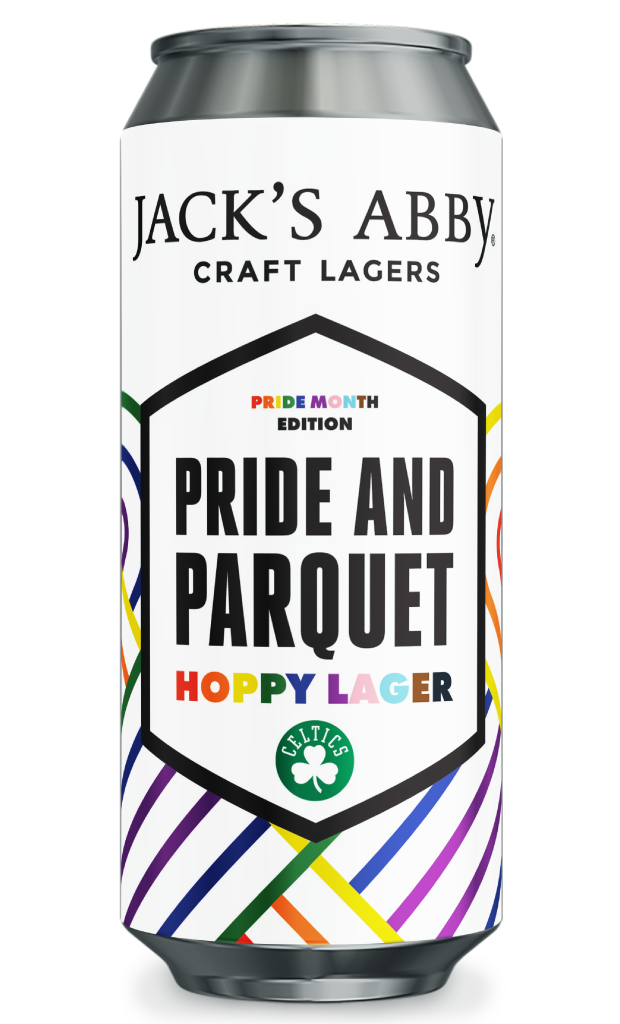 Jack's Abby Pros and Cons
Pros
Excellent food with plenty of options

Spacious indoor/outdoor taproom

Some of the easiest to-drink beers in Boston
Cons
Hard to get to without a car

Half an hour from Boston
Notch Brewing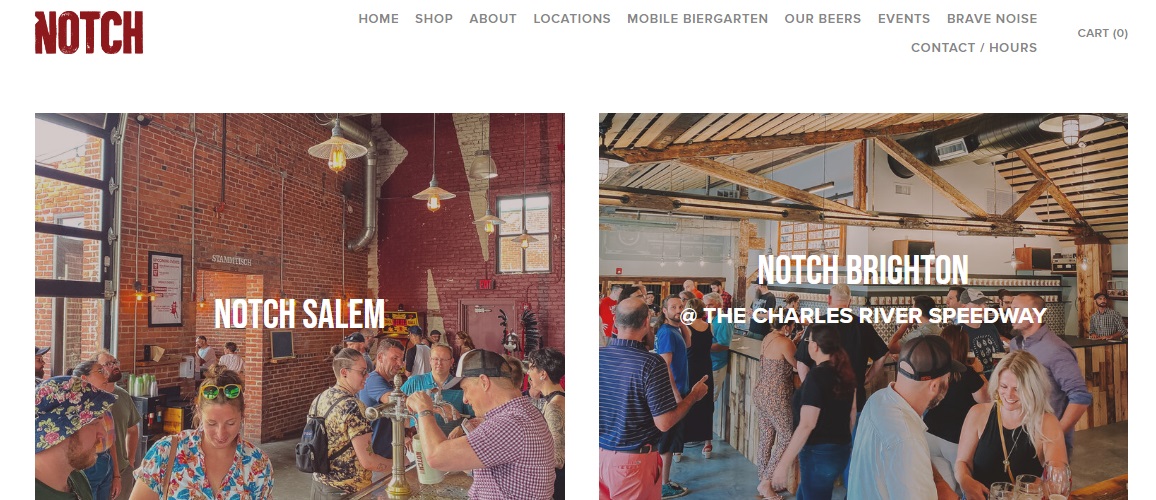 Notch will always have a special place in my heart. Their Salem brewery and taproom is one of my favorite places to spend an afternoon on a warm day. Years ago, a friend and I took a pretty expensive Uber ride from Somerville to Salem for their grand opening. It was worth it.
Notch Brewing Taproom
Notch's  Salem taproom is everything you want in a beer hall and the perfect summertime hang. The spacious taproom is very comfortable and casual with counter service, picnic tables, and skeeball. They have around a dozen beers on tap at a given time and offer German snacks like brats, pretzels, and pierogi. 
The beer garden is open year-round and is right on the river. Its beauty lies in its simplicity, and there's truly nothing better than sipping a Session Pils in the sunshine while looking out over the water. 
Their Brighton location at the Charles River Speedway is equally comfortable. It lacks the charm of Salem but makes up for it by being more accessible to Boston. The Charles River Speedway is a cool mixed-use space with shops, artist spaces, and snacks, but I do prefer Notch's Salem taproom. 
What to Drink from Notch Brewing
When Notch Brewing was founded, they focused exclusively on low ABV session beers (they were the first brewery in the United States to do so!) Although they've since brewed the occasional 5% ABV or higher beer, most of their beers tend to hover around the 4.5% mark, making them perfect for an afternoon of drinking and socializing with friends.
Notch Pils is one of my favorite easy-drinking beers in the world, and it has been for a very long time now. It's the perfect easy-to-drink pilsner for a day at the beach or doing yard work, and I'm pretty sure I've never met a soul who doesn't like it.
The Left of the Dial IPA was always a huge seller for me when I had it on tap at my bar, and the Tmavý Czech dark lager is a delicious break from the endless lineup of hazy IPAs you'll find in New England.
Notch Brewing Pros and Cons
Pros
Open seven days a week

Specialize in easy-to-drink session beers
Cons
Brighton location doesn't serve food (yet!)

Salem location is more than half an hour's drive from Boston 
Honorable Mention: The Best Brewery Almost in Boston
Tree House Brewing Company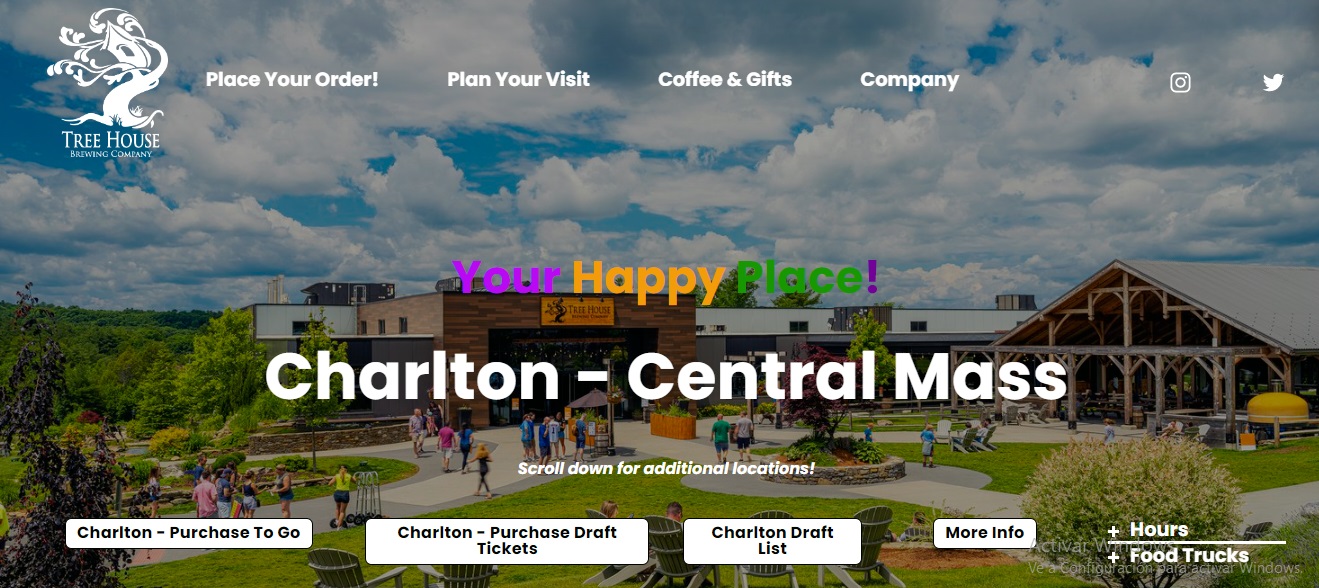 Tree House Brewing Company is about an hour away from Boston in Charlton, MA, but they make some of the best beers in New England, and I'd be doing you a disservice by leaving them off this list. 
Treehouse Brewing Company Taproom
The brewery gets very busy, especially on days when they release new beers. Guests are required to purchase drink tickets online before arriving at the brewery. Tickets can then be redeemed for draught beer. They also limit draught to three per guest in an effort to keep things moving. 
If that sounds crazy to you, you should see the line to pick up cans on drop days! I have a few brave friends who will go through the hassle of purchasing drink tickets or standing in line regularly — it's a lot of work, but it's worth it! 
They have locations on the Cape in Sandwich, and in Western Mass in Deerfield, as well as a farm and cidery in Connecticut. I've never had the opportunity to visit any of the other locations, but Sandwich requires reservations, which might make it easier to plan your trip! 
What to Drink from Treehouse Brewing Company
If you ever have the opportunity to try their beer, absolutely take it! It's even worth planning and visiting the brewery. Their beer truly is something special. Make sure you try at least one of their New England IPAs. They're hazy, juicy, and perfect! 
Treehouse Brewing Company Pros and Cons
Pros
Some of the best beers in New England

Their grounds are beautiful!
Cons
On busy days, it requires a lot of work to secure some beer! 
Other Honorable Mentions:
These breweries didn't quite cut, but you should still check them out after you've visited all the breweries listed above. They're all unique spaces with excellent beer.
Cambridge Brewing Company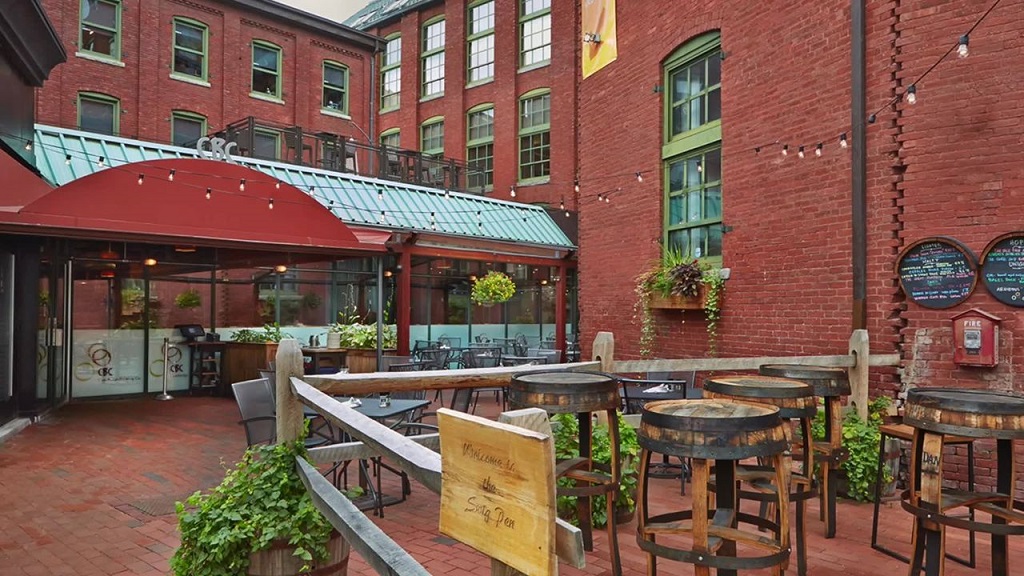 If CBC had a fatal flaw that knocked them off this list, it would be the fact that they're too reliable. This Cambridge brewery has been a mainstay of Kendall Square for so long now that I tend to forget it's not a massive national chain.
It might not be as hip as some of the other breweries on this list, but their food and beer are both more than solid and extremely accessible. It's a great place to take your picky relatives from out of town.
Cisco Brewers

Cisco is a Nantucket brewery (and a very fine one at that,) but they do have a seasonal pop-up location in Boston's Seaport District, so I guess they could count as a Boston brewery. At any rate, it's a nice option for those of us who can't make the three or four-hour trip from Boston to Nantucket.
Even before the Seaport location opened, Cisco's beer was readily available in bars and package stores in and around Boston. Their Gray Lady Wheat Ale was always popular with my Allagash and Blue Moon-loving bar regulars, and I particularly like their Whale's Tale Pale Ale (say that five times fast!)
Democracy Brewing

Democracy Brewing's Downtown Crossing taproom has a perfect old-world pub ambiance that pairs wonderfully with their beer. The brewery is worker-owned and emphasizes cooperation and community through its events and charitable donations.
The brewery serves classic pub food alongside their accessible something-for-everyone beer list. I like the Worker's, Pint Blonde Ale.
FAQ
Question: How many breweries does Boston have?
Answer: There are more than 30 breweries in the greater Boston area. 
Question: What is the oldest brewery in Boston?
Answer: Samuel Adams Brewery is the oldest surviving Boston brewery, established in 1984. Just two years later, in 1986, Harpoon Brewery was founded. Both of these breweries helped pave the way for the dozens of craft breweries operating in Boston today. 
Question: Is Boston known for breweries?
Answer: Boston, and all of New England, is home to a lot of craft breweries. Samuel Adams Brewery in Boston helped define craft brewing as we know it today, and New England is known for their hazy IPAs. 
Final Thoughts
Boston and its surrounding area are home to dozens of incredible breweries. While I don't think I can seriously take credit for the ones that popped up during my time there, I was lucky enough to experience and appreciate them. 
All of the breweries on this list are wonderful (and many of the breweries I left off are fantastic as well), but if I had to choose a favorite, it would be Notch Brewing or Jack's Abby Craft Lagers. They're both comfortable, fun places that make stellar beer. I'm going to have to book another field trip soon! 
Check out these brewery guides if you are visiting: