Yuengling Golden Pilsner is the latest edition to the Yuengling family and can be described as a modern-day Pilsner that has been expertly brewed with six generations of traditional brewing mastery. It is crisp and dries up front, with a full flavor and a long lingering bitterness on the finish.
Pros and Cons of Yuengling Golden Pilsner
Pros
A rich heritage and brewing tradition

Full flavor and characteristics of a traditional German Pilsner

Refreshing and thirst-quenching finish with bold bitterness from the Saaz and Hallertau hops

Well priced when compared to other beers in this category

Professionally packaged
Cons                                                                            
Although a popular brand and beer, there are numerous States where Yuengling Golden Pilsner beer is currently unavailable.
What does Yuengling Golden Pilsner taste like?
Yuengling Golden Pilsner offers a full and refreshing flavor that is elegantly complemented by earthy tones, with delightful aromas of traditional yeast and authentic sourdough. It is a medium-bodied beer that is refreshingly crisp upfront.
In the middle, you get the subtle flavors of grass, yeast, and sourdough. The finish is dominated by the flavor and bitterness of the Saaz and Hallertau hops and is clean, crisp, and thirst-quenching. Yuengling Golden Pilsner is a great balance of malt and hops characters, expertly brewed with passion, love, and premium ingredients.
Where did it start?
The Yuengling Brewery was first started in 1829 by founder and brewer David Gottlieb JungLing. He bravely immigrated from Germany to the United States in search of a better life and settled in the small town of Pottsville in Pennsylvania. Using the experience and knowledge that he gained growing up in Europe, David JungLing changed his surname to Yuengling and immediately started the Eagle Brewery Company.
In 1873 his son Frederick Yuengling joined the company, and the name changed from Eagle Brewery to Yuengling and Son but retained the now infamous American eagle Logo. The Eagle Brewery (now Yuengling and Son) is widely considered to be the very first brewery in the United States of America.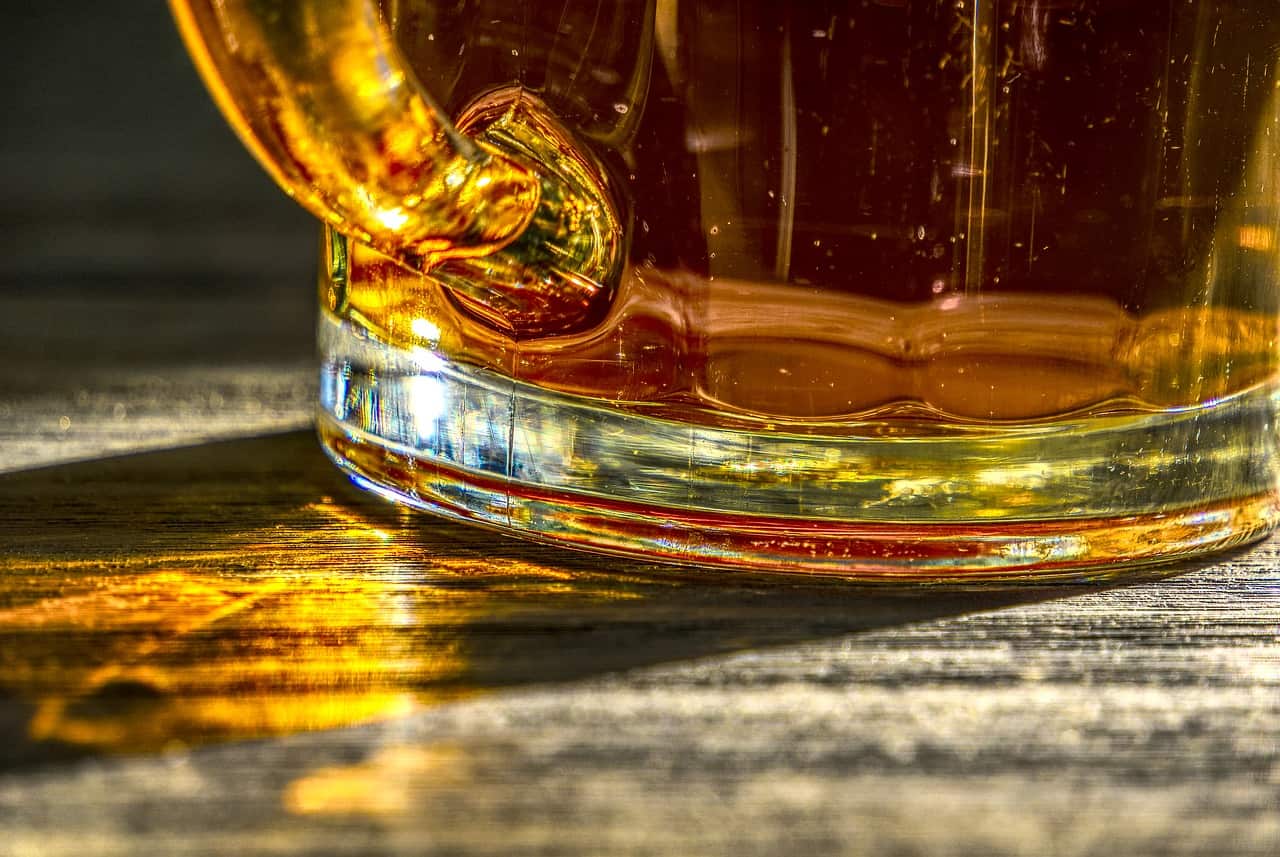 What about now?
Today, Yuengling is going strong and they still operate out of the brewery in Pottsville. They have also acquired an additional brewery in Tampa, Florida. These guys are extremely proud of their heritage, and for being the oldest brewery in the United States. In 2018, it was discovered that Yuengling and Son were the largest wholly American-owned brewery, the sixth-largest overall brewery, and the largest craft brewery in the United States by volume of sales.  
The Ingredients
Yuengling Golden Pilsner is made using only premium ingredients:
Water:

Yuengling source their water from the closely located Schuylkill River. It runs from Pottsville to Philadelphia and is 135 miles long.

Hops:

Yuengling Golden Pilsner is brewed using a combination of Hallertau and Saaz hops. These hops form part of the Noble Hops group and can be sourced from Germany and the Czech Republic. They offer unique flavors and aromas with high levels of bitterness.    

Yeast:

The yeast of choice is the Saccharomyces pastorianus, this bottom-fermenting yeast ferments at lower temperatures, and is used for brewing most types of Lagers and Pilsners.

Malts:

Yuengling is brewed using traditional Pale Ale and specialty malts. This malt combination offers unique flavors with elegant aromatic properties.
The Fermentation Process
Yuengling Golden Pilsner is fermented using the bottom-fermenting technique. This technique is common when brewing Lagers and Pilsners, and allows the yeast to ferment at the bottom of the wort. Carbon dioxide is created at a lower rate and the yeast operates less vigorously, this is due to yeast strains that are more effective at lower temperatures between 41-50 degrees F (5-10 degrees C).

Bottom Fermentation results in early precipitation of yeast and a significant decrease in turbulence within the fermenting beer. This largely contributes to the clean, dry, crisp flavors that we love so much. 
The Color
Yuengling Golden Pilsner looks exceptionally good in a glass and features a meaty off-white head with a light gold appearance. The natural and clear gold appearance and an abundance of bubbles are a thing of beauty.
ABV (Alcohol by Volume)
Yuengling Golden Pilsner has a moderate ABV of 4.7%                                              
The Packaging
Yeungling Golden Pilsner is offered in 12oz (350ml) clear bottles with a crown cap. It is conveniently packaged in attractively branded six or twelve-pack boxes, which are easily stored, transported, or carried.
Additional Yuengling Products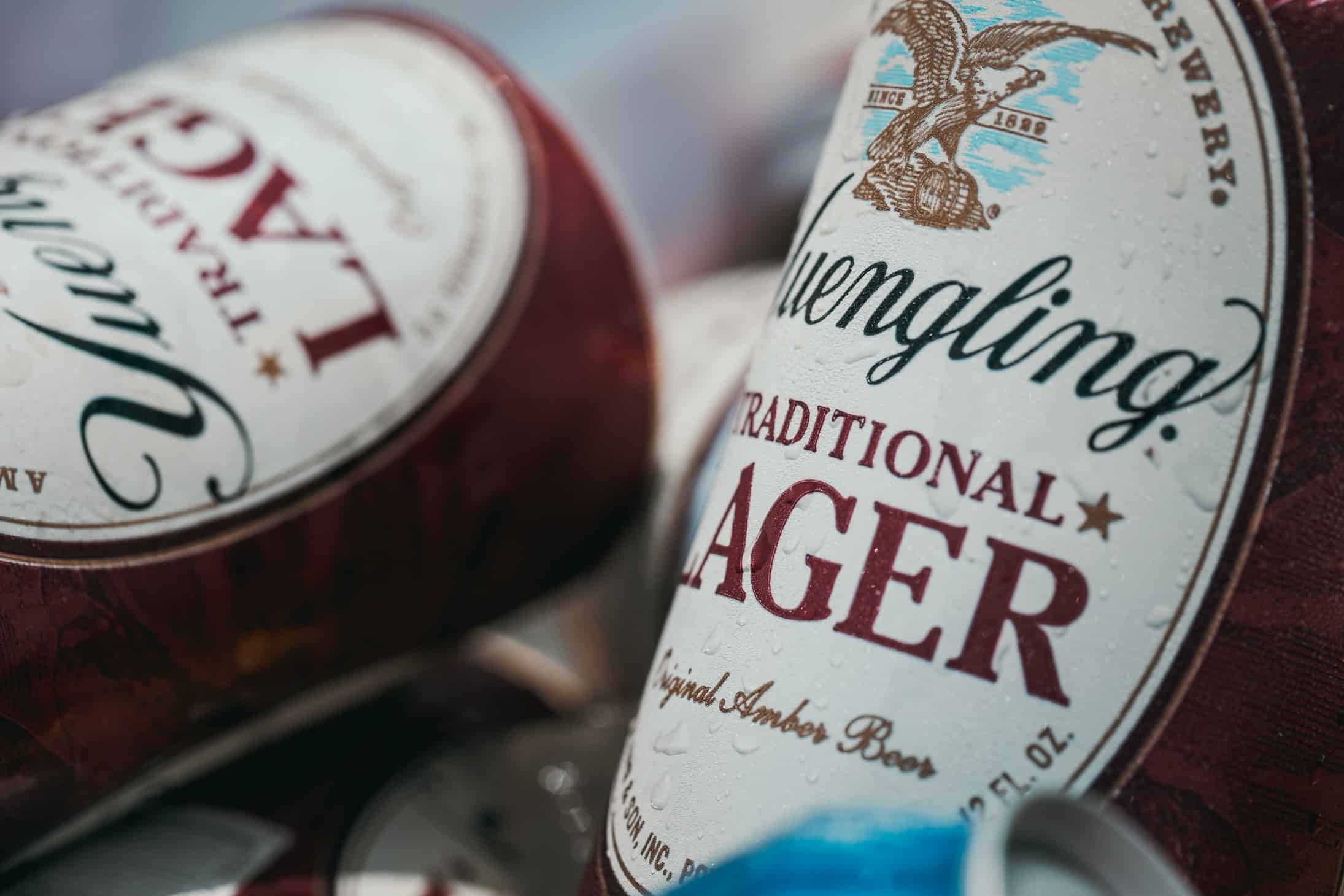 Yuengling Traditional Premium Lager:

This quality Lager offers a delicious medium-bodied flavor with lovely tastes of gently roasted sweet caramel, combined with a sufficient level of bitterness from the cluster and cascade hops. Yuengling Traditional Lager is the signature beer from Yuengling and is famous for its full rich amber glow. 

Yuengling Light Lager:

With just 3.2 carbs and 99 calories per 12oz serving, Yuengling Light Lager has been expertly brewed to offer the characters of a traditional Yuengling Lager. This is an easy-drinking beer with a full flavor and medium-body.

Yuengling Black and Tan:

Yuengling Black and Tan was first introduced in 1986, and models the traditional Half & Half invented by the English. Black and Tan offer delectable flavors of coffee, caramel, and dark roasted malts, with a dark rich color. Yuengling Black and Tan are made by combining 40% Yuengling Premium beer and 60% dark brewed Porter Beer. This is one of the very first blends produced this way in the United States.

Yuengling Flight:

Flight is even lighter than the Yuengling Light Beer, and only has 2.6g carbs and 95 calories per 12oz. Yuenglish Flight sets the benchmark for the next generation of light beer. It is crisp, clean, and refreshing, and goes down easily. Yuengling Flight is significantly lower in calories and carbs but offers a modest ABV of 4.2%

Yuengling Raging Eagle Mango Beer:

This delicious Pilsner is expertly made with a natural Mango flavor, and offers an extremely thirst-quenching and refreshing taste. Yuengling Raging Eagle Mango beer is brewed using traditional German Hops and has a slightly higher than average ABV of 6%.

Lord Chesterfield Ale:

Lord Chesterfield Ale is brewed using a unique two-stage European technique that greatly enhances the bitterness of the ale. This technique involves the combination of traditional kettle hopping, with dry hopping once the fermentation process is complete. Upfront you get a delectable flavor of sweet malt that is followed by a finish that is sharp, bitter, and dry. Lord Chesterfield Ale is Yuenglings' heritage beer and is full of flavor and appeal.

Dark Porter Beer:

This original specialty beer offers a rich full-bodied flavor, with subtle tones of chocolate and elegant tastes of dark roasted malts and caramel. Initially, Yuengling Dark brewed Porter beer was only brewed for family trade and small tavern owners, today Yuengling is one of the largest Porter producers in the entire United States.
Collaborations
In its incredible 190 years plus history, Yuengling has only produced a single collaborative beer. This happened in October 2019, when Yuengling partnered with Hershey's (America's Iconic chocolate) to create a limited edition Yuengling Hershey's, Chocolate Porter. Popularity is increasing significantly, with bottled and draft options now available. Yuengling Hershey's Chocolate Porter is available across Yuenglings twenty-two state distribution footprint.                                                          
Where can you buy Yuengling Golden Pilsner?
There are several states in America where Yuengling Beer unfortunately isn't available. Apart from that, it can be purchased almost anywhere, and I'm in no way exaggerating.
Convenience stores, liquor outlets, and supermarkets like Tesco and Walmart all stock this popular beer. Yuengling Golden Pilsner can also be purchased from national liquor distributors like Southern Glazers, Wine Warehouse, or Empire Merchants. It can also be purchased online from reputable organizations like Tavour, ReserveBar, or Saucey.
Yuengling Golden Pilsner Alternatives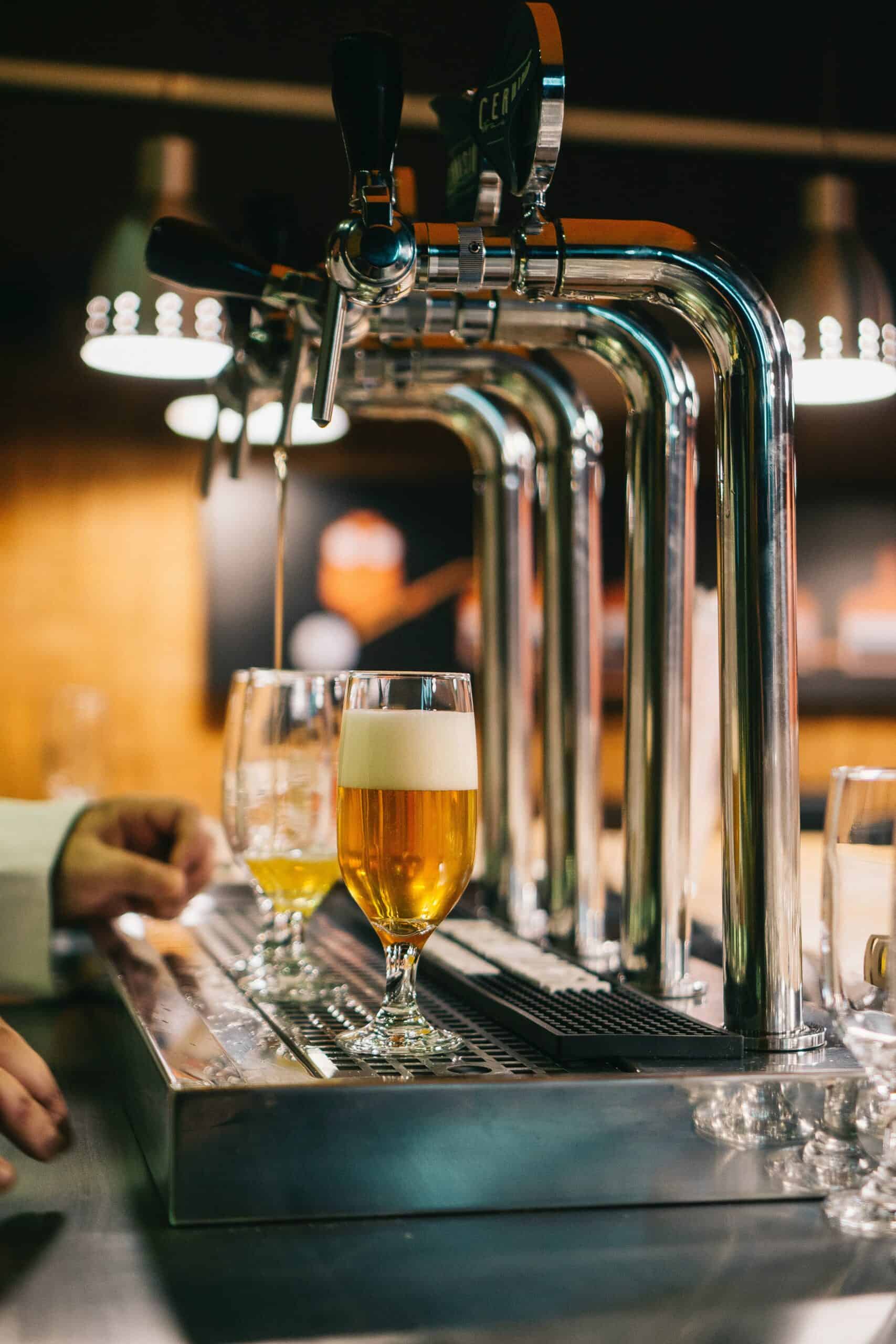 Yuengling Golden Pilsner is a premium beer with tastes and flavors that closely resemble a traditional German Pilsner, below are a few alternatives to this exceptional brew:
Anchor Steam:

This up there with the best beers in the world with distinct flavors and an all-natural carbonation process called Krausening. Anchor Steam is fermented at warmer ale temperatures, in shallow open-air fermenters using specialized Lager yeast. It is a fantastic combination of caramel and pale malts with a dark golden color and a chunky creamy head. Anchor Steam is produced in San Francisco, USA by Anchor Brewing and was one of the pioneers in the craft beer revolution.

Shiner Bock: 

Shiner bock is a dark-colored American style Lager, which has been brewed using German specialty hops and roasted barley. The flavor is delicious, thirst-quenching, and goes down easily. Shiner Bock is produced at the Spoetzl Brewery which is located in Shiner, Texas.

George Killian's Irish Red:

This interesting beer is full of flavor with characteristics of traditional Irish Ale. It is full-bodied with undertones of freshly baked bread and roasted caramel. Additional refreshing ale-like fruit notes get you upfront, which is followed by a sweet and well-balanced citrus finish. George Killian's Irish Red is made and sold by Heineken France, and under license by Molson Coors in the United States.

                                                                                                                                                                                                                                                                                                            
Sam Adams Boston Lager:

This classic American lager offers a rich amber color and a full flavor with distinct tastes of spicy German Hops and sweet roasted malts. The bold full flavor comes from the Tettnanger and Hallertau Mittler hops, combined with caramel 60 and Samuel Adams two-row pale malt blend. Samuel Adams offers an average ABV of 5.0%.

Sam Adams Boston Lager is expertly brewed in Lehigh Valley, Cincinnati, and Boston.

Abita Amber: 

Amber beer is an American beer that offers flavors of subtle caramel, full roasted malts, and American-style hops. To balance the sweetness, there are elegant undertones of pine and citrus which results in a satisfying and thirst-quenching finish. Abita Amber is produced in the gorgeous Abita Springs in Louisiana, USA.
FAQ's (Frequently Asked Questions)
Question: Is Yuengling brewed with rice?
Numerous commercial brewers use rice and other types of cheaper grains to cut production costs when mass-producing. Yuengling however does not fall into this category. Yuengling conforms to the German Purity Law which was enforced as far back as the 16th century. This law ensures that beer is brewed using only water, hops, yeast, and malted barley. 
Question: Can you purchase Yuengling Beer in the state of Texas?
Not yet, but thankfully it is in the pipeline. It has been confirmed that Texas stores will start stocking and selling Yuengling beer in the fall of this year (2021). The company has a planned expansion into the Western areas of the United States, with the state of Texas being first on the list. 
Question: Who currently owns Yuengling?
Yuengling is currently owned by Richard "Dick" Yuengling Jr. He is an American billionaire born in 1943, having bought his father out in 1985, he is the president and owns 100% of the company. Richard "Dick" Yuengling is the fifth generation of the Yuengling family to take over the reins of this historical company.
Question: Is Yuengling Beer made in China?
Many beer lovers assume that Yuengling beer is made in China, but it is proudly made in the United States of America. The name Yuengling is actually of German descent, and is pronounced "Ying Ling". Yuengling can be translated to "young man" in German, and this is the main reason consumers assume that it originates in China. Yuengling founder and brewer David Yeungling moved to Pennsylvania from Germany and subsequently set up the Eagle Brewery (now Yuengling and son Brewery). 
Question: How did Yuengling survive the prohibition period?
Prohibition forced Yuengling to completely change its business model and strategy. Soon after the act was passed, Yuengling switched from producing beer to manufacturing ice cream and a legal low-alcohol alternative called "near beer". Ice cream seemed an obvious choice due to the industrial-sized refrigeration and storage facilities that the company owned. Yuengling survived for 14 years selling these products before switching back to producing beer when the prohibition laws' had been abolished.
Conclusion
Yuengling is a quality beer, with loads of heritage and tradition. Proudly produced in the United States, Yuengling brewery is widely considered to be the oldest brewery in the beer-loving country. Yuengling Golden Pilsner is the newest addition to the Yuengling family and can be described as a modern-day Pilsner, made from six generations of traditional brewing mastery.
It is crisp and dries up front, with a full flavor and elegant notes of traditional yeast and authentic sourdough. The Saaz and Hallertau hops contribute to the long lingering bitterness on the finish. This Pilsner offers a great balance of malts and hops that will leave you refreshed and satisfied.
If you enjoy a bold beer with traditional German characteristics, then Yuengling Golden pilsner is a beer that you will thoroughly enjoy. I enjoy a couple of cold ones with pizza, hamburgers, or chicken wings while watching sports on the weekend.