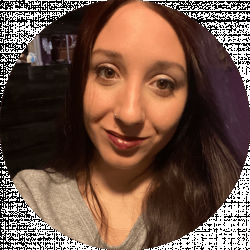 Latest posts by Stephanie Jensen
(see all)
Which cities do you think of when you think of craft beer? Maybe Los Angeles, San Francisco, Atlanta, Chicago, Austin, Dallas, and Tampa? But would you expect to add Duluth, Minnesota? After all, they are home to the oldest microbrewery and brewpub in the state.
I've had some beers from this region — some of them made their way to Florida! I recognize these breweries and have seen them at my local beer store. Do you want to try some Duluth beers? Continue reading to discover the best breweries in Duluth MN.
Bottom Line Up Front
Out of all these breweries, I recommend Fitger's Brewhouse the most. They have various beer styles, and they're all high-quality. I even recommended one of their sours, and I usually don't drink sours. I also recommend checking out the other breweries on this list.
My Top Picks at a Glance
Tips When Selecting a Brewery
I will recommend these breweries based on beer quality, but there are many other considerations when choosing a brewery. This is especially important if you're traveling to Duluth and are trying to prioritize which breweries to visit (I've been there before). Here are some tips I give myself when selecting which brewery to visit.
Beer Variety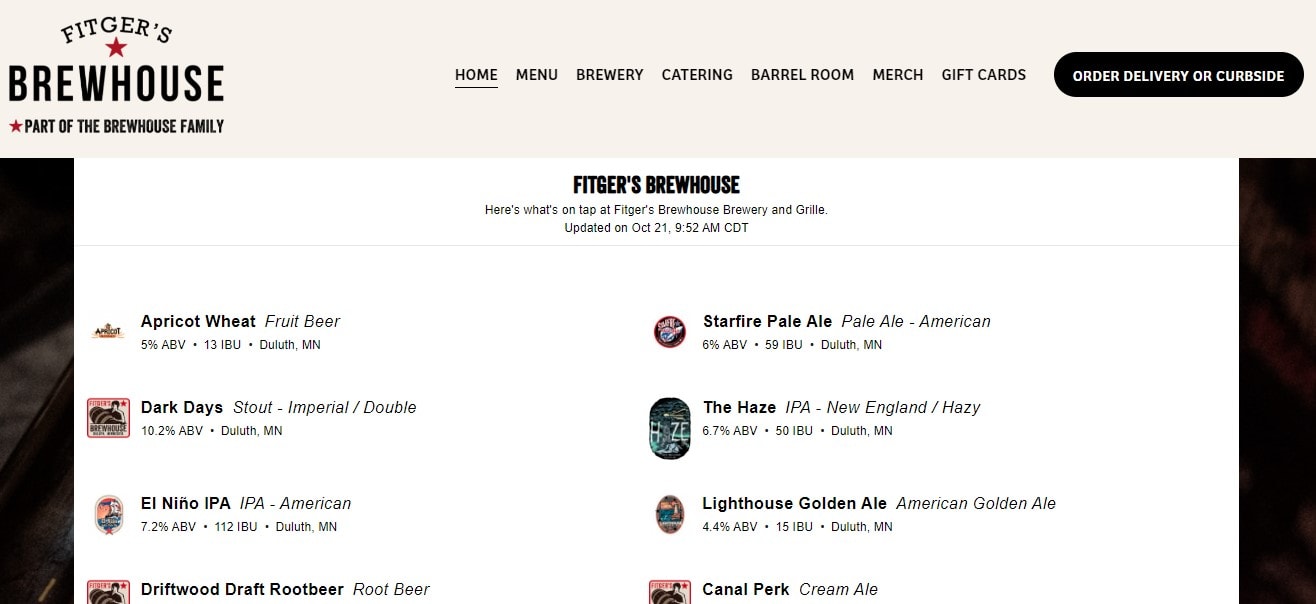 There are so many beer styles, and everyone has their preferences. It's best to choose a brewery that offers a variety. I prefer lagers and Pilsners, but sometimes I get a taste for an IPA. I also love drinking a stout or porter when it's cold outside. There are also beers that you can't get anywhere else, so look for some unique brews in addition to classics. Most breweries will always offer their best-sellers on tap, but keep an eye out for new beers.
Specialty
Even though beer variety is important, some breweries may have a specialty. For example, I will be including a brewery in Duluth that specializes in IPAs. These breweries are masters at crafting certain beer styles, and they're arguably the best that you will drink.
Safe and Respectful Atmosphere
There are many reasons I prefer going to a brewery and not a bar, and not just because the beer is better. I always feel safe in a brewery. Most people don't get too rowdy, and the atmosphere is way more comfortable. But before going to a new brewery, I always ask my beer friends for their experience and look up Yelp reviews.
When getting recommendations or reading reviews, don't forget to research staff and management. A brewery in my area just came under fire because the owner disrespected his staff and made racist comments. I've also had some experiences where the staff was snobby, especially toward patrons new to craft beer. You'll want to support a brewery that is respectful to everyone.
Great Seasonal and Limited Edition Beers

I love seasonal beer! We're unfortunately done with fall beers (my favorites), but now we're moving on to spiced holiday ales! Drinking seasonal beers is always fun, so don't forget to see what's on a brewery's seasonal menu. Heavy and stronger beers taste better in the cold weather, while lighter, session beers are better picks for spring and summer. This is why many breweries produce certain beers for the season.
Some breweries also produce limited-edition beers, which I always try to taste. I appreciate breweries that make limited-edition beer that correlates to the beer styles they produce. For example, my brother works for a European-style brewery, and they release limited edition beers, such as different bocks, as limited edition beers.
Decor, Branding, and Art
This is just me, but I appreciate the aesthetics of a brewery. I love sitting down, enjoying a beer, and seeing some good art. It can be difficult to judge the decor of a brewery if you've never been there because pictures only show so much. That's why I always look at branding.
I love goth and heavy metal stuff, so I gravitate toward breweries with darker artwork. Since Duluth is in the Lake Superior area, I see many Duluth-based breweries with scenic branding, often featuring lake imagery. I also appreciate a brewery that sells merch and can incorporate its branding in its merch. I've purchased so many brewery shirts just because I loved the artwork so much.
How I Chose These Breweries
I applied most of the tips in the previous section to this list, with more emphasis on beer styles, quality, and specialties. I also look for different factors, such as if the brewery sells canned beer. Not everyone is into beer, which is why most breweries may also have wine or cocktails. I also researched each of the breweries, ensuring their management and staff were respectful. If the service is lacking, I will mention this in the review.
The Best Breweries in Duluth, MN
Are you ready to discover a new brewery in Duluth? Here are my brewery recommendations!
Fitger's is the first brewpub in Duluth. Many people, including myself, confuse the difference between a brewpub and a brewery. A brewpub is a combination of a brewery (where they brew their own beer) and a traditional bar, while a brewery only produces and sells beer.
Fitger's Brewhouse was technically formed in 1995, but its legacy traces back to the 1850s!  Fitger's has the reputation for being one of the best spots in Duluth for their beer alone.
If you enjoy sours, I recommend the Tangerine Jeans Sour (if it's on tap). I'm not even the biggest fan of sours, but I love how this beer is vibrant. I'm a Florida girl, so I'm a sucker for citrus beers. Plus, I think this beer has a creamier texture compared to most sours. I'm not a fan of sours because most are too sweet and tart, but Tangerine Jeans has that perfect combination of tart and juicy.
Fitger's Brewhouse is also best known for its delicious food. Their menu features brewery classics, such as pretzels and burgers. Since Minnesota borders Canada, I'm happy to see that Duluth offers poutine — one of my favorite foods ever!
I don't eat most meat, so I like how Fitger's offers a homemade wild rice burger and even offers different varieties. You can substitute a beef patty for any burger with a wild rice patty, which is beneficial for me since that poutine burger with a wild rice patty is catching my eye. Most brewpubs and breweries have a lacking vegetarian/vegan menu, so it's always refreshing when I see an establishment go the extra mile to satisfy their meatless clients.
If you are a meat eater, Fitger's offers various other menu items aside from burgers. Their soups are also excellent, specifically their clam chowder. The elk burger is a local favorite. Back when I did eat meat, I loved eating game meat, so that would have been a burger I would love. Plus, the service is also excellent. Fitger's Brewhouse hires knowledgeable staff members who can recommend different beers.
There are some downsides to Fitger's Brewhouse. I don't appreciate how the brewery doesn't offer prices on its website. I love getting beer and a meal, but I also don't want to spend a lot of money. And since so many people are struggling with high costs of living, not knowing prices in advance may cause some people to avoid the brewpub altogether.

Fitger's Brewhouse Highlights
Massive beer and food menu
Plenty of vegetarian and vegan options
Tangerine Jeans is a great beer for everyone, even if you don't like sours
Indoor and outdoor seating
Friendly and knowledgeable service
Local favorite
Fitger's Brewhouse Disadvantages
No prices available on the website
It can get loud and busy, especially during the weekends
In all my years traveling as a beer writer and connoisseur, I come across many hyped breweries that are nothing special — definitely not local favorites. But there are some major breweries that are also local favorites with high-quality brews to back up their claims. In Duluth, Ursa Minor Brewing is an example.
Ursa Minor Brewing is a local favorite. They offer live music every weekend and host several fun events, specifically their Oktoberfest celebration. Since Halloween just passed, Ursa Minor hosted a Halloween event.
If you enjoy drinking outside, Ursa Minor is the place to go. They have a massive patio that's family and dog-friendly. This is a massive win for me — I love dogs! I will say that the patio doesn't have a cover, so avoid this brewery if it's raining outside. Their taproom is also impressive, and they offer a number of fun activities inside.
I recommend the Big Bad John beer, which is an imperial IPA. It's a seasonal beer — brewed in memory of the brewer's late father. Imperial IPAs are one of my favorite styles; they're brewed with more malt, upping the ABV and taking out some bitterness from the hops. Ursa Minor mainly has IPAs. If you're not a fan of IPAs, they also have a decent selection of lagers, dark beers, and sours. The brewery also offers a range of non-alcoholic drinks.
The mix of flavors here is interesting. Big Bad John is brewed with caramel malts and features a melange of grapefruit, citrus, and pine hops. I can't find any information about the hops they used, but it's definitely a complex beer. I suggest this beer if you're a seasoned beer drinker who wants something different.
For food, Ursa Minor serves wood fire pizza and other food, though their pizza is the best. I never complain about eating pizza, but I usually always see breweries serving pizza. Still, Ursa Minor's pizzas are made from scratch. I wish they had a more extensive menu — I can only eat the Margherita Pizza, which isn't a complaint because I love Margherita Pizza. Their paninis are also good — especially that Caprese Panini!
As with many breweries, Ursa Minor gets busy on the weekend. They don't have beer prices on the menu, which is a shame, but their food is reasonably priced. Keep in mind that Ursa Minor tends to run out of items, so always have a backup food or beer item in mind.

Ursa Minor Brewing Highlights
Decent selection of beers
Big Bad John is a complex imperial IPA
All of their other beers are high-quality, especially their other IPAs and pale ales
Also offers non-alcoholic drinks
Massive patio
Taproom with fun activities
Hosts live music and other events
Reasonably priced pizza
Family and dog-friendly
Ursa Minor Brewing Disadvantages
Not the biggest food menu
I can't find beer prices on the website
It can get a little busy on the weekends
The patio isn't covered
If you're visiting Duluth or are a local and want to lay low, I recommend going to Bent Paddle Brewing. Their taproom is cozy, with plenty of booths and tables. This is the perfect place to relax when you're on vacation, catch up with a friend, or go on a date. If you enjoy working in public places but want something different from a coffee shop, Bent Paddle Brewing has WiFi, so you can get your work done while enjoying a couple of beers.
I recommend trying the Black Ale. As a porter, you first taste the malty yet bitter flavor, then the coffee notes come in on the aftertaste. This beer is full of complex flavors and is a good option if you want a robust yet hoppy beer.
If you want to take away all bitter notes, get the Cold Press Black Ale. Bent Paddle collaborated with local coffee shops on this beer, so the beer tastes roasty with hints of vanilla, chocolate, and dark fruit. Nutty flavors balance out these notes, so the beer isn't overly sweet. I also like how this beer isn't heavy; rather, it's very smooth.
While these beers are my favorites, all the beer you will drink is good. Bent Paddle uses local waters to brew its beers, so you get the freshest taste.
This brewery isn't a local favorite, mainly because the brewery switched locations. Many locals say the original location was better. Bent Paddle has also received complaints about unfriendly staff members. I also don't appreciate how I can't find beer prices on the website.

Bent Paddle Brewing Company Highlights
High-quality beer, brewed with local lake water
Decent beer variety
Black Ale and Cold Press Black Ale are high-quality porters
Collaborates with other local businesses
Large and beautiful taproom
Relaxing vibes
Bent Paddle Brewing Company Disadvantages
Unfriendly staff complaints
No beer prices on the website
Remember I said I pay a lot of attention to brewery branding and imagery? Well, this place isn't my personal cup of tea because I'm not a sports fan, but I know most people would appreciate the vibe here. It reminds me of a sports bar but more chill.
However, I would absolutely come here for the beer. Hoops Brewing has various beer styles on tap. But even with all of the creative beers that you can get, Hoops is still best known for its pale ale and IPA. The pale ale has a fruity taste; you can get tastes of tropical fruit and orange. It's also full of hops but still crisp, perfect for those who want a refreshing beer during the Duluth summer.
If you prefer a hoppier beer, their classic IPA is brewed with a melange of pine, floral, and citrus hops. There are fruity notes here to sweeten and balance the IPA.
However, I would get the Munich Lager. This is a Helles-style beer. So many breweries get the German beer styles wrong, but this beer has that perfect bready flavor. There are some grassy and earthy hops; they balance out the biscuit malts but aren't overly hoppy. It's smooth tasting and true to the style.
While all of the breweries have a great location, this is the most ideal for tourists. There are a couple of hotels nearby. The downside to this brewery is they don't have a kitchen. However, you can bring in outside food.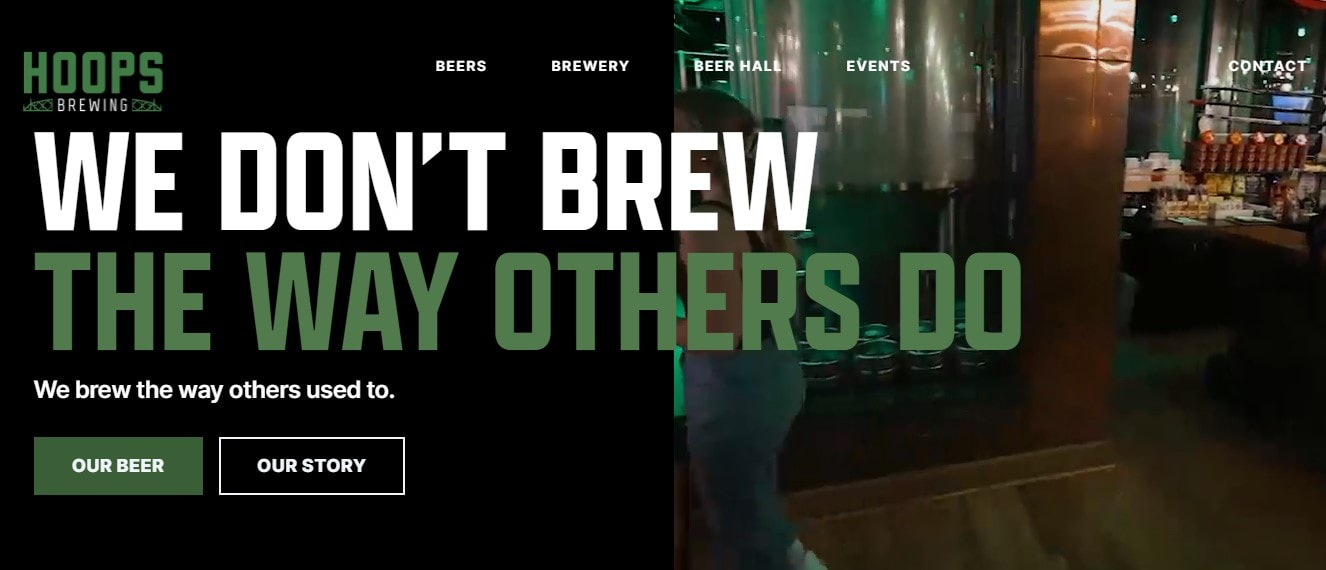 Hoops Brewing Highlights
Decent selection of beers
Their Helles is true-to-style
Chill atmosphere, even for a sporty place
Great location for tourists — many hotels nearby
Friendly and helpful staff
Family-friendly
Serve cocktails for those who don't like beer
Lots of games in the beer hall
Hoops Brewing Disadvantages
The numbering system on the beers is strange
Locals complain that the brewery decreased in quality when changing to a new location
No food, need to order from another restaurant
Canal Park Brewing is a tourist and local favorite for beers and food. They're family-owned and have won multiple awards. If you're an IPA fan, you'll love the Stoned Surf IPA. For an IPA, it has a sweet malty taste that downplays the bitterness. The bitter flavors don't hit you like with most IPAs but linger on the tongue. I know IPA traditionalists may not care for this, but I like the different take on this beer style.
Their food is also extremely popular. They have a diverse menu; for vegetarian options, there's a mushroom sandwich that sounds delicious, and you can substitute a portabella mushroom cap on a beef burger. All of the food is made with locally-sourced ingredients, for both their food and their beer!
Canal Park Brewing offers indoor and outdoor seating. The brewery is located on Lake Superior, so you get amazing views when you sit outside. Plus, the patio is family and dog-friendly. Canal Park Brewing hires great staff members, though I recommend ordering online if you're in a rush since this place gets busy. The website doesn't have beer or food prices online.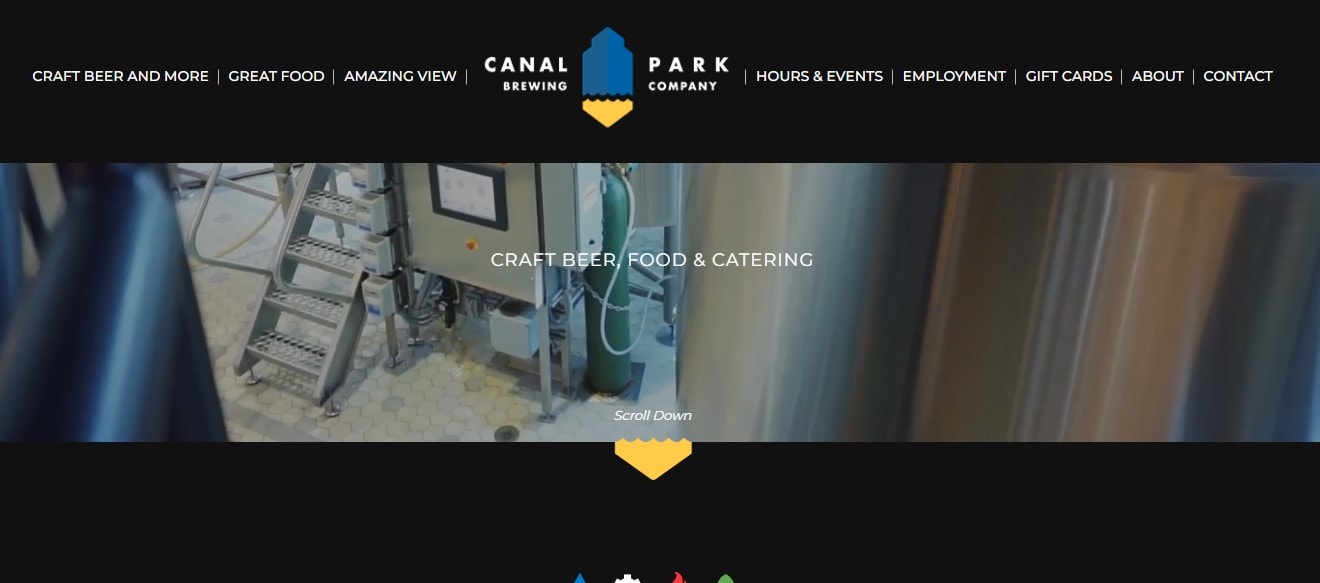 Canal Park Brewing Highlights
Delicious beer
Stoned Surf is a unique take on the classic IPA
Family and dog-friendly
Outdoor seating overlooks Lake Superior
Friendly staff members
Canal Park Brewing Disadvantages
Blacklist Brewery is another one that's a local favorite. I'm usually a snob when it comes to traditional German beers (especially the Hefeweizen), but I have to recommend their Imperial Cocoa Hefeweizen. Cocoa blends seamlessly with the traditional banana, spice, and bread notes. The beer tastes creamier than a traditional Hef, not as much bitter. Even with all of these rich flavors, the beer is still smooth.
For those who don't like beer, Blacklist also makes their own hard seltzer. Blacklist's staff is great, and they have a huge location. They don't offer traditional games; I love how they offer axe throwing, and I wish more breweries did. Blacklist doesn't offer beer prices, but they are reasonably priced — about $6 per beer.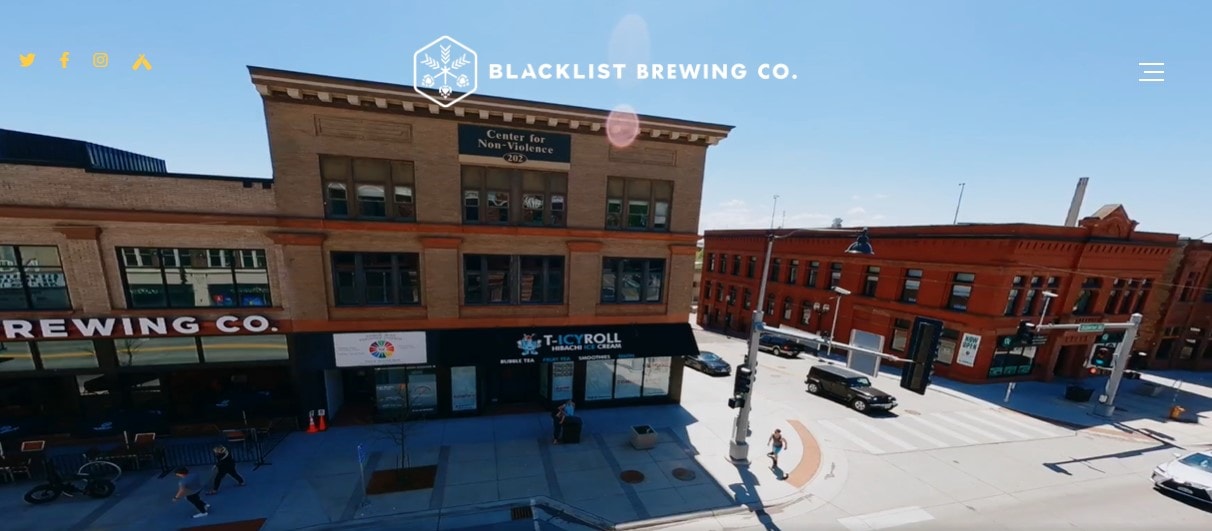 Blacklist Brewing Company Highlights
Excellent and diverse beer selection
Imperial Cocoa Hefeweizen is a unique take on the classic beer style
Great staff
Axe-throwing instead of traditional brewery games
Reasonably priced
Blacklist Brewing Company Disadvantages
Can get busy
There are complaints about food quality
FAQs
Question: Does Duluth have the most breweries in the US?
Answer: Nope. That award goes to Portland, Oregon.
Question: I'm on a budget. Which breweries should I visit?
Answer: Unfortunately, many of these breweries don't offer prices on their website, so I would call and ask about prices first. Ursa Minor does have reasonably priced food. From my experience, Bent Paddle Brewing and Hoops Brewing have been affordable.
Question: What's the most popular beer in Minnesota?
Bottom Line: What are the Can't Miss Breweries in Duluth?
If you're in Duluth, I recommend going to Fitger's Brewhouse. It's the first brewpub in the city; a local favorite and is also popular among tourists. Their beers are some of the best quality in the area; I recommended one of their sours, and I don't even like sours! If that sour still doesn't appeal to you, Fitger's has various other beers that you can try. They also have a massive food menu with plenty of vegetarian options.
They have both indoor and outdoor seating, though their outdoor seating is limited. It can get busy, but that just proves this place offers some great beers and food. Fitger's service is also excellent, and the staff members are extremely knowledgeable. I also suggest checking out the other breweries on this list.