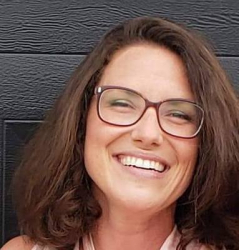 Latest posts by Sarah Caldwell
(see all)
Most beer lovers dream of having a kegerator at home. Access to your favorite beer on tap? Yes, please! You can get the draft beer experience at home with a single purchase and installation.
Kegerators will keep your tapped keg carbonated and fresh for longer. You may even be able to make it last for a couple of months. These specialized appliances come in many different types, so, in I'll guide you through what to look for and some best Kegerator product recommendations.
Types of Kegerators
There are a few types of kegerators you can consider before you purchase something for your home. For example, you'll want to think about placement so you'll know what size kegerator you need. Some of these are small enough to fit on the countertop in your kitchen while others should be reserved for your basement bar.
There are also kegerators for indoor or outdoor use, so you'll need to choose the correct type for your specific needs.
Mini Kegerators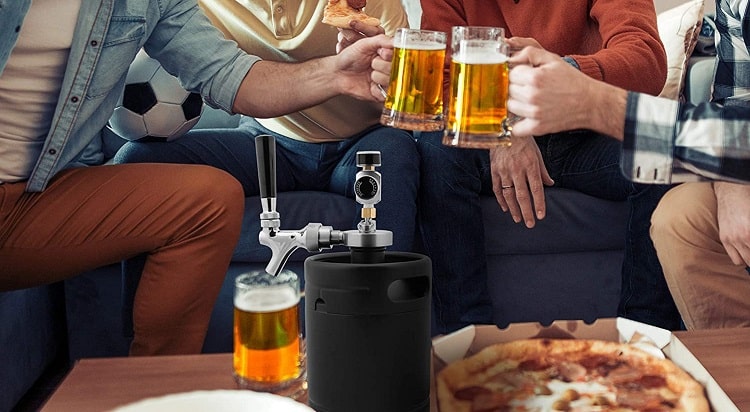 These kegerators work great in small spaces. They're inexpensive and a good stepping stone for those who aren't quite ready to commit to a large unit. You can choose from countertop designs with an independent cooling system or a portable version that you store in the fridge.
Mini kegerators are great for people on a budget or those who don't have enough room to install a full-sized kegerator.
Freestanding Kegerators
These popular options are easy to use because you don't need to convert a fridge or drill into anything to install it. You just connect all the parts, put the keg in, and then plug it in. Most of these have casters that make them easy to move, but you may need to allow some space behind them so they have ventilation.
Built-in Kegerators
Once installed, these kegerators are more permanent and harder to move. They're perfect for home bars and kitchens. You can even install the draft tower into the countertop so it looks sleek and seamless.
Most of these have front facing ventilation systems, so you don't have to allow any room behind them for ventilation. You can install them against the wall without worrying about the kegerator overheating.
Outdoor Kegerators
These kegerators are more durable and weather resistant than indoor kegerators. They won't rust in the rain or snow and they won't overheat when it gets too hot.
This is the best option if you like to host backyard barbecues, have an unheated garage, or you want a kegerator in your outdoor bar. They're sealed thoroughly to protect the electrical components inside.
Commercial Kegerators
Commercial kegerators are larger than residential kegerators and they're used in event spaces as well as some restaurants and bars. They are large enough to hold a full-size keg along with extra cold storage.
They're durable enough to withstand almost constant use in a commercial environment. They're made from materials that are easy to clean and they can hold up well under daily wear and tear.
Read Also: Best Kegerator Cleaning Kits – Buying Guide
Kegerator Buying Guide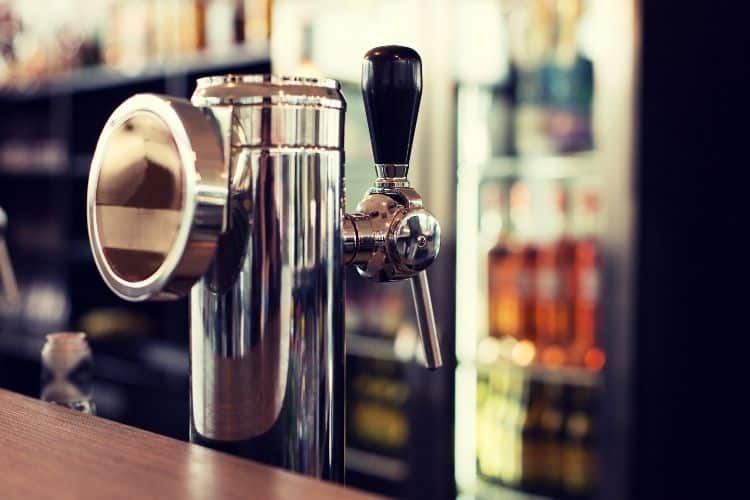 It takes time and consideration to choose the right kegerator for you. There are a lot of different configurations, sizes, and uses, so evaluate your space and needs. Think about what kind of beer you want on tap. Some craft breweries only offer one keg size.
Size and Weight
It's important to consider both interior and exterior dimensions when choosing your kegerator. If you want it to hold an entire keg, it's going to take up a lot of space, and you need to make sure you keep enough space in mind for the draft tower. In some cases, you'll also need extra space for ventilation and air flow.
When it comes to interior space, you need to make sure it holds the number of kegs you want to store. However, lighter kegerators are easier to install and may offer a portable solution for when you have large parties.
Tap Configuration
The tap configuration determines how many types of beer you can have at one time. You can commonly find residential kegerators with 1-3 tap options, but there may be some 4-tap options as well.
If you have a favorite beer single that you want to have on tap all the time, 1 tap might be enough, but if you prefer to switch it up or entertain your friends, you'll need more. Keep in mind that with some kegerators, you can get a Kegerator conversion kit to add additional taps later.
Ventilation Requirements
Without enough room for air to circulate, you can significantly shorten the life of your kegerator. It needs plenty of room for ventilation, so think about these requirements when you decide where to put it.
Most freestanding kegerators have ventilation in the back, so you have to position it a few inches from the wall to give it enough space. However, built-in kegerators will vent from the front, so you can install them flush against the wall, giving you a more seamless look.
Pressure Settings
Your perfect pour needs just the right amount of pressure, which is measured in pounds per square inch (psi). It's in your best interest to choose a kegerator that has a CO2 regulator and a pressure gauge. While most of them have these, add do not.
The right psi for your kegerator will depend on its setup, the temperature, and the type of beer. If the pressure isn't just right, it will affect taste, foam, and carbonation. You need to find a kegerator that comes with the equipment you need to maintain this pressure and adjust it when needed.
Learning how to adjust the psi is one of the first things you need to learn about and understand about your kegerator. It will significantly impact your experience.
Temperature Control and Displays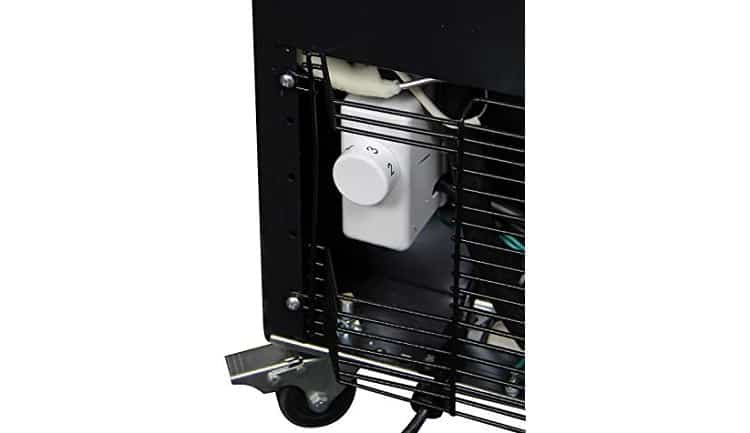 As you shop, look for units that have a temperature control option as well as a good range of capable temperatures. The temperature you need to keep your kegerator at will depend on the type of beer you want to store, so make sure the kegerator you want is capable of maintaining the right temperature for you.
An exterior digital temperature display will tell you what the temperature is inside the unit without having to open the door. This is nice because it helps keep the inside of the fridge cold so the temperature of your beer doesn't fluctuate. If you can adjust the temperature from the outside as well, that's even better.
Features and Accessories
Kegerators come with a range of features and accessories, so look for units that have what you need. If you want to be able to move it around, get a unit that comes with casters and handles to make it easier.
Digital displays are useful features for being able to monitor and control temperature, while dual-pressure regulators will allow you to check CO2 levels and output pressure.
If you want additional accessories, you can find kegerators with extra fans that keep it from overheating, portable battery packs for mini kegerators, and cleaning kits.
Assembly, Ease of Use, and Cleaning
Most kegerators are designed to be easy to assemble and use. You can put it together yourself at home with just some basic tools. After you install it, it's important that you clean it regularly.
Take the beer lines and individual components apart and clean them thoroughly to prevent mold, bacteria, and mineral deposits. Some kegerators come with cleaning kits but you can also purchase them separately.
Because cleaning is something you should do regularly, it's important to consider getting a unit that's easy to take apart. While that's not a requirement, you may struggle with routine cleanings if it's difficult to take apart.
Noise Level
Kegerators are like refrigerators. They do make some noise when they're running, but some are louder than others. If you're going to put your kegerator in the garage or somewhere outside, noise may not be a factor.
In small spaces like the kitchen, it may be more important to have something quiet. If you're keeping your kegerator in a room where you spend a lot of time, think about getting a quieter unit that's not as disruptive.
Top Picks
Kegerators come in so many different sizes with a variety of features, but every kegerator should be capable of dispensing cold beer for the perfect pour at home. You should be investing in this specialized appliance because you want your beer to stay fresh for longer. Here are some of the best kegerators on the market.
Kegco HBK209S-3K Homebrew Kegerator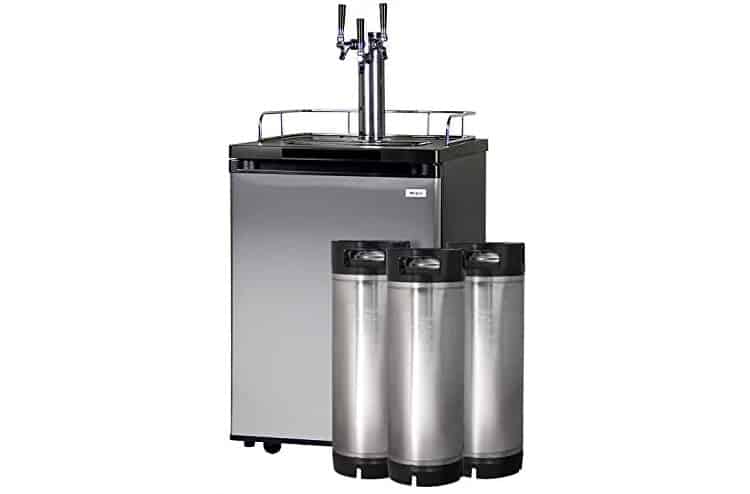 This freestanding kegerator has 3 taps and everything you need to begin pouring your own beer at home. It has a keg tapping kit, ball lock keg couplers, a dual-gauge regulator, and a 5-pound CO2 tank made of aluminum.
The four locking casters make it easy to move, so this is a great option for people who entertain a lot and want to be able to move their kegerator around. The unit is 26 x 20 x 33 inches, with a fridge spacious enough to fit three 5-gallon home brew kegs.
It contains temperature controls on the back of the unit, so while you can adjust the temperature from 35 to 42 degrees Fahrenheit without opening it up, you do not have to move it to gain access to the dial.
This unit will help you reduce your energy usage because it provides energy efficient cooling technology. The bottom is lined with a stainless steel plate to support the weight of your kegs and prevent damage.
The removable drip tray makes the unit easy to clean, and when not using it as a kegerator, there are two removable shelves you can insert to turn it into a refrigerator.
pros
3 taps

Locking casters and handles

Energy efficient

Removable drip tray and shelves
Cons
Temperature controls are on the back of the unit
NutriChef Growler Beer Dispenser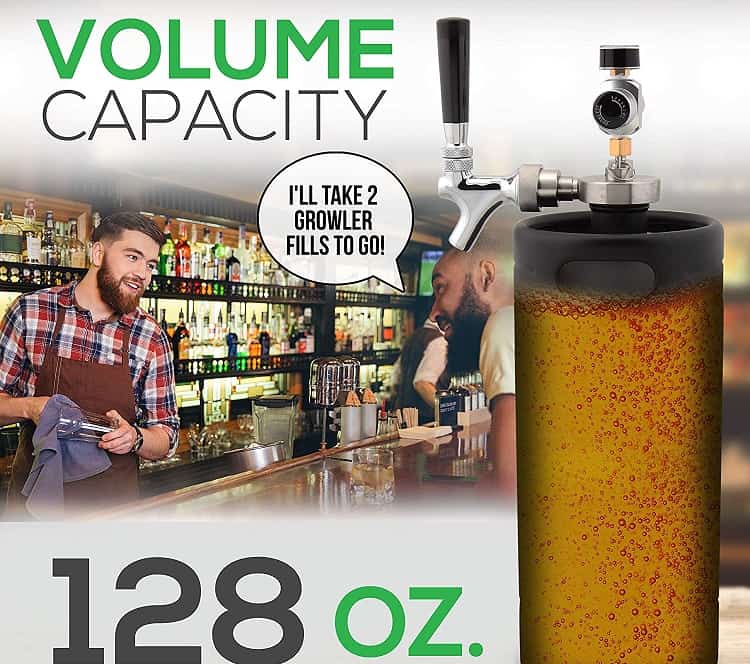 This is a mini portable kegerator made from powder-coated, food-grade stainless steel. It's a durable unit that will keep your beer pressurized and fresh for up to 3 months. Even though it's small, it includes a pressure gauge and an adjustment knob so you can maintain the proper pressure for your beverages.
It features a new spear cap lid style allowing you to store your keg while keeping it under pressure while removing the regulator and spout.
There's no cooling feature, but it does have an insulator sleeve, so as long as your keg is already cold, it will keep your keg colder for longer. The handles make it easy to carry and the tank can hold up to 128 ounces of beer.
It weighs less than 5 pounds and is 5.3 x 5.3 x 14.25, but it can still hold the same volume as a standard sized growler.
pros
lightweight

Includes handles

Comes with insulator sleeve

Has a pressure gauge and adjustment knob
Cons
EdgeStar KC1500SSOD Outdoor Kegerator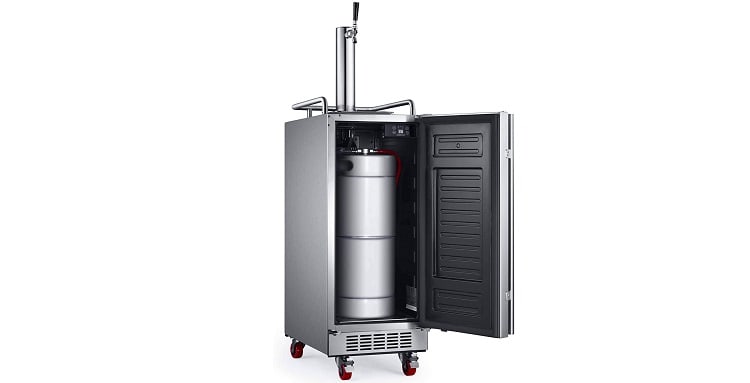 This kegerator features a reinforced stainless steel cabinet with a weather-proofing system , so it's the best option for keeping outside. The 26.06 x 14.94 x 33.44 inch dimensions mean it's a compact unit that will fit in plenty of outdoor spaces. However, that also means it will only hold sixth barrel, quarter barrel, and Cornelius kegs because it's so narrow.
Front ventilation allows you to seamlessly build it into your outdoor kitchen or bar area while still having the option to keep the casters on and move it around freely. It has a cooled beer tower to keep your beer cold from the keg to your glass.
The digital control panel on the front allows you to adjust the temperature according to the type of beer you have inside, keeping it fresh and delicious. There's also interior lighting, which makes it easy to see the contents when you open it up.
pros
Weatherproof

Front ventilation for built-in design

Casters for portability

Cooled beer tower

digital control panel

interior lighting
Cons
Narrow design can't hold full-size kegs
Kegco BF EBDCK-5T Conversion Kit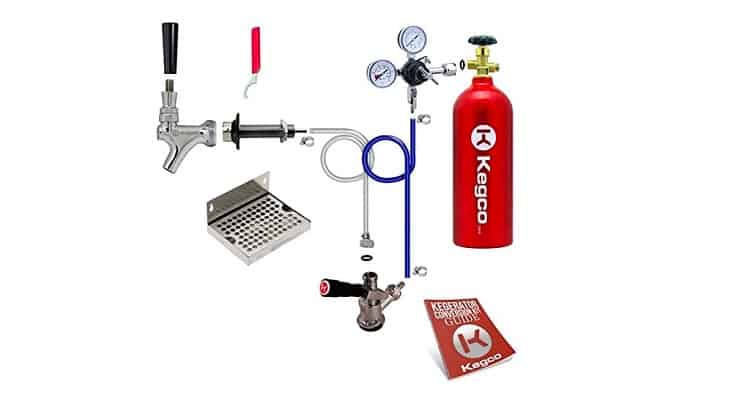 If you already have an extra refrigerator, this kegerator conversion kit will help you turn it into the kegerator of your dreams. As long as you have a unit large enough to hold a key, you can have a new kegerator in just a few easy steps.
Just drill a hold in the refrigerator door large enough to fit the brewing faucet and install the conversion kit. You'll be pouring your own beer on tap in at the time.
It comes with a single-tap spout, door mount, dual-gauge regulator, drip tray, lever handle keg coupler, 5-pound CO2 tank, and all of the hoses you need to hook it up. There's even a faucet wrench to aid in your installation.
pros
Turns a refrigerator into a kegerator

Easy to install

Comes with everything you need
Cons
FAQ
All of the kegerator options can be overwhelming, so it's important to take some time to research what you want. These frequently asked questions should help you understand more about your options.
Question: What Do I Need to Know About Buying a Kegerator?
Answer: It's important to think about things like the type of beer you want to serve, how many types you want to tap into at one time, the size of the kegerator, ventilation requirements, and additional features.
Question: How Long will a Keg of Beer Last in a Kegerator?
Answer: If you don't go through a bottle of beer fast enough, you can typically keep it stored and fresh in your kegerator for about 3 months. However, it does depend on the type of kegerator and the type of beer you have.
Question: What PSI should I Keep my Kegerator at?
Answer: There are a few factors that go into the correct psi setting. They include the type of beer, the length of the line, and the configuration of the keg and the draft tower.
Final Thoughts: Which is the Best Kegerator
If you're looking for a new kegerator, there are a lot of options. My personal favorite is the Kegco homebrew kegerator because it has 3 taps and is large enough to hold 3 different full-size kegs of your favorite beer. It also comes with all the features and accessories you need to keep your beer fresh, and you can keep it stationary or move it around as needed.
No matter what you choose, you'll be happy as long as the unit has everything you want and need in a kegerator solution.
Continue reading related guides, reviews and comparisons: