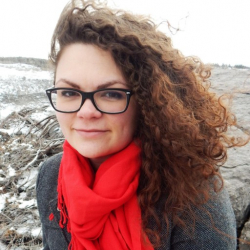 Latest posts by Candace Osmond
(see all)
Are you looking for the best kegerator cabinet ideas? If so, you've come to the right gal because I found some great inspiration to share with you. I'll also provide tips on how to build your own kegerator cabinet because–news flash–they're hard to find in stores. So, whether you're a seasoned DIYer or just starting out, I've got you covered. Let's get started!
Bottom Line Upfront
These ideas are so creative and stylish, but when we build our new home next year, I'm definitely making this rustic white-washed cabinet for our home bar.
Top 5 Picks
You Have to Get Creative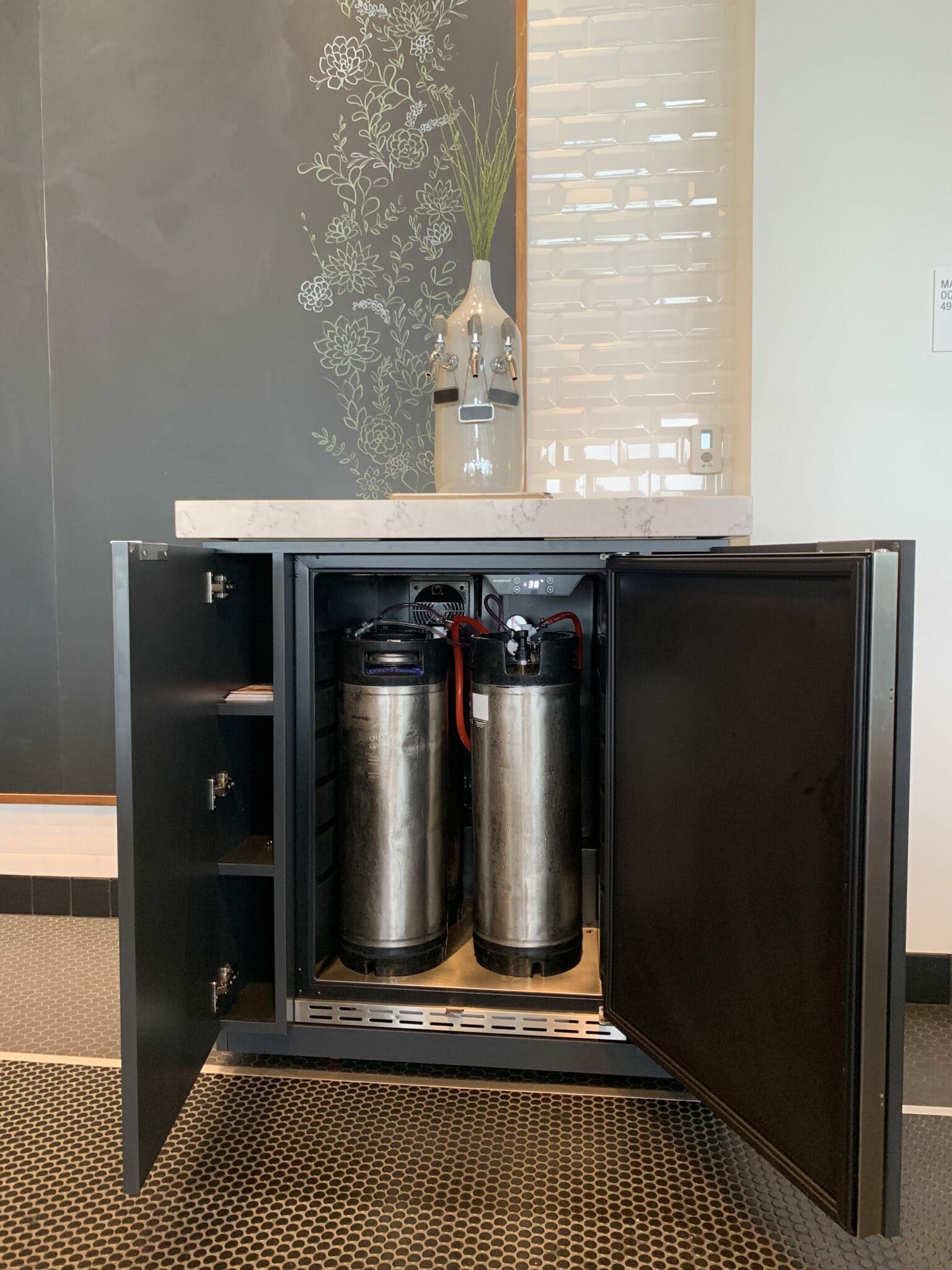 A kegerator is a type of specialized appliance that is primarily used for storing and dispensing beer. It typically consists of a large metal or glass housing unit, which can be either built-in or freestanding, with a central tap for dispensing the beer.
This tap is connected to an internal line from a refrigerated compartment where the beer is kept. The temperature and pressure in this compartment are carefully controlled to ensure that the beer stays fresh and carbonated until it is ready to be poured into glasses. A kegerator can thus be a great way to enjoy a fresh, cold beer at home, making it ideal for parties or social gatherings.
Sadly, there is no pre-made option to conceal a kegerator, so you must get creative. You can't buy cabinets designed specifically for this purpose, but you can always make your own (or have one custom-made for you)!
All it takes are some carpentry tools and basic materials. To begin, you will need to purchase or find a sturdy wooden cabinet that is the right size for your needs. Then, you will need to install some basic hardware, including taps, regulating valves, CO2 cylinders, and hoses.
Lastly, you can finish the cabinet with paint or another treatment of your choice to give it a personalized look. With these steps, you can easily craft your own custom kegerator cabinet that will help keep your favorite beer perfectly crisp and cold at all times.
Best DIY Kegerator Cabinet Ideas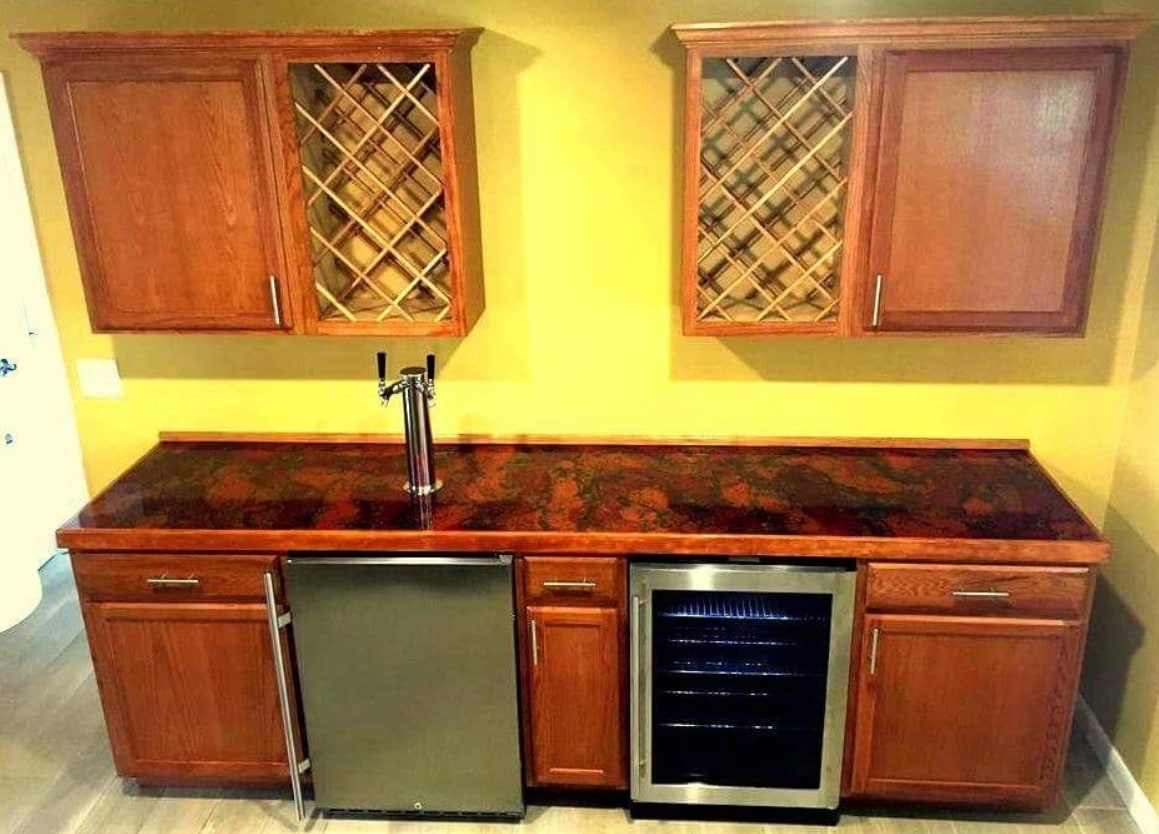 I scoured the internet and found some of the best DIY kegerator cabinet ideas to hide that giant unit and keep your home bar stylish. Keep in mind it's almost impossible to find and purchase an actual kegerator cabinet, so most ideas are going to be of the DIY variety.
How I Chose These Ideas
I spent A LOT of time researching kegerator cabinet ideas, and there are so many unique ones out there. But I wanted a list that included also met a set of criteria.
A variety of styles for different decors
Used items that were easy enough to find online or locally around you
Meet basic plumbing and electrical codes
Fit a standard kegerator or mini kegerator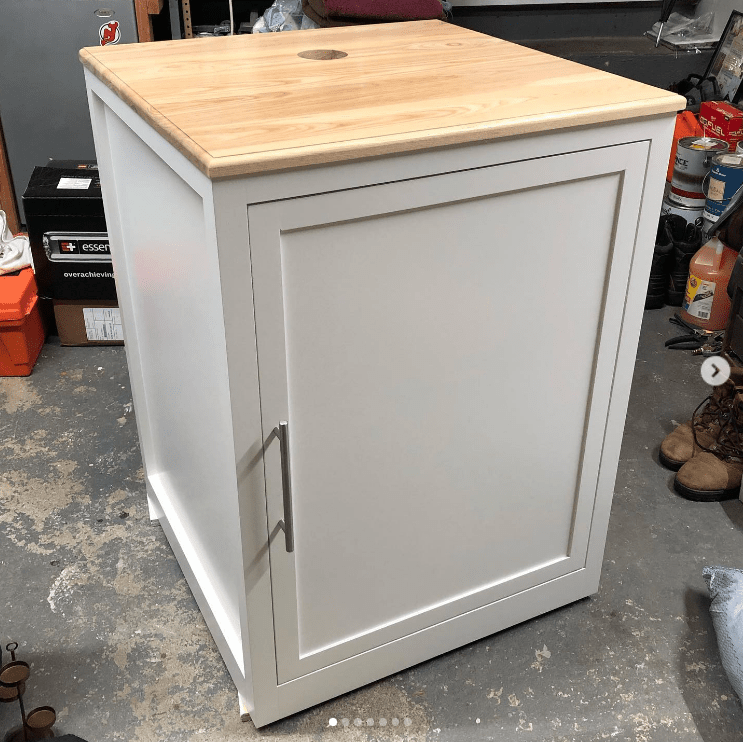 We kick off this list with what could easily be an old nightstand turned into a kegerator cabinet. Whether you can turn an old nightstand into a kegerator cabinet largely depends on the condition of the nightstand and the nature of your specific project.
Suppose the nightstand is in good shape and has ample room for tapping, cooling, and pouring. In that case, converting it into a kegerator cabinet may be possible. However, if the nightstand is old and worn, or if there needs to be more space for all the necessary elements, it's best to start with a new piece of furniture.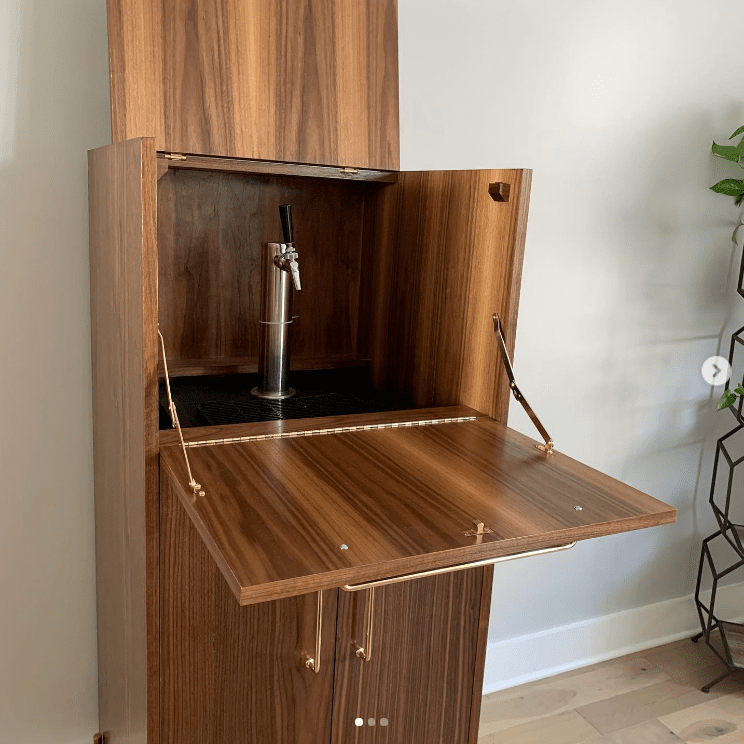 The caption of this photo cracked me up. "My husband wants to put a kegerator in my living room, he wants to keep the kegerator, and I want to keep my husband." Jokes aside, this is yet another perfect example of how you can have a custom-made furniture piece to kit your kegerator that blends perfectly with the decor.
I love how this cabinet was designed to conceal every bit of the contraption, so nobody will ever guess what's inside (until you serve them a chilly pint).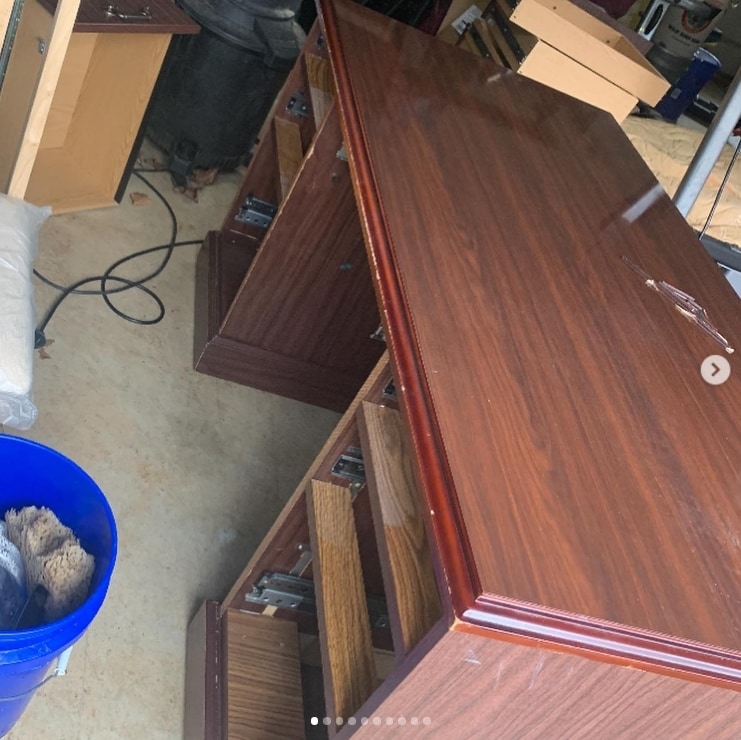 The idea of turning an old desk into a kegerator cabinet may sound strange, but it is quite feasible. The desk can be the base upon which you will build the rest of your kegerator cabinet. Once you have found your starting point, you will need to find a refrigerator unit that is small and compact enough to fit inside the space provided by the desk.
Ideally, this unit should be designed specifically for small spaces, with moveable cubes and other features that make it easy to customize the unit's shape and size. Next, you will need to connect the refrigerator unit to a cooler inside the desk, creating a space for organizing and storing all of your beer-related supplies.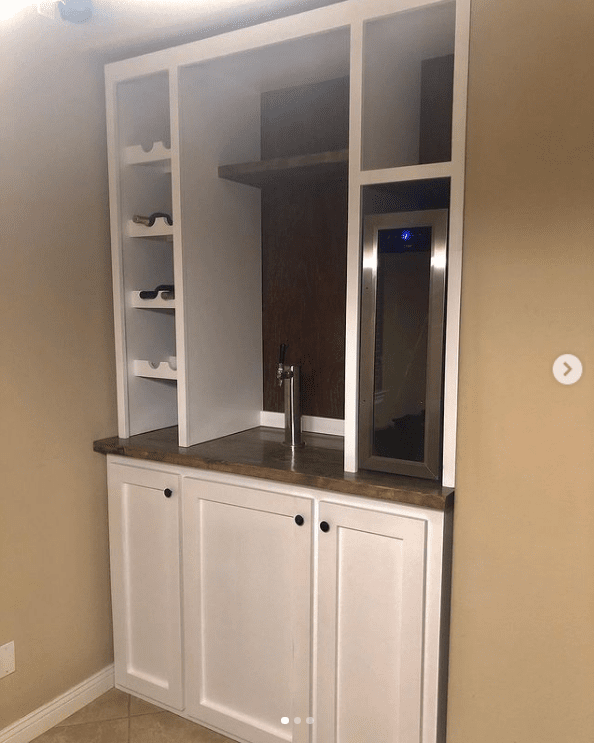 A custom-made bar allows you to tailor your bar's size, shape, and design perfectly to fit your particular needs. Whether you want a spacious counter with plenty of room for glasses and bottles or a compact bar that can easily be tucked away in a corner or closet, you can make anything you like.
Additionally, having a custom-made bar allows you to choose the specific types of storage solutions that are right for your space. For example, if you have limited shelf space in your home but still want plenty of beer on tap, you can install built-in bottle holders or even a bin system beneath the bar itself.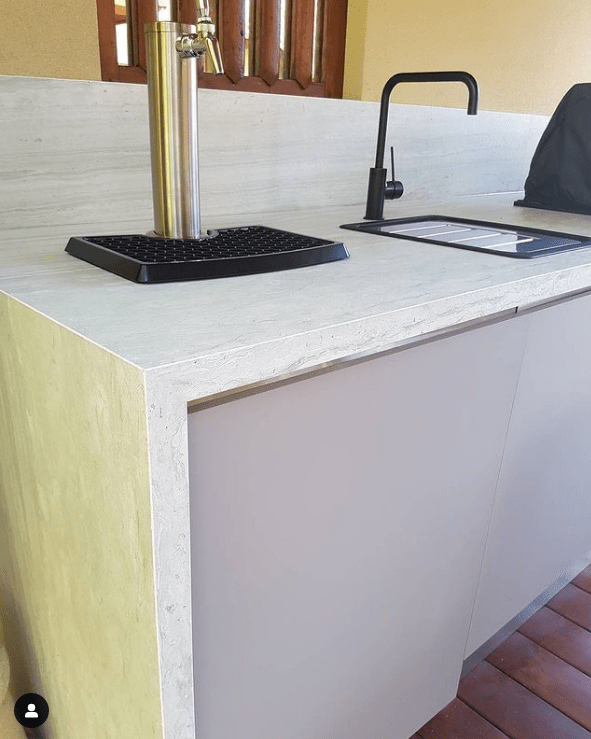 Fancy an outdoor kitchen where you can prepare delicious barbecues and have your friends over for a cold one? Look at how gorgeous this kegerator cabinet looks, integrated perfectly into this outdoor space.
It has a matte finish, as the cabinet maker doesn't recommend glossy surfaces on the outside because of their high maintenance. I must admit; everything looks so clean, I almost want an outdoor kitchen with a kegerator cabinet.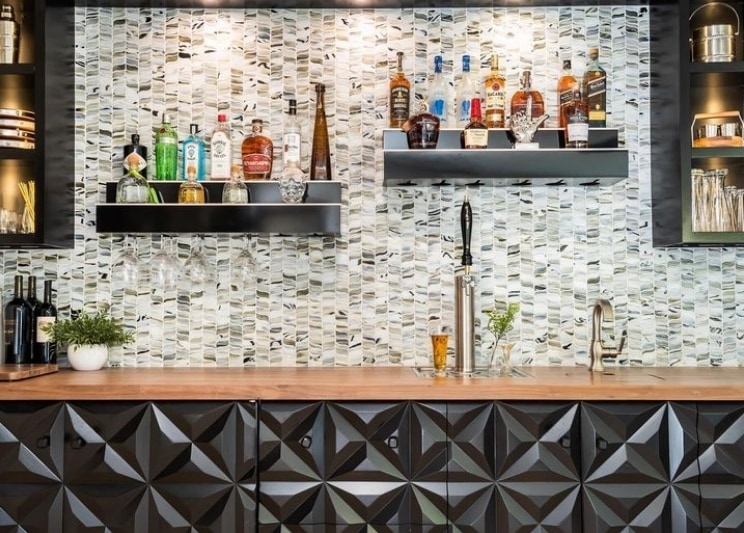 The level of sophistication of this custom-made bar is through the roof. From the gorgeous mosaic tile in the backsplash to the custom-made bar shelves with wine glass holders, this bar looks worthy of a high-class restaurant. Granted, this luxury level will cost you a pretty penny, but it's absolutely worth it if you are a beer or alcohol enthusiast.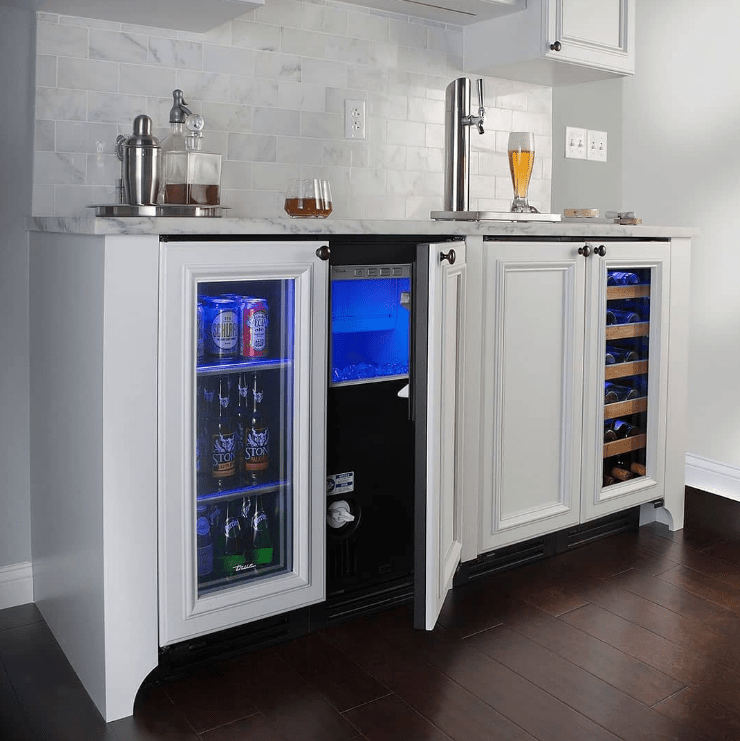 There is no doubt that this was a custom-made kegerator cabinet because every detail in the picture indicates that we're dealing with someone who knows their spirits.
The kegerator is accompanied by an ice machine, a wine cabinet, and a small fridge with a glass door so you can catch a glimpse of all the beverages inside. This is likely made to order unless we're dealing with a very knowledgeable or patient DIYer.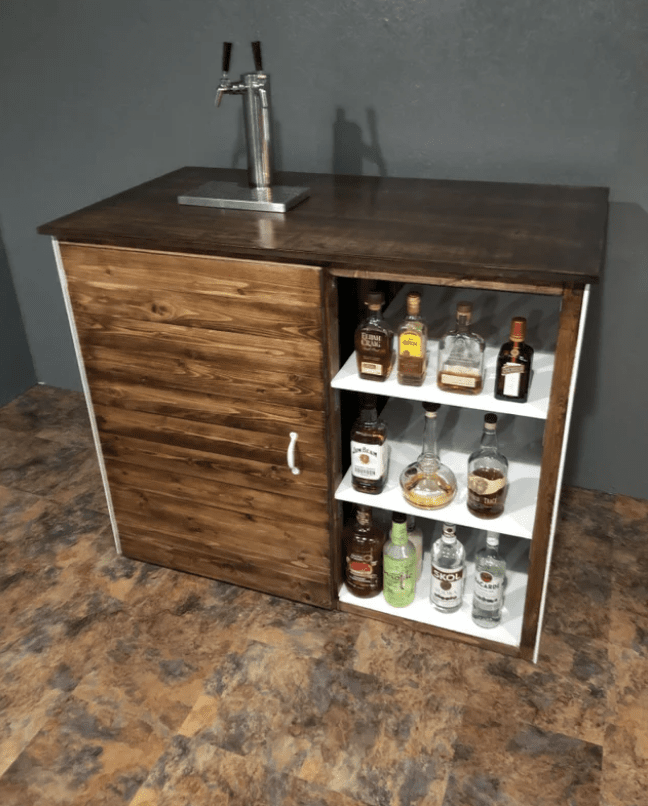 Props to this Redditor for sharing how they made their own custom kegerator cabinet. The project may seem complicated, but the end result looks absolutely stunning. The handy DIYer used a bunch of white wood, cut using a circular saw to make this.
The secret is finding your idea kegerator and then building the cabinet around it. Suppose you're not good with measurements and estimations. In that case, you can buy the same Kegerator this Redditor has and make the same cabinet for it. You can find the full tutorial here.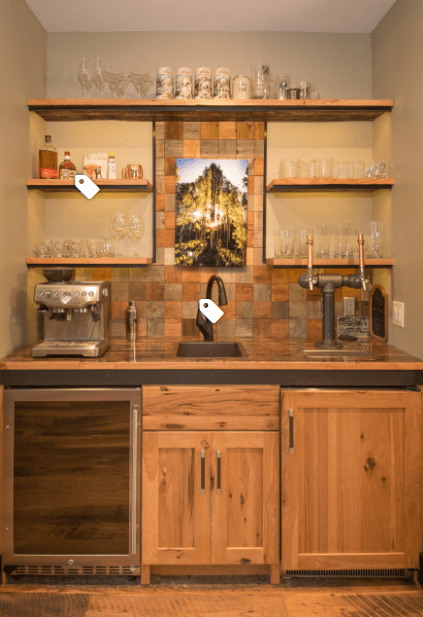 The idea of a rustic kegerator cabinet may seem like an odd home accessory. Still, in reality, it can be a great addition to any living space. Made from natural materials like wood and stone, this type of cabinet helps to infuse a warm, cozy feel into any room.
It's also ideal for those who want to bring something unique and interesting into their homes while staying true to their rustic aesthetics. This was a custom-made piece that perfectly fits into this small kitchen/bar.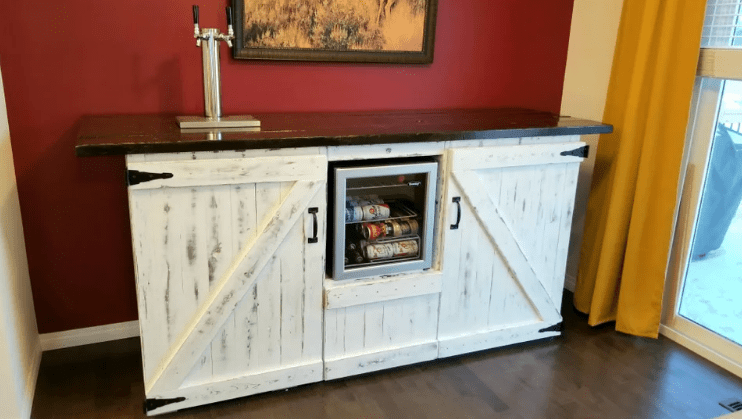 A distressed wood kegerator cabinet is meant to fit into various home interiors, from rustic farmhouses to modern industrial lofts. While aesthetically pleasing to the eye, this type of cabinet is also built for function. This cabinet was made entirely from scratch. The simplest option is to sand down the cabinet and applies your preferred stain or paint.
Distress by gouging or scoring the finish with sandpaper or other tools. Another option is to add textured wallpaper to the exterior paneling of the cabinet and then distress it by scraping away at the paper. Alternatively, you can use brown craft paper as a faux wood veneer on your cabinet and distress it by scraping across the surface with a paint scraper or nail setter.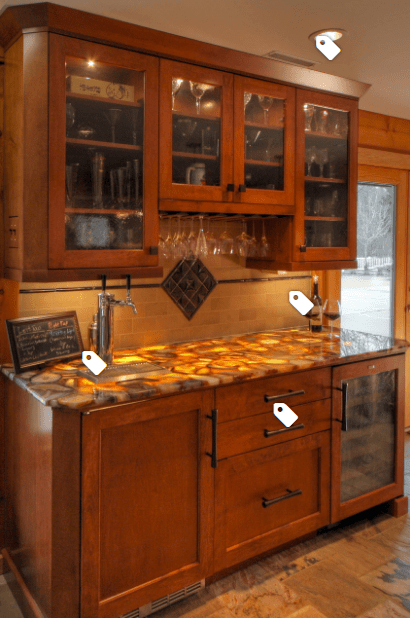 If you love this contemporary kitchen, know it's yet another custom-made piece. If you already have similar kitchen cabinets, you could just find a kegerator that fits into one of the bottom compartments and make the necessary cuts. A wet bar is located directly across from the dining area.
It features antique art glass in the upper cabinets, an under-cabinet wine refrigerator made by Sub Zero, and a drawer for storing alcoholic beverages. The backlit semi-precious stone quartz countertop features an under-cabinet beer dispenser manufactured by Perlick. It also features a beer tap that is illuminated for maximum drama.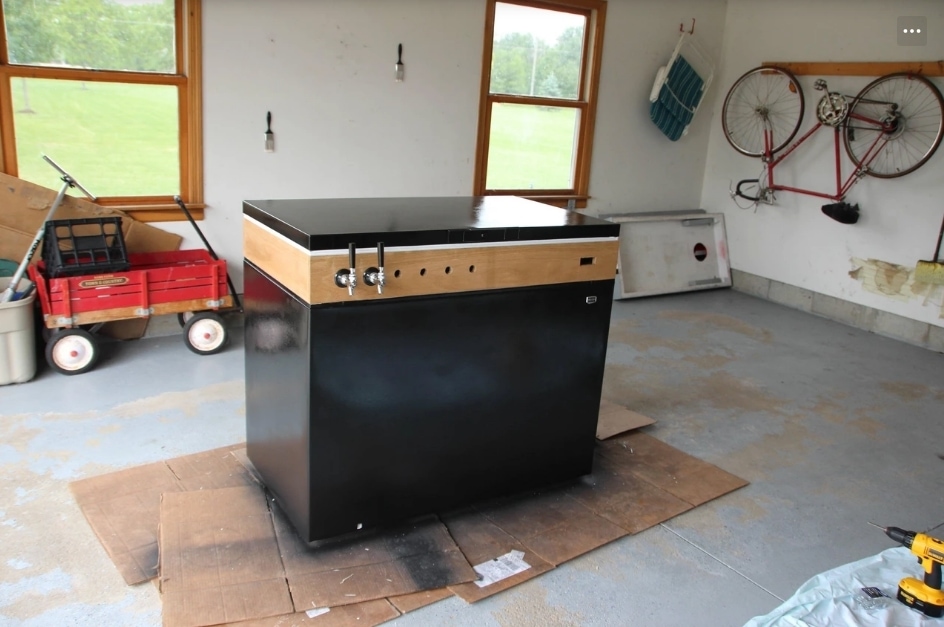 A keezer is a chest freezer and a kegerator in a single unit. The chest freezer is outfitted with cold temperature controls and a tap that allows you to pour your homebrew directly from the unit.
In addition, many keezers are equipped with shelves that help to organize the different components of your brewing system, such as fermenting jugs, CO2 tanks, tubing, and more. This man is showing you how to make your own six-tap keezer, which looks absolutely brilliant!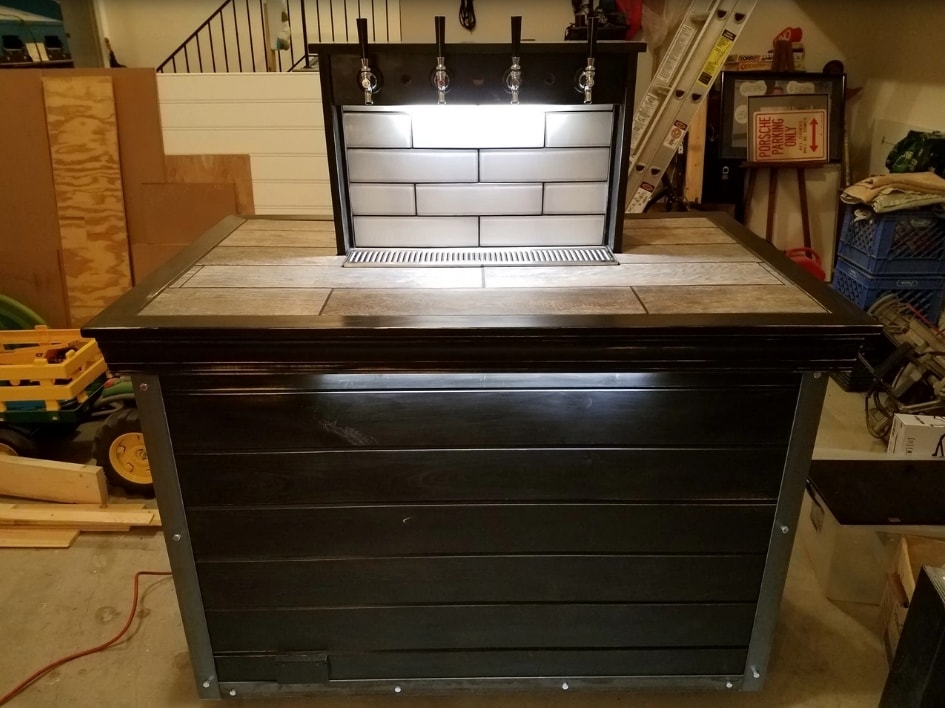 We have yet another keezer built from scratch, including four taps that will disperse cold beer for your friends and family to enjoy. It was made by combining rustic and modern elements, leading to a spectacular result.
A keezer is an excellent option for any homebrewer who wants to create their own custom home beer brewing setup. Whether you are new to homebrewing or an experienced brewer looking for the perfect tool for making high-quality beer at home, a keezer can help you craft the perfect brew every time.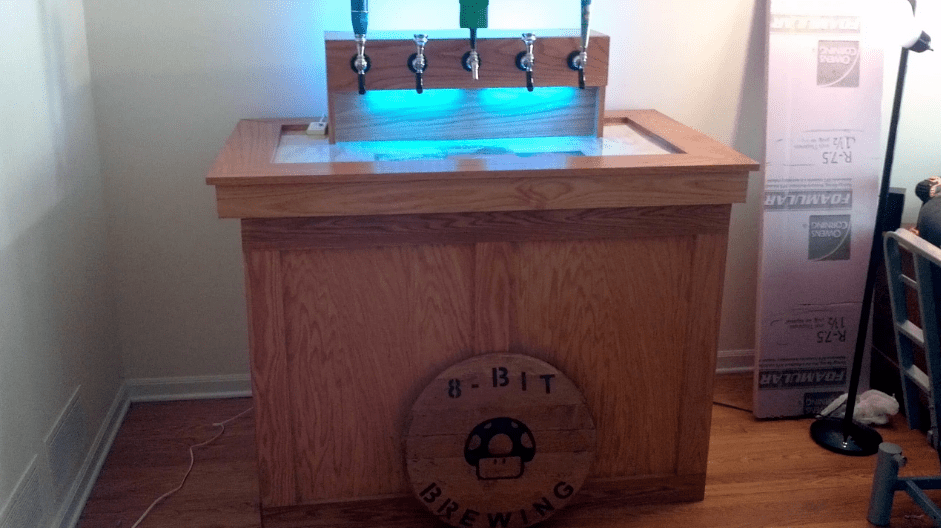 When you have a chest freezer that's completely out of shape and want a keezer to disperse cold beer anytime you feel like drinking something refreshing, you could cover it with a bunch of wood.
This user opted for wooden panels, making their unit's sides and topside. With some stain or wood finish, you can have a new furniture piece that doubles as a keezer and triples as a conversation starter.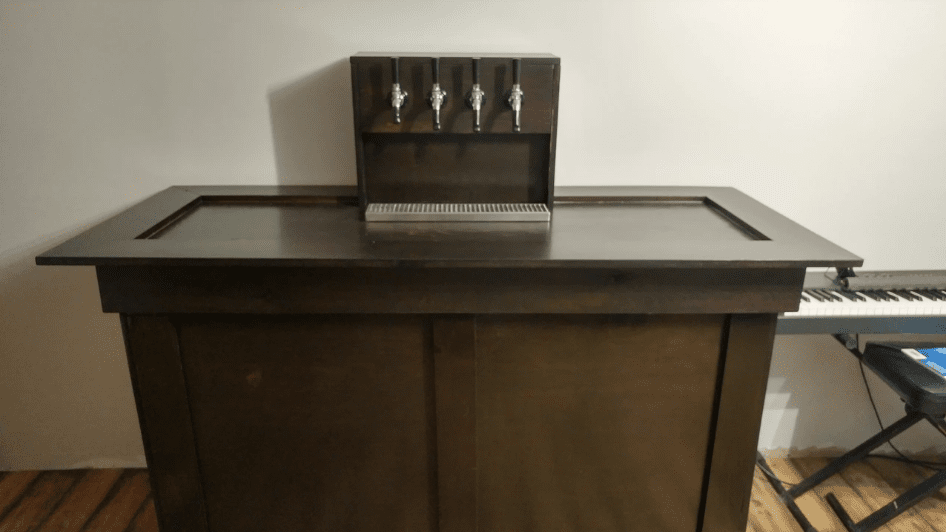 A keezer cabinet helps to keep your beer cold, which is crucial for ensuring that your brews taste their best. Additionally, the added insulation provided by the cabinet protects your precious craft beers from fluctuations in temperature, allowing them to stay fresh longer.
This user gives us a step-by-step picture tutorial on making a simple keezer cabinet that fits into various home decor. A keezer cabinet provides great convenience when serving and storing your beer. Easy access to all your favorite taps right at home allows you to enjoy a pour whenever you like without having to drive down to the local pub!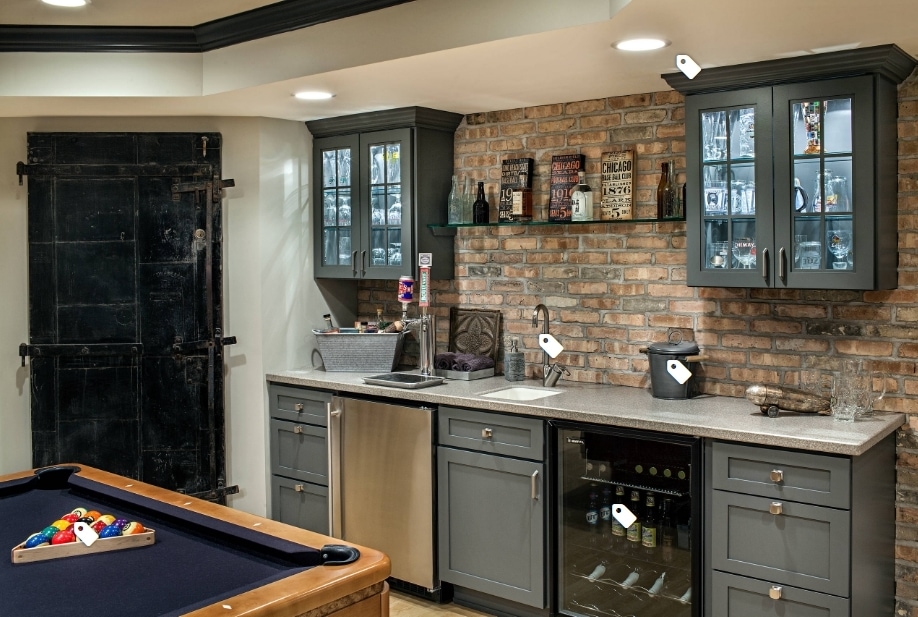 You can leave the kegerator out in the open when you opt for gray cabinets that somewhat resemble a kegerator's appearance. This setup is an example of how it would all work, with regular cabinets intertwined with modern appliances like a kegerator and a wine fridge.
A gorgeous countertop tops everything off with a marble finish (you could add a vinyl marble-style sticker on top of the counter to cut down costs).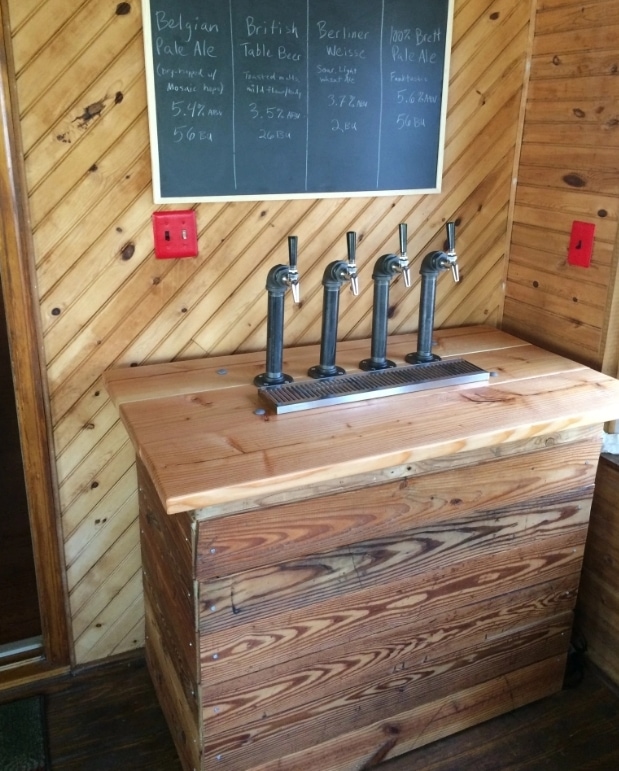 This project takes the cake when it comes to simplicity leading to effective results. It was constructed by making a wooden frame around a chest freezer, using a bunch of reclaimed wood panels (I love how they didn't let anything go to waste!)
The builder claims that the top side was the trickiest part, as the original project used cement, a material they were uncomfortable working with. So, the top counter was also made from wood.
When it comes to enjoying a cold, refreshing beer, nothing beats a well-stocked keezer cabinet. These custom-built refrigerated cabinets offer all the benefits of a traditional refrigerator but with greater space and flexibility for housing kegs and storing bottles.
If you're looking to step up your home brewing game and take your craft beer enjoyment to the next level, making your own farmhouse-style keezer cabinet is an excellent option. This project seems fairly easy, requiring some wood and some stain to give it that worn-out wood appearance.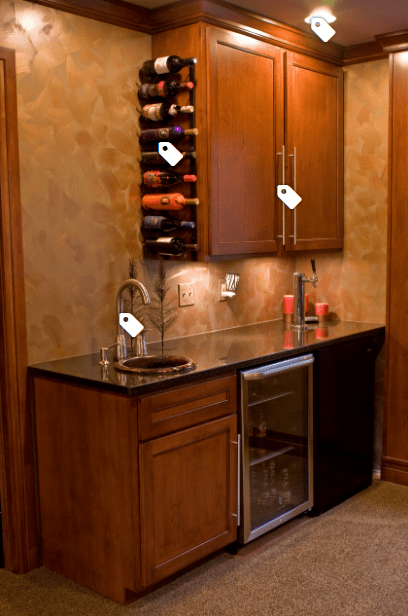 Many people choose to invest in a custom-made kegerator cabinet instead. These fully customizable units allow you to tailor your system to suit your needs and preferences, making it easier to pour your favorite drinks at home with maximum convenience and quality.
This custom-made unit is simply a delight, with the builder focusing on neutral wooden colors combined with a beige wet floor bar design. Who wouldn't dream of having this in their home?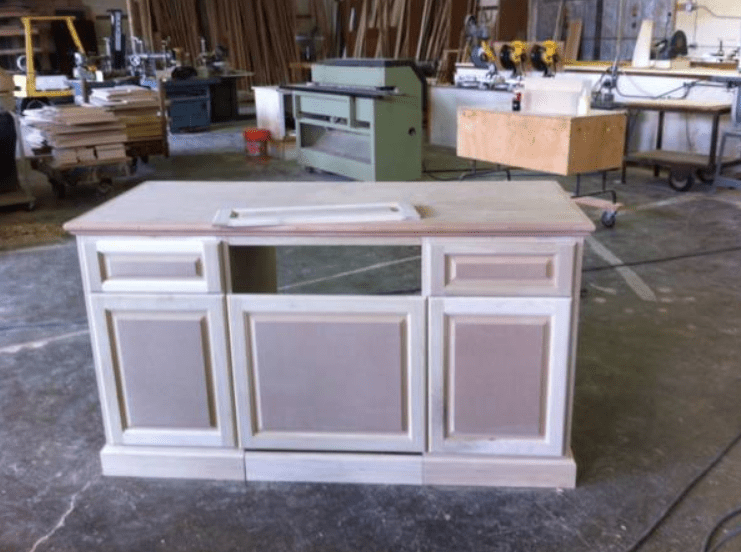 This user's wife got the inspiration for creating a kegerator cabinet from scratch. Since they had a relative who builds furniture (lucky them!), making this unit was easy. We don't get to see the exact building steps but merely catch a glimpse of the end result, which is stunning!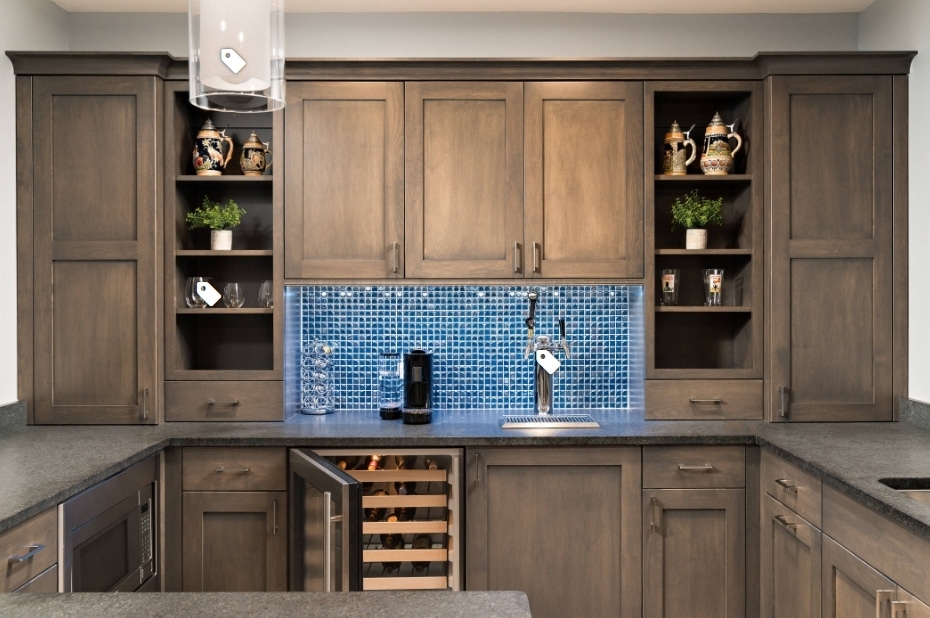 A basement kegerator cabinet (and a full-sized bar, for that matter) sounds like an excellent idea to turn your basement into the perfect chill-out spot.
All cabinets are custom-made, which is also my recommendation if you want a stress-free keg-concealing solution to your problems. A custom kegerator cabinet is perfectly tailored to your specific needs and preferences. Whether you prefer to store your beer in an upright or refrigerator-style kegerator, you can be sure that your cabinet will accommodate those needs.
Best Cabinet Ideas to Make a Kegerator Cabinet
A kegerator comes in many different sizes, including:
Mini kegerators that measure around 9 x 6 inches.
Full-size kegerator that measures roughly 23 x 16 inches.
Commercial kegerators
Outdoor kegerators
Homeowners usually pick one of the first two types because no one really needs a commercial kegerator (unless you're throwing weekly beach parties in your Malibu mansion.) A kegerator cabinet should have at least 3.2 cubic feet of space.
As far as placing a kegerator is concerned, you usually need about two to three square feet of floor space (in case you opt for a multi-keg system.)
To retrofit a regular cabinet into a kegerator cabinet, you must install the necessary components. First, you'll need to purchase a kegerator kit, which usually includes a refrigeration unit, beer tap, CO2 tank, and regulator.
Next, you'll need to secure the refrigeration unit inside your cabinet using mounting brackets. Then, use screws to attach the beer tap and CO2 tank to the front of your cabinet. Finally, connect the keg coupler and other lines and fittings according to the instructions provided in your kit.
You will first need to start by cutting holes for your hoses and tap. This can be done using a drill or saw, depending on the exact location of the hose and tap.
Once your holes have been cut, you will need to remove any existing shelving to make space for your keg. You may want to add insulation, if necessary, to help keep your beer cold, along with an electrical outlet for powering your keg cooling system or tap.
Here are some kitchen cabinets and furniture pieces that you can turn into kegerator cabinets by making some modifications.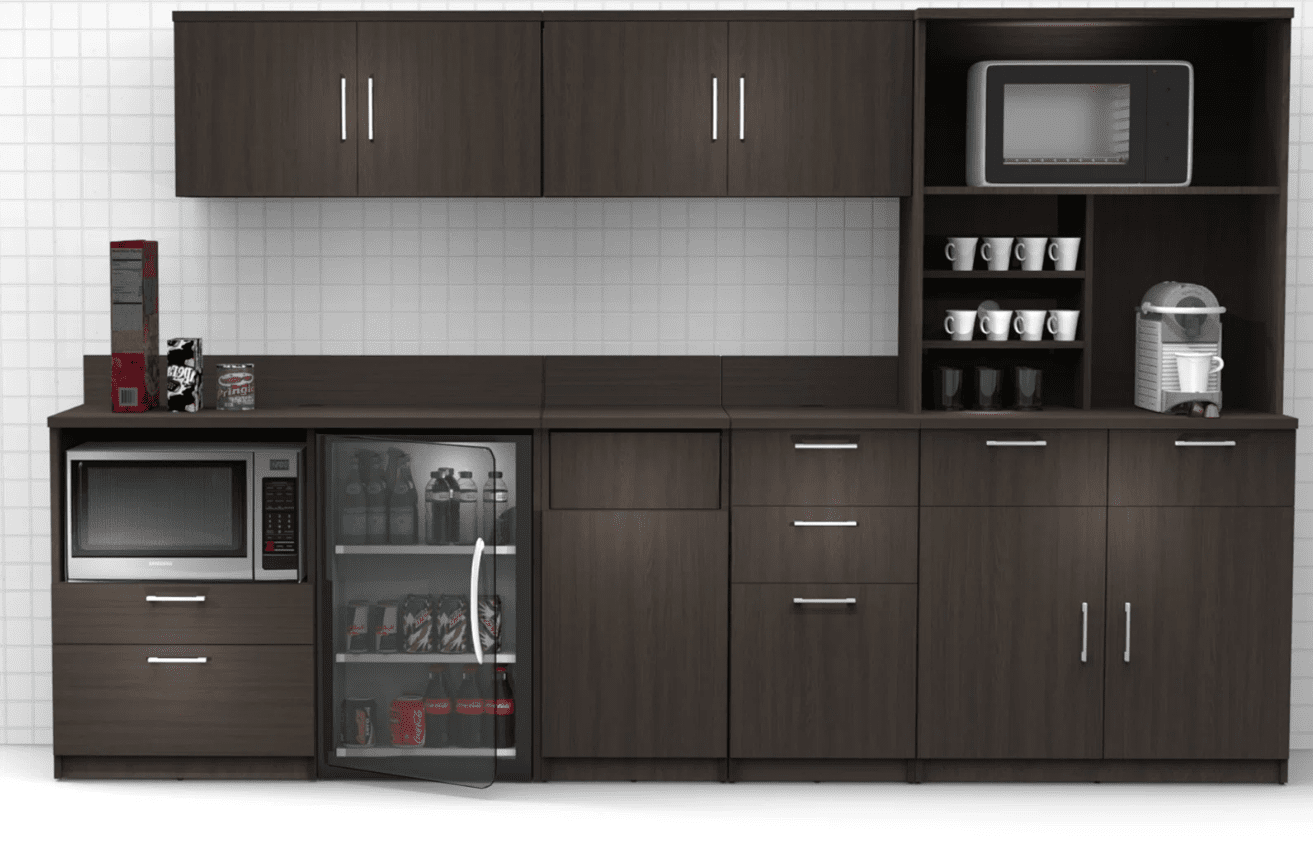 Integrating a kegerator cabinet into a full kitchen ensemble shouldn't be difficult after making a few modifications. With this particular option, you can remove the shelving in the middle bottom cabinet and make a hole at the top to accommodate your taps. While the price of this kitchen set is pretty spicy, you get a lot of value for the money.
It comes with seven furniture pieces that include floor and wall-mounted cabinets in a beautiful espresso finish. The set is made with MDF, including cabinets with various adjustable shelves for storage customization.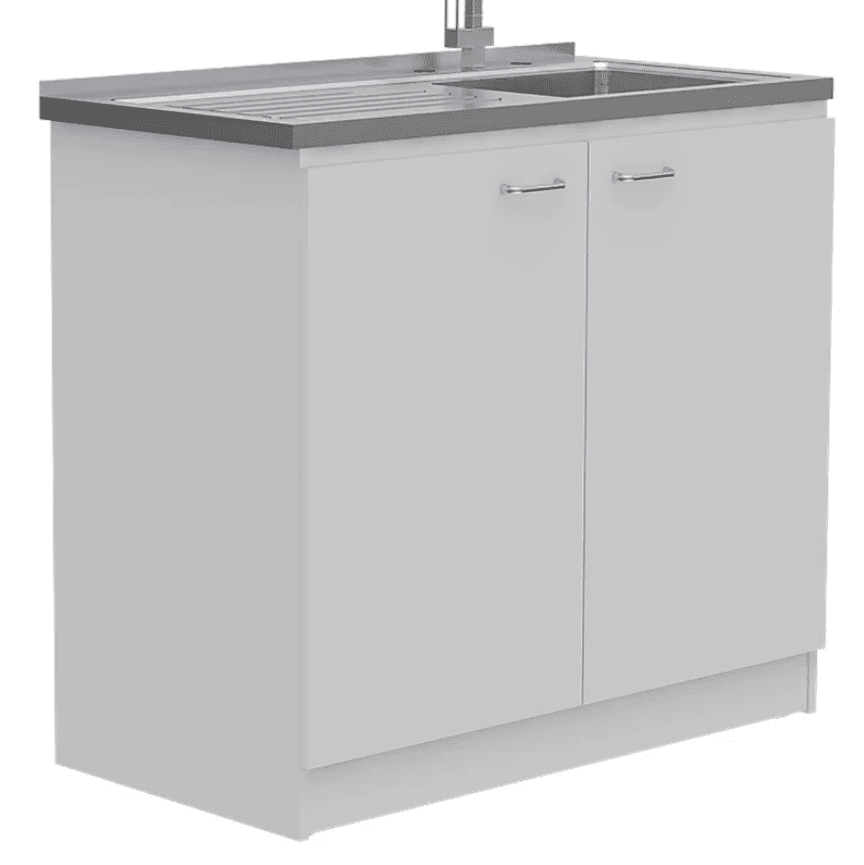 The idea of purchasing a base unit cabinet and turning it into a kegerator cabinet is quite popular among home brewers and beer enthusiasts. A base unit cabinet typically has several interior shelving units, which can be customized to fit the beverage taps, tubing, CO2 tanks, and other components of an operational kegerator. Consider this KIHO cabinet, which is easy to assemble, available in black in white, and measures 39" W x 35" H x 20" D overall.
A base unit cabinet is a perfect choice for anyone looking to create their kegerator cabinet at home. It provides plenty of space for your brewing equipment and a convenient way to manage airflow and temperature within the enclosure.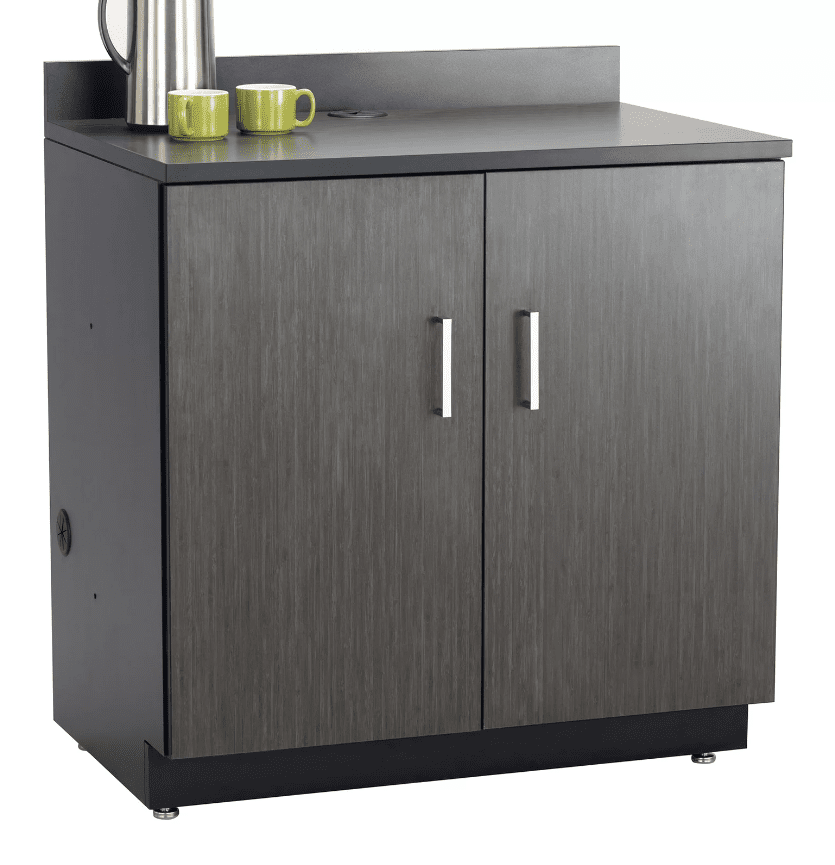 There is a lot of debate about making a kegerator cabinet out of a regular kitchen base cabinet. Some people insist that it's impossible, arguing that a standard base cabinet's size and shape will not allow enough room in the interior to accommodate all of the equipment needed for proper kegerator functionality. However, others believe it is possible to make a kegerator cabinet out of a kitchen base cabinet with creative modification and configuration.
The Safco Products Company base cabinet shows us that it's possible. It measures 3′ W x 3′ H x 2′ 1" D, comes with a handy backsplash, and is made from thick laminate in three color options.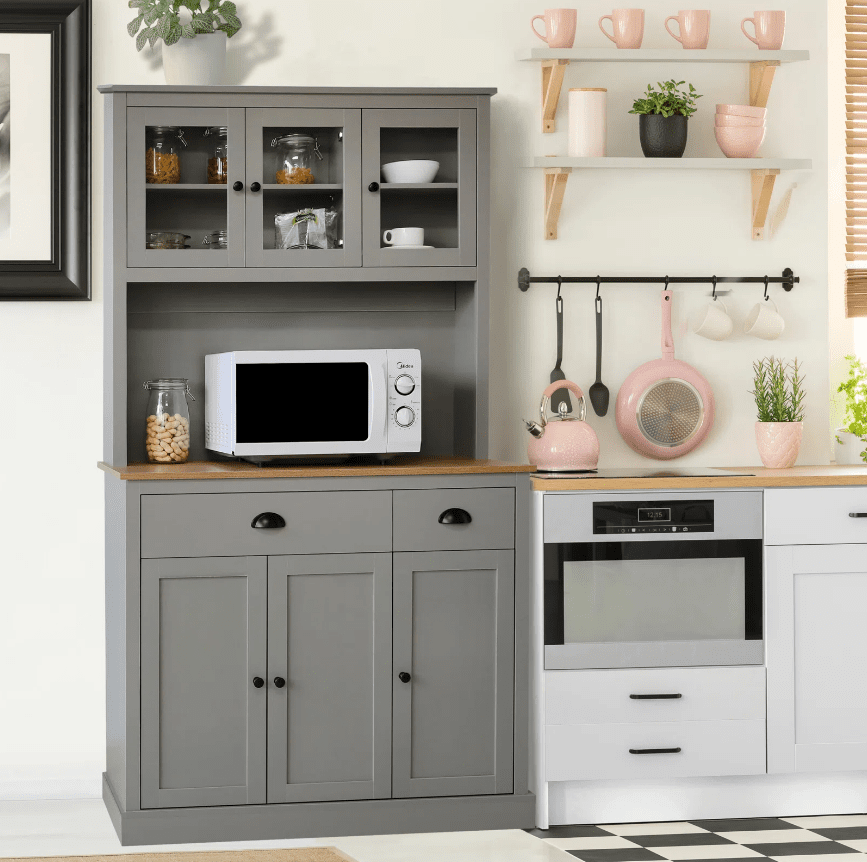 This pantry cabinet from Lark Manor is perfect for adding extra storage to your kitchen. The cabinet has adjustable shelves and cable management, so you can semi-customize it to fit your needs. The adjustable hinges and backboard cutout make it easy to turn the cabinet into a kegerator cabinet, and the removable shelves make it easy to access your stored items. The cabinet is made of MDF construction for lasting quality.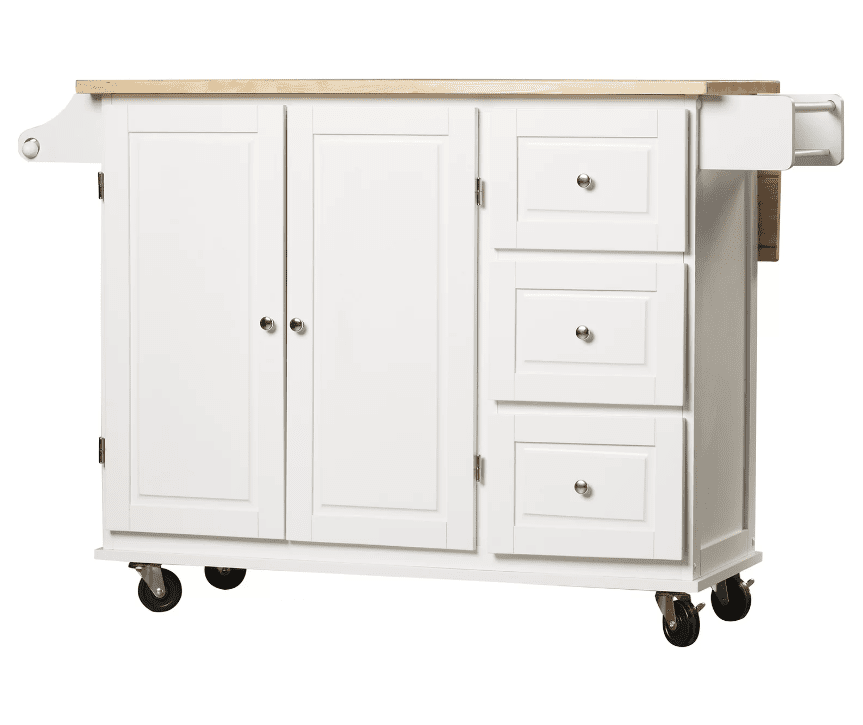 Three Posts Hardiman Kitchen Cart is a great way to add extra storage and display space in your kitchen. The cart features three drawers, one tower rack, and two cabinets that all come together to create a beautiful piece of furniture for any home. This cart has removable and lockable wheels, so you can move it around easily. The interior of the cabinet measures 29.25" H x 25.75" W x 13.5" D, so there's definitely enough space for a mini kegerator in there.
FAQs
Question: Do you need a cabinet for your kegerator?
Answer: If you need a space to store kegs and don't have much counter space, then a cabinet may be necessary to provide extra room for your kegerator. However, suppose you are comfortable storing your kegs off-site and want to maximize the amount of usable space on your countertop. In that case, a cabinet might be optional.
Question: Where can I get kegerator cabinets?
Answer: You can't purchase ready-made kegerator cabinets. Not that I can find, anyway. You have to order custom-made ones, make your own from scratch, or modify existing cabinets to create one that's suited for a kegerator.
Question: Can I make a kegerator cabinet?
Answer: Building a functional kegerator cabinet can seem like a daunting task. It requires careful consideration of several factors, including the temperature range you're looking to maintain, how much space you need for your kegs, and how easy it should be to access them. But yes, you can always make your own kegerator cabinet.
The Nitty Gritty on Kegerator Cabinets
Suppose you are in the market for a kegerator or already have one and need a cabinet to put it in. In that case, there are plenty of options available to you. You can build your own or even convert an existing piece of furniture into a kegerator cabinet. We've shared some great ideas for DIY cabinets to help keep your beer cold and carbonated. So, what are you waiting for? Get started on your new kegerator cabinet, then check out our picks for the best bar cabinets!