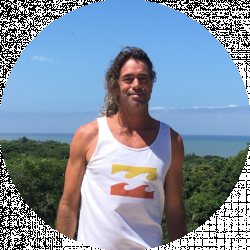 Latest posts by Gavin Eales
(see all)
Sam Adams 76 is also commonly known as Sam'76, and it is an exceptional product from the Boston Beer Company in Boston, Massachusetts, United States. Sam '76 is a revolutionary craft beer that is full-flavored, tasty, and thirst-quenching.
Fresh fruity aromas of tropical fruits and citrus are exquisitely complemented by bold citrus hop flavors, with well-balanced and mild hop bitterness. The finish is smooth, dry, crisp, and refreshing. Continue reading our Sam Adams 76 Review to find out everything you need to know about this beer.
Pros and Cons of Samuel Adams Sam'76
Pros
Revolutionary beer that offers a unique and refreshing combination of Lager and Ale style beer

Lovely aromas of citrus and tropical fruits

Fresh flavors of citrus hop with a mild bitterness

A crisp, dry, and thirst-quenching finish

Well packaged

Reasonably priced

Accessible
Cons
Read also: Top 100 Best Breweries in the USA.
What Does Samuel Adams Sam'76 Taste Like?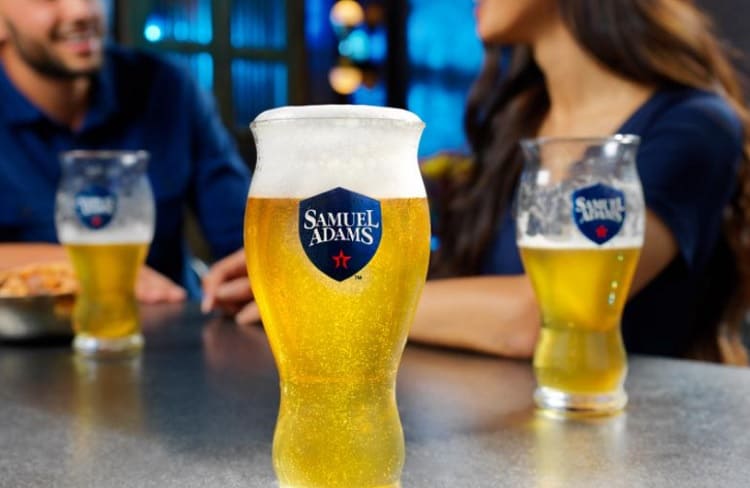 Sam '76 is an excellent beer that offers the best of Lager and Ale-style beers.
Typical of an Ale-style beer, it delivers wonderful fruity flavors of fresh citrus zest with mild hop bitterness, combined with delightful aromas of tropical fruits and citrus. Typical of a Lager-style beer, the finish is crisp, dry, refreshing, and thirst-quenching.
The ABV (Alcohol by Volume)
Sam Adams '76 offers a slightly below average ABV of 4.7%
The Color
The color of Sam Adams '76 is as unique as the beer itself. It pours pale yellow and is hazy, even slightly murky when held up to the light.
Additionally, it offers a solid medium head with medium to high carbonation. As a result, this beer looks extremely inviting and enticing when poured into a Pilsner glass, and the taste does not disappoint.
Ingredients
Sam Adams 76 is brewed using a variety of premium ingredients and utilizes an array of aromas and tastes to develop this quality beer.
Hops
Sam Adams '76 is brewed using a variety of specially developed and locally grown hops:
The Citra Hop originates in the United States but is a hybrid of six international hop strains. It is highly sought after for its aromatic properties due to the high levels of alpha acid. It offers smooth, powerful citrus tastes with delicate floral and citrus aromas.
Additional aromas include lychee, lime, peach passion fruit, and gooseberry. The Citra Hop is usually utilized for its aromatic quality and offers a slightly mild bitterness.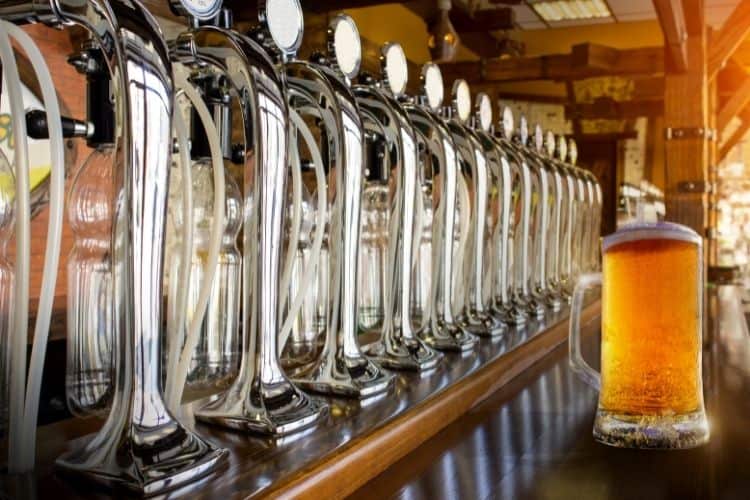 The Mosaic Hop is the brainchild of the Hop Breeding Company. It offers lovely fruity aromas of fresh berries, spice, mango, citrus, peach, and tropical fruits, combined with earthy aromas of pine and grass. High in alpha acid, the Mosaic Hop is typically utilized for its aromatic properties.
The Simcoe Hop offers aromas of citrus, mango, and peach but also offers high levels of hop bitterness. It is mostly responsible for the required levels of bitterness needed for a Sam Adams '76. The Simcoe Hop is proudly grown in Idaho, Washington, and Oregon, United States. 
The last hop to feature in the Sam Adams 76 beer is the versatile American Cascade Hop. It is a delightful dual-purpose hop that offers elegant citrus aromas with a fresh grapefruit taste. The American Cascade Hop is also introduced at the end of fermentation, where the bittering qualities shine through.
Water
The Samuel Adams Craft Brewery uses DesaliTech-Treated Water and river water when brewing their beer. DesaliTech-Treated Water is of the highest quality, and this purity is achieved by converting seawater to freshwater using reverse osmosis.
To achieve the required quality and purity for their beloved brew, river water that the brewery uses is also extensively purified using the same DesaliTech reverse osmosis technology.
Yeast
There are two types of specialty yeasts needed to produce Sam Adams '76. The base lager is brewed using a bottom-fermenting Lager yeast strain, and the base Ale is brewed using a top-fermenting Ale yeast strain.
Malts
There are three types of malt needed to create the Sam '76:
Carafoam (Weyermann CARAFOAM) is made from all-natural German Barley that is expertly drum-roasted until a delicious caramel malt is formed. This prized malt is utilized by numerous breweries, craft breweries, and micro-breweries throughout the Northern hemisphere.
Samuel Adams Two-Row Pale Malt has been specially designed for the Samuel Adams Brewery. This specialty creation ensures a full, smooth body bursting with sweet malt flavors and aromas. 
Malted White Wheat has a higher extract yield, is higher in proteins, and is ideal for making quality craft beer. Malted White Wheat is considered to be a forgiving malt and is perfect for home and first-time brewers. 
The Brewing Process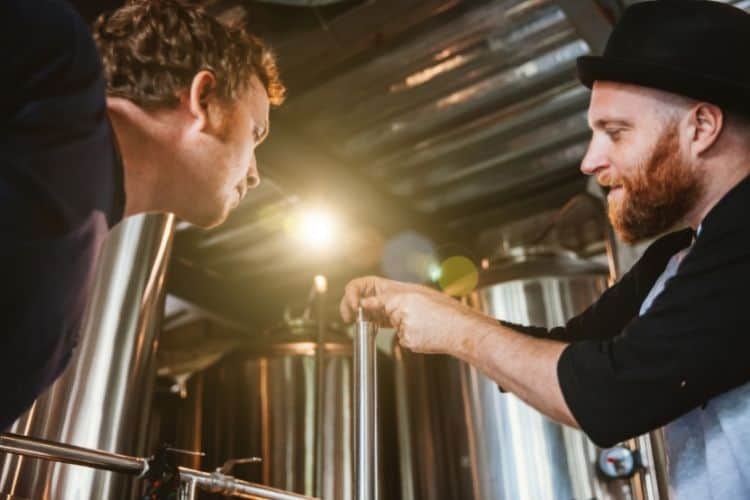 The brewing process of Sam Adams '76 is unlike no other and involves carefully combining a Lager fermenting technique with a traditional Ale fermenting technique. This is so difficult because Lager is brewed using a bottom-fermenting technique, whilst Ale is brewed using a top-fermenting technique.
Top-fermenting yeast strains operate effectively at warmer temperatures of between 55 and 70 degrees F (13 and 21 degrees C), and bottom-fermenting yeast strains operate effectively at cooler temperatures of between 40 and 54 degrees F (4 and 12 degrees C).
Using the required yeast strains, two active fermentations take place simultaneously, in the form of a base Lager and a base Ale.
Once brewed, these base beers are combined to begin the final maturation period. Amazingly, at this point, the two different yeast strains work together to create a delicious and refreshing beer.
Packaging
Sam Adams '76 is offered in brown 12oz brown bottles and 12oz cans. Both bottles and cans are available in 6 and 24 pack options. Each 6 and 24 pack option is secured boxed for easy storage and transport.
Additionally, they are expertly branded with a striking and retro logo. A classic combination of green and white with touches of red and black results in an attractive brand, both in and out the bottle.
Where Can You Purchase Sam Adams '76?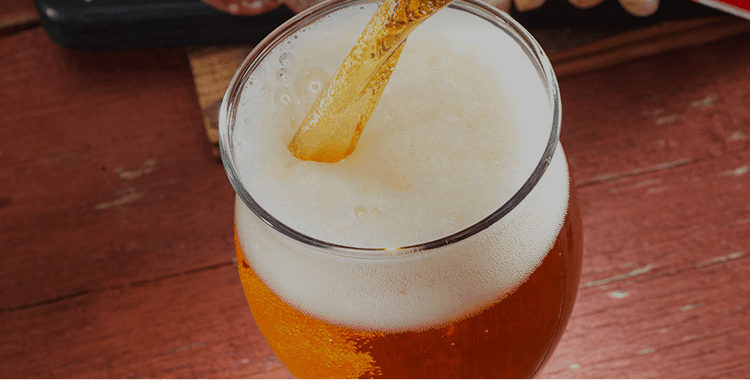 Sam Adams '76 is available throughout the United States and numerous countries around the world. It is such a popular and well-distributed brand that it can be purchased from convenience stores, national, regional, and privately owned liquor stores.
You can also purchase Sam Adams 76' from supermarkets like Walmart and Tesco. There are numerous liquor distributors like Craft Spirits Wholesaler and Alliance Beverage Distribution, who regularly ship Sam Adams 76 across the United States.
Sam Adams 76' can also be conveniently purchased online from gotoliquorstore and craftshack.com.
About the Brewery
The Samuel Adams Brewery was founded by Jim Koch in Boston, Massachusetts. Jim Koch has a rich brewing heritage and comes from generations of Cincinnati brewers. In 1984, Jim Koch started the Boston Brewing Company working out of his home.
Once his home-based micro-brewery perfected the Sam Adams Boston Lager recipe, he used his Harvard education to create one of the most recognizable beer brands on earth. Samuel Adams is the flagship brand of the company and is a tribute to one of the founding fathers of the United States. 
Today the Boston Beer Company is responsible for over 60 types of beer. In 2020 the company experienced a sales increase of 38 % and shipped over 7.37 million barrels of beer, cider, and Kombucha around the world.
Additional Boston Beer Company brands include True alcoholic Kombucha, Angry Orchard Hard Cider, Dogfish Head Craft Brewery, Wild Leaf Hard Tea, Twisted Tea, True Hard Seltzer, and numerous craft breweries. 
Additional Samuel Adams Products
Samuel Adams Boston Ale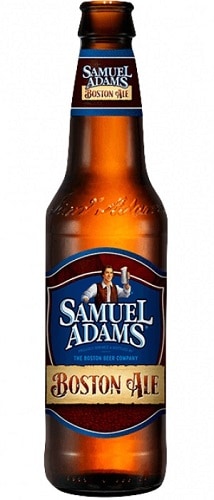 Boston Ale is a great example of an authentic Ale that has been brewed using Fuggle and East Kent Goldings hops. Upfront, you get flavors of malt, baked bread, and hops, followed by a finish that is long and smooth. It offers a creamy head, high carbonation, and is an amber color with a reddish tint.
Samuel Adams Just the Haze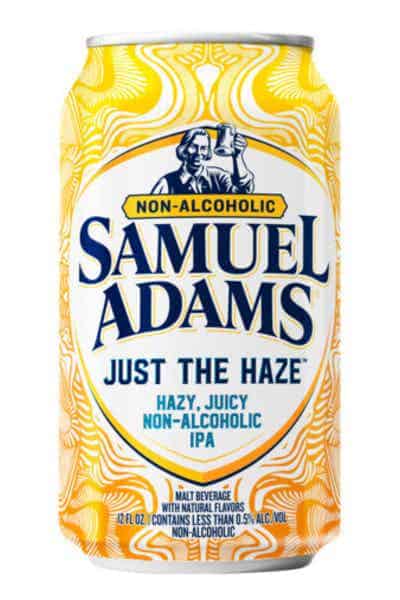 Released in 2021, Just the Haze is another new creation from the Boston Brewing company and can be described as a non-alcoholic hazy IPA.
Traditionally IPA-style beer was brewed to preserve the brew on long trips; this resulted in beer with full flavor, intense hop bitterness, and high ABV. Just the haze offers the same full flavors, aromas, and hop bitterness, but with an ABV of 0%.
Samuel Adams New England Pale Ale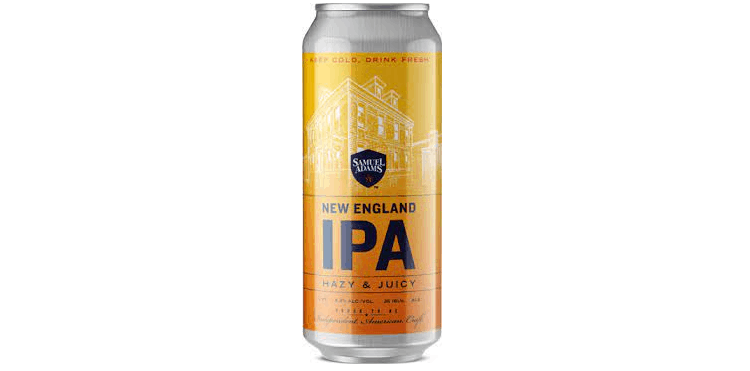 This is a fantastic Pale Ale that offers lovely aromas and flavors of sweet mango and peach. The finish is dry and refreshing. It has a pale yellow color, with a solid frothy head and high carbonation.
Samuel Adams Rebel IPA

The Rebel IPA collection offers five flavor options. Rebel Raw IPA, Rebel Rouser IPA, Rebel Juiced IPA, Rebel cascade IPA, and Rebel Grapefruit IPA.
This classic West Coast-style IPA was first introduced in 2014 and is professionally brewed with five different types of American hop species. These include Chinook, Amarillo, Simcoe, Centennial, and American Cascade hops. 
Samuel Adams Light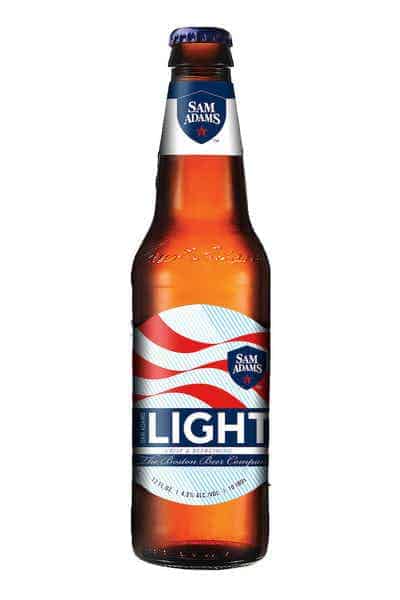 Sam Adams Light was introduced in 2001 and is the signature light beer of the brewery. This lighter version of the original recipe is full-flavored, offers an ABV of 4% and 120 calories per 12oz serving.
Samuel Adams Wicked Double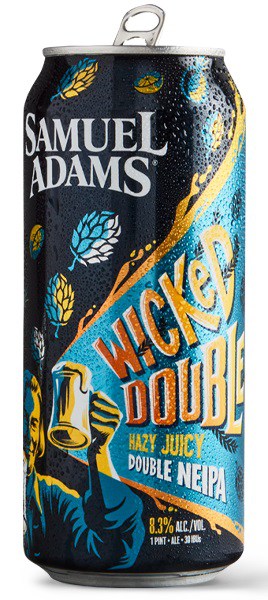 One of the newest additions to the Samuel Adams family, Wicked Double was only introduced in 2021. It is a fantastic double New England-style IPA that is high in flavor, aroma, and ABV. Five varieties of premium hops and three types of specialty malts, resulting in a beer that ticks all the boxes and offers an ABV of 8.3%. 
Samuel Adams Cherry Wheat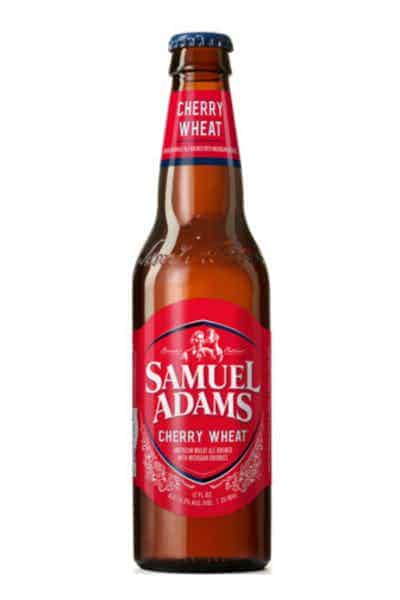 Cherry Wheat is a delightful American-style Wheat Ale expertly infused with honey and Michigan cherries. Cherry Wheat is brewed using Hallertau Mittelfrueh hops which balance the sweetness from the honey and cherries. It is full-flavored and offers an ABV of 5.3% 
Samuel Adams Barrel Room Collection
Barrel Room Collection allows exquisite Belgian-style beer to age in large wooden barrels. The beer slowly absorbs delicate aromas and flavors, and the result is something extremely special. The Barrel Room family consists of Tetravis, New World, Thirteenth Hour, Stoney Brooke Red, and American Kriek Beers.  
Samuel Adams Utopias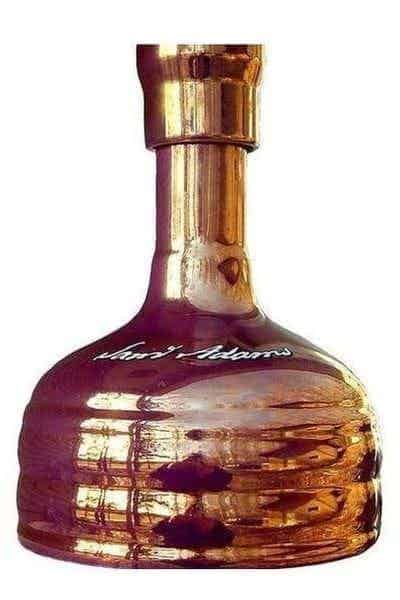 Utopias is an incredible beer and is brewed using four noble hop varieties. The exquisite combination of Saaz, Tettnanger, Hallertau mittlefruh, and Spalter hops, delivers fantastic flavors, aromas, and sharp, intense bitterness. Additional ingredients include Vienna, Bavarian, and Moravian smoked malts and rich caramel.
Post brewing, the beer is allowed to mature for 12 months in the old port, scotch, and cognac barrels.
Samuel Adams Utopias was once widely considered to be the strongest commercial beer on the planet, offering an ABV of 24%. After this achievement was challenged by competitors, the brewmaster took it up another level and increased the ABV to a whopping 28% in 2019.
Samuel Adams Nitro Project

The Nitro project offers two interesting styles of beer that were initially brewed in a nano brewery in 2014. They are called Nitro White Ale Nitro Coffee Stout. Sounding like something out of an action movie, these unique beers are gently infused with high-pressure nitrogen gas during the carbonation process. 
Samuel Adams Wicked Hazy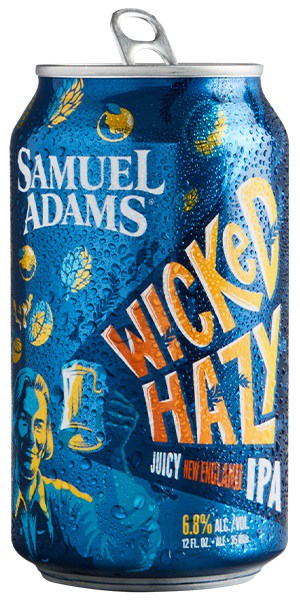 Wicked Hazy, formerly marketed as "New England IPA is a remarkable IPA (India Pale Ale) that remains true to its origins. Bursting with juicy fruity flavors and aromas and high in carbonation, it's an easy-drinking, refreshing and enjoyable beer.
Sam Adams '76 Alternatives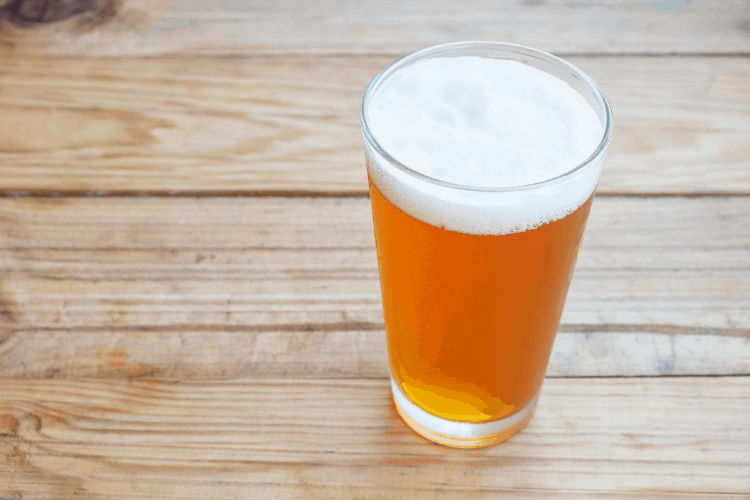 Below are four quality alternatives to the revolutionary Sam Adams 76 beer. These hybrid beers include brewing techniques from both Lager and Ale style beers:
California Common
California Common or The California Common Beer is also known as "Steam Beer." California Common is another American classic that originated in San Francisco and was made famous by the San Francisco Anchor Brewing Company.
Upfront, you get delectable tastes and aromas of rich caramel and roasted malt. The finish is sweet, dry, and refreshing. Cream Ale is traditionally brewed with bottom-fermenting Lager yeast strains but at warmer temperatures usually required for Ale-fermentation.
This results in a satisfying and enjoyable beer, first created to refresh weary miners during the gold rush.
Kolsch Beer
Kolsch Beer offers a sweet malty aroma with a bitter and clean flavor. It is made using traditional Lager Brewing methods, authentic German Pilsner malt, and ale yeast.
Kolsch beer is traditionally "lagered" for numerous weeks to ensure the final product is exceptionally clean and crisp. It is pale in color with a medium head and slight carbonation. Kolsch is proudly made in Cologne, Germany.
Cream Ale
Cream Ale is produced in the United States and can be described as a smooth and authentic light-bodied American beer.
Typical of light-bodied Ale, it is pale in color, highly carbonated with a solid and frothy head. Cream Ale is made with corn (adjunct), and this is evident in the aromas, flavors, and silky smooth finish. This is a fantastic hybrid beer, expertly brewed with longer and colder fermentations.
Altbier
Altbier is an authentic German beer and, when translated, simply means "Old Beer." Altbier originated in Rhineland and Dusseldorf, Germany, and today there are numerous variations of this ancient brewing technique. It is rich and malty upfront, which is followed by bold hop bitterness. The 
Frequently Asked Questions (FAQs)
Question: Is Sam Adams '76 an Indian Pale Ale? 
Answer: The answer is no, although some may suggest that Sam Adams '76 could pass for a light IPA. This is due to the amount and variety of hops that are used during the brewing process.
Sam'76 is a hybrid beer that is created by combining a base lager and a base Ale before the final maturation period. Upfront, it is aromatic and fruity with a trace of slight hop bitterness; the finish is crisp, dry, and refreshing.
Question: Is Samuel Adams Sam'76 the same as Sam Adams Wicked Easy?
Answer: Yes, the Boston Beer Company is rebranding the revolutionary Sam Adams '76 to Sam Adams Wicked Easy. Sam Adams '76 will now form part of the Sam Adams "Wicked" sub-brand. During this time, the popular Sam Adams New England IPA will also be changing its name to Sam Adams Wicked Hazy.
Question: What Beer is Similar to Sam Adams?
Answer: Anchor Steam and California Common have similar tastes, qualities, and properties to Sam Adams '76. They both offer fruity flavors and aromas typically associated with authentic and traditional Ale. 
Question: How Many Carbs in a Sam Adams '76?
Answer: Sam Adams '76 is made from natural ingredients and each 12oz serving offers:
Carbohydrates: 7.7g
Calories: 128
Fat: 0g
Question: Did One of the United States Founding Fathers, Sam Adams, Invent Beer?
Answer: Sam Adams did not invent beer; he never even brewed beer. He did, however, work in a malt house that his father owned. The malt they produced was sold to local breweries.
Sam Adams 76 Review: Conclusion
Sam Adams '76 is a revolutionary beer that carefully combines the best attributes of Lager and Ale-style beers.
This exceptional full-flavored and well-balanced beer offers lovely aromas and tastes of tropical fruit and citrus, elegantly combined with delicious flavors and slight bitterness of fresh citrus hop. The finish is crisp, dry, smooth, and thirst-quenching.
Sam Adams '76 is a beer I can confidently recommend to any beer lover. The fruitiness you get from the base Ale, and the crisp, dry finish we love from Lager are perfectly combined and result in an exceptional beer. 
Sam Adams 76' is an 'anytime' beer and pairs well with most types of food. It is light, refreshing, and leaves you wanting more.  I enjoy a cold Samuel Adams Sam 76 while watching sports and feasting on bar snacks like tacos, chicken wings, and pizza.