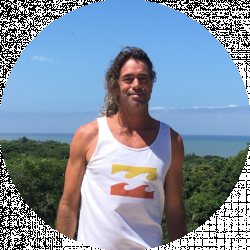 Latest posts by Gavin Eales
(see all)
Michigan is a state in the Upper Mid-Western region of the United States. Located in the Great Lakes Region, locals are truly blessed with beauty and outstanding natural resources. Michigan is a great place to live and a great place to visit. There is a new aura in the New World Michigan, with the economy thriving and unemployment on a downward trend.
The positive trend has resulted in a significant increase in breweries and brewpubs and a trendy beer scene offering exceptional beers, great food, and a good vibe.
Beer has deep roots in what was once the blue-collar hub of the nation. At its peak, Detroit offered around 300,000 manufacturing jobs alone, producing half the world's automobiles. It is easy to imagine tens of thousands of hard-working men and women heading for a cold pint after a long day on the production line. It is no wonder the beer culture is so strong in Michigan.
Today, the State of Michigan boasts over 400 breweries, each with its unique style and characteristics. Some are producing world-class beers and competing with global leaders, while some are so rooted in tradition that they make beer that can only be purchased in Michigan and nowhere else. So what are the best Breweries in Michigan?
This guide will explore the five best breweries in the State of Michigan. It will cover the history, heritage, beer styles, popular Michigan beers, and the thriving Michigan beer scene.
Bottom Line Up Front
There are many great breweries in Michigan, modernizing beer as we know it and constantly pushing the brewing envelope. Michigan Breweries boast numerous international awards, often proving their pedigree amongst the best on the planet. In a region that boasts over 400 breweries, my pick for the Best Brewery in Michigan goes to the Kuhnhenn Brewery.
The facilities may not be as modern or upscale as its competitors, but the range, quality, and creativity of beers created here are impressive. Coupled with great food and a good vibe, it is a must-visit brewery when you are in town.
Overview: Top Picks
Below is a quick overview of the five finest breweries in the fine State of Michigan:
Founders Brewery
Bells Brewery Inc
Kuhnhenn Brewing Company
Dark Horse Brewing Company
Dragonmead Microbrewery
Selection Criteria
To feature in this guide of the Best Breweries in Michigan, each brewery featured had to pass the selection criteria:
Quality:

To qualify as one of the best Breweries in Michigan, the beer must be of the highest quality. There are so many gifted brewers and quality breweries that anything short of world-class will not cut it.

Ingredients:

 All ingredients used in the brewing process must be of the highest quality. In Michigan, numerous breweries source water from The Great Lakes. The water goes through the municipal waste-management system and is subjected to reverse osmosis to ensure it is of the highest quality.

Facilities:

 The brewery and taproom must adhere to world-class regulations, followed by quality service and after-sales service. There should be sufficient parking available and a short waiting period between rounds.

Sustainability:

 All breweries in this guide must be committed and actively involved in creating a sustainable future. Water is the main ingredient in beer and must be of the highest quality to ensure world-class beers. More importantly, water is necessary for life, and if breweries are using insane amounts to brew their products, then they should be more socially responsible than most.
The History of Michigan Beer
Michigan's beer history has a diverse and checkered past, with many claiming credit for being the original brewery. I can tell you that records indicate that breweries started to pop up in Michigan in the late 1800s, most of them operated by European immigrants. 
The original Michigan Breweries include Bells Brewery, Frankenmuth Brewery, and City Brewery. The original beer styles consumed in that era consisted mainly of Pale Lagers and German-style Lagers.
Best Breweries in Michigan
Below is a list of the five best breweries in Michigan: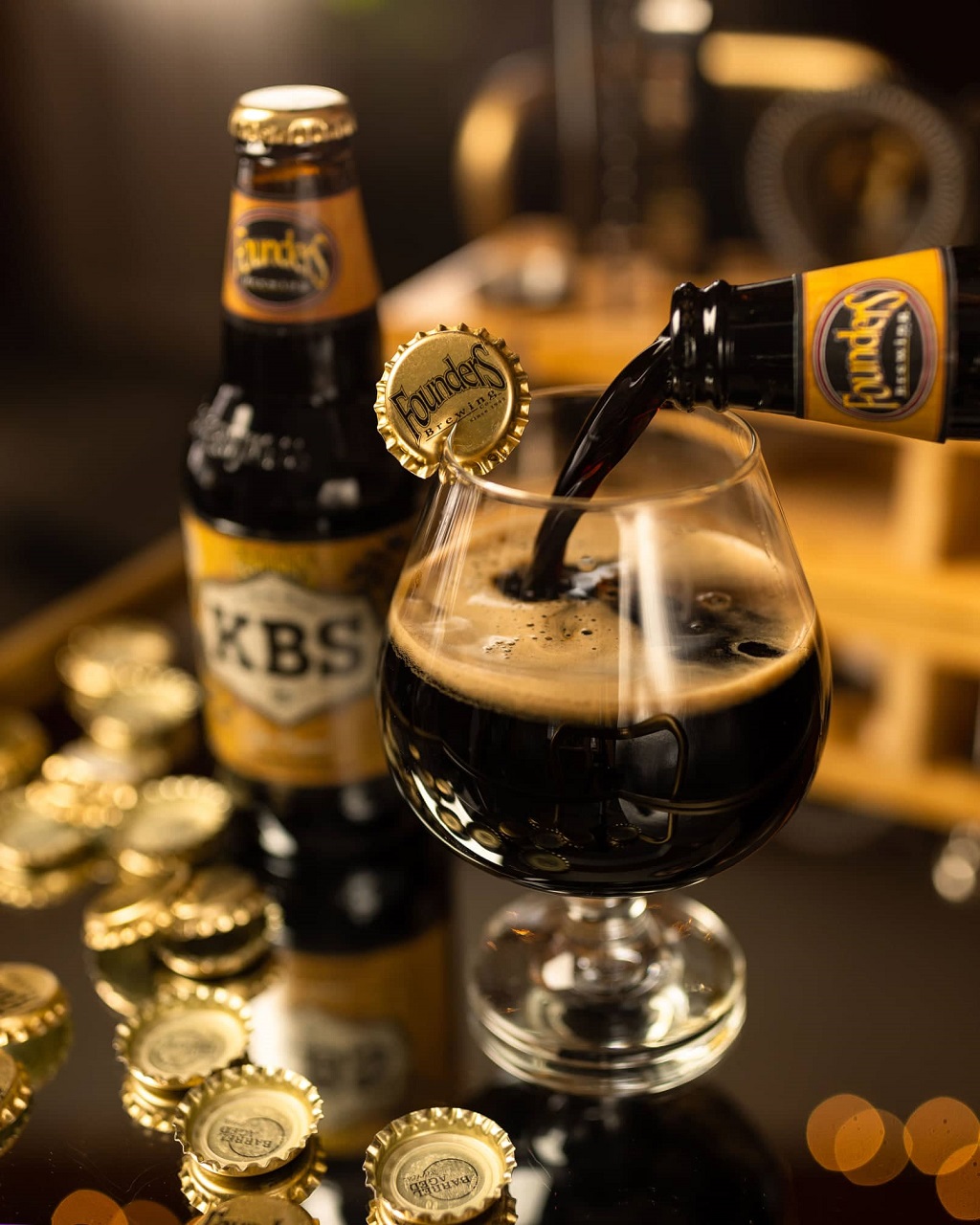 The Founders Brewery was founded by Dave Engbers and Mike Stevens in 1996 after graduating from college. Initially, the brewery was called John Pannell Brewing Company, but in 1997 the duo changed the name to the Canal Street Brewing Company. Canal Street Brewing Company is still the legal business name, although the brewery trades as Founder Brewery.
In 2019, Founders Brewery overtook Bells Brewing Company to become the largest beer producer in Michigan and the fifteenth largest beer producer in the United States.
Founders Brewery is well-known for producing quality and award-winning beers. Awards include Ratebeer.com 2nd Best Overall Brewery in the World 2011 and 2012, Ratebeer.com 3rd Best Overall Brewery in the World 2013. The brewery produces over 21 different beers, with beer styles including Scotch Ale, Pale Ale, India Pale Ale, Imperial IPA, American Pale Ale, Lager, Pilsner, Rye, and Stout.
Founders Brewery sources its water from The Great Lakes, which happens to be the largest freshwater surface water system on the planet. The water sourced from The Great Lakes is naturally clean and free from lead and other common water pollutants. The brewery uses only the finest ingredients and has partnered with Yakima Valley Hops to ensure that only the finest and freshest hops are used in their beer. 
Founders Brewery is a great place to visit, offering exceptional beer, a fun atmosphere, friendly service, and quality live music.
Beers to Try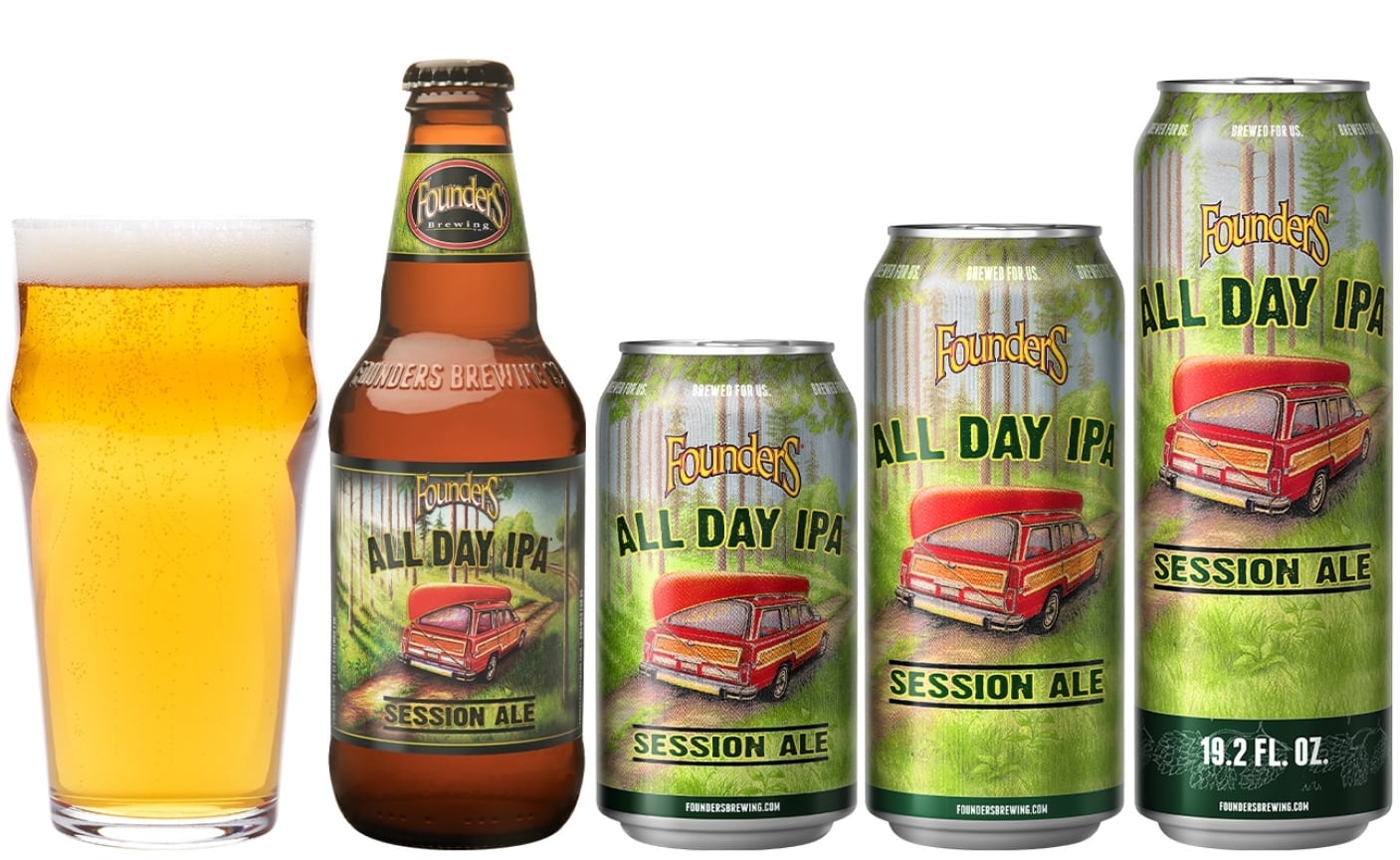 Founders All Day IPA is a remarkable India Pale Ale bursting with earthy, sweet, and hoppy tastes and aromas. It is full-flavored with notes of lemongrass, pine, tangerine, and fresh orange, followed by a hint of malt, resinous pine, and grapefruit zest. The balance of malt and hops is spot on, resulting in a refreshing and thirst-quenching finish. Founders All Day IPA offers an ABV of 4.7%.
Founders All Day IPA is a session IPA with a lower than average ABV. It is the perfect beer for barbequing with family and friends in the summertime.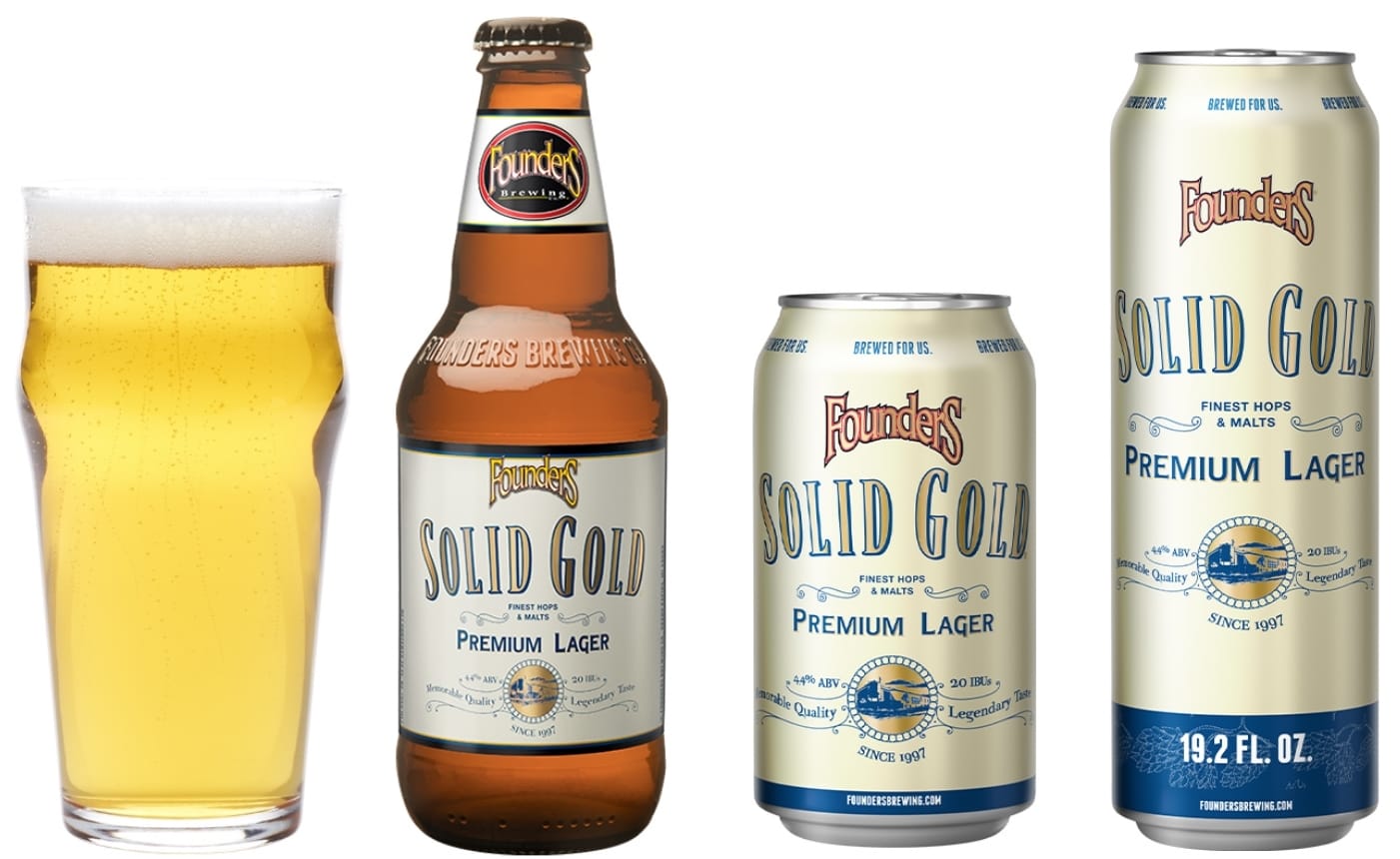 Founders Solid Gold is a remarkable Lager-style beer, first introduced by the brewery in March 2018. Solid Gold Lager delivers delightful notes of natural grain and sweet corn, followed by floral hops and rich malt. The wonderful addition of grains and corn results in a smooth, crisp, lingering finish. Founders Solid Gold Lager offers an ABV of 4.4%.
I enjoy drinking Founders Solid Gold while lazing around the pool. Solid Gold is a great summer beer, both refreshing and thirst-quenching.

Hands down, the brewery's most popular beer, Kentucky Breakfast Stout (KBS), is a delightful American Imperial Bourbon, Aged Stout. KBS delivers heavy notes of rich chocolate and coffee, with delicate undertones from the oak-aged bourbon barrels. Kentucky Breakfast Stout is full-flavored, full-bodied, with smooth chocolate color. The finish is rich, rewarding, and like no other. 
Founders Kentucky Breakfast Stout offers an ABV of 12.3%.
Founders Kentucky Bourbon Stout is a specialty beer like no other. I love the full flavors, but the ABV of 12.3% is a touch too much for me. I can honestly only drink one at a time.
Pros and Cons of Founders Brewery
Pros
Exceptional Brewery Producing Exceptional Beers

Multiple Award-Winning Beers

Excellent Facilities

Great Menu

Sufficient Parking

Great Service
Cons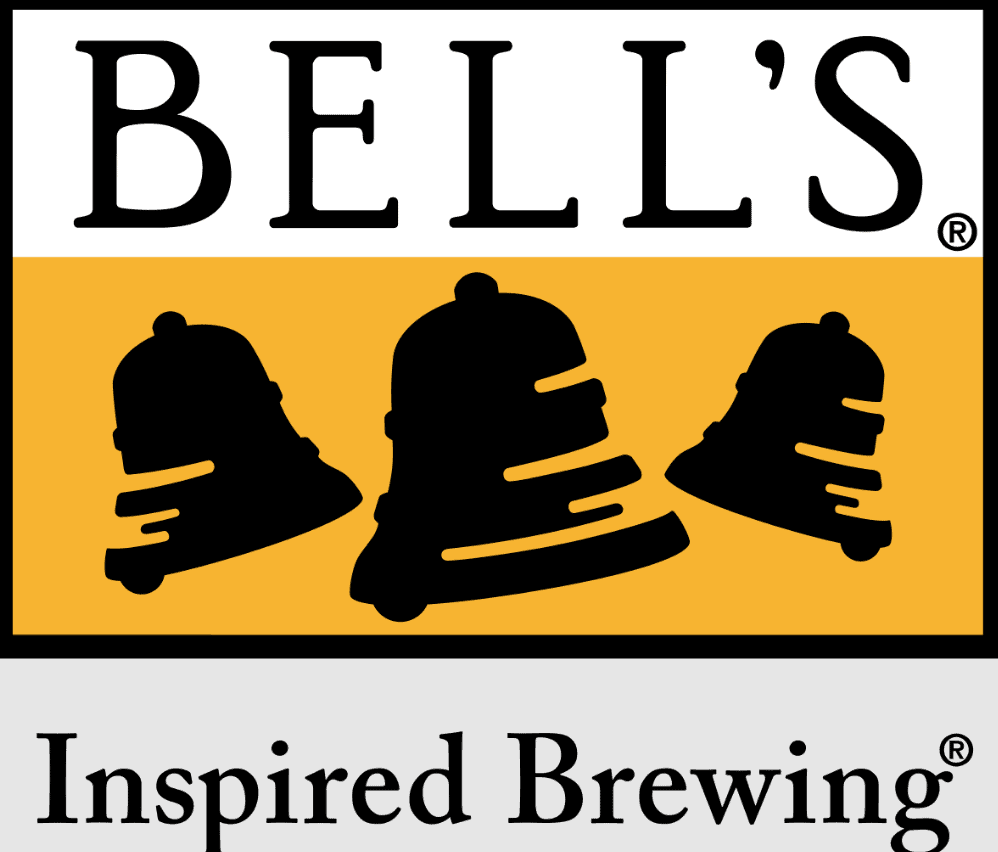 Bells Brewery Inc. was founded by Larry Bell in 1983. Larry Bell started a homebrew supply shop in downtown Kalamazoo after arriving in the city to attend Kalamazoo College. While operating his homebrew shop, Larry Bell started making beer. Interest from friends and customers quickly increased, and Larry knew he was on to something special.
In 1985, Larry Bell produced his first commercial beer in a 15-gallon Soup Pot, sold his first beer, and opened the Kalamazoo Brewing Company. In 2006, Kalamazoo Brewing Company legally changed its name to Bells Brewery.
Today, Bells Brewery is the 6th largest Craft Brewery in the United States and is owned by Australian Company Lion Little World Beverages. The brewery continues to produce authentic Michigan beer, creating an array of beer styles. Including Wheat Ale, Milk Stout, Brown Ale, Porter, American Pale Ale, Russian Imperial Stout, and India Pale Ale.
Bells Brewery sources all of its brewing water from an aquifer beneath the streets and homes of Kalamazoo. Water sourced from an aquifer is groundwater naturally filtered through the earth before collecting in an underground cavity. Natural filtration results in high-quality water. The water is again filtered by the brewery and sent through iron filters. Bells Brewing mainly uses all-American hops cultivated in the Pacific Northwest but does source hops from Europe for specialty beers.
Bells Brewery is a great brewery to visit because this brewery has it all. Bells Brewery offers quality beers and facilities, but it is also an ideal place to take the family.
Beers to Try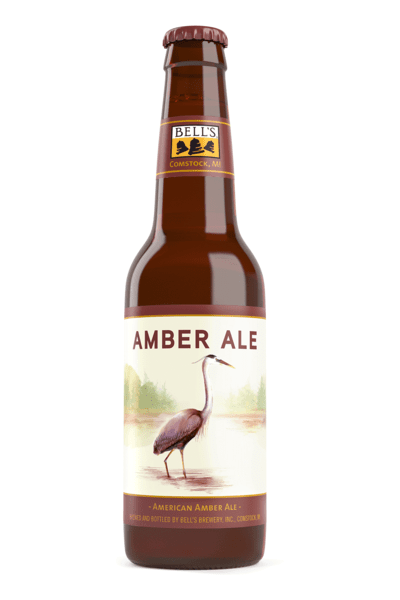 Around the Bells Brewery, Bells Amber Ale is referred to as the beer that helped build the company, and when you taste this fine Amber Ale, you will understand why. Bells Amber Ale features a combination of both sweet and toasted notes derived from the carefully selected malts. Upfront, you encounter citrus and herbal notes with a blast of hop freshness. Bells Amber looks, tastes, and smells divine, and offers an ABV of 5.8%.
Bells Amber Ale is smooth and enjoyable and pairs well with food. I enjoy an Amber Ale with roasted meats and sticky ribs.
Bells Light-Hearted Ale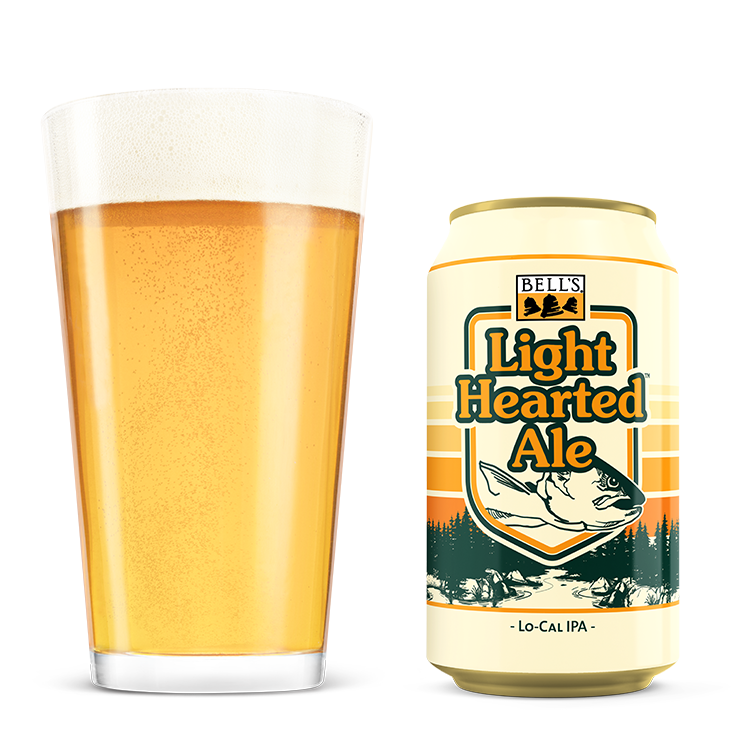 Bells Light-Hearted is a light-calorie IPA with bright hop character and well-balanced malt. Light-Hearted is low on calories (110 in total) but full of flavor, imparting notes of floral, earthy pine, and citrus. Made with Galaxy and Centennial, the hop tastes and aromas are outstanding and contribute to a refreshing and lingering finish. Bells Light-Hearted Ale offers an ABV of 3.7%.
Bells Light-hearted is a good option if you enjoy the taste of authentic beer but are simultaneously conscious about your health. I enjoy Bells Light-hearted when doing yard work on a hot day.
Kalamazoo Stout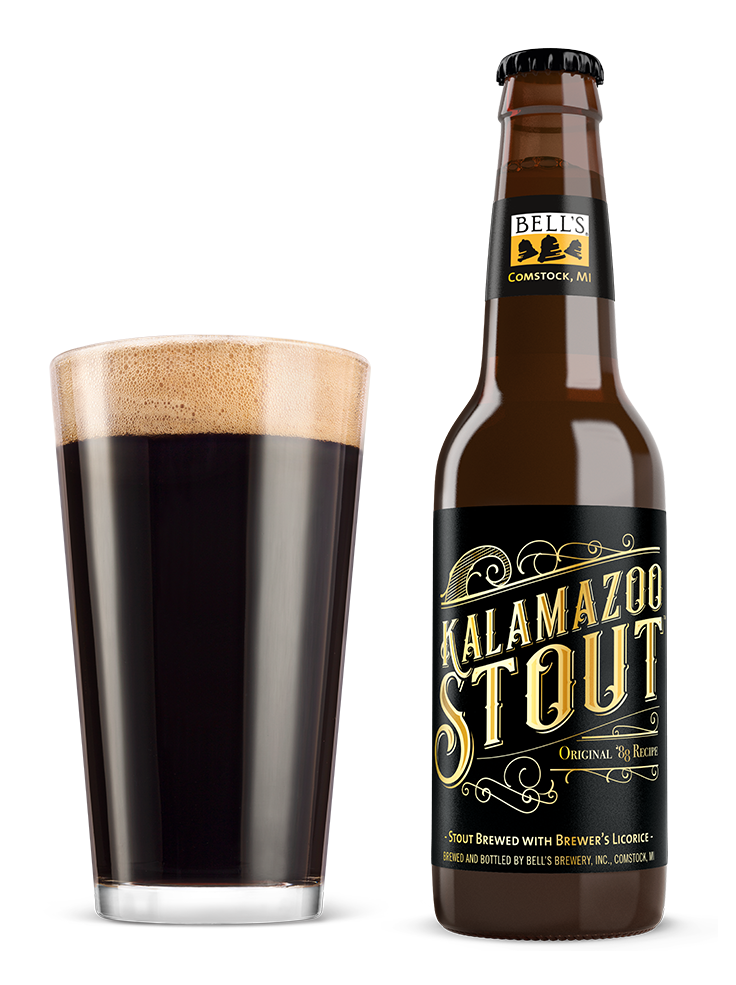 Kalamazoo Stout is named after the city of its creation. A tribute to the good people who reside there, both past and present. It is a full-bodied and full-flavored stout, delivering rich tastes and aromas of creamy chocolate, freshly roasted coffee beans, and roasted malts. The rich notes are perfectly balanced by fresh hop character and bitterness. Kalamazoo Stout is the brewery's most classic beer recipe and offers an ABV of 6%.
I enjoy Kalamazoo Stout as an after-dinner drink. The sweet malty flavors are like dessert, an unbelievably delicious stout.
Pros and Cons of Bells Brewery
Pros
World-Class Brewery

Exception Beer Styles and Types

Great Atmosphere

Excellent Service

General Store

Great Menu

Reasonably Priced
Cons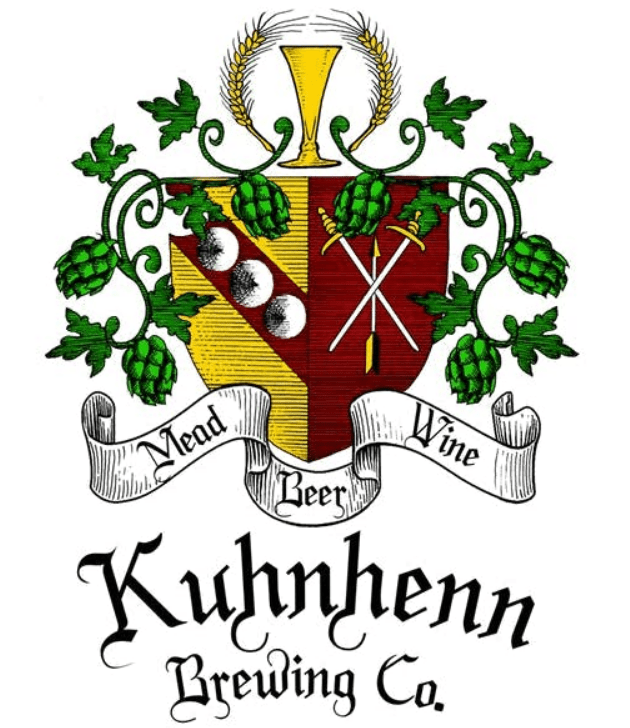 Kuhnhenn Brewing Company was officially opened in Warren, Michigan, in 2001, by brothers, best friends, and beer lovers Bret and Eric Kunhenn. Kuhnhenn Brewing is first and foremost an authentic brewery, but they are also a meadery and a winery. The brewery is well-known for using repurposed or converted equipment. This equipment includes an old peanut butter hopper as a lauter tun, a 100-gallon coffee maker as the pilot systems kettle, and an old yeast started as the mash/boil kettle.
Today, Kuhnhenn Brewery produces over 80 various beers and numerous brewing styles (too many to mention), including American IPA, Pumpkin Beer, American Barley Wine, Scotch Ale, American Amber, Belgian Dark, Lager, and Bock. Kuhnhenn Brewery was awarded a gold medal at the World Beer Cup for their version of a Double Rice IPA (DRIPA).
The Kuhnhenn Brewery uses ingredients of the highest quality. In recent years, the brewery has had numerous beers placed in the Top 100 Beers in the World in BeerAdvocate and Ratebeer.com Polls. 
Kuhnhenn Brewery is my favorite brewery and produces a creative range of beers out of this world. Some of their creations are mind-boggling and will leave you scratching your head. No matter your preference, at Kuhnhenn Brewery, you will find a beer and fall in love.
Beers to Try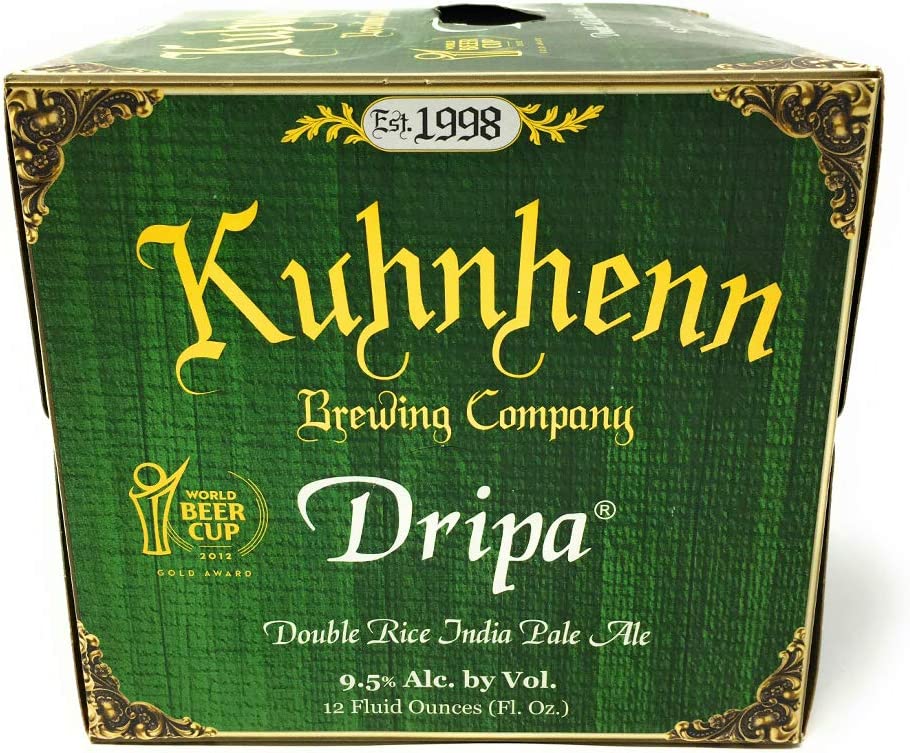 Kuhnhenn Double Rice IPA is a gold medal-winning imperial-style beer and the first one you should sample. When you do, you will understand why this fine creation is the pride of the brewery. Kuhnhenn Double Rice IPA is delicious, full-flavored, and full-bodied.
DRIPA imparts tantalizing tastes and aromas of all-natural cereals, sweet rice malt, citrus zest, fresh hops, earthy pine, and raw honey. The finish is dry, bitter, and refreshing. Kuhnhenn Double Rice IPA (DRIPA) offers an impressive ABV of 10%.
Kuhnhenn Double Rice IPA is an award-winning beer, but if I must be honest, it is not really a beer that I enjoy. The combination of citrus with grains doesn't work for me, but I can understand why some may love it.
Kuhnhenn Raspberry Eisbock

Kuhnhenn Raspberry Eisbock is a masterful beer and offers some insight into the creativity of the Kuhnhenn Brewery. Consuming one feels like a vicious yet delicious assault on your senses.
Upfront, you are blasted away by intense aromas and flavors of rich raspberries, followed by notes of smooth chocolate and delightful malt characters. The finish is crisp, refreshing, and keeps you wanting more. Kuhnhenn Raspberry Eisbock offers a whopping ABV of 13.8%.
Kuhnhenn Raspberry Eisbock is a refreshing daytime beer, perfect for hot days on the beach. The fruitiness and hop bitterness is thirst-quenching and refreshing, particularly after beach activity or surfing. The ABV is high, so I can only have two or three through the day.
Kuhnhenn Kuhnieweizen
Kuhnhenn Kuhnieweizen is an excellent example of an authentic South German Wheat Beer, created with a unique yeast strain sourced in Germany. This wheat beer is unlike anything I have tasted before, delivering unorthodox tastes and aromas of sweet banana and clove. Banana and clove sound like a strange combination, but it works well. Kuhnhenn Kuhnieweizen is unfiltered, delicious, and offers an ABV of 5.5%.
I enjoy a couple of Kuhnhenn Kuhnieweizen, but that's about my daily limit. I am not a huge fan of clove — the flavors work nicely in this beer, but two is more than enough.
Pros and Cons of Kuhnhenn Brewery
Pros
World-Class Brewery

Fantastic Range of Quality Award-Winning Beers

Great Menu

Great Facilities

Sufficient Parking

Reasonably-Priced
Cons
I cannot Find a Suitable Con at This Time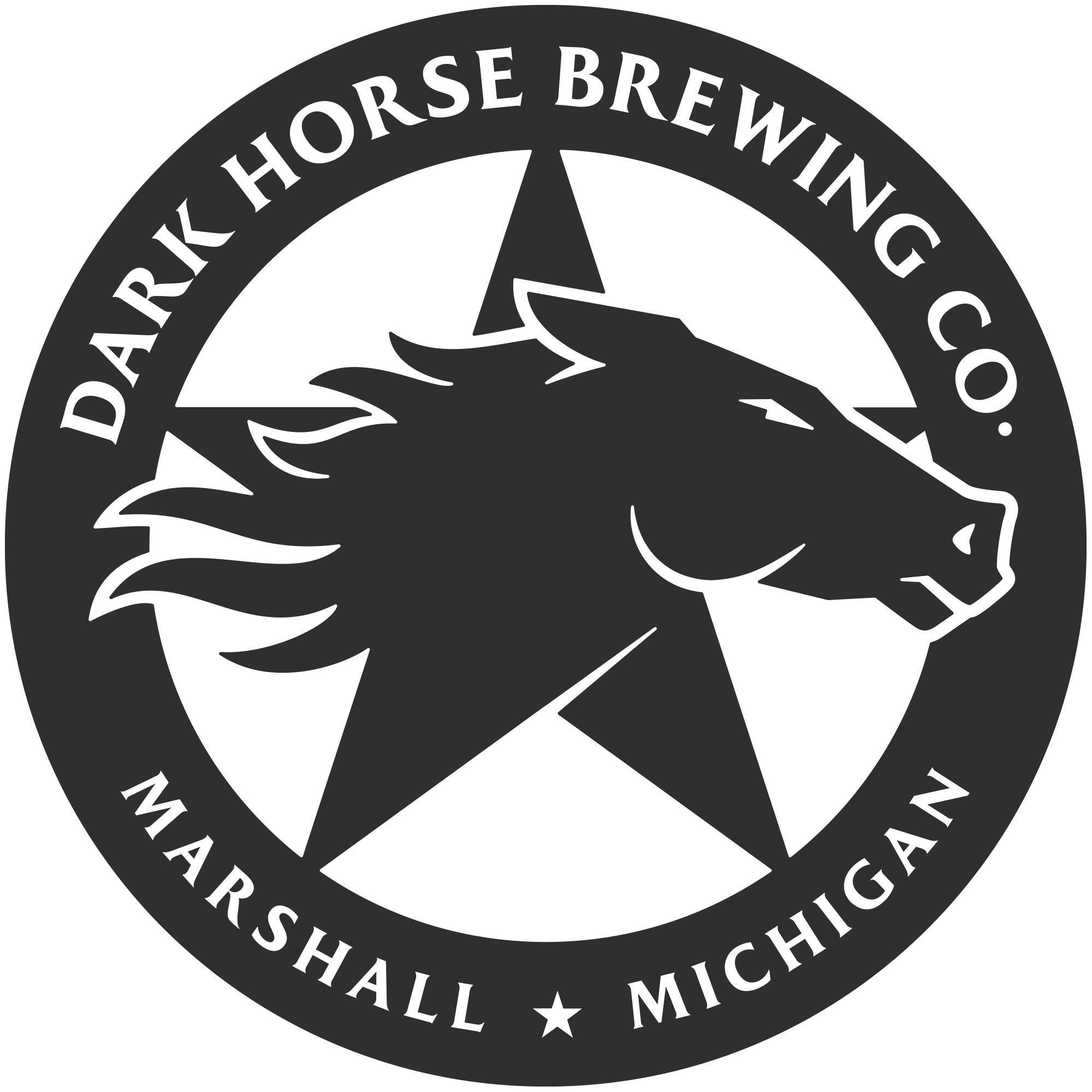 The Dark Horse Brewing Company was started by restaurant owner Bill Morse in Warren, Michigan. Bill Converted his brew-pub license to a microbrewery license in 1998. Along with his son Aaron Morse, Bill started brewing beer, and then they created an additional store selling homebrew supplies to enthusiastic homebrewers. Tragedy struck the brewery in 2010 when a suspected burglary and arson resulted in the building catching fire.
That same month the brewery started with reconstruction, and just three years later was named the 29th Best Brewery in the World by Ratebeer.com. Today, the Dark Horse Brewing Company is owned by Roak Brewing Co. in Royal Oaks, Michigan.
The Dark Horse Brewing Company produces too many beers to mention. A good mix of seasonal, year-round, and experimental beers. The brewery makes an array of beer styles, including IPA, Double IPA, Belgian Ale, Brown Ale, Porter, Cream Ale, Imperial Stout, and American Strong Ale. 
The Dark Horse Brewery offers a friendly atmosphere and world-class beers. But it is the food that draws me back to this establishment. The whole menu is superb, but this place is all about the pizza. Tasty Pizza and delicious beer equal happiness.
Beers to Try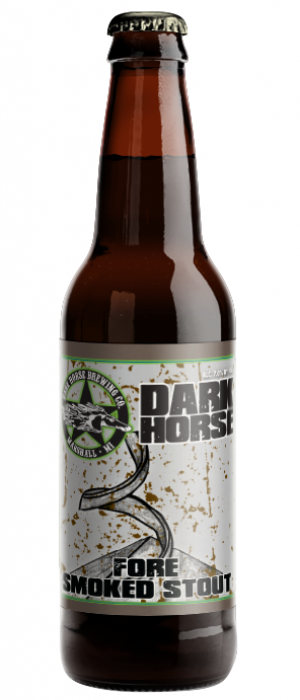 Dark Horse Plead the Fifth is a robust BBA Russian Imperial Stout. BBA stands for Bourbon Barrel Aged, and Dark Horse Brewing executed this Imperial Stout perfectly. Flavors and aromas include a delightful combination of dark fruits, caramel, chocolate, and roasted malts.
Followed by delicate whiskey notes from the bourbon barrels. Plead the Fifth BBA Russian Imperial Stout is the epitome of the perfect Stout, with a long and lingering finish. Plead the Fifth by Dark Horse offers an ABV of 11%. 
Dark Horse Plead the Fifth is a world-class Stout, but it also falls into the sample beer category. An 11% ABV is high for me, so two is my limit when visiting this brewery.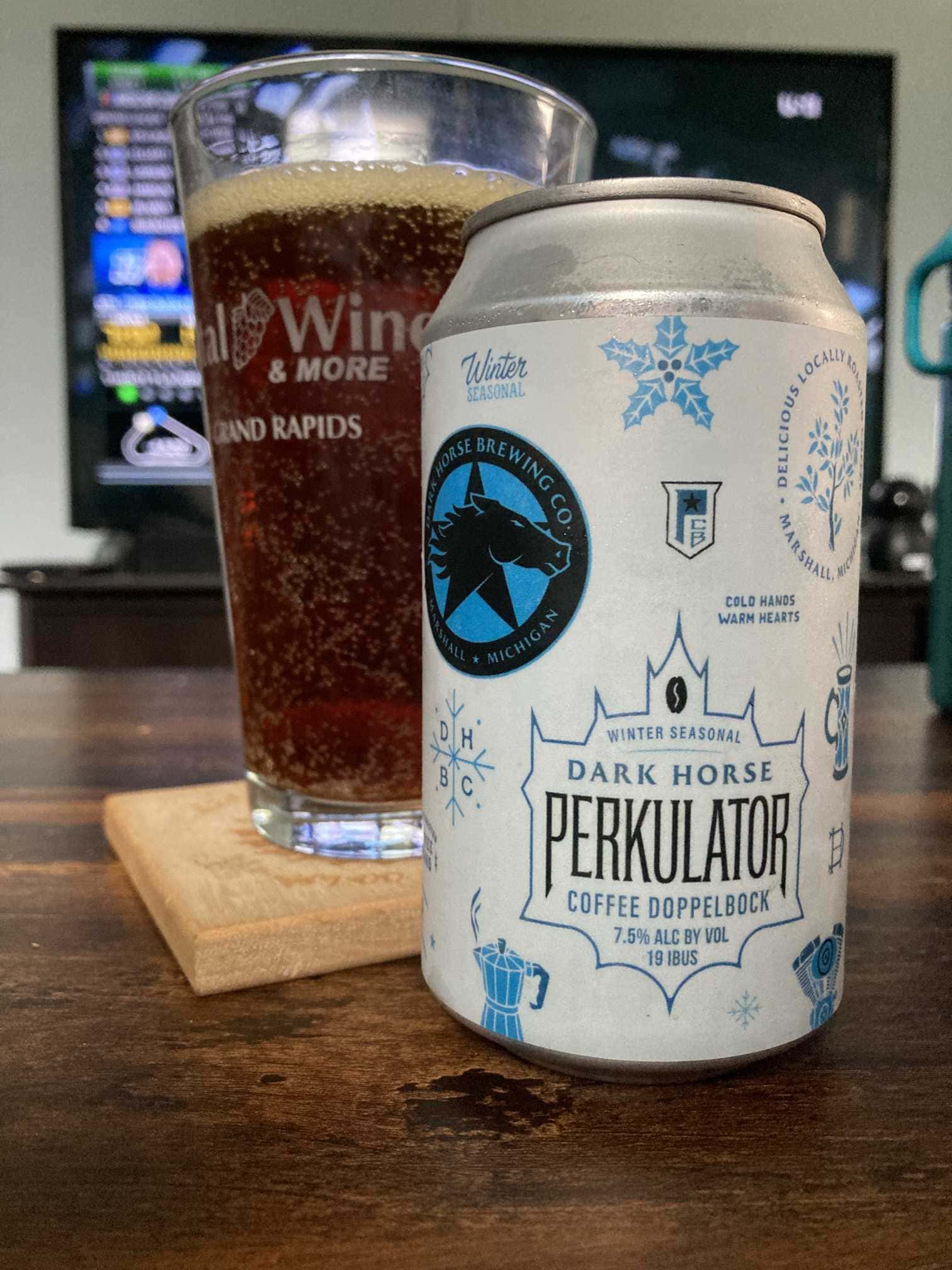 Perkulator is an outrageous seasonal Coffee Double Bock-style beer. Double Bock was originally made by the beer-loving Monks in Munich, Germany. This devilish Double Bock imparts authentic notes of toast and freshly baked bread and elevates it with bold tastes and aromas of house-roasted coffee, roasted malts, and creamy caramel. There is a touch of Michigan in this German-inspired recipe, with a dry and rewarding finish. Dark Horse Perkulator offers an ABV of 7.5%.
I enjoy drinking Dark Horse Perkulator on a cold winter evening in front of the fire. The warm coffee, roasted malts, and caramel notes are delightful, and the above-average ABV warms me from the inside.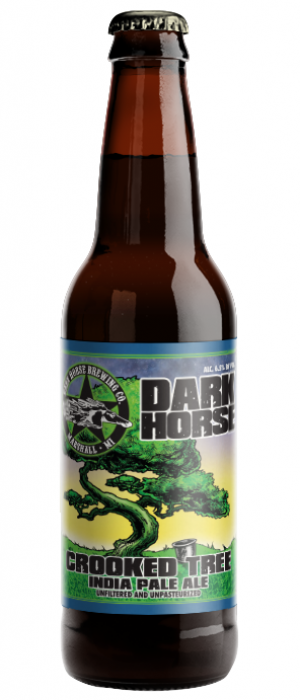 Crooked Tree is an exceptional multiple-award-winning West Coast IPA-inspired beer brewed with some Michigan flare. This IPA is heavily dry-hopped, delivering intense flavors and aromas of fresh grapefruit and citrus zest. The bold citrus notes are elegantly balanced by rich malt, resulting in a refreshing, dry, and well-balanced finish. Dark Horse Crooked Tree IPA offers an ABV of 6.5%.
Crooked Tree by Dark Horse is highly hopped, boasting intense flavors and aromas. I enjoy an ice-cold Crooked Tree with bar snacks and niblets when watching the game with my mate
Pros and Cons
Pros
Outstanding Brewery

Authentic Michigan Beers with a Creative Twist

Excellent Facilities

Great Atmosphere

Great Food

Excellent Service

Reasonably Priced
Cons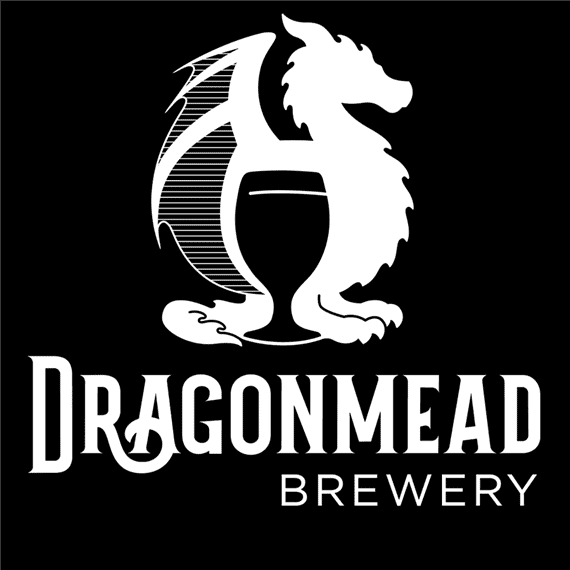 Dragonmead Microbrewery is a brewery, meadery, and brewpub, founded by Earl Sherbath, Bill Wrobel, and Larry Chanell in 1998. The brewery is located in Warren, Michigan and today employ 27 people.
Dragonmead is one of the most award-winning breweries in the United States, having won numerous gold medals at the World Beer Cup and numerous gold medals at the International Mazer Cup Mead Competition. Ratebeer.com voted Dragonmead Microbrewery as one of the Top 50 Breweries to Visit in the World.
Dragonmead Microbrewery produces a comprehensive range of quality beers and beer styles. Beer Styles include Belgian, English, Norwegian, Scottish, German, Russian, Mexican, and Firkin-Hand Pull Beer.
I love this brewery because it has one of the most authentic and gorgeous taprooms in the US. It features a certain degree of elegance, backed up by award-winning beer. Dragonmead Brewery is a great place to visit.
Beers to Try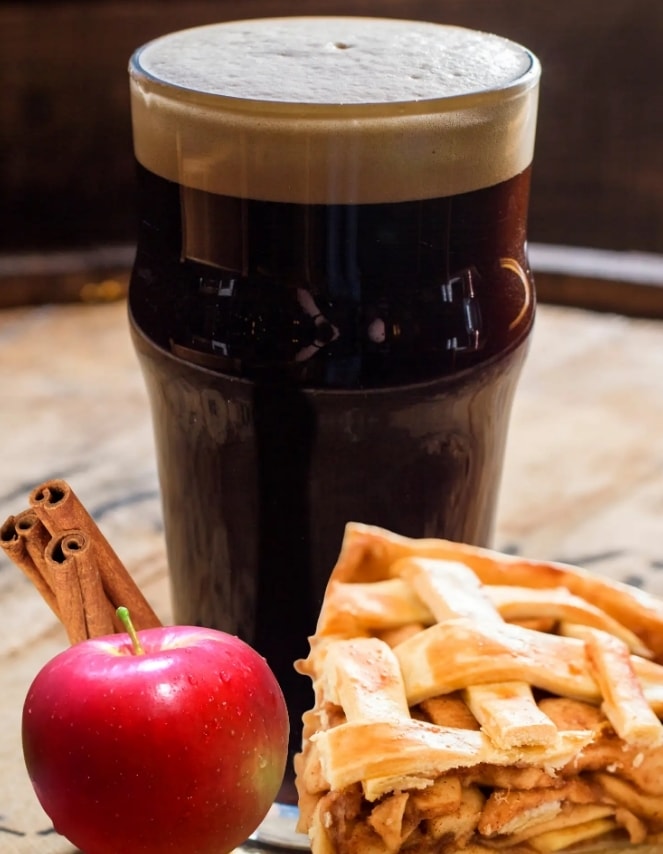 Cinnamon Apple Pie Stout is a specialty beer created for beer lovers with a sweet tooth. This specialty Stout offers traditional Stout tastes and aromas, accompanied by delicious notes of apple and fresh cinnamon. The malt characters shine through at the finish, leaving you satisfied and refreshed. Dragonmead Cinnamon Apple Pie Stout offers an ABV of 6.3%.
Dragonmead Cinnamon Apple Pie Stout is an exceptional creation, but the flavors are not to my liking. I do not mind a hint of cinnamon in my Stout, but I believe apples belong in Ciders.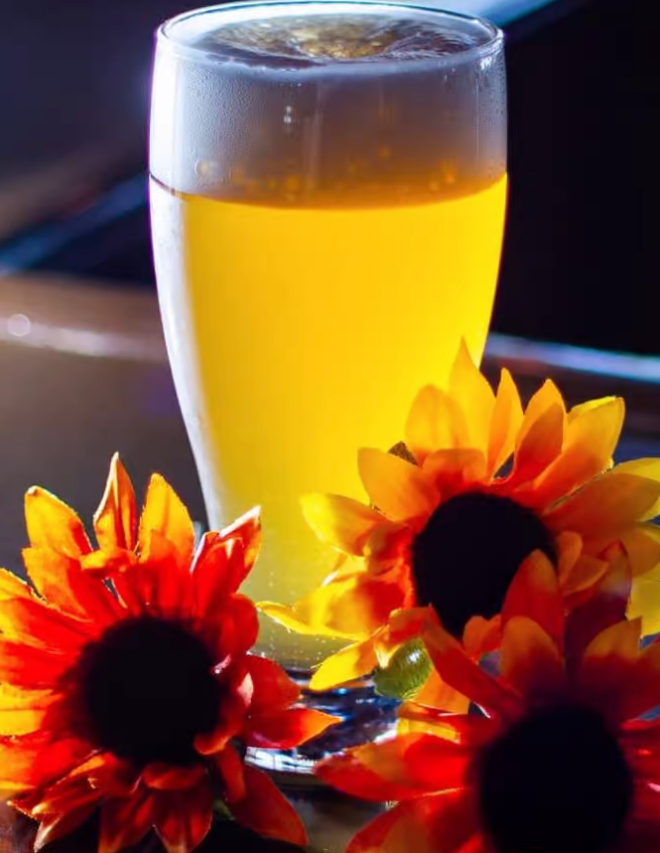 Dragonmead Honey Pants is a delightful creation inspired by traditional German Wheat Recipes with a modern twist. Honey Pants is easy-drinking, clean, refreshing, and perfect for a warm sunny day. This German-style beer is infused with 100% raw honey sourced locally in Detroit and imparts a rich natural sweetness that brings a nice balance to the beer. The finish is exceptionally smooth and refreshing. Dragonmead Honey Pants offers an ABV of 5.2%.
I enjoy Dragonmead Honey Pants on warm sunny afternoons. The flavors are natural and refreshing, making it a great daytime beer.
Dragonmead Dark Knight IPA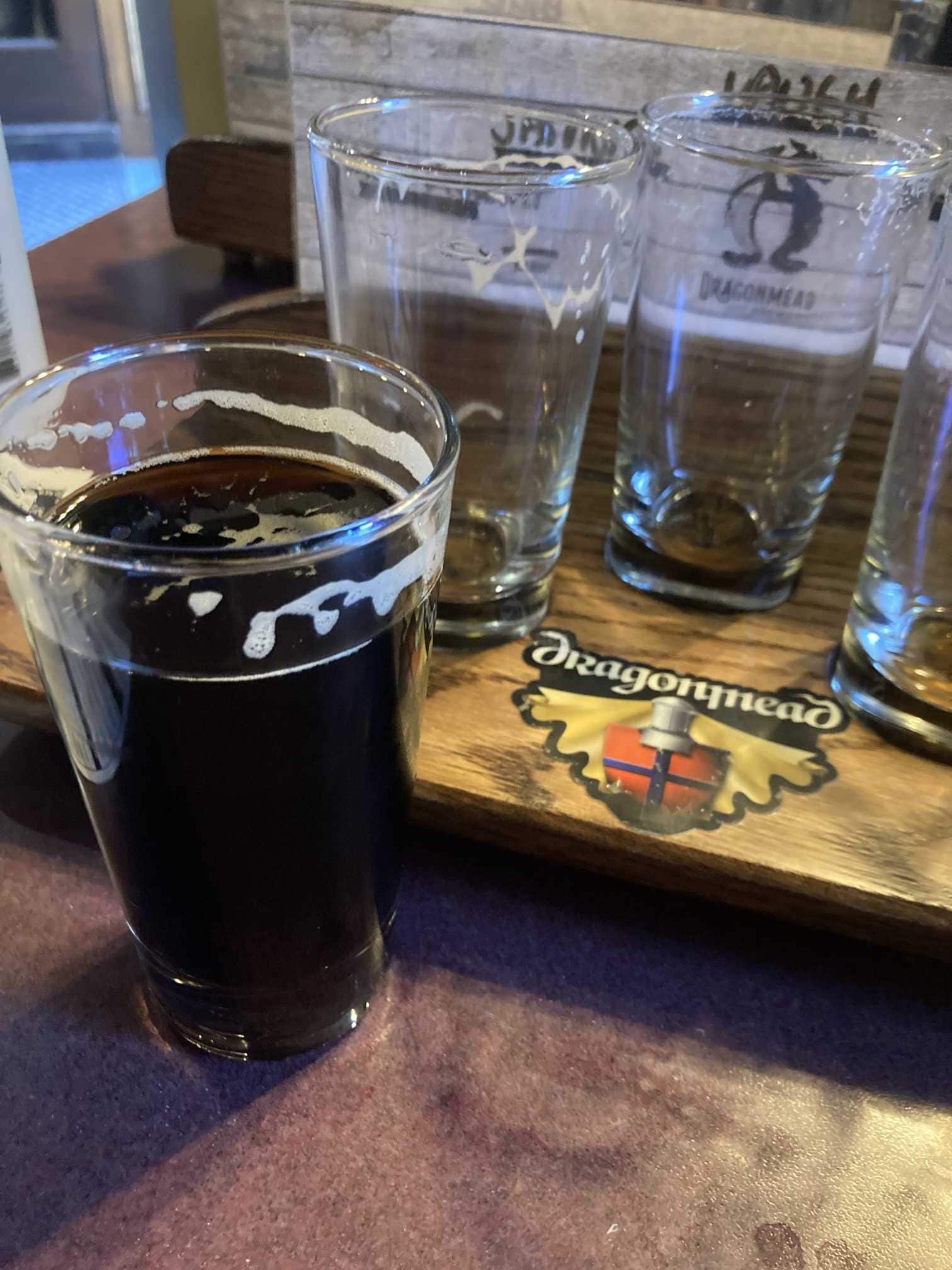 Dragonmead Dark Knight IPA is a remarkable year-round Black IPA and one of the best beers in the country. Dark Knight IPA delivers bold notes of roasted barley with delicate malt characters. 
All perfectly balanced by intense fresh hop tastes and aromas. There are soft undertones of dark fruits and rich caramel. Staying true to authentic IPAs, Dark Knight has moderate to high levels of hop bitterness. The finish is smooth, well-balanced, and lingering. Dragonmead Dark Knight IPA offers an ABV of 8%.
Dragonmead Dark Horse IPA is another Stout that I enjoy after dinner. It is flavorful, well-balanced, and a great way to end the night.
Pros and Cons
Pros
World-Class Brewery

Award-Winning Beers

Gorgeous Tap Room

Great Service

Spacious

Reasonably Priced
Cons
Frequently Asked Questions (FAQs)
Question: What city in Michigan has the most breweries?
Answer: The Michigan city with the most operating breweries per capita is Kalamazoo. The city of Kalamazoo has one of the most breweries per capita throughout the United States.
Question: Is Michigan the beer Capital of the United States?
Answer: Beer is popular in Michigan, but the beer capital of the United States is hands down Milwaukee, Wisconsin. Milwaukee is one of America's largest beer-producing cities and, at one time, was considered the beer capital of the World. Milwaukee produces so much beer that the city has received numerous nicknames, including Brew City, Brew Town, and Beertown.
Question: Which State in the United States has the most breweries?
Answer: Not surprisingly, California is the U.S. State with the most breweries, more than doubling the amount of second-placed Colorado. California has around 907 breweries, while Colorado has 425 breweries. New York and Washington share a tie for 3rd spot with 423 breweries in each State. In fifth place is Pennsylvania, with 401 breweries.
Question: How many breweries are there in Michigan?
Answer: Michigan is a beer-loving state and ranks fifth in the country based on the number of operating breweries, just behind Pennsylvania. Michigan boasts around 400 breweries, micro-breweries, brew-pubs, and cideries. 
Question: Why is Grand Rapids known as Beer City?
Answer: While Milwaukee is the largest beer-producing city in the United States, Grand Rapids is known for producing quality craft beer and supporting a thriving craft beer scene. Beer is popular in this part of the U.S. The city is the repeat winner of the prestigious USA Today's, Best Beer Polls and Scenes.  
Conclusion: Best Breweries in Michigan
Michigan is a great place to live and visit, offering a buzzing social scene with plenty of world-class beers on offer. Beer has deep roots in the states, which is evident when visiting their world-class breweries. There are numerous authentic and quality breweries in Michigan, and picking the best proved extremely difficult. They all have so much to offer, each staying authentic to tradition. 
My top pick for Best Brewery in Michigan goes to the Kuhnhenn Brewery. The facilities may not be as modern or upscale as its competitors, but the range, quality, and creativity of beers created here are impressive. Coupled with a good vibe, excellent service, and great food, it should be your first stop when in town.
Check out these brewery guides if you are visiting: