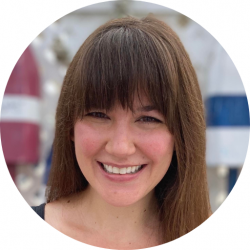 Latest posts by Lauren Vigdor
(see all)
I'm going to confess something that feels like an industry secret. I used to make a lot of money selling Victory Sour Monkey. I was the beverage director for a couple of bars in Boston, including a beer bar that offered 32 drafts and over 50 bottles and cans on any given day.
I chose the beers we served based on what I thought our guests would like and what would turn a profit. Usually, those two criteria would overlap, but I would generally turn more of a profit on larger, better-known beers.
If I wanted to tap something new or unusual as a treat (to both our guests and myself), I would often make slimmer margins on the beer simply because guests weren't always willing to spend extra money on a beer they didn't recognize.
Victory Sour Monkey was different. This sour beer has the right balance of intrigue, alcohol content, and name recognition that even though it's a somewhat esoteric craft beer at a slightly higher price point, it would always sell quickly.
Every time I was worried about making my numbers for the month, I would just put on a keg of it, and everything would just work out. 
Before writing this Victory Sour Monkey review, it had been several years since I last tasted this beer. Still, I remembered it fondly — not just for the unusual style and adventurous flavor of the beer, but because of how easy it made my job whenever I tapped a fresh keg!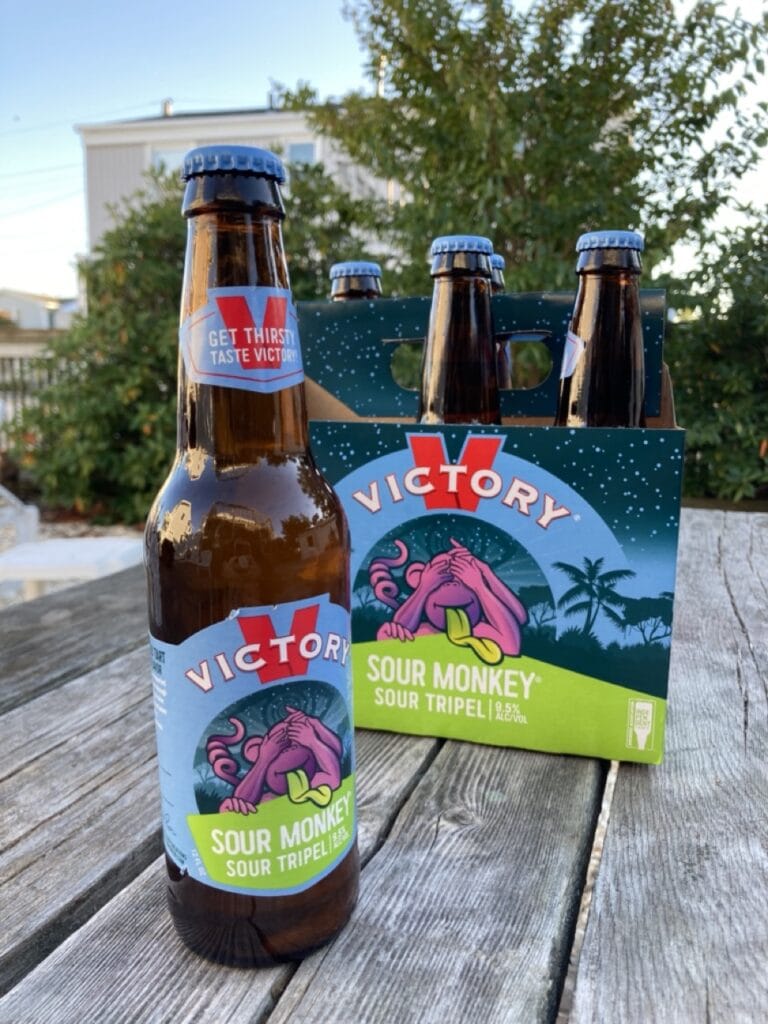 Bottom Line Up Front
Victory Sour Monkey is a unique sour tripel-style beer brewed by Victory Brewing Company in Downingtown, Pennsylvania, just outside Philadelphia. It's citrusy and a little tart with some bitter hoppiness. The beer is 9.5% ABV but doesn't taste as strong as it is, which makes this one somewhat dangerous!
Victory Sour Monkey Key Features
Style:

Sour Tripel

ABV:

9.5%

IBU:

25

Color:

Clear golden yellow

Aroma:

Yeasty and tart

Flavor:

Fruity with a citrusy tang and some hop bitterness

Mouthfeel:

Medium body, effervescent 

Yeast:

Belgian

Hops:

Tettnang

Malt:

Pilsner

Brewed In:

Pennsylvania, USA
Victory Brewing Company
Victory Brewing Company was established in 1996 by childhood friends Bill Covaleski and Ron Barchet.
The pair's passion for homebrewing led them to brewing apprenticeships and courses of study in beer brewing at renowned German institutions. They each spent several years as award-winning brewers and brewmasters, which helped lay the groundwork for Victory.
I really like Victory Brewing Company. They're a well-established brewery that's been in the craft beer game for longer than most. They have a couple of core beers that I enjoy regularly, and they often surprise me with their innovative seasonal offerings. 
They're based out of my home state of Pennsylvania, and I've actually spent some time in their Parkesburg brewery outside of Philadelphia. It's a large, comfortable space with a ton of information about their brewing methods, and just like their beers, it feels very accessible. If you're ever in the area, I highly recommend a visit! 
About Victory Sour Monkey
Victory Sour Monkey is the sour sibling of the brewery's popular Golden Monkey. It's brewed with imported Belgian yeast, pilsner malt, and Tettnang hops. The heart of the beer is a Belgian-style Tripel. 
The name tripel is pronounced just like "triple," no extra emphasis needed, though there's nothing really "triple" about it. There's some debate about the origin of the name, though it most likely refers to the strength of the beer.
Dubbels and quads are both styles of Belgian beer, and dubbels are generally lower in alcohol than tripels, while quads are stronger. Just to make it confusing, dubbels and quads are both considerably darker than tripels. 
Tripels are strong golden ales that tend to be fruity and bready but aren't usually sour. That's where Sour Monkey diverges from the norm. Clocking in at 9.5% ABV, this isn't for the faint of heart. 
The beer is available year-round in 12 oz cans, 12oz bottles, 19.2 oz "stovepipe" cans, and on draft. 
Victory Sour Monkey Review and Tasting
I didn't have much trouble finding Victory Sour Monkey. While it wasn't currently in stock at the tiny liquor store down the road from me (they had Golden Monkey and said they could order Sour Monkey for me), I was able to pick up a six-pack at the nearest large wine and spirits shop. 
The bottles I picked up were packaged into 12 oz brown glass bottles with crown caps. Pretty standard for a beer bottle. I poured the beer into a pint glass for the tasting.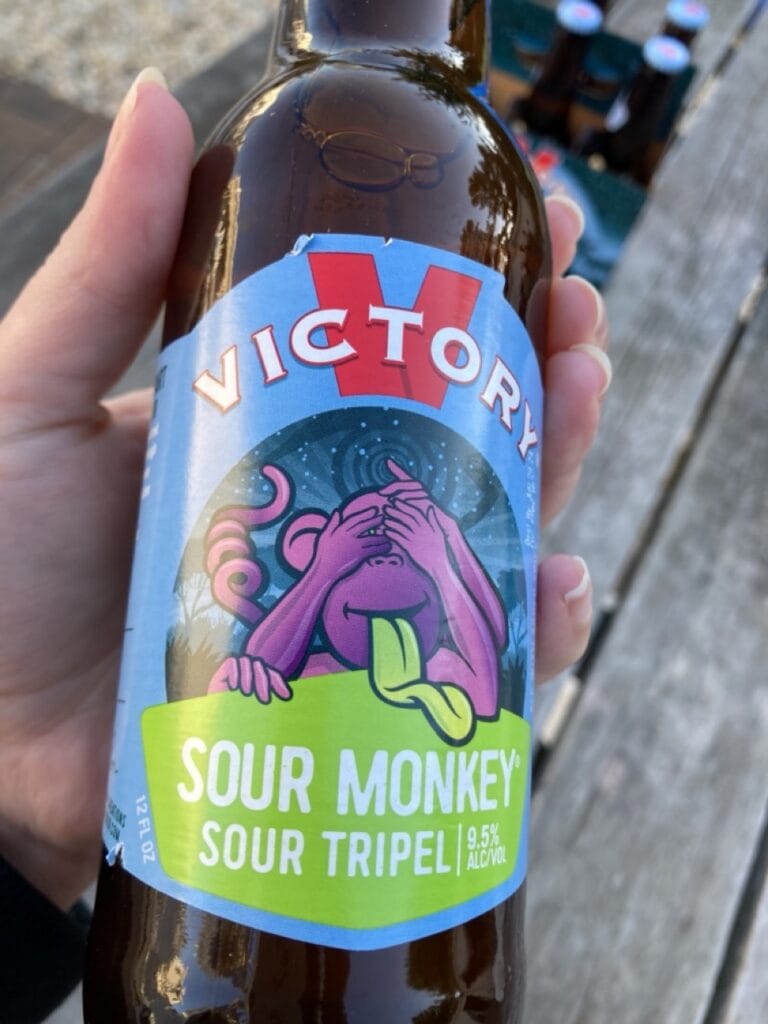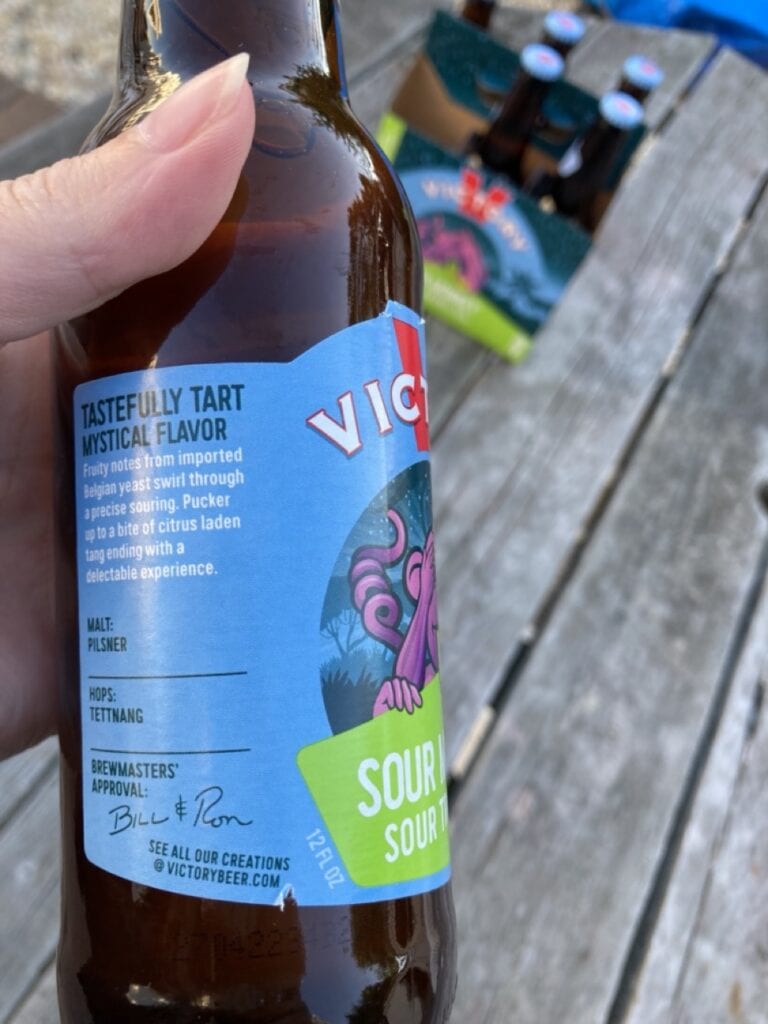 Appearance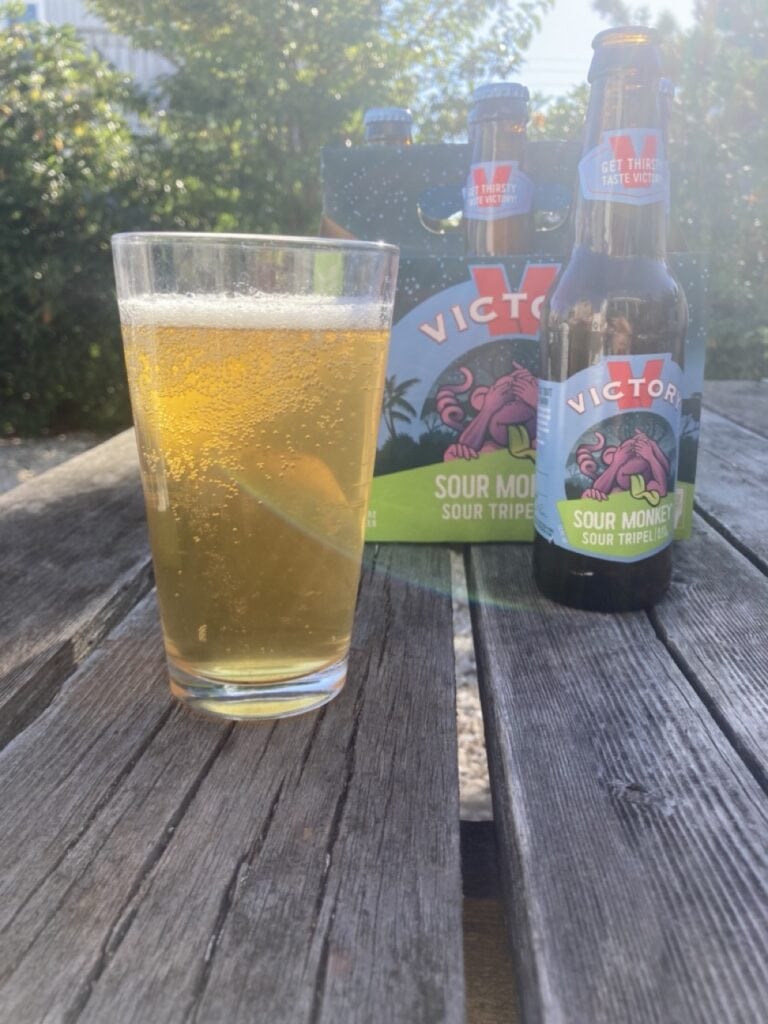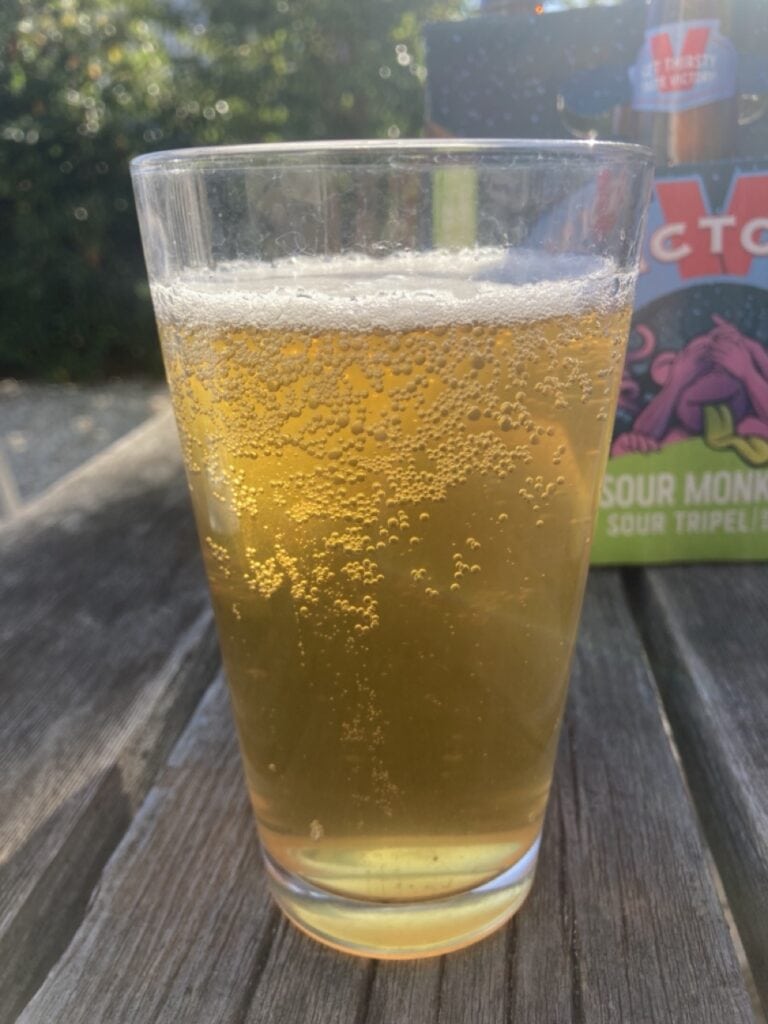 The beer pours a clear golden straw color. It's very effervescent and has a bright white head. The texture of the foam is almost creamy, like a cappuccino, and I was surprised at the retention — it wasn't very tall, but it lingered for quite a while, even after I started sipping the beer. It left just a little bit of noticeable lacing on the glass.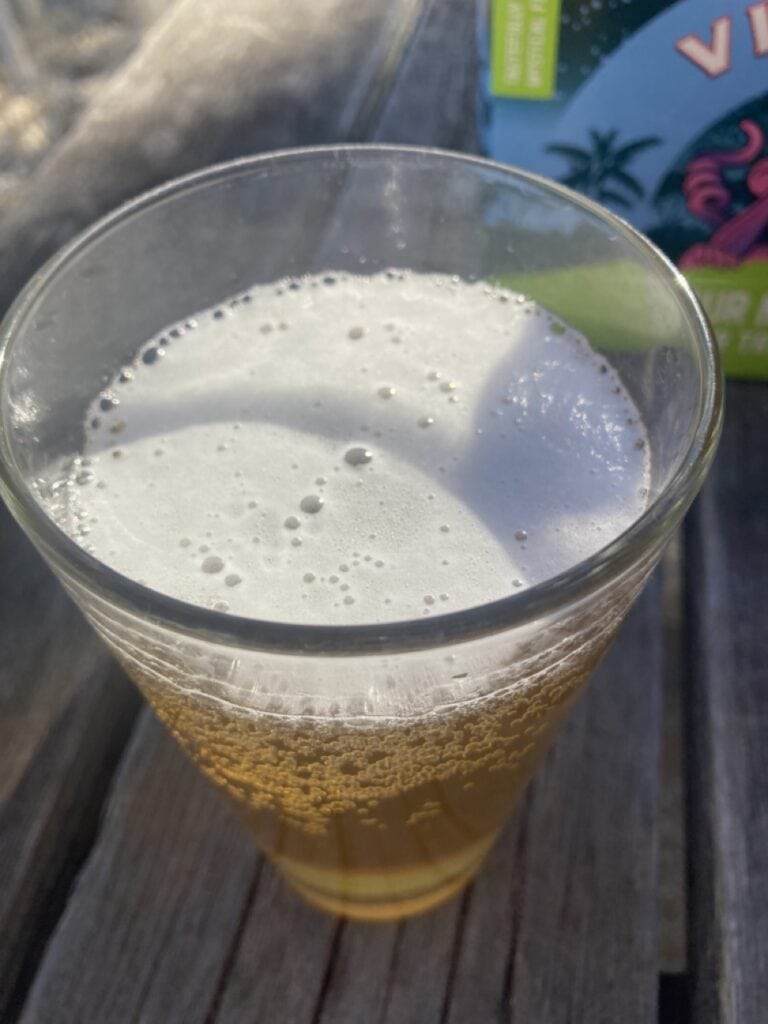 Aroma
It smelled very lactic to me. I could definitely tell it was going to be sour just from the smell. I got a lot of fruity yeast notes and some citrus as well, but the aroma was overwhelmingly tart.
Taste and Mouthfeel
It had been several years since I last tasted this beer, and it wasn't quite what I remembered. It also didn't taste exactly how I expected based on how it smelled. It was all-around surprising!
It's definitely tart, but it's not as puckeringly sour as I expected it to be. The smell had me thinking it would be as sour as a Berliner Weisse, but it had a somewhat mild, citrusy tartness to it with a pretty strong hoppy backbone.
It was surprisingly drinkable and didn't taste nearly as strong as the ABV suggested. I got a lot of tropical fruit notes and citrus with some classic Belgian banana flavors. My partner had a sip and tasted some fresh raspberry.
It was also heavier on my palate than I expected, which I guess makes sense for such a high-octane beer. It was somewhat medium in body with some grippiness to it.
Finish
The beer finished dry but with some unanticipated bitterness that seemed to come out of nowhere. It didn't linger on my palate and faded quickly and cleanly. 
I couldn't quite decide how I felt about the finish. Usually I like some bitterness in my beers, but I think by this point, my palate didn't know what to think. The transition from sour aroma to fruity, tart sip to bitter, dry finish was kind of disarming.
This beer is sort of like the gum that Violet Beauregarde steals in Willy Wonka and the Chocolate Factory, and by the time I got to the third course, I had trouble remembering how I got there, but I was eager to start from the beginning again. 
My Thoughts
I could see Sour Monkey being very dangerous. The sourness masks how high the ABV of this beer is, and the fact that it tastes so unexpected and intriguing made me want to keep sipping it. I don't usually describe beers over 9% ABV as "crushable," but this was pretty crushable. 
I'd probably reserve this one for a happy hour beer. It's too strong for me to drink during the day, even if I don't have any other plans. 
I like to pair sour beers with a cheese plate, charcuterie, or something fried and fatty — really anything rich. I'd probably sip on this alongside some fried cheese curds after work. 
Victory Sour Monkey Pros and Cons
Pros
This beer is entirely unique. There's nothing else quite like it.
It's surprisingly easy to drink, even if you're not a huge fan of sour beers.
Despite how unique and complex it is, it's an extremely well-balanced beer.
Cons
The combination of tart and hoppy might be off-putting for some people.
The ABV is pretty high, which means this beer could get dangerous!
While I didn't really mind the bitter finish, I could see it bothering a lot of people.
Where to Buy Victory Sour Monkey
Victory's beers are available in 34 states and nine different countries, which means there's a good chance you'll be able to find this beer. I paid $12.50 for a six-pack of bottles, which seems to be pretty standard, though prices will vary depending on where you are and where you buy your beer. 
If you're having trouble finding it in a particular store, you can go on Victory's website and click "buy now" to see where the beer is available near you. I would also recommend using a site like Drizly to see if you can have it shipped directly to your home.
Recommended Alternative Beers
If you liked Sour Monkey and want to try something else or are having trouble getting your hands on it, I recommend starting with one of the following beers.
If You Want Something Less Sour: Golden Monkey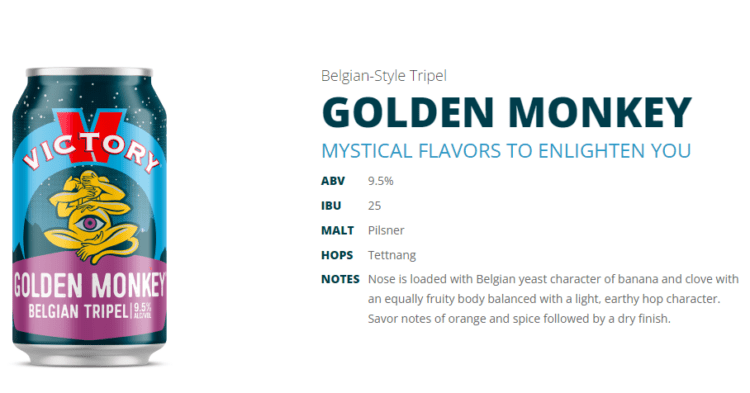 Golden Monkey is Victory's OG "Monkey" beer, and it's essentially Sour Monkey without the sour part. It tastes much closer to a traditional Belgian Tripel, with a fruity, yeasty nose and tons of banana, clove, and spice flavors, but it maintains its signature dry finish and bitter hop character.
It's a favorite Belgian-style beer among my hop head IPA drinking friends, and for good reason. Just be wary — this one is just as strong as Sour Monkey, clocking in at 9.5% ABV. 
If you want something more sour: Dogfish Seaquench

Dogfish Seaquench is one of my all-time favorite beers, and it's an entirely different style from Sour Monkey, but I'm asking you to trust me on this one. Seaquench is a Gose-style beer, a German-style sour wheat beer known for its strong sour, herbal, and salty flavors. It's the perfect thirst quencher on a hot day. 
I think Sour Monkey drinkers will like Seaquench because it has intense citrus sour notes backed by a savory salinity and slightly bitter edge. It hits all the same marks as Sour Monkey, albeit in a lighter, much more tart package. It's also significantly lower in alcohol at only 4.9% ABV. 
If you Want Something Fruitier: Berry Monkey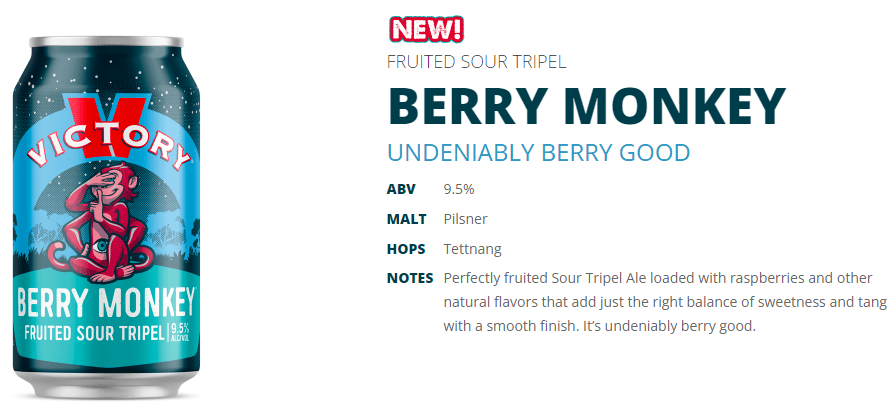 Berry Monkey is the newest addition to the Victory "Monkey" lineup. It's Sour Monkey with the addition of fresh raspberries, which seem to somehow up both the sweetness and sour factor. It's also a gorgeous pink color! 
Other Similar Alternatives to Sour Monkey
Oude Gueuze Tilquin à l'ancienne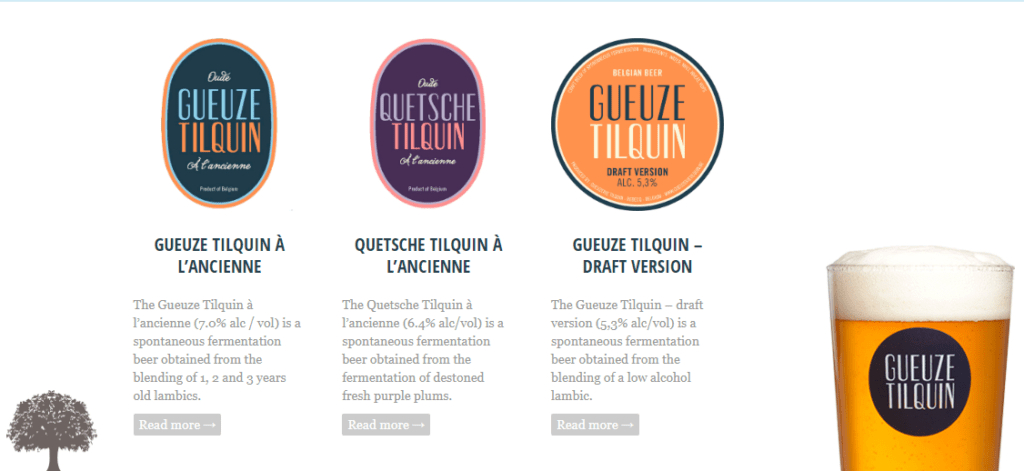 Tilquin Gueuze is a spontaneously fermented Belgian beer made of a blend of different lambics. It has the same Belgian yeast characteristics and dryness as Sour Monkey. It will most likely hit that tart but not-too-sour note for most people as well. That being said, expect this beer to be funkier than Sour Monkey, not that that's a bad thing! 
New Belgium Le Terroir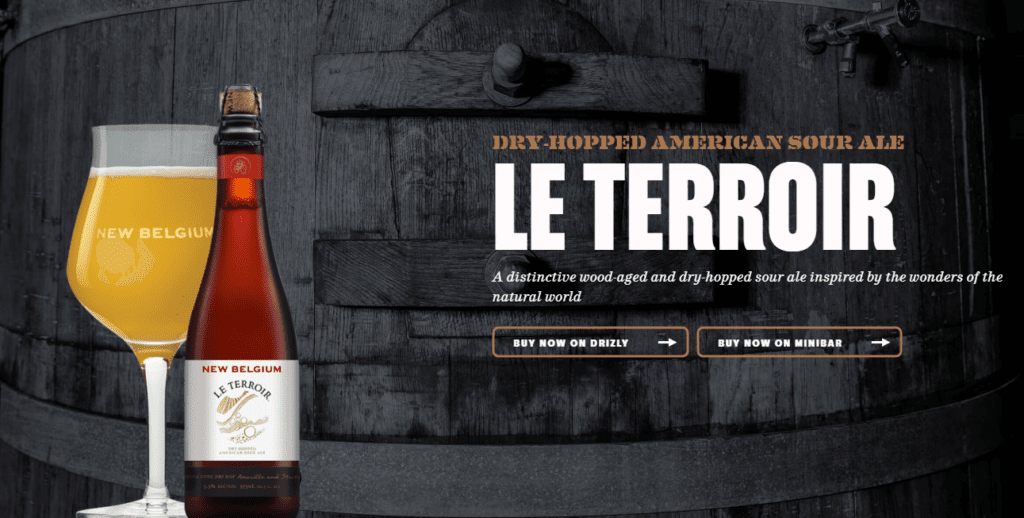 Le Terroir is a dry-hopped American sour ale from New Belgium Brewing in Fort Collins, Colorado. It's citrusy, tart, fruity, and a little funky.
I think the tart and hoppy combination will please Sour Monkey drinkers, and the fruitiness and slight funk are reminiscent of a Belgian-style beer. The one has a bit more of a sweet fruit flavor than Sour Monkey, and it's slightly lower in alcohol at only 7.5%. 
Allagash Tripel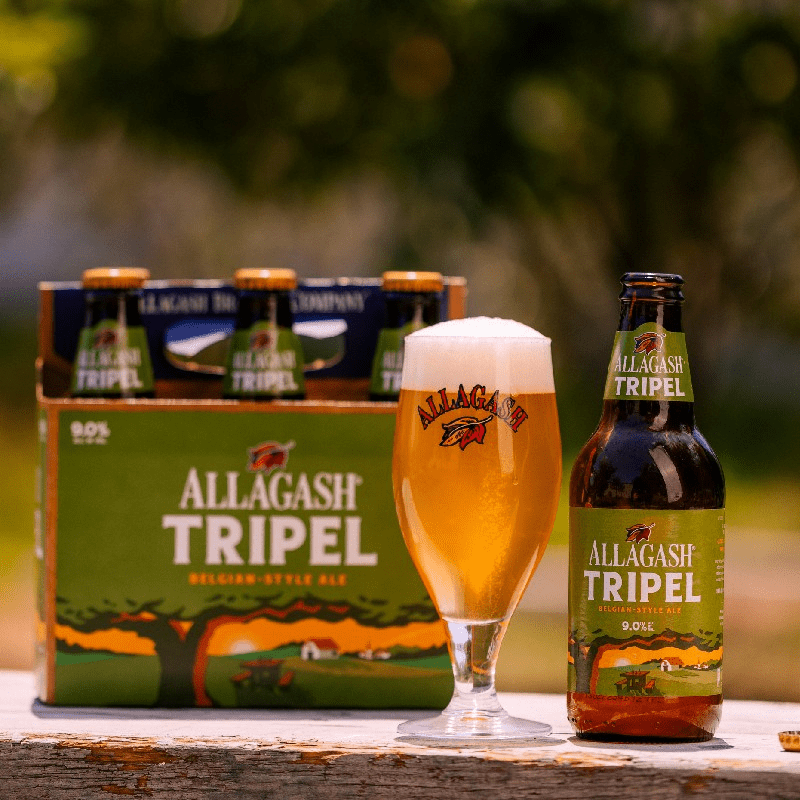 Allagash Tripel is another Belgian-style tripel brewed by an American craft brewery. This one isn't sour, but it is a little wild tasting. It tastes a little fruitier and slightly sweeter than Sour Monkey, though it is still reasonably dry.
It's got a similar ABV (9%) to Sour Monkey, but this beer definitely leans more toward a traditional Belgian tripel with its spice and yeasty flavors. 
Other Victory Beers to Try
Brotherly Love Hazy IPA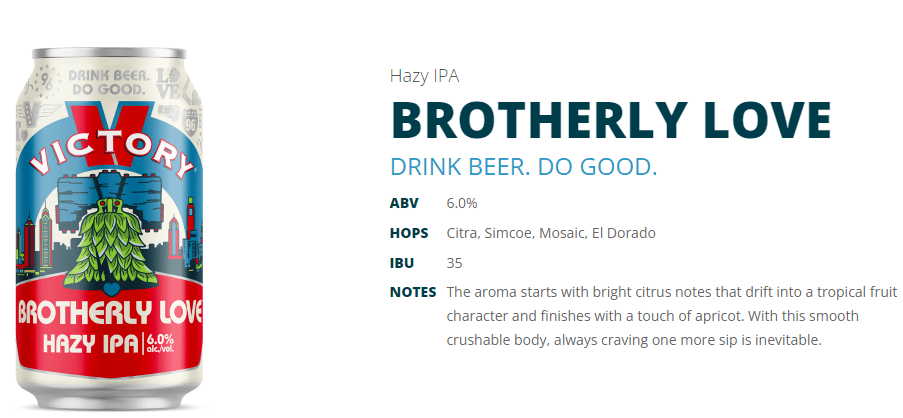 Brotherly Love is one of my favorite Victory beers, and not just because I'm a Philly girl. It's a bright, crushable IPA with a ton of citrus and tropical fruit flavors. This is an excellent "any time" IPA that's full of flavor but still easy to drink. 
Prima Pils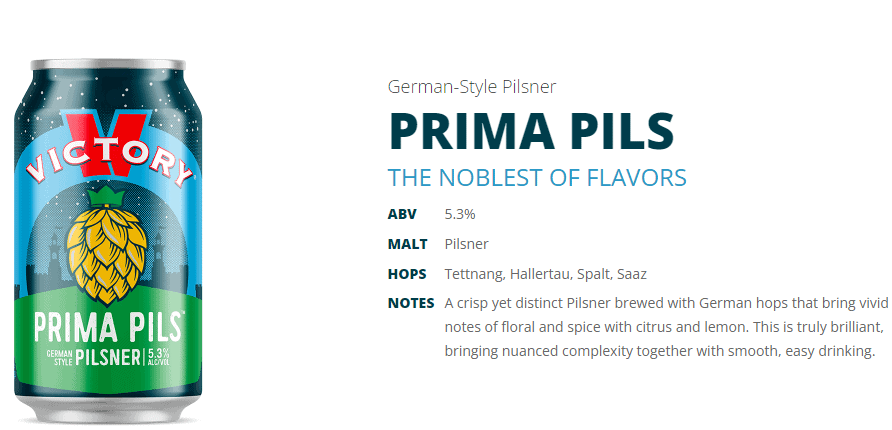 Prima Pils is my other favorite Victory beer, and it was actually my first love from the brewery. It's a super crisp German-style pilsner that's light and delicately hoppy. It has some floral and spice notes and a hint of citrusy brightness. I could drink this beer anytime and anywhere. 
Summer Love Golden Ale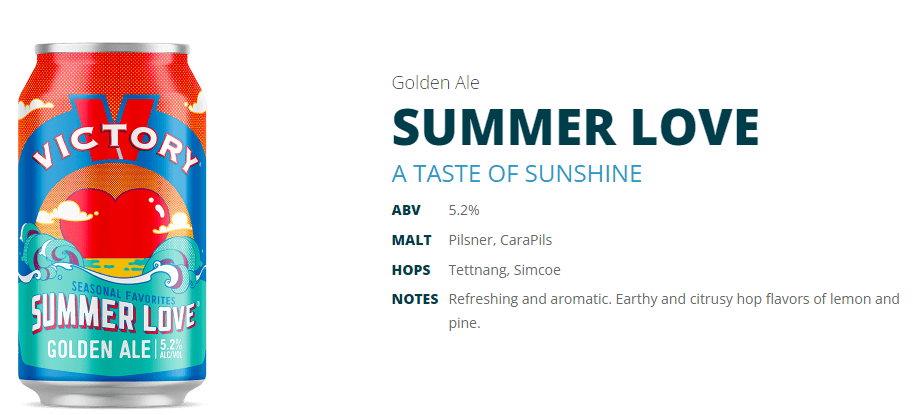 Summer Love is a very drinkable crowd-pleasing beer. It's well-balanced and refreshing. It's hoppy enough that hop-heads will be pleased, but it's not so hoppy that it's off-putting for people who prefer malty beers. The last time I had this beer, I was poolside at a friend's house, and it was absolutely perfect. 
FAQs
Question: What flavor is Victory Sour Monkey?
Answer: Victory Sour Monkey is moderately tart, dry, and hoppy with notes of citrus and tropical fruit.
Question: What kind of beer is Victory Sour Monkey?
Answer: Victory Sour Monkey is a sour Belgian-style Tripel brewed with pilsner malt and tettnang hops. Although it can be categorized as a Tripel, it's a unique brew that merges different styles of beer.
Question: What is a tripel beer?
Answer: A Tripel is a Belgian style of beer. It's a strong pale ale that usually falls between eight to 12% alcohol by volume. Tripels tend to be fruity, bready, yeasty, and complex.
Final Thoughts
As I said before, Sour Monkey is a unique, dangerously crushable beer. It really isn't quite like anything else out there, and while the combination of flavors and tastes feels a little shocking, it's still a well-balanced beer.
I would definitely bring a six-pack of this to a friend's house or enjoy one at happy hour. I think it would be fun to get the whole "monkey" lineup and do a tasting with friends!