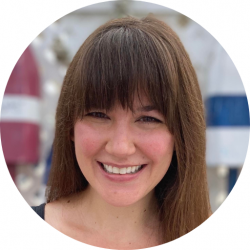 Latest posts by Lauren Vigdor
(see all)
I spent more than a decade working in bars, and I had the opportunity to meet and serve all sorts of people with all different tastes. When I moved from a position as the beverage director of a craft beer bar in a city to bartending on a rooftop in a small resort town, I was surprised at the realization that craft beer isn't always everyone's favorite. 
A lot of the people that I served just wanted something light, easy to drink, and familiar. Still, there will always be patrons looking for flavorful craft beer, and it was my job to please guests on either side of the line.
I have to say, Blue Point Toasted Lager effortlessly walks that tightrope. Give it a blindfold and a unicycle, and it's still not falling off. It's a perfect balancing act of accessibility, drinkability, and craftsmanship.
I'll tell you all about it in my Blue Point Toasted Lager review below. 
Bottom Line Up Front
Blue Point Toasted Lager is an American Amber Lager brewed by Blue Point Brewing Company in Patchogue on the South Shore of Long Island, New York. It's a well-balanced, easy-to-drink, malty lager that's brewed with a proprietary lager yeast and six different malt varieties.
Blue Point Toasted Lager Key Features
Style:

American Lager

ABV:

5.5%

IBU:

28

Color:

Amber/copper

Aroma:

Fruity malt, toasted grain

Flavor:

Toasted grain, toffee, apple, and a little bit of pepper

Mouthfeel:

Light, barely approaching medium body

Yeast:

Lager (a proprietary strain)

Hops:

American hops, including Mt. Hood and crystal

Malt:

English pale, Munich, crystal, wheat, carapils, and Belgian caravienna

Brewed In:

New York, USA
Where It All Began
Blue Point Toasted Lager is actually the flagship beer of Blue Point Brewery and the one that kicked off their enterprise. The brewery was started by friends and homebrewers Mark Burford and Pete Cotter. The two noticed a gap in the local craft beer scene of their hometown of Long Island, New York, and jumped on the opportunity to start their own brewery.
The pair pieced together most of their brewing equipment by bidding at auctions and ended up with a direct-fire brick brew kettle. The direct flame of the brew kettle gave Toasted Lager its signature toasted flavor.
In 2014 Blue Point partnered with Anheuser-Busch InBev, the multinational company behind Budweiser, Stella Artois, and so many other beers. AB InBev partners with craft breweries like Blue Point through their craft business unit, Brewer's Collective. Other craft breweries in the family include Goose Island and Wicked Weed.
If it bothers you that a giant corporation now owns Blue Point, that's completely justified. However, the brewing, management, and operations for Blue Point are all still based in Patchogue. The biggest change to an average drinker is the fact that the beer is now much more widely distributed than it was when they remained independent.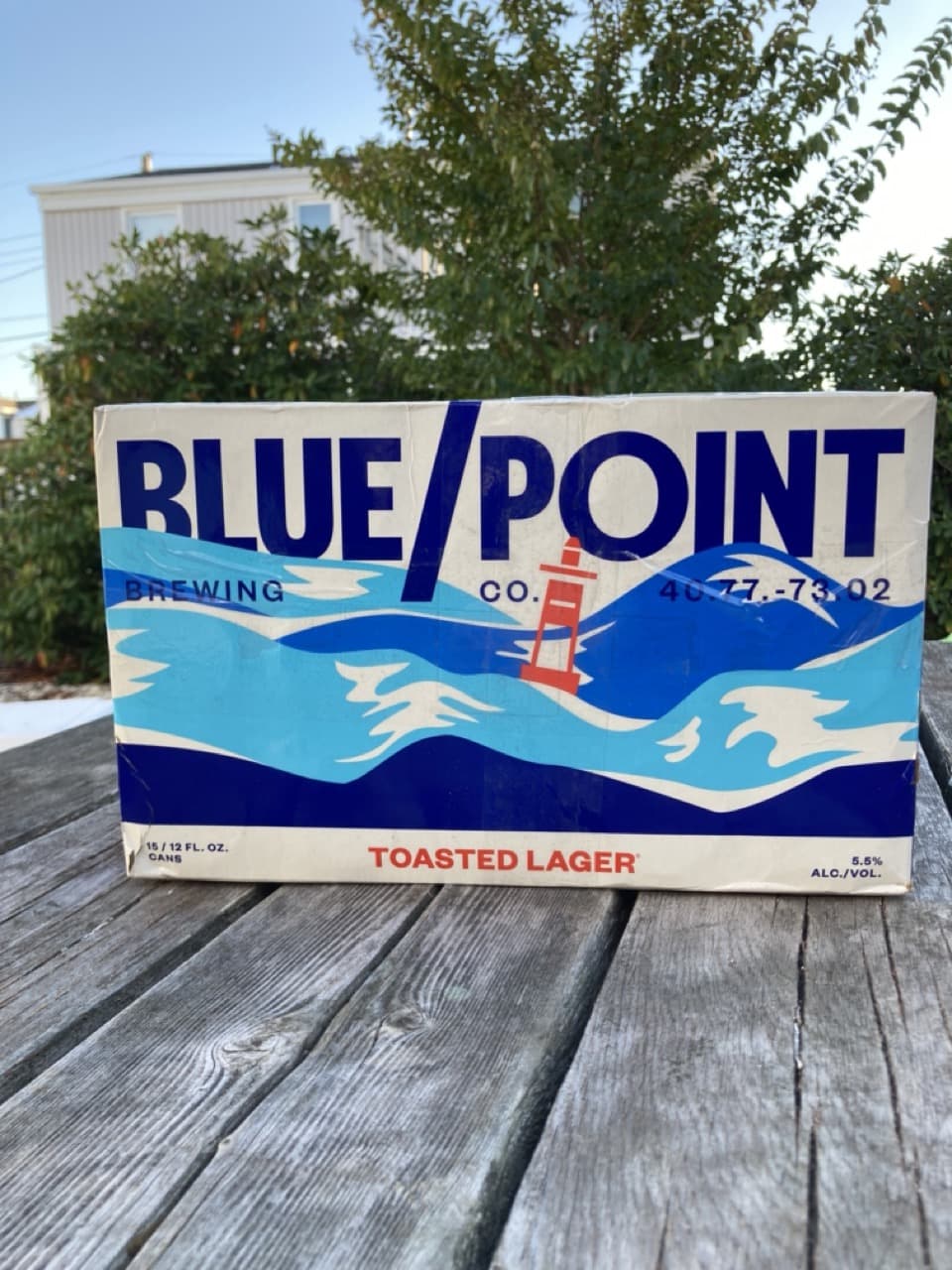 What Exactly is Blue Point Toasted Lager?
Toasted Lager is an American amber lager, a fairly popular beer style in America. American amber lagers tend to strike a very drinkable balance between maltiness and hoppiness, and of course, they sport a signature amber color. Toasted Lager is a pretty accurate representation of the style. 
If you've never tried an American amber lager, Vienna lagers and German Oktoberfests are both similar styles of beer. If you like either of those, you'll probably enjoy Blue Point Toasted Lager. Just note that some American Oktoberfests tend to be sweeter or spicier than the classic German Marzen styles that I'm talking about here, and you shouldn't expect that from this beer. 
Blue Point Toasted Lager is brewed with a proprietary strain of lager yeast, a ton of American hops, including Mt. Hood and crystal, and six different specialty malts:  English pale, Munich, crystal, wheat, carapils, and Belgian caravienna. Most of the "toasted" flavors come from these malts, but the beer was originally brewed in a flame-fired kettle.
The direct firing of the kettle added some toastiness (and a lot of good old-fashioned aesthetics) to the beer. Toasted Lager is also fermented slightly warmer than a typical lager, which helps to highlight some of the beer's fruity aromas. 
Awards
Toasted Lager has won numerous awards, including a World Beer Cup Silver Medal in 2004 and a World Beer Cup Gold Medal in 2006. The beer has several silver medals from the Great American Beer Festival competition and placed first in its category at the Great International Beer and Cider competition several years running.
Blue Point Toasted Lager Review and Tasting
I decided to order some Toasted Lager through Drizly since I was also looking for another beer that I was having trouble finding in stores near me. I placed an order late at night for delivery the next day. The beer arrived the next morning in a cardboard box filled with packing peanuts.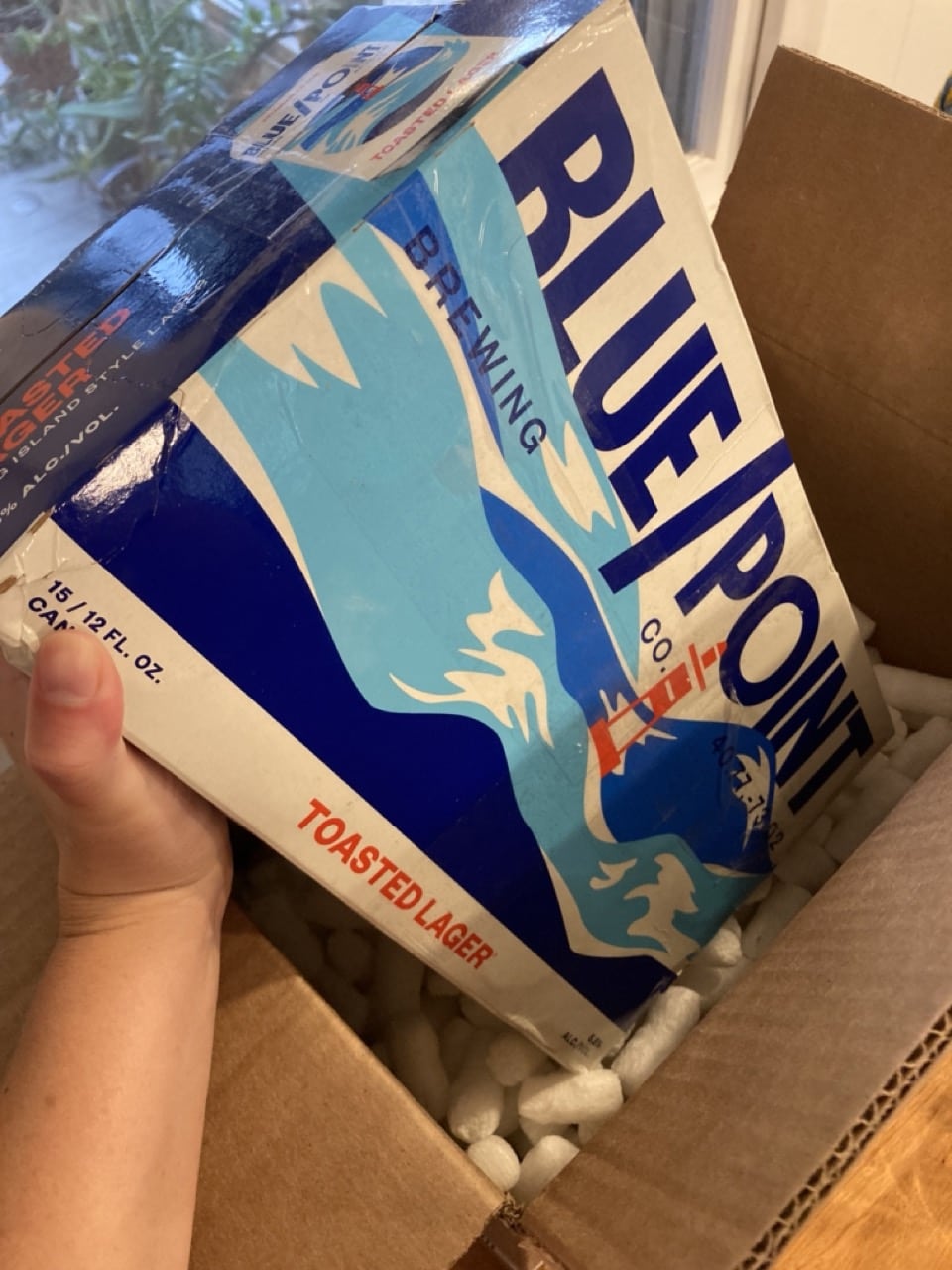 I got a 15-pack of 12oz cans. The packaging design for this beer is impeccable. I love everything about it, from the colors to the font, to the buoy design.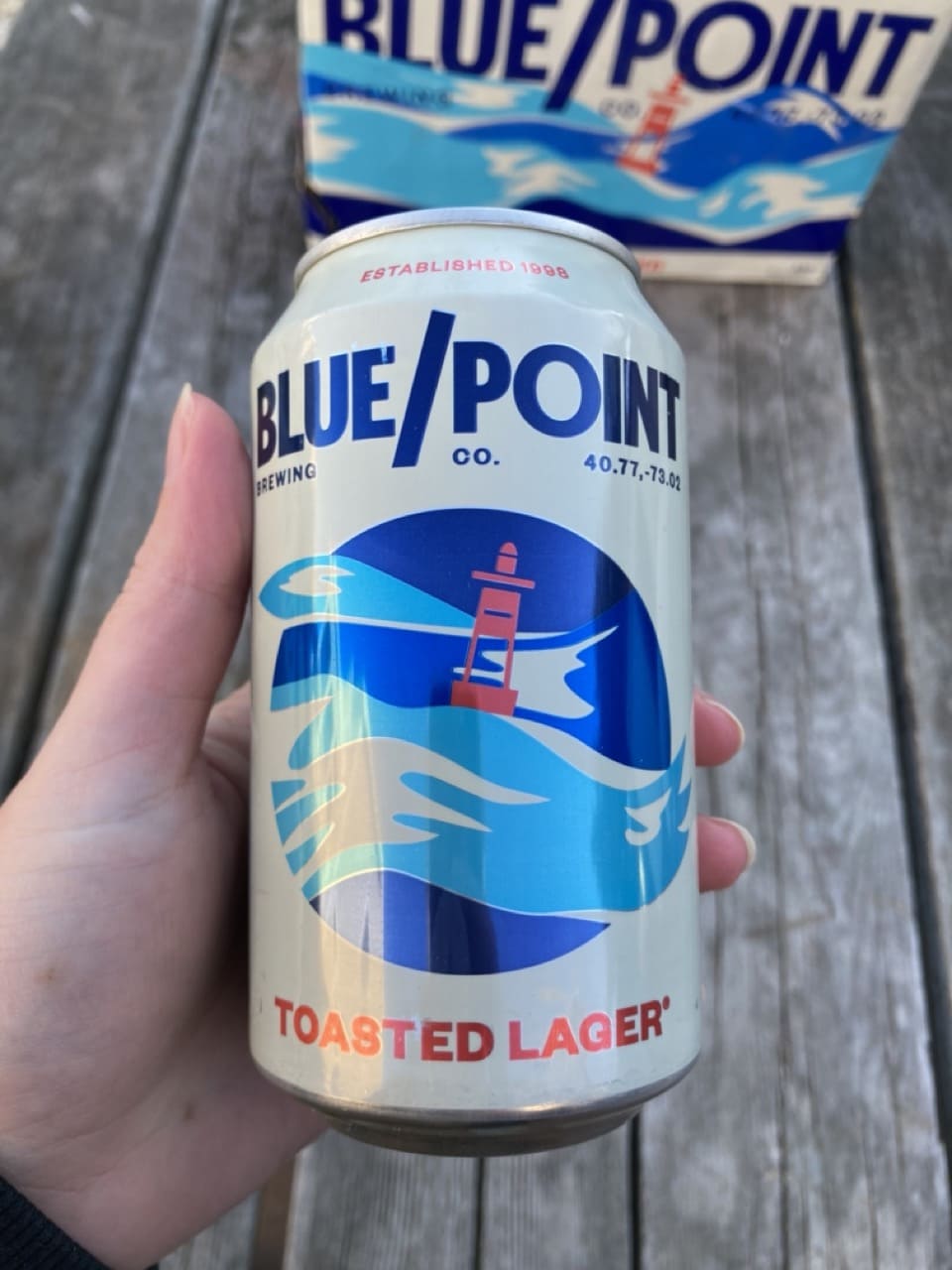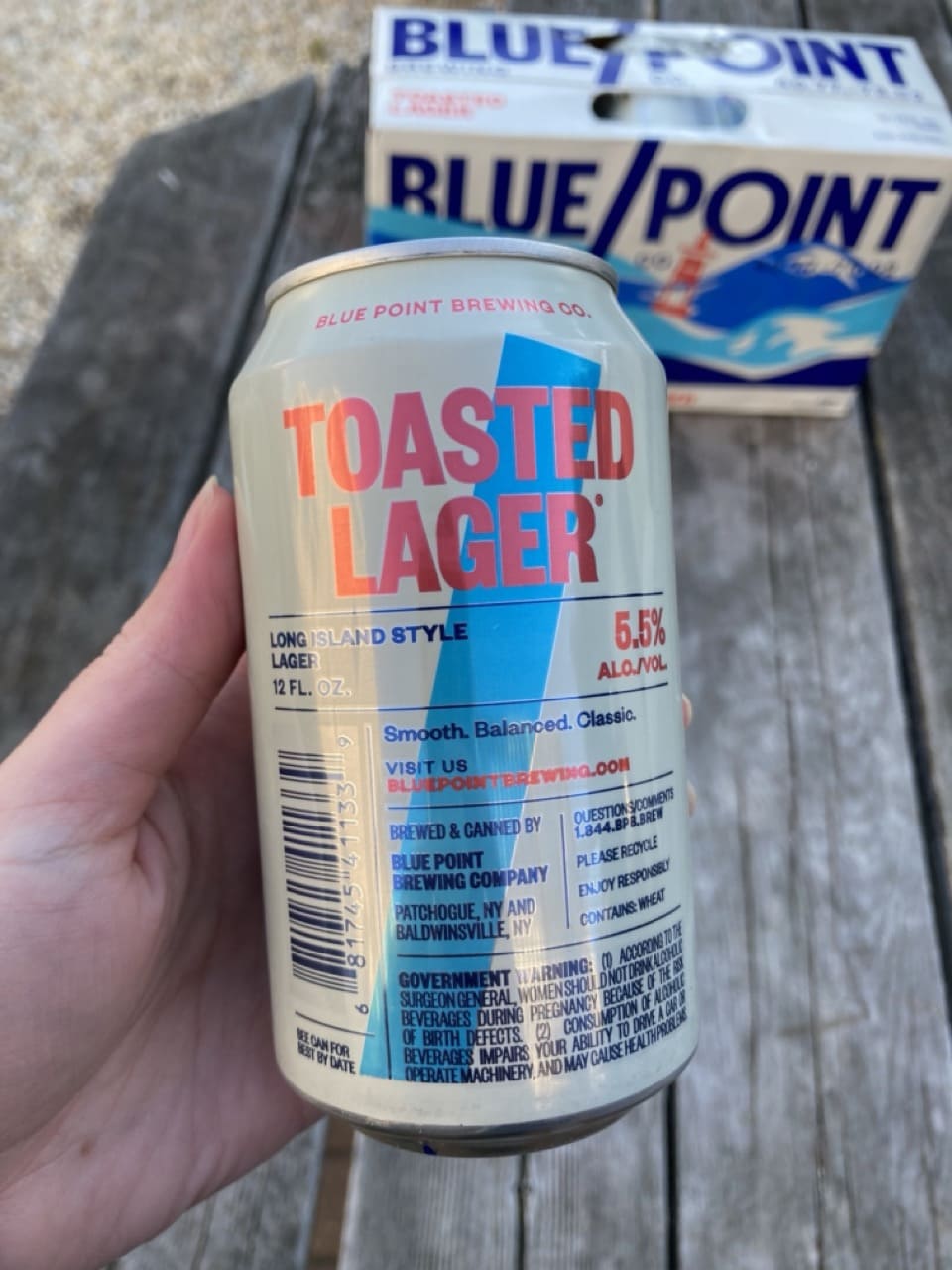 I'm sure I must have tasted this beer before since I've had several from Blue Point's core lineup, but I was having trouble remembering much about it before going into the tasting. The name "Toasted Lager" made me think of a Vienna-style lager, so I assumed I was about to taste a malty, smooth, amber-colored beer. Besides that and what I already knew about the brewery, I didn't have other preconceptions.  
Appearance
As I suspected, the Blue Point Toasted Lager is an amber color. More specifically, it's a clear, reddish-amber color. I was actually surprised at how much of an orangey tint the beer had to it. It's almost a copper color.
I poured the beer into a pint glass and noticed that while it was effervescent, the beer didn't generate much of a head. What little head there was dissipated relatively quickly, but when I swirled the beer, it did leave some lacing on the side of the glass.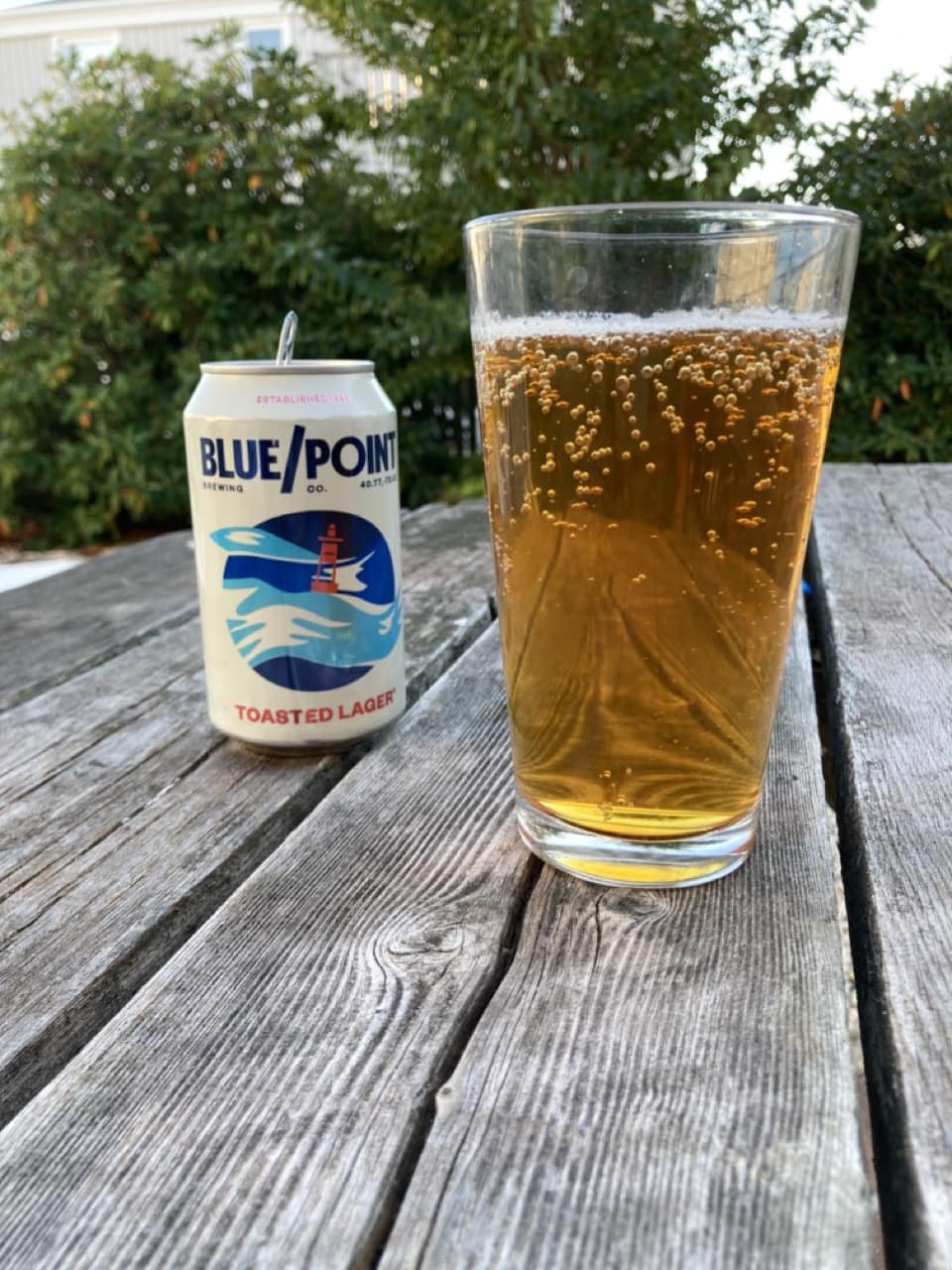 I later poured another can into a pilsner glass for a second tasting. This time I was able to get more foam out of the beer. It had about half an inch of cream-colored head that was surprisingly velvety in texture. This time the beer left almost no lacing on the glass. 
Aroma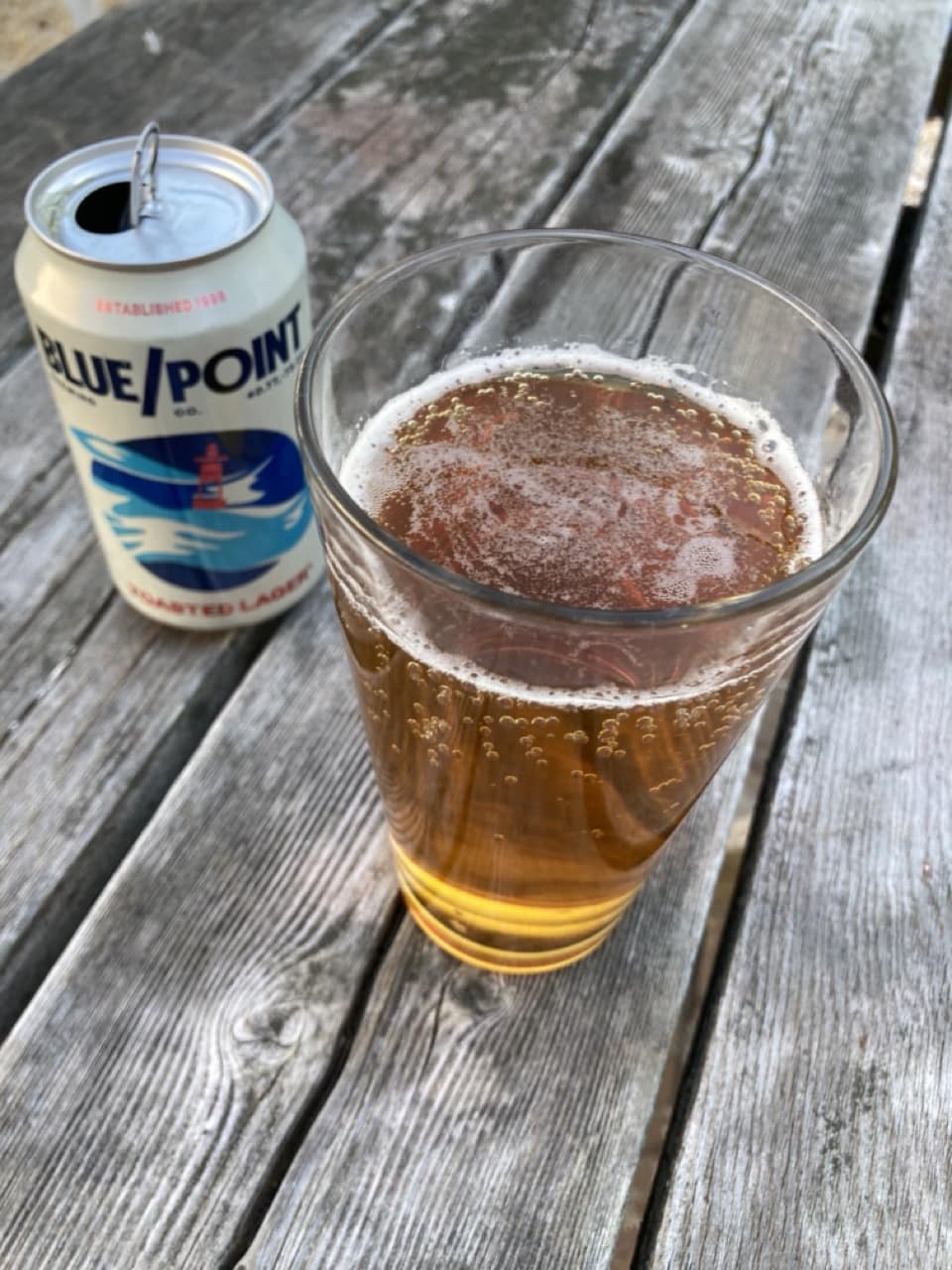 The beer had that sweet, yeasty lager smell that always takes me back to my mornings setting up the bar before service. It really just smelled like a cozy local pub. I smelled a lot of fruity malt and some toasted grain. 
Taste and Mouthfeel
This beer is super clean and smooth! I didn't really detect much bitterness when sipping it. It had a pleasant toasted malt flavor, though it wasn't as bready as I expected it to be. I noticed some caramel and toffee flavors, as well as toasted grain. There was a little bit of fruitiness and a bit of pepperiness to it. I also detected a hint of apple and some hop character underneath. 
It was a little thinner on my palate than I was expecting, and I actually wished it had a bit more weight to it. It was very effervescent and left a tingly, peppery sensation on my tongue. 
It lingered on my palate for quite a while and had a mostly pleasant, dry finish. I did get a slight bit of bitterness when it warmed up, which I didn't mind, and there was a hint of a metallic aftertaste that I didn't love but was forgivable. It reminded me a bit of the coppery aftertaste I associate with Modelo. 
Contrary to popular belief, those metallic flavors don't come from the can. What I tasted most likely came from minerals and metals in the water used for brewing this beer, which I guess is a way to add some local character to a brew!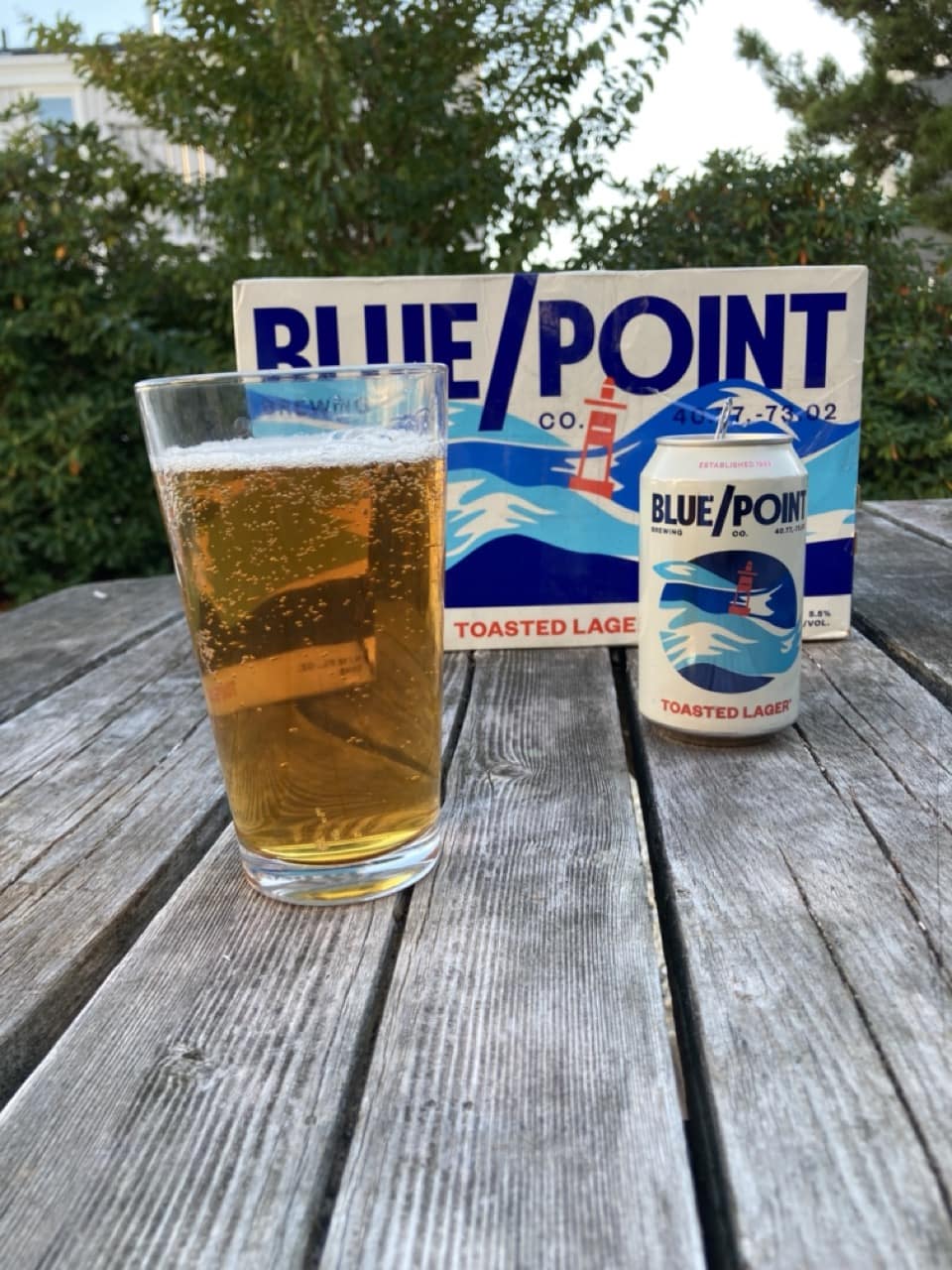 Finish
The beer finished super clean with just a bit of astringency. I noticed a little bit of a hoppy bitterness at the finish, as well as the slightest hint of that coppery taste I mentioned earlier, but it was overwhelmingly clean and easy to drink. 
My Thoughts
At 5.5% ABV, this is a great "anytime" beer. It's exceptionally clean-tasting and very easy to drink, and you could easily drink a few in a row without destroying the rest of your evening. 
I thought this was a very flavorful beer, especially when compared to other beers of the same style and price point. I could definitely see myself enjoying a pint or two of this alongside a plate of fried calamari on a warm afternoon. 
Blue Point Toasted Lager Pros and Cons
Pros
It's a well-balanced beer that's very easy to drink.

It's very affordable, especially for something that still feels like a craft beer. 

Toasted Lager is widely distributed beyond New York and can even be found in parts of Europe or Asia. 
Cons
This beer suffers from an issue that plagues a lot of craft beers that get bought out by large corporations; it's too "craft" to be big but too big to be "craft." This doesn't affect what the beer tastes like so much as its reputation. 

Toasted Lager might be too malty for light lager fans.

It might not be unique or interesting enough for some craft beer drinkers. 
Where to Buy Blue Point Toasted Lager
Toasted Lager is available in more than 20 states and in several countries, including Germany and China. Though you'll probably have better luck finding it the closer you are to New York, Blue Point has a beer finder feature on their website that allows you to search for their products within up to a 20-mile radius.
They also offer direct delivery to locations in New York. I would also recommend checking out Drizly to see if the beer can be delivered to you. I ordered mine through them, and it arrived quickly and undamaged. 
Toasted Lager generally runs about $10.99 for a six-pack, though prices will vary depending on your location and where you purchase it. I paid just under $20 for a 15-pack, which seems pretty consistent for my area.
It's not quite as cheap as Budweiser, but it's priced several dollars below what I normally expect to pay for a six-pack of craft beer. The beer is available in both 12oz cans and bottles as well as on draft. 
Recommended Alternative Beers
If you're having trouble finding Blue Point Toasted Lager, or if you liked it and want to try something similar but different, consider one of the following beers. 
Samuel Adams Boston Lager
Boston Lager is the original American craft lager. This beer pretty much single-handedly changed the game for the American beer scene. It's become so ubiquitous now that some of us tend to forget that, and while it may not be a very exciting beer, it's solid and very drinkable, just like the Toasted Lager.
"Sam Adams," as it's most commonly referred to, is very similar to Toasted Lager in color, ABV, and IBUs. It shares a similar clean maltiness but has a slightly more bitter hop flavor.
Victoria Lager
Victoria Lager is allegedly the oldest beer brewed in Mexico. It's a light-bodied Vienna-style lager that's very refreshing and easy to drink. It's lighter in body and less flavorful than Toasted Lager, but it's got a lot of the same toasty and fruity notes. It makes a great lighter, slightly lower ABV alternative since it clocks in at just 4%.
Cape May Oktoberfest
Cape May Oktoberfest is an American-brewed Märzen-style lager from Cape May Brewing Co in New Jersey. It's very similar tasting to Toasted Lager, though I have to say I slightly prefer this one to the Blue Point beer. It's a little heavier in body and very full of flavor. Unfortunately, it's seasonal and not as widely distributed as Blue Point Toasted Lager.
Other Blue Point Beers to Try
Imperial Sunshine
Imperial Sunshine is a strong, citrusy blonde ale brewed with orange. It smells like orange soda and tastes like honeyed orange juice with an alcoholic punch. At 9.6% ABV, it's as dangerous as it sounds.
Pinstripe Pilsner
The Pinstripe Pilsner is a crisp, refreshing pilsner that's perfect for day drinking. I like my pilsners super dry, so this is a touch too sweet for me, but it's very clean and definitely crushable.
Summer Ale
Blue Point's Summer Ale is a refreshing, low-ABV blonde ale that's perfect for day drinking when the weather is nice. It's brewed with a combination of wheat and barley malt. It's clean and wheat-forward with a bit of citrusy tartness.
Blueberry Ale
Surprisingly, Blue Point brews its blueberry beer, Blue Point Blueberry Ale, year-round. It's a light, malty golden ale made with fresh blueberries. It's sweet, fruity, and very drinkable. 
FAQs
Question: What type of beer is Blue Point Toasted Lager?
Answer: Blue Point Toasted Lager is an American amber lager. It tastes very similar to a Vienna-style lager. 
Question: What does lagering a beer mean?
Answer: The word lager actually comes from the German word meaning "to store." Lagering a beer is the stage when a beer is stored at a cool temperature to further mature. Lagering is usually done in large tanks and can result in a clearer beer that's crisp and clean tasting. 
Question: What is the difference between pilsner and lager?
Answer: A pilsner is a type of lager, so all pilsners are lagers, but not all lagers are pilsners. Pilsners are hop-forward lagers brewed with pilsner malts. The category can be broken down even further; for example, Czech-style pilsners are made with Saaz hops. You can read more about the difference here! 
Final Thoughts
Blue Point Toasted Lager is a great anytime beer. It's incredibly accessible, and though it might not be the most exciting beer on the shelf at any given time, it's one you'll probably reach for regularly. In fact, I'm going to crack one open right now!