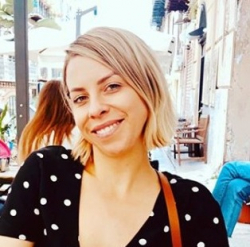 Latest posts by Jodie Chiffey
(see all)
Mandarina brings together traditional German noble elements with modern fruity and zesty flavors to create a well-balanced hop.
In this Mandarina hops guide, I will look at how this hop performs when used in various homebrews such as Pilsners, IPAs, and Lagers.
I'll look at what hops would go well with Mandarina to create tasty homebrews while also exploring a few alternatives, including one of its parent hops, Cascade. I'll also answer some common questions about Mandarina hops towards the end.
Bottom Line Up Front
If you want to move out the common grapefruit finish of IPAs and Pale Ales and replace it with a tangy tangerine finish, consider Mandarina hops in your homebrews.
I find this German hop brings together traditional noble elements alongside a modern American twist that will help you to create some unique and zesty ales, lagers, and pilsners.
Pros
Has an excellent flavor profile, including strong hints of tangerine
Combined noble elements with modern fruity notes
Works great alongside other hops in IPAs and pale ales
You can craft up some unique lagers and pilsners with this hop
Cons
You can't grow this hop at home
History of Mandarina Hops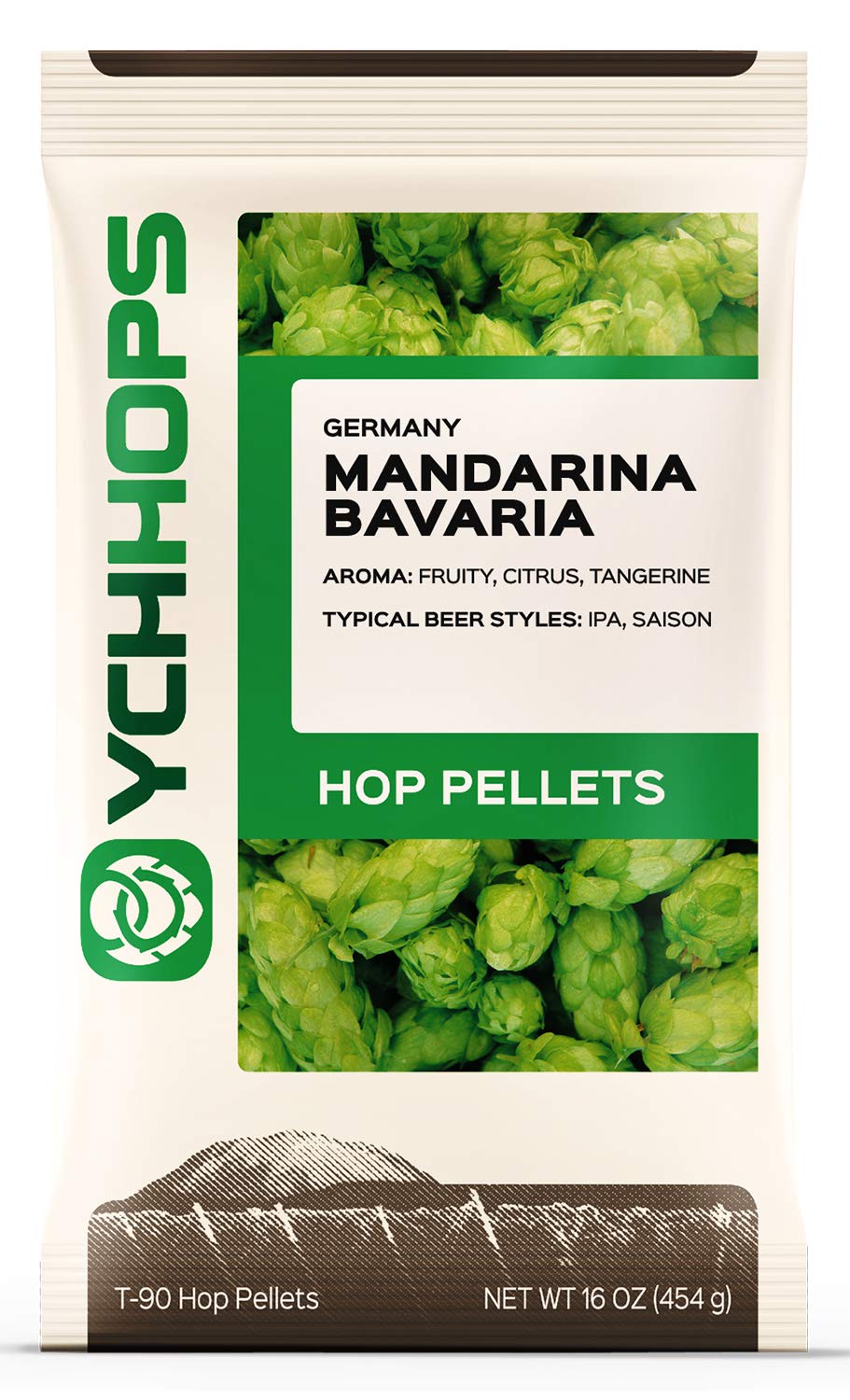 Mandarina hops are the daughter of Cascade, so you would expect some similar flavors and notes. The hop was bred to replicate the fruitier and citrusy tastes of many American hops that you find in pale ales and combine this with a more traditional German noble flavor – mainly woody and spice aromas.
The Mandarina hop was released in 2012, and since then, it has brought together the older noble notes combined with a new, zesty, and fruity punch to many beers, ales, and lagers.
Flavor Profile
As I mentioned above, the idea behind this hop was to combine noble elements with the fruity and citrusy flavors you find in many American hop varieties.
One of the first things you will notice about Mandarina hops is the citrus and fruit aroma, and it has both of these in abundance. The higher myrcene content (these hops typically have around 70-72% Myrcene oil) is a testament to the citrus aroma.
However, this hop also has many other complex flavors, and I have found strong notes of gooseberry, strawberry, and blackcurrant.
Overall, this hop does have a light and zesty finish, with tangerine being another prominent flavor alongside lemon, pineapple, and some lime.
In keeping with the noble tradition of German hops, there is some earthy and spice, but it certainly isn't its main characteristic. You won't find a similar flavor profile to Hallertau Mittelfrüh, for example, featured heavily in Lowenbrau lager, but some noble elements remain.
How to Grow Mandarina Hops
Unfortunately, you won't be able to grow Mandarina hops at home.
The hops are protected by plant property rights in the EU, so this means you can't get hold of the rhizomes or the hop plants. This doesn't impact the availability of buying the pellets or cones you need to make some tasty homebrews with Mandarina, but if you were hoping to grow this hop yourself, you're out of luck.
What Kind of Beers can You Make from Mandarina Hops?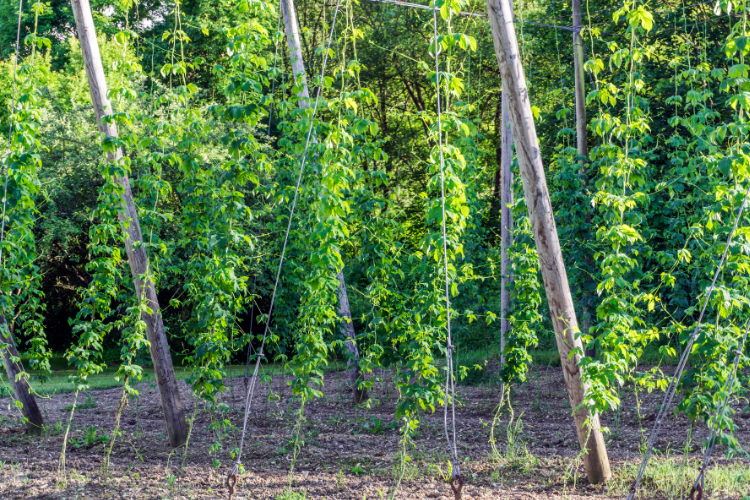 The combination of older traditional noble hop flavors and the newer zesty finish opens the door to using Mandarina hops in various homebrews.
One thing I love about certain hops is that you can experiment with them to great effect. Some hops do suffer from slight restrictions in that they only work well in certain types of drinks (for instance, pale ales or IPAs).
However, Mandarina hops do have an element of diversity about them. These are the types of homebrews you can conjure up with this interesting German hop:
IPAs
The American-centric flavors in Mandarina hops mean you can craft some tasty IPAs, as many flavors are ideal for this type of beer.
The fruity notes of lemon, lime, tangerine, and citrus, combined with some darker berries such as blackcurrant and lighter notes including strawberry and gooseberry.
I have found some hops that can be used alongside the Mandarina hop in IPAs, including Mosaic and Citra. Mosaic features some tropical fruit notes alongside pine needles, and you will find certain stone fruit flavors in his hop too. You can create an intensely fruity IPA with a punch when combined with Mandarina.
I think you could also throw in Centennial, Simcoe, or Amarillo with Mandarina, as they should complement each other.
I have tasted IPAs that only use Mandarina hops as a single hop, and while they did taste pretty good, I would lean towards adding something else into the mix.
If you want a particularly hoppy IPA with more robust flavors, look at beers using Mosaic, Citra, or Centennial alongside it, such as New Belgium Voodoo Ranger Juicy Mandarina IPA.
Deschutes Fresh Haze is an IPA that uses Mandarina with Simcoe and Amarillo and you can read my full Deschutes Fresh Haze review to find out more.
Pale Ales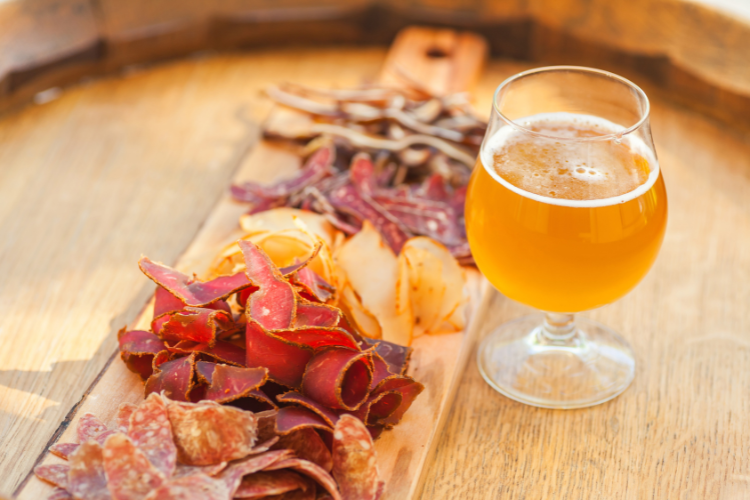 Pale ales are another homebrew that I believe Mandarina is a good hop to consider, especially as its aim is to replicate lighter and fruity American flavors.
My guide on the difference between IPAs and pales ales might be helpful if you aren't 100% on how these two drinks differ.
Mandarina hops have many flavors that would suit the softer finish to pale ales, and I feel like it would bring something new to the table for many homebrewers. Mandarina Bavaria from Avant-Garde Aleworks is an excellent example of a single hop pale ales that use Mandarina hops.
Lagers
When you see the makeup of Mandarina hops, your mind will gravitate towards making IPAs and pale ales (mine certainly did); however, I think this hop works well in lighter lagers.
Vienna lagers, characterized by their malty flavor and golden colors, would be one lager I think Mandarina could prove to be very effective in. If you wanted to add a fruity and zesty edge to a lager, this hop is certainly worth consideration.
I don't think any of the flavors would overwhelm a lager as long as you use it in moderation. You will get that fruity and citrusy finish balanced off by a malty base that should work pretty well to create a unique homebrew lager that is a bit different.
Pilsners
Finally, Mandarina hops have been found to work great for pilsners, and I don't see any reason why you can't craft up some delicious homebrew pilsners with his hop.
The noble traditions of this hop fit in well with what you need for a full-bodied but light pilsner, and when you combine this will the more delicate fruity notes, it sparks an exciting combination.
The tangerine notes especially bring an added dimension to a pilsner, and the zesty finish will help to create the pale complexion you need. Again, you might not instantly think of a pilsner when you look at the flavor profile and aroma of Mandarina, but this hop is an excellent choice to add something unique to pilsners and lagers.
Acid and Oil Composition for Mandarina Hops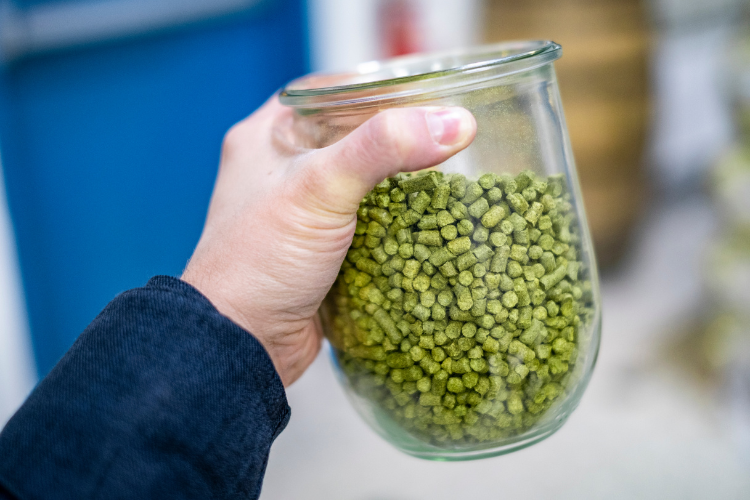 | | |
| --- | --- |
| ALPHA ACID (%) | 7-10.5% |
| BETA ACID (%) | 4.0-7.0% |
| Alpha-Beta Ratio | 1:1 – 3:1 |
| TOTAL OILS (mL/100g) | 1.3-2.2 mL |
MYRCENE

(flavors – citrus, fruit)

70-72%
HUMULENE

(flavors – wood, spice)

5-15%
CARYOPHYLLENE

(flavors – pepper, herbs)

1-5%
FARNESENE

(flavors – floral, fresh)

0-1%
Alternatives to Mandarina Hops
You might want to try something similar but a bit different to Mandarina hops, or maybe you are struggling to get your hands on some. Here are three alternatives you can consider.
Cascade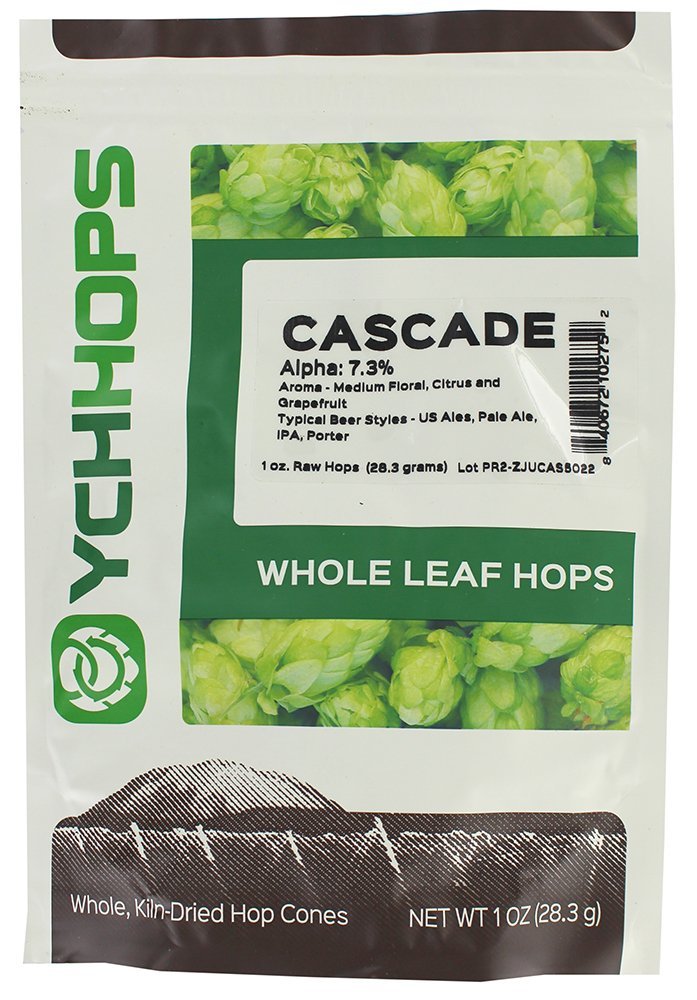 Mandarina is the daughter hop of Cascade, and this American is a solid alternative replacement.
Cascade – or the quintessential American hop as it is often known as – brings together similar flavors to Mandarina. The citrus content is quite similar, so you get that zesty finish, while Cascade also has the overall fruity aroma that is quite similar too.
One difference between these hops is that Cascade brings out the usual grapefruit flavors that I find in a lot of hops like this. This isn't a bad thing and helps to make the standard IPAs that we all know and love. However, you get a tangerine element to Mandarina that isn't as predominant with Cascade.
Cascade is one of the most versatile hops and you can use it to make a ton of tasty homebrews. This includes IPAs, pale ales, and pilsners.
Pros
Offers a similar flavor profile to Mandarina
Ideal for making different drinks including IPAs, pale ales, and lagers
Easy to find and one of the most popular American hops
Cons
Lacks the tangerine flavoring that is noticeable in Mandarina
Lemondrop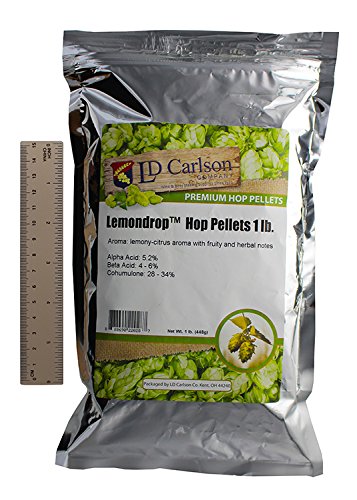 Another hop that could consider as a substitute for Mandarina is Lemondrop.
The citrus flavors are a little more intense with Lemondrop when compared to Mandarina, but you still get the impact of complex flavors. This includes many fruity notes such as mint and lemon and many tropical and stone fruits.
IPAs are top of the list regarding Lemondrop hops, and you can craft ales that pack a fruity punch similar to Mandarina. I would also recommend experimenting with this hop and using it in wheat beers and Belgian ales to mix things up a bit.
I like that this hop doesn't wholly overpower drinks with its citrus flavor, and it adds a nice zesty edge without ruining anything. If you are struggling to get your hands on Mandarina hops, Lemondrop should be on your list of alternatives, although it differs slightly from Mandarina and Cascade.
Check out our complete Lemondrop Hops Guide.
Pros
Packs a citrusy punch without being too much
Works well in various ales and lagers
Interesting hop that isn't used that often by many homebrewers
Cons
Lacks some flavors that you find in Mandarina
Perle (US)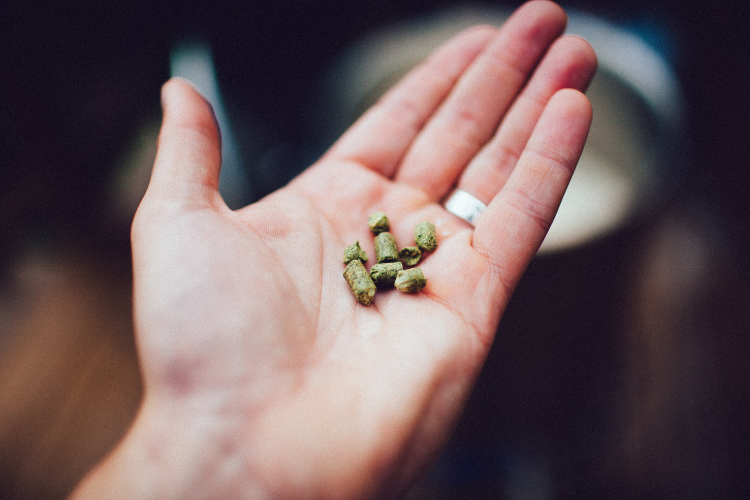 If you want to reduce the citrus flavors in a replacement for Mandarina hops, Perle (US) is a decent choice.
The higher Mycrene content in the US Perle version, when compared to the German variety, offers a good fruity finish, and you get many notes of tropical and stone fruit. This includes an almost mint complexion, and if you are still after that traditional German element, you find that with some spice and earthy notes.
The thing I really like about using Perle is its versatility because this hop works fantastic in a wide range of homebrews. You can utilize Perle in IPAs, lagers, and wheat beers, and I have found this hop can work in stouts as well to balance off darker flavors.
This is where Perle has an advantage over Mandarina, as the latter doesn't particularly work for a stout, but the former can do.
Pros
Can be used in a variety of homebrews including IPAs, lagers, wheat beers, and even stouts
Have mild citrus notes alongside tropical, stone fruit, and berry
Still retains a traditional German element
Cons
Like Lemondrop and Cascade, lacks the tangerine finish of Mandarina.
Mandarina Hops Guide: Frequently Asked Questions
Question: What do Mandarina Hops Taste Like?
Answer: Mandarina drops are defined by a tangerine flavor that replaces the usual grapefruit notes you find in hops of this type. Some other flavors you can expect with Mandarina include gooseberry, strawberry, and blackcurrant alongside a citrus finish.
Question: Do Mandarina Hops Work for Homebrew Beer?
Answer: Yes. While IPAs and pale ales are the main drinks you would associate with Mandarina hops, they can be used for lagers and pilsners. If you want to create lighter beers that have a unique finish, Mandarina is a hop that you should consider.
Question: Can Mandarina Work in Single-hop IPA Recipes?
Answer: Some IPAs have used Mandarina on their own. However, I would recommend bringing in other hops to complement it and provide a more well-rounded finish. Some hops that work with Mandarina include Centennial, Simcoe, Citra, and Mosaic.
Question: Is Mandarina a Noble Hop?
Answer: No. Mandarina is a German hop that combines noble elements such as spice and earthy tones supplemented with newer American flavors such as citrus, tropical, and stone fruit. The traditional noble hops are Saaz, Hallertauer Mittelfrüh, Tettnang, and Spalt.
Question: Can I Grow My Own Mandarina Hops?
Answer: Unfortunately not. Whereas most hops can be grown at home as you can pick up the rhizomes, this isn't possible with Mandarina. This hop is protected by plant property rights in the EU, although the pellets are easy to buy to use in your homebrews.
Conclusion: Mandarina Hops Offer a Twist for IPAs, Pale Ales, and Beers
If you are looking for a hop that provides a twist to many popular hops out there, such as Cascade, Centennial, Citra, and Simcoe, I would recommend putting Mandarina on your list.
This hop replaces the usual grapefruit flavor with an interesting tangerine finish alongside other tropical fruits and berries, with a good level of citrus present.
While undoubtedly, this hop works great in IPAs and pale ales (although I wouldn't use this in a single-hop IPA), you can utilize it in lagers and pilsners too.
I think Mandarina offers an excellent opportunity to experiment with some creative homebrew lagers and brings together flavors that you'll thoroughly enjoy working with.