If you want to find out everything you need to know about one of the most popular hop varieties in the United States, our Cascade Hops guide has the information you need.
Cascade Hops are present in some of the most famous commercial beers and ales, while they are also a firm favorite with many homebrewing enthusiasts.
This guide will look at what Cascade Hops taste like, how you can brew and store them effectively, and what alternatives are available on the market.
We will also answer some frequently asked questions about Cascade Hops.
What are Cascade Hops?
Cascade Hops were the most widely used hop until they were surpassed recently by Citra Hops.
Cascade has often been described as the "quintessential American hop" because they can trace their history back to the 1950s when the hop was first grown by Jack Horner at Oregon State University. The hop was released in 1971 and makes up about 10% of all the hops grown in the United States.
Homebrewers and commercial brewers use Cascade Hops in various drinks, including IPAs, ales, and even some lagers. There is also a New Zealand version of Cascade Hops that bears many similarities to American hop (although the New Zealand Cascade is known as Taiheke).
Flavor Profile
Cascade Hops offer a mildly bitter flavor to beers, ales, and IPAs. One of its uses is as a bittering and aroma hop.
You will also find a citrus taste to these hops with hints of floral and spice.
A defining feature of Cascade Hops is grapefruit, and while it isn't overpowering, you will undoubtedly notice its presence. This is why Cascade is often used in many IPAs and pale ales to deliver fruity aromas.
Some well-known commercial beers that use Cascade Hops include:
Mirror Pond Pale Ale from Deschutes Brewing Company
Sierra Nevada Pale Ale from Sierra Nevada Brewing Company
Liberty Ale from Anchor Brewing Company
Cascade – Ingredients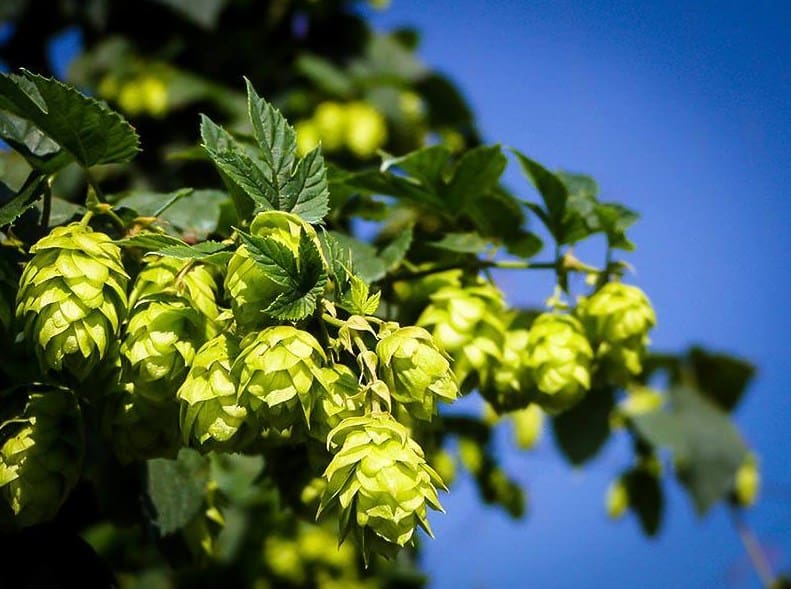 Cascade Hops contain several ingredients that help to provide a distinct and punchy flavor. They are pretty high in Mycerene, which is similar to East Kent Golding hops used to make ales with an English aroma and Whitbread Golding used in bitters and pale ales. The Mycerene gives them a fruity and citrus taste, while the Farnesene offers a floral and clean aroma. Grapefruit rind is what gives Cascade its unique grapefruit kick.
The mild bitterness of Cascade Hops comes from the high alpha variety acid, which is just the right amount to ensure that this doesn't overpower the beers and ales made from Cascade. The slight herbal aromas come from Caryophyllene, which is also present in these hops.
How to brew beer with Cascade Hops
Cascade Hops is an incredibly popular hop used in many well-known commercial drinks, and it is also prevalent in many homebrews. Unlike some other types of hops, you can grow your own Cascade Hops if you wish.
Growing Cascade Hops
Cascade rhizomes are widely available if you want to grow your own hops. However, growing hops can be complex if you have never done it before, so we recommend doing your research first.
There are many different resources online that show you how to grow hops correctly, and it might also be worth linking in with other local growers to get their expertise. This is a popular homebrewing ingredient, and you can find a lot of information to help you grow Cascade Hops.
The yield is generally low to moderate; however, the growth rate of Cascade Hops is often quite good.
Storing Cascade Hops
If you want to keep your hops fresh for use later on, you need to store them properly.
Cascade Hops don't have a great storage rating, so you should aim to use them as quickly as you can. After six months, they only retain 48% – 52% of alpha acids, and you will notice a decrease in quality and taste if you use them beyond this time. This is similar to many other hops such as Mt. Hood hops and Styrian Golding hops, so it isn't just limited to Cascade.
The best method of storing Cascade Hops is to put them into an air-tight bag (a freezer bag is ideal) and ensure that they are kept in a dry place at around 20°C.
When to add Cascade Hops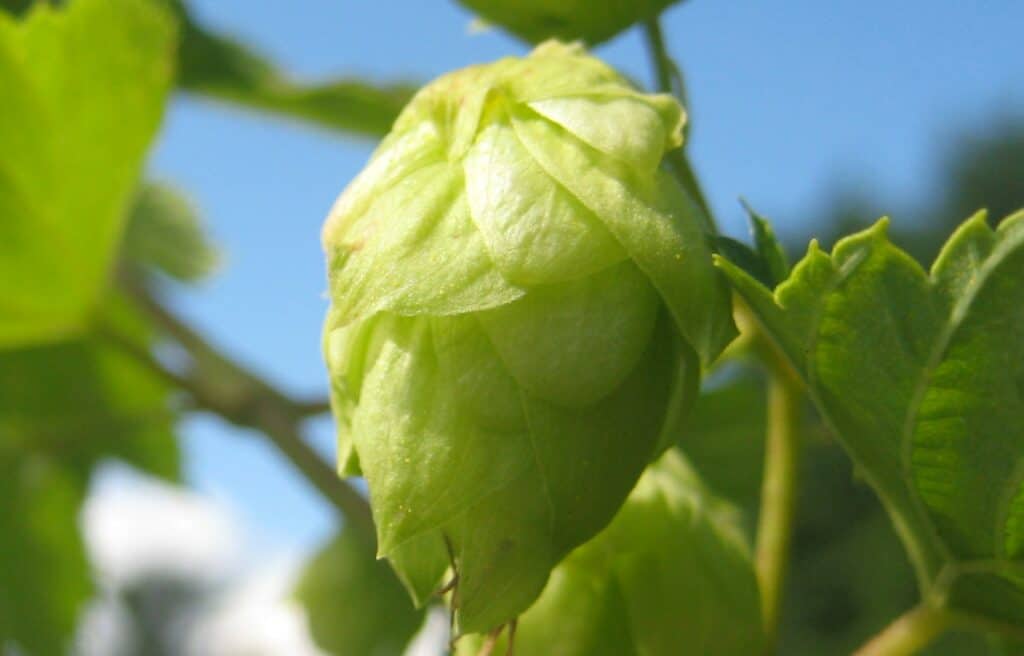 Cascade Hops are considered to be a dual-purpose hop that can be used as an aroma hop to add a unique flavor to beers and ales. This hop can also be used in the bittering part of the brewing process.
A common method of using Cascade Hops is to boil them in 500ml of water for five minutes before adding to the beer. If you are using Cascade as an aroma hop, it is normally added to the beer with 15 – 30 minutes left in the boil as this will keep the crisp flavor but won't add much bitterness.
Complimentary Hop Varieties
Cascade Hops work great with some other hops to make excellent tasting beers and ales.
One hop that is often utilized in conjunction with Cascade is Simcoe. Simcoe Hops provide a smooth bitterness that can add to the flavor of Cascade, and you will also come across notes of apricot, passion fruit, pine, citrus, berry, and grapefruit. Another hop that has been shown to complement Cascade is Amarillo Hops. This unique hop variety was discovered purely by chance and provides a strong citrus taste alongside peach, apricot, melon, lemon, and orange notes.
To create a unique ale with a pleasant aroma, some brewers combine Cascade with the German hop, Hallertauer Mittelfruh. The noble characteristics of this hop with its spicy finish are ideal for making a wheat beer or pale ale with Cascade.
You can also use Cascade hops alongside Columbus Hops. Columbus Hops have a punchy finish with fresh citrus notes, and they are perfect for American Pale Ales.
Acid & Oil Composition
Acid Composition
| | |
| --- | --- |
| ALPHA ACID (%) | 5.0 – 8.0% |
| BETA ACID (%) | 5.0 – 7.5% |
| ALPHA-BETA RATIO | 1:1 |
| HOP STORAGE INDEX | 48%-52% |
| CO-HUMULONE AS % OF ALPHA | 33 – 37.5% |
| TOTAL OILS (mL/100g) | 0.7 – 2.0 mL |
Oil Composition
MYRCENE

(flavors – citrus, fruit)

45 – 60%
HUMULENE

(flavors – wood, spice)

8 – 16%
CARYOPHYLLENE

(flavors – pepper, herbs)

4.0 – 9.0%
FARNESENE

(flavors – floral, fresh)

4.5 – 8.5%
ALL OTHERS (including linalool, β-pinene, geranoil & selinene)
1 – 34.1%
Cascade Hops – Alternatives
Even though Cascade Hops are easy to buy, there are some alternative hops that you can use in their place. While they won't provide the same flavor as Cascade, they do a great job as a substitute for fantastic tasting beers and ales.
Centennial Hops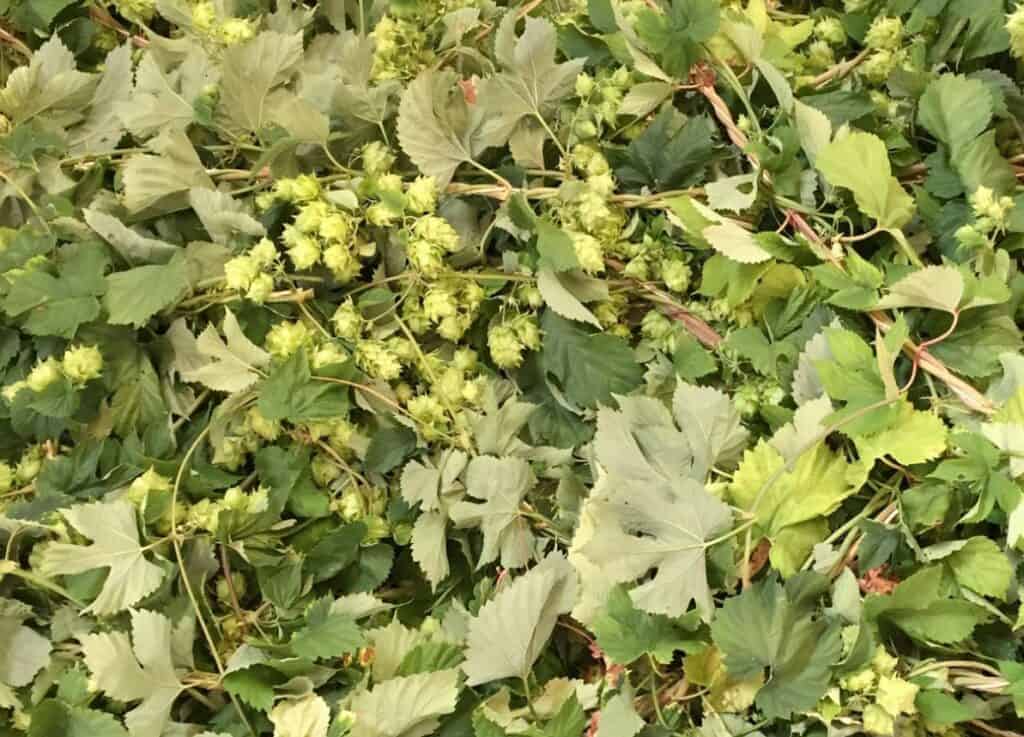 Even though Centennial Hops are often used with Cascade to make great tasting brews, they are the closest direct replacement. These hops aren't precisely like Cascade, but they are very close, and Centennial offers pine, citrus, and floral aromas. If you can't get your hands on Cascade, Centennial is a solid alternative.
Citra Hops
If you want a more intense citrus flavor to your homebrew creations, you can opt for Citra hops instead. They offer a powerful citrusy aroma, and like Cascade, Citra offers notes of grapefruit alongside orange, lime, mango, and gooseberry. Citra Hops can be used for bittering; they often create a bit of a harsh taste when used for this purpose.
Summit Hops
Summit Hops provide similar notes to Cascade with flavors of tangerine, grapefruit, and orange. This hop is generally used as a bittering hop as it has a high alpha content, and it is perfect for India Pale Ales. Summit is the first semi-dwarf variety of hop that has been grown in the USA.
Balming Cross
With its blackcurrant aroma and hints of spice, loganberry, and lemon, Blaming Cross is ideal for making traditional English ales. This dual-purpose hop is quite similar to Northern Brewer (US) and Northern Brewer (German), and it provides a very distinct taste.
Amarillo Hops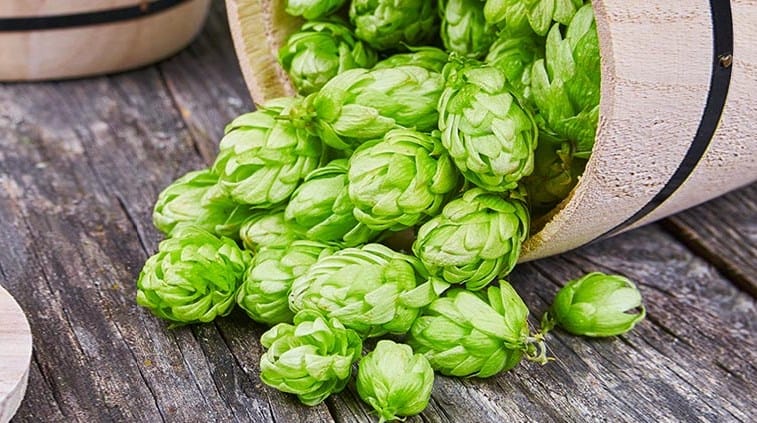 Finally, you can use Amarillo Hops as an alternative to Cascade as they offer some similar flavors. Amarillo hops are often used along with Cascade, but you can use this hop as a replacement as it provides notes of orange and lemon. The flavors in Amarillo are stronger than Cascade, so it is something to keep in mind if you want to brew mainly mild beers and ales.
Frequently Asked Questions
We have compiled answers to some common questions that we are often asked about Cascade Hops.
Question: What do Cascade hops taste like?
Answer: Cascade Hops has strong grapefruit notes, although it isn't too overpowering. Beers and ales with these drinks will also contain flavors of lemon, floral with a spicy aroma. This is an ideal hop to use for various drinks from beers, IPAs, and other homebrews.
Question: Can I grow my own Cascade hops?
Answer: Yes, if you want. Cascade rhizomes are widely available, so if you want to grow your own Cascade hops, you can. Do your research first as it can be a complicated process, and it is often a good idea to talk to local growers too.
Question: How do I store Cascade Hops?
Answer: Cascade Hops can be stored in a zip-lock freezer bag and ensure that they are kept in a cool, dry location with a temperature around 20°C. You should use Cascade Hops as soon as possible as they only retain 48% – 52% of alpha acids after six months.
Question: What are some examples of beers that use Cascade Hops?
Answer: Cascade Hops are widely used in many beers and ales, particularly in the United States. Some well-known brews that predominantly use Cascade hops are Mirror Pond Pale Ale from Deschutes Brewing Company, Sierra Nevada Pale Ale from Sierra Nevada Brewing Company, and Liberty Ale from Anchor Brewing Company.
Question: Where can you buy Cascade hops?
Answer: Cascade Hops are widely available to commercial and homebrewers, and they are one of the most popular hops used in America. We recommend getting the RiteBrew – Cascade Pellet Hops, as they offer terrific value for money while being high-quality too.
Cascade Hops Guide: Our Final Thoughts
Described as the quintessential American hop, Cascade Hops is one of the most popular hop varieties for beer and IPAs, with the Sierra Nevada Pale Ale being the most prominent. If you want to begin creating homebrews with a grapefruit punch alongside a mild bitterness and lovely all-around flavor, Cascade Hops is a stellar choice.