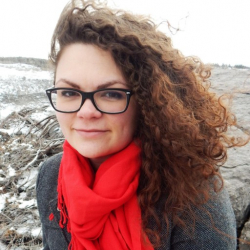 Latest posts by Candace Osmond
(see all)
If you have ever considered purchasing and owning a brand new kegerator to keep your beer extra frosty and bubbly, you cannot go wrong with the Danby Kegerator. Overall, Danby is a leading brand in kegerators, and all their appliances are backed by great warranties and excellent customer service.
With a Danby Kegerator, you have the choice in so many different styles of a kegerator, whether you prefer that single tap option or the dual tap option. Danby also makes quality items, so it will look stylish and professional no matter where you plan to place your new kegerator in the dining room, the kitchen, an at-home bar area, or a den. Before we get on with our Danby kegerator review, let's look at more details about the company.
About the Danby Brand
Danby makes a wide variety of appliances, including mini-fridges, kegerators, chest freezers, microwave ovens, dishwashers, and a variety of wine and beverage refrigerators. The Danby brand is known for specializing in smaller appliances, and they distribute their products throughout the United States, the UK, and even through Mexico.
Danby was founded by their current president, Jim Estill, who is also CEO of the company. It has become a leading manufacturer of smaller appliances with a growing success rate. The Danby headquarters is based in Montreal, Quebec, Canada.
What is a Kegerator?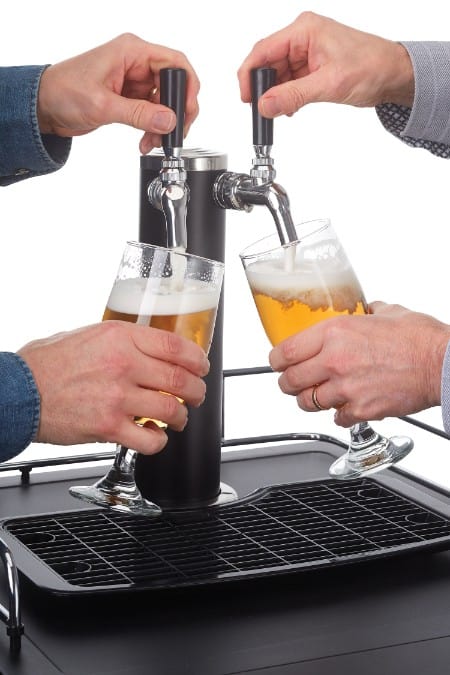 A kegerator is an appliance that will help keep your beer fresh and cold. It is essentially a type of beer fridge with a built-in tap that you can either use or remove depending on what you want to use your kegerator for. Kegerators are great at keeping carbonated beverages such as beer, wine, mead, and kombucha cold and ready to pour at the squeeze of a keg handle.
They will keep your beverages more preserved and will help keep them fresher for longer. Kegerators will keep your beers pressurized, so you will never have to worry about your favorite tapped beers going flat or stale. The same goes for wine – it will keep your wine fresher for longer and ultimately save you plenty of money in the long run.
Kegerators can be used in both residential and commercial settings. Commercial kegerators will come in larger capacities with up to four taps accessible, while residential kegerators usually come in one or two tap settings. It just depends on how much you plan to use your kegerator and what kind of beverages you want to have on tap at all times.
Pros and Cons to Using a Kegerator
There is a lot to love about kegerators, but here are some of the most popular pros and cons of using a Danby kegerator either commercially or residentially.
Pros
Easy to use
Can be dual or single tapped
Will preserver your beers and wines
Will keep your beverages pressurized and carbonated
Will keep your beverages ultra-cold
You can use your kegerator as a fridge when not being used as a kegerator
Auto defrost mechanism
Mechanical thermostat
Scratch-resistant
Reversible door hinge
Made of heavy grade steel
Has wheels for mobility
Cons
May be too small for some
Motor may be a bit noisy
Doesn't come in many finishes
What is the Danby Kegerator?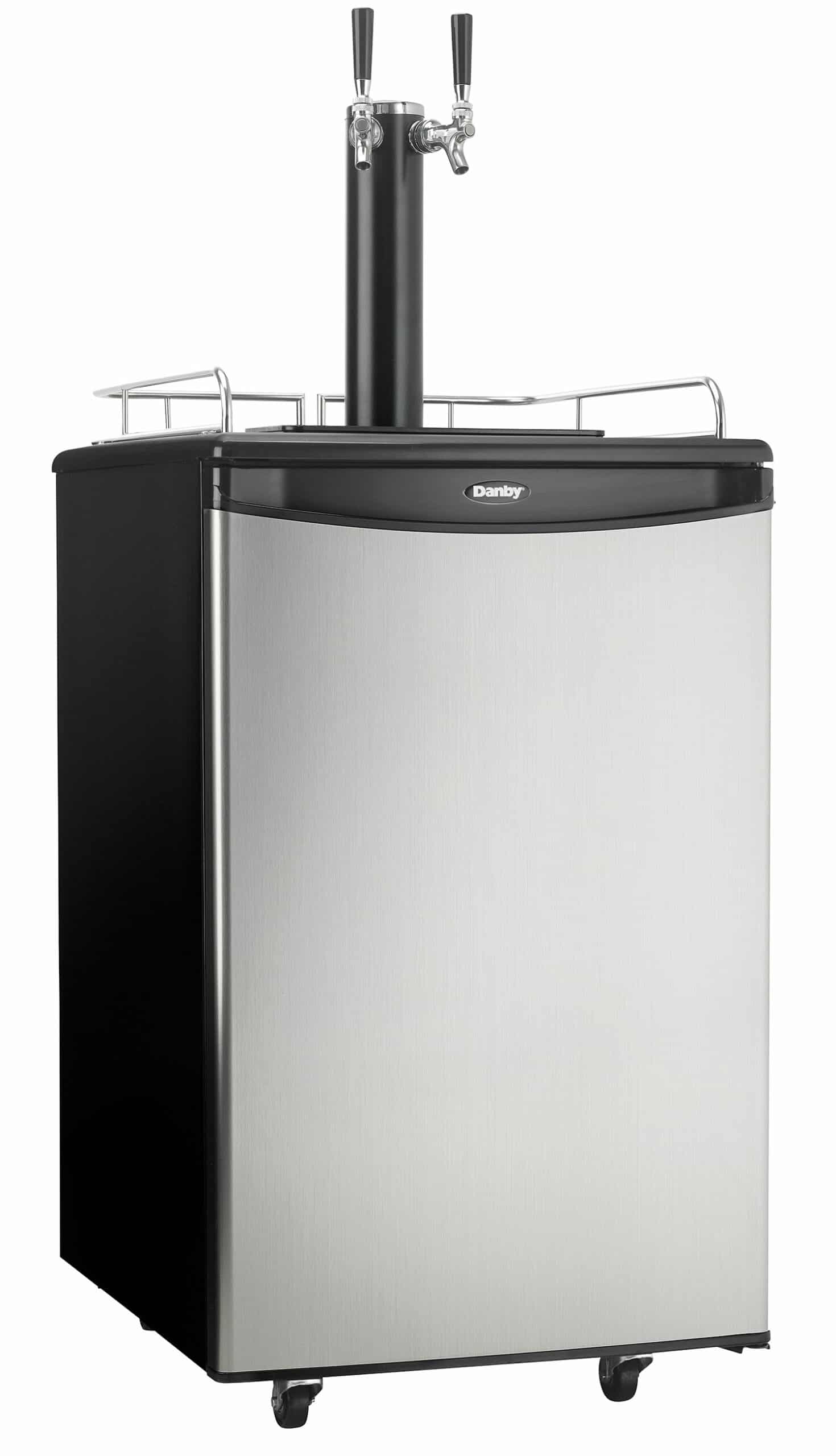 The Danby kegerator is a great kegerator that is perfect for at-home use or for use in an outdoor home bar setting. Due to the good size, you can easily enjoy the dual tap option for this kegerator, which means you can tap two of your favorite beers or beverages at the same time. Here are a few of the main features of a Danby Kegerator to keep in mind.
Size
The size of this Danby kegerator is exactly 5.4 cubic feet, which means it can hold up to 153 liters of liquid at one time. It Is a spacious capacity kegerator that can easily hold up to two ½ size kegs at one time. If that size is too large, you can choose from smaller keg sizes such as ¼ keg size. The smaller the keg, the fresher your beer will be if you don't plan on drinking too much of it at once.
Finishes
The finish of this kegerator comes in scratch-resistant stainless steel. This means that your kegerator will look great next to other stainless-steel appliances, such as your refrigerator or wine bottle cooler.
This clean and bright modern design comes in that gleaming, spotless steel finish that will not highlight smudges. This means you simply need to wipe down your kegerator every now and then and just watch it shine.
Features
This Danby Kegerator is an easy to setup appliance that comes with a scratch-resistant worktop. It even has a reversible door hinge, so you can apply the door to the left or the right, depending on how you would like the hand opening. This is great for especially tight spaces if you need to quickly adjust the door to fit into a specific area.
This kegerator also comes with swivel castors, so it's super easy to move around. This keg cooler comes with a single gauge regulator, which is very easy to read, and a C02 tank with all the required hardware for initial setup. It is environmentally friendly, working at R600a refrigerant, which is safer for the environment.
Warranty
For this specific Danby kegerator, the manufacturer offers a one-year warranty covering kegerator parts and labor and in-home services. Installation or yearly maintenance are not covered under this kind of warranty.
Price Range
A Danby kegerator of this style and make will run you less than $800. This is a pretty good deal in a kegerator, considering some can easily run you more than $1,000 and much more with the larger kegerators.
How to Use the Danby Kegerator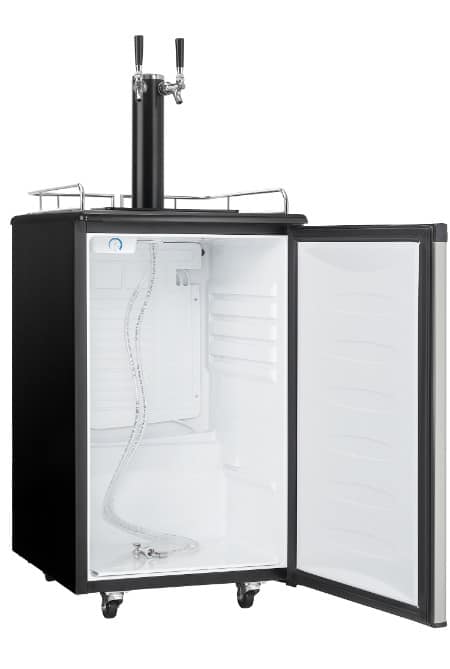 It's really easy to use your Danby kegerator once it is properly set up and running. Here are a few basic steps you need to follow before you can start using your kegerator but be sure to read the complete user's manual your kegerator comes with so you can read up on each setup step in detail.
Step 1: Remove Packaging and Wash
As soon as you receive your kegerator, you are going to want to remove all of the packagings and clean the interior surface of your kegerator with some lukewarm water and a soft cloth. Let your kegerator stand without being plugged in for at least two hours before turning it on or plugging it in so that all internal components can have time to settle. This will ensure that the cooling system will be working correctly as soon as you turn it on.
Step 2: Install your Keg Cooler
Once your items are wiped down and ready to go, you are going to want to make sure you set up your kegerator in a spot that can handle the weight. A sturdy table or the floor would be the best place. Make sure you allow plenty of room between the air compressor and the cooler so that there is plenty of airflow to cool down your kegerator.
Also, make sure your kegerator is out of direct sunlight or the path of heat from other appliances. You are going to want to make sure and install your kegerator in an area that has good ventilation and will remain at a cooler temperature.
Step 3: Electrical Installation
Make sure your keg is properly grounded, as you should do with all appliances before use, and make sure your kegerator has access to a three-prong ground receptacle. The chord should fit properly between your unit and the wall outlet it is plugged into. Connect your C02 cylinder to your regulator to avoid any injuries.
You will want to connect your C02 cylinder directly to the keg, and you will need to change out your cylinder in this same way upon any upcoming replacement cylinders. Never connect your keg without a safety pressure release or a c02 regulator.
Step 4: Keg Installation
Your keg installation will require the installation of your beer tower. You will do this by removing the top plug and pulling your tower out. You can also save this to plug again if you decide to use your kegerator as a refrigerator in the future. Lock your beer tower with the assembly provided, and make sure that the top is aligned with your beer faucet.
Your rubber gaskets which are included, can be used to make the connection between the tower and faucet tighter if necessary. You will do this on both taps, as this is the same format for your dual tap kegerator. Install your metal plates in their designated spots (refer to your owner's manual for direct setup instructions) and install your keg coupler by locking the neck into your beer keg.
How to Clean the Danby Kegerator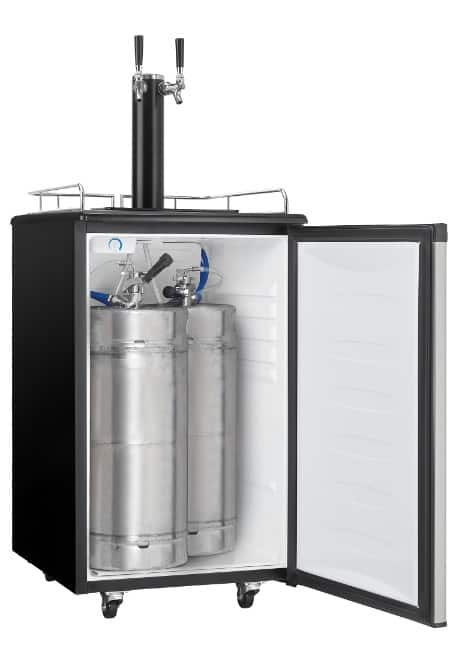 You can clean your kegerator by using a damp washcloth or damp super-soft cloth to wipe away any surface stains. You can do the same for the inside of your kegerator to wipe away any spilled beverages or beer residue.
For your beer lines, you can detach your lines and flush them with a beer keg cleaning kit. As beer residue will naturally accumulate over time, you will want to flush your lines at least once every six months, or more depending on how often you use your kegerator. It's a simple process that will only prologue the life of your appliance, so it's a good habit to have.
The smaller parts around your beer line, such as the connections, can be soaked in warm soapy water and scrubbed gently with a bottle brush. This will free up any lingering debris, and you can get your kegerator lines squeaky clean and beautifully running this way.
Alternatives to the Danby Kegerator
If you are looking for some equally impressive modes of kegerators that are comparable to the Danby line, here are some of the best options you can find in today's markets.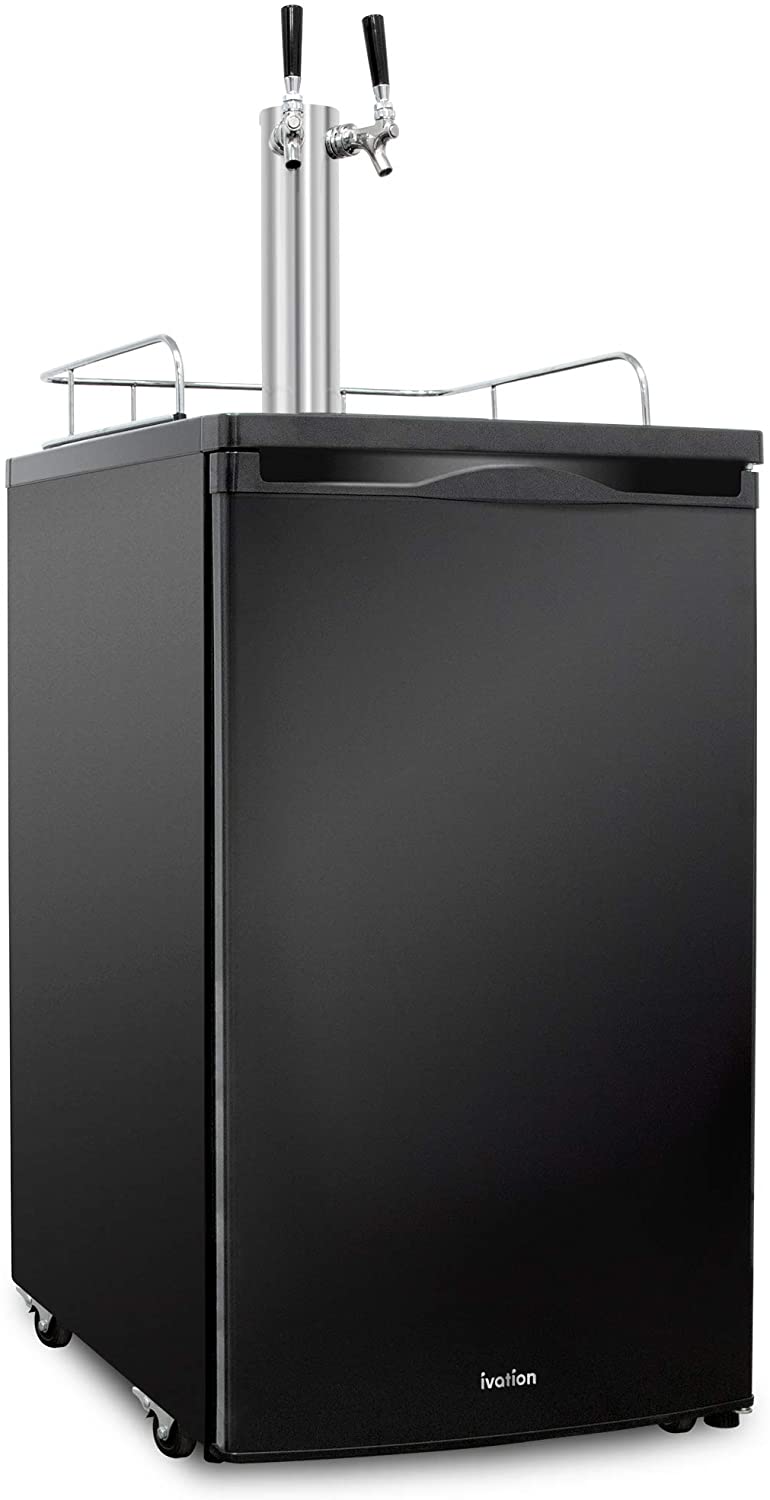 Ivation has developed a fantastic dual tap kegerator that is comparable to the Danby style kegerator. This doubles as a universal beer cooler and comes with a mounted c02 cylinder complete with unsurpassed temperature control. This kegerator comes complete with a drip trail and rail system, so you won't have to constantly clean up after this appliance.
Who should buy this?
This Ivation brand kegerator would make a great gift for that friend who loves to have outdoor barbecue parties and loves his or her favorite beer on tap.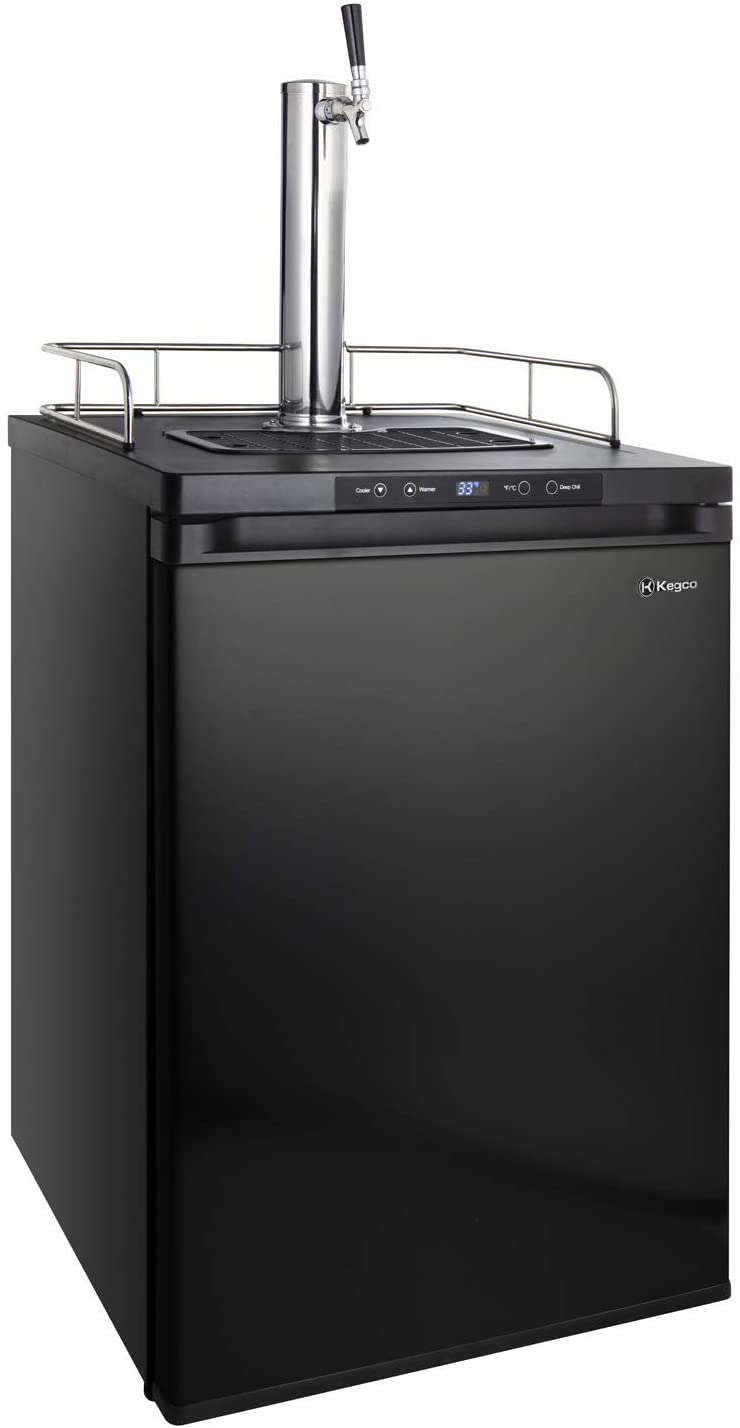 The Kegco brand keg dispenser comes complete with digital temperature control features, a fan-forced cooling mechanism to keep your beverages ultra-cold, and a wide temperature range from 32 degrees F to 75 degrees F. This kegerator has a large interior and comes with a premium keg tapping kit that will take the guessing game out of setting up your kegerator.
Who should buy this?
This Kegco kegerator would be best for anyone who has an in-home bar area that loves draft beer on tap.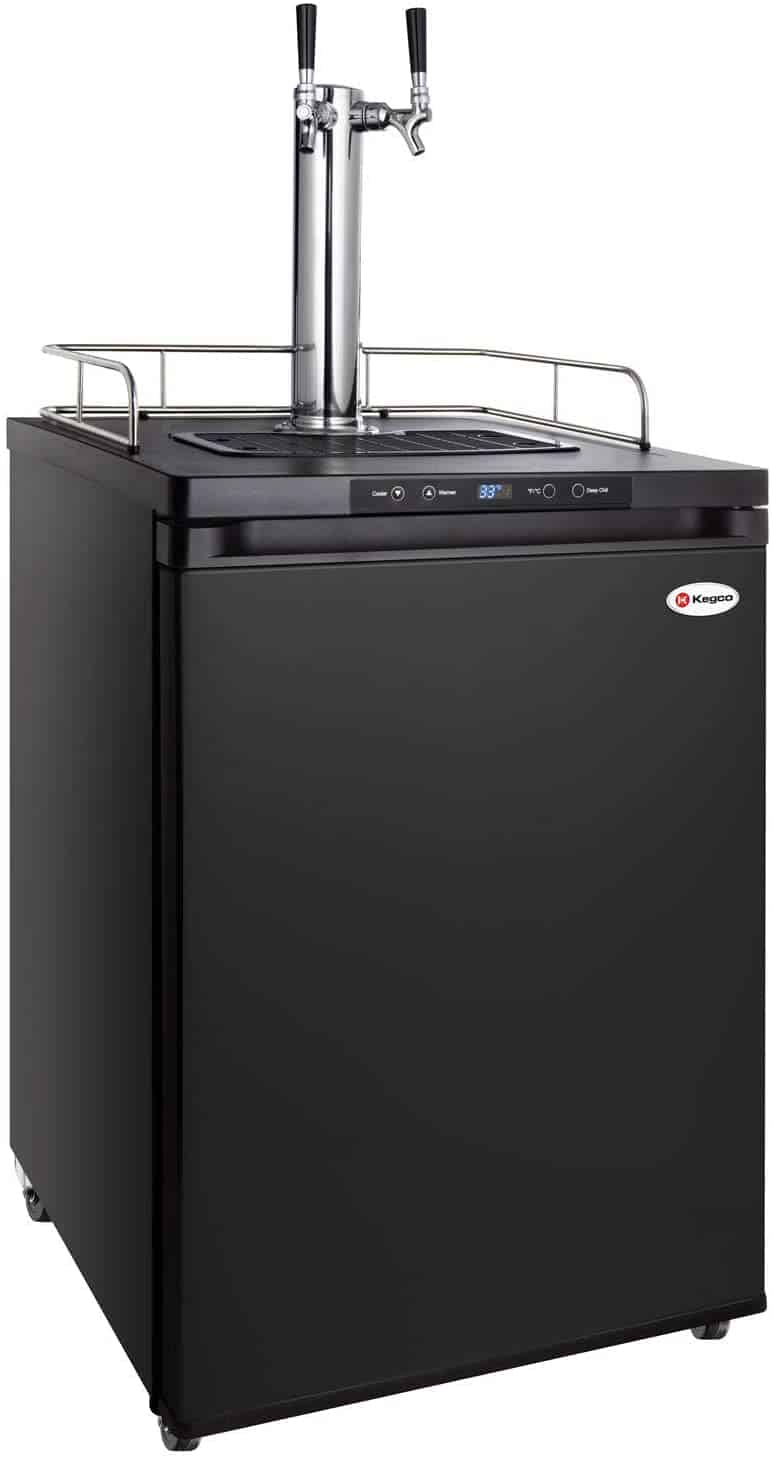 Much like the sister of this kegerator above, this Kegco brand kegerator is a dual tap dispenser that comes with all of the fantastic features that the previous Kegco kegerator has, just with two dispensing options instead of one. This kegerator also comes with a great keg tapping kit, has an extra-large interior, and features several convenient design styles.
This kegerator is designed to last and has powerful cooling technology, as do all of the Kegco brand kegerators and beverage coolers. This kegerator also comes with an optional protection plan if you want to protect your investment on a longer-run scale.
Who should buy this?
A great Kegco kegerator, this version would be perfect for an at-home bar setup or even used in a smaller commercial capacity for a small commercial bar or taproom.
FAQs
Question: Where are Danby Kegerators made?
Answer: Danby kegerators are made in Canada but are distributed through the UK, the USA, and Mexico.
Question: Is it worth having a Kegerator?
Answer: Yes, if you like draft beer. A kegerator is a great appliance to have if you like to host parties at home or if you have a small bar setup. It is easy to access and will be an impressive feature within your home.
Question: How long does a kegerator last?
Answer: A kegerator can last for years if it is properly taken care of. Maintaining a cleaning routine will help extend the life of your kegerator for years to come.
The Bottom Line
So, there you have it – all you ever needed to know about this fantastic Danby dual tap kegerator. Whether you are interested in purchasing a new kegerator for your at-home bar, or you simply would like a fun, new way to keep all of your draft beverages cold, you simply cannot go wrong with the Danby brand.
Did you find the article useful? We hope you did. Do you have any experiences with this Danby kegerator or any other type of kegerator? We would love to hear from you. Feel free to leave your comments and suggestions in the section below. And check out our other helpful guides like our choices for the best outdoor kegerators!