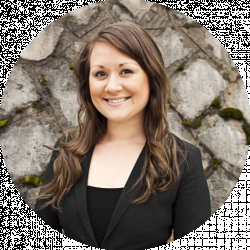 Latest posts by Lacey Jackson
(see all)
When my dad needed to change beer (or after a party, or when things got smelly or off-taste), he had to set aside an entire Sunday afternoon to take apart his homebrewing kegerators and clean all the lines. This was usually an afternoon of drinking (after all, he didn't want to waste any left inside), swearing (I learned some of my best lines from him), and occasionally throwing a tool or two (I am very nimble). 
As an adult, I know it doesn't have to be that complicated. If you are brewing beer at home, you can easily enjoy the taste of your hard work without any sediment or buildup by using the best kegerator cleaning kits. 
Bottom Line Up Front
KegConnection cleaning kit offers the best value. It is my absolute favorite because of how quickly and effectively it works. While the others will clean your kegerator beer lines well, they take longer and require more solution to achieve the same effect. So even if they seem a little bit cheaper at face value, long-term, they aren't. 
Picks at a Glance
KegConnection: This is the overall best value for your money. It has the biggest bag of cleaning powder, and the powder is the most effective on the market. Translation? The most long-term bang for your buck. And if you brew at home, why not make that investment?
Taprite: Almost the same as KegConnection, but you have to let their solution sit longer to achieve the same results because it isn't as fast.
Bar-King: The coolest new tech on the market; you don't have to disassemble your keg to clean it. Woohoo!
Kegco: A cheaper alternative to Taprite, but with a no-rinse solution, so your cleaning time is faster.
KegWorks: Really powerful pressure system and the only one with a liquid cleaning agent; too bad it's green and stains your beer lines. Works great if you are preparing for St. Patrick's Day or Christmas though.
Why Use the Best Kegerator Cleaning Kits
Cleaning a kegerator is imperative because anything you allow to build up in your lines will influence your beer taste. When you spend months home brewing something delicious, the last thing you want is to serve it to your friends and find that the taste has changed.
Sediment will build up inside the couplers and the pipes, and you certainly can't flush Drano through the kegerator, but you need something equally powerful because regular dish detergent just won't cut it.
Selection Criteria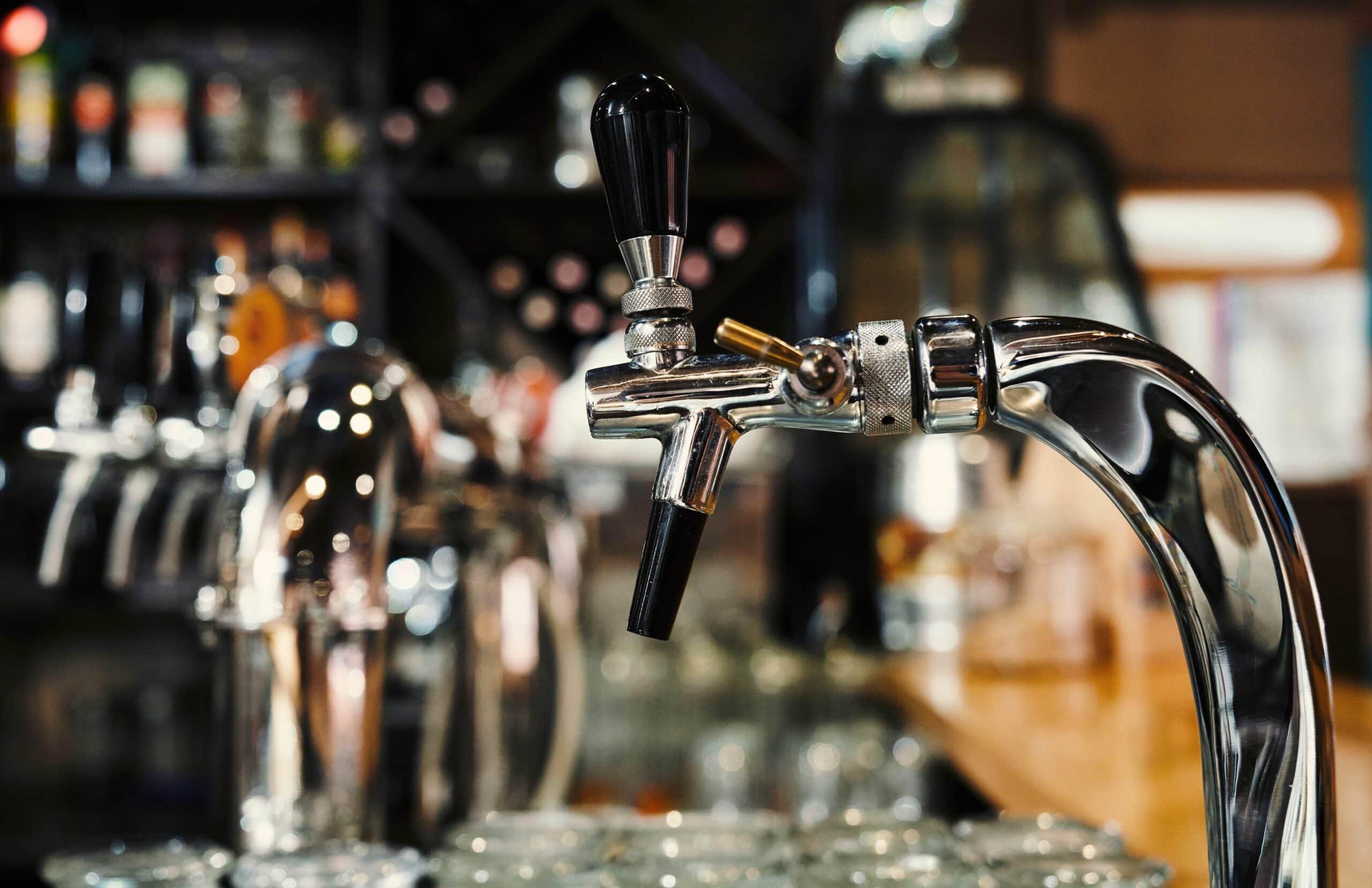 I've evaluated all of the best kegerator cleaning kits based on how easy they are to use and the accessories with which they come. While they might all claim to come with a cleaning solution, some provide larger bags of solution that you can just take from as you need, while others only give you individual packets.
Ease of Use
Based on personal experience and customer reviews, I've evaluated every cleaning kit on this list for how easy it is to use.
Cleaning your kegerator shouldn't take all day and a lot of curse words. With modern cleaning kits, the process is fast and simple. Most of them work the same way, and you may or may not have to actively pump the solution through the lines for about 10 minutes and then scrubbing the faucet in the coupler. 
Accessories
I've also evaluated whether it comes with the accessories you need. A good cleaning kit should have everything. Under normal circumstances, you detach all the lines from your kegerator, take off the handle with the faucet wrench, and attach the hose from your kegerator cleaning kit. Then you put in your line cleaner powder mixed with water until it's dissolved and feed it through the lines with the feed bottle.
From there, you soak everything else, like the faucet in the coupler mechanism, in a small bowl of that steam cleaning solution. Depending on the kegerator cleaning kit you choose, you might have to run the solution through it a few more times and then flush it with warm water. Other kits will stipulate that they don't need to be rinsed.
They all come with a scrubber that you can use to brush away any remaining residue on the faucet mechanism or coupler after you've let it soak.
Interesting Read: How to Find the Best Kegerator Conversion Kits.
Best Kegerator Cleaning Kits
KegConnection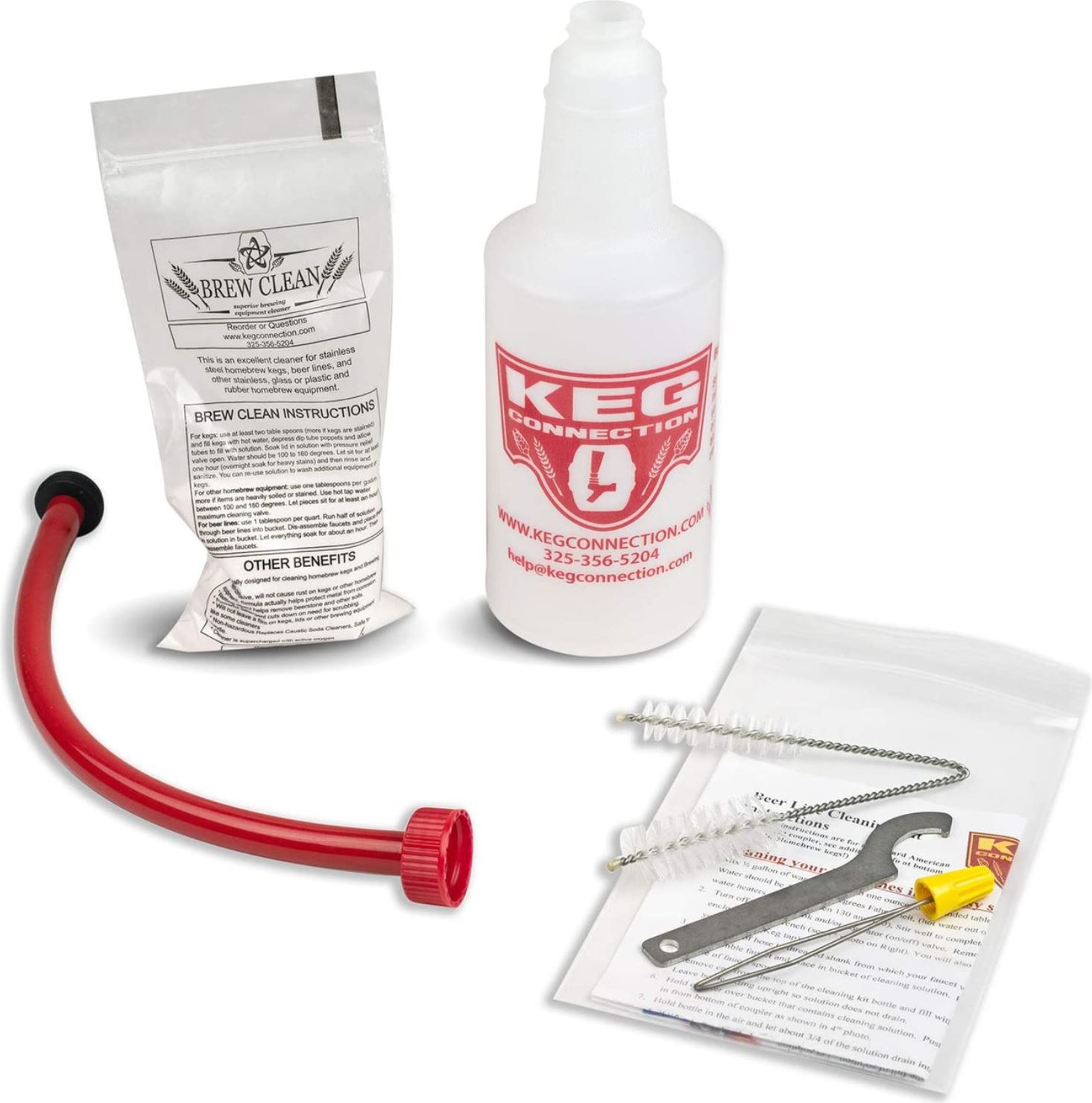 KegConnection offers a 30-minute clean. Yes, only 30 minutes. I know from watching my dad use some choice swear words that cleaning the kegerator normally takes hours, which is why that 30-minute feature is so impressive. I knew to stay away from mom when she was doing bills, and I knew to stay away from dad when he was cleaning the keg.
They have an 8 oz bag of powdered cleaner in each kit called Brew Clean. When you are using that 8 oz bag, you only need one tablespoon per gallon for home brewing equipment. You have to mix it with hot tap water between 100 degrees and 160 degrees and let it sit. 
If you're using it to clean your beer lines, you only need one tablespoon per quart, and then you run that whole solution through your lines into a bucket. So, it lasts a couple of cleanings whether you have a lot of kegs like my dad or you are just using it for home brewing equipment.
They even include a video on how to use their product:
And of course, many of their components are German made, and I love German engineering because it is more reliable and held to higher standards than most engineering around the world. I believe it's a big part of why these kits are so effective.
Pros
You get the cleaning bottle, the line cleaner pipe, the ball lifter, the hose, and the faucet wrench, so everything you need to keep your kegerator beer lines clean is included.

The proprietary bag of powdered cleaning solution is incredibly effective. Even if you have stubborn buildup that you haven't cleaned in months or years, they just tell you to double the amount of powdered cleaner in your solution. And when you run out, you can buy

individual replacements

. 
Cons
It's one of the more expensive cleaning kits, and if you have very stubborn buildup to get rid of, you might have to buy multiple bags of powder. 
Taprite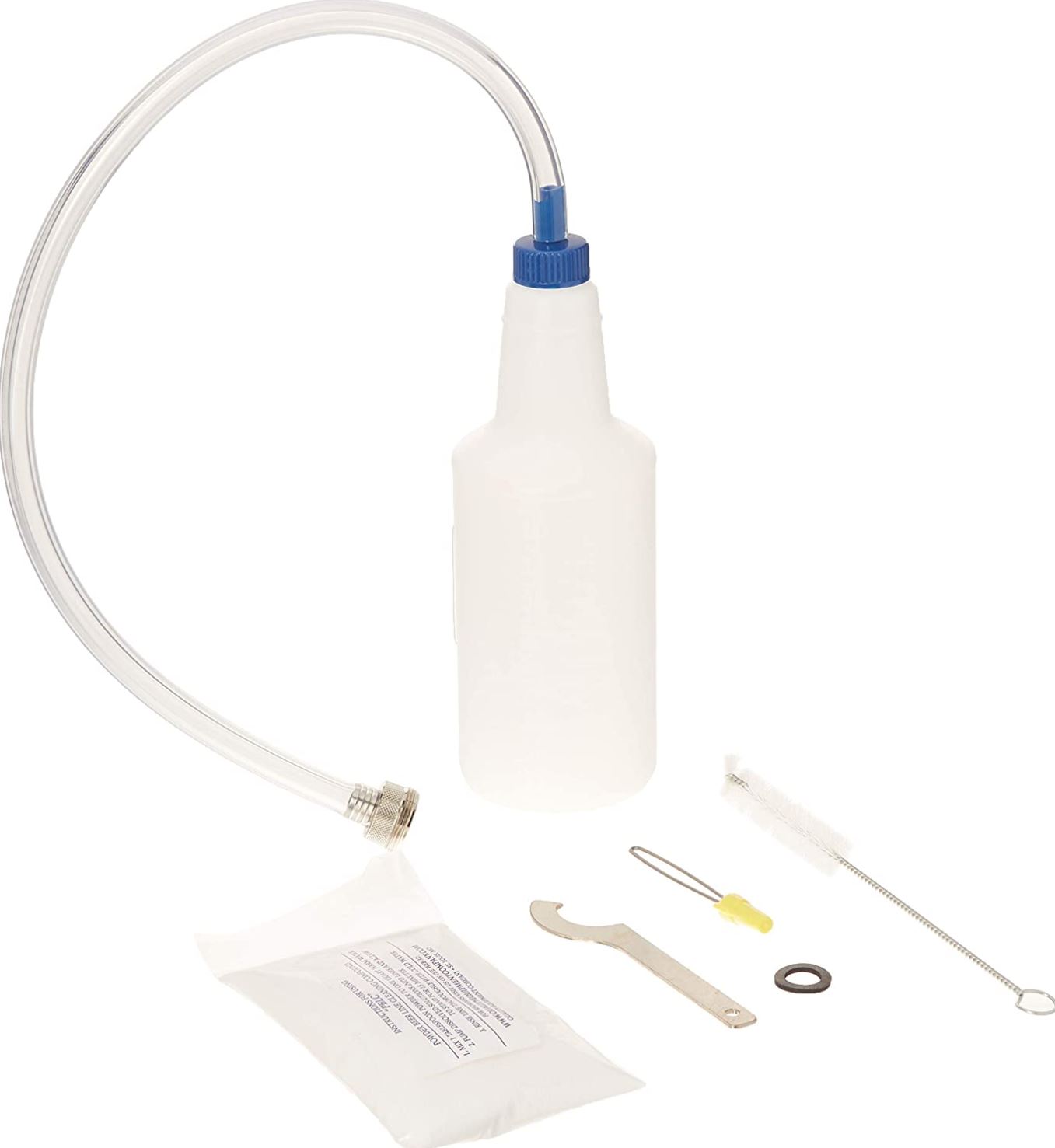 Taprite is slightly less expensive but comes with almost all the same components. I like this one because it comes with everything you need, including the one-quart shatterproof bottle, a neoprene washer, the cleaning solution, and a faucet brush that you can use to literally scrub away any residue.
When you connect everything, you'll see a small ball lifter inside, pushing the check ball through your lines to ensure that the cleaning solution gets every nook and cranny. It doesn't say what size the cleaning solution is, and while the company states that you can get about 17 cleanings from a single bag of solution, customers claim that it's closer to 10.
Pros
Users highly recommend this one for its ease of use and value. 

It has all the equipment you need in one kit. 

In order to achieve maximum effectiveness, you have to soak your beer lines in the solution for at least 20 minutes, but the longer you can let them soak, the better.
Cons
The cleaning solution isn't 

quite

 as effective as KegConnection, so you might need a few rounds to achieve equal results. 
Bar-King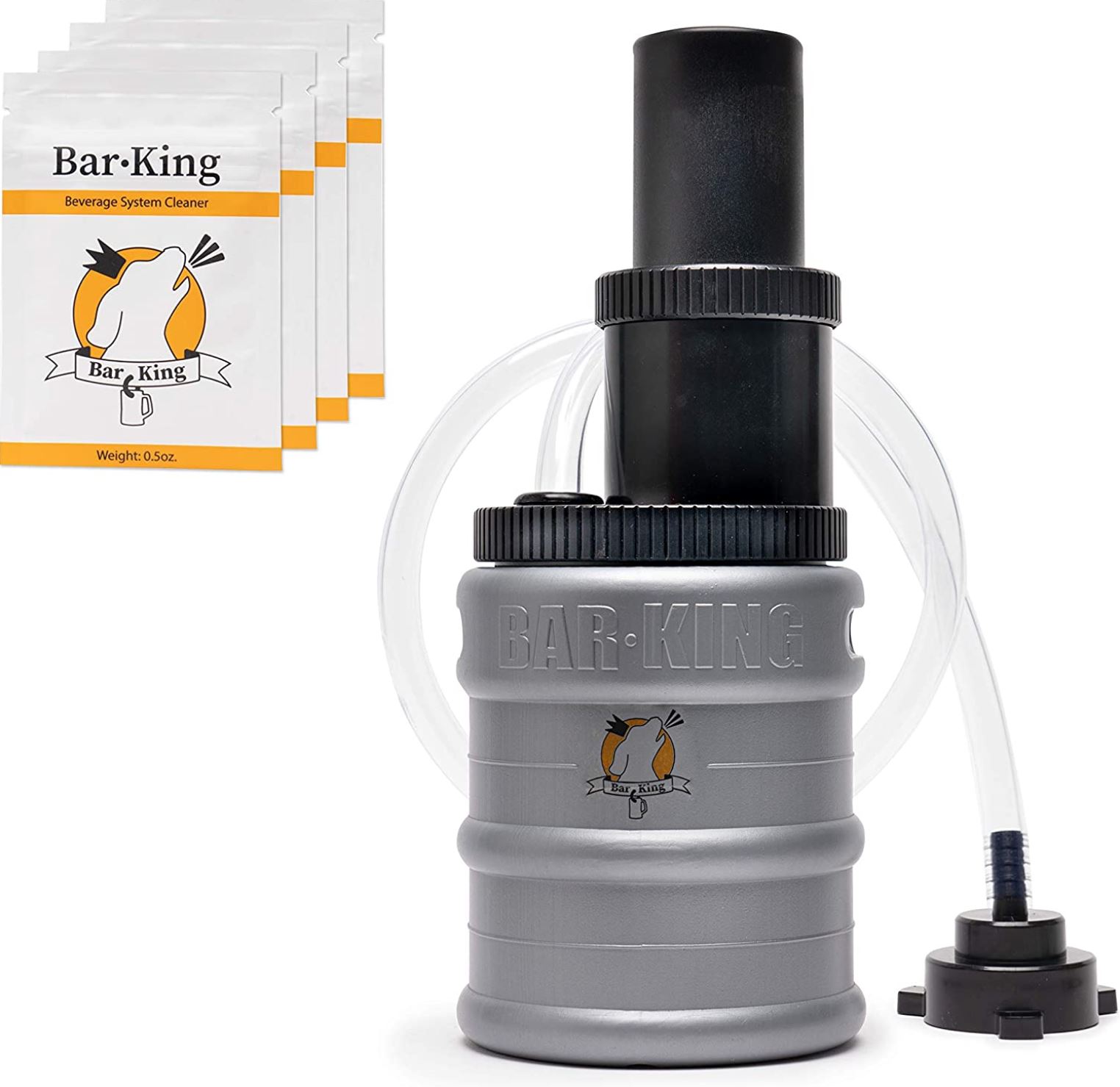 Bar-King has a newly designed system for standard kegs, the selling point for which is that you don't have to disassemble your keg in order to clean it. This method cleans it from the bottom up. The twist fit connection maintains pressure in your beer lines, and all you have to do is connect your coupler to the proprietary cleaning bottle and run the solution through your keg.
The video showing how to use it confirms everything customers have said, that it is really easy to use and the simple hand pump makes for fast cleaning. It comes with no-rinse cleaning packets that you can use for four lines, after which you can use the same equipment; you just have to buy new cleaning pockets. The only reason this isn't my absolute favorite is that I haven't tried it yet, but it's already been ordered, and I'm very excited to see how it works long-term.
Pros
Customers absolutely love how easy this is to work with and give it five stars across the board for the installation.

The company gives you a 1-year warranty where they will replace any broken parts or refund it entirely without any questions, which is great if you're unsure about the new method and want to give it a test.
Cons
 It only works on standard kegs or ball lock kegs.
Kegco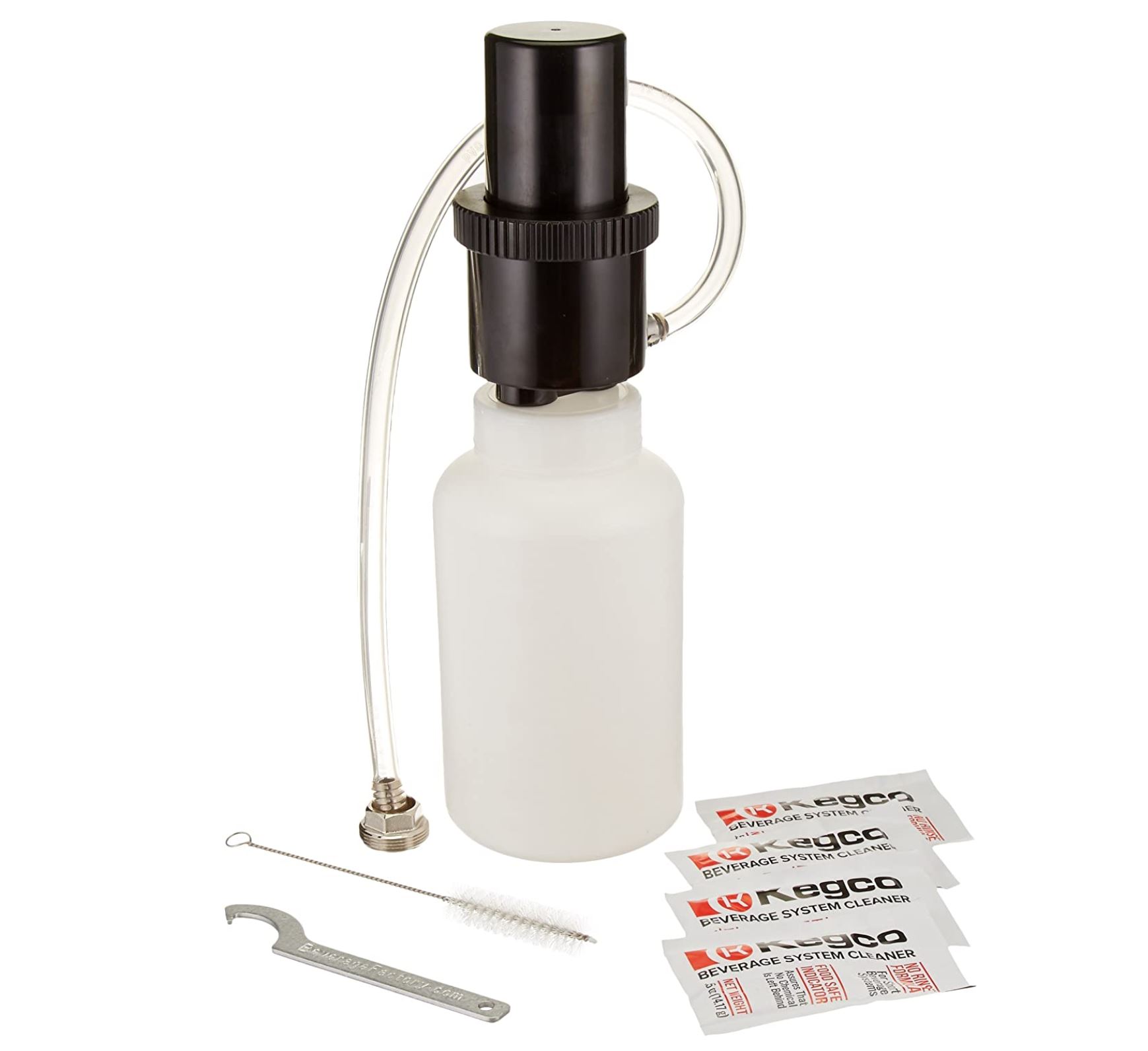 Kegco uses an alkaline beer cleaning solution to remove sediment from your lines. It made the list because it is easy to use, but it is at the bottom of the list because it doesn't come with as many cool features, the bags of cleaning solution are individual, so you don't get a lot of use out of them, and it's slightly less effective than the others. 
With this unit, you get the shatterproof plastic jar, the cleaning kit, the faucet wrench and brush, and four packets of the cleaning solution. This company recommends you clean your lines every time you switch out a keg or every six weeks, whichever comes first, and bear in mind that each time you clean, you go through one of those four packets.
You pump the solution through the line with a hand pump, much the same as Bar-King, but the cleaner is a no-rinse solution, so you only have to pump it through when you switch kegs and then connect your new cake.
Pros:
It is the cheapest cleaner.

It works well and is simple to pump through your lines. 

You get everything you need. 
Cons:
It doesn't come with as much solution as the other guys, so you will have to spend more money to get more cleaner. 
KegWorks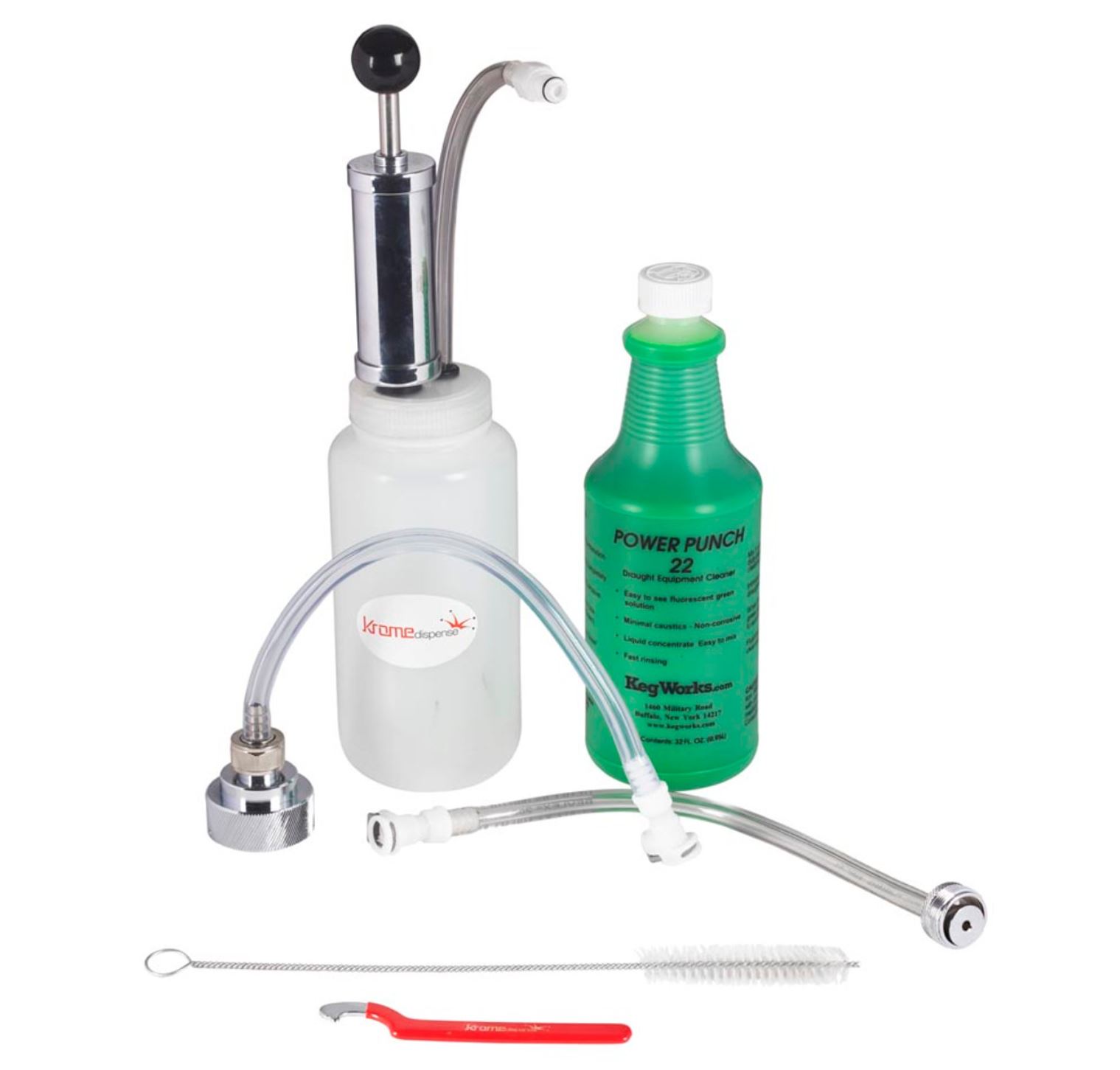 KegWorks makes a deluxe cleaning kit, perfect for cleaning your home brewing equipment. It comes with all the tools you need, including the faucet wrench and the cleaning brush, a hand pump assembly, and 32 oz of their proprietary cleaning solution. I really like that it doesn't come with individualized bags but instead comes with a large bottle of cleaner. 
Unlike other cleaning kits, their cleaner is liquid and not powder, so you don't have to spend time mixing the powder in hot water and waiting for it to dissolve. Their pumping system is so effective that it will clean in a considerably shorter amount of time. You really have to pay attention here because it works so powerfully that it can spill if you don't use that quick disconnect feature. 
The downside to this product is that while it cleans really well, the solution is a bright green color, and it will stain the inside of your beer lines if you aren't fastidious about rinsing after each use. Once it stains your beer lines, you won't get it out.
Pros
You have options for how you use it to clean. 

The solution gets pushed through with better pressure than any of the other kits on this list which is why they have a quick disconnect function.
Cons
It only works on direct draw systems. 
FAQs
Question: How often should I clean my kegerator lines?
Answer: Restaurants and bars legally have to clean their kegerator lines every two weeks. However, unless you have as many parties as my father, it is unlikely that you will go through the same level of beer as a restaurant or bar in a two-week span.
What's more, if you have a kegerator in your home, you are not beholden to any legal requirements to keep your lines clean, but you should still do it every time you switch a keg.
Question: What happens if I don't clean my kegerator lines?
Answer: Sediment, bacteria, yeast, and mold can build up in your kegerator lines if you don't clean them regularly. At best, this changes the taste of your beer, and it comes out flat. At worst, you can get sick because of the bacteria. It really isn't worth it. 
I've tasted beer that has been adversely affected by dirty kegerator lines, and it's amazing how quickly that taste can change and ruin all of your hard work. Even if you're switching kegs to something domestic that's mass-produced, you still don't want to spend a lot of money on a keg only to have the taste change for the worse.
Question: Are kegerator cleaning kits expensive?
Answer: Not really. It does, however, depend on the option you choose. The most expensive one I mentioned, the best one, is about $30. If you are spending between $200 and $300 on a keg, this represents about 10% of your total costs, but you can certainly find cheaper options, especially if you are just trying to do a quick clean in between domestic beer kegs and not Homebrew beer kegs. 
Bottom Line
I've used most of these, and I have reached the point where time is money, so the KegConnection cleaning kit offers the best value because of how efficient it is and how little time it takes. After a single application, you'll see a great deal of residue removed, and after two applications, your system will remain spotless.