If you're thinking about throwing a huge party in the near future and plan on serving beer, you might consider using a kegerator. Of course, you can use your kegerator for more than beer, but no matter what you keep in it, you're sure to have nice, fresh, cool beverages ready for consumption.
With excellent built-in cooling systems, the best outdoor kegerators keep your beer fresh and tasty for nearly two months. Plus, you'll save room in your fridge for more important foods. The best kegerators are designed to last and have all the features you need to keep your favorite brews at the perfect temperature.
Below we'll review some of the best outdoor kegerators on the market. These units are perfect for keeping your refreshments cool, so they're ready to drink anytime your guests want a fresh one. But, before we get into our list, let's talk about some of the features to consider as you look for one that works for you.
What to Look For in a Kegerator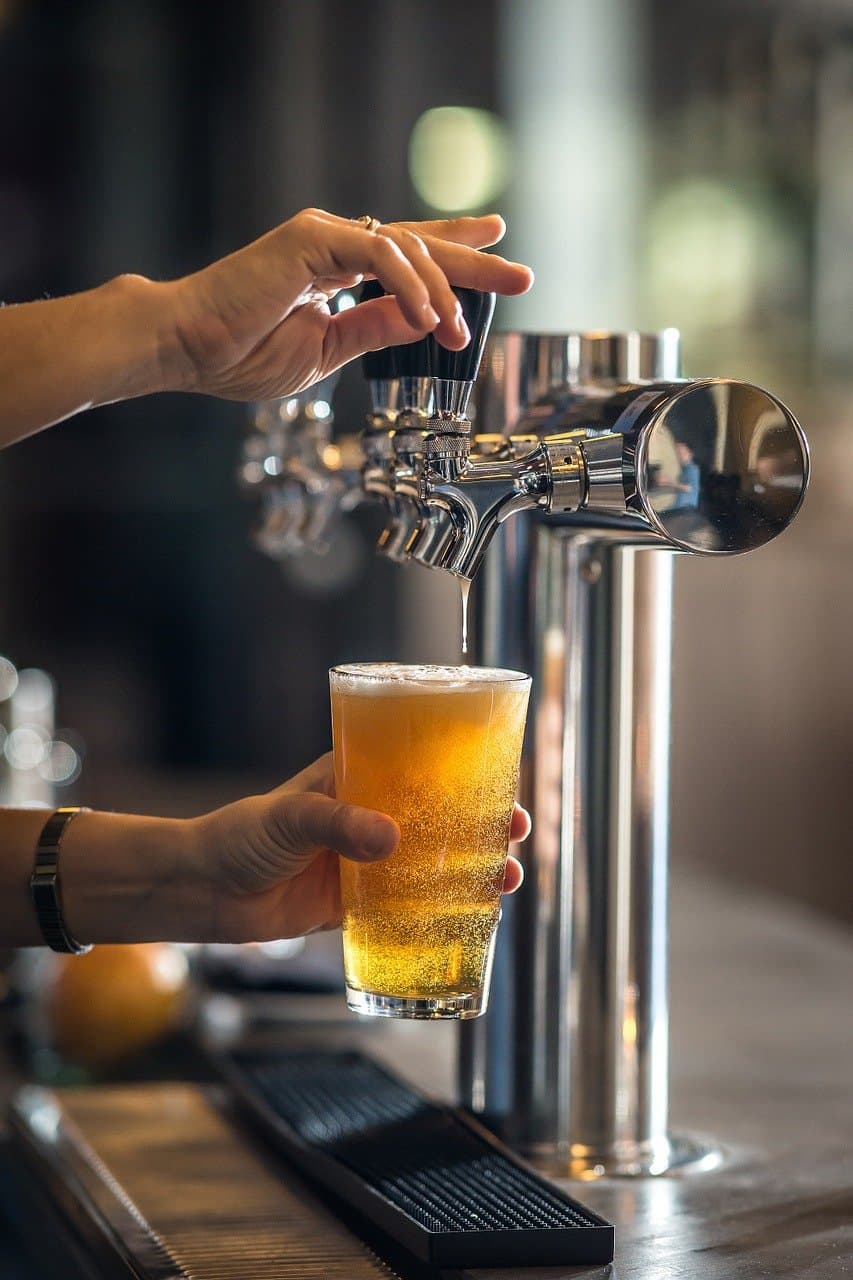 There are plenty of kegerators on the market, but they're not all going to have the features you want. That's why it's important to do a little research before you make a final decision. This could include something as simple as a drip tray or a tap kit. Below are a few items to consider before you bring a kegerator home.
Alarm
Much like your home refrigerator might sound an alarm when it's been open too long, kegerators have the option of an audible notification that alerts you to shut the door. Another alarm you may consider for your new kegerator is a CO2 detector that will tell you if a gas leak occurs. Additionally, some kegerators have internal temperature sensors that tell you when your beer isn't getting chilled to the temperature you want.
Control
Another feature you may want to consider is the ability to control the pressure in your kegerator. You can also control the temperature, so you know your beer is always cooled to perfection. Some of the best kegerators on the market have apps or digital readers so you can get the exact temperature you want.
Reversible Doors
A lot of people like to have reversible doors on their kegerators so they can choose whether it opens to the right or to the left. This is a useful feature if you're trying to put your unit in a specific space and need the door to open in a certain direction.
Drip Tray
When it comes to buying a kegerator, a good drip tray is a must. These are basic items that prevent spills when you're dispensing your favorite cold brews. Drip trays can be easily emptied when they get full, plus you can quickly clean them out with a little soap and some warm water.
Carbon Dioxide
Pressurized kegerators use carbon dioxide, often referred to as CO2. While you'll find that most only need CO2 canisters, there are some kegerators that also use nitrogen. Typically, kegerators come with the gas you need; however, you might need to fill the canisters yourself.
Taps
Some kegerators come with multiple taps, which means you can use two faucets. However, it's becoming increasingly popular for units to have two taps and a single faucet. That means you can serve two different types of beer at the same time. Or, if you prefer, you can fill two glasses at once. The choice is yours.
Portable
If you want to take your outdoor kegerator on the go, there are options available that allow you to do so. These usually come with casters that allow you to roll your kegerator around easily. Portable kegerators are great if you don't want something portable but would rather be able to move the unit around to where it's most accessible.
Size
One of the most important things to consider before buying your kegerator is size. If you plan on drinking quite a bit of beer, then a larger kegerator probably makes sense for you. This is also true if you regularly host parties or events with plenty of guests.
There are smaller beer dispensers, but they're only going to hold around a gallon and a half of beer. Obviously, larger sizes will hold more beer, which is ideal if you're outside. However, if you're going to be the only one drinking, a smaller size may be just what you need.
Best Outdoor Kegerator
Now that you know what to look for in an outdoor kegerator, let's go through our list of the best outdoor kegerators.
EdgeStar Craft Brew Kegerator – Best Overall Kegerator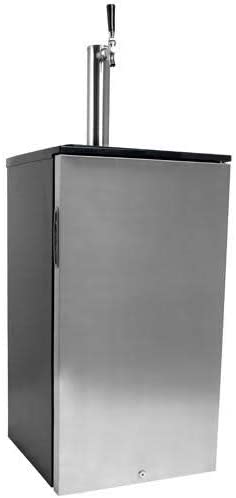 The first outdoor kegerator on our list is the EdgeStar Craft Brew Kegerator. This unit offers a sleek and sophisticated stainless steel design that gives off an industrial feel. With its stylish design, your EdgeStar kegerator will work just as well outside as it will in your kitchen.
You'll find a single tap, along with a chrome-colored faucet on the EdgeStar Craft Brew Kegerator. It also comes with a gauge regulator and a 5-pound carbon dioxide tank. However, you will have to purchase gas for the unit, so keep that in mind.
You'll have 42 pints – which is roughly 5 gallons – before you need to refill your kegerator. This is perfect if you have a few guests over for a fun-filled evening. The EdgeStar Craft Brew is an excellent kegerator no matter what your budget, so give it some serious consideration as you shop around.
Kegco HBK309B-2 Kegerator – Best Kegerator That Doubles as a Fridge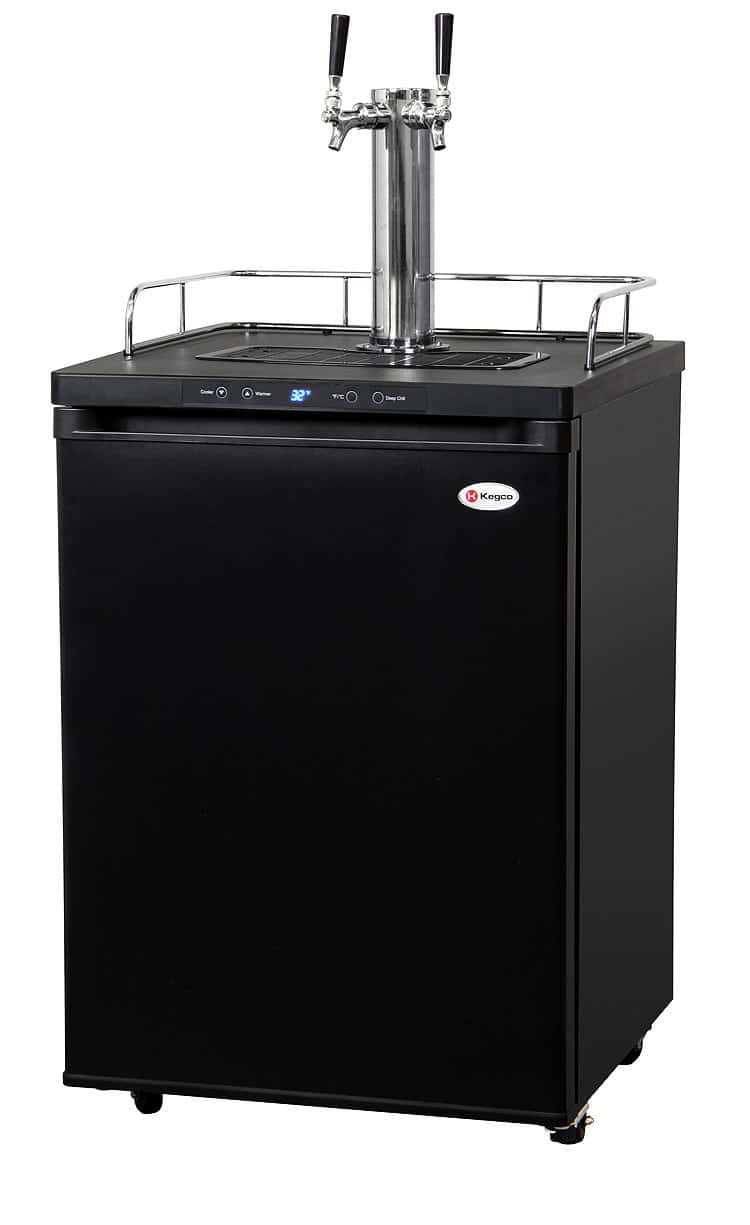 This Kegco Kegerator is an excellent option if you want a unit that doubles as a fridge when you're not using it for beer. The HBK309B-2 will hold a quarter barrel – or two kegs. While having this much beer on tap might seem a little excessive, it's great for parties or if you have a home bar and frequently serving your friends and family.
With this Kegco model, you'll get a 5-pound CO2 tank, which won't need to be refilled very often if you set it at a low PSI. This kegerator also comes with a reversible door, which means you can put it wherever you need it and then open it to the left or right.
The build quality is average, which means you won't shell out a lot of money for the Kegco HBK309B-2. While there are other kegerators that are higher quality, they're also going to be more expensive. If you want something that won't cost you an arm and a leg but won't fall apart a year after you buy it, this Kegco model is a solid option.
KITMA Kegerator – Best Premium Kegerator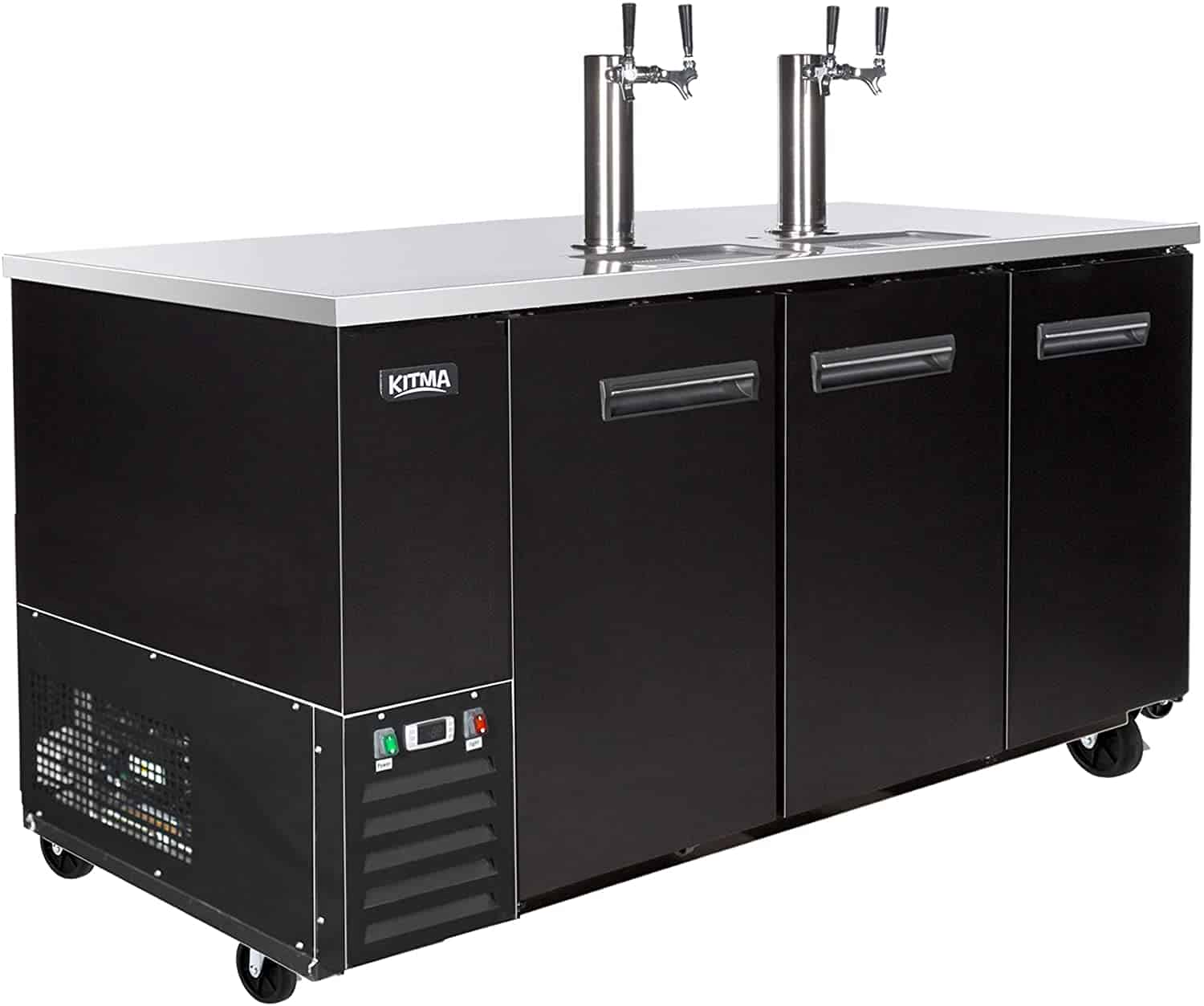 The most expensive kegerator on our list of the best outdoor kegerators is the KITMA Beer Cooler and Refrigerator. While this unit will set your bank account back quite a bit, that's not why this kegerator made our list. Even though you'll drop a few grand on the KITMA kegerator, you'll get all the features you want to give your friends and family the freshest draft beer possible.
The design of the KITMA kegerator is excellent. Its stainless steel faucets are gorgeous, and its black coat gives it a sleek finish. Two faucets mean you can dispense two barrels at the same time, or if you prefer, you can use four smaller barrels.
KITMA's kegerator also offers door locks, so you don't have to worry about anyone running off with your product. This is one of the outdoor kegerators on the market if you don't mind paying a little extra. It's the ideal model if you're hosting a special event or large party.
Kegco K309SS-1 Kegerator – Best if You're On a Budget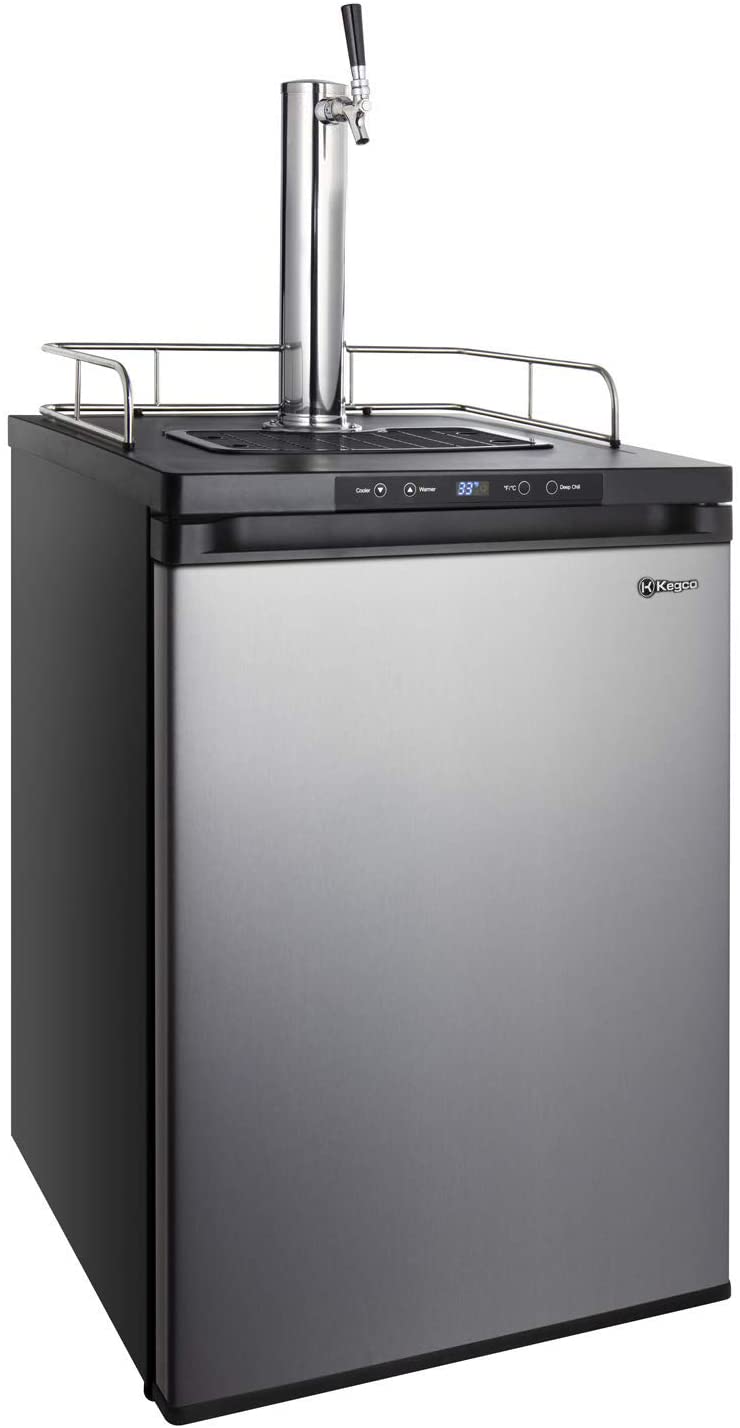 The second Kegco kegerator on our list is the K309SS01. This kegerator also doubles as a fridge if you need it to. It's aesthetically appealing with its stainless steel surface, which means you can put it anywhere you want, and it won't look out of place. Plus, this model comes with all the features you like, including casters that let you move it anywhere you want it and a removable drip tray.
Additionally, the K309SS01 offers a rail/guard made of chrome on its top. This allows you to put glasses on top of the kegerator while you fill them without worrying that they'll slip off. This model also comes with a 5-pound canister for carbon dioxide, so you're ready to throw an amazing party at a moment's notice.
SPT BD-0538 Mini Kegerator – Best for Saving Space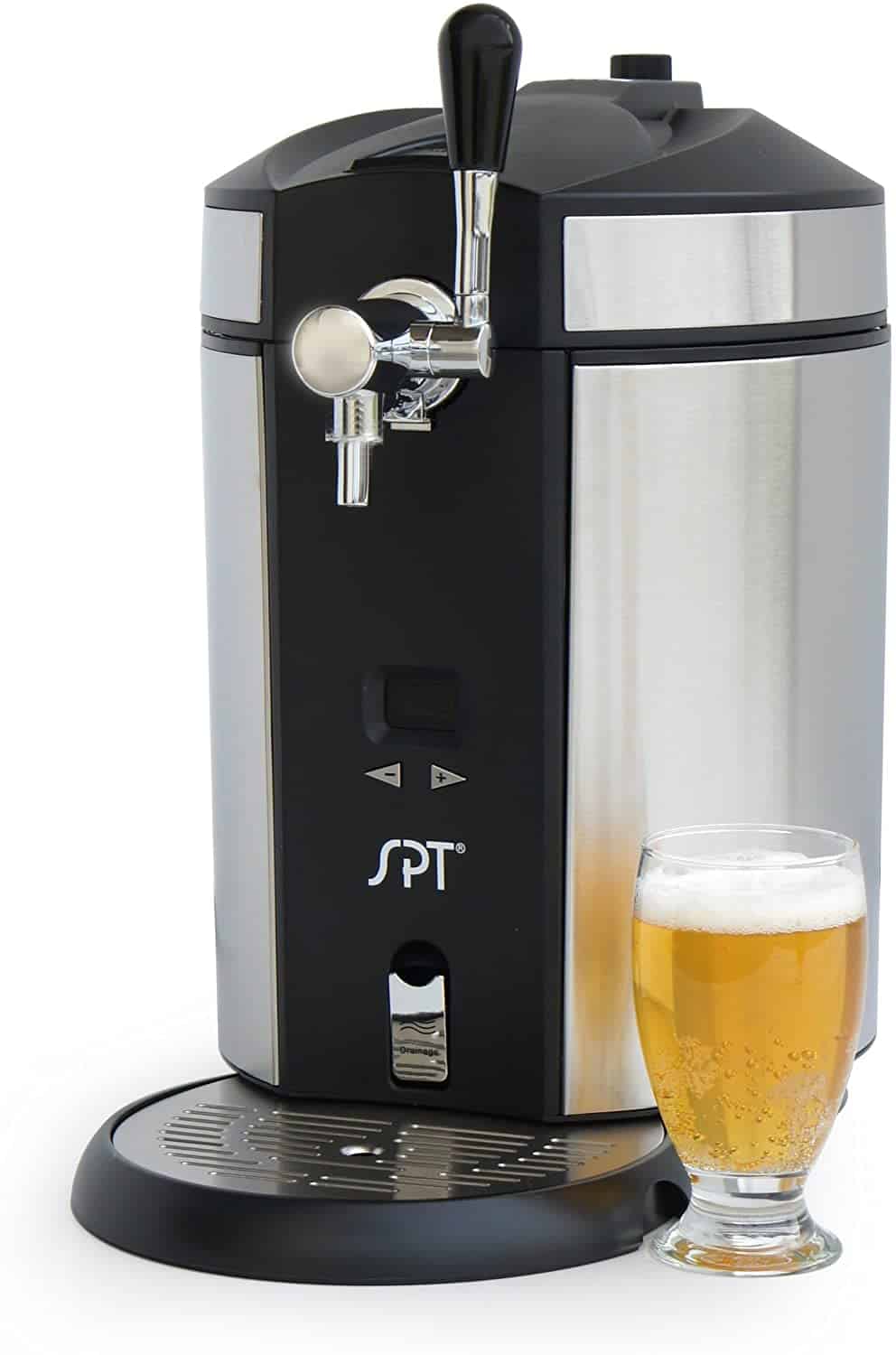 The SPT BD-0538 mini kegerator is ideal if space is a concern. While it's not the cheapest kegerator on the market, it's not bulky and awkward, so you can keep it in smaller places if need be. This model comes with three CO2 canisters, so you always have the gas you need to serve fresh, delicious beer.
You'll notice the SPT BD-0538 has been designed to cool up to 5 liters of beer, which is the perfect amount for using your kegerator at home. Plus, since it's one of the smaller kegerators on the market, it will look right at home with your outdoor kitchen or in your workshop. It's one of the easiest kegerators to set up and is well-designed with a sleek stainless steel finish.
EdgeStar KC2000TWIN Kegerator – Best Dual-Tap Kegerator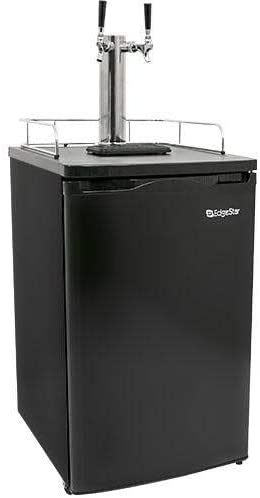 If you're in the market for a dual-tap kegerator, the EdgeStar KC2000TWIN might be just what you're looking for. This kegerator comes with all the bells and whistles, PLUS a dual-tap. This is one of the best value options available for outdoor kegerators.
With the excellent build quality and sleek design, this EdgeStar model is great to use no matter what type of party or event you're having. Plus, you can configure the kegerator to provide the best-chilled beer for all your guests. You'll get 124 pints out of the EdgeStar KC2000TWIN, which is sure to last the whole night.
Costway R600a – Best Single-Tap Kegerator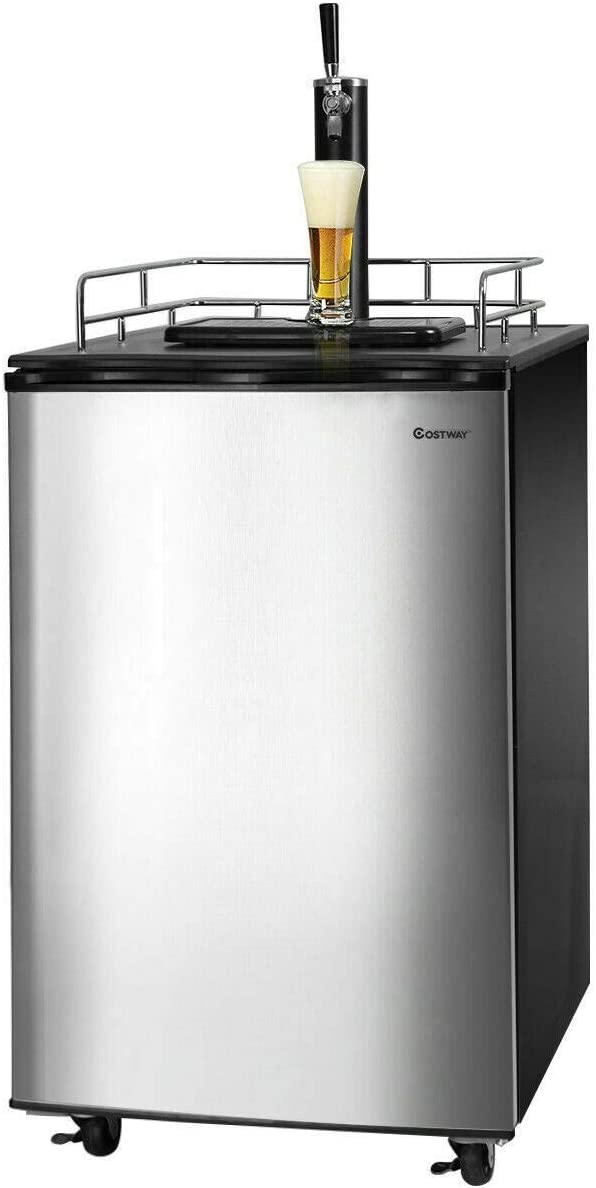 The Costway R600a is an excellent single-tap kegerator. It's great for enjoying a few cold ones in the evening or for entertaining guests. Many who buy this kegerator like that the price isn't outrageous. However, some have had trouble setting up the Costway R600a, so keep that in mind if you decide to buy this kegerator.
Additionally, the unit doesn't offer digital temperature controls, so you'll have to choose high, medium, or low. The medium settings on the Costway 600a should keep your beer nice and cool at 34-degrees Fahrenheit, so you're serving fresh pints to all your friends and family.
Danby Dual-Tap Kegerator – Best For Gatherings of Any Size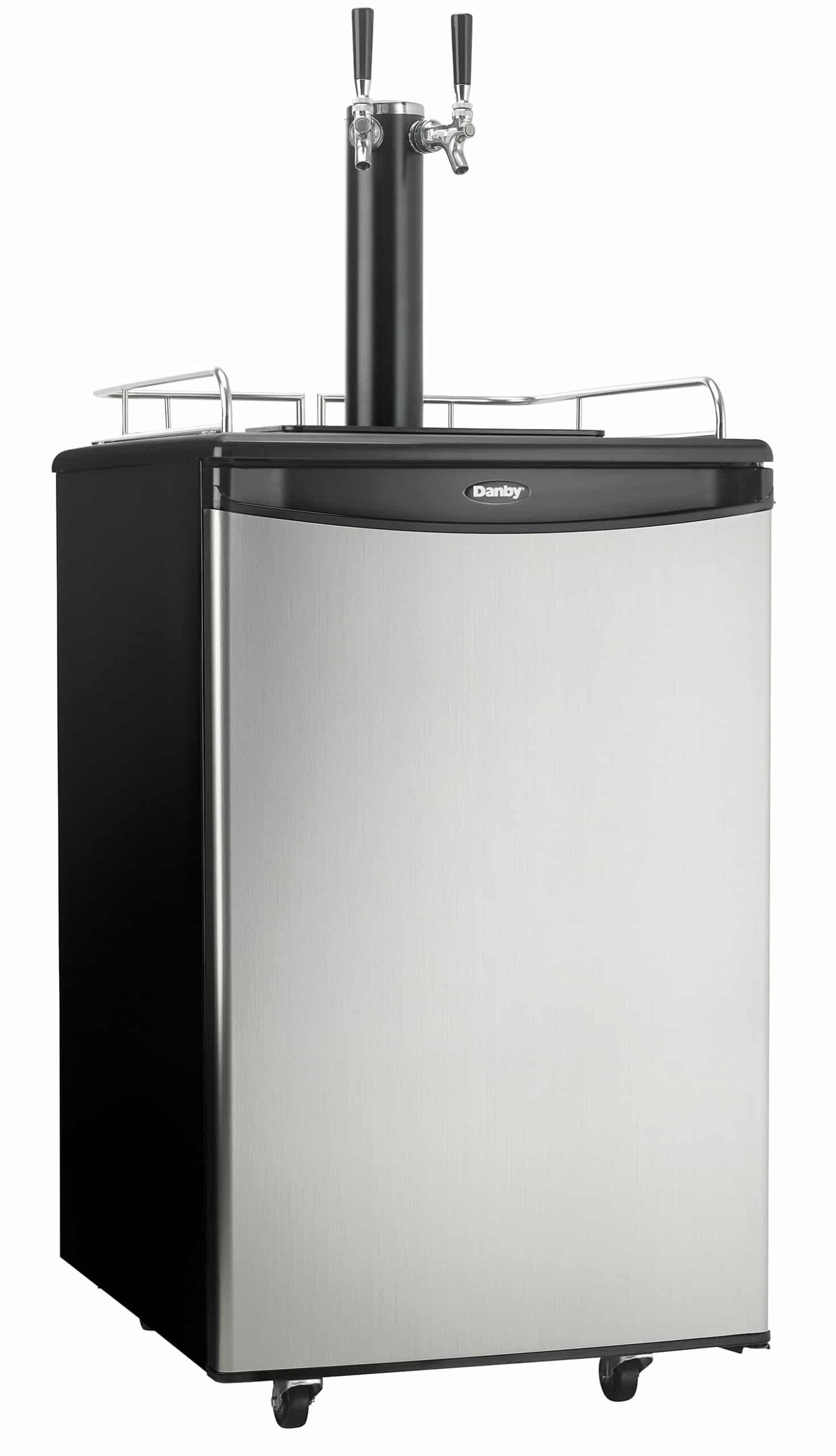 Last on our list is the Danby Dual-Tap Kegerator. This is a mid-range model that offers excellent design and build quality. The unit is great for keeping your favorite beer chill and is perfect for both large gatherings or having a glass or two on your own. It's a great kegerator that's sure to be the talk of any get-together.
This freestanding outdoor kegerator can hold a full-sized keg, which is the same as half a barrel of beer. Plus, it will look good in your man cave, in your outdoor kitchen, or in your home bar. It's sure to keep all your beer ice cold while offering amazing features. You'll get a scratch-resistant worktop, a drip tray, and a reversible door with the Danby Dual-Tap Kegerator.
Check out our full Danby Kegerator Review and Guide.
FAQs
Question: How long will a keg of beer stay fresh in a kegerator?
Answer: The two most important things to consider when keeping your beer cold and fresh are pressure and temperature. If you don't keep your beer properly pressurized and at the appropriate temperature, it could go bad in less than a month.
However, if you do things correctly, most kegerators will keep your beverages good for two months before you start to lose some of the freshness. If you prefer imported or unpasteurized beers, you should get around 60 days. Pasteurized beers, however, can stay fresh for almost 90 days, so long as you store them at the right temperature.
Ideally, you'll want to keep your kegerator between 34 and 38 degrees Fahrenheit. Be sure to taste it after it has chilled for roughly 24-hours. This will give you an idea of how to adjust the temperature, so your beer stays fresh and tasty.
Question: How many beers are there in one keg?
Answer: You can get a keg in a variety of sizes, but these sizes are standardized, which makes it nice when deciding which type of kegerator to purchase. Kegs come in ½, ¼, and ⅙ of a barrel. A full-sized keg is ½ barrel, which is roughly 15 and ½ gallons. This comes out to 124 pints.
¼ barrel is obviously half of what you get with ½ barrel, so you'll get around 62 pints. Something to keep in mind when selecting your kegerator is the shelf life for the type of beer you choose. So if you want ¼ barrel and choose a pasteurized beer, you'll have plenty of time to drink those 62 pints.
Question: How do you clean your kegerator?
Answer: To get your kegerator clean, you'll want to completely disassemble it. You can do this by taking out the faucets and thoroughly flushing the beer line. It will be messy and take some time the first few times you do it, but once you get into a routine, it'll get easier.
If you have a portable or lightweight kegerator, wheel it out into your yard or put it on a plastic sheet before you get started.
If you don't want to get a lot of build-up or inadvertently get weird-tasting beer, it's a good idea to clean it out every time you replace the keg.
Conclusion
As you can see, there are plenty of outdoor kegerators on the market. It's almost a given that you can find one that works for you. Whether you're on a budget or need an outdoor kegerator with dual-taps, there's a unit out there that has your name on it. Plus, there are models that come with all the features and functionality you could possibly want.
That's one of the reasons our favorite outdoor kegerator is the KITMA kegerator. Yes, you'll pay a little more to own one of these bad boys, but they'll keep your beer fresh and cold no matter where you store your kegerator. It has all the features you could want in a kegerator, and it's ideal for having a few pints with a loved one or entertaining a large group of friends.