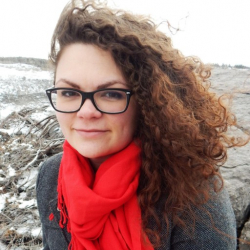 Latest posts by Candace Osmond
(see all)
Are you ready to take your homebrewing skills to a whole new level? If so, a CO2 regulator is a must-have piece of equipment in your arsenal. If you're not sure what this does and why you might need it, you've come to the right place. In this Best CO2 Regulator for Brewing, we've rounded up all the best choices for you by looking at quality, price, and ease of use.
At a Glance: Best CO2 Regulator
| Product Image | Primary Rating / Price | Primary Button |
| --- | --- | --- |
| | | |
| | | |
| | | |
| | | |
| | | |
08/03/2023 12:12 pm GMT

What Is a CO2 Regulator?
Regulators are used to regulate the flow of gas into the keg. When a gas cylinder contains CO2 with hundreds of pounds per square inch of pressure, it's referred to as a high-pressure cylinder. This is well over the recommended drinking level for handling beer, and also risky to work with.
In order to control the pressure from the tank, the regulator… well… regulates it. The majority of the pressure coming out of the tank is alleviated using a spring and a diaphragm located inside the regulator's body.
This controls the pressure going out of the regulator and into your brew. A screw device is located at the front of the regulator body. Fiddling with it will allow you to adjust the pressure as needed.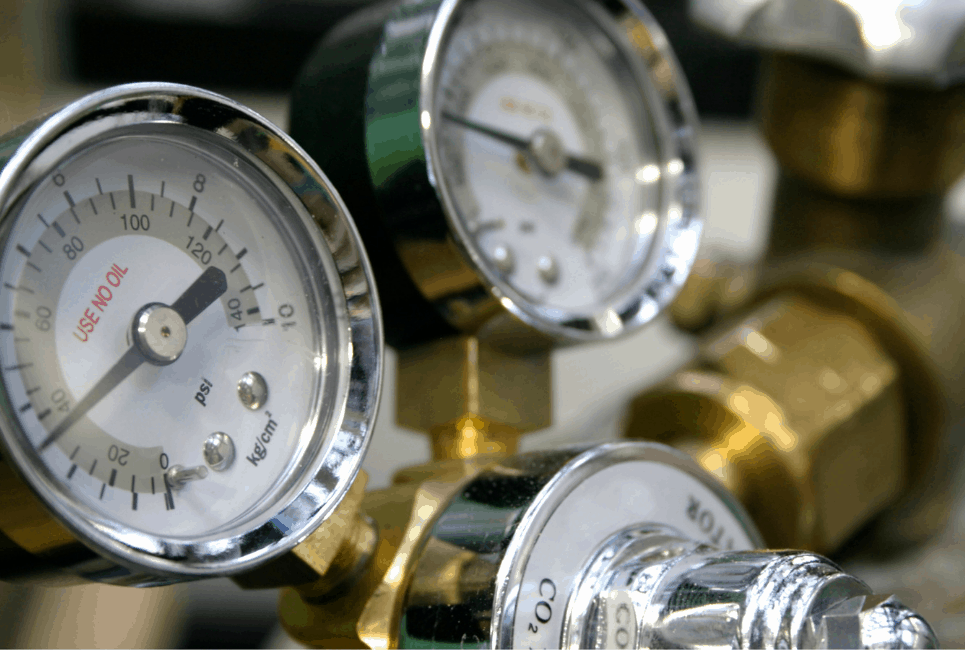 Do I Need a CO2 Regulator?
It's critical to control the CO2 pressure in your brewing system if you want to make a drinking beer. The CO2 regulator is one of the most critical components of your home draft system, thus choosing the appropriate one is critical.
Take into account how many kegs you'll be drawing from, the portability of your CO2 tank, and even the different types of beverages you want to prepare when choosing a CO2 regulator.
Is a CO2 Regulator the Same as a Nitrogen Regulator?
No. Because nitrogen regulators are built to tolerate higher pressures and have characteristics unique to systems that use this particular type of gas (such as a male thread with conical fittings), they cannot be replaced with CO2 regulators. You can't use a CO2 regulator if you're going to serve beer with nitrogen.
How Do I Attach a CO2 Regulator to a Keg?
It is really important that you handle this activity with care because working with pressurized gas can be dangerous. To attach a CO2 regulator to a keg, here are the general steps to follow.
Step one: Attach Washer
You need to use a rubber washer to connect the keg coupler to the beer line. Before connecting the line, you must first attach the washer.
To achieve a good seal, screw the line firmly into the top of the coupler and tighten the coupler with a hex nut wrench. If you use the improper coupler, your kegerator will not produce even a single drop of beer.
Step two: Connect Air Hose
Connect one end of the air hose to the regulator. You will have to push hard to make sure that these two parts are connected. Experts also suggest using a screw clamp to make sure you end up with a tight seal and zero leaks.

Step three: Attach Hose Barb
The other end of the air hose should be connected to the hose barb (which is located on the side of the keg coupler). Similarly, to the step above, it's best to use a screw clamp for a tight seal.
Step four: Attach CO2 Regulator
Use the inlet nut to attach the CO2 regulator to the tank. You can screw the inlet nut to the CO2 tank using a wrench.
Step five: Coupler
Provided that you have the right keg coupler to match whatever beer you're looking to serve, your coupler should fit into the grooves above the keg quite easily.
Begin by closing the coupler's handle. After inserting the coupler into the keg and making a secure seal, lower the coupler handler so that it is facing straight out rather than diagonally.
Step six: Open-air Tank
To open up the air tank, you're going to have to turn the handwheel and move the shut-off valve to the bottom side of the regulator, making sure it's in the ON position.
Step seven: Adjust PSI
To adjust the PSI, check to see if the front of the regulator has a screw or a dial that you can turn. If it's a screw, you're going to need a flathead screwdriver to operate it. Most beers are served at a 12 PSI pressure, but it could vary between 10 and 15, depending on the brew.
What to Look for in a CO2 Regulator for Brewing
Ease of Use
Overall, CO2 regulators, regardless of the model chosen, are pretty similar to use because of their strikingly similar design and the components which are pretty much the same across all units.
A CO2 regulator is easy to use once you get acquainted with what all the parts do and how the entire system functions. They might seem intimidating at first, but they are pretty intuitive and easy to use.
PSI Safety Mechanisms
Unless the pressure system is equipped with two safety mechanisms, it is not recommended to connect a product container. Both of these safety mechanisms should be included with the keg coupler.
These two systems refer to the safety mechanism at the CO2 regulator and one that's either in the pressure gas line or the product container coupler.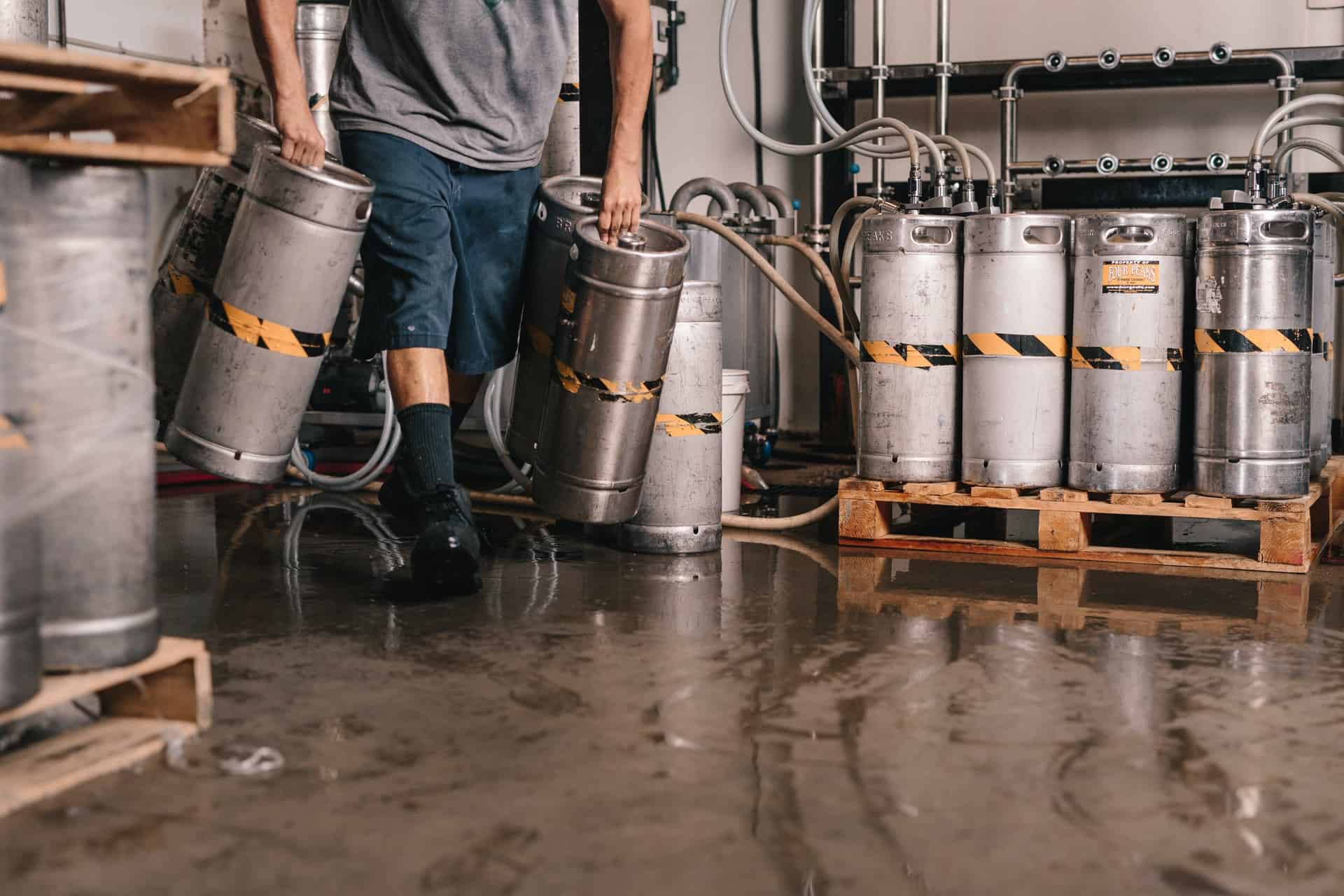 Where is it Manufactured and Sold?
While this may not seem important at first, getting replacement parts for your CO2 regulator might be difficult if you're ordering a product delivered all the way from the other side of the planet.
So, make sure that the product you want to purchase is manufactured in your area so that you can get replacement parts easily if needed.
Is it Easy to Get Replacement Parts?
This ties to the other aspect we've discussed above. Certain parts of the regulator might break down after a while, and if there are no replacement parts available, you're going to have to purchase a brand-new unit, which could end up being costly and frustrating.
Versatility for Various Types of Tanks and Brewing
This might not be very important if you're always brewing the same type of beer or using the same tank over and over again.
However, if you plan on switching things and want more versatility when preparing your beverages, you definitely want to check the fittings on any CO2 regulator you're thinking of buying, just to make sure that it matches as many different types of tanks as possible.
Quality and Strong Materials
One of the most common materials used to make a CO2 regulator is brass. Naturally, the quality of materials is important because you don't want to have to buy replacement parts or a brand-new regulator in just a few months.
Quality materials will also ensure tight fittings, screws that stay in place, and gauge dials that don't break that easily. Remember that it can be dangerous to work with pressurized tanks, so it's really important to invest in products made with fine materials.
A Good Warranty
Warranty usually covers manufacturing and material defects, so it's important to read the warranty of a CO2 regulator before buying it. Also, note that different parts of the regulator can have different warranty coverage, so read everything carefully and choose products that manufacturers swear by (which is pretty much reflected in the warranties they offer).
Single or Dual Gauge Regulators?
When shopping for regulators, you're going to come across two main product types: single or double-gauge regulators. But what does this mean?
A single-gauge regulator comes with only one output pressure gauge, as opposed to double-gauge models that have an additional gauge which will show you the tank pressure.
For beer dispensers, it's very important to have that output gauge, so single-gauge models are pretty much mandatory. However, the second gauge, the one that shows how much CO2 is left in the tank, is not a mandatory feature, but it's a pretty useful one to have, nevertheless.
If you want to prepare beers with different carbonation levels, a single-gauge regulator is a cost-effective way to make that happen. To lengthen your gas lines, install a gas line coupler and use a single gauge regulator to adjust the gas pressure to a lower value. Single gauge units can be joined together to make several regulators.
The Best CO2 Regulators for Brewing Craft Beer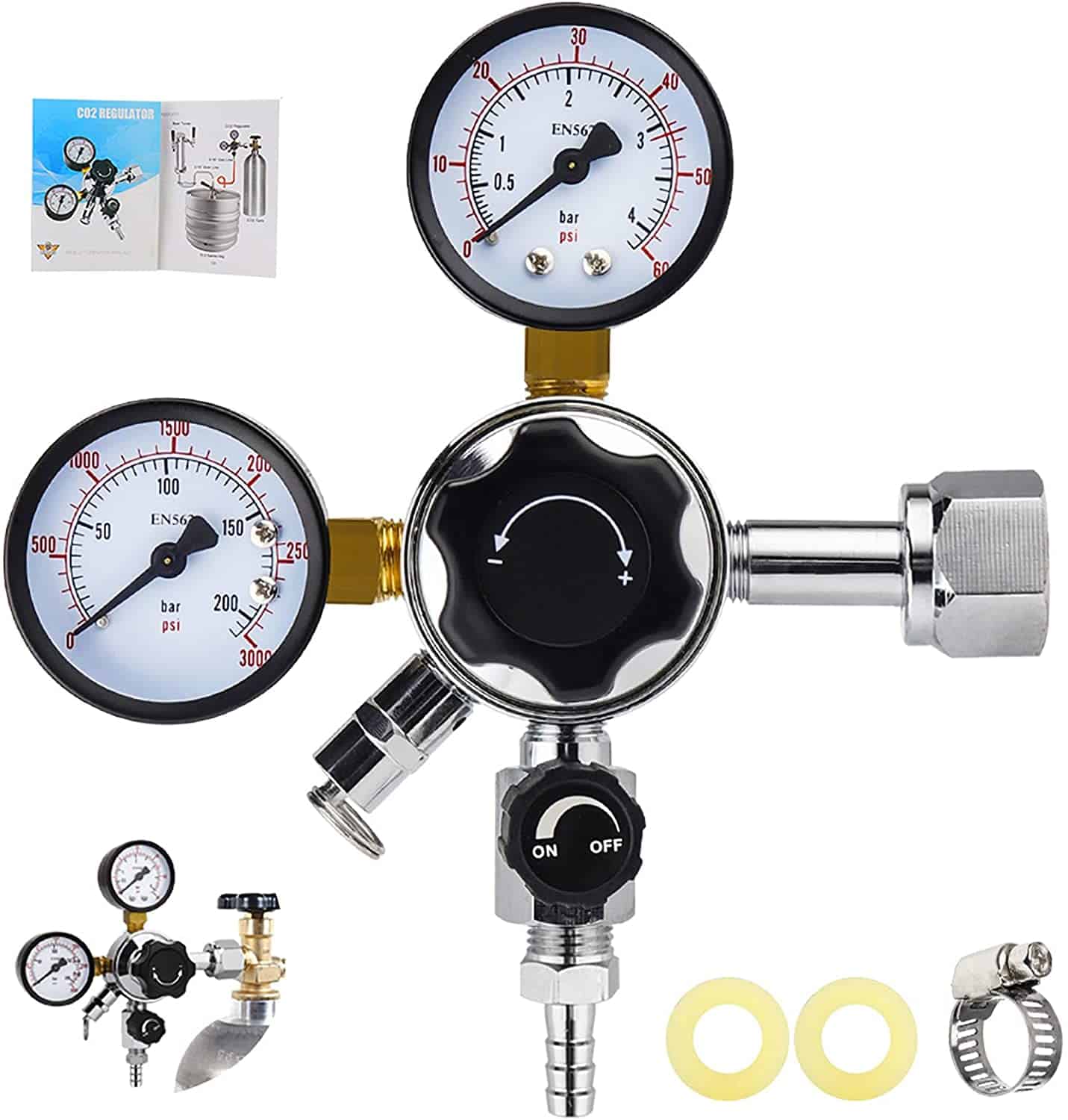 The MRbrew Keg CO2 Regulator has a body that's multi-stage to deliver precise output pressure control. To keep a consistent CO2 pressure, the adjustment knob's lock ring can be locked instantly without requiring further adjustment.
A gas shut-off valve with dual-gauge that is easy to read and a 45 PSI safety relief valve are also included. An integrated nylon tank connection washer, a sintered brass inlet filter, and a sintered brass intake filter are all included in the MRbrew CO2 Pressure Regulator specifically for making draft beer. It is a durable item manufactured of forged high-quality brass.
Pros
 

Easy to set up

 

Made with quality brass

 

Pressure knob is easy to turn
Cons
 

Prone to leaks in the long run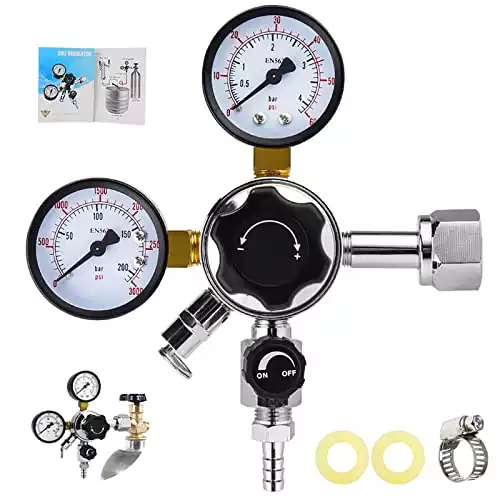 MRbrew Keg CO2 Regulator | Amazon
This brewery-grade keg regulator features a multi-stage body for more precise control when making a little adjustment to the output pressure.
Buy at Amazon
We earn a commission if you make a purchase, at no additional cost to you.
08/03/2023 12:12 pm GMT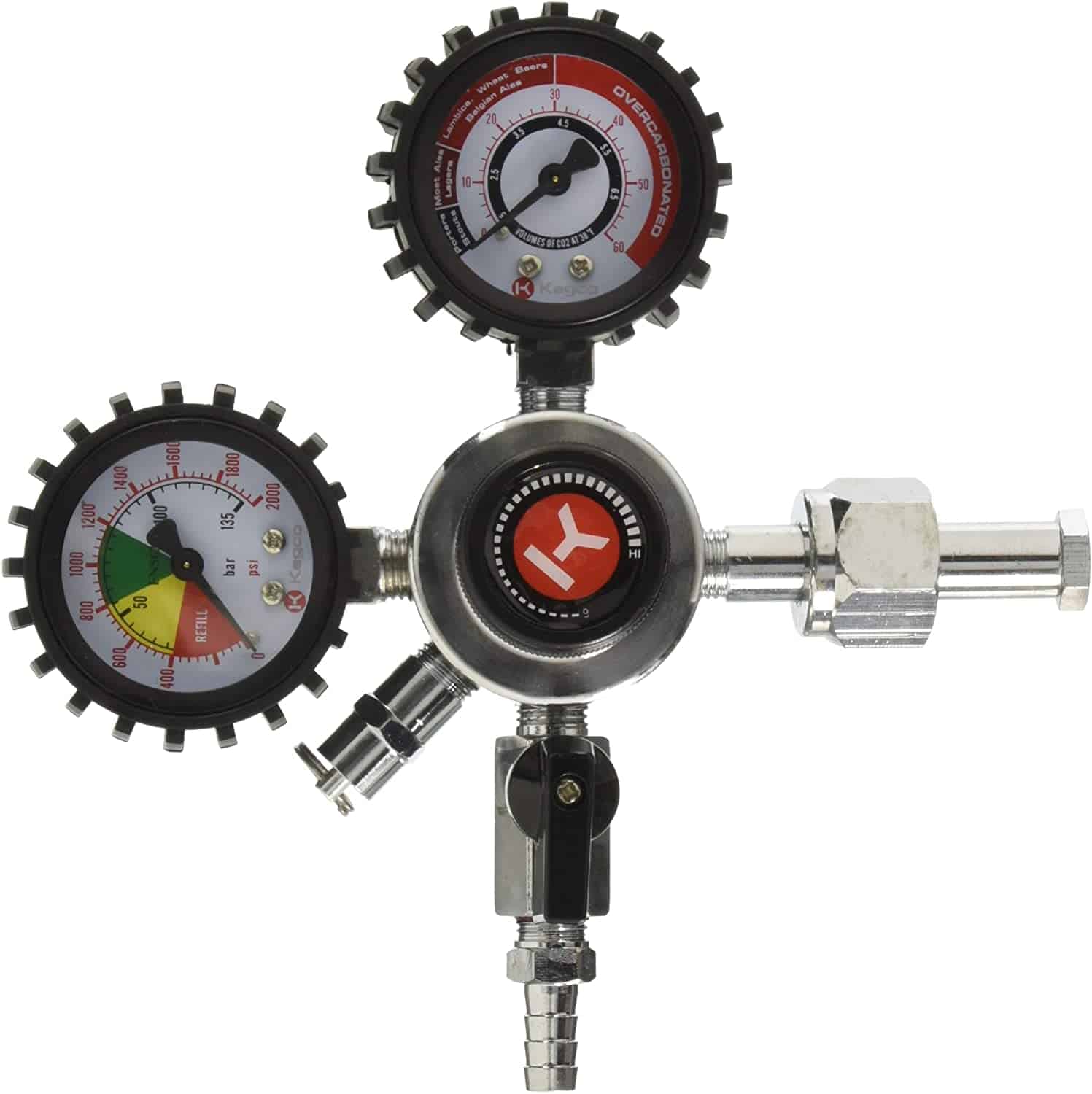 Kegco's commercial-grade dual-gauge CO2 regulator has been specifically developed to provide the greatest amount of ease and durability in high-traffic commercial applications like bars, restaurants, pubs, and other food service establishments.
With this dual-gauge draft beer regulator, you will no longer have to guess when your gas tank is nearly empty, thanks to the gauge on top that will indicate the amount of CO2 left in the tank. The boots included with each gauge offer protection against failures, and a wide pressure knob enables manual adjustment on the go.
Pros
 

Includes a shut-off valve

 

Durable brass construction

 

Tamper-proof safety pressure relief valve
Cons
 

Valve too sensitive for home use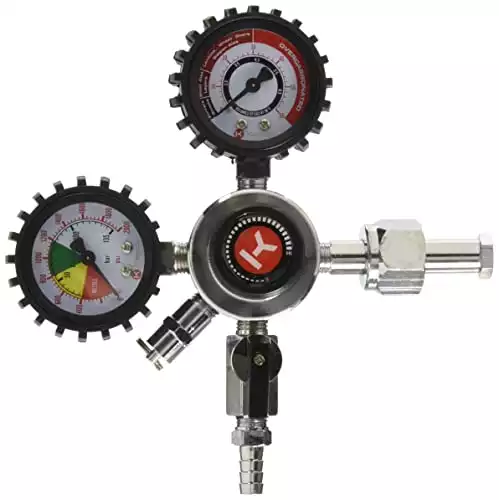 With twin gauges to correctly detect operating pressure in the system as well as CO2 tank pressure, the TerraBloom CO2 Pressure Regulator is a heavy-duty equipment designed for draft beer systems.
This CO2 regulator is designed to work with all standard CO2 tanks that have CGA-320 inlets. A control knob on the front of your system allows you to alter the operating pressure of your system. Turn off the gas to make keg/tank swapping a breeze.
An adjustable wrench is all that is required for the installation of this CO2 Pressure Regulator. Each device comes with two O-ring washers, which are not included.
Pros
 

Includes gas shut-off valve

 

Easy installation

 

O-ring washers for tight seals included
Cons
 

Pressure dial is difficult to turn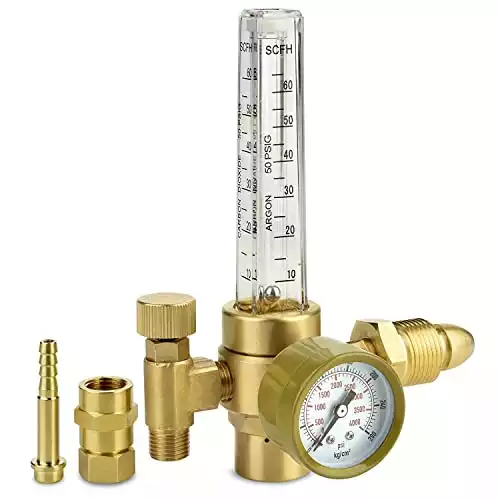 Argon CO2 Regulator | Amazon
Terrabloom Argon Gas Flow Meter Regulator is Designed for Professional TIG/MIG Welding Applications. It Provides an Easy and Accurate Way to Adjust Gas Flow Between 10-60 CFH.
Buy at Amazon
We earn a commission if you make a purchase, at no additional cost to you.
08/03/2023 05:43 pm GMT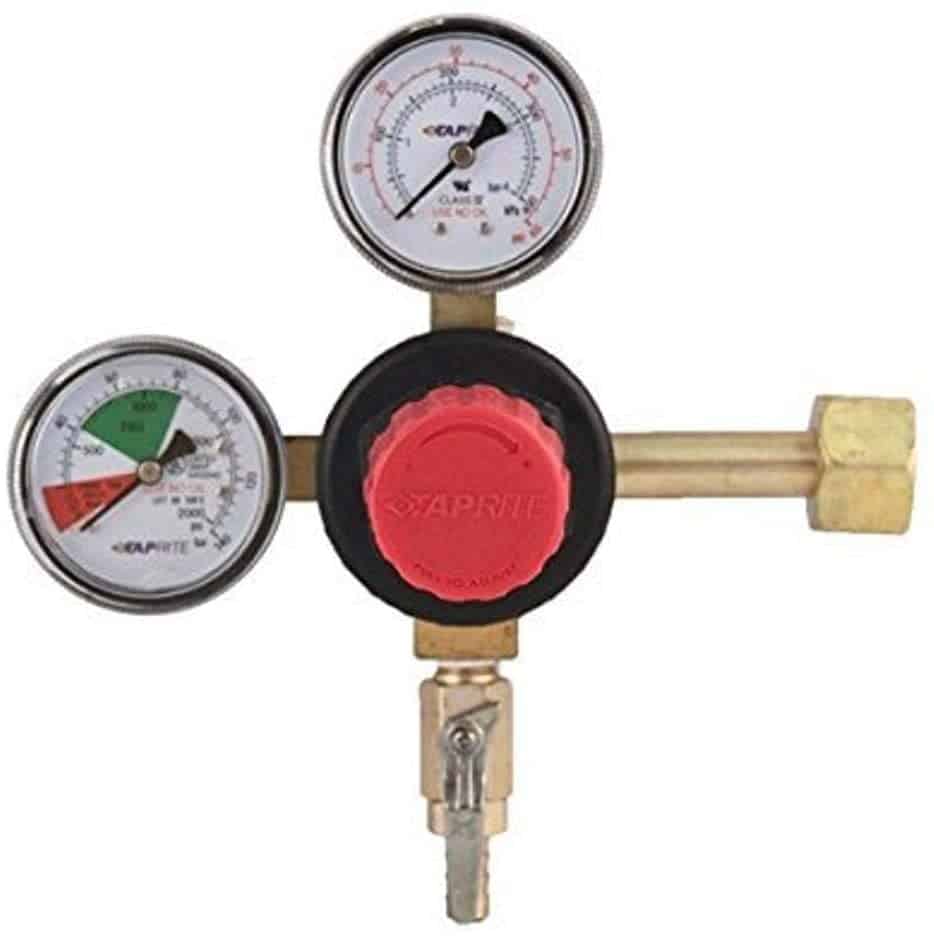 This low-pressure regulator works with any CO2 tank that has a CGA-320 valve.  The output pressure is adjusted using the knob on the front and the red polycarbonate bonnet is resistant to chipping, breaking, and fading.
When the non-removable adjustment screw is fully inserted, the maximum downstream delivery pressure stays within the 50 PSI limit, with a safety blow off at 60 PSI. The duckbill check valve keeps the product from backing up into the regulator, which is a typical cause of regulating and relief valve parts failure.
Pros
 

Quad-ring seal for zero leaks

 

Resistant bonnet

 

Easy to adjust pressure
Cons
 

Pressure dial not fully accurate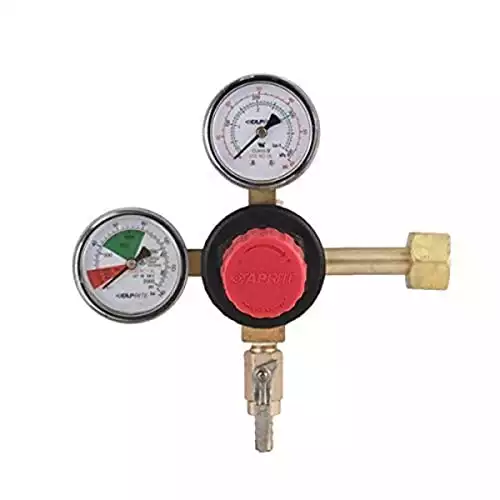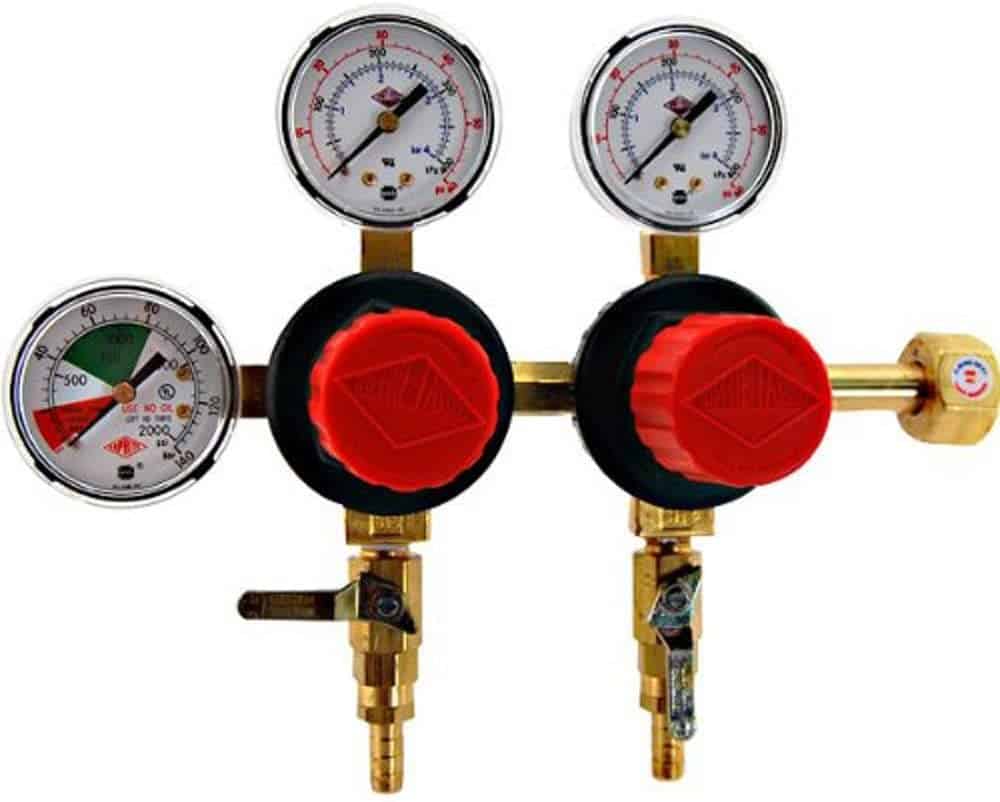 If you're interested in a dual-pressure CO2 regulator, we suggest taking a look at this Taprite model. It has large adjustment knobs located on the front so that you can easily adjust the pressure without the need for any additional tools to do so.
Each of the regulators in the system has its own shut-down safety built into it, so in case the regulator fails for some reason, the dispersing system will stay protected. The inlet is covered by a quad-ring seal, which means that chances of CO2 leaks are virtually non-existent.
Pros
 

Quad-ring seal for zero leaks

 

Easy to adjust pressure

 

Individual shut-down safety regulators
Cons
 

Problems with shipping handling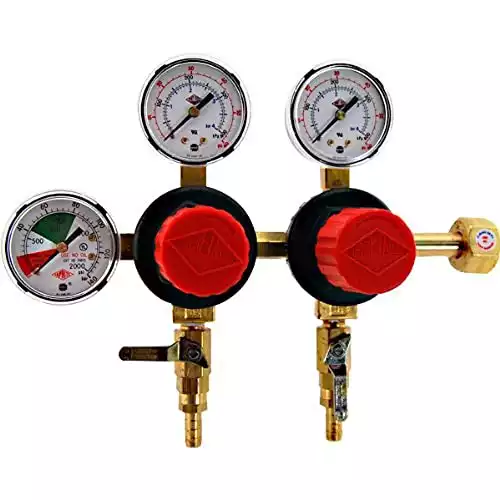 Taprite T752HP CO2 Regulator | Amazon
The TAPRITE ADVANTAGE Taprite regulators are built and tested in accordance with UL Standard 252 for compressed gas Regulators and UL 252A for compressed gas regulator accessories.
Buy at Amazon
We earn a commission if you make a purchase, at no additional cost to you.
08/03/2023 06:15 pm GMT

FAQ
Question: What pressure should keg CO2 be?
Answer: When working under typical conditions, it is best that you set your regulator to 12 PSI. Depending on the circumstances, such as altitude or specific beer styles, adjustments may be necessary. For recommended PSI values, check with your keg distributor.
Question: How do you use a CO2 regulator on a kegerator?
Answer: For detailed information on how to attach a CO2 regulator to your kegerator, consult our section on "How Do I Attach a CO2 Regulator to a Keg?"
Question: How do you adjust the pressure on a CO2 regulator?
Answer: Open and close the shut-off valve which is located on the bottom of your CO2 regulator (attached to the hose that goes to the keg) and turn the screw clockwise. Expel the pressure that is now in the hose by opening the pressure relief valve on the keg coupler, then open the valve on the regulator to release the pressure that has built up.
That's a Wrap on CO2 Regulators!
Not only does the addition of CO2 assist beermakers in achieving the proper foam head every time a beer is poured, but it also has substantial effects on the acidity and flavor of a beer. If you found this article helpful or have any questions related to the topic, make sure to use the comment section down below! And check out one of our guides to brewing craft beer right here!
| Product Image | Primary Rating / Price | Primary Button |
| --- | --- | --- |
| | | |
| | | |
| | | |
| | | |
| | | |
08/03/2023 12:12 pm GMT

References