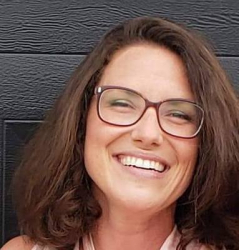 Latest posts by Sarah Caldwell
(see all)
Did you know that a glass of draft beer costs half of what it would cost if it came in a can or a bottle? Pouring yourself some draft beer at home will save you money, but it's also fun to have it on tap.
If you have an old refrigerator hanging around, you can turn it into a kegerator with a kegerator conversion kit, or you can make a DIY kegerator by buying the parts and building it yourself.
Kegerators are ideal for a home bar, an outdoor kitchen, the garage, and anyone who likes to have their buddies over or entertain friends. Kegerator conversion kits are a great way to make use of an old refrigerator without spending a ton of money on a kegerator unit.
At a Glance: Best Kegerator Conversion Kits
| Product Image | Primary Rating / Price | Primary Button |
| --- | --- | --- |
| | | |
| | | |
| | | |
| | | |
| | | |
08/03/2023 04:43 pm GMT

What is a Kegerator Kit?
If you've made it this far, you likely already know what a kegerator is. It's a refrigerator designed to store large containers of beer. There's a CO2 cylinder to pressurize the beer inside the container and maintain pressure from the keg to the tap.
If you don't already own a kegerator, you can buy one, or you can turn a regular refrigerator into a kegerator with just a simple conversion kit. Conversion kits help you dispense beer through the door of the refrigerator or from a tower on your countertop.
Each mount will have a shank that goes through the door or the countertop with a faucet and a hose nipple. Installation is relatively simple, but it does require a few heavy-duty tools to drive holes through the refrigerator door.
The CO2 tank can go inside or outside of the fridge and customize it however you like. Each kit is designed in a specific way and meant for a predetermined type of space. Make sure you select the right kind of kit for the kegerator you want to build.
While dispensing beer is the most common reason people want a kegerator, you can also use it for coffee or wine. In fact, you can use it for anything you want to keep cold and on tap.
Why Get a Kegerator Conversion Kit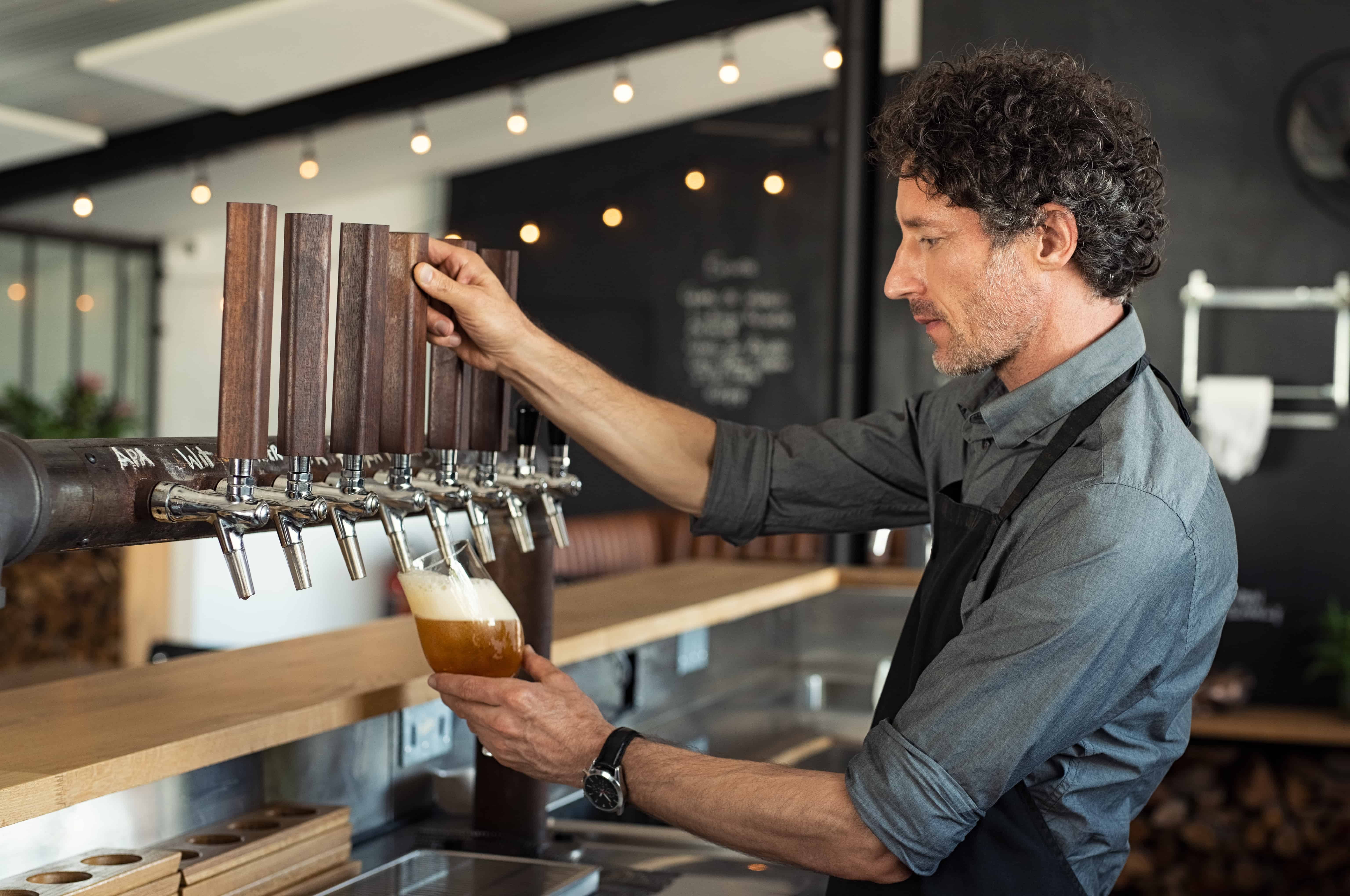 The primary reason people get kegerator conversion kits is that they want beer on tap and they already have an extra refrigerator they're not using. It's an economical way to get the beer storage you want without buying a kegerator unit.
It's handy for storing your favorite beer, but some kits come with more than one tap, so you can store multiple types of beer and other beverages for a complete home bar solution.
Types of Conversion Kits
Kegerator conversion kits are an easy and economical way to convert your old refrigerator into a unit offering your favorite cold beer on tap. You can also convert freezers into kegerators as long as you add a temperature control unit.
Door mount conversion kits
This type of conversion kit has a faucet that mounts on the door to dispense beer. These conversion kits are the most common because they're easy to install and they still give you easy access to storage in the refrigerator, where you can keep extra cans, bottles, and other beverages.
The other great thing about this type of conversion kit is that you can make it as portable or stationary as you want. Mount casters on a smaller refrigerator, and you instantly have a portable home kegerator.
Tower conversion kits
This type of conversion kit is perfect for a built-in solution. It features a tower mounted on top of a counter. They're more difficult to install because it requires cutting a whole in your countertop and creating space in the homebrewing cabinetry below for a refrigerator to hold your keg, but it looks more professional.
If you have a home bar, this is a fantastic option, because it will really complete the look. Just use an under-counter refrigerator or convert a small chest freezer that opens from the top.
Characteristics of a Kegerator Conversion Kit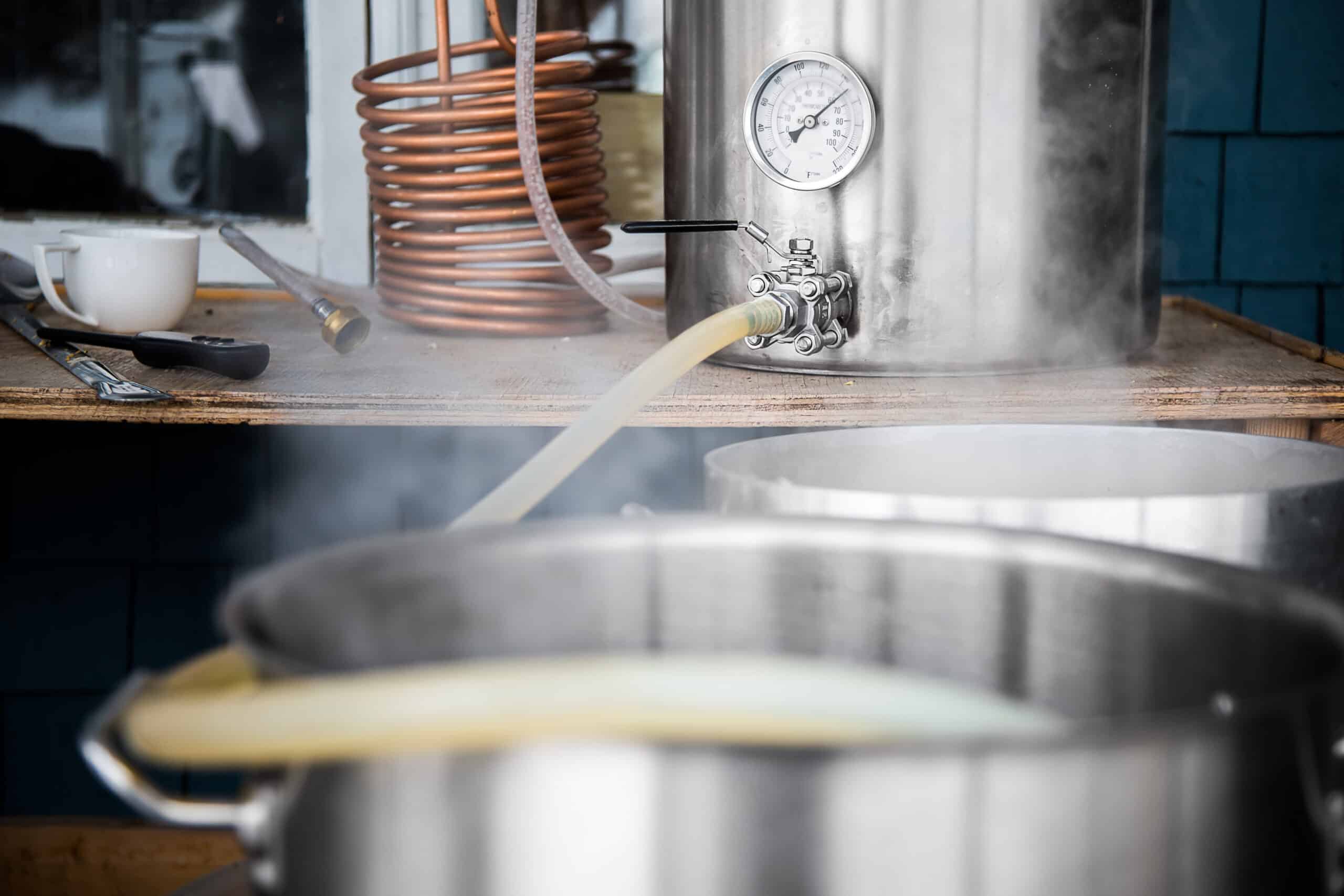 Most kegerators are used for storing beer, which means that one of the most important components is a CO2 regulator and storage tank. However, you also need a tap to dispense the beer, and the faucet should have a restriction disc on the head of the drain, which helps to circulate the beer for cold, creamy results.
Most conversion kits come with the following:
Stainless steel barrel

CO2 cylinder

CO2 pressure regulator

CO2 pressure line

Barrel coupler

Beer line

Tower

Handle

Faucet

Drip tray
Consider the materials of these components and how easy they will be to use and clean. If you use your kegerator regularly, it should be cleaned out every two weeks. If you only use it occasionally, you can clean it every time you change out the keg.
Benefits of Having a Kegerator
Having your beer on tap is cheaper than buying cans and bottles. It's a great solution for a home bar or anyone who likes to entertain. The taste of your beer will be much more refreshing at just the right temperature.
You also don't have to worry about the excess trash or cleaning that comes with empty bottles and cans. Simply reuse your glass, making a kegerator an economically friendly option for drinking your favorite beer.
A kegerator is an investment. It offers you a more economical way to dispense your favorite brews and you can control the temperature more precisely for an excellent pour. If you own a business, a kegerator is profitable, but if you're simply installing one at home, you'll still enjoy the savings that come with ditching the cans and bottles.
Requirements for a DIY Kegerator Conversion Kit
All kegerators need several key components to keep them working properly, but when you're converting a refrigerator into a kegerator with a conversion kit, you need to keep a few things in mind.
It's critical to maintain a consistent temperature from the keg to the faucet. It needs to be 36-38°F to dispense the beer properly. Don't allow the beer to warm up until it hits the glass. To achieve this, you have to ensure that you're building and installing your kegerator conversion kit in a way that insulates and cools the hoses until they reach the tap.
While the size of the refrigerator or freezer isn't important, you want to make sure it will hold the kegs you like. Some beers come in specific size kegs, so find out how your favorite beer is dispensed to ensure you have enough room.
Kegerator Components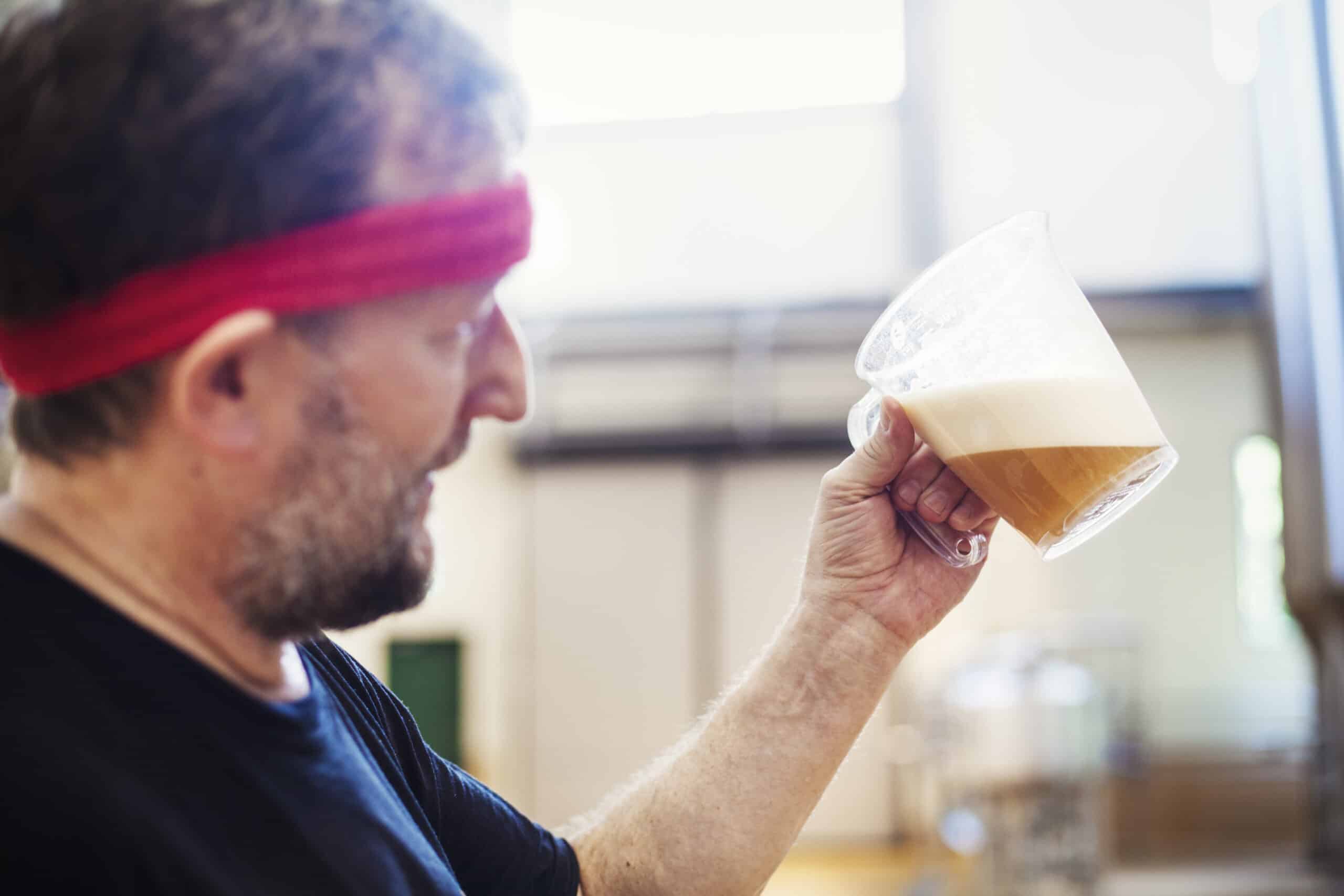 If you want to build a DIY kegerator rather than purchase a conversion kit, you have to have all of the Kegerator components. Kegerators require specific parts to keep them working properly, including regulating the pressure in your beer.
CO2 cylinder
Many conversion kits come with reconditioned CO2 cylinders. If you want a new CO2 cylinder, consider building your own kegerator conversion kit. Look for CO2 cylinders that have thick, durable walls.
Aluminum is a great choice because it's lighter than steel, so you can install it easier. It also won't rust. Look for CO2 cylinders that ship with a self-sealing o-ring assembly and keep in mind that they will ship empty. You'll have to fill it at a local gas supplier.
Gas regulator
This component ensures uniform, constant pressure control, even when the party is in full swing. Your best option is a commercial-grade CO2 regulator, especially if you plan to use your kegerator to its fullest.
Some gas regulators have shut down safety mechanisms in case of a diaphragm failure. Others will allow you to manipulate the amount of pressure provided based on the type of beer inside.
For easier use, look for a regulator that has a pressure reading so you'll always know how it's performing. A single gauge regulator will display the outlet pressure reading while a double gauge regulator will display both the outlet pressure and the pressure in the cylinder.
CO2 pressure line
The CO2 pressure line assembly should be odorless and tasteless. It also needs to be flexible and made of a material that resists cracking. Vinyl is an excellent choice. Make sure it's long enough to make secure connections. Five feet is ideal.
Keg coupler
The keg coupler is also sometimes called a keg tap. It attaches to the keg valve and allows gas to enter and beer to exit. The most popular coupler design in the United States is an American D system coupler. It's simple and reliable, and you can operate it with one hand.
Make sure your keg coupler has a built-in pressure relief valve to release pressure if it reaches anything over 55 PSI. This offers safety for all users.
Beer faucet
The beer faucet is often the most important piece of the kegerator because it's what's visible on the outside. Dispense your beer in style by purchasing a beer faucet that you like. You can get premium-quality faucets with forged brass bodies and polished chrome finishes or you can keep it simple with a high gloss black plastic knob.
Quick-acting handles make them easy to use and quality ball washers offer smooth and consistent performance.
Beer shank
This component may come fully assembled or not, but it should contain the shank, locknut, wall flange, coupling nut, and snap ring. Make sure these parts are made with durable materials to increase longevity.
Beer line
The beer line should be odorless and tasteless, long enough to make each connection, and resistant to cleaning solutions. You can find these lines with sanitary mirror finishes that offer a smooth flow and make them easy to clean without breaking down.
The Best Kegerator Conversion Kits
If you'd rather purchase a conversion kit instead of building one yourself, there are plenty of great options on the market that feature quality materials and useful configurations. Here are some of my favorites.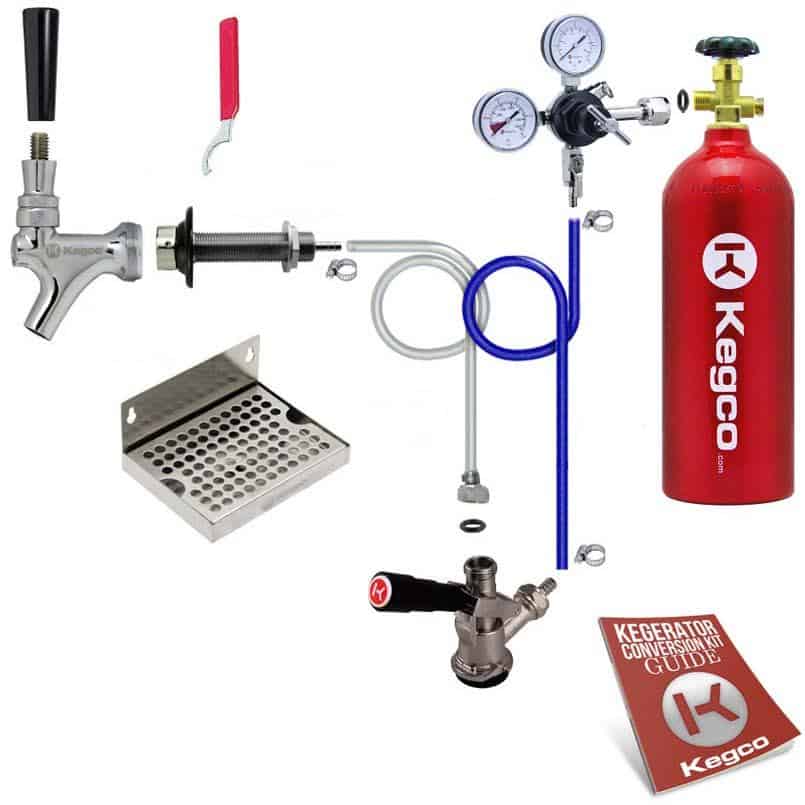 This conversion kit is a relatively simple solution for installing a single tap through your refrigerator door or the wall. It has everything you need for this hookup and it's easy to use once it's installed.
It features a double calibrate, T-style regulator so you can easily adjust the pressure inside the barrel. The pressure indicator is at the top of the regulator, so it's easy to read. It also includes a second indicator on the side to display the remaining CO2 volume. This takes the guesswork out of refilling your gas chamber.
The lever is made from nickel forged brass with an integrated stainless steel probe. It also contains a pressure relief valve for your safety. It prevents the over-pressurization that comes from gas entering the barrel and will release excess pressure over 55 PSI.
It comes with a stainless steel drip tray with a brushed finish, making it both attractive and easy to clean. The grill makes it easy to disassemble for cleaning and then put back together.
The high-strength aluminum alloy CO2 tank has a 5-pound capacity and makes for a lightweight, durable pressurizing option that won't rust. It also has a protective layer that further prevents corrosion and wears.
Pros:
Coupler works with any Sankey brand

Tank won't rust

Stainless steel drip tray

Easy to clean

Adjustable internal pressure

Easy-to-read indicators
Cons:
Has a tendency to build excess pressure
Kegco BF EBDCK-5T Conversion Kit | Amazon
With this Deluxe Kegerator Conversion Kit, Kegco provides everything you'll need to quickly convert your refrigerator into a beer dispenser and begin dispensing delicious cold draft beer!
Buy at Amazon
We earn a commission if you make a purchase, at no additional cost to you.
08/03/2023 04:43 pm GMT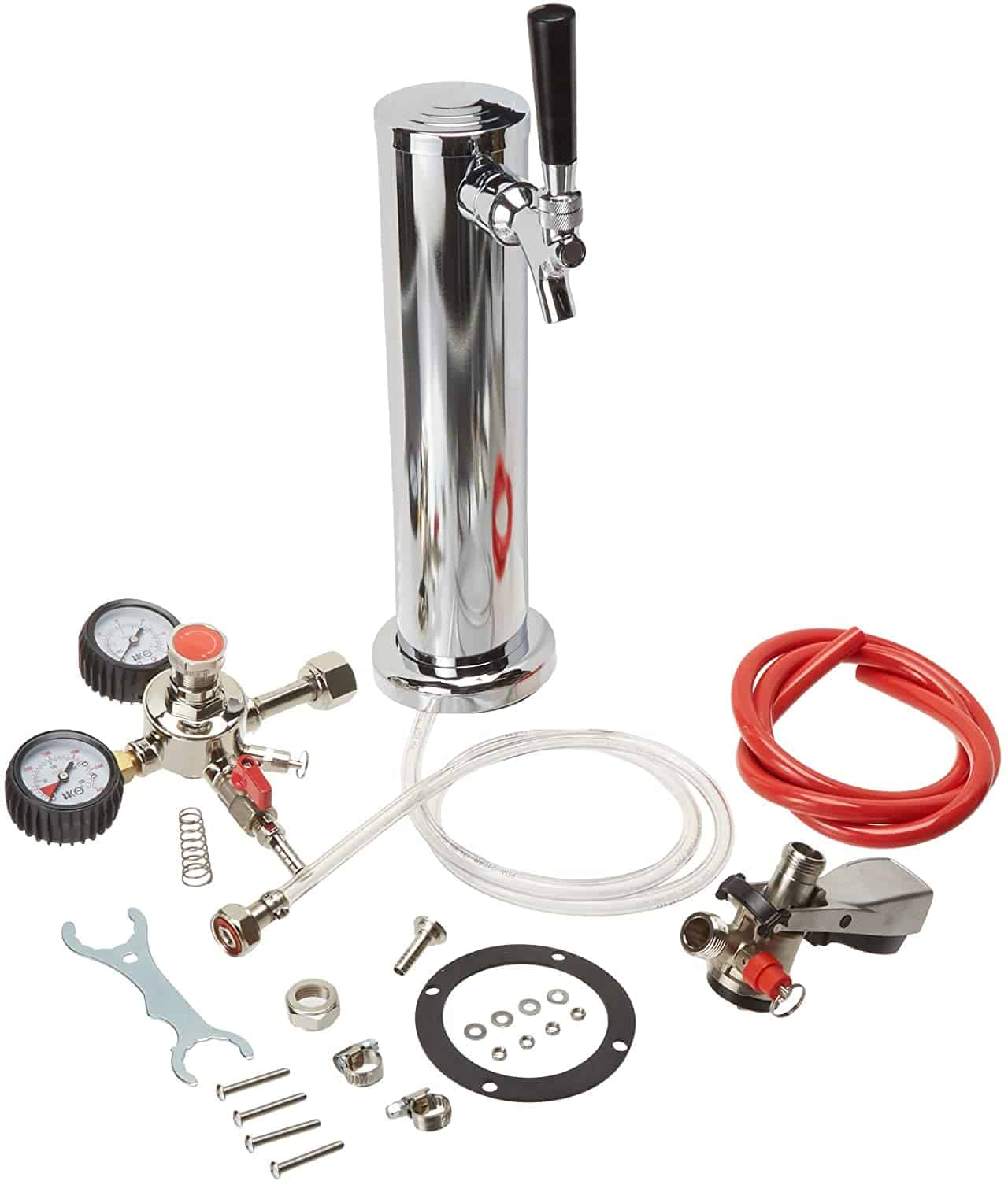 If you'd rather install a built-in kegerator on the counter, this is a great option that features a single tap and everything you need to connect your keg, except a CO2 tank, which you can purchase separately.
Easily measure and adjust the pressure with a double calibrate regulator. The pressure gauge located at the top makes it easy to read and keep tabs on.
The lever kay is made from nickel forged brass and an integrated stainless steel probe. The ergonomic design makes it easy to attach a new barrel when you run out.
The Bacoeng Standard Tower Kegerator kit comes with a detailed manual and all of the instructions you need for assembling the parts. It also includes instructions on turning your refrigerator into a beer vending machine.
The standard metal bracket and set of metal levers are eye-catching and attractive. Five feet of beer line gives you a quick connection.
Pros:
Easily monitor and adjust the internal pressure

Attractive stainless steel tower

Beer tower contains a nozzle and twist design to effortlessly attach barrels

Detailed instructions
Cons:
CO2 cylinder not included

Screws are very small and hard to fit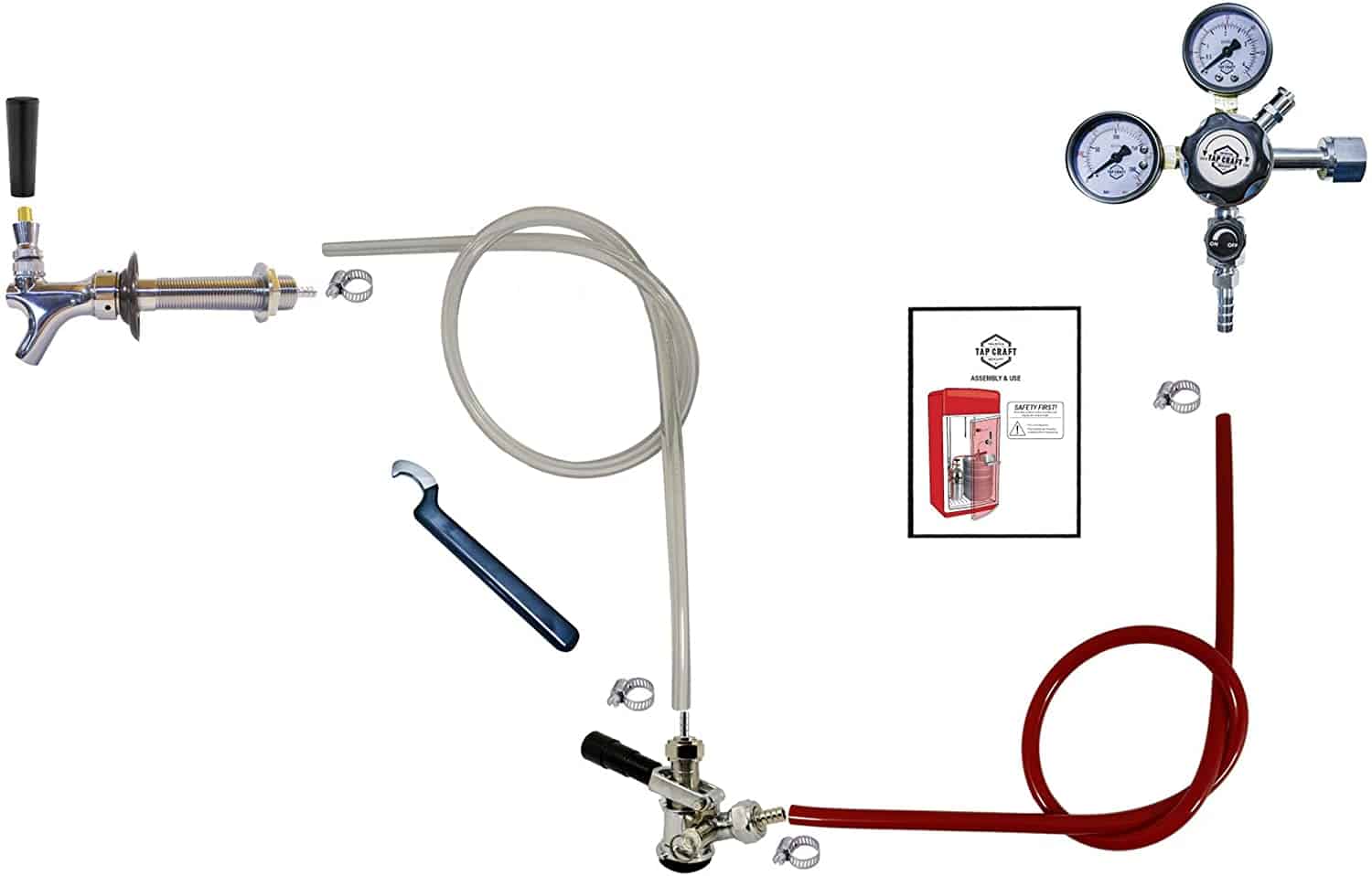 This double calibrate regulator includes 2 rubber protective covers, a retention valve, and a spring that prevent the backflow of gas into the beer line. You can also easily adjust the pressure with a simple button, so it doesn't require the use of tools. Most kits come with tools to help you adjust the pressure, but this kit makes it easy to achieve your ideal pressure more precisely.
The D system key coupler is made of nickel forged brass with an integrated stainless steel probe. This Conversion Kit is not only attractive, but it features a design that makes it easy to attach a barrel.
The beer tap features highly polished chrome with a forged brass finish on the lever. Even the beer stem is made with chrome-plated brass.
Pros:
Adjust pressure with a button

Gorgeous design

Designed for easy barrel attachment
Cons:
No CO2 tank included

Does not come with a wrench to tighten the tap
Bacoeng Tap Kegerator | Amazon
It comes with an appropriate pressure dial that features the style of a knob for regulating pressure. With a weight of 3 pounds, the unit comes with rubber covers for protective purposes.
Buy at Amazon
We earn a commission if you make a purchase, at no additional cost to you.
08/03/2023 06:12 am GMT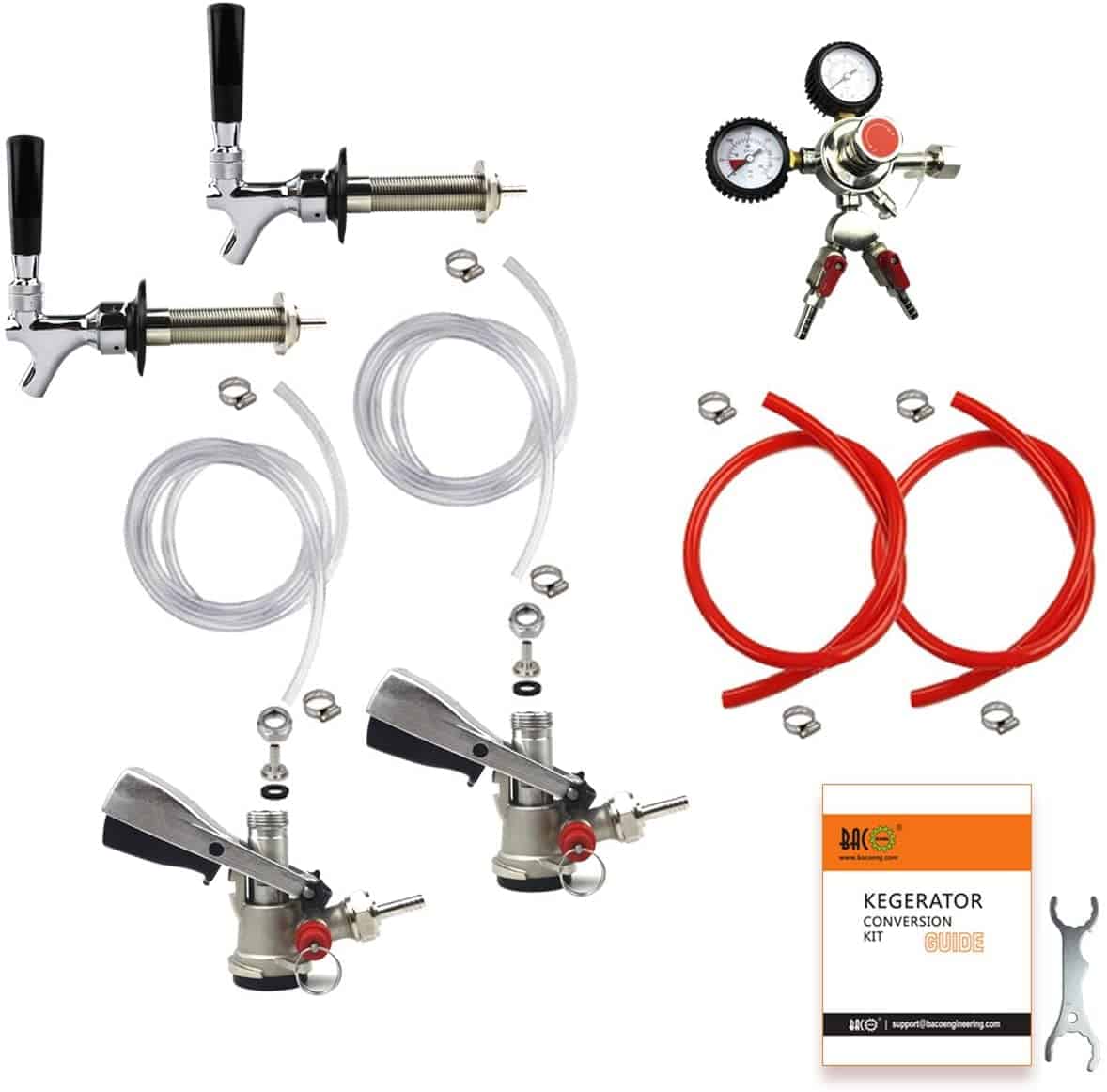 If you have a refrigerator large enough for your 2 favorite brews, you need a conversion kit with 2 taps. This one comes with a knob-style pressure regulator that allows you to adjust the pressure with a button as needed. Get more precise results without the use of tools.
You can also see the pressure in and out of the tank with separate indicators. There is a closing valve with a spring to prevent backflow into the barrels and each pot is covered with protective rubber.
The included coupler can be used with any brand of the barrel, so you're not restricted to the barrels that are included in the kit, Sankey, or any other brand. This makes this particular conversion kit much more versatile.
A chrome design and brass finish increase durability and attractiveness. There's a brass lever on the beer faucet, giving it a very stylish touch.
Pros:
Includes 2 taps

Button to adjust the pressure

Valve and spring system to prevent backflow

Universal coupler
Cons:
No CO2 tank included

No wrench to tighten the tap
Bacoeng Double Faucet Door Mount Kegerator | Amazon
It is ideal for seasoned beer enthusiasts looking for a reliable Kegerator before spending a fortune on a commercial unit, or people who are just starting out.
Buy at Amazon
We earn a commission if you make a purchase, at no additional cost to you.
08/02/2023 10:16 pm GMT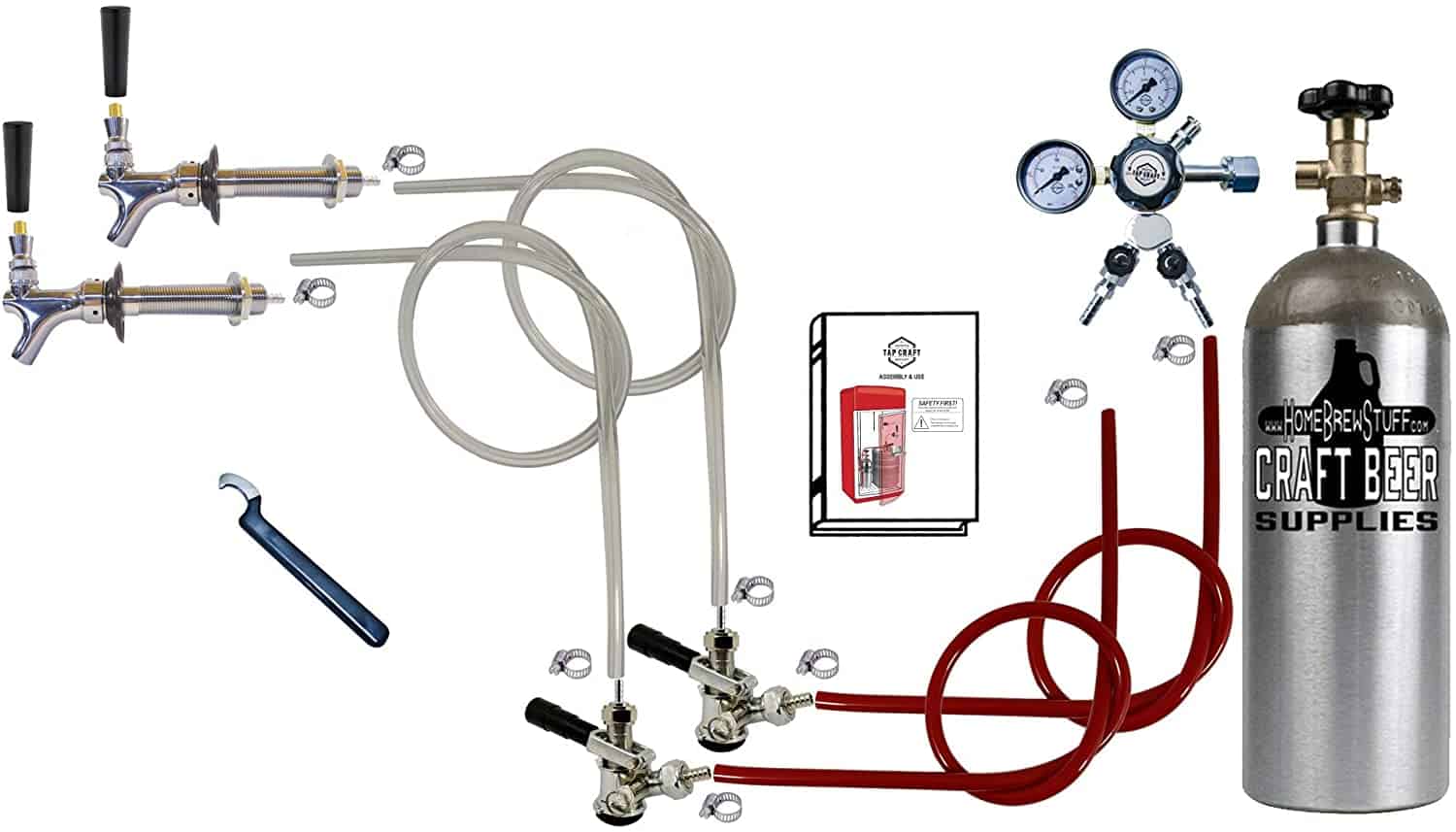 This complete kit also includes an empty CO2 tank, so you'll have everything you need to install 2 taps on the outside of your refrigerator. With 2 outputs, you can store your two favorite beers or one beer and one barrel of something else.
Adjust the ideal pressure on your kegerator with just a button, giving you precise control over the perfect brews.
The aluminum alloy CO2 tank offers a durable, lightweight component that is resistant to rust and wear. It's easy to lift and configure as you install your kit, but it's also easy to remove and refill.
Unlike several other kits, this one does come with the wrench you need to tighten the faucet, making it a truly complete kit for transforming your extra refrigerator into a kegerator for your favorite beverages.
Included in the kit are all of the screws and clamps you need to assemble it, along with detailed instructions so you don't have to worry about figuring it out yourself.
Pros:
Adjust pressure with a button

Comes with a CO2 tank and wrench

Includes detailed instructions
Cons:
Tubes and clamps are not anticorrosive

FAQs
If you're looking for a kegerator conversion kit, there are plenty of options. It can be confusing to figure out what's best for you, but these frequently asked questions may help.
Question: What is the best brand of kegerator?
Answer: There are many great kegerator brands on the market. Kegco, EdgeStar, Insignia, NutriChef, and Sunpentown are just a few. However, if you're looking for a conversion kit, Kegco makes reliable parts and kits that you can trust to turn your extra refrigerator into a kegerator at home.
Question: Is it worth buying a kegerator?
Answer: Whether you're looking to buy a kegerator unit or a kegerator conversion kit, you'll need to evaluate whether it's the right solution for you. Evaluate your initial cost, the cost of proper maintenance, CO2 refills, and barrel refills.
Your initial installation cost will likely be high, but after that, all you have to worry about are occasional refill expenses. Kegs afford you much more beer for the price, so it's usually a good investment for people who drink a lot of beer.
Question: Why does keg beer taste better?
Answer: The main reason why keg beer tastes better than beer in cans and bottles is that it's fresher. This affects the flavor significantly. It's kept under more constant pressure until you're ready to consume it, which will make it seem like it tastes better.
Question: Do you leave the CO2 on in a kegerator?
Answer: It's important to keep your CO2 connected if you plan to consume the beer in your kegerator. This way the beer will stay carbonated and be ready whenever you need it. If you don't plan to consume the beer soon, you can leave the CO2 off, but you'll have to remember to reconnect it before consumption.
Question: How long is beer good in a keg?
Answer: A keg won't stay fresh for as long as bottles or cans, so it's important to keep track of how long your keg has been in the kegerator. Pasteurized beer will last for 90-120 days while non-pasteurized beer will only last about 45-60 days.
Question: How long should a keg sit before tapping?
Answer: If your keg hasn't been refrigerated, you should let it sit on ice for 3-4 hours before tapping. If you've moved it around recently, let it settle before you tap it to reduce foam.
Final Thoughts
Kegerator conversion kits are great ways to convert that old refrigerator into a draft solution for your favorite beer at home. It will keep it cold, fresh, and pressurized to perfection so when you're ready to enjoy it, all you have to do is pull the handle.
A conversion kit is an economical way to add a tap to your home bar without buying an entire kegerator unit. It's a great investment in your home bar, kitchen, or entertainment space.
My all-time favorite conversion kit is the Standard double faucet door mount kegerator because it has everything you need to install it. It even includes 2 taps so you can keep 2 different beverages in it at once.
If you love beer, you need a kegerator at home, and any of these conversion kits would be an ideal solution for you to build your own.
| Product Image | Primary Rating / Price | Primary Button |
| --- | --- | --- |
| | | |
| | | |
| | | |
| | | |
| | | |
08/03/2023 04:43 pm GMT