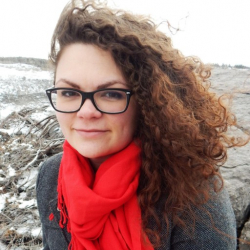 Latest posts by Candace Osmond
(see all)
Ready to start brewing your own beer inside your home? You may be surprised to discover the only piece of large Homebrewing equipment you need is a simple brewing cabinet! I know you've got to be curious about what brewing cabinets are and what the best brewing cabinet ideas look like.
Keep reading to find out more because I'll walk you through amazing brewing cabinets you can buy and DIY brewing cabinet ideas you can make at home. Let's dive right in!
Bottom Line Upfront
I think all the ideas on this list are stylish and functional, but I have to say, my fav pick is the Your DIY Outdoor Kegerator idea. It's simple and cute and would easily fit in with my décor.
Want to know more about choosing the best Kegerators? Check out our complete Kegerator guide.
Top 3 Picks
If you're ready to create your own at-home brewery, check out these 3 beautiful and unique options. These brewing cabinets are the best of the best, whether you're looking to make your own or buy one that's already perfect.
Best Brewing Cabinet Ideas
Let's check out the 26 best brewing cabinet ideas! These brewing cabinets will allow you to ferment your own alcoholic beverages in the comfort of your own home. I have a diverse range of cabinet styles to show you that fit in with various home themes. I chose them based on their design, ease of use, and function.
When it's time to crack open an ice-cold beer, you'll get to be the one impressing your friends with homemade beer made in your new cabinet.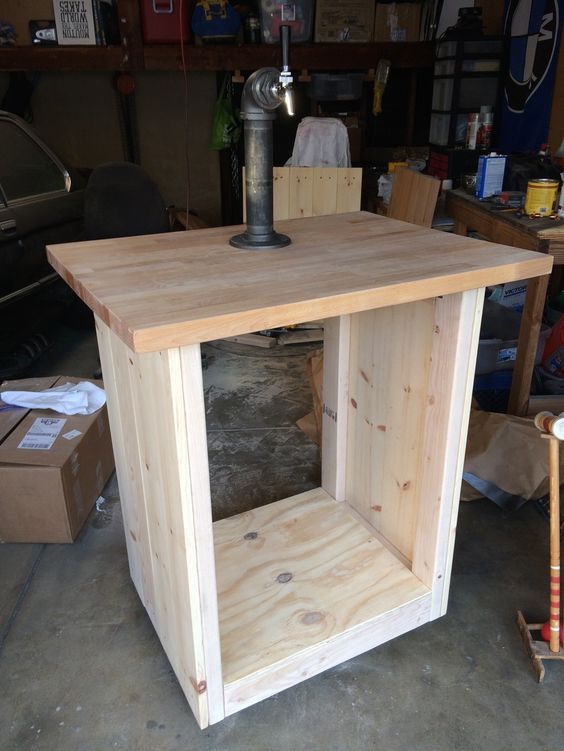 I love how this picture shows all the basic components you'll need for your own brewing cabinet. See how thick the pieces of wood have been cut for each side? That's because you'll need thick wooden sides like this to make sure your alcohol is properly insulated. The valve, or beer tap installed on top of the cabinet, is perfect for pouring yourself a cold one after all your hard work.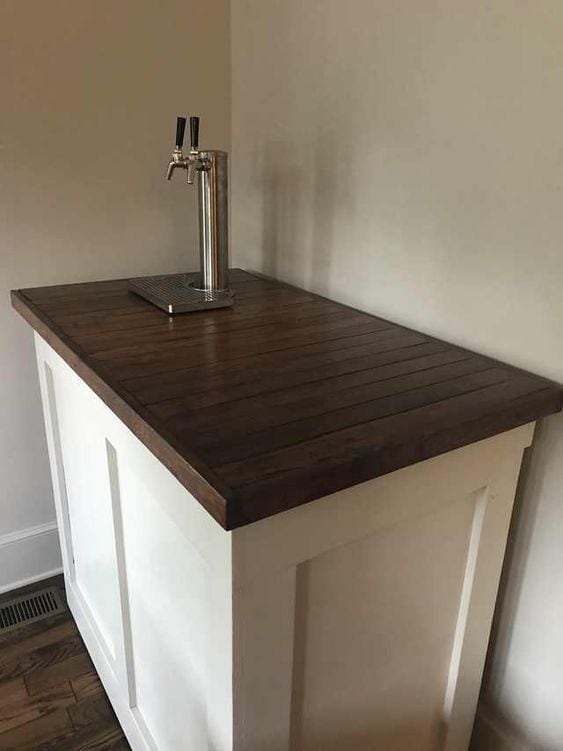 I adore the simple colors used for this cabinet! Cream and dark brown always look fantastic together. This is a relatively small brewing cabinet, so you don't need a large space to keep a kegerator like this one.
It's a good idea to buy (or make, if possible) a decorative brewing cabinet like this one if you plan to display it somewhere guests frequently walk by. The design doesn't matter as much if you plan to store your kegerator somewhere hidden.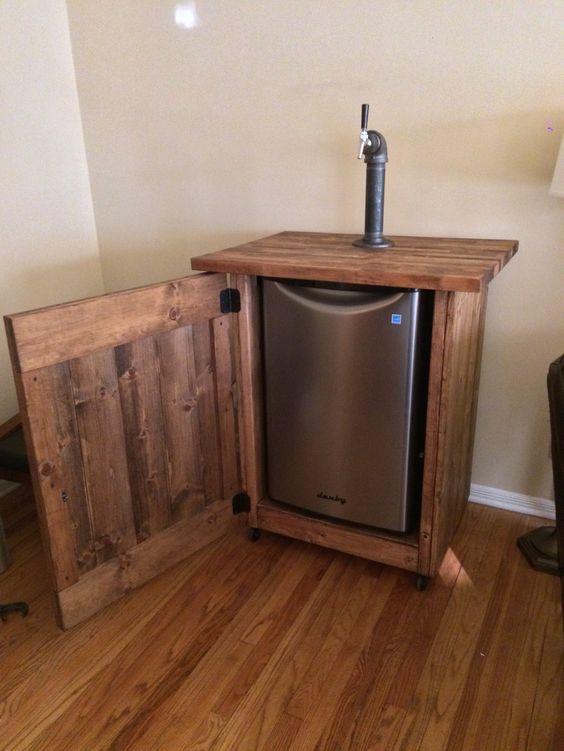 Look how gorgeous this rustic wood is! I could see this fitting right in with my rec room décor! This is a beautiful, simple, and compact brewing cabinet that fits in large and small spaces.
Inside this brewing cabinet, you can see that a mini-fridge has been installed to control the temperature of the alcohol. Keep in mind that if you live in a hot climate, you'll need to keep your beer cool while it ferments.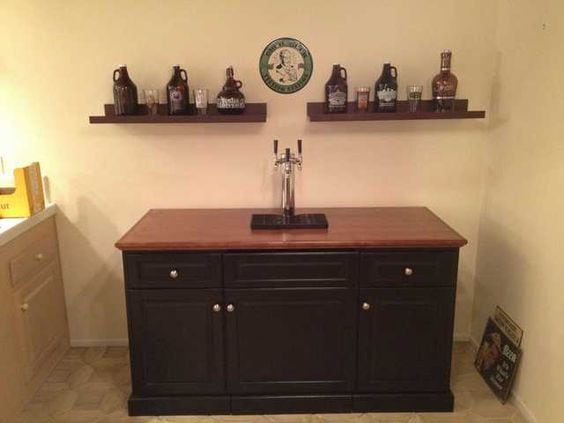 This long and low cabinet sure is stylish. An aesthetically-pleasing brewing cabinet like this one belongs in a room where guests can see it, like in the kitchen. What I like about this idea is how professional the beer tap looks, too. See how the silver spout looks like it could fit into any licensed bar or restaurant?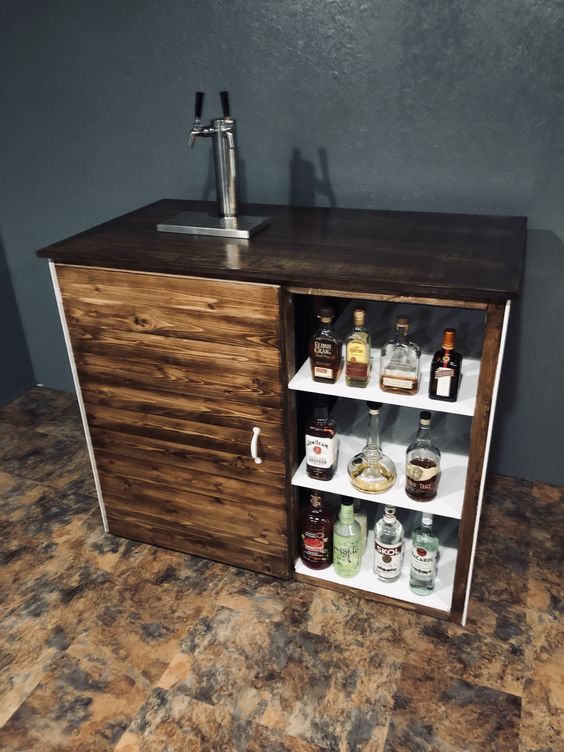 Wow. This fancy brewing cabinet has 2 separate spaces where you can keep your at-home brewing set up in one space and display your best bottles of liquor in the other.
Two valves on top allow you to use this cabinet like you would any traditional beer tap. The dark wood with the white cabinet pull makes the perfect color combination, which pairs beautifully with the classic silver beer tap.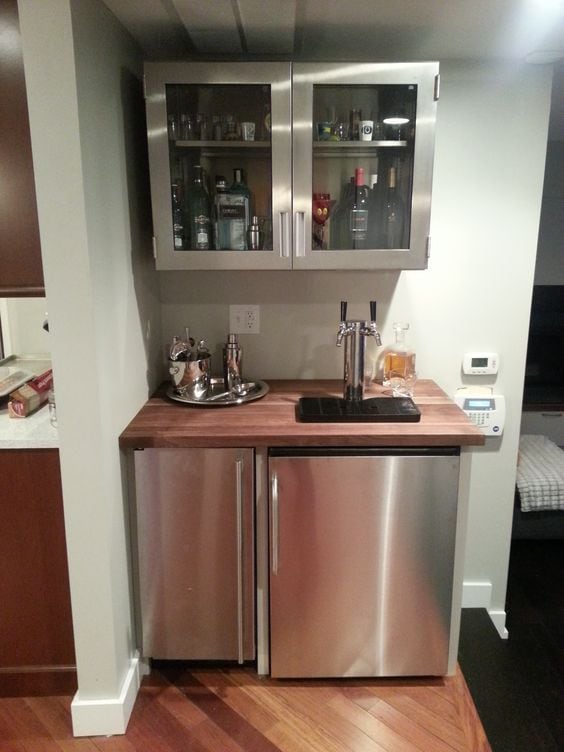 Talk about state-of-the-art design! If you like to stick to a modern theme for your apartment or house, check out this brewing cabinet idea. The 2 bottom drawers are kept tightly shut with stainless steel doors.
These doors keep hot or cold air from infiltrating the cabinet and destroying all your hard work. Decorate your set-up with decanters and silver cocktail shakers to elevate your kegerator's style!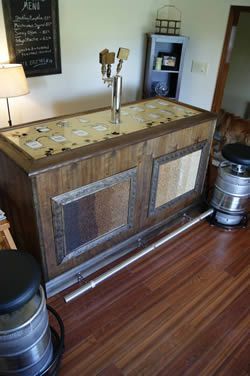 Wouldn't this brewing cabinet look lovely in your kitchen? See how it fits in just like any other piece of elegant furniture in your home?
This is a brewing cabinet that boasts a stunning old-fashioned style. The top of the cabinet stands out because it shows off a lighter wood color than the rest of the cabinet. Each tap lever has a wooden top, which adds a decorative touch.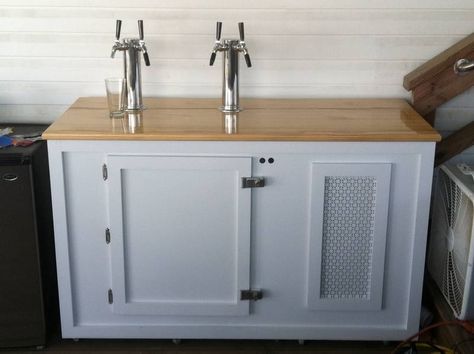 It's possible to keep your brewing cabinet outdoors and keep your alcohol protected. Look at this weather-proof cabinet made with thick pieces of wood that keep rainwater, cold, and extreme heat out.
Don't forget you can add multiple taps that lead into numerous fermentation cabinets. This means you can brew various types of beer in the same cabinet and then enjoy your beer just as easily.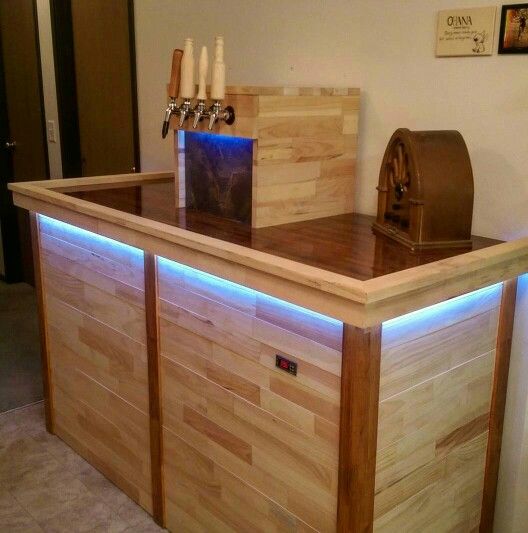 Whoa! This brewing cabinet lights up! You can install lights in your kegerator to step up your style. I adore how fancy the tap pulls look, and what's even nicer is that each tap pull looks different. Like taps you see in a bar, having different handles for each tap lets you keep track of which beer is what.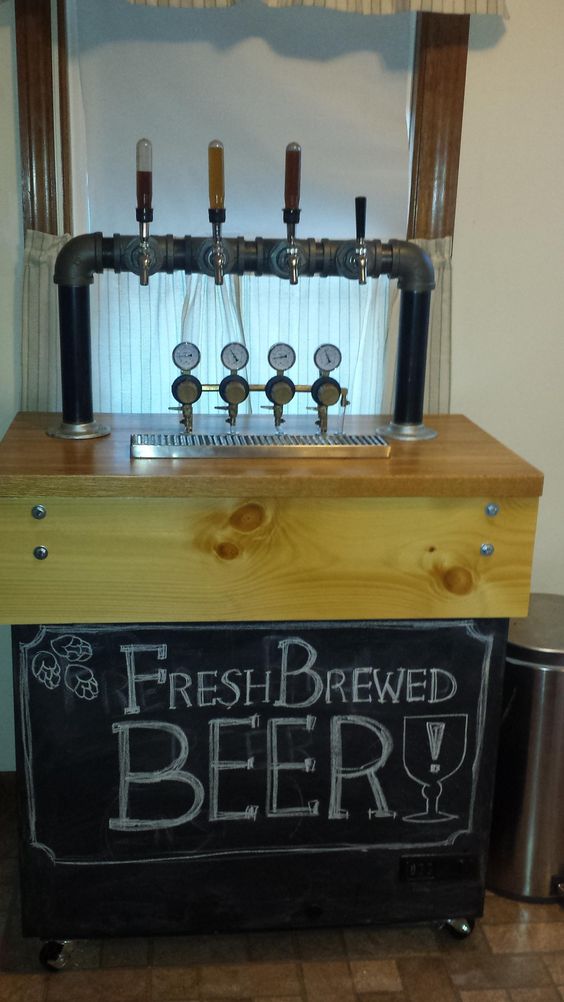 Here's another kegerator that has multiple taps with multiple kinds of beer stored within the cabinet. Now let's talk about what makes it pretty! The front of the cabinets shows off a chalkboard, which gives you infinite possibilities for how your cabinet can be decorated.
You can draw pictures on the chalkboard, write fancy cursive letters, or leave it blank and allow guests to draw their own designs.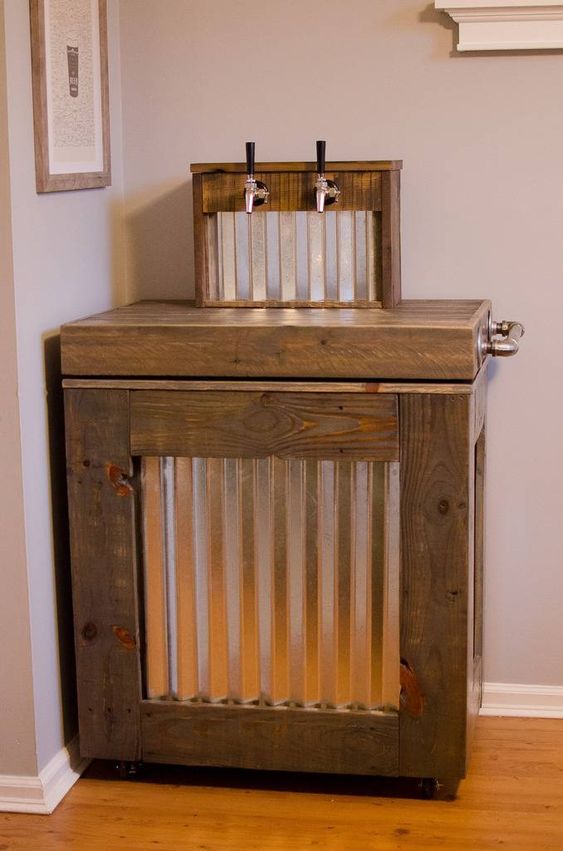 Let's take things back in time a little bit. I love vintage ideas. Can't you imagine this brewing cabinet in an elegant, old-fashioned home? The mix of metal and wood here is beautifully done.
The crimped metal you see in the door and below the 2 taps reflects light and gives the kegerator more depth. Larger brewing cabinets like these are perfect if you'd like to brew multiple kinds of beer at once.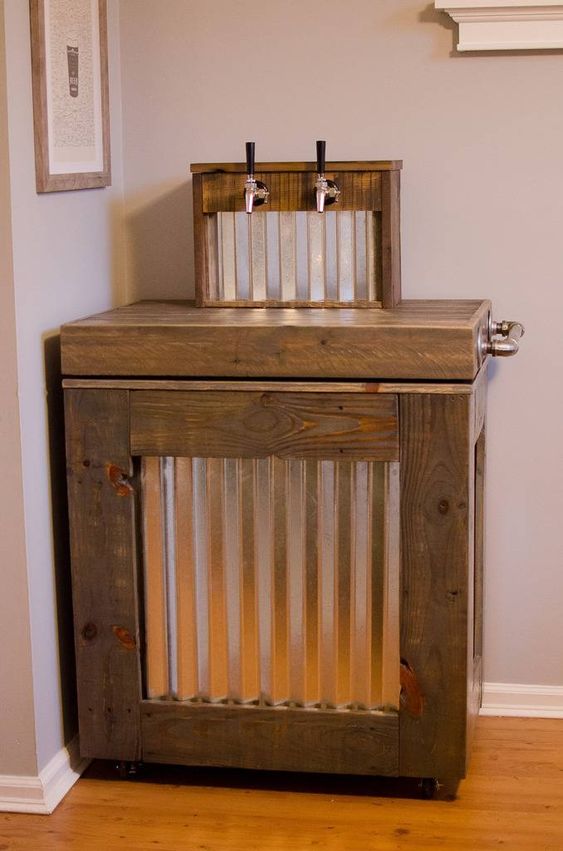 What a fancy way to serve your own beer and display your best bottles of wine! This kegerator has 9 little cubbies to store wine. These are below 2 extra cabinets to store your favorite drinking accessories.
The large cabinets to the right contain all the equipment you'll need to successfully ferment your own beer. You can show off this classy set-up in your kitchen, living room, or other area guests will walk past.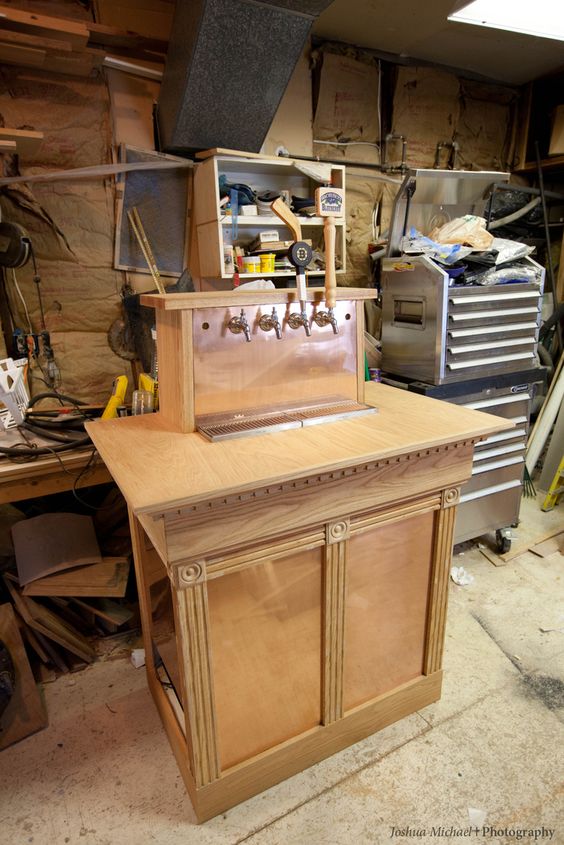 Does your home contain more light woods than dark woods? A brewing cabinet like this one would make a perfect addition to your home's color scheme!
The beautiful detailing in the front gives the cabinet character and style. What's unique here is that someone built this kegerator themself. It's completely possible to DIY your own brewing cabinet to look like this one.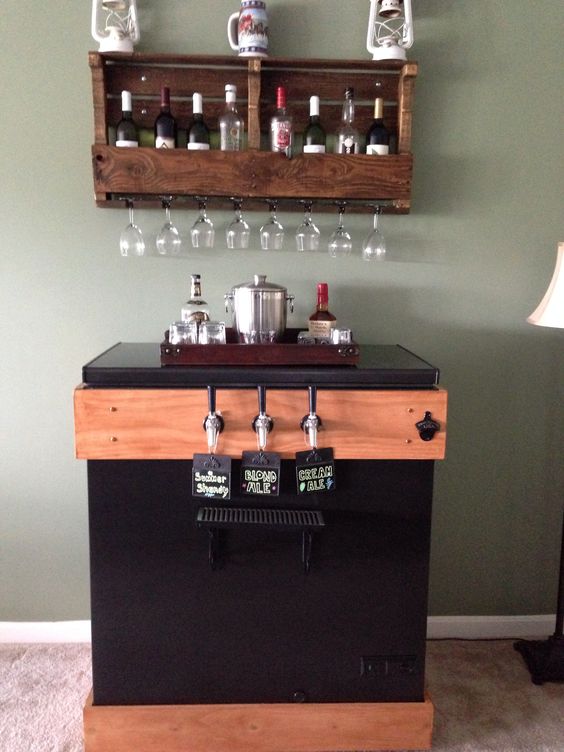 How snazzy! This brewing cabinet gives you a perfect combination of modernity and classic flair. To make your brewing cabinet a complete station for all your favorite alcoholic beverages, try installing a wine rack as you see here. Store your ice, cocktail shaker, and other accessories on top of the cabinet so that everything you need for a fun night is all in one spot.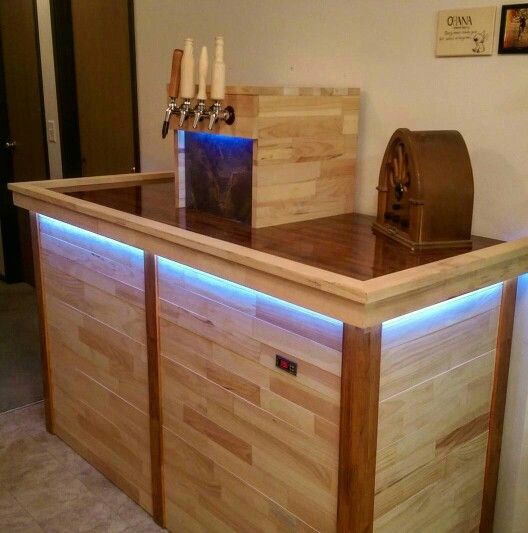 Welcome to the future. This polished, high-tech brewing cabinet is for those of you who want to get serious about brewing at home.
I love that the glass doors keeping the fermentation vessels protected give you a look into how the magic happens. The 2 screens on top will display the temperature, which will be super useful to you during brewing.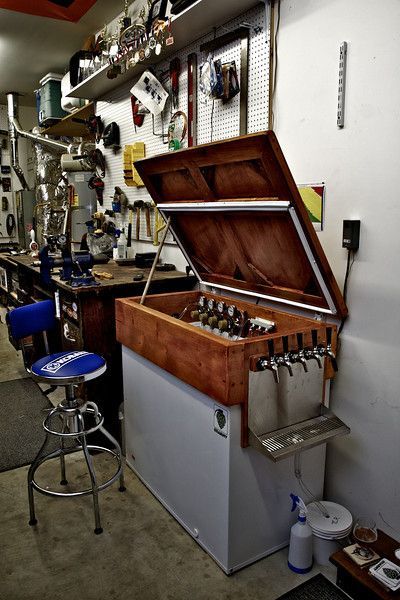 This picture shows how you can turn your garage cooler into a kegerator! By installing all the proper machinery, you'll need to keep the fermentation vessels at the temperature and pressure they need to be. You can use what you already have. Since this cooler is quite big, you'll notice that 5 taps have been installed on the side.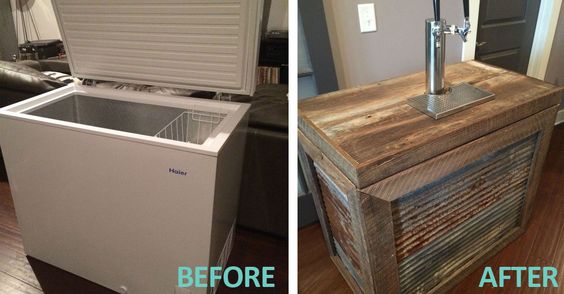 This is another creative way to DIY your own brewing cabinet at home. Like the kegerator above, this one has been made out of a large cooler. With some handiwork and a little extra equipment, you can save money by creating a brewing cabinet at home.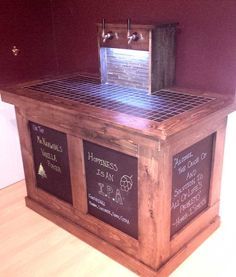 I love how beautiful the dark tiles on top of this brewing cabinet look with the medium brown wood. This would be a perfect fit in a home that makes use of warm tones instead of cool tones. You'll notice this kegerator has trendy chalkboard sides. Chalkboards are excellent for adding your personality to the design.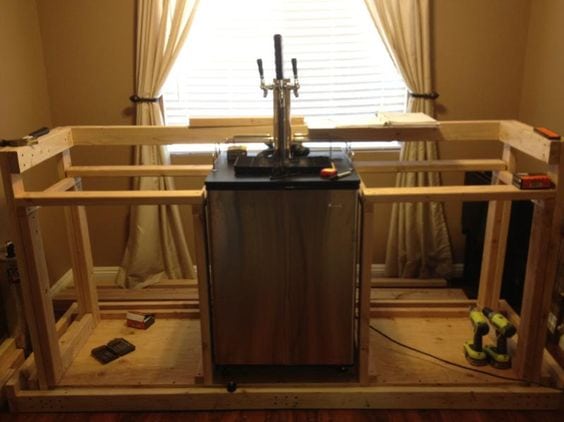 Check out this picture if you want to know what the basic structure of a brewing cabinet looks like. This shows the compact cabinet holding the fermentation vessel, a silver tap, and the frame for the rest of the cabinet. If you're good at woodworking, then building your own brewing cabinet from the ground up could be an exciting project to take on.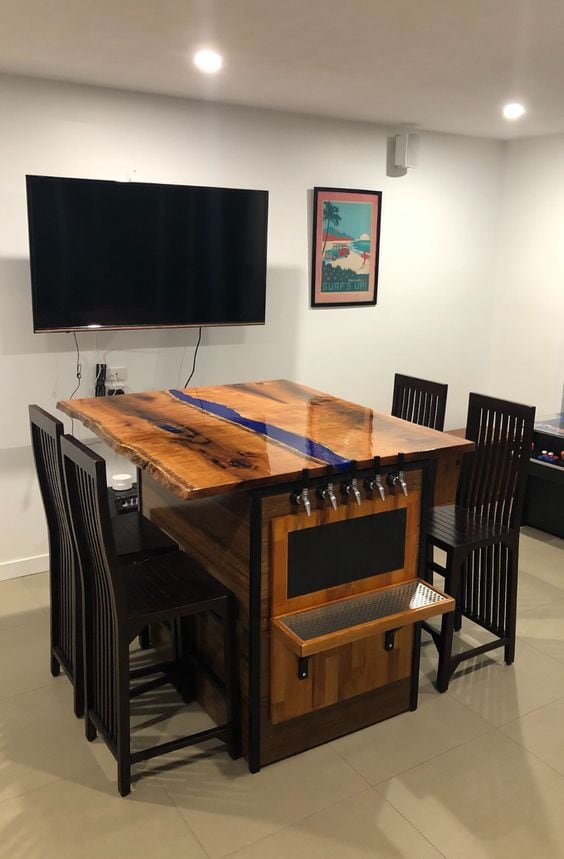 Why should you have to get up from the table to pour yourself another glass of beer? Well, guess what? You don't have to. A simple solution to your glass running out while you talk to your friends at the kitchen table is to install a kegerator into the table itself. It's genius! You can grab another beer without ever having to get up and go to the fridge again.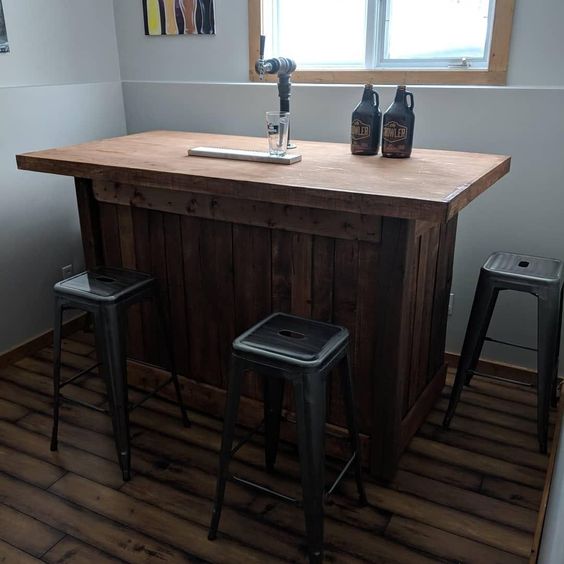 Here's another great idea: create an entire bar area out of your brewing cabinet. Instead of a traditional cabinet, this kegerator is a kitchen island. All you have to do is place bar stools around the kitchen island like you see here to make your own bar inside your house.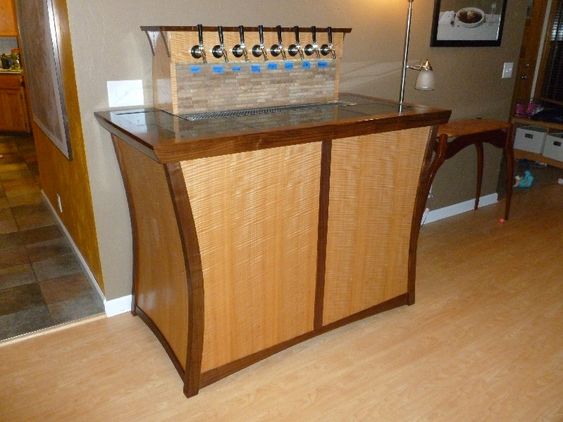 This brewing cabinet has got some curves. The curved sides give this brewing cabinet a unique look that I haven't seen before. This picture shows how you can pair light wood and dark wood together for a striking contrast. Check out how many taps there are, too!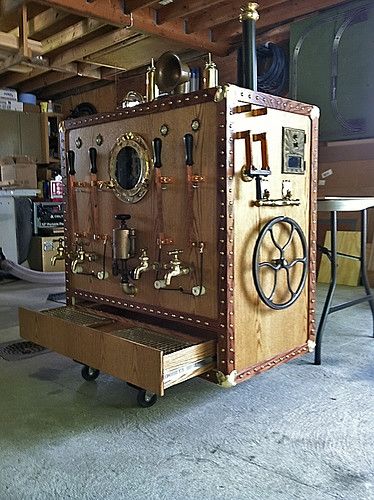 Alright. This kegerator is obscene. By that, I mean it's obscenely big and beautiful, and I want it. Have you noticed how every tap we've seen has been silver? Not here! The giant beer taps are gold. You'd need a lot of room to store this machine and a lot of money to buy one. If you're interested in buying a fancy kegerator for a restaurant, this would be perfect.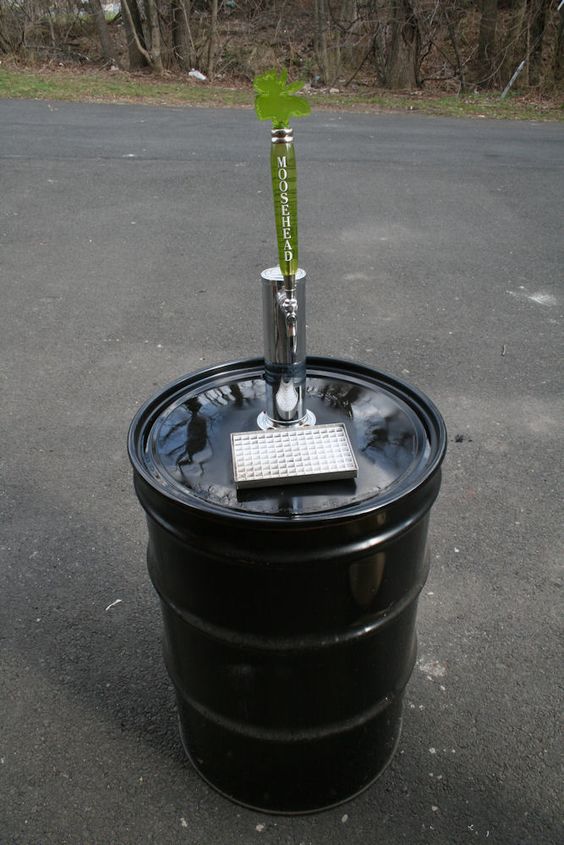 You can even make a kegerator out of a barrel! If the inside temperature of the barrel is controlled correctly, you can brew beer in it. By attaching a custom tap on top, you can give your beer barrel some personalization like the one you see in this picture.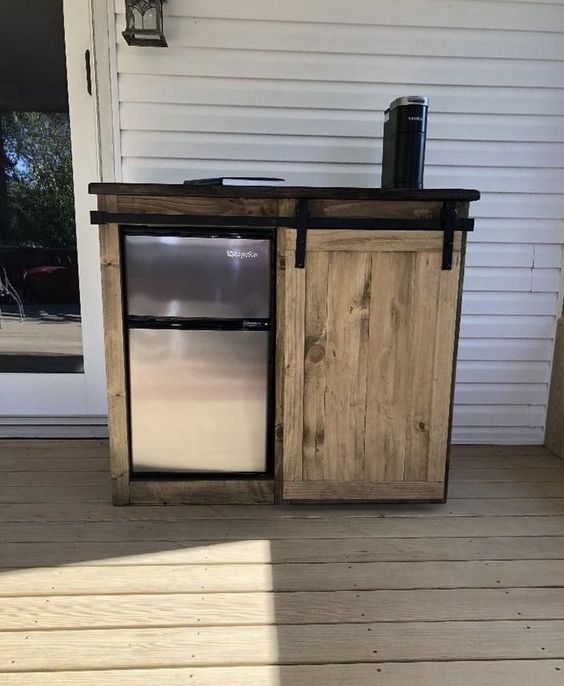 No rainwater will be getting into this outdoor brewing cabinet. Airtight stainless-steel doors protect the part of the cabinet where the kegerator is being stored. If you take the proper precautions to make sure the outside temperature and weather won't affect your beer, it's perfectly safe to keep your set-up outside.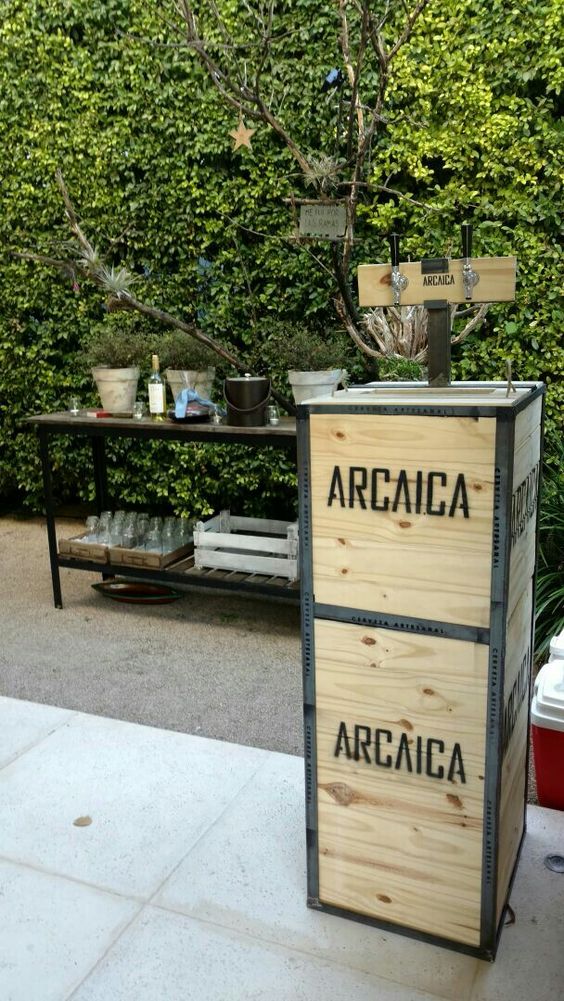 Let's end my list of the best brewing cabinet ideas with this beauty. This kegerator set-up is perfect for parties you want to host outdoors. You can paint or wood burn designs into the sides of the cabinet as you see here. With this set-up, you'll be known as the house to go to for get-togethers and brunch.
Where to Buy Brewing Cabinets
Wondering where to get your hands on your own exceptional brewing cabinet? Creating custom beer will be within your grasp when you buy a quality kegerator from a trusted source. These are the website I recommend you visit to pick out a brewing cabinet that's customer-reviewed and built to last:
Amazon
eBay
Overstock
Wayfair
IKEA
Best Things to Use for a Brewing Cabinet
Even though it may be more convenient to buy a brewing cabinet that already comes with all the parts set up, I know lots of you would like to DIY your own beer emporium. If you'd like to repurpose furniture you already have into a fully functional kegerator, it's totally possible!
By repurposing furniture pieces from home, you can renovate them to be a temperature-controlled space for your home-brewed alcohol.
Old Dressers
Cabinetry
Pallets
My Suggestions for DIY Brewing Cabinet Ideas
Now, I'd like to show you 3 pieces of furniture you can buy online to convert into your own at-home kegerator. These cabinets allow you to create a space that gives you temperature control, which is crucial in creating your own alcohol. Check these out if you're crazy about DIY and want to customize your own brewing cabinets.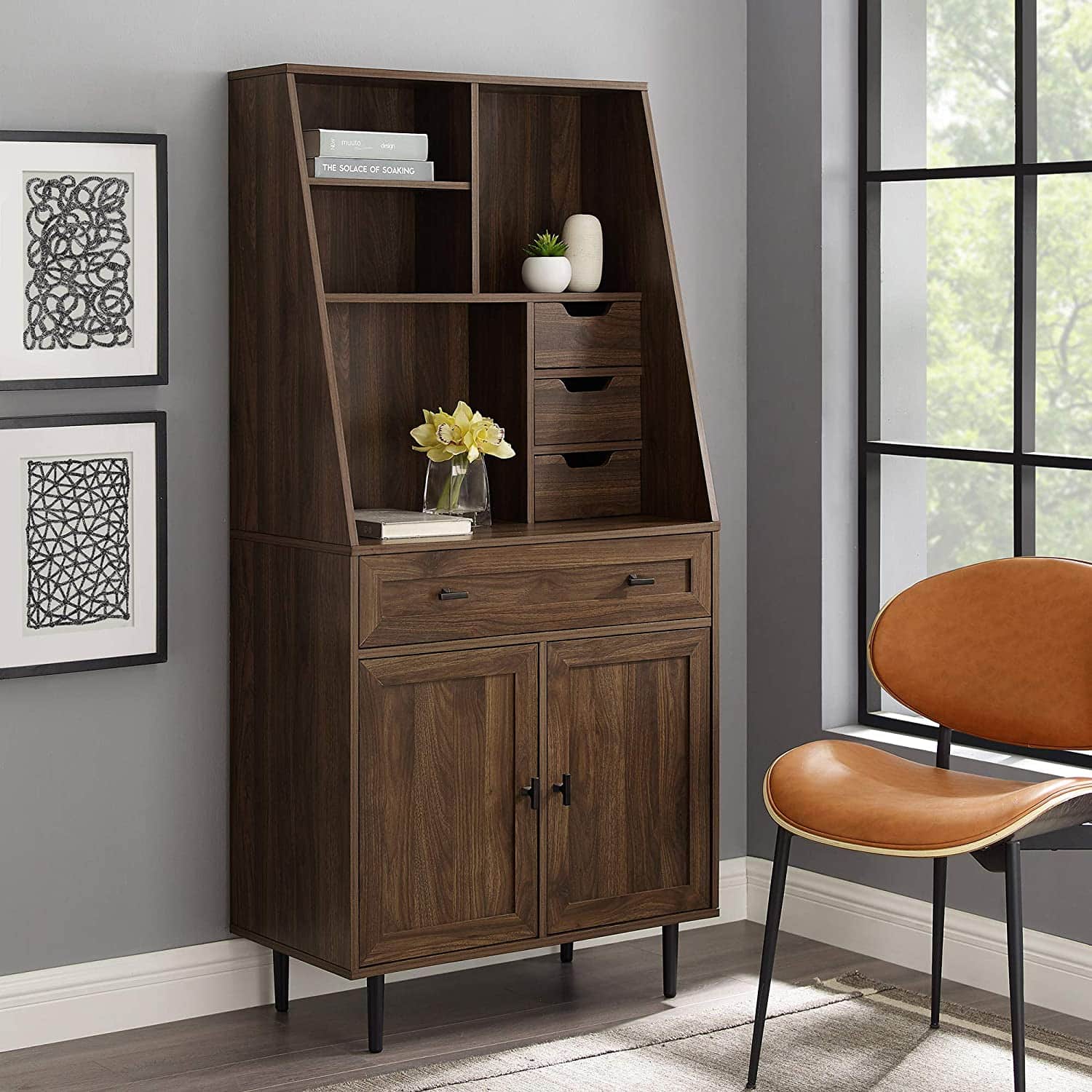 This hutch/wooden desk is nice and roomy on the inside. It's a great choice for renovating into your very own brewing cabinet. You'll have your choice of dark walnut wood or light birch wood. If you choose to buy this hutch, you can place the fermentation vessel inside the bottom drawers and install a tap on top.
Key Specs
Price Range: $310-$350
Material: Walnut or birch wood
Size: 30" X 30" X 64"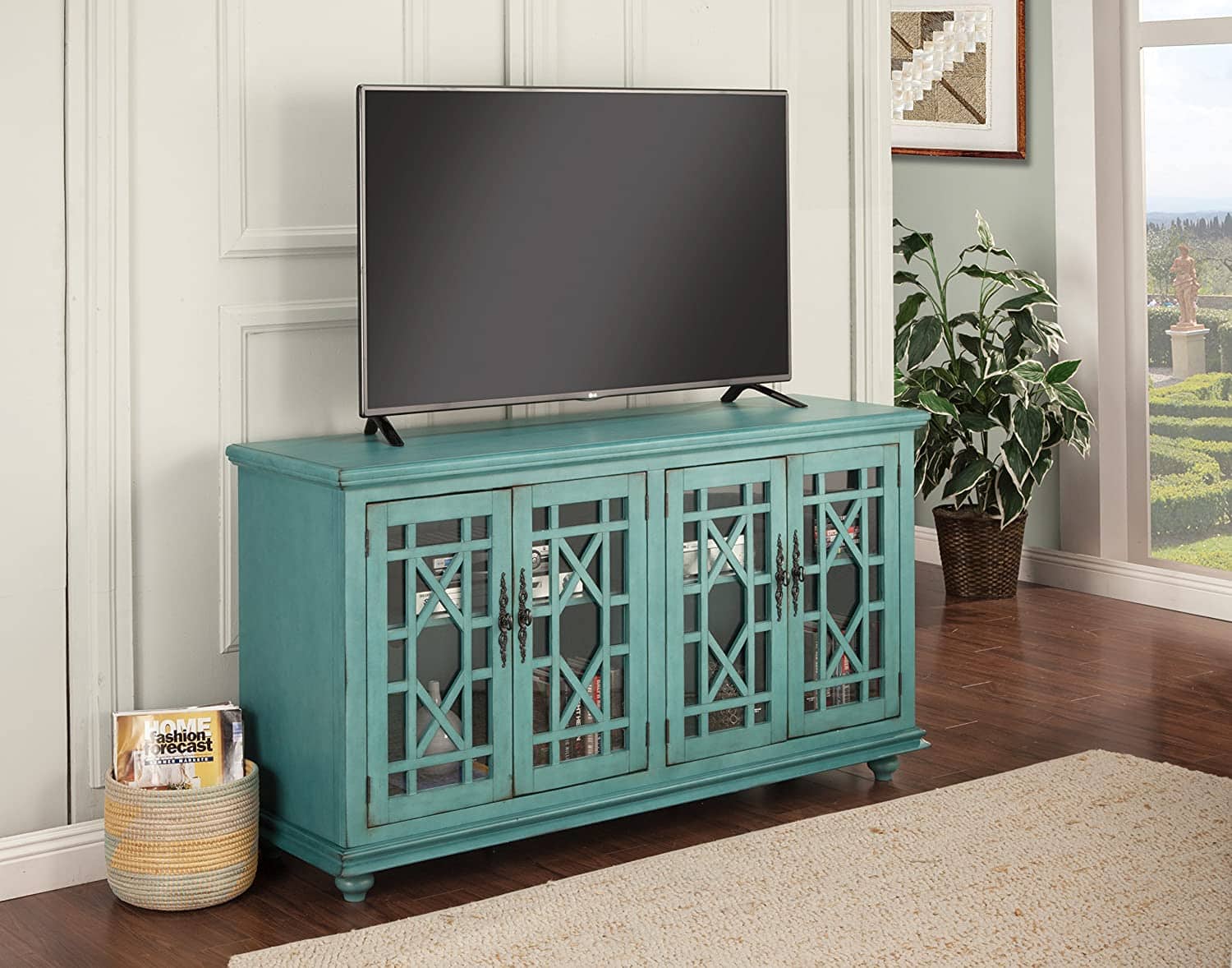 What a beautiful shade of teal! You'll have a stylish brewing cabinet if you choose to create your brewing cabinet from a weathered yet colorful TV stand like this one. If you enjoy vintage flair, you'll love this TV stand's ornate pulls and antique feel. Since it's a long piece of furniture, you can store multiple fermentation vessels inside.
Key Specs
Price Range: $430-$490
Material: Wood and glass
Size: 63" X 35" X 18"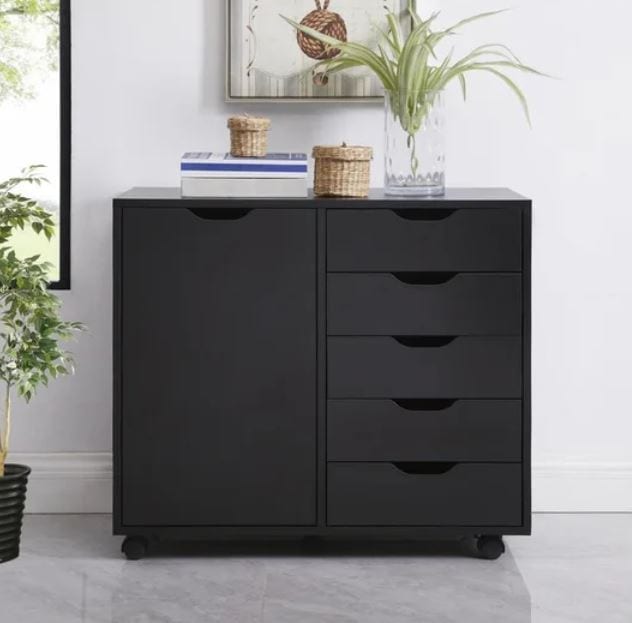 Maybe you like to keep things simple. If you want a solid white brewing cabinet, check out this one that comes with 5 side drawers and 1 large compartment. While your beer ferments in the large cabinet, you can use the small drawers to store all your alcohol-making accessories.
Key Specs
Price Range: $300-$340
Material: Wood
Size: 26" X 30" X 15"
FAQ
I'll make sure your most frequently asked questions about brewing cabinets are answered!
Question: What is a Fermentation Cabinet?
Answer: A fermentation cabinet (or brewing cabinet/kegerator) is a temperature-controlled cabinet where you can safely ferment your own alcohol. Alcohol will spoil if not fermented at the right temperature, so you need a cool, dark cabinet insulated for fermentation to ferment alcohol correctly.
Question: What are Brewery Containers Called?
Answer: Typically, brewery containers are known as fermentation vessels. They can also be called fermenters or simply FVs. This refers to the alcohol's container within the brewing cabinet. They're tightly sealed containers that don't let outside contaminants in.
Question: Where Should Beer be Stored During Fermentation?
Answer: During fermentation, beer should be stored in a brewing cabinet, also known as a kegerator. This type of temperature-controlled cabinet will give you the best results when creating your own alcohol at home. They ensure your beer won't become too hot or too cold.
Let the Good Times Roll
Who's ready to start making drinks? I hope you are! Did you enjoy learning about the best brewing cabinet ideas on the internet? If you want something simple and stylish, I recommend my personal pick of the Your DIY Outdoor Kegerator idea. For more info and ideas, head over to our website and check out my latest posts!