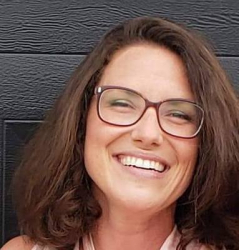 Latest posts by Sarah Caldwell
(see all)
Perhaps you're new to home brewing and you're not sure what the best flip top bottles are. Or maybe you've been at this a while but you've never used one before. Either way, I'll guide you through what you should know about flip top bottles as well as which ones are the best.
When evaluating flip top beer bottles to find the best options, I considered material, strength of the seal, ease of use, and size. What I found was that some of the best flip top bottles on the market are 16 ounces in size, but they vary widely in terms of closure material and type of glass used to construct the bottle.
Flip top glass bottles are great choices for home brewing because they're strong enough to withstand the carbon levels, they seal quickly, and they look pretty cool. Using them will make your bottling go faster than using a bottle capper. Before we continue to the best empty flip top bottles, let's look at the science behind them, and see how they work.
At a Glance: Best Empty Flop Top Bottles for Home Brewing
| Product Image | Primary Rating / Price | Primary Button |
| --- | --- | --- |
| | | |
| | | |
| | | |
| | | |
| | | |
| | | |
| | | |
08/03/2023 08:53 am GMT

Swing Top vs Flip Top
These are just two terms for the same type of bottle. The top is called a Quillfeldt stopp and was invented in 1874 by Charles de Quillfeldt. While older bottles feature a porcelain cork, modern flip tops are made of plastic. They have a rubber gasket that is secured by wire.
How Flip Top Bottles Work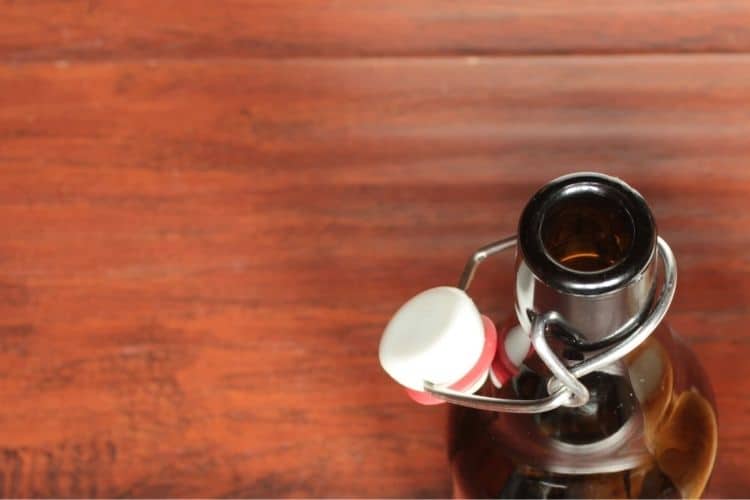 The corks on these bottles are specially formed and surrounded by a gasket. This gasket is self-sealing, so when you put it on top of the bottle and apply downward pressure, it forms an air-tight seal.
Wires and a latch system hold the cork in place. This simple but effective design makes these bottles perfect for reuse.
Assembling Flip Top Bottles
Flip top bottles typically arrive unassembled, but they're easy to put together. The cork, gasket, and wires should already be assembled, you just have to put them on the bottle. Place the cork in the mouth of the bottle and fit the wire arms into the holes at the neck.
Make sure the ring wire is pointed away from the bottle. If it's not, flip it over. Once the arms are inserted into the holes, push the ring wire down until the bottle is sealed. Lift it back up and reseal it several times to make sure it works properly.
Resealing Flip Top Bottles
Flip top beer bottles are a favorite among homebrewers because you can reuse them. It saves you money when it comes time to brew more beer. If you have old bottles lying around, you can use them rather than ordering new ones.
There's no issue with reusing the bottles, but if you want to take a swig and then reseal your beer bottle again for later, you've already allowed some of the carbon dioxide to escape, which means the beer may not taste as good if you don't finish it now.
However, if that's your style, you can certainly close them up and put them back in the fridge. A lot of companies are moving toward using flip tops as well.
While a swing top bottle was originally intended to keep your beer closed for hygienic reasons, today that's not really necessary. It used to be a really good system to close up your beer between sips, but now it just looks cool.
Where to Get Flip Top Beer Bottles
There are plenty of places to find flip top beer bottles. Some will be able to source bottles more cheaply than others, depending upon location.
Recycle Them
If you like to drink beer, save the bottles and use them again. Whether you have some bottles left over from your last home brew or you have a Grolsch style bottle from the liquor store, you can reuse the flip top bottles as long as you clean them thoroughly and store them properly.
Before using them again, check them in the light for any cracks or damage. Make sure the flip top still provides a tight seal. If the bottle seems to be in working order, you can reuse it as many times as you like.
Ask Your Friends
If your friends like to drink beer, but they're not the homebrewing type, you can simply ask them to save bottles for you. Perhaps you even gave them a few bottles of your last batch. Kindly ask that they return the bottles to you so you can make them some more!
You can even collect bottles from local bars. Bartenders are typically happy to get rid of their empties. If you strike up a conversation and ask if you can take care of those for them, they'll likely let you.
If word catches on that this is what you're up to, you'll soon find that people are saving bottles for you when they throw parties or host other events.
Purchase Them
Of course, if you can't get your hands on enough free bottles, you may have to buy them. You can get them online or from local brew shops.
Flip Top Advantages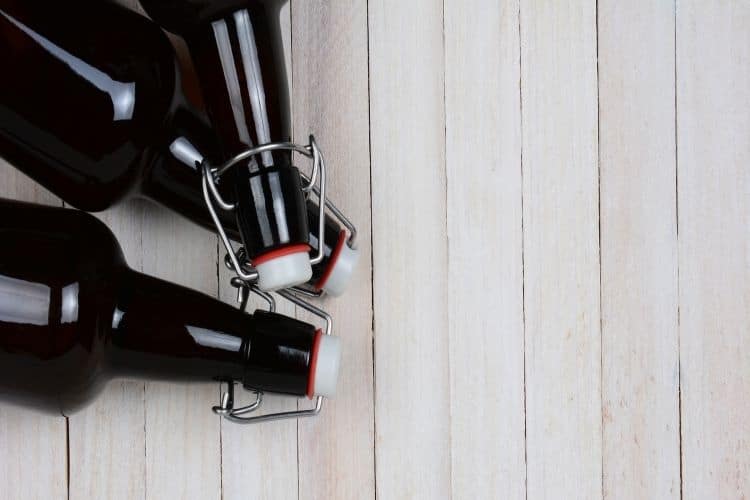 There are several reasons why flip tops provide an advantage over other types of beer bottles when you're creating your own home brews.
Speed
Sealing flip top bottles is a lot faster than using crown caps and a capper. In fact, if you're bottling a lot of volume, you may get to a point where you can fill the bottle and cap it quickly with one hand. This saves you from having to set your auto-siphon tube down to grab the next bottle cap.
This process may give you 10-30 seconds back on each beer bottle, which is a huge saving when you're bottling a lot of beer at home.
Ease of Use
When recycling different types of bottles, you don't get the consistency you do with flip tops. Whether you're reusing a long neck or you've switched to a different kind of cap, some are harder to seal than others.
Hand cappers sometimes require you to push down several times before the crown cap seals correctly around the top, which can be a pain. You have to be much more diligent in making sure your bottles are sealed.
The design of a swing top glass bottle lends itself well to sealing perfectly almost 100% of the time, and it only takes one try.
Material
Flip top glass bottles seem to be more sturdy than any other type of bottle. While this is certainly subjective, the glass seems to be thicker, which gives you a stronger bottle, which can hold your carbonated beverages more effectively.
The lip also has to be formed in such a way that accommodates the locking mechanism, and this requires thicker glass, especially around the neck. These bottles are less prone to cracking, shattering, or exploding.
Aesthetics
Let's face it. If someone hands you a homemade beer in a flip top bottle, it looks pretty cool. It feels old fashioned and timeless. They're great for parties or households with kids, because you can seal it in between sips and reduce the risk of spilling.
Tightening Flip Top Bottles
Sometimes after repeated use, your flip top bottle may not seal properly anymore, but don't throw it away. You'll always get some inconsistencies in bottling, and sometimes it's with the carbonation levels.
If your beer seems to be losing carbonation after bottling in a flip top bottle, there are two main reasons why this happens.
Gaskets and Seals
Rubber gaskets dry out and crack over time, especially when stored in certain environments or climates. You can replace these gaskets with new ones for pretty cheap from the local brew shop or Amazon.
Also try rotating the seals each time you clean your bottles. This will prevent them from wearing out in one spot because of pressure or trapped moisture.
Wires
Sometimes your wires will get bent out of shape and they won't pull the cork closed anymore, resulting in a bad seal. Simply use pliers to reshape the wires so they fit properly and put enough downward pressure on the cork.
Washing Your Bottles
Swing top bottles are easy to clean because they're dishwasher safe. You can wash them with or without the cork system, making it super easy. Hot water won't damage the rubber parts at all, but you'll still need to clean the inside of the bottles thoroughly before using them again.
While a dishwasher is a great sanitizer, it doesn't clean them as effectively as a bottle brush will.
Best Empty Flip Top Bottles
I highly recommend that you use bottles larger than 12 ounces for filling with your home brew, but that's only because it means you'll have to fill fewer bottles. If you prefer smaller bottles, that's up to you. Everything on this list is 16 ounces.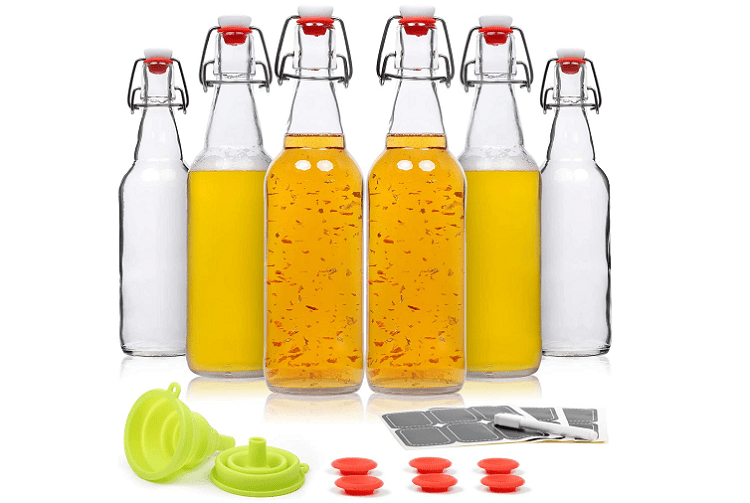 These 16-ounce glass bottles are made with premium quality. The glass is thick and durable, so they're perfect for reusing time and again without cracking. The glass is transparent, so it's perfect for displaying the beautiful color of your home brew.
They're refrigerator and dishwasher safe, which means storing them until you drink your home brew is easy and cleaning up afterwards is a cinch, too. You're not limited to your home brew either. You can use these sturdy glass bottles for just about anything from juice or wine to vinegar or cooking oil.
The seals are perfectly airtight and leak-proof. Some swing top bottles struggle with a good seal, but these will hold carbonation so you won't have to worry about your beverages going flat.
There's a lot of value in this set because the price is right and the bottles are made with quality. However, they also come with extra gaskets, a silicon funnel, chalkboard labels, and a liquid chalk pen. Not only will you be able to pour your home brew mess-free, but you can label it when you're done.
Pros
Sturdy and long-lasting
Dishwasher safe
Comes with extra gaskets and funnel for easy pouring
Includes labels and chalkboard paint for labeling
Cons
Could be packaged better for protection during shipping
Clear bottles let in sunlight which can change the flavor of your beer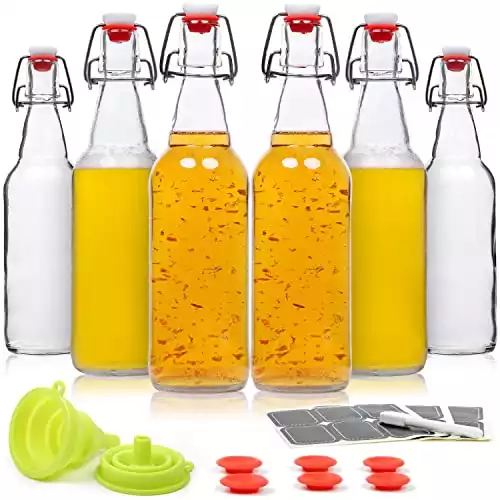 WILLDAN Swing Top Glass Bottles | Amazon
Whether you are looking to brew your favorite beverages, or you want to store and preserve the vital nutrients of your freshly pressed juices, infused essential oils, or vinegar, this brewing bottle set is exactly what you need.
Buy at Amazon
We earn a commission if you make a purchase, at no additional cost to you.
08/03/2023 08:53 am GMT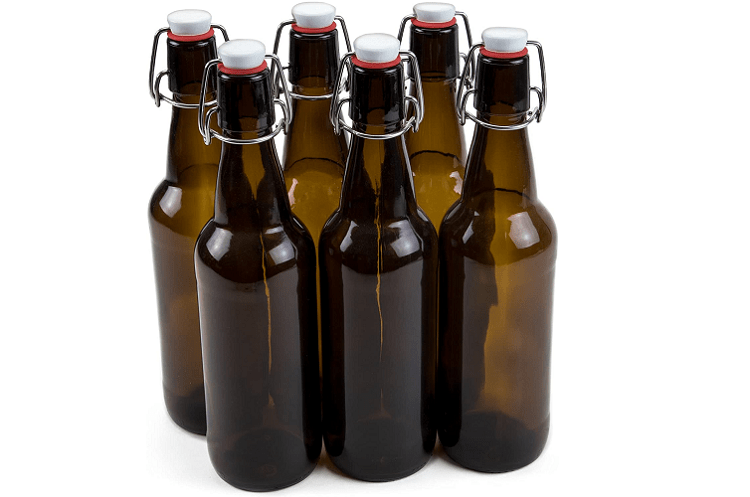 These heavy-duty glass bottles feature premium quality so they won't chip, crack, or break easily. The textured base ensures they remain steady on any surface, helping you fill them without spilling. They're beautiful, functional, and durable.
These bottles feature an airtight seal so you can preserve the freshness of whatever is inside. They hold carbonation well, and they're great for secondary fermentation. You can add flavor and build pressure, then store and serve in the same bottle.
They feature an easy pour spout, so they're also ideal for messy liquids like vinegar and oil. The size is perfect for a comfortable grip, so you can enjoy your beverage straight out of the bottle.
These bottles are dishwasher safe, but unfortunately, the lid isn't, so you'll have to clean it by hand.
Pros
Durable and reusable
Airtight seal perfect for secondary fermentation
Easy pour spout for messy liquids
Textured base for a non-slip surface
Cons
Lids are not dishwasher safe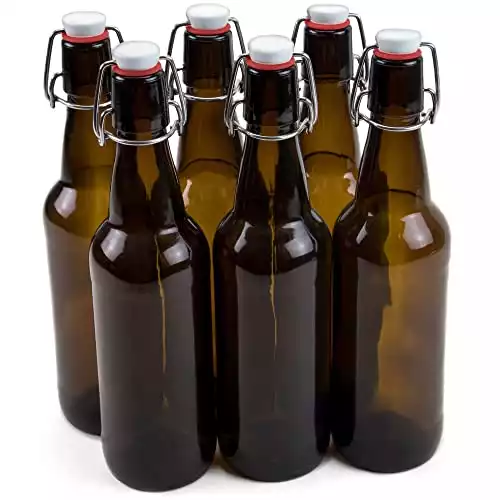 Grolsch Swing Top Beer Bottles | Amazon
These premium-quality, swing top Grolsch bottles allow you to brew and store your favorite drinks: beer, wine, and alcohol as well as kombucha tea and homemade soda. Each bottle holds up to 500 ml or 16.9 fluid ounces of liquid, close in comparison to industry standard pint size bottles.
Buy at Amazon
We earn a commission if you make a purchase, at no additional cost to you.
08/03/2023 03:31 pm GMT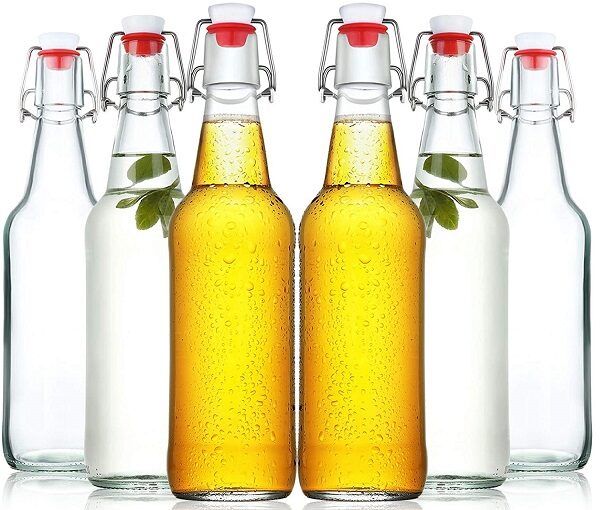 These bottles are made with thick, durable glass and perfect for home brewing, second fermentation, soda, wine, vinegar, oil, and more. What's more, these bottles are 100% recyclable, so you can feel good about your contribution to Mother Earth.
They're nontoxic and have a strong, leak-proof seal. In fact, they retain carbonation so well that you may want to be careful when you open up the cap to make sure it doesn't fly off. The caps are made of durable stainless steel.
These are packaged exceptionally well during shipping and won't arrive broken. If they do, you'll get replacements for free. The bottles hold up well during any type of transportation, so they're the best solution if you want to share your home brew.
The downside to these bottles is that they frequently come with defects and flaws in the glass. While these defects don't affect their performance, they're not the best solution for displaying anything, especially if you want a perfectly smooth glass bottle.
Pros
Durable and perfect for transporting and sharing
Nontoxic and 100% recyclable
Airtight seal
Cons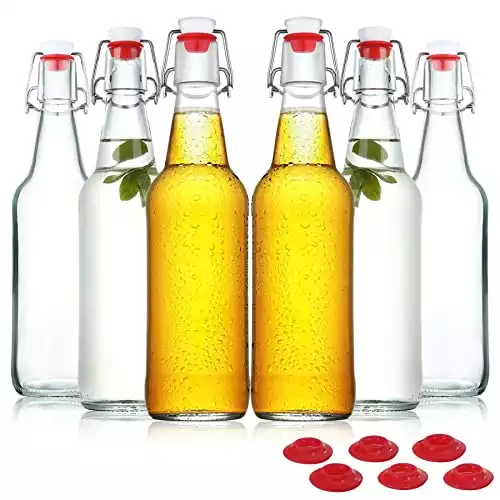 YEBODA Clear Glass Beer Bottles | Amazon
Glass bottles are made with thick, durable transparent glass so that you can see what's bottled inside and nontoxic materials are recyclable and environmentally.
Buy at Amazon
We earn a commission if you make a purchase, at no additional cost to you.
08/02/2023 08:59 pm GMT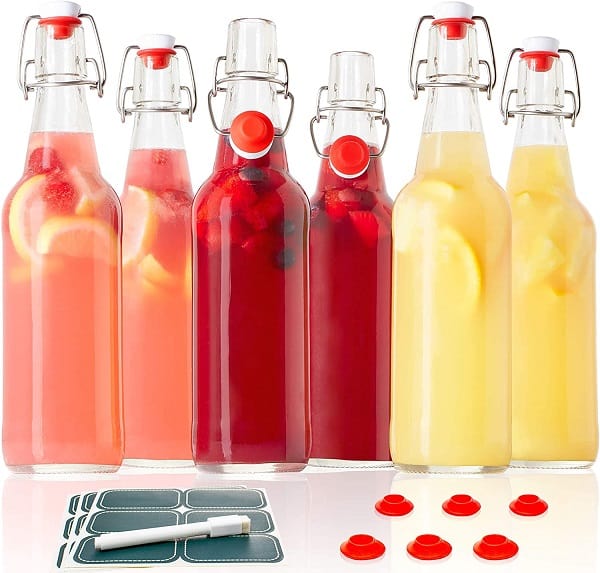 These glass bottles are easy to clean by simply placing in the dishwasher. The lids are made with BPA-free and food safe plastic with high-pressure gaskets and stainless steel closures. They also come with 6 extra gaskets, labels, and an erasable marker.
The seals are airtight, so they're perfect for second fermentation or for holding carbonation. They are packaged well, but if you find broken bottles upon delivery, they will refund or replace them for you.
These bottles are lovely containers for displaying your home brew or any other liquid. The smooth glass is flawless and makes for a great conversation starter or a gift. For an even more polished look, choose the ceramic tops instead of plastic.
Pros
Durable, flawless glass
Comes with extra gaskets, labels, and a marker
Safe for a second fermentation
Dishwasher safe
Cons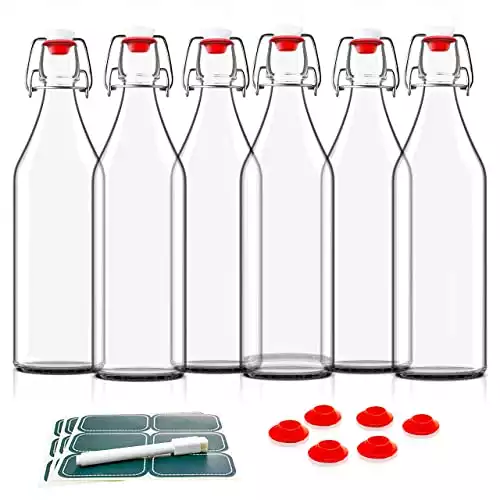 Otis Classic Swing Top Glass Bottles | Amazon
These are BPA free, durable, plastic combined with our high-pressure gaskets and stainless steel closures, create a secure, airtight seal for your glass bottles with caps. This leakproof barrier ensures your contents are protected & preserved.
Buy at Amazon
We earn a commission if you make a purchase, at no additional cost to you.
08/03/2023 12:01 pm GMT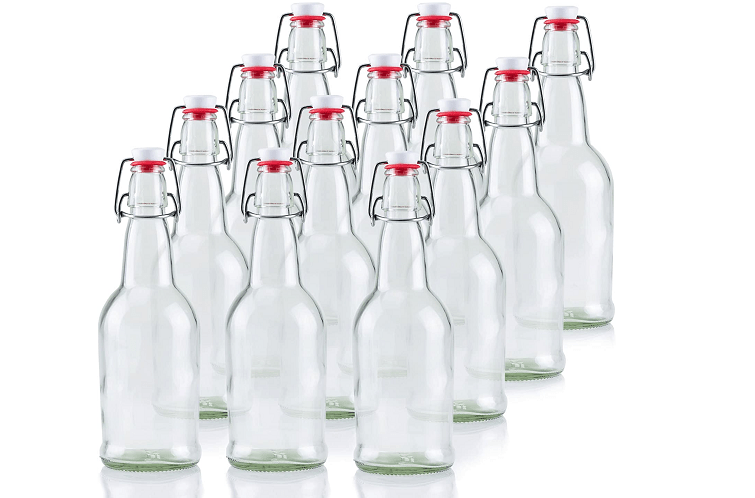 Thick, durable, transparent glass offers a view of what's inside and these bottles are perfect for homebrewing. You can also display other liquids or use them to store soda, vinegar, oil, vanilla extract, and more.
The flip caps are easy to use with one hand and they create a tight seal so everything will stay fresh. They're made with a thick rubber gasket and sturdy steel so they'll be strong and leak-proof.
These bottles come in packs of 12 and you can choose from either 12 or 16 ounces. They're short and stocky, so they look more sturdy and have a wider base than some of the other options, making them harder to knock over and spill.
Pros
Thick and durable
Thick gasket provides airtight seal
Sturdy design
Cons
Narrow neck makes them hard to fill
Pricey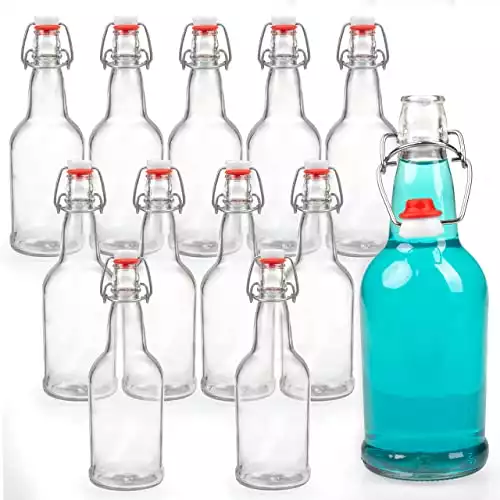 Ilyapa Clear Swing Top Beer Bottles | Amazon
Includes flip cap tops with rubber gaskets, which create the tight seal necessary for home brewing and keep your beverages as fresh and delicious as the day you bottled them.
Buy at Amazon
We earn a commission if you make a purchase, at no additional cost to you.
08/03/2023 01:16 pm GMT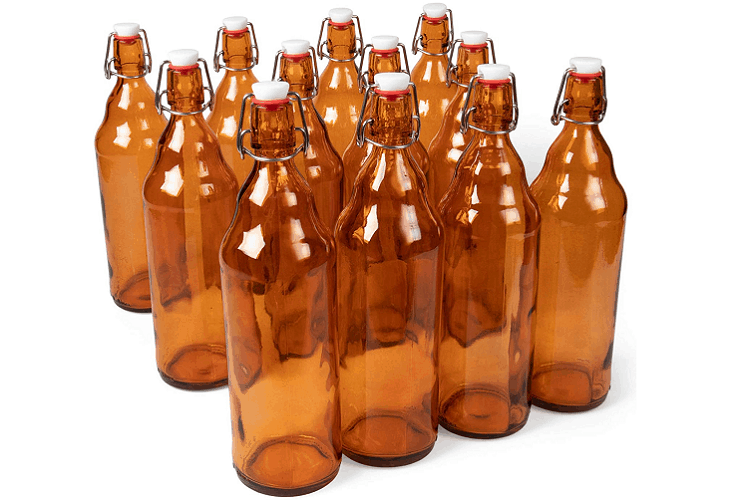 Grolsch makes a very high quality bottle, but if you prefer an amber color, these heavy-duty glass bottles are the best you can find. The textured bottom ensures it's steady on any surface and they're very durable.
The amber color of the glass protects your beverages by repelling UV rays and other light. These bottles are great for storing any of your beverages, even if they have some exposure to sunlight.
The airtight seal will retain the freshness of your beverages, making it great for secondary fermentation. A pour spout makes it easy to serve directly from the bottle, even if you're dealing with messy liquids like cooking oil.
The bottles are dishwasher safe, but the lids aren't, so you'll have to remove those before you wash them.
Pros
Very high quality
Sturdy design
Amber glass to repel light
Easy pour spout for messy liquids
Cons
Lids are not dishwasher safe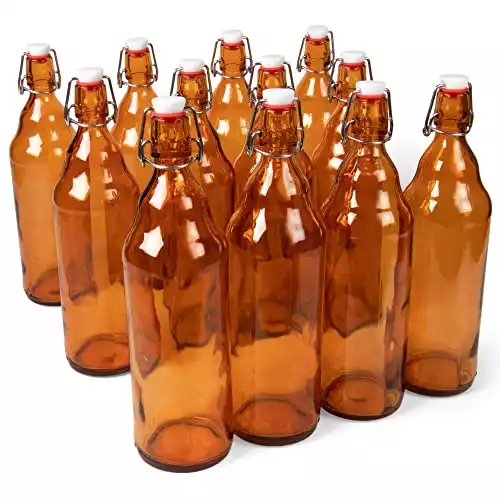 Grolsch Amber Glass Swing Top Bottles | Amazon
These elegant bottles have the classic amber-colored glass, adding a touch of sophistication when on display. When you've finished off your supply, simply wash them and brew something new.
Buy at Amazon
We earn a commission if you make a purchase, at no additional cost to you.
08/03/2023 05:28 pm GMT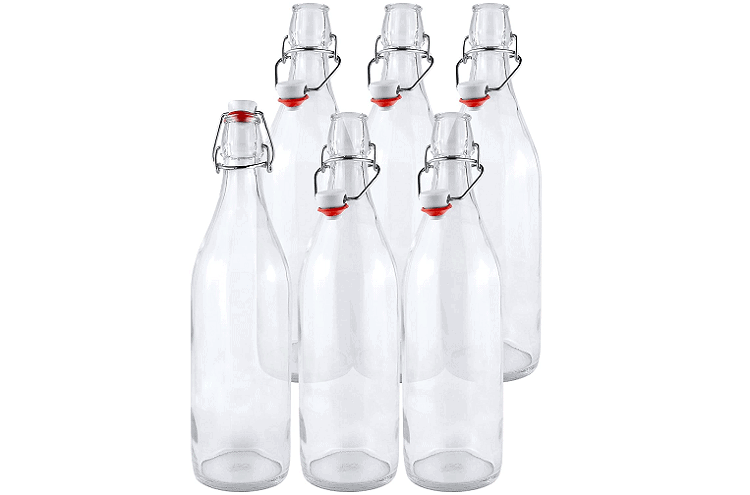 This value pack of glass swing top bottles features a silicone stopper and a metal clamp for a leak-proof seal. They flip closed easily, so you can do it with one hand. The classic design is perfect for your home brews, but you can also store wine, tea, or vinaigrette safely.
Each bottle is 16 ounces. The 10-inch height and 2 ⅝-inch diameter makes these bottles look tall, sleek, and sophisticated. Best of all, these bottles are dishwasher safe, so cleaning will be easy and efficient, too.
While these bottles are affordable and reusable, the glass is not very thick. You may find that they only last a couple of uses before you experience cracking. You may also notice that they don't hold carbonation for very long, so they're best used if you plan to drink your beer quickly.
Pros
Affordable
Tall and sophisticated
Dishwasher safe
Cons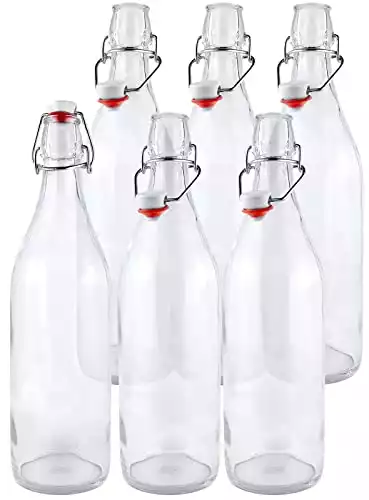 Estilo Round Swing Top Bottles | Amazon
Bottle you favorite home brews, vinaigrette, wines, beer, teas, and more, with ease. Its tight seal will keep contents fresh tasting for longer. Made with high quality glass and stainless steel clamp and silicone stopper seal.
Buy at Amazon
We earn a commission if you make a purchase, at no additional cost to you.
08/03/2023 11:38 am GMT

FAQs
If you're looking for the perfect flip top bottles for your home brew, there are a lot of options. Here are some frequently asked questions to help you make a better decision about what's right for you.
Question: Are Swing Top Bottles Good for Homebrew?
Answer: Swing top bottles make an excellent home brewing container. Their design means they are quick and easy to seal but strong enough to withstand the carbonation inside. They also feature a classic design that's aesthetically pleasing.
Bottling your home brew in flip top bottles makes the process go much faster and it's a lot less cumbersome than using a bottle capper.
Question: Can Swing Top Bottles Explode?
Answer: This is the risk you run with any glass bottle that contains pressure. It's not specific to swing top bottles. If there is any weak point in the glass or you don't get it sealed properly, the bottle could explode.
Question: Can You Pasteurize Swing Top Bottles?
Answer: Pasteurizing is best left to bottles that have been capped with a bottle capper. Swing top bottles or any bottle you've corked cannot be used for pasteurization because the heat will deteriorate the seal.
Final Thoughts: Which are the Best Empty Flip Top Bottles for Your Next Brew
If you're into homebrewing and you want to try a different type of bottle, you may be surprised at how much more efficient your process is with a flip top.
My personal favorite is the clear Grolsch because it's nearly flawless. The sturdy design makes it comfortable to hold and it's versatile enough to hold any liquid. They're worth the price for something that's made with better quality.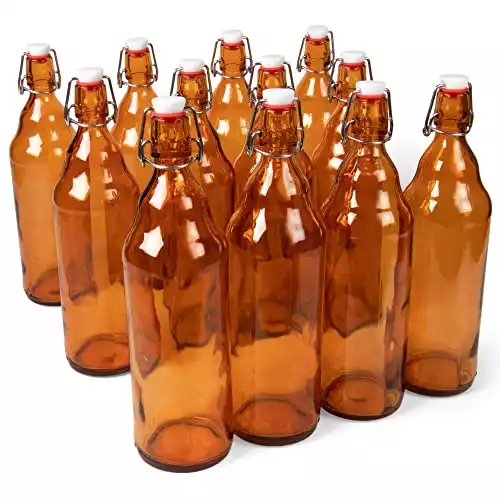 Grolsch Amber Glass Swing Top Bottles | Amazon
These elegant bottles have the classic amber-colored glass, adding a touch of sophistication when on display. When you've finished off your supply, simply wash them and brew something new.
Buy at Amazon
We earn a commission if you make a purchase, at no additional cost to you.
08/03/2023 05:28 pm GMT

No matter what you choose, make sure it's perfect for you. All of the other options are suitable for your home brew as well, and you may prefer a different style or texture. Many of these options are affordable enough to try out and see if you like it.