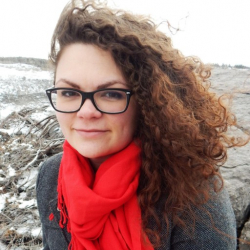 Latest posts by Candace Osmond
(see all)
Whether you are familiar with kegerators or simply in the market for a new kegerator to keep your kegs cold, you simply cannot go wrong with a kegerator from EdgeStar.
With a super simple design, easy-to-install layout, and a complete guide with pictures to help you along the way. This kegerator is unsurpassed in design, functionality, and cost.
While some kegerators can be a bit bulky or even noisy, an EdgeStar kegerator is neither of these things. Instead, an EdgeStar kegerator will keep your beer kegs frosty cold and ready to go whenever you want a fresh, frosty pour of your favorite brew.
Not to mention, an EdgeStar kegerator comes in a sleek, modern design that will look great in your bar area, dining room, or man cave. Before we begin with our full Edgestar Kegerator review, let's see more about the brand.
About the EdgeStar Brand
EdgeStar is a leading manufacturer of appliances such as refrigerators, freezers, dishwashers, and ice makers. Along with plenty of wine and beverage appliances such as wine refrigerators, beverage refrigerators, and kegerators.
EdgeStar also specializes in-home air quality units, such as air-conditioning units, wall air conditioners, and outdoor appliances such as barbecue grills, portable fridge freezers, and beverage refrigerators.
You can easily turn your outdoor space into the ideal barbecue spot with a custom grill and kegerator ready for your next cookout. The idea of grilling and enjoying a fresh brew straight out of your kegerator sounds like a wonderful time, especially when surrounded by family and friends on a hot summer day.
What Is a Kegerator?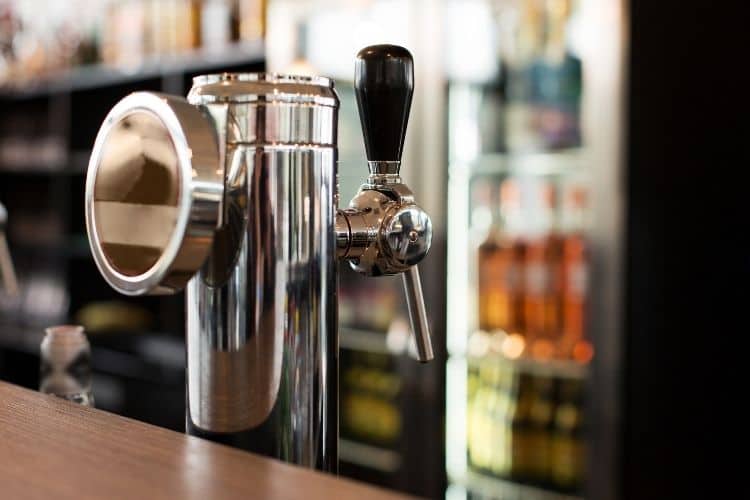 A kegerator is essentially a refrigerator for your beer keg. These keg refrigerators have been specially designed to store and dispense your kegs, so your beer will never go flat and will always be cold with every pour. A kegerator uses CO2 to pressurize and dispense your beer out of the keg.
This means you will get a longer shelf life from your keg of beer, and it will always be cold due to specially designed refrigeration settings.
Your keg should last you a few months, compared to just about a week without a kegerator keeping it cool and pressurized. Kegerators are designed for both residential or personal use and commercial use, such as what you'd find in restaurants, bars, or pubs.
There are also kegerator conversion kits, so you can successfully turn a mini refrigerator into a kegerator, but keep in mind that this may mean more work and money.
As not all refrigerators will have enough room for a keg, many beer lovers prefer to go with an already built kegerator, so there is no guessing game.
Some kegerators can even hold more than one keg, up to two kegs at once, so you have more options than a single kegerator. If you're not just a beer fan, you can also store and pour wine, cold brew coffee, and kombucha in your kegerator.
Pros and Cons to Using a Kegerator
There is so much to love about using an EdgeStar kegerator, but here are the most common pros and cons to give you the most specifications possible.
Pros
Easy to install
Will keep beverages ultra-cold
Comes in many modern, stylish designs
Has foam insulation
Comes with an external CO2 tank with pressure gauges
Different capacities
Comes with all the parts you need to get started
You can use your kegerator as a refrigerator at any time
Easy mobility with wheels
USA made and NSF approved
Cons
Some models can be very noisy
The pressure gauges may not be easy to read for beginners
Extra parts may be confusing
What Is the EdgeStar Kegerator?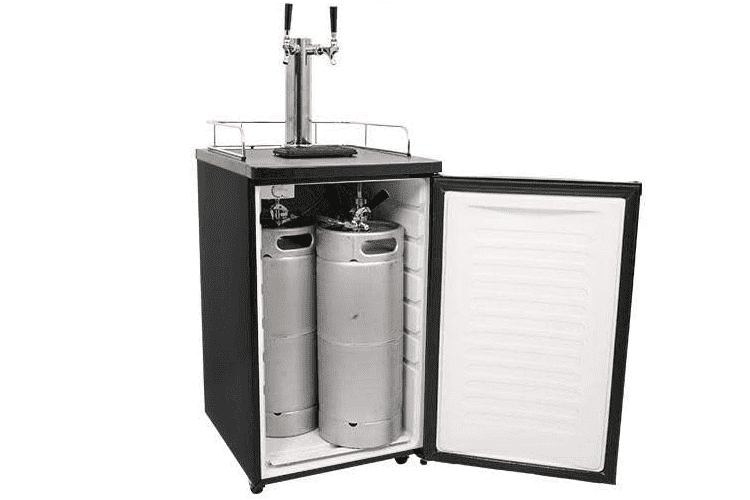 The EdgeStar kegerator is a good quality kegerator that will keep your beer extra cold. For any beer or wine lover, this kegerator would up the ante in your home bar area and would not only keep your favorite beverages cold but would offer an impressive modern look to your bar area.
What's even better is that if you are not using your EdgeStar kegerator for beer or wine at the moment, you can use it as a regular mini-fridge. There you can store snacks, other beverages such as canned colas, or whatever you need to be refrigerated at arm's length. Here are a few additional specifications you should keep in mind.
Size
The size of your kegerator comes in different designs, but the most popular is the full-size kegerator, as you can hold ¼ and ½ kegs. The full-size kegerator is highly durable, comes in high quality, and has a great storage capacity. You may even be able to fit two ½ kegs or two ¼ kegs in there, so you have more frosty beverage choices.
The full-size kegerator is about 82 pounds and comes with removable wire shelves, so you can convert this kegerator into a refrigerator when you are not using it to chill beer, wine, or kombucha. When used as a refrigerator, yo9u have plenty of space to store all sorts of things that need to remain chilled in the low 30s.
Finishes
The EdgeStar Kegerator comes in a sleek black stainless-steel design. While you can find kegerator styles in just stainless steel or chrome, black is the most popular design as it seems to just fit into existing décor better. You can also make your kegerator look much sleeker by adding in some chrome taps or silver accessories.
You may be able to find more custom finishes from EdgeStar, including some wood finishes that would look stunning in a wood bar area or even within a rustic country kitchen. There are plenty of options to choose from and plenty of ways to incorporate your kegerator into your existing furnishing setup.
Features
There are so many features that make an EdgeStar kegerator a fantastic brand. Some of our favorite features include the ultra-low temperatures that these kegerators bring in. These are considered some of the coldest kegerators in the market, keeping beverages frosty in the lower 30s.
Another great feature is that this kegerator is so easy to install. For beginner kegerator users, it may be a bit intimidating to set up your kegerator for the very first time.
But, with an EdgeStar kegerator, there is an easy-to-read installation guide that has step-by-step illustrations and guides that will get you well on your way to enjoying all there is to offer from a kegerator.
Another great feature is the external CO2 tank that comes with an easy-to-read pressure gauge. This tank will save you twice the amount of carbon dioxide due to its size.
Since this is an external tank, that means you get double the amount of C02 that will save you money in the long run. No more having to change out tanks every few weeks with this high-capacity, money-saving tank.
Warranty
This EdgeStar kegerator comes with a one-year warranty. This one-year in-home warranty is limited, but if the machine is dysfunctional for any reason within this time, the company will respond as soon as possible to get the problem fixed.
Suppose there is a serious issue with your kegerator. In that case, the company will replace your machine quickly and make sure that it is working up to the EdgeStar standard.
Price Range
It all really depends on the size of your kegerator, but with this full-size kegerator, the cost will be less than $2,000. If you want a fancier kegerator or a kegerator that can hold more capacity, it will run more expensive. But the same goes with the smaller kegerators that will cost you less.
How to Use the EdgeStar Kegerator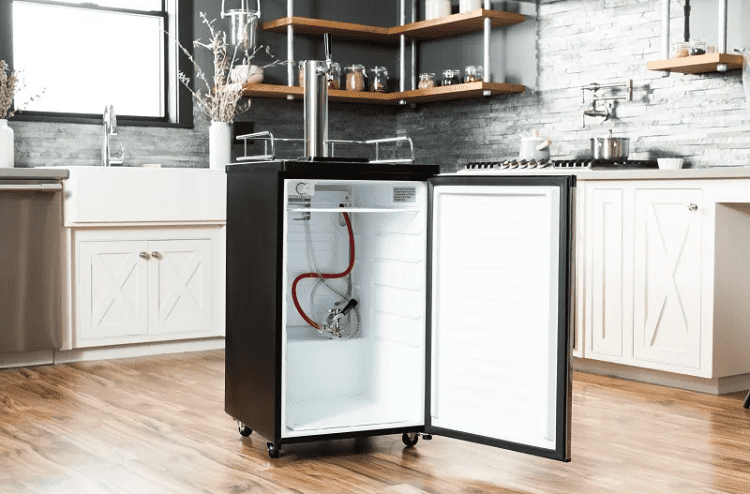 It's super simple to use your kegerator once you have it all set up and running. With just a few easy steps, you will be well on your way to enjoying your ice-cold beverages in no time.
Step 1: Unpack and Wash
You are going to want to remove all the packaging from your kegerator box. This includes all the materials and plastic removed and thrown in the trash. You will want to move your kegerator into the location you want it to be set up.
Make sure you are looking at a location that can provide plenty of ventilation for your kegerator, and make sure that the surface is as level as possible.
Step 2: Installation
Once all your items are out of the packaging, you are ready to install. First, you will install the draft tower. Once you find your circular opening at the top of the unit, you can begin to install using a rubber washer, your draft tower, a beer line, mounting screws, an air hose, and a tap faucet handle.
You will want to make sure that your rubber washer is secure on the circular opening, ten you can feed the beer line down into the interior cabinet.
You will secure your draft tower with the enclosed mounting screws, then you can feed the air hose into the draft tower. Your air hose will keep your beer cold as it travels up the beer line.
Once you screw that tap handle onto the tap faucet, you can connect the tap faucet to the draft tower.
Step 3: Connecting the Lines
Your two main lines that will make your kegerator work are the beer line and the gas line. The beer line ensures that beer will flow cold through the line and the gas line to make sure your kegerator will work.
Using your guide, find out where exactly the gas line connc3ts to the CO2 tank and make sure you know how to connect it to the keg coupler.
Since all of your necessary materials are included, you won't have to make any extra purchases for the basic setup of your kegerator. While installing, you will want to make sure that your tank is upright at all times and that the beer lines are properly attached to the keg coupler. Use your rubber washers at all connection points.
You will want to be extra careful connecting your gas line to the C02 regulator and make sure that all your screws are properly clamped. Connect your other end to the gas line to your keg coupler and tighten. Attach your C02 regulator to your C02 tank to get ready to start to monitor levels.
Screw your coupler onto the keg, and then you can push the couple handler down to open the seal. Now you can place your keg inside the kegerator to cool down.
Step 4: Adjusting
Once your beer and gas lines are in place, you can start getting ready to dispense your beer. First, you must make sure your CO2 tank is properly regulated. You do this by turning the wheel on the tank to the left to open the air tank.
You can flip the shut-off valve from the regular to on, and you should be able to hear the air enter the gas lines. Adjust your pressure to read about 10 to 15, place the tank into the cabinet, and close the door. Once these levels are all regulated, you will be good to go as soon as your beer chills, probably within the hour.
How to Clean the EdgeStar Kegerator
You should clean your kegerator regularly to clear the beer lines from any beer residue that naturally accumulates over time.
To do this, you will want to use a simple beer line cleaning solution. You can find a beer line cleaning kit that comes with a hand pump, or you can buy one that connects to your C02 pump for an easier cleaning experience.
You will want to flush the lines with your beer line cleaning solution, and this solution will also sanitize your lines, which will help prevent any beer buildup in the future. For the outside of your kegerator, use warm soapy water to wipe away any noticeable beer residue or puddles of beer.
For any removable parts to your kegerator, you can soak them in your beer line cleaning solution or soak them in warm soapy water. Just make sure to properly flush all of your parts well before putting it all back together again to avoid any soap from getting into your tanks.
Read Also: How to Find the Best Kegerator Cleaning Kits.
Alternatives to The EdgeStar Kegerator
Two Faucet Kegco Keg Dispenser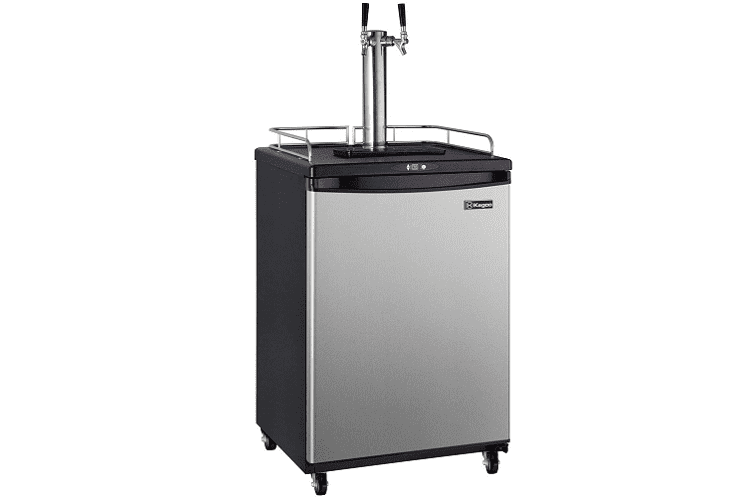 This stainless-steel keg dispenser is great for commercial or residential use with durable construction, high powered performance, and plenty of energy efficiency with a hum quiet motor.
This keg dispenser comes with the entire keep tapping kit and offers powerful cooling technology with an LED light display that makes it super easy to read all your levels and gauges.
Stainless Steel Kegerator by Frigidaire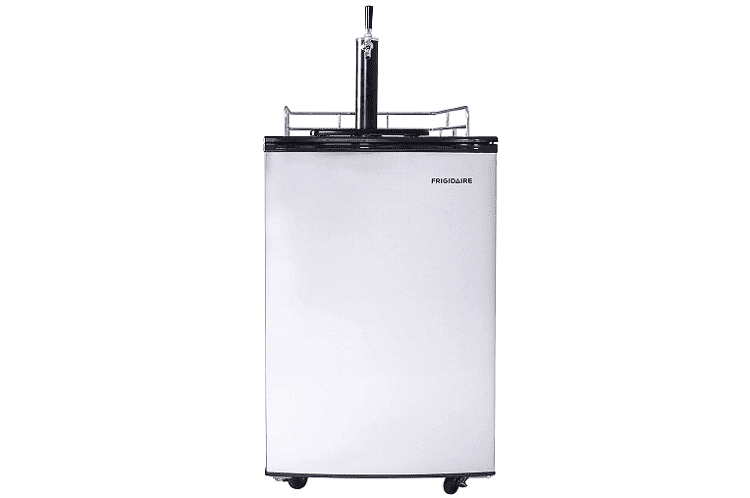 This extra-large kegerator by Frigidaire features the option to customize your kegerator with four different keg sizes. With this kegerator, you can choose either a quarter barrel, sixth barrel, or vent a half barrel. You can easily control the temperatures of this kegerator with a control knob that is easy to read and even easier to use. This kegerator also comes with wheels, so it is easy to move anywhere in your house or bar.
Full-Size Kegerator by Ivation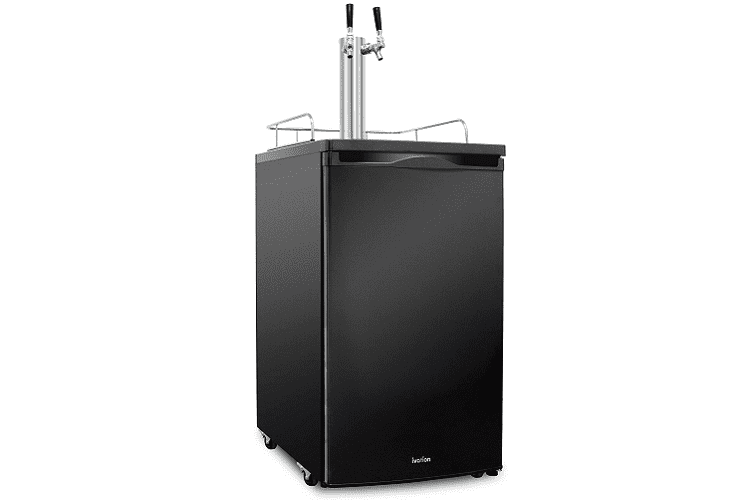 This kegerator pretty much has the best of both worlds: a dual tap draft beer dispenser and a universal beverage cooler. This kegerator comes with a mounted C02 cylinder, easy-to-use temperature controls, drip trays, and rail trays and can fit a variety of different sized kegs. Not to mention the sleek black design will look great just about anywhere you place it.
FAQs
Question: Where are EdgeStar Kegerators Made?
Answer: All EdgeStar Kegerators are made in the U.S.A.
Question: Is it Worth Having a Kegerator?
Answer: Yes. If you love ice-cold beers and would love your very own beer or wine dispenser, a kegerator would be the best appliance for your home bar setup. Even if you have a commercial bar, a kegerator will keep your select beers cold and frosty.
Question: How Long Does a Kegerator Last?
Kegerators can last for many years if they are properly cleaned and cared for. They are a great investment if you take care of them.
Final Say
So, there you have it – all you need to know about the EdgeStar Kegerator and all the specifications that explain why these kegerators are so great.
Whether you have a small bar that you'd like to place a kegerator or two in, or you want to make your at-home bar a little more sophisticated, you simply can't go wrong by incorporating an EdgeStar kegerator into the mix.
These kegerators are easy to use, easy to install, and come with plenty of information to help you set it up and maintain it for years to come. These may be an investment offhand, but overall, these kegerators will continue to serve you with ice-cold beer for years to come.
Did you find this article useful? We hope you did. Do you have any insight into kegerators and how great they are? We'd love to hear from you.
Feel free to share your stories and suggestions in the section below so we can all learn a little bit more about these wonderful appliances. And check out our review of the best home brewing equipment!