Bass Ale is an authentic Pale Ale, which offers a full flavor that is malty, fruity, and sweet up front. These deletable flavors are followed by subtle flavors of earthy and floral hops on the smooth, refreshing finish. Additional aromas of spice, nuts, and freshly baked goods, resulting in a complex yet satisfying and thirst-quenching Pale Ale.  
Pros and Cons of Bass Ale
Pros
easy accessible

reasonably priced

Delectable flavors of fruit, nuts, and malt upfront

Soft notes of hop bitterness and nutty undertones on the slick refreshing finish 

Professionally bottled and packaged
Cons
Seasoned and well-informed beer drinkers believe that the taste of Bass Ale has changed over the years, particularly the level of hop bitterness.

Whether or not this is true depends on your taste buds. 
What does Bass Ale Taste Like?
Bass Ale is an easy-drinking and enjoyable Ale Beer. Initial aromas of malt and freshly baked banana bread are elegantly complemented by flavors of fresh banana, chestnut, and malt up front.
The finish is a slick combination of soft hoppy bitterness and subtle undertones of nutty goodness. This full-flavored Ale is still brewed according to the original Bass Ale recipe of 1777.
Read our full guide on beer types and varieties.
The Color
Bass Pale Ale is a rich amber color and is a little darker than most traditional and modern ales that are available today. The darker color comes from the higher kilning temperatures needed for brewing this style of ale.
There is almost no head retention on this Ale with rapidly dissipating carbonation. To me, it looks more like a flat Pale Lager than an ale.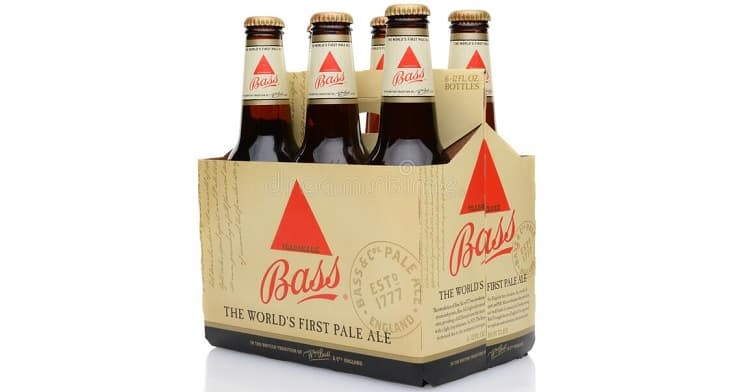 The Ingredients
Water:

A key ingredient in any brewing recipe, Bass uses water that has high levels of both Calcium Bicarbonate and Calcium Carbonate.

Water that contains these high levels of minerals are commonly referred to as "Hard Water".

The water used at the Bass Brewery is exceptionally hard, and this greatly enhances the bitterness of the hops and contributes towards the sharp, refreshing, and delicious finish.

Hops:

Bass Ale is expertly brewed using traditional English Hops (Goldings and Fuggle) combined with a dry-hopping process.

Golding hops can be sourced in the United States but are a direct descendant of the original East Kent Golding hop.

Initially, these hops were used as aromatic and bittering hops, but today they are highly sought after and used for their aromatic properties and qualities.

Fuggle hops offer warm, woody, and natural earthy notes to Ales, Porters, and Bitters.

Barley:

English two-row barley malt is used to brew most types of ale and pale ales.

Two-row barley is usually used to produce German beer and English Ale and Pale Ale.

Yeast:

  Bass Ale is expertly brewed using traditional English Pale Ale Yeast.

The scientific name of Pale Ale Yeast is Saccharomyces cerevisiae;

this species produces well-balanced beer with an earthy and clean finish.

Additionally, it allows the hop and malt properties to dominate the beer.
The Fermentation Process
Bass Ale is fermented using the Top-Fermentation method; This is the preferred method for brewing traditional and authentic Ale and Pale Ale. Top fermenting Ale yeast strains produce varied types of Esters, which allow for a fruity character.
Additionally, top-fermenting yeast strains allow the yeast to ferment at the top of the wort, with optimum performance occurring between 61 and 70 degrees F (16 and 21 degrees C).
This fermentation technique allows the yeast to gather on the top and is considered to be of exceptionally high quality. It can then be easily collected and stored to be used in future Bass Ale fermentations.
Bass Ale ABV (Alcohol by Volume)
Traditional Bass Ale offers an average ABV of 5.1%.    
Packaging
Bass Ale is packaged in brown 12oz glass bottles that display their iconic red and white Triangle logo with black font. These 12oz bottles are conveniently packaged in 6, 12, and 24 professionally branded cardboard packs; This allows for easy transport, storage, and carrying.
Where can I Purchase Bass Ale?
Bass Ale has a global footprint and today it can be purchased almost anywhere in the world. In the United States, you can purchase Bass ale from numerous convenience stores and supermarkets like Tesco and Walmart.
Most decent liquor stores will also keep stock of this fine ale. Major distributors like Wholesale Wine and Spirits, US Spirit Suppliers, and Alliance Beverage distributing. Bass Ale can also be purchased online from Uptown Spirits, Tavour, and Drizly.
How did Bass Brewery Begin?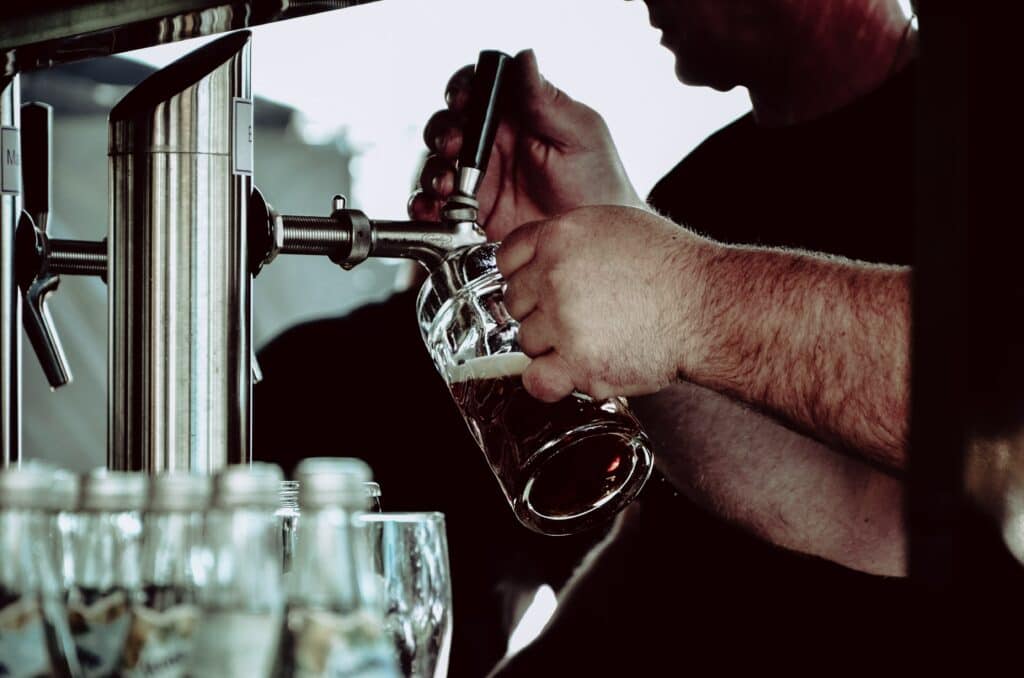 William Bass started the Bass Brewery in Burton upon Trent, Staffordshire in England. In 1777 the brewery was established and popularity amongst locals and international beer lovers quickly grew.
With an annual output of one million barrels in 1877 (exactly 100 years after opening), Bass Brewery had morphed into the largest ale producer in the world.
Bass' signature red triangle was the very first trademark filed under the Trade Mark Registration Act of 1875. By the 19th century, Bass Beer was distributed over the entire British Empire and could be found from North America to the sub-continent to the Southern hemisphere .
Where is Bass Brewery Today?
In the early 1900's Bass started an expansion project that involved the acquisition of numerous large breweries, as well as the monumental merger with Charrington United Breweries in the 1960s. This was born in the United Kingdoms' largest brewery called Bass Charrington.
In 2000, Bass Brewery sold its brewing operations to Anheuser-Busch InBev (previously Interbrew). This acquisition now meant that Interbrew controlled a significant portion of the UK beer market, so the Competition Commission stepped in and instructed Interbrew to down-scale their operation.
This included certain brands and the Bass Brewery to Molson Coors (previously Coors); they did however allow Interbrew to retain the rights to the Bass Brand.  
Where is Bass Beer Brewed?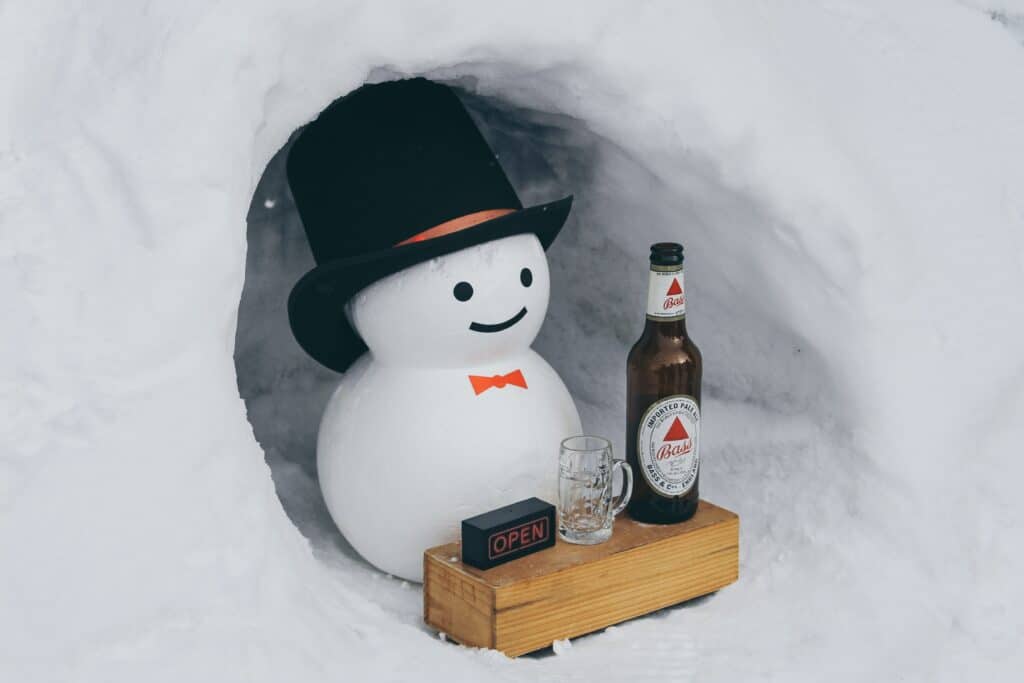 Bass Ale was originally brewed in Staffordshire, England, but today it is brewed in multiple countries. Bass Draft is brewed under contract by Marston's in Burton, United Kingdom. Bass Keg and bottled products destined for the export market are brewed in Samlesbury, Lancashire in England. This brewery is owned by AB-InBev.
Bass beer is also brewed in Merrimack, New Hampshire, to supply the American market, and Bass beer is also brewed in Belgium. Bass IPA is brewed in Baldwinsville at the Anheuser-Busch Plant.
Additional Bass Brewery Products
Bass Draft:

Bass Draft is conditioned in traditional wooden casks and is brewed by Marston's brewery, a local brewery in Burton, Yorkshire Squares.

As is the case with Bass Ale, Bass Draft offers tastes that are fruity, nutty, and malty.

This quality Draft is extremely popular in the Derbyshire and Burton upon Trent heartlands, has an ABV of 4.4%, and is made using English hops and a dry-hopping process.

  

Bass IPA:

Bass India Pale Ale is a refreshing and satisfying beer that is beautifully brewed with a strong British heritage and a large variety of premium hops.

It gets its full and thirst-quenching flavor and aroma from a combination of authentic and traditional English-style hops, along with Fuggle, Saaz, Cascade, and Golding hop.

Bass IPA is brewed at the Anheuser-Busch plant in Baldwinsville and offers an ABV of 6.0 %.

Although the ABV is higher than your average brew, it is considered average amongst IPA-style beer. 

Bass UK Keg Ales:

There are three classic styles of Bass UK Keg Ales available:

Bass Best Scotch:

First introduced in 1986, Bass Best Scotch is produced in the North East of England.

It is malty and sweet up front with light hop bitterness on the finish.

It is tasty, refreshing, and worthy of the name Best Scotch.

Bass Mild XXXX:

Bass Mild XXXX is a delicious mild keg version of Bass Ale.

Sticking with tradition, it too offers delectable flavors of fruit, nuts, and malt, with a light bitterness on the finish.

This brew is refreshing, goes down easily, and offers an ABV of just 3.1%

Bass Extra Smooth:

This delicious brew is pasteurized, offers an ABV of 3.8%, and is an outstanding keg version of Bass Ale.

It is brewed to the same recipe as traditional Bass Ale and offers similar characteristics and properties.

Bass Extra Smooth Keg Ale is extremely popular in the United Kingdom, particularly in the South West of England.
Bass Ale Alternatives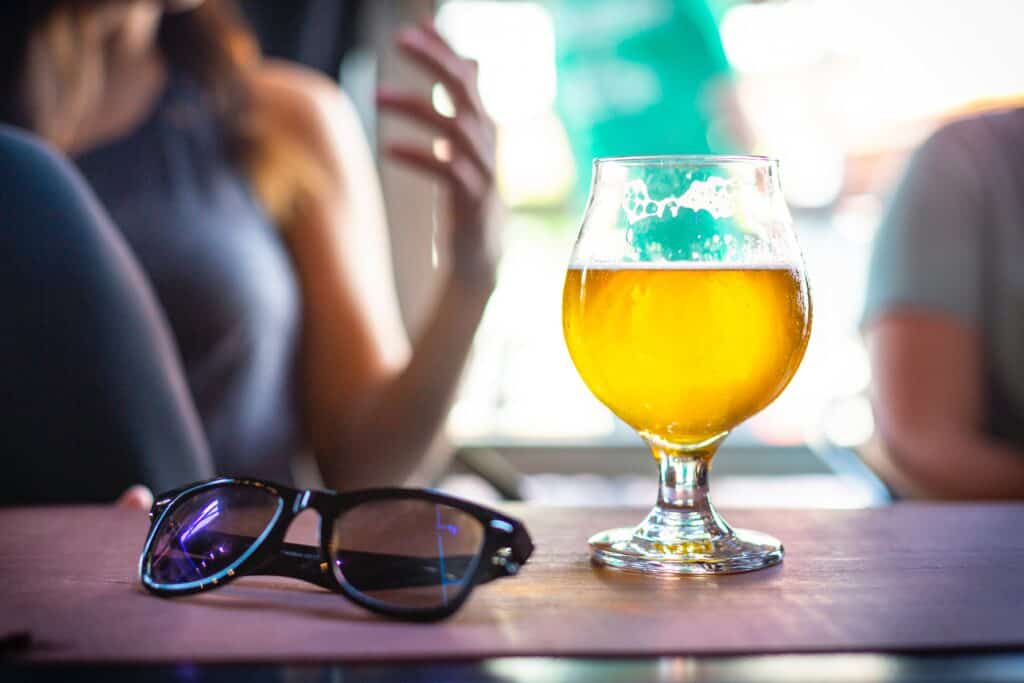 Below are five premium alternatives to Bass Ale.
The Kernel Pale Ale Sabro
The Pale Ale Sabro from The Kernel Brewery is as unique as a beer that is light-bodied, crisp, and dry. For such a light-bodied beer, the ABV is above average at between 5-6%. Pale Ale Sabro is brewed to a specific recipe except for the ever-changing hops.
When brewing this Pale Ale, different hop varieties from around the world are used depending on availability, the season, or the Head Brewers' intuition and experience. The Kernel Brewery was one of the UK's first craft breweries and all beer is proudly brewed in Bermondsey, London, England.
McFate American Pale Ale
McFate (also known as Fate) Pale Ale offers subtle notes of earthy pine needles and fresh citrus rind, beautifully combined with intense and bold flavors of sweet tropical fruits. This thirst-quenching Pale Ale uses CTZ and Citra hops full hop properties to perfectly balance the crisp and malty goodness.
With an above-average ABV of 5.8%, this Pale Ale will leave you refreshed and satisfied. McFate is an all-American Pale Ale and is still brewed in Tempe and South Scottsdale, USA.
Partisan X Ale
Partisan X Ale ticks all the boxes of an authentic Ale. It is very drinkable and goes down easy, with strong fruity flavors of grapefruit and orange delicately infused with subtle undertones of fresh earthy pine.
Partisan X Ale is a medium-bodied beer with a bitter and well-rounded finish. It is brewed in Tottenham, England, is light in color, and offers an ABV of 4.5%.  
Potholer Golden Ale
The Potholer Golden Ale from Cheddar Ales is the company's signature and award-winning Ale. Notorious for using only the finest ingredients, it is brewed using Crystal and Wheat malts, with a combination of Slovenian Styrian Goldings and a blend of English Challenger hops.
Upfront, you get fresh fruity flavors that are followed by a hoppy, crisp, and well-rounded finish. Potholer Golden Ale is brewed in the United Kingdom and offers a below-average ABV of 4.3%.
Buxton Jacob's Ladder Ale
This low alcohol Pale-Ale is delicious, refreshing, and thirst-quenching. With an ABV of just 2.8%, it is considered a light "anytime" beer and goes down easy.
Upfront, you get delicate flavors of soft malt and subtle fruit; the hops offer bold flavors and dominate the crisp, dry, and bitter finish. Jacobs Ladder Ale is brewed by Buxton Brewery in Buxton, Derbyshire, England.  
Frequently Asked Questions (FAQ)
Question: Is Bass Ale good for You?
Answer: Like most beer brewed around the world, Bass Ale is made using only natural ingredients. Only consumables it in moderation can prove to be good for your health. Each 12oz serving contains 13g Carbs, 141 Calories, 0g Protein, and 0g Fat.
Question: Is Bass beer any good?
Answer: Bass is a good beer; it is thirst-quenching and refreshing with a lovely flavor and aroma. There are, however, seasoned beer drinkers who insist that the taste has changed in recent years and feel that some of the authenticity has been lost, particularly with regards to the level of hops and bitterness.
This could be expected considering the complex history of this company, but overall it is still a good beer.
Question: Is Bass Ale an Ingredient in Black and Tan Beer?
Answer: The original Black and Tan was first introduced in the 1920s. Traditionally it was always made by combining Bass Ale and Guinness Irish Stout. There is an art to pouring one of these specialty drinks, with the Bass Ale going first.
An aggressive pour is required to produce a sturdy head, followed by a gentle layering of the Guinness to achieve the iconic Black and Tan appearance. In Ireland, this beer is known as a Half and half.
Question: How much Beer does Bass Brewery Produce?
Answer: Unfortunately, there is no accurate answer to this question, but back in 2011, the brewery recorded sales of 365 000 hectolitres of beer.
Question: When did the Bass Brewery in Ireland close down?
Answer: A result of large-scale takeovers and mergers, the company to be known as Bass Ireland opened its doors in 1974. Owners decided in 2008 to import their products from Scotland and Bass Ireland closed down.
Bottom line
Bass Ale is a full-flavored Pale Ale with lovely aromas of nuts, spice, and freshly baked goodness. Upfront, you get tastes that are malty, fruity, and sweet, with a lovely balance of floral and earthy hops.
It has a rich amber color that is darker than your typical Ale; the darker color comes from the high kilning temperatures needed to perfect the brew.
Bass Ale is well-packaged in brown 12oz glass bottles with the Iconic red and white-colored triangle-themed logo. Bottles are arranged in nicely printed cardboard boxes, which are available in 6, 12, or 24 packs and are easy to transport, store and carry.
Bass Ale is easily accessible and can be purchased from convenience stores, local liquor stores, and supermarkets. It can also be purchased from regional and national distributors and online.
Bass Ale is an "anytime" beer and can be enjoyed on a warm afternoon, with dinner and even as an after-dinner drink. I find the taste refreshing and satisfying and love the fruity flavors we don't get from Lagers or Pilsners. If you enjoy the battle of sweet and bitter, then you will find this ale enjoyable.