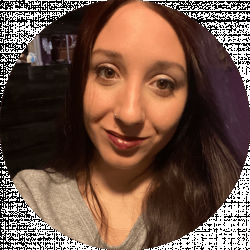 Latest posts by Stephanie Jensen
(see all)
When you think of drinking a beer, what do you think of? A crisp and refreshing pilsner? Or a heavy stout? You would be surprised how many people would say a stout. So much so to where stout beers will be worth over $15 million in 2027!
What makes stouts so popular? They not only have a richer taste but stouts are very versatile. Brewers can experiment with different flavors, resulting in unique stouts that brew connoisseurs will love.
Out of all of the different varieties is the oatmeal stout. While it sounds weird to a newbie, there's nothing creamier and more delicious than an oatmeal stout. But what makes this stout so popular and delicious?
Brief History of the Oatmeal Stout
Let's answer the first question — why brew a beer with oats in the first place? The answer is a little historical. Surprisingly, brewing a beer with oats is not only common but is a practice that has been done long before the stout was ever even created.
Oats were first introduced in beer in the 1500s. However, oats well out of popularity when other grains started to be used. Eventually, oats reemerged, particularly in England and Scotland. That's because oats grow abundantly in those regions.
At this point, the stout was already a prominent beer, emerging in the mid-17th century. So it's no surprise that oats were brewed in stout beers. This caused the emergence of oatmeal stouts, popular because they were advertised to improve health and increase strength (though this is likely not true).
Oatmeal stouts continued reigning in the UK until the end of World War II. However, British brewery Samuel Smith brewed their own Oatmeal Stout in the 80s. This sparked its popularity and the oatmeal stout spread to the rest of Europe and the US.
Characteristics of an Oatmeal Stout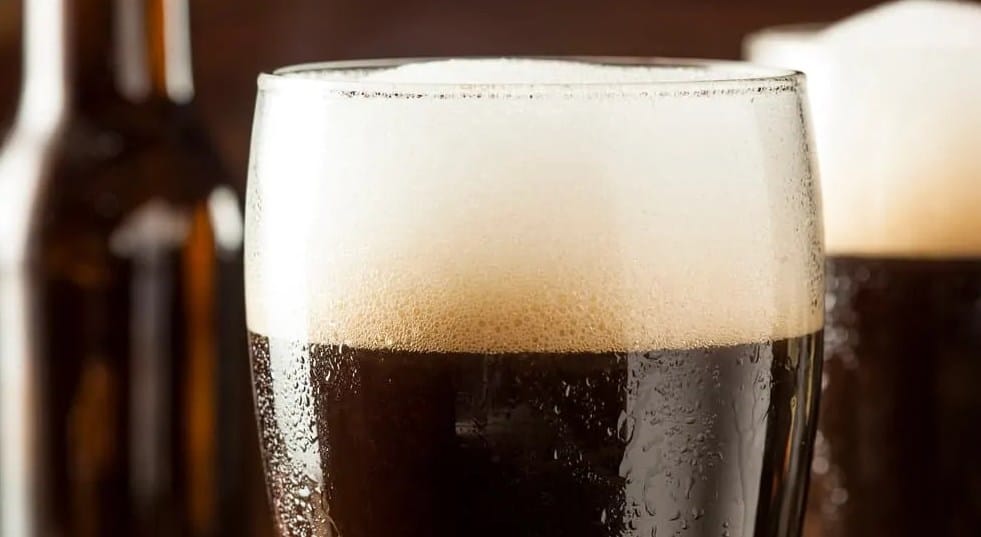 What makes an oatmeal stout different than other stouts? Well, it's more than just the oats!
Aroma
Think an oatmeal stout smells like your morning cup of oatmeal? Think again. Most oatmeal stouts have a slight oat whiff.
The dominant note is actually malt, giving most oatmeal stouts a roasty scent. Many oatmeal stouts are also brewed with coffee-like ingredients, so it's not uncommon to smell some coffee in there, too.
Some other scents you may pick up include hops and even fruit, depending on the oatmeal stout you're drinking.
Appearance
As a stout, most oatmeal stouts are dark in color — ranging from dark brown to black. Some may have some clarity but most oatmeal stouts are opaque. A good pour results in a slightly thick head of foam on top.
Taste
From here, we can get a sense of why the oatmeal stout taste is so coveted. A good oatmeal stout has a strong oat profile.
Oats have a nutty and earthy taste. But a great brewer will also mix in some other ingredients to take out the grain flavor. These other ingredients can include chocolate, malt, and/or coffee.
However, all oatmeal stouts are different. You may find an oatmeal stout brewed with hops, fruit, and even floral notes.
Mouthfeel
Oatmeal stouts aren't for beginners. As a medium too full-bodied beer, these aren't beers you chug. That doesn't mean they're not smooth. A great oatmeal stout will almost have a velvety texture, making them enjoyable to taste on your palette.
The Best Examples of Oatmeal Stouts
Are you ready to try an oatmeal stout? Here are some of our favorite examples.
Oatmeal Stout by Samuel Smith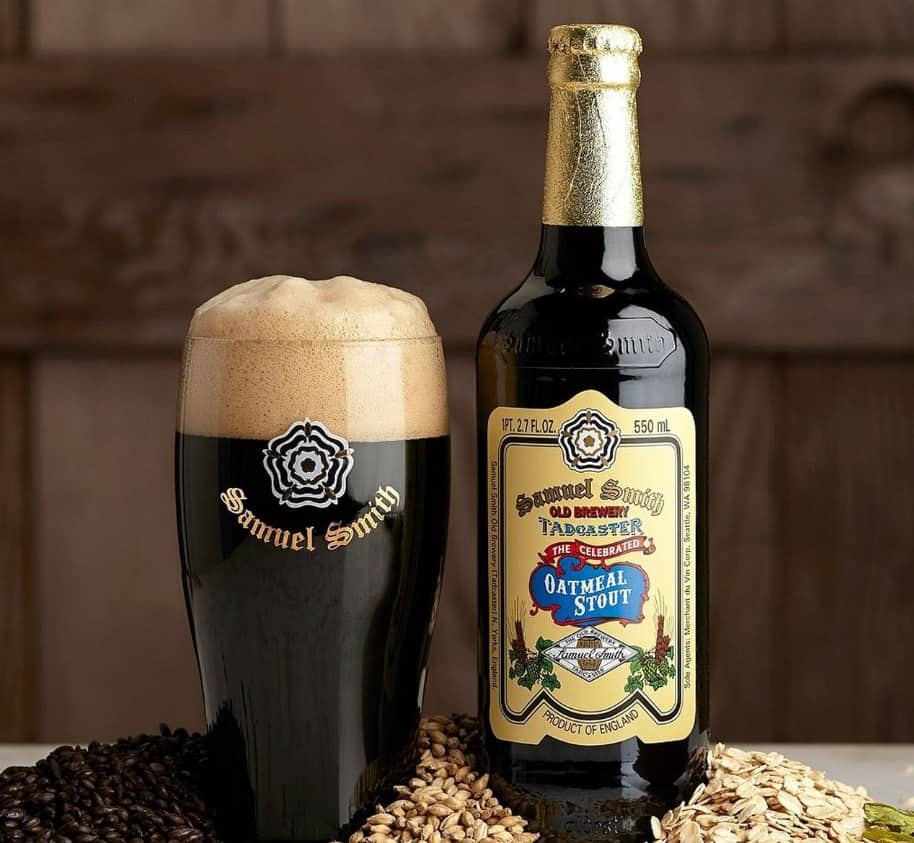 It's only appropriate that we mention the legendary beer first! This beer is definitely very smooth. You first taste roasted malt on your palate, followed by a slight coffee aftertaste. Samuel Smith brewed this beer with texture in mind; the beer is silky smooth, easy to taste and sip.
What's nice about this beer is it's not too complex. Roasted and malty barley, yeast, hops, and oatmeal make up this beer. Brewed with well water the same way since 1758, it definitely upholds the English tradition of a hearty oatmeal stout.
As a medium-bodied beer, I can definitely have a pint of this without being too full. And let's hope I'm not too full — I have other beers to drink!
Scripps Pier Stout by South Park Brewing
This award-winning beer is technically an oatmeal stout, but it's so much more complex than that.
In addition to oats, this beer is brewed with malt and dark fruit, caramel, coffee, and seawater. Yes, seawater. This gives the beer a slightly salty flavor and is delicious when paired with fish, scallops, or oysters. If you don't want to eat fish with a beer, then pair this beer with chocolate cake!
R&R Oatmeal Stout by Beaver Street Brewery
If you love your beers dark, you'll love Beaver Street Brewery's R&R Oatmeal Stout. This stout has a rich flavor with black and roasted barley. The R&R Oatmeal Stout is also brewed with chocolate and of course, gelatinized oatmeal.
While the beer is slightly sweet, it has a bit of bitterness because of its light hop profile. This full-bodied beer is not for the faint of heart, but rather for someone who wants an oatmeal stout that's full of flavor.
Gold Medal Oatmeal Stout by Blue Corn Brewing Company
This is another oatmeal stout for those who love their beers on the darker side! You'll taste notes of coffee, roasted malt, and chocolate. Rolled oats round out these flavors, contributing to the full-bodied taste you'll love.
Scaredy Cat by Vintage Brewing Company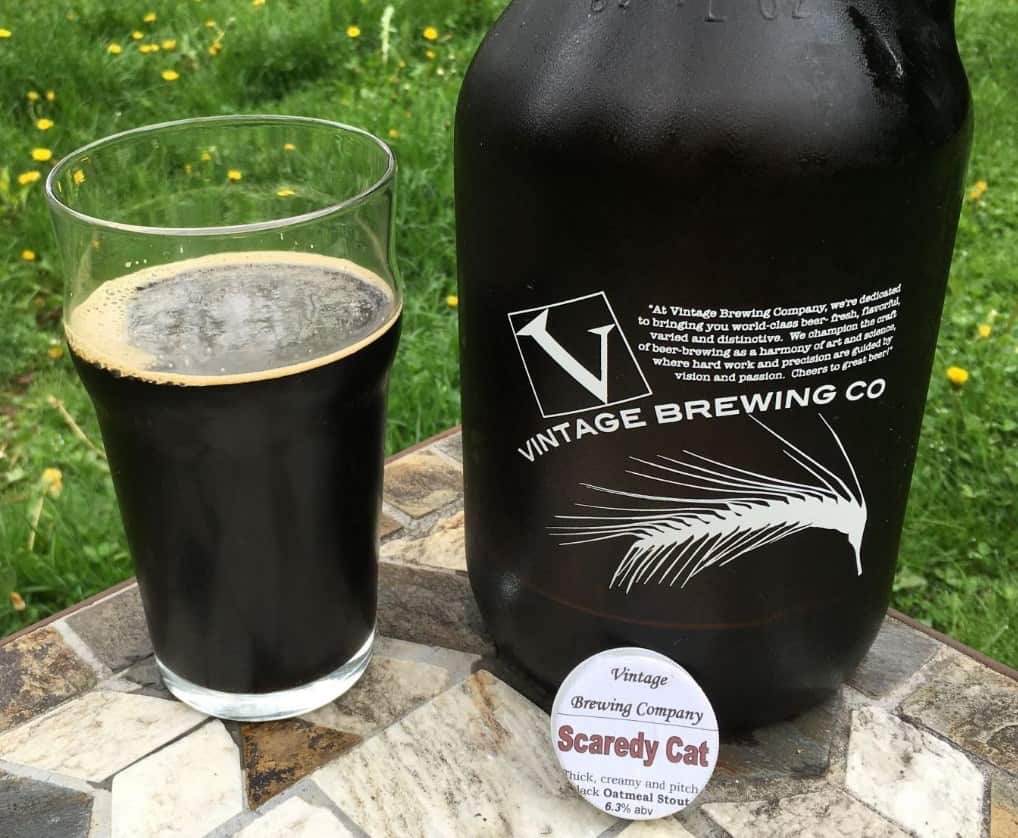 Scaredy Cat is not a beer to be scared of! This hearty, dark beer has notes of cocoa, molasses, espresso, and caramel. With rich malt flavors, you can't beat this award-winning beer!
Backside Stout by Steamworks Brewing Company
This is one of the most complex oatmeal stouts on this list. While you'll get the taste of oats and malt, you'll also taste roastiness and a hint of chocolate. Because of the oats used to brew the beer, the beer has a silky smooth finish.
Dark Side of the Pint by Four Seasons Brewing Company
This beer is made with chocolate malt, crystal malt, a few hops, roasted barley, and of course — oats! While it's a heavy beer, it's also smooth enough for lots of sipping. While it's not anything unique, you can't go wrong with a classic and great-tasting oatmeal stout!
Pure Imagination by Verboten Brewing Company
This award-winning beer tastes like brown sugar mixed with coffee. You may also taste toffee. It's a toasty beer with a decent malt profile. As a double oatmeal stout, it's smooth tasting. There are some hints of caramel and hops, but they're subtle.
The aroma is very unique. You'll get a variety of whiffs, from chocolate to coffee and even some cherry.
This is an intense beer, perfect for those who have a sweet tooth. You won't want to order two pints of Pure Imagination, simply because it's a filling beer. But it's delicious and creamy, perfect for sipping.
Sless' Oatmeal Stout by Iron Springs Pub and Brewery
This dark beer has hints of cocoa, toasted malt, and molasses. But what really makes this beer unique is the dried fruit, giving it a milk fruity flavor. Think of the taste of dates mixed with cocoa. The sweet chocolate taste hits your palate at first and then finishes with a mocha taste.
Unlike a lot of the beers on this list, this one is medium-bodied and creamy. If you're an experienced stout drinker, you can definitely have a couple of these and not feel completely full.
Velvet Merkin by Firestone Walker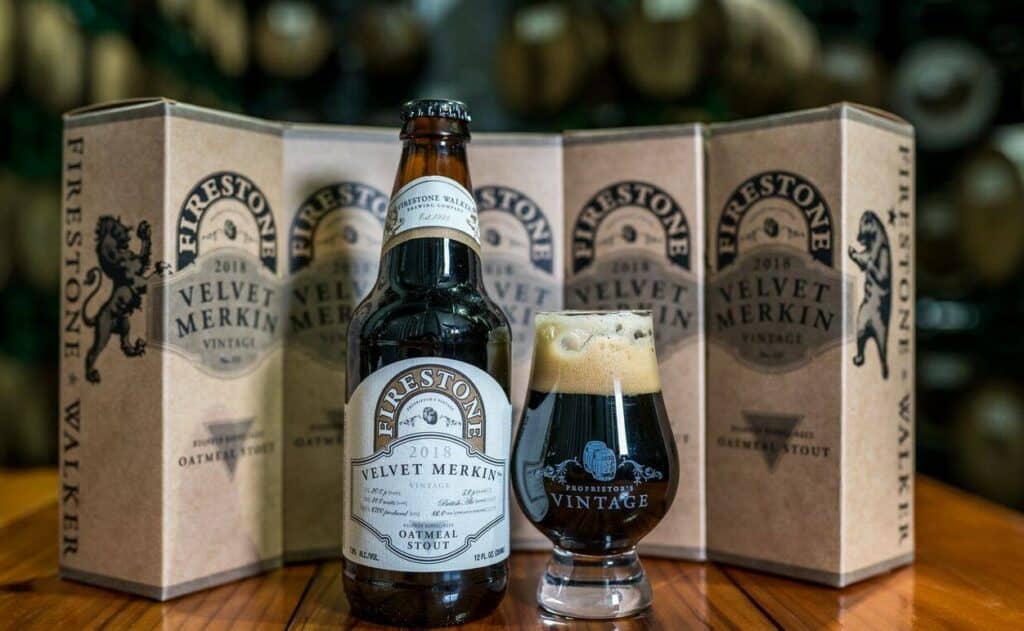 This beer is definitely a favorite among stout enthusiasts! This intense oatmeal stout is seasonal and for the longest time was only available on tap at Firestone Walker's California locations. However, it's now becoming available in bottles due to seasonal demand. The beer is aged in bourbon barrels which gives the beer its smooth character.
It's slightly sweet, brewed with vanilla mixed with espresso and dark chocolate. It definitely makes the perfect dessert beer — even for those who don't like dessert beers.
Barney Flats Oatmeal Stout by Anderson Valley
This beer has many complex notes, specifically toffee and espresso notes. The oats bring out the creaminess in the beer, quenching your thirst. Even though it's a full-bodied beer, it also has a velvet texture, making it a smooth beer for sipping. With a sweet chocolatey finish, it's a great dessert beer but is versatile enough to drink with your dinner.
Oatmeal Stout by Summit Brewing Company
If you have the luxury of visiting Summit Brewing Company's taproom in Minnesota, you'll need to try their Oatmeal Stout on nitro. This beer is on tap only. The nitro gives it a silky smooth finish with a creamy head. It's also a full-flavored beer, with plenty of coffee and chocolate notes.
Oatmeal Raisin Cookie by Cigar City Brewing
Did you ever want a beer that tasted like an oatmeal raisin cookie? If so, Cigar City read your mind. Combining the sweet taste of raisins with the spice of cinnamon, Tampa's Cigar City took a beer and made it taste like a fresh-baked cookie.
Keep in mind, this isn't a stout. This is technically a brown ale. All of these flavors were added to Cigar City's classic Maduro Brown Ale, which is brewed with toffee, caramel, and chocolate. But this beer is so delicious, it's worth a mention on our list.
Breakfast Stout by Founders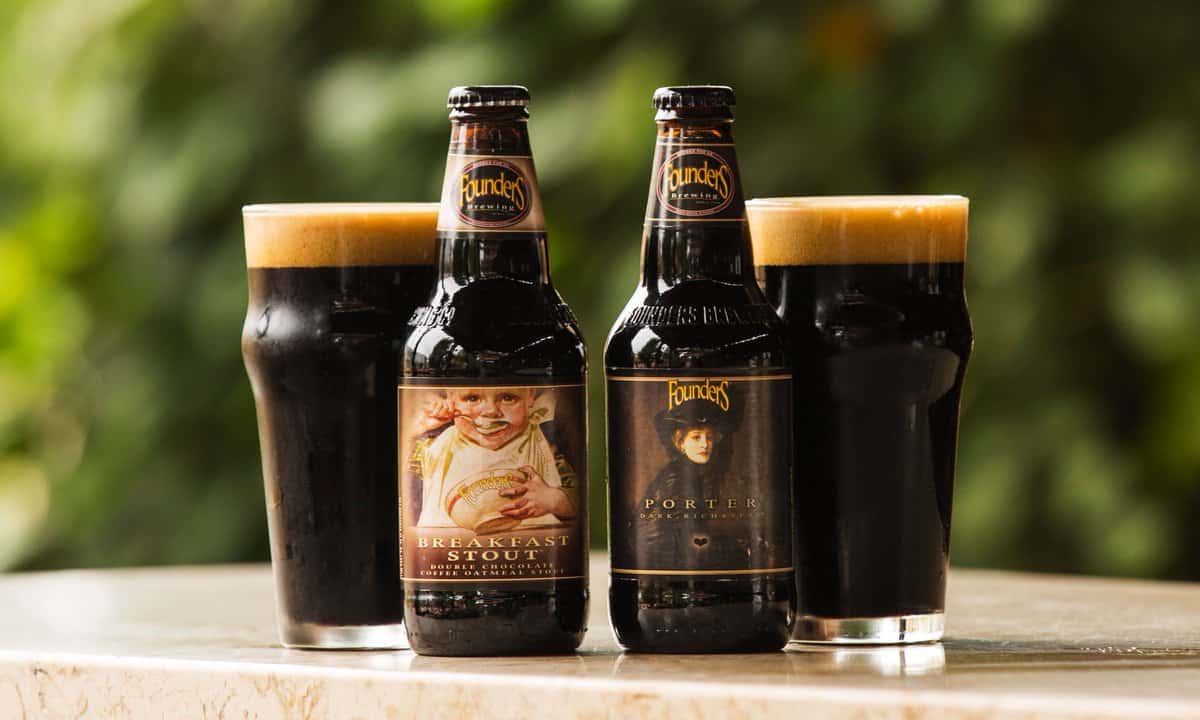 After drinking that super-smooth Oatmeal Stout by Samuel Smith, I was taken aback by the bitterness of Founders' Breakfast Stout. There's a definite hops profile in here, as well as chocolate and coffee — specifically, Kona and Sumatra coffee.
This will definitely remind you of your morning cup of coffee. Since it's a breakfast stout, it's definitely ideal as a brunch beer. Feel free to drink this beer with your favorite brunch as the perfect way to start your day.
FAQs
Question: What Percentage of Oats Are Used in an Oatmeal Stout?
Answer: Surprisingly, not as much as you would think. The average oatmeal stout has between 5-10% oats. That's because oats contribute more to the taste and not as much to the practicality.
Question: Are Oatmeal Stouts Good for You?
Answer: Back in the day, British breweries marketed oatmeal stouts as a health and strength booster. But are oatmeal stouts actually good for you? They do contain oats, right? And oats are healthy?
Well, there's no proof that oatmeal stouts are actually good for you. Sure, oats are good for you. But beer is filled with other ingredients that aren't beneficial to your health, they're still delicious! So treat yourself to an oatmeal stout!
Question: How Do You Drink an Oatmeal Stout?
Answer: Hey, we're not talking about wine here. You don't have to swirl the glass and take a big sniff. Just drink the dang beer! Your taste buds will thank you.
Question: Why Are Oats Added to Beer?
Answer: Compare an oatmeal stout to a cup of oatmeal. They don't taste the same, right? That's because oats contribute more to the texture rather than the taste. Oats give the beer a silkier texture and fuller body. This is why we see oatmeal STOUTS, but oatmeal pale ales.
Question: What Kind of Oats Can You Use in an Oatmeal Stout?
Answer: Well, any kind of oats. Want to use a can of Quaker Oats in your beer? Go ahead! Want to grow your own oats? Sure! However, use the oats alongside anything that has diastatic power for best results.
Try These Oatmeal Stouts
Oatmeal stouts are popular for many reasons. They're often fuller-bodied beers, perfect for stout connoisseurs. In addition, oats give stouts that silkier texture so they have that smooth taste. Not only that, but oats are versatile.
You can brew different stouts with oats. So try these beers and other stouts. There are a handful of great oatmeal stouts on the market. And don't forget to support your local breweries!
Did you know stouts are a type of ale? What if you don't know much about ales? Read our ale guide to learn more about some of your favorite beers!