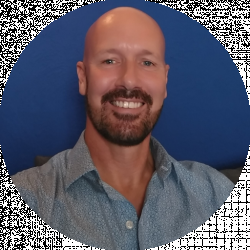 Latest posts by Jason McLay
(see all)
Once a year, several brewers of German Lager's produce their limited edition "Oktoberfest beers". In the "official" Oktoberfest in Munich, Germany, there are only 6 beers served in the massive Oktoberfest tents.
They are, Augustiner, Hacker-Pschorr, Hofbrau, Lowenbrau, Paulaner, and Spaten. However, Oktoberfest beers are arriving on the scene yearly as miro-breweries to corporate brewers try to find a place in the outside "Oktoberfest market".
Oktoberfest is one of the largest folk festivals in the world with over 6 million visitors that ascend on Munich Germany annually. A market that brewers globally would like to cash in on.
Another Oktoberfest is quickly approaching, and you will need to stock up on your German lagers because unfortunately, with the pandemic still in full swing, the massive Oktoberfest celebration in Munich has been canceled for the 2nd year in a row.
Before Covid-19 the celebration has only been canceled six times since 1810. The first time was the war against Napoleon in 1813, the second was during the cholera epidemic in 1854, the third time was during a resurgence of cholera in 1873, and the fourth and fifth were during the 1st and 2nd World Wars. A celebration over 200 years strong only stops for the most serious of times.
Today we are going to explore and taste Warsteiner Oktoberfest Limited Edition beer. One thing that separates Warsteiner Oktoberfest from its global competitors is that it is an import brewed in Germany by German standards.
All Warsteiner Beers adhere to the "Purity Law" which allows only for the use of water, barley malt, and hops without the use of chemical additives. The "Purity Law" was established in Bavaria in 1516. Warsteiner Brewery has been in the beer business for over 260 years. They continuously test all their raw ingredients for purity and quality.
Warsteiner Oktoberfest is not in the "official 6" because it is not brewed in Munich, However its history in the beer market is as rich as any of the "official 6". Let's get right into our it and start with the reason you are reading this Warsteiner Oktoberfest Review. How does it taste!
Taste and Appearance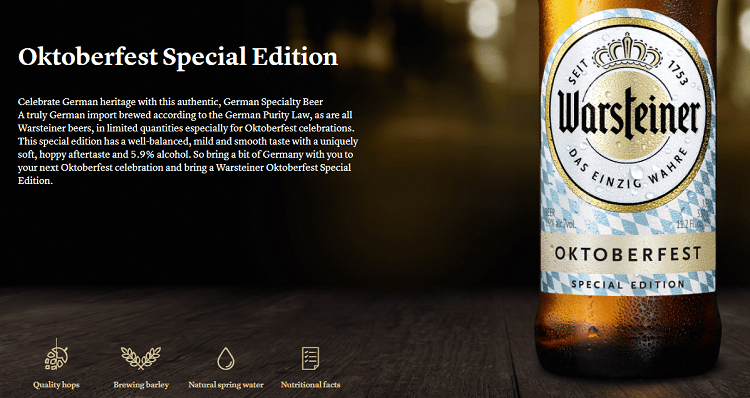 The pour does not disappoint in producing a nice white head as you would expect in a German Lager. The head dissipated only slightly faster than some of the "official six" beers of traditional Oktoberfest. The color is a bit more, dark amber, leaning toward orange than other traditional German Oktoberfest beers of today.
Warsteiner Oktoberfest formulation is based on an older tradition that used hops of a darker variety, these are now referred to a "Marzen" Oktoberfest beers. In the U.S. Marzen beers are more popular for American celebrations of Oktoberfest.
However, In Germany, the Oktoberfest beers of modern times are lighter yellow in a formulation known as "Dortmunder".
Through the foamy head arise the aromas of light fruit and white bread and just a hint of hops. The aromas of this beer are very subtle which makes it very compatible with a variety of foods without any distraction.
The tase is well balanced, Lagers in general are light on the pallet with a soft afterglow of hops that is neither bitter nor long-lasting.
There is a mild, honey-like sweetness produced by the barley but it does not detract from a nice crisp initial hit on the tongue.   It's a great refreshing beer with light carbonation that does not make you feel full after just one.
The ABV is 5.9% slightly higher than average beers but slightly lower than one of its top competitors Hofbrau Oktoberfest that packs a heftier punch at 6.3 ABV. So you can probably consume a little more into the evening drinking Warsteiner Oktoberfest.
The Magic is in the Water
Water quality is key in every brewery, but the Warsteiner brewery made a discovery in 1927 that changed the way they brewed forever. That was the discovery of a locally spring-fed creek in the Arnsberg Forest. The Kaiserquelle, as it is now called, produces extra soft water.
Switching to this water gave Warsteiner beer a new and unique experience to their products. Soft water naturally enhances the flavors of anything that is added to it and using it to create Wresteiner beer was synergistic magic.
Ingredients and Nutrition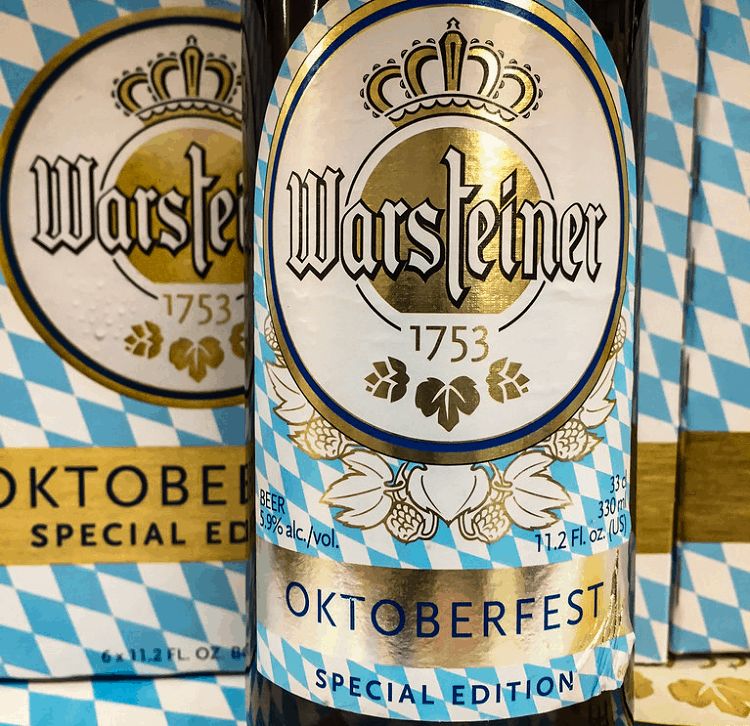 The ingredients are nicely simple. Water, Barley, and Hop extract.  The bottle size holds 11.2 fl, oz, ABV is 5.9%, and calories are 175 per serving. The full disclosure of where the hops, barley, and water are sourced can be viewed on this page.
Paring
As noted above the aroma and taste of Warsteiner Oktoberfest is light and soft allowing for a wide variety of pairing options from the US traditions of hamburgers, fries, onion rings, chicken wings of any flavor, jalapeno poppers, and bowls of potato chips to a more traditional pairing of German soft pretzels, Potato Pancakes, Bratwurst, Ham Hock, sauerkraut and more.
Click here for a list of 15 awesome, traditional Oktoberfest recipes. Just because Oktoberfest 2021 is canceled does not mean you can't have an amazing party with your family in the safety of your own home.
As for music for your at-home Oktoberfest party you can pair your experience with a simple YouTube search for "traditional Oktoberfest music" or click here for a mix of modern and traditional music. Most of these videos are not of great quality and are best played as background music.
The great thing is, if you don't like the music, the more you drink the better it sounds. If you love the music it will make you drink more too. Either way, you better stock up on your Oktoberfest beer soon because this year 6.5 million people have no place to go.
Lastly, I am morally obligated to follow that last paragraph with the statement of, "please drink responsibly" it will be a little easier this year as most of us will not be driving anywhere.
Have fun and stay home. By the way, you can already purchase tickets for Oktoberfest 2022 click here for more information. 2022 is bound to be the most colossal Oktoberfest in History.
Pros and Cons
Pros
Easy drinking beer that accommodates most pallets
Affordable even as an imported beer
Nice effervescence even as it warms it does not fall flat
It has a nice lively head when it is poured that does not dissipate too fast
Decent ABV of 5.9%
Cons
It may be a little light on flavor for some Lager connoisseurs
More expensive than national brands of Oktoberfest
Lighter flavor than traditional American Oktoberfest brands
11oz bottles disappoint some traditional 12oz drinkers
Leans more to a barley flavor and is only lightly hoppy making it more fruit-forward
Warsteiner History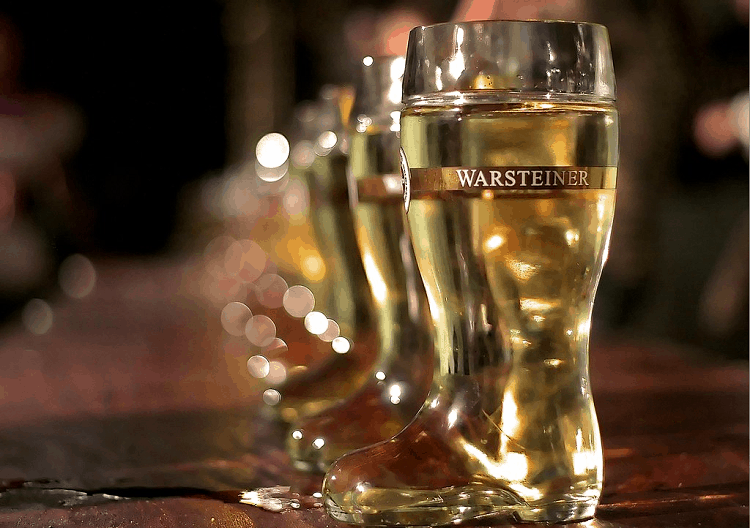 First of all, Warsteiner is not the name of a family it was named after the town of Warstein Germany where the beer was created.
In 1753 Antonius Cramer was asked to pay taxes because his brewing compacity exceeded the limits for personal use. Well, since he was going to have to start paying taxes he decided it was time to open a business.
Fast forward almost 270 years and it is still a Cramer family-run business now in its 9th generation. Catharina Cramer is now running the company. She is the first woman to hold this position at Warsteiner and she knows her market from the ground up.
She has worked in the fields and the brewery and has several degrees in business. Catharina is responsible for not only keeping the brand current with modern times in Germany but also keeping the Warsteiner name recognized internationally.
The Waresteier Lineup
There are 3 varieties in the Warsteiner lineup. The Oktoberfest Special Edition, that we are reviewing today, the Premium Pilsner, and the Premium Dunkel. The Pilsner and Dunkel are available year-round. The Oktoberfest is produced in limited amounts yearly for the traditional festivities of Oktoberfest. By keeping their line simple one can count on the consistent quality of Warsteiner beers.
Touring Warsteiner World
Warsteiner word has a lot to offer from tours and samples to a beer garden and onsite accommodations. At the moment, the tours are not running until the pandemic restrictions are lifted. In the meantime check out the brochure to see all that is offered. Also, check out their web page www.warsteiner.us for more information about this amazing company.
Commitment to Sustainability
Germany has had a long commitment to purity, and this is what makes many German beers so desirable. Keeping beer simple and "clean" is key to a positive experience.
Warsteiner is going further with its clean commitment by taking a deep look at every aspect of its environmental impact. In their first Sustainability Report, you can read the extensive 83-page report backed by studies, inspections, and science.
Warsteiner aims to prove that all companies can find ways to work more sustainably and in harmony with the global environment.
We are seeing unprecedented weather events due to climate change it is critical that we all contribute, to our greatest ability, to reduce our negative impacts on the planet. This report shows that in reviewing every aspect of your business you can significantly reduce your carbon footprint while maintaining the quality of your end products.
I am aware of one other beer company that is committed to protecting the environment and that company is Pacifico. Pacifico Preserves is part of their program to preserve and educate people about the importance of protecting our natural resources. Interesting that while Pacifico is a "Mexican beer" yet its founders and creators were all German.
Oktoberfest Facts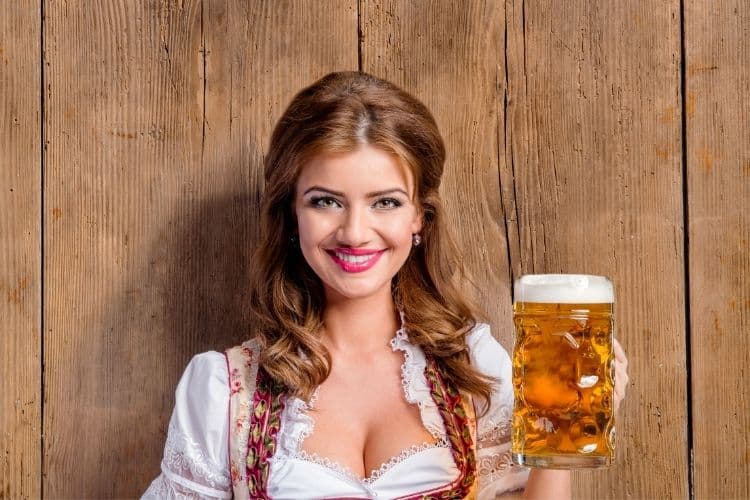 The celebration is usually 16 to 18 days starting in the mid-month of September to the first Sunday of October. In 2021 it begins September 18th and runs till October 3rd.
The event is one of the largest folk events in the world. In 2019 it was estimated that over 6.5 million people attended the event in Germany. It will be canceled this year as it was last year due to the risk of Covid-19.
Statistics from the festival in 2013 showed beer consumption was over 7.7 million liters. That is a massive drinking event.
Do you need to reserve a place in advance? Well, being that it was canceled two years in a row. I think you better get on the list. Here is a great site from Oktoberfest Tours with tons of information regarding all things Oktoberfest that you may want to know. I think 2022 is going to be one massive party if we manage to get this pandemic under control by then…fingers are crossed.
FAQs
Question: Is This Beer Available in the U.S.A.?
Answer: Yes, Warsteiner Oktoberfest is available in over 60 countries including the USA.
Question: What is the ABV of Warsteiner Oktoberfest Beer?
Answer: 5.9%
Question: What is the Nutritional Information for Warsteiner Oktoberfest?
Answer:
Calories: 175
Carbohydrates: 13g
Protein: 1g
*based on an 11oz serving
Question: What is the Ingredients List?
Answer: Brewing Water, Barley Malt, And Hop Extract.
Question: Is This Beer Available Year-Round?
Answer: It is brewed in limited quantities for Oktoberfest. When the supply runs out it is no longer available until the next year
Question: Is Warsteiner an Environmentally Responsible Company?
Answer: Warsteiner is one of the companies leading the way for others to follow. Click here to find more information on Warsteiners efforts to be one of the most environmentally responsible brewers in the business.
Warsteiner Beer Review: The Verdict/Opinion
Well if you want a lite, smooth, slightly sweet, versatile beer you are going to enjoy this beer. I personally like a little more "bite" in my beer and I just don't get that from Warsteiner Oktoberfest. It was difficult to find this beer, as I am writing from Mexico.
When I finally found it, it was beyond an international price (nearly 2 dollars a bottle). So I just bought one bottle for the taste test. If I was in the U.S., however, I think this would be great fun to bring to an Oktoberfest party and it would score some good points.
I am always interested in the tastes of beer and wine at different temperatures. Some cheaper beers lose flavor quickly when they get warm. Those are the ones that were held in hand too long and end up left on the table with beer still in them at the end of the evening.
Warstiener stayed drinkable as it warmed up. I think this is still a beer best consumed ice-cold but it was worthy to note that it did not fall flat as it left its ideal drinking temperature range.
My conclusion is you will not be disappointed in this beer for yourself or as a party gift. It's fun and only available this time of the year. If you are a fan of bitter, skunky, or more hoppy flavors you are not going to enjoy this beer.
If you have to celebrate Oktoberfest at home this year, do it YOUR WAY. I am forgoing the lagers this year to enjoy a dark stout which, by the way, pairs perfectly well with a big soft pretzel. "Prost!"
Continue Reading Related Oktoberfest Beer Reviews:
References: