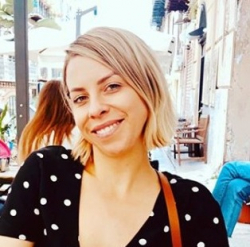 Latest posts by Jodie Chiffey
(see all)
Our Perle Hops guide will explore why this German hop is so widely used in many fantastic tasting homebrews. This hop is very versatile and can be utilized both as a bittering agent and for its distinct aroma.
We will look at the flavor profile of Perle hops, how you can grow your own, and what other hops work well to create unreal lagers and ales.
We'll also list some alternatives to Perle hops that offer similar flavor profiles.
What is Perle Hops?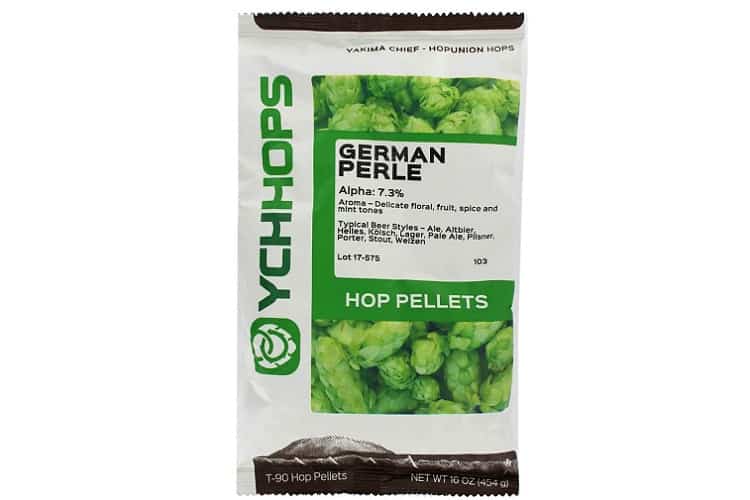 Northern Brewer initially bred Perle Hops in the 1960s. Based on Hallertauer Mittelfrüh, the original idea of Perle was to create a hop that was more resistant to mildew. The hop was kept a secret for some years before being released publically in 1978.
While it was primarily designed to be an alternative to Hallertau Mittelfrüher, the hop has gained a popular following in its own right, with many people favoring Perle. In addition, this hop has become a favorite for homebrewers due to its high storage capabilities, great flavors (that we will look at below), and its function as an ideal all-around hop.
You can use Perle as a bittering hop or add flavor and aroma to your homebrews.
Flavor Profile
Perle hops have a mild to moderate flavor profile.
Some of the notes you can expect from beers and ales brewed with Perle include:
Spice
Pepper
Earthy and woody notes
Floral aroma
Tea
Green fruit
The hop is used to make various drinks such as pale ales, lagers, stouts, German Pilsners, and wheat beers.
Some excellent commercial drinks that use Perle hoops include:
Perle Necklace from THAT Brewing Company
Brooklyn Pilsner from Brooklyn Brewing Company
Black Perle from RJ Rockers Brewing Company
Kolsch from Schlafly Brewing company
Perle Hops – Ingredients
Perle hops get their spicy flavor from the relatively high levels of Humulene, which also provides a woody finish. You will find a higher amount of Caryophyllene, which gives these hops their pepper taste alongside a herby aroma.
This hop does have some floral notes, although the lower percentage of Farnesene ensures that it isn't particularly overpowering. Also, the reduced Myrcene levels give these hops more moderate notes of citrus and fruit.
How to Brew Beer With Perle Hops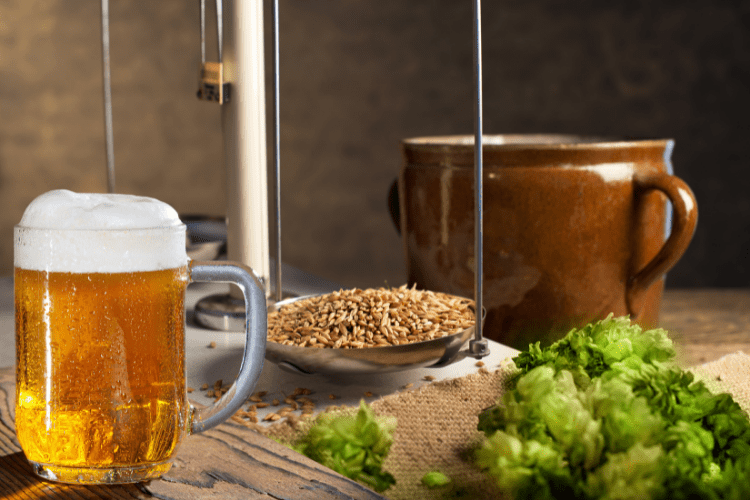 Pere hops are very versatile and can be used in different stages of the brewing process, from being a bitter hop to adding a powerful aroma. Let's look at how to grow these hops and what other hops can be used alongside Perle.
Growing Perle Hops
Perle hops were released commercially in 1978 and, unlike some hop varieties such as Amarillo hops, where Vigil Gamache Farms holds the growing rights, hop rhizomes are available.
If you plan to grow your own Perle hops, we recommend talking to some local experts first. Many online resources can help you grow Perle hops, but sometimes getting local knowledge is a massive benefit.
Some tips for growing Perle hops include:
Planting in well-drained fertile soil during the winter months
Installing a trellis for support
Put 3-6 rhizomes about 2 inches below the surface
Using a drip irrigation system
Harvest is usually around August time; however, if this is your first year growing hops, the yield probably won't be massive. The first year is often about establishing a root system for subsequent growth.
Perle hops have a lower than usual yield of 1367-1727 kg/hectare, although the storage index is quite good as they will retain 70-80% alpha acid after six months.
When to Add Perle Hops
The great thing about Perle hops is that they are very versatile. You can use this hop as a bittering hop to help enhance and highlight other hop varieties which work well together.
Also, Perle hops can be added for flavor and aroma in their own right, as moderate flavors can help create some fantastic brews.
Complimentary Hop Varieties
While Perle Hops is an excellent all-rounder, other hops work brilliantly with Perle to create tasty brews.
Cascade is one hop that is often used in conjunction with Perle, and Cascade offers more citrus notes that include hints of floral and spice. Grapefruit is the prominent flavor you get with Cascade hops, and it is often brewed alongside Perle to create IPAs. Black Perle from RJ Rockers Brewing Company is a notable ale that uses Perle and Cascade to significant effect.
Another hop that can be brewed with Perle is East Kent Goldings. This hop provides lavender, spice, honey, thyme alongside earthy notes, and it is considered by many to be an ideal accompaniment to Perle. Summer Perle from Westerham Brewery is a commercial beer that uses Perle and East Kent Goldings hops.
Finally, you can also use Hallertau Tradition with Perle hops (although Hallertau Tradition can be used as a substitute). Hallertau Tradition offers nectar notes as well as similar earthy aromas to Perle.
Acid & Oil Composition
Acid Composition
| | |
| --- | --- |
| ALPHA ACID (%) | 4–9% |
| BETA ACID (%) | 2.5-4.5% |
| ALPHA-BETA RATIO | 2:1 |
| HOP STORAGE INDEX | 70% |
| TOTAL OILS (mL/100g) | 0.5–1.5 mL/100g |
Oil Composition
MYRCENE

(flavors – citrus, fruit)

20-35%
HUMULENE

(flavors – wood, spice)

35-55%
CARYOPHYLLENE

(flavors – pepper, herbs)

10-20%
FARNESENE

(flavors – floral, fresh)

<1%
ALL OTHERS (including linalool, β-pinene, geranoil & selinene)
0.6 – 1.3%
Perle Hops – Alternatives
Perle hops are fairly easy to get your hands on as they have been available commercially since the 1970s. You may want to use an alternative that provides a similar flavor profile.
Northern Brewer
Northern Brewer is a hop that closely resembles Perle in many respects. This hops gas woody notes as well as minty aromas, which give the hop its unique flavor. Perle was bred with a Northern Brewer and a male hop.
Northern Brewer is added in making a wide variety of lagers and ales, and you will discover a well-defined hoppy flavor with this hop.
Hallertauer Tradition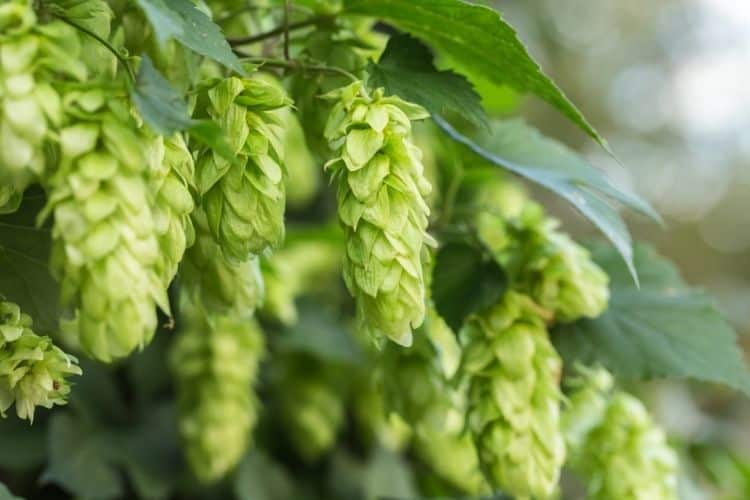 Even though Hallertauer Tradition is sometimes used alongside Perle hops, it can also act as an alternative. The flavors you get with Hallertauer Tradition include earthy and grassy notes with some nectar fruits present too.
This hop is used to brew many American lagers, and it has a high level of mildew resistance if you fancy growing this yourself. Although, Hallertauer Tradition is considered quite tricky if you are new to growing hops.
Aurora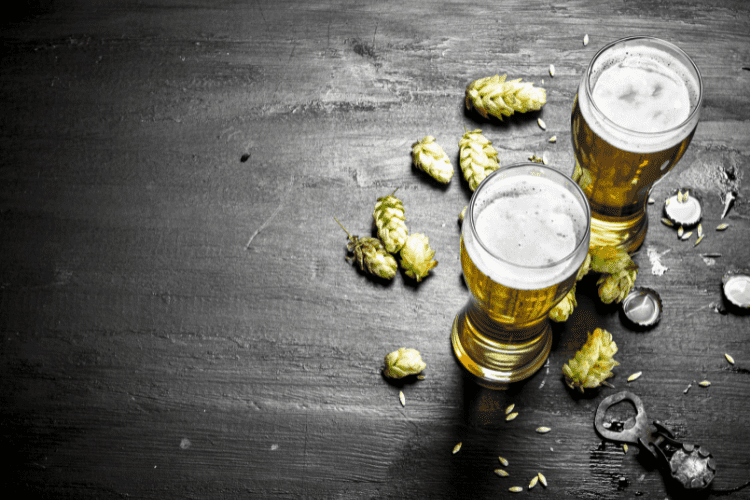 If you want to replicate the spicy notes of Perle, Aurora hops are a good choice. This hop, like Perle, is used for both bittering and aroma, and it gives off flavors of tropical fruit, lime, lemongrass, and sometimes a distinct herbal background.
Aurora hops can be found in many pale ales and dark lagers, and the hop was originally bred in the 1970s in Slovenia.
Perle (US)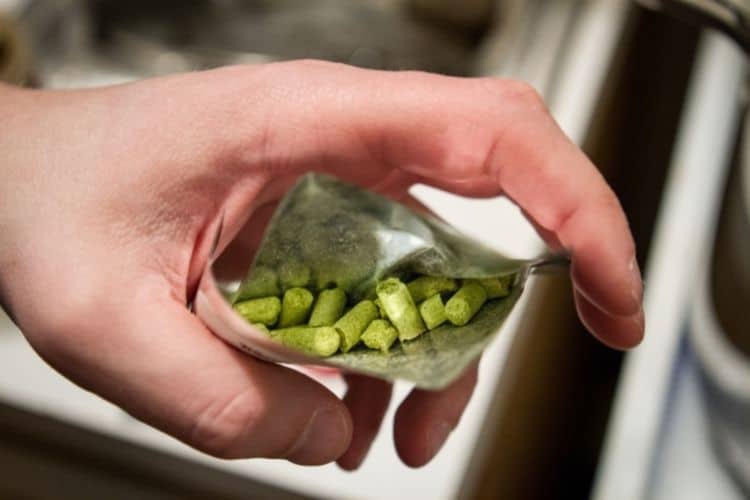 Lastly, if you want a hop that is particularly close to the Perle German variety, you can opt for Perle (US). The American version of Pele has very similar flavors, including spicy and pepper notes and floral tastes.
You will find the US Perle is a load of different drinks such as wheat beers, stouts, porters, and ales. St. Nikolaus Bock from Penn Brewing Company is an excellent example of the US Perle hop in action.
Frequently Asked Questions
Question: What do Perle Hops Taste Like?
Answer: Perle hops can be pretty moderate in their flavor – compared to many intense hops such as Citra. Some of the notes you can expect from brews that use Perle include spice, pepper, earth, floral, tea, and green fruit.
Question: What Did Perle Hops Originate?
Answer: Perle Hops were first bred in German as an alternative to Hallertauer Mittelfrüh, as that hop can be very susceptible to mildew. The hop has grown in popularity worldwide since then and has become a widely used hop in its own right.
Question: Can I Grow my Own Perle Hops?
Answer: Yes. Perle hops were released commercially in the 1970s, and the hop rhizomes are available to purchase. You should read up on growing hops first before you embark on this endeavor, and it is also worth reaching out to local growers for expert advice.
Question: What Drinks Can I Make With Perle Hops?
Answer: Perle hops are found in a wide variety of brews, including pale ales, lagers, stouts, German Pilsners, and wheat beers, to name just a few. This is a very versatile hop that can be utilized both for bittering and aroma.
Question: What are some examples of beers that use Perle hops?
Answer: Some well-known commercial examples of Perle hops include Perle Necklace from THAT Brewing Company, Brooklyn Pilsner from Brooklyn Brewing Company, Black Perle from RJ Rockers Brewing Company, Kolsch from Schlafly Brewing company.
Question: Where Can You Buy Perle hops?
Answer: Perle hops offer a range of different possibilities for homebrewing. If you want to begin experimenting with this hop, we recommend buying German Perle Pellet Hops.
Final Thoughts
Perle hops are an ideal choice if you want a hop that offers a significant degree of versatility. This hop can be used as a bittering agent or to add aroma to your brews, and its spicy and peppery finish provides an ideal hop for a variety of brews. You can use Perle hops to great effect for pale ales, lagers, stouts, and German Pilsners.