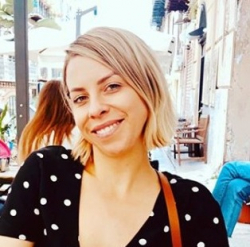 Latest posts by Jodie Chiffey
(see all)
If you want to take your homebrewing ventures to a new level and start some truly unique beers and ales, our Amarillo hops guide has the information you need.
These hops came about by chance, and they were accidentally discovered back in the 1990s. This adds to the allure that these hops offer and, combined with an exquisite taste and finish, Amarillo hops are among the most popular on the market.
Our guide will look at how Amarillo hops came about, what they taste like when used as a homebrewing ingredient, and how you can brew quality beers and ales with this hop. We will also answer some common questions at the end.
Let's get started and find out what Amarillo hops are and the story behind how they were discovered.
What are Amarillo Hops?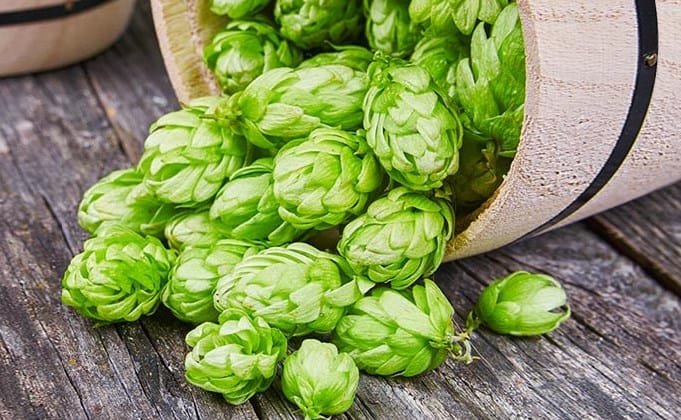 Amarillo hops have a fascinating history.
Sometimes the best things are discovered by chance, and this is exactly what happened with Amarillo hops. The hop was discovered accidentally in 1990 by Virgil Gamache Farms when it was growing alongside their Liberty field hops. The aesthetic of the hop was different from that of the Liberty (it has a yellow cast to the bine and immature leaves), and the cones were smaller.
Combined with an intense citrus smell, this was something new.
The hops were eventually registered as VGXP01 in 2003, and Vigil Gamache Farms emerged as the sole grower of this hop as they have exclusive rights. This can pose some problems for availability as these hops are grown by one farm. A below-par harvest can make finding this hop for purchase tricky for homebrewers as much of the crop is taken by commercial buyers.
Flavor Profile
Amarillo is an aroma hop that is typically used in only late boil additions, including dry hopping.
The flavor profile of the Amarillo hop is a strong but not overpowering citrus taste with spicy and tropical overtones. This is known as an aroma hop, so it is usually only used for the late boil.
Some of the primary flavors that you get with the Amarillo hop include:
Peach
Apricot
Melon
Orange
Lemon
Many beers and also use this hop either on its own or as part of the dry-hopping process. You can find Amarillo hop in the likes of American Pale Ales and IPAs.
You will have probably tasted Amarillo hops in many beers and ales, perhaps without even knowing it. Some of the beers that make excellent use of this hop are:
Amarillo Pale Ale from Hanger 24 Brewing Company
Aprihop from Dogfish Head Brewing Company
Red RyePA from Founders Brewing Company
Ballistic IPA from Ale Asylum
Amarillo Hops – Ingredients
The citrus and floral taste of Amarillo hops come with a composition of different ingredients, and it is one of the reasons this hop has become very popular.
Amarillo hops contain an average amount of alpha acids which help to give it a slightly bitter taste, while the high percentage of myrcene provides the citrus and fruity aroma. Caryophyllene, which offers peppery and spicy flavors, is also present, and the fresh and floral kick comes with Farnesene.
How to brew beer with Amarillo Hops
The distinct flavor of Amarillo hops can add a unique edge to many different types of beer. If you are looking for something less intense than Citra Hops but still retaining a citrusy taste, they are a very good hop to brew with.
Growing Amarillo Hops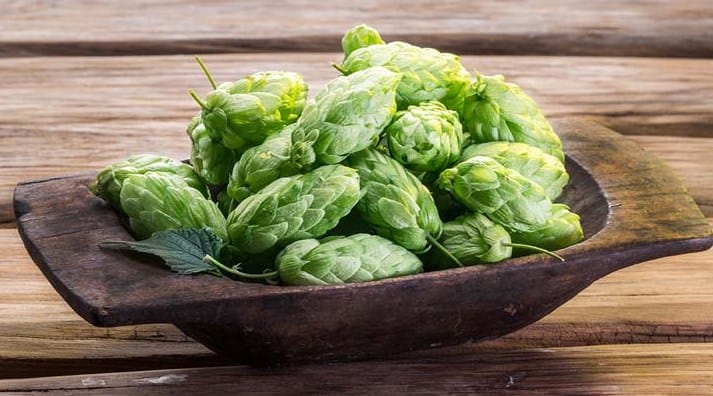 Unfortunately, unlike many other types of hops, you can't actually grow Amarillo hops.
This is because Vigil Gamache Farms, who discovered the hop accidentally in the 1990s, own the rights to this hop and have exclusive growing rights. However, you can buy Amarillo hops, so nothing is stopping you from using them as a homebrewing ingredient – you just can't grow them yourself.
When to add Amarillo Hops
Amarillo hops are an aroma hop, so they are usually added towards the end of the homebrewing process. The low Co-Humulone levels properties mean that it helps add a slightly bittering taste to beers and ales.
If you want to use these hops in the boiling process, Amarillo hops should usually be added with 15-minutes to half an hour left for the boil. You can also use Amarillo hops for dry-hopping when the beer is cold after fermentation.
Complimentary Hop Varieties
One of the ideal things about using Amarillo hops is that they go well with various other hop varieties, combining them to create some fantastic beers.
One hop that is commonly used with Amarillo is Simcoe. This dual-purpose hop created by Yakima Chief Hops in 2000 is very popular, and its fruity and earthy taste compliments Amarillo very well.
Another hop that works well with Amarillo is Citra. Many homebrewers use Citra in conjunction with Amarillo to boost the citrus levels, and it can result in a very intense flavor and aroma. Also, Centennial (another dual-purpose hop) offers pine, citrus, and floral scents and has been shown to work great with Amarillo.
Acid & Oil Composition
| | |
| --- | --- |
| ALPHA ACID (%) | 8%-11% |
| BETA ACID (%) | 6%-7% |
| ALPHA-BETA RATIO | 1:1 – 2:1 |
| HOP STORAGE INDEX | 32% (fair) |
| CO-HUMULONE AS % OF ALPHA | 21%-24% |
| TOTAL OILS (mL/100g) | 1.5-1.9 mL/100g |
MYRCENE

(flavors – citrus, fruit)

40-50%
HUMULENE

(flavors – wood, spice)

19-24%
CARYOPHYLLENE

(flavors – pepper, herbs)

7-10%
FARNESENE

(flavors – floral, fresh)

6-9%
ALL OTHERS (including linalool, β-pinene, geranoil & selinene)
7-28%
Amarillo Hops – Alternatives
Like most hops, Amarillo has its own distinct and unique taste and flavoring; however, there are some alternative hops that you can use. While they won't provide exactly the same result as Amarillo, many people do use these hops to create similar beers and ales.
Citra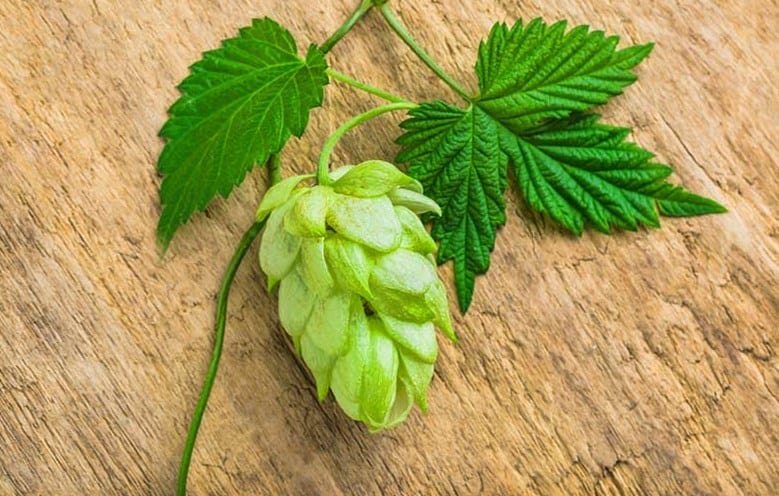 Citra hops are a great alternative to Amarillo if you desire a far more intense citrus and fruit flavor. Amarillo hops are almost Citrus lite; however, many people prefer Citra to enhance the overall aroma. Citra hops' advantage is that they are more widely available and don't have the same restrictions on growing as Amarillo.
Mosiac
The second alternative to Amarillo hops is Mosiac Hops. Drinks with Mosiac hops are usually characterized by tropical fruit and pine needles, and they can leave a distinct but pleasant bitter aftertaste. There are also tastes of bubblegum, blueberry, stonefruit, and finished off with an earthy freshness with these hops.
Sabro
Another good alternative to Amarillo hops is Sabro Hops. These hops are ideal if you want to introduce more complex citrus flavors into your homebrews. Sabro contains notes of coconut, tangerine, sweet citrus, tropical fruits, and mint. These hops work great with American Pale Ales, specialty IPAs, as well as Saison beers, while you can experiment a lot with Sabro hops and create some great tasting beers along the way.
Cascade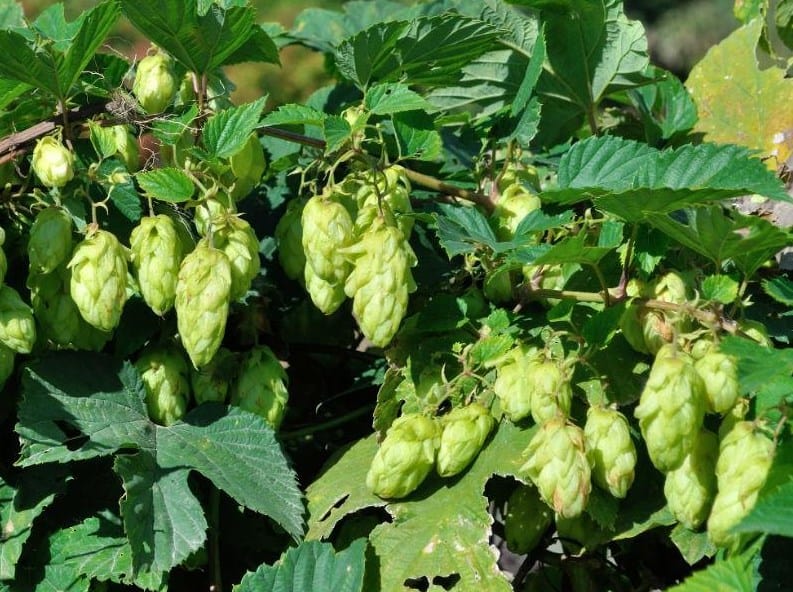 Lastly, we have Cascade hops. This dual-purpose hop has intense grapefruit overtones and is one of the most popular citrus hops around. You will also experience floral and spice citrus with this hop, while it is often used as a finishing hop to add an element of bitterness to beers and IPAs. The Sierra Nevada Pale Ale is perhaps the most well-known commercial drink to utilize Cascade hops to great effect.
Frequently Asked Questions
Our Amarillo hops guide covers all the main points about this citrus-like hop for homebrewing; however, we have answered some common questions that we get about this particular hop.
Question: What do Amarillo hops taste like?
Answer: Amarillo hops have a citrus flavor to them; however, it isn't overpowering and not as strong as some other hop varieties such as Citra. You should also expect to find flavors of peach, apricot, melon, orange, and lemon.
Question: Can I grow my own Amarillo hops?
Answer: Unfortunately not. Amarillo hops were discovered by accident in 1990 by Virgil Gamache Farms in Washington. They have the exclusive rights to grow and distribute this type of hop. However, they are widely available, and you can find them for sale in major outlets.
Question: What is Amarillo hops good for?
Answer: Amarillo hops are good for adding a mild citrus flavor to your beers and ales. They don't have the same overpowering nature as Citra and some other citrus-based hops but still offer a fruity and slightly bitter finish. They go well in beers, American Pale Ales, and IPAs.
Question: What are some examples of beers that use Amarillo hops?
Answer: Amarillo hops are much coveted by many beer and ale enthusiasts. Some of the most well-known beers and ales to use Amarillo hops include Amarillo Pale Ale from Hanger 24 Brewing Company, Aprihop from Dogfish Head Brewing Company, Red RyePA from Founders Brewing Company, Ballistic IPA from Ale Asylum.
Question: Where can you buy Amarillo hops?
Answer: Even though Amarillo hops can't be grown due to exclusive rights held by Virgil Gamache Farms, they are widely available to buy. We recommend going with YCH Hops – Amarillo VGXP01 Hop Pellets, if you want to add Amarillo hops to your next homebrewing creation.
Final Thoughts
For something that was discovered completely by accident, Amarillo hops have emerged as a firm favorite for many homebrewers and commercial beer and ale creators alike. These hops offer a citrus and fruity finish without completely overpowering the drink, and they are often used as a finishing hop to add bitterness. An all-around lovely hop that you can experiment with and create some awesome homebrew beers and ales.