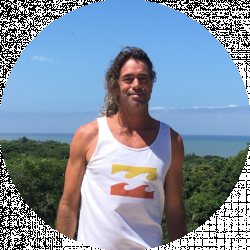 Latest posts by Gavin Eales
(see all)
Grolsch Beer has achieved a "Cult" status spanning decades, spreading all over the world. Grolsch Premium offers a bold, bitter and intense flavor, which is both malty and crisp.
With gorgeous medium-golden color and an unmistakable green hop aroma, this refreshing beer has been the signature brew of Grolsch Breweries since the 1600s. This premium Pilsner has serious depth to it and appeals to beer lovers with a well-trained and developed palette.
I really enjoy an ice-cold Grolsch with and after dinner, the full, bold flavors are thirst-quenching and complement almost any meal.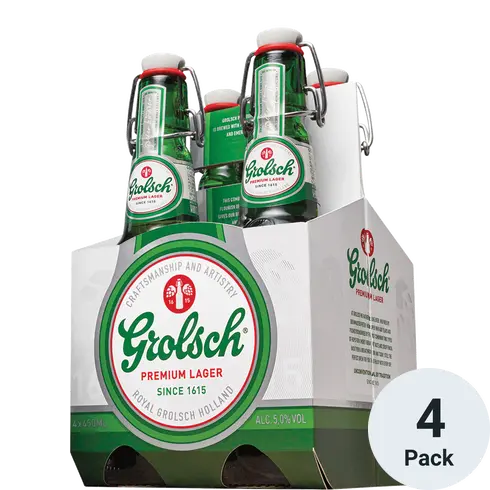 Grolsch Premium Lager | Total Wine & More
Netherlands- Euro Pale Lager- 5.0% ABV. A classic, well-balanced European Pilsner crafted with three varieties of barley malts and a unique blend of hops. Brewed using a unique double fermentation process, featuring a fresh, hoppy note, a mild citric fruity taste and a long finish.
Check Price
We earn a commission if you make a purchase, at no additional cost to you.

Pros
Grolsch is a premium beer that is full of flavor and taste. It is bold and intense with a smooth and bitter aftertaste

It is inexpensive when compared to other beers in the same category

The unique Swing Top Cap on the bottle is novel but the bottles can be re-purposed for home-brewing

Grolsch has a massive global footprint and is easily accessible to all categories of consumers.
Cons
The full, bold, and intense flavors can be overwhelming for some, particularly beer lovers with an under-developed palate or perhaps traditionally only drink Pale-Ale or Lager beers

Grolsch can become extremely bitter, particularly after a long night. I love the taste and enjoy drinking them but I can't have too many. I know there are guys out there that really enjoy this aspect of the beer, so it's merely my preference and opinion
How it all Began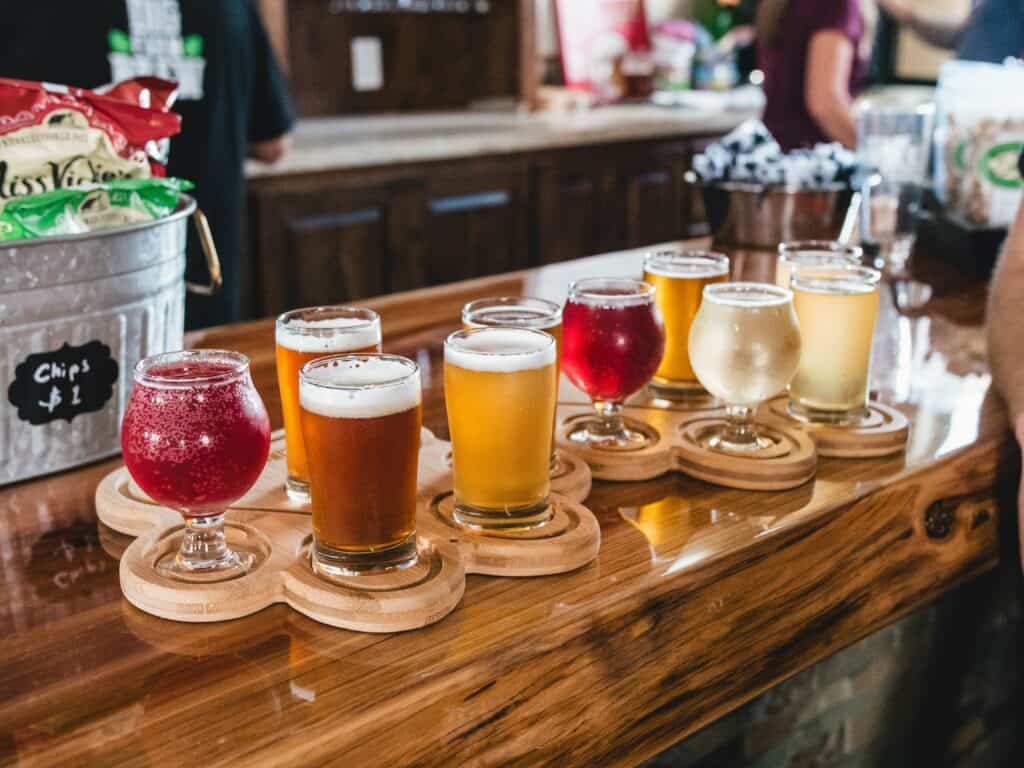 Grolsch is a Dutch brewery, which was founded by Willem Neerfeldt in 1615. It was only around 1650 that the Grolsch Premium Pilsner was born. An apprentice brewer called Peter Kuijper, eager to impress, developed a new brewing technique.
This not only impressed his boss but offered so much depth, aroma, and flavor, that this brewing technique is still used to this day. It has been instrumental in Grolsch evolving into one of the most famous brews on the market.
What Makes Grolsch Beer so Unique?
Grolsch Premium is a Pilsner that has been brewed using premium ingredients, combined with centuries of brewing tradition. Grolsch uses an innovative Double-Brew process which largely contributes to the popular flavor and taste. 
The most unique feature, however, is the clever use of two hops that originate from the Hallertau family. These Hallertau Hops are grown in Bavaria, Germany. This area is responsible for the majority of hops produced and is the biggest continuous hop-planting area on the planet.
The first hop (Magnum) is added to greatly enhance the aroma and the second hop (Emerald) is added for the bitterness. This aroma and taste are well supported by malty flavors, from specifically chosen malts as well as the legendary pale ale malt.
Ingredients
When brewing Grolsch premium the following ingredients are used:
Water

– Water is an extremely important ingredient when brewing any type of beer. It is impossible to brew quality beer if the water being used is not of the highest standard. Grolsch sources all their water from a pristine natural spring in Enschede. This is the purest water available and has been used by the brewmasters for generations. 

Yeast

– There are two types of Saflager W-34/70 Lager Yeast in the Grolsch recipe. They are bottom-fermenting yeasts, and the optimum fermentation temperature is 13 degrees Celsius.

Hops

– Grolsch gets its natural green aroma and bitter taste, from using two types of Hallertau Hops in the brewing process. The first hop is called Emerald and the second hop is called Magnum.

Malt

– Grolsch uses two types of specially sourced Dutch malt in their brew. Dutch Malt offers outstanding Brew-House performance and has a pale color. It offers significant enzymatic power and is made from original Dutch two-row Barleys that are proudly grown in the Netherlands.
The Brewing Process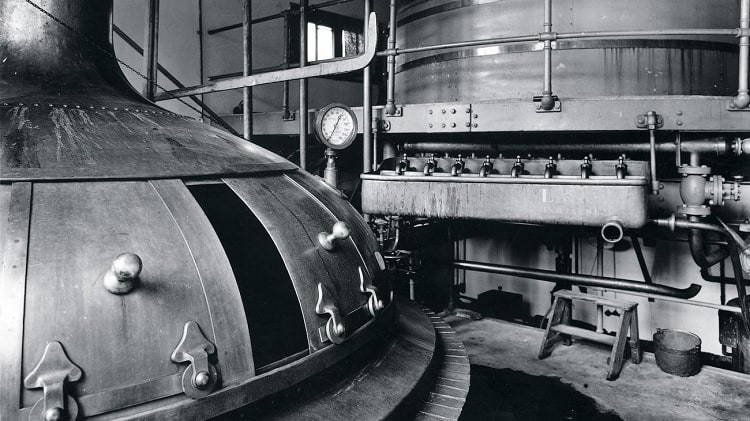 Grolsch achieves its unique and rich flavor through its Double-Brewing Process. And as the name suggests, they have pretty much doubled up on everything.
The fermentation process starts with a generous double-decoction mash. Then two types of hop varieties are added for aroma and flavor, which are subsequently blended with two types of Dutch Malt. Combined with pure and natural spring water, this is a recipe for success.
The Taste
Drinking an ice-cold Grolsch Premium Pilsner is an experience. With each sip, you can taste the quality, love, and passion that these guys have for their brew. It is thirst-quenching and refreshing, from the first to the last sip.
Upfront you get the crisp dry flavors of the premium specially selected malt, which is followed by the bitterness and intensity of the Hallertau hops. This beer is bold, full of flavor, and offers an assault on your taste buds gently and elegantly.  
The Color
Grolsch Premium has a beautiful medium-golden color. With most beers, it is the malt that is largely responsible for the color of the brew. In the brewing process, two chemical reactions take place.
The first reaction allows the amino acids to adhere to the sugars, and the second reaction causes the sugars to break down. These chemical reactions can significantly influence the color and the taste of the beer. 
The Swing-Top Cap
Grolsch is the complete package. It is a great recipe consisting of excellent beer, great brand awareness, loads of passion, and great packaging. The Swing-Top Cap is the perfect example of great packaging.
This method significantly increases production costs, particularly when compared to the cheaper and more popular crown cap bottle top. This capping method was perceived to be inferior by the guys at Grolsch and was never an option.
This type of determination, forward-thinking, and vision has resulted in possibly the most recognizable and iconic beers around the globe. 
How Does it Work?
The Swing-Top Cap consists of a rubber stopper that is similar in design to the traditional wine cork. This rubber stopper is permanently attached to the bottle by an intricate wiring design. This wiring design allows the cork/lid to be easily set in place or removed.
ABV (Alcohol by Volume)
Grolsch produces a range of lagers (Pale Lagers) that vary in ABV. These pale lagers scale from alcohol-free (0.0%) up to 11.6% ABV. The Popular and flagship Grolsch Premium Pilsner traditionally has had a moderate alcohol content of 5% ABV.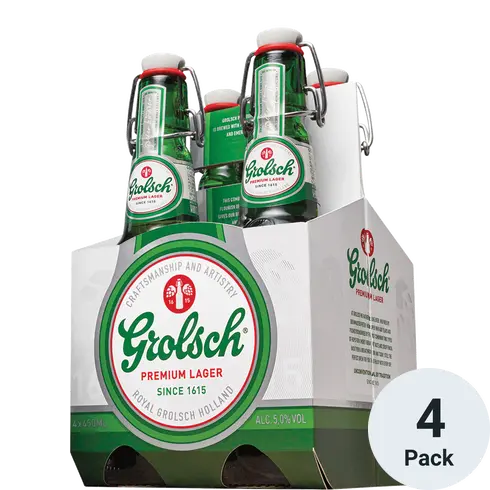 Grolsch Premium Lager | Total Wine & More
Netherlands- Euro Pale Lager- 5.0% ABV. A classic, well-balanced European Pilsner crafted with three varieties of barley malts and a unique blend of hops. Brewed using a unique double fermentation process, featuring a fresh, hoppy note, a mild citric fruity taste and a long finish.
Check Price
We earn a commission if you make a purchase, at no additional cost to you.

Additional Grolsch Products

Grolsch Weizen
Grolsch Weizen is a unique and delicious light beer, which is refreshing and easy to drink. Grolsch Puur Weizen is made from a mix of original German yeast, the bitter Magnum Hallertau hops, barley malts, and wheat.
The result is a full flavor golden color wheat beer, with refreshing fruity and spicy notes, with a cloudy but natural color. 
The Grolsch Weizen differs significantly from traditional German beers, which are greatly admired for their bold, intense flavors and aromas. This is a great option with lunch on a sunny weekend, it is not heavy in any way and goes well with most types of food.
Grolsch Radler
Grolsch Radler is another unique beer that differs from traditional German beers. This beer is brewed with real lemon juice, pure spring water and offers a taste of perfectly balanced malty sweetness, bitterness, and lemon acidity.
Grolsch Radler offers notes of sweet malt and hoppy bitterness and is hazy yellow in color. This is a thirst-quenching beer that you could drink anytime of the day or in the early evening.
Grolsch 0.0%
Grolsch 0.0% is brewed using advanced brewing techniques and a carefully monitored full fermentation process. The key to this multiple award-winning 0.0% beer is the special yeast.
The advanced brewing techniques and full fermentation process combined with a special yeast deliver all the aroma and full-bodied flavor required without producing any alcohol. Grolsch 0.0% has a beautiful medium golden color, natural green hop aroma, and a full-bodied hoppy taste we expect from traditional German beers.
In my experience, although breweries claim that the 0.0% version tastes like the original beer, this is often not the case. Grolsch has got it spot on and when drinking the 0.0% version you will find numerous similarities to the original Grolsch Premium. This is a beer you can drink any time of the day or night. 
Grolsch Blond Lager
Grolsch Blond Lager is a great take on the classic light American lager. It is medium golden in color and delivers a satisfying taste, with hints of hops, sweet caramel, earthy notes, and roasted malt undertones.
The finish is refreshing, clean, and dry. Unlike the Grolsch Premium, the Blond Lager features the pop-off crown top and a clear glass bottle. This is a good beer that is thirst-quenching with a full taste. I don't think it is going to be winning any awards, but it does deliver the traditional Grolsch passion and quality.
Grolsch Alternatives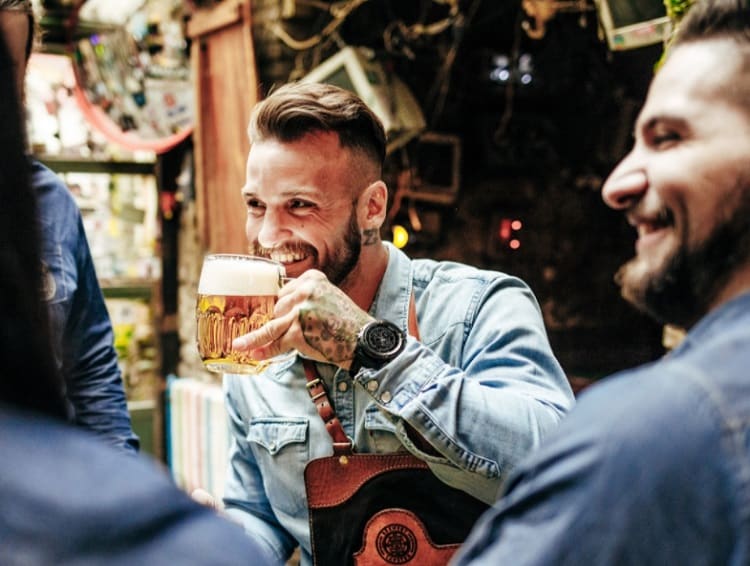 Grolsch is an exceptional beer, but the bold and intense flavors can be overwhelming for some. Most types or styles of Pilsners share a certain level of flavor and bitterness. However, two brews will never be the same. Below is a list of five quality Pilsners that are great alternatives to Grolsch Beer:
Pilsner Urquell

– This is a quality Pilsner that is produced in the Czech Republic. Pilsner Urquell is brewed using the popular Saaz Hop which is from Bohemian origins. Pilsner Urquell has been around since the 1800s and offers a crisp and refreshing taste with natural and earthy undertones. The level of bitterness is just right with a lovely full rich finish. Pilsner Urquell is the worlds' first commercial pale lager style beer.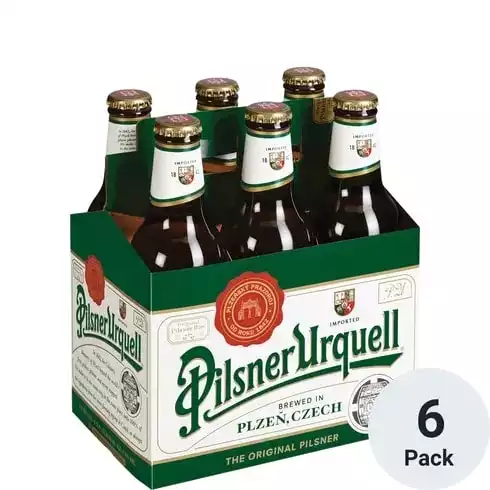 Pilsner Urquell | Total Wine & More
Pilsner Urquell is the world's first golden pilsner beer with 4.4% ABV. It is a session beer and refreshing golden pilsner with a slightly sweet maltiness, balanced by a smooth, Saaz hop bitterness.
Check Price
We earn a commission if you make a purchase, at no additional cost to you.

Rothaus Pils Tannen Zapfle

– Rothaus Pils tannen Zäpfle is an exceptional beer with a crisp and refreshing taste. It offers the ideal amount of carbonation, with subtle fruity undertones and a hint of sweet honey-like goodness. When drinking this German Pilsner, you will immediately notice how natural it tastes, then you are hit with the bitterness of this great Pilsner.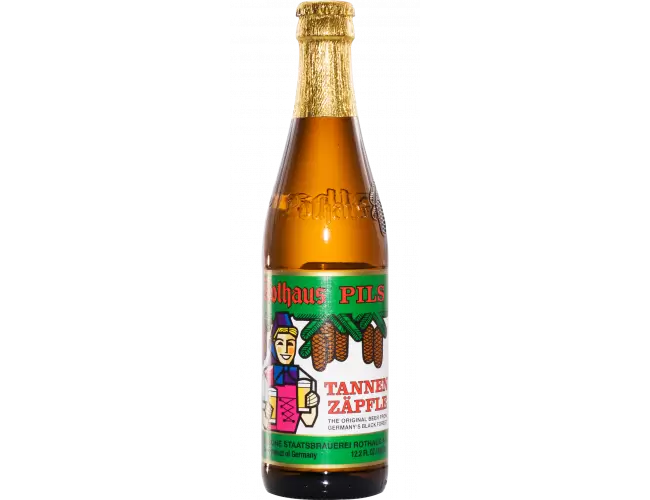 Rothaus Pils Tannen Zäpfle | Drizly
The best aromatic hops from Tettnang and the Hallertau as well as local malt made from summer barley and the purest spring water from the Black Forest give Rothaus Tannenzäpfle its uniquely spicy and fresh taste.
Check Price
We earn a commission if you make a purchase, at no additional cost to you.

Carlsberg –

Carlsberg is a quality beer from Denmark. It is milder than most Pilsners, with a lovely taste of malted barley. The bitterness of the hops comes at the end and although it can also be described as mild, it certainly does leave its mark on your palette.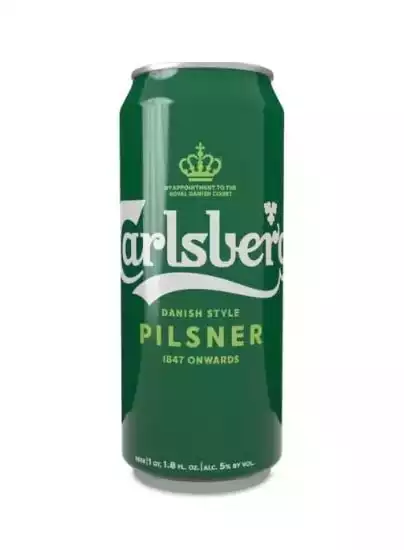 Carlsberg Danish Pilsner | Drizly
Carlsberg Pilsner is a premium Danish lager with a 5% ABV. It's a crisp, refreshing, perfectly balanced beer that has a full flavor and hoppy aroma.
Check Price
We earn a commission if you make a purchase, at no additional cost to you.

Becks –

Becks is a German Beer with a full rich head and beautiful golden color. It offers a full-bodied taste with a fresh and hoppy aftertaste. Firmness and fruity undertones with a crisp, clean, and dry finish. Becks is delicious and refreshing and always leaves you wanting more.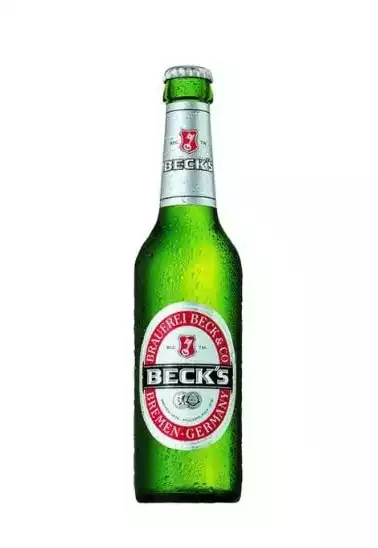 Beck's | Drizly
Beck's German Beer is a classic European beer with a rich head and golden color. This complex, full-bodied lager beer is sweet and soft-balanced with a clean, dry hop finish.
Check Price
We earn a commission if you make a purchase, at no additional cost to you.

Tuborg –

Tuborg is another quality beer from Denmark, there must be something in their water. Tuborg offers a taste that is rich and medium, with a sufficient level of hoppy bitterness in the after taste. This bottom fermenting Lager uses slightly roasted malt which results in a fresh and refreshing flavor, and when combined with aromatic undertones of grain and flowers packs a mouth full of rich flavor.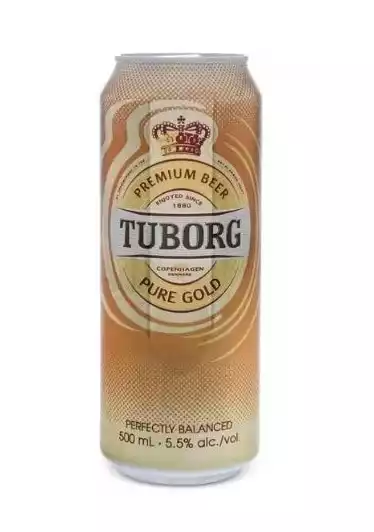 Tuborg Gold | Drizly
This full-flavored, deluxe pilsner is famous for its crisp European taste and has been brewed in Copenhagen since 1895. Its high quality and unique taste have earned it an appointment to the Royal Danish Court.
Check Price
We earn a commission if you make a purchase, at no additional cost to you.

In What Size Bottles Are Grolsch Beers Offered?
The classic green Grolsch Premium export bottle is the largest of all Grolsch bottles and can accommodate 467 ml of the delicious brew. The traditional brown domestic bottle has a capacity of 450ml.
These bottles are over 33% larger than the average-sized Dutch beer bottle, which is around 340ml. The Grolsch Radler and Grolsch 0.0% are offered in 340ml bottles, while the Grolsch Weizen is offered in 300ml and 330ml bottles. 
Where Can You Purchase Grolsch?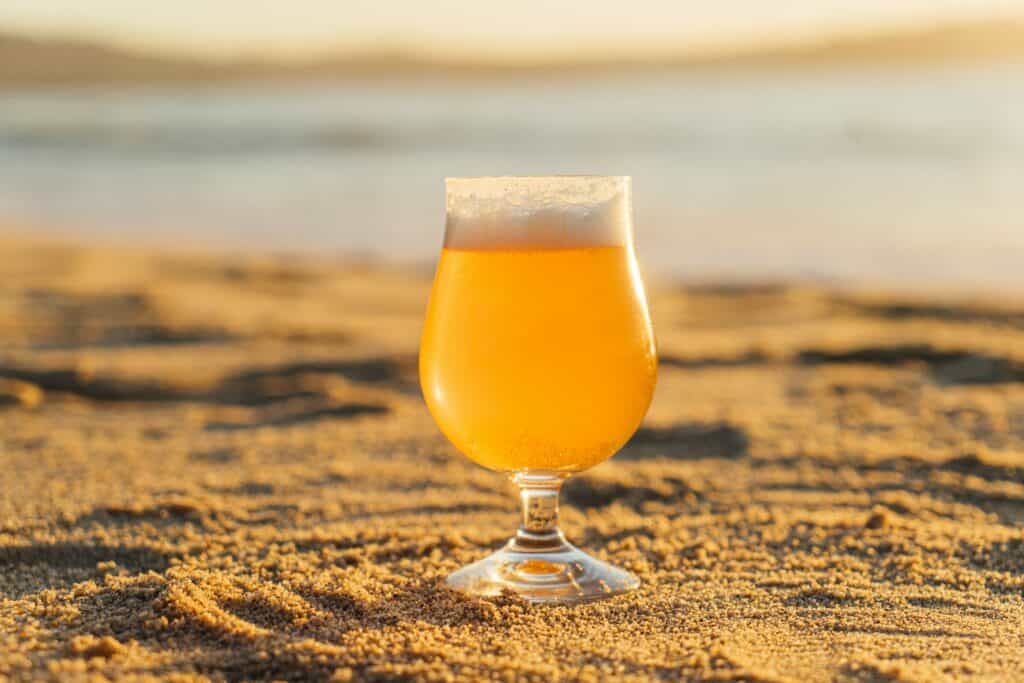 Grolsch has a substantial footprint and can be purchased all over the world. In the United States, data from TTB suggests that there are well over 20 000 licensed alcohol distributors. The most popular distributors are Eastern Liquors, MHW Ltd and Southern Glazers.
Grolsch is also available from both convenience stores and large national supermarkets. The two most popular supermarkets to buy Grolsch is Tesco and Walmart. Online purchases are at an all-time high, and it's no different with Grolsch and beer in general.
In the comfort of your home or office, you can purchase Grolsh online and have it delivered directly to your doorstep. The most well-known online distributors are Instacart, Reserve Bar, Craft City, and Drizly.
Frequently Asked Questions (FAQ)
Question: Is Grolsch better than a Heineken?
Answer: Both of these beers are great but quite different. Grolsch is a Pilsner while Heineken is a straight-up Lager. This means that Grolsch offers a degree of bitterness that you don't find in the Heineken. The taste of Grolsch is bolder and slightly intense and is well-suited for beer lovers with a well-developed palette.
Heineken can be described as a mild beer that offers a smooth and enjoyable drinking experience. Additionally, Grolsch contains less carbonation when compared to Heineken. 
Question:
Can Grolsch bottles explode?
Answer: To date, there have been no recordings of Grolsch beer bottles exploding. The Swing-Top Capping Method that Grolsch utilizes is possibly the safest on the market.
This method allows you to easily release excess pressure and re-cap once the pressure has equalized. This cannot be done with the crown cap unless you have a crown capping system at home.  
Question: Does Heineken own Grolsch?
Answer: This is a common misconception, Grolsch was purchased by Asahi in 2016. Asahi is a Japanese-owned company that already has a substantial international presence in the beer industry.
Heineken is owned by Heineken Holding, which is today the worlds' second-largest brewer. 
Question: What beer is similar to Grolsch?
Answer: Numerous quality beers are somewhat similar to Grolsch. The best example for me is Stella Artois. This Belgian Brew is slightly less bitter than Grolsch, but still offers the bold hoppy taste we have come to expect from quality Pilsner beer.
The flavor from Grolsch is stronger and more intense, but both are seriously refreshing and delicious. The colors are also similar with Grolsch being slightly more golden and rich.
Question: Why is Grolsch now 4% ABV?
Since its inception in the 1600s, Grolsch Premium was always offered with a 5% ABV. Although this has always been the norm, times are changing.
Consumers all over the world are now becoming significantly more conscious of their alcohol intake. Offering a 4% ABV Grolsch Premium Pilsner will allow the company to fully tap into this market, and appeal to beer lovers who are looking to reduce or moderate the amount of alcohol that they consume.  
Conclusion
Grolsch Premium is a quality beer, there is no doubt. With quality ingredients and centuries of brewing tradition, it ticks all the boxes of a great Beer.
If you are looking for a taste that is full, rich, and bold then Grolsch is the perfect choice for you. It is crisp and refreshing up front, with high levels of delectable hoppy bitterness in the after taste.
 If your palette is somewhat under-developed then I would recommend that you choose a lager or pale-ale which are easy-drinking beers. These types of beers offer flavors that are fresh and crisp with fewer levels of bitterness.  
I enjoy a cold Grolsch with dinner and as an after-dinner drink. It compliments most foods and goes down easily. I do find the flavor to become quite bitter after drinking a few.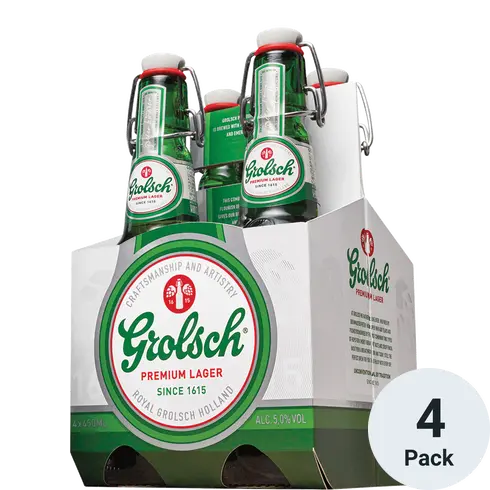 Grolsch Premium Lager | Total Wine & More
Netherlands- Euro Pale Lager- 5.0% ABV. A classic, well-balanced European Pilsner crafted with three varieties of barley malts and a unique blend of hops. Brewed using a unique double fermentation process, featuring a fresh, hoppy note, a mild citric fruity taste and a long finish.
Check Price
We earn a commission if you make a purchase, at no additional cost to you.