If you have ever considered purchasing a kegerator, odds are you have probably heard of the Insignia brand. An Insignia kegerator will bring plenty of quality with your purchase. Making sure that your kegs are always frosty cold and adding a special element of sophistication into your bar area.
With a 5.6-cubic foot capacity, this kegerator can easily hold half kegs and quarter slim kegs. Better yet, this particular kegerator easily converts between a standard refrigerator and a beverage cooler, so you can use it pretty much anytime you need it.
In this Insignia Kegerator review, we'll provide all the specifications about this Insignia kegerator you may need, so keep reading for a full rundown.
About the Insignia Brand
Insignia is a leading brand in home appliances. They make all refrigerators, small kitchen appliances, heating, cooling, air quality appliances, surge protectors and power needs, lighting, freezers and ice makers, travel accessories, and even microwaves.
They also specialize in specific appliances such as paper shredders, dryers, dishwashers, vacuum cleaners, furniture, and cooktops.
Pros and Cons to an Insignia Kegerator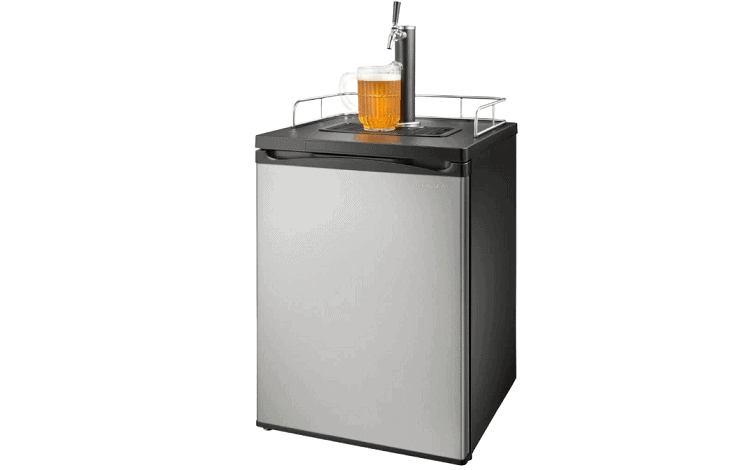 While a kegerator may not be an appliance that most people would have in their homes. Suppose you are a beer enthusiast, or you love your favorite wine on tap. In that case, a kegerator is a great purchase to consider. Here are some of the main pros and cons of owning an Insignia kegerator.
Pros
Holds a half keg or quarter keg
Comes with an adjustable thermostat
Can be easily converted into a refrigerator
Comes with two wire shelves inside for organization
Reversible stainless-steel door
Locking wheels
Easy to understand owner's manual and setup guide
Cons
May be a bit too pricey for some
Motor may be a little noisy
How to Use a Kegerator
Using a kegerator is really easy once you set it all up. Once you follow these simple steps, you will be on your way to using your Insignia kegerator right away.
Step 1: Make Sure Everything is Washed
You will want to unpack and wash your Insignia kegerator as sometimes appliances get dusty in shipping. You don't have to fully submerge your kegerator in water, but simply wipe it down with a damp washcloth.
Let the parts dry before reassembling if you have to disassemble some things. Throw away all plastic and extra materials you don't need.
Step 2: Installation
Once your kegerator parts are clean, you will want to move your kegerator to where you plan to keep it set up. You can add the parts from this spot, as you don't necessarily want to move it around after that as this kegerator is a bit heavy.
Using your user's manual guide, install all necessary parts such as your draft tower, beer lines, mounting screws, etc. Take special care when dealing with the air hose as you do not want to puncture it and risk air being released from this main hose. This is what makes your beer flow from the keg to your glass.
Step 3: Connecting the Lines
Using your user's manual and guide, connect your two main lines: the beer and gas lines. The gas line is to make sure there is enough power to make your kegerator work. You will need to find out exactly where the lines connect to the Co2 tank and properly do it.
You will not have to buy any extra materials, as your kegerator has come to you complete with everything you need. While connecting the lines, make sure that your tank is upright at all times so you can properly attach the lines to it.
Step 4: Adjustments
Once your kegerator is set up and your lines are properly installed, you can start getting ready to dispense beer. You open your air tank by turning the wheel to the left. After that, you can turn the valve to the regulator on, and you should hear the air getting ready to pass through the lines.
Within an hour after installing your keg, it will be cold enough to use, and you will be ready to start drinking ice-cold beer.
Do You Need a Kegerator?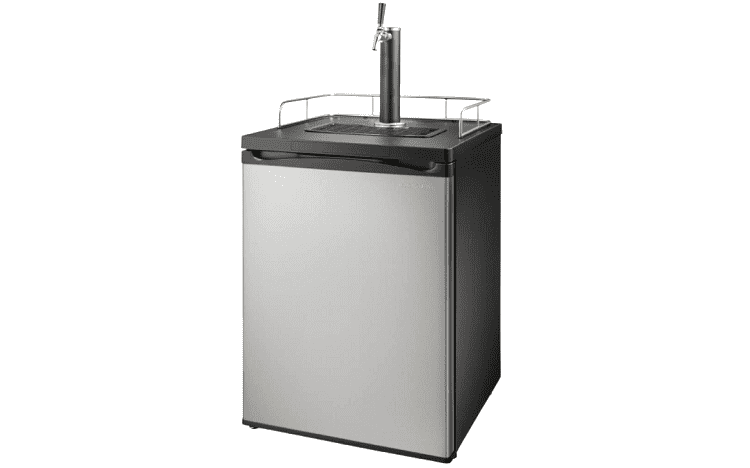 It definitely won't hurt to have a kegerator, but it depends on the amount of beer you drink if you will really need one. A kegerator is a great investment for anyone who loves to drink cold beer or wine and loves to have it easily accessible on tap.
A kegerator will also help you preserve your keg, as fresh Co2 and air will keep your beverage of choice fresh. It's also just kind of nice to have your favorite beer on tap in a designated space instead of having to buy bottles and keep them in your regular refrigerator.
Plus, brews sometimes taste better coming from a tap, so you will always get that bar tap experience whenever you feel imbibing.
How to Clean an Insignia Kegerator
Using your manual or owner's guide, you will find a complete list on how to properly clean your kegerator. Here are a few basic steps that will help you keep your kegerator clean.
Step 1: Clearing the Lines
Keep your beer lines clean and free from normal buildup by making a simple beer line cleaning solution. This solution can either be bought ready-made or make your own solution, which is one part water and one part vinegar.
Step 2: Flushing the Lines
Using your solution, flush the lines with a hand pump or buy a pump that will connect to your Co2 pump. A hand pump will take a bit longer, but a pump that connects to your tank will take much less time.
Disconnect your lines and flush them out with your warm water and vinegar solution. After a few runs of this, flush them with regular water and air dry before reconnecting them.
Step 3: Smaller Parts
For smaller parts of your kegerator that you want to clean, simply remove the parts, and let them soak in some warm, soapy water.
This will remove any residual dust or remaining beer and will get your parts clean. After a while, rinse everything with regular faucet water and allow your parts to air dry before reinstalling them. Note: the pump should not be cleaned or submerged in water at all.
Features of the Insignia Kegerator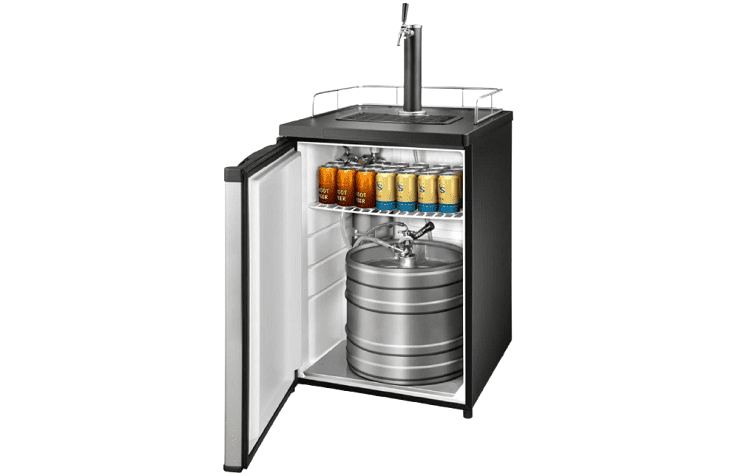 Insignia kegerators are known for their sophistication and expert craftsmanship. They are a leading brand in small appliances, such as kegerators, and are known for their distinct features. Here are a few of the standout features that you will notice with your new kegerator.
Size and Cubic Feet
Your kegerator comes with a large capacity size of 5.6 cubic feet. This means it can easily hold a half-sized keg or a quarter-sized keg with ease.
This is a one-tap kegerator, so it is meant to hold only one keg at a time. Your kegerator stands at 33 inches and is 23 inches wide. This kegerator comes in at 101 pounds, which is why it is suggested to start to set it up in the spot you'd like to keep it, so you don't have to move it around.
Capacity
Your kegerator has a whole 5.6 cubic feet of space to work with, so you can easily hold a half-sized keg or a quarter-sized keg depending on what the beer is and how much of it you want to keep cold.
This is a larger-sized kegerator that has plenty of room to hold your beer, as well as some extra shelving to make things more organized.
Thermostat
The thermostat within this kegerator is thermoelectric and easily adjustable. You can get a maximum temperature of 45 degrees F and a minimum temperature of 32 degrees F. There is an electronic temperature gauge that is easily adjustable with a simple move of the knob.
Shelving
Extra shelving is inside your kegerator, as you may want to house some extras for your beer or any other type of beverage you may need.
The shelving inside your kegerator is made of stainless steel and is meant for organization. There is also a removable drip tray inside your kegerator that can be easily cleaned and rinsed off.
Locking Wheels
The locking wheels on your kegerator are a convenience as they prevent it from rolling around. Once your wheels are locked, your kegerator will stay in place without any trouble at all.
This is great if you plan to keep your kegerator in the same spot. But may want to move it around every once in a while. The locking wheels are also handy for when you want to clean out your kegerator.
Tap and CO2 Tank
Instead of having to go out and buy a brand-new tap and cO2 tank, your kegerator has come with them ready to use. This makes the whole installation process so much easier, as you don't have to worry about finding parts to go with your kegerator to use it right away.
Using your owner's manual, you have a detailed list of instructions on properly installing these tanks and when you can start using them.
Finish
Your kegerator is finished in stainless steel, which shines like a high polished silver. This is great if you have a bar area or kitchen already equipped with stainless steel appliances.
Still, silver is also a wonderful universal finish that can pretty much go with any color scheme you have going on. It's a classy finish that will look great within your kitchen, bar area, or basement, or bedroom.
Warranty
Insignia offers a one-year warranty for all the parts within your kegerator and a one-year limited warranty for labor needs. Insignia encourages all customers to take advantage of this department to ensure your kegerator is working at its best potential with a great customer service department.
Insignia Single-Tap Kegerator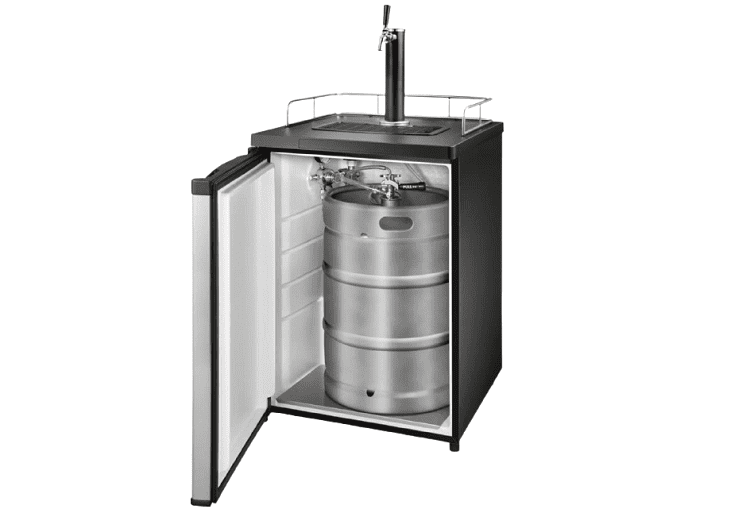 Your Insignia kegerator comes complete with a large 5.6 cubic feet capacity that can hold a half keg or a quarter keg.
This is a single tap keg, which means you can only use one keg at a time within this kegerator. You can easily convert this kegerator into a standard refrigerator, so you will always use this appliance.
An easy-to-adjust thermostat lets you adjust your kegerator's internal temperature to get to the ideal setting you need for your specific beverage. Two wire shelves also provide additional storage space for other cans of beers or anything else you may need to house within.
A reversible stainless steel door allows you to open it on the left- or right-hand opening. The stainless-steel finish of this kegerator also offers so much sophistication and will match many of your other appliances.
Size: 5.6 cubic feet capacity,
Warranty: One year warranty from the manufacturer
Type: Single tap kegerator
Price: Less than $500
This kegerator also comes with locking wheels to help you with more mobility for easier transport. Your kegerator comes with a tap and Co2 tank already, so you don't have to go out and look for necessary parts.
There is also a great owner's manual attached to the kegerator so you can read up on the easy installation process, setup, and even the basic information on your product. There is also a one-year warranty to protect your purchase from the manufacture.
Pros
Large capacity size at 5.6 cubic feet
Adjustable thermostat
Beautiful stainless-steel finish
Comes with extra shelving
Reversible stainless-steel door for easy opening
Locking wheels
Comes with Co2 tank and tap
Cons
May be a bit pricey for some
Motor may be a bit noisy
Does Insignia Have a Dual Tap Kegerator?
While Insignia used to offer the option to purchase dual tap kegerators, they recently discontinued their manufacturing. With the popularity of the single tap kegerator, Insignia didn't see the value in providing both types of kegerators to their customers.
Other brands offer dual tap kegerators, but they are not affiliated with the Insignia brand. These products will have their own manufacturing and warranty information.
Alternatives to the Insignia Kegerator
There are some other great alternatives to the Insignia Kegerator if you are looking for a cheaper price tag or even a dual tap option. Here are some of the best alternatives to the Insignia Kegerator.
Ivation Dual Tap Kegerator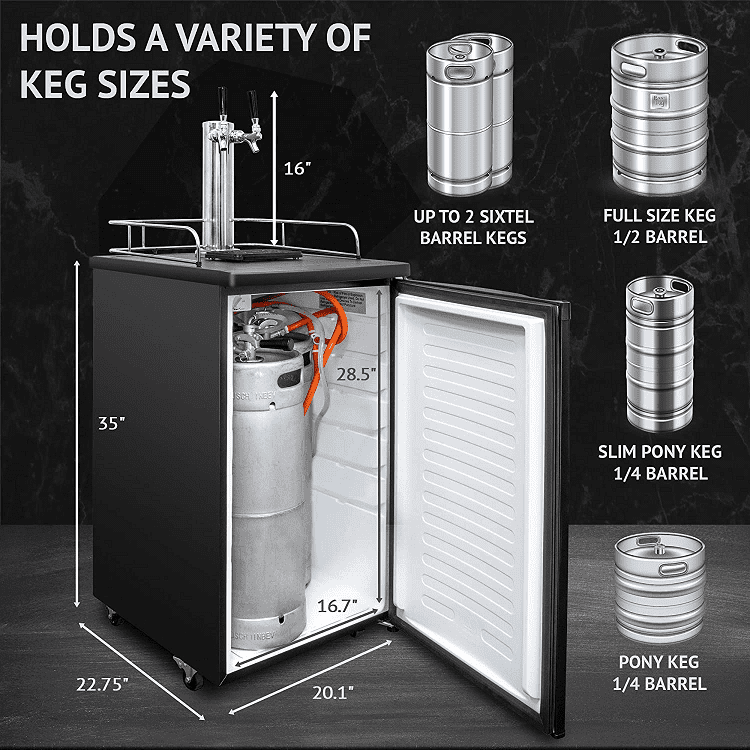 If the thought of only being able to choose one beer at a time stresses you out, then this dual tap kegerator by Ivation is just the ticket for you.
This large capacity, full-sized kegerator lets you tap up to two of your favorite beers or beverages at once for even more drinking pleasure. This kegerator comes complete with a mounted Co2 cylinder and wonderful temperature control.
Size: 4.9 cubic feet capacity
Type: Dual tap kegerator
Price: More than $700
Warranty: Free returns through Amazon Prime
It comes with a drip tray that is easy to remove and clean and rails to help you with extra organization needs. This kegerator will fit half-sized kegs, quarter-sized pony kegs, and two 1/6 sized kegs at once. It comes in a matte black color or stainless steel for extra versatility.
Pros
You can serve ice-cold draft beer at home
Dual tap chrome tower
Fast and powerful refrigeration
Converts to a beverage cooler whenever you need
Cons
Only comes in two finishes
Motor may be a bit loud
Homecraft Mini Kegerator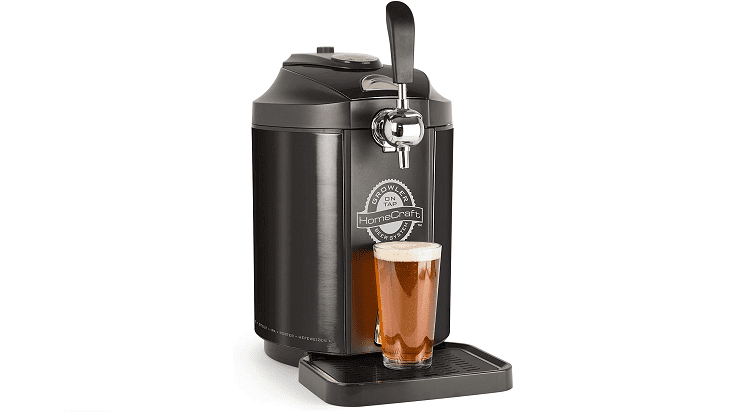 Suppose you don't want to commit to a large capacity kegerator. However, you still want the experience of pouring your own draft beer at home.
In that case, this mini-kegerator by Homecraft may be perfect for you. This mini kegerator has easy dispensing and a great cooling system considering its smaller size.
Size: five-liter capacity
Type: single tap countertop kegerator
Price: Less than $200
Warranty: Free returns through Amazon Prime
This system comes complete with a reusable growler, Co2 cartridges, a removable drip tray, and an easy-to-use cleaning kit. You can keep your beer fresh for 30 days, and it holds about five liters. It works with all standard five liters pressurized and non-pressurized gravity kegs.
Pros
Affordable
Smaller size for smaller batches
Easy to use
Powerful cooling system
Cons
Small capacity
Countertop design
Kegerator by Kegco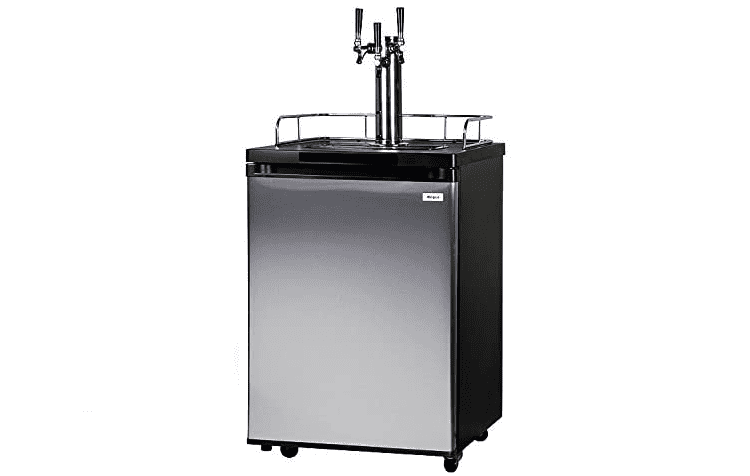 A wonderful kegerator that comes in a single tap format, a dual tap format, or even a triple tap format, you can easily find the perfect type of kegerator for your from Kegco. These kegerators come with a complete keg tapping kit with all necessary equipment to take the guessing game out of the kegerator setup.
Size: Can hold a single keg to three kegs at once
Type: Single, dual, or triple kegerator
Price: Ranges from $800 to more than $900
Warranty: Free returns through Amazon Prime
It has a super large interior with a sleek and stylish design that anyone will love. It has a powerful energy-efficient cooling technology and contains plenty of energy efficiency, so you won't be wasting money on power.
Pros
Extra-large capacity
Has choices of single, dual, or triple taps
Comes with a complete keg tapping kit
Sleek and stylish design
Cons
Expensive
May be too large for some
FAQs
Question: How Do I Set Up My Insignia Kegerator?
Answer: Using your owner's manual, a step-by-step guide will help you set up your actual kegerator, then how to set up each of the lines to provide plenty of power into your appliance.
Question: Is it Worth Having a Kegerator?
Answer: Yes, if you love drinking fresh, cold beer from a tap.
Question: What Causes a Kegerator Beer to be Foamy?
Answer: The Co2 pressure is what makes your beer from your kegerator foamy.
The Verdict
So, there you have it, all you've ever wanted to know about the Insignia Kegerator. Whether you are just starting out trying kegerators or have been using kegerators for a while, you just can't deny the high-quality craftsmanship and sleek design of the Insignia brand kegerator.
Did you find this article useful? We hope you did. Do you have any experience with the Insignia brand or with kegerators in general? We would love to hear from you. Feel free to share your stories and suggestions below. And for more awesome tips and recs, check out our guide to the best dual-tap kegerators here!