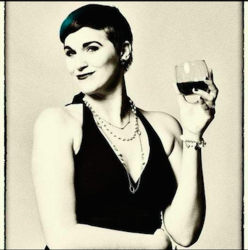 Latest posts by Jessie Dax-Setkus
(see all)
When you think about Saint Patrick's Day, you instinctively think of two types of beer, light beer that has been dyed green and the traditional Irish Stout. In fact, you can't go to a Saint Paddy's Day soiree without having a pint of the stuff. 
Many that haven't tried a genuine Irish Stout believe that it is a little intimidating because it looks heavy and probably has overwhelming flavors, not to mention a ton of calories. However, this couldn't be further from the truth. In fact, Irish Stouts have a pretty low-calorie count and are deceptively light despite its appearance making it the perfect party beer. 
Once you get hooked on a quality Irish Stout, you actually realize how versatile it really is. Not only is it a beer for the colder seasons or Saint Patrick's Day, but it can be sipped poolside during a hot day because it is fairly light. We did a deep dive into this yummy style of beer and found that it is not only incredibly flavorful but versatile and approachable too.
At a Glance: Best Irish Stout

History
The history of Irish beer dates all the way back to the Bronze Age, and it wasn't called beer at the time but rather "beoir" or "gruit." Gruit is brewed with barley, bog myrtle, and meadowsweet. This "beer" was made before hops were even discovered, so it did not have a taste of bitterness to it at all. 
An ancient recipe was discovered during an archaeological dig at the site of what was believed to be a brewery in Galway, Ireland. This led historians to recreate the recipe as best as they could, and it was described as "Drinkable and worthy of our ancestors' effort."
From there, the Irish Dry Stout evolved from the Porter, which was incredibly popular at the start of the Twentieth Century. Although the Irish Stout was dark in color, it was remarkably light, drawing the crowds to it. Another characteristic about it is that its ABV rarely exceeded four percent and hovered around the 100-calorie mark, making it incredibly easy to drink. It also became known for its silky texture with notes of roasted coffee and chocolate.
Irish Stouts really became popular when Murphy's started brewing it in 1854 and created a huge following that the brewery still has. Murphy's paved the way for many other breweries to develop the deliciously light Irish Stout we know and love today.
Characteristics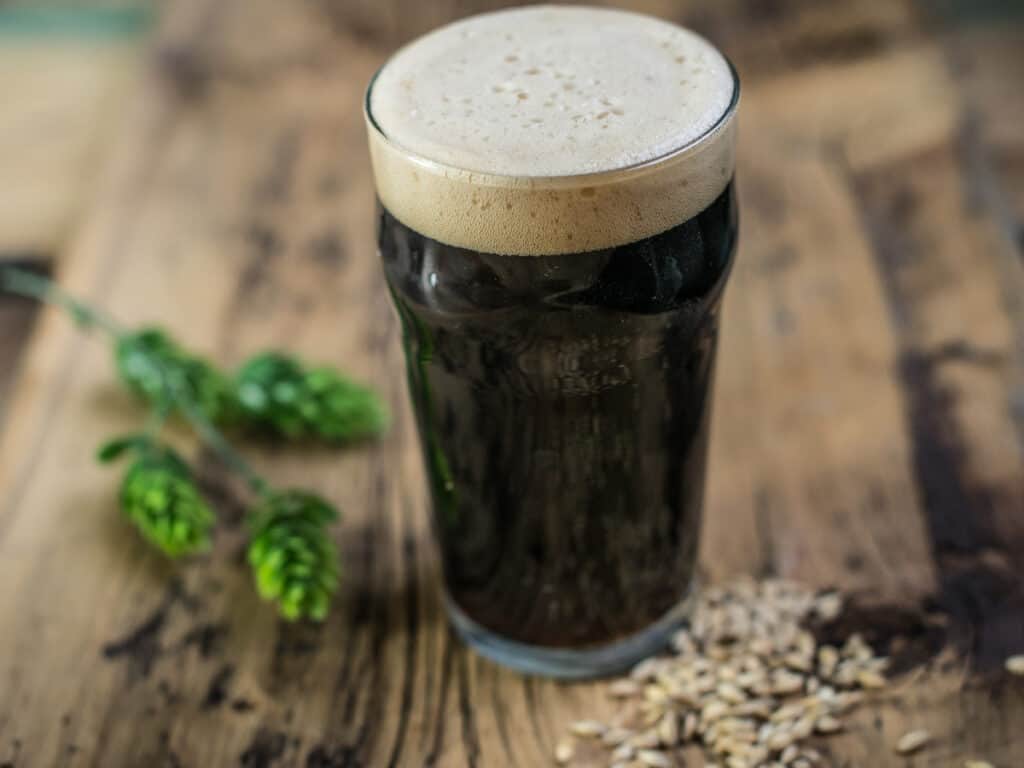 Aroma
Because there are coffee notes within the flavor of an Irish Stout, it's pretty common that they have a coffee smell on the nose; in fact, you will get an all-around roasted aroma on the nose in general. Many other Irish Stout enthusiasts also claim that they smell malts, caramel, or even a small hint of chocolate when taking in a whiff of an Irish Stout. Of course, if there are other flavors in the brew, like vanilla, you will also get a little of that on the nose as well.
Appearance
Obviously, Irish Stouts fall into the Stout category, and most (if not all) Stouts have a very rich brown color. Some say they can even be black. Overall, a Stout is pretty dark in color, and the head is slightly thick, white, and creamy. In an Irish Stout like Guinness, you might even want to let the head form and the beer rest a bit before serving for the best results.
Taste
In an Irish Stout, the roast really is the stand-out flavor. Some claim they have noticed a slight taste of hoppiness depending on the beer, but overall the roast and the malts steal the show. The flavor profile is most commonly coffee and cocoa, but if there are flavors like vanilla or chocolate added in, they will also shine through. Some even claim they taste hints of dark fruits such as plum, prune, or dark current, as well as toast or caramel.
Mouthfeel: Irish Stouts are pretty approachable beers as they are lighter than they appear, not to mention they have a velvety texture while it sits on your tongue and travels down your throat. It is a rich, full-bodied mouthfeel and that traditionally comes from roasted barley.
The Best Examples of Irish Stouts
Are you looking for some examples of delicious Irish Stouts? Here are some of the best-tasting Irish Stouts around.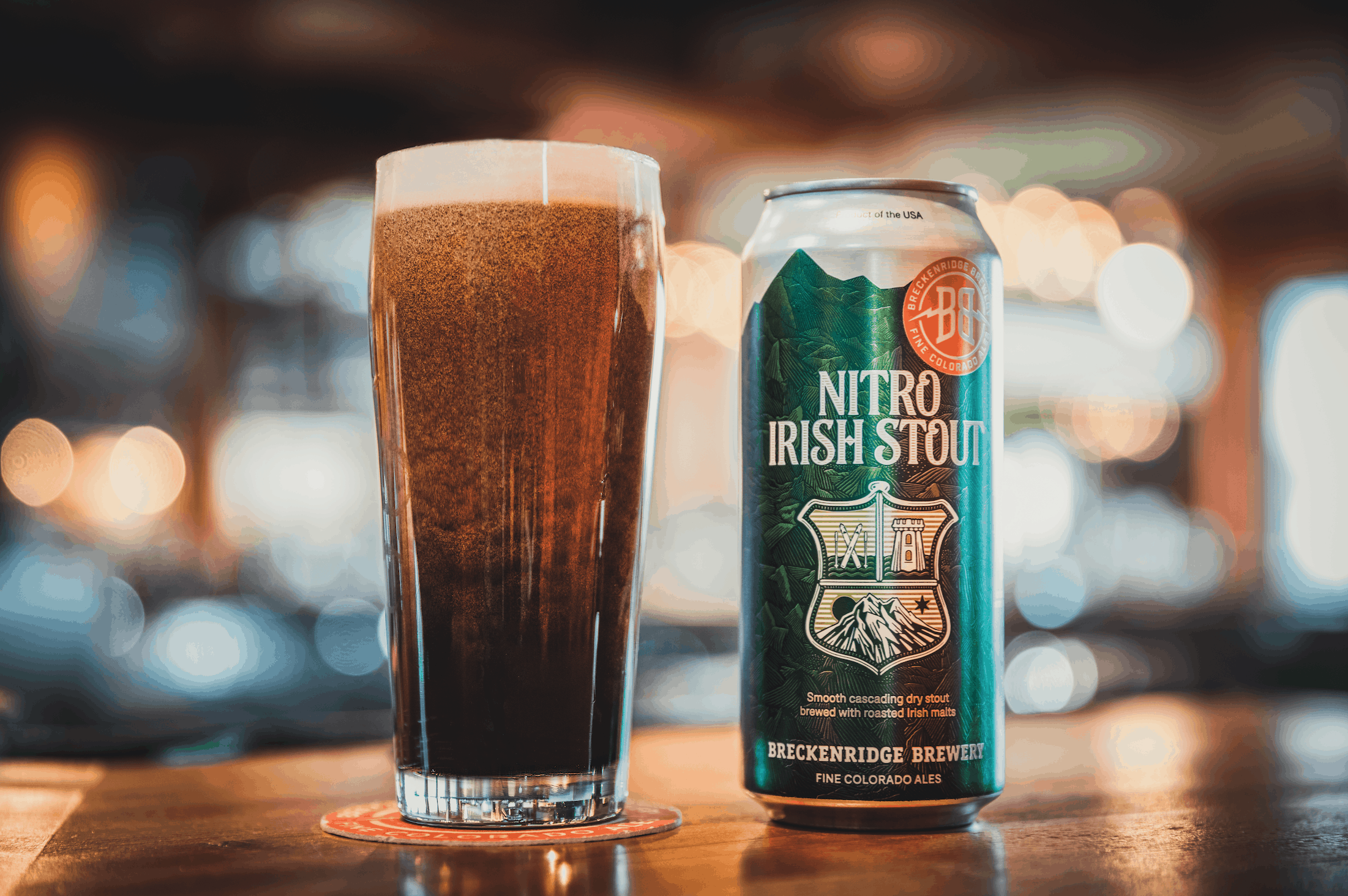 Yes, it may be brewed in Colorado, but it is truly a delicious Irish Stout. Breckenridge Brewery is the highest pop-up Irish pub in the world at 10,010 feet, and some say that contributes to the beer's flavor. This Irish Stout is a traditional dry stout with a dark character and a delicious creamy body. There is roasted barley, flaked barley, and Irish Stout malt included to give this beer a flavor of coffee with hints of grain.

O'Hara's Irish Stout | Total Wine & More
Ireland- Stout- 4.3% ABV. Robust roast flavor complemented by a full-bodied and smooth mouthfeel. Tart bitterness to the dry espresso-like finish.
Check Price
We earn a commission if you make a purchase, at no additional cost to you.

This traditional, dry Irish Stout is perfect for any celebration. Many say it has the same full-bodied and robust malt profile as Guinness and the beer's creaminess which the beer is known. It also finishes dry and slightly sweet. What is really great about O'Hara's is that it is actually still craft-brewed in Ireland! If you are looking for a St. Paddy's Day food pairing, a great menu item to go with this Stout is shepherd's pie.
Harpoon Brewery Boston Irish Stout
We all know that there is a big Irish-American population in Boston, so you know you are getting a quality Irish Stout if it comes from that region. Harpoon Brewery actually didn't brew their Boston Irish Stout until 2013, and it became a huge hit. It has a lower ABV at four percent in alcohol per volume, but it still has a bold flavor which Irish Stouts are known. It is full-bodied with a delicious creamy texture.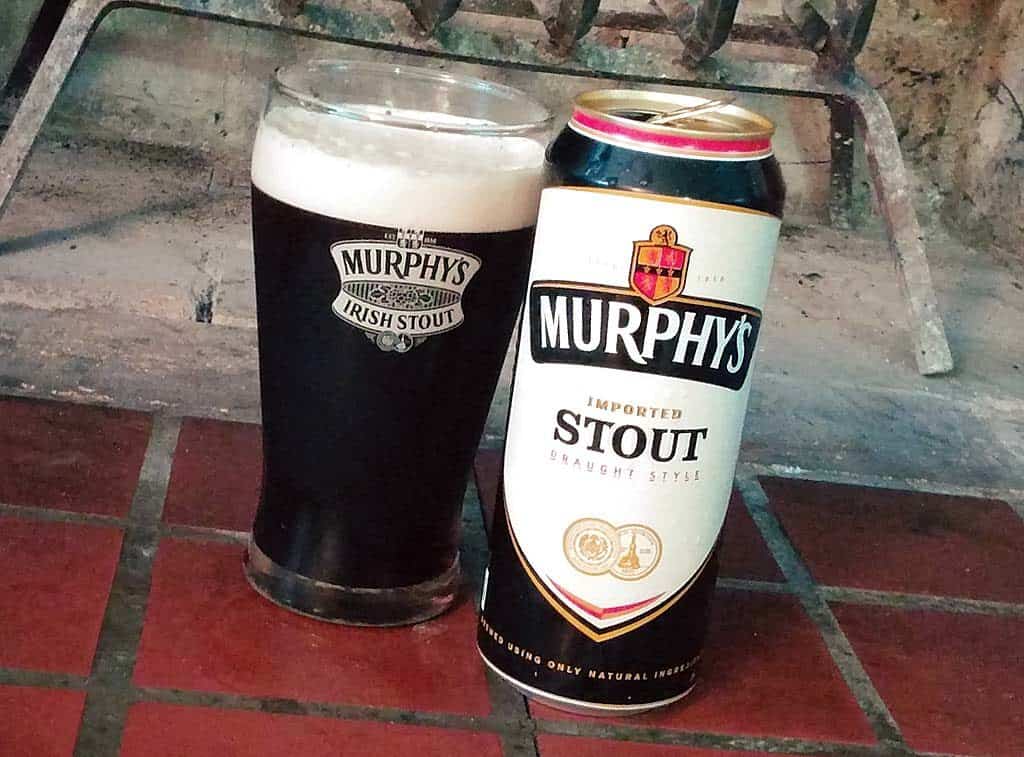 This delightful Stout has been brewed in Cork, Ireland, since 1856, and it hasn't shown any signs of slowing down production since. True to the Irish Stout nature, it has a creamy texture and also has almost no bitterness, thanks to its coffee and chocolate flavors. Some say it almost drinks like a dessert. Murphy's is dark in color yet considered medium-bodied so that it won't weigh you down too much.
Murphy's Irish Stout Draught | Total Wine & More
UK- Irish Dry Stout- 4.0% ABV. Since 1856, Murphy's Stout still remains true to its roots. The Murphy brothers crafted a genuine dry stout that was both a birthright and a passion.
Check Price
We earn a commission if you make a purchase, at no additional cost to you.

Guinness Extra Stout | Total Wine & More
Ireland- Irish Dry Stout- This beer icon is pitch black in color with roasted malt aromas. It has a rich, creamy mouthfeel without being too heavy. The hops provide a nice balance to the malts, allowing a slight sweetness to show on the finish.
Check Price
We earn a commission if you make a purchase, at no additional cost to you.

You can't have a guide to Irish Stouts without the most famous Stout of them all—Guinness Extra Stout. This Irish Stout originated in Dublin, Ireland, all the way back in 1759! Now you might be asking, "What is the difference between Guinness Draught and Guinness Extra Stout?" Well, the Guinness Draught is creamy a smooth, where Guinness Extra Stout is sharper and crisper. It has a deep color and a rich yet refreshing taste. It also finishes with a touch of caramel.
Third Street Ale Works Blarney Sister's Irish Stout
Since Third Street Ale Works opened its doors in the 1990s, it has been known for its Irish Stouts—it has many awards to boot for them, in fact. This Irish Stout has a toasty flavor, but it drinks light at the same time. It hits the quintessential ABV for an Irish Stout coming in at 4.1 percent, so you can have a few of them and not slur your words too much.
Great Lakes Brewing Company Wolfhound Stout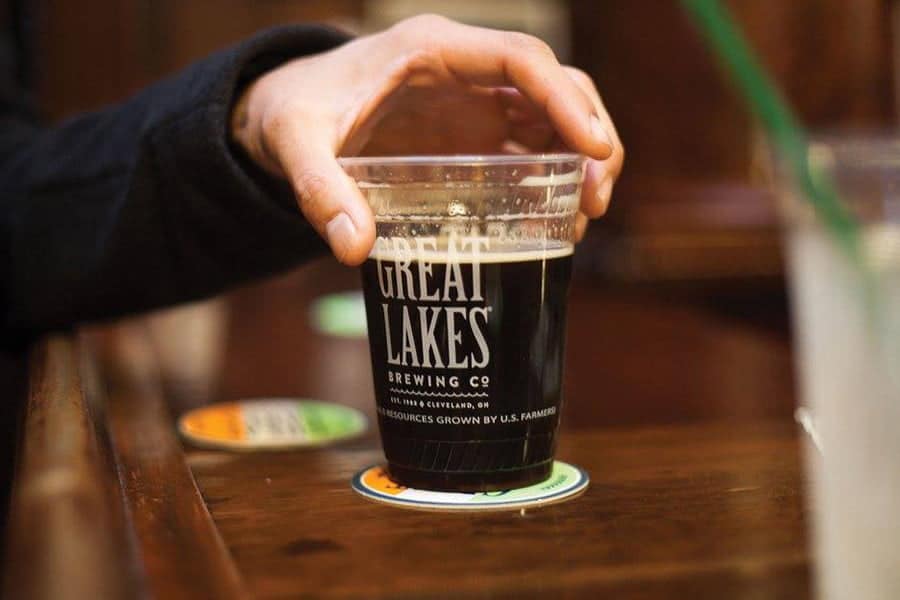 This Irish Stout hails from Cleveland, Ohio, where blue-collar work is king, and along with that comes delicious beers, including Great Lakes Brewing Company's Wolfhound Stout. Yes, this beer requires a trip to the Great Lakes Brewing Company taproom, but it is well worth it. Roasted barley flavors really dominate this delicious dry Stout that was lovingly named after the Irish Wolfhound, which is a sweet dog known for its bite—just like the beer.
Black Rock Irish Stout
Said to be one of Ireland's best-kept secrets, Black Rock Irish Stout is just beginning to rise in popularity as a delicious Irish Stout. This Stout is very traditional in flavor as it has the trademark brownish-black color, and it is creamy yet drinks light. The beer combines roasted barley with hints of vanilla and aniseed. Some say it even has a slight hoppiness to it as well.
Schlafly Beer Nitro Irish Stout
This beer's home is St. Louis, and boy, do they ever have quite a fascination with Irish Stouts—especially Schlafly Brewing. The weekend after St. Patrick's Day is when Schlafly holds a massive Stout, and Oyster Festival with more than 15 Stouts served and over 80,000 oysters, so you know this product is quality. It boasts a deep roasted coffee taste with a delicious malt yet slightly hoppy flavor as well.
Societe Brewing The Pugilist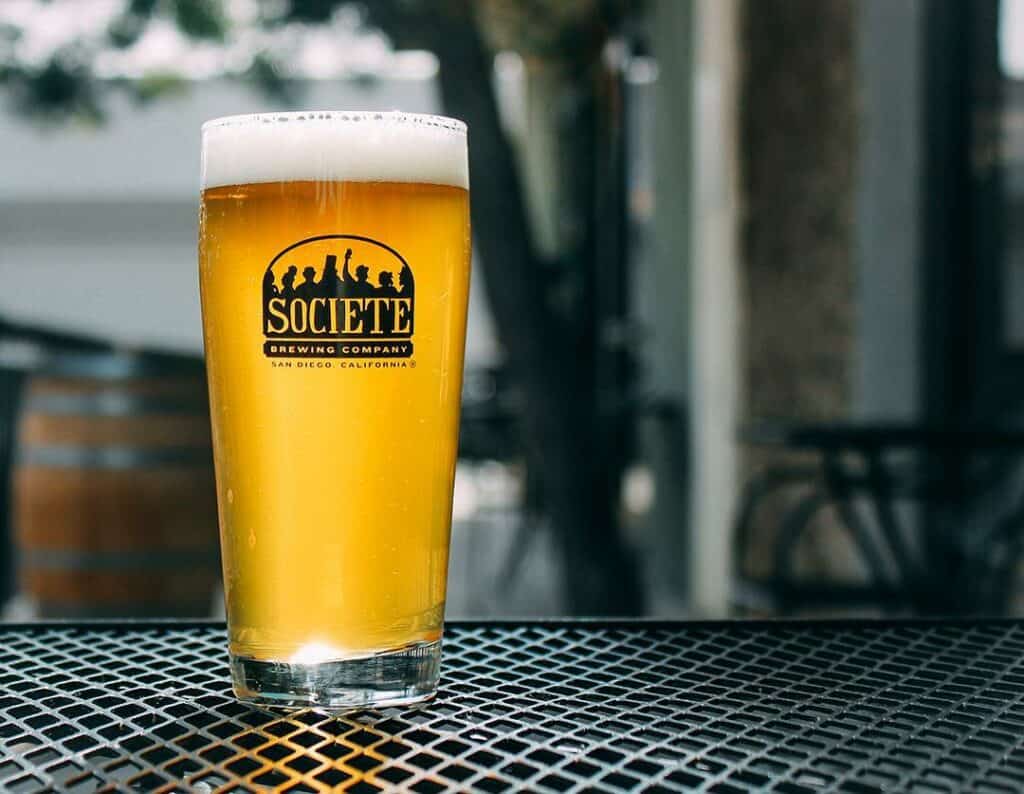 Yes, Southern California also has some really good Irish Stouts too. Societe Brewing is known for its wacky style beers and its more traditional ones, and this is where The Pugilist comes in. It is an extremely well-balanced beer that features a huge roasted flavor and throws in a bit of hoppiness, acidity, and a traditionally low ABV to make it a delicious Irish Stout.
Porterhouse Oyster Stout | Drizly
This gently flavored stout has a roast malt character, full body and an aromatic character from the Goldings hops. Fresh oysters added during the brewing process, lend a discernible yet unidentifiable note.
Check Price
We earn a commission if you make a purchase, at no additional cost to you.

This Irish Stout is known to be a little sharper than your average pint of Irish Stout. Another odd quality about Porterhouse Oyster Stout is that it somewhat lacks the velvety creaminess that Irish Stouts, which is a famous trait of an Irish Stout. However, it has a little more fizz and a hint of salty brine to the flavor, bringing a whole new dimension to this beer. It also has a very complex flavor that some people say has everything from licorice to seaweed with hints of coffee and chocolate.
Beamish Irish Stout 14.9 | Drizly
Dry stout is a dark ale that uses roasted barley as a base, contributing to its opaque black color. That roasted barley also gives it a dry-roasted flavor with heavy notes of coffee, bittersweet chocolate and roasted malt.
Check Price
We earn a commission if you make a purchase, at no additional cost to you.

This Irish Stout dates all the way back to 1792 and is brewed in Cork, Ireland, similar to Murphy's Irish Stout. In Cork, it is jokingly known as the "hipster's Stout." Beamish Irish Stout boasts roasted malt aromas and is distinctively black in color. Its taste blends malts, chocolate, and coffee in a toasty flavor.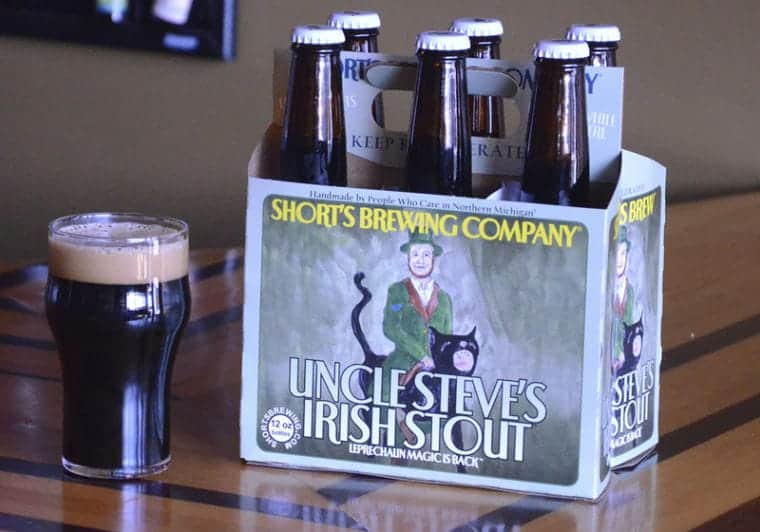 For an Irish Stout, this one really packs a punch when we talk about ABV as it comes in a whopping 5.8 percent, which is pretty high in this category. Short's brewing is known for its wacky flavors, but Uncle Steve's Irish Stout keeps it simple and stays true to the traditional flavors an Irish Stout has to offer. Roasted malts really bring the flavors home with this yummy Irish Stout.
Shorts Uncle Steves Irish Stout | Drizly
Uncle Steve's Irish Stout is Short's version of the classic Irish Stout, complete with a dark color, soft head, and smooth full flavor typical of this lighter-bodied style. A simple grist formula provides a base of roasted malt flavors with a creamy drinkability everyone loves.
Check Price
We earn a commission if you make a purchase, at no additional cost to you.

DuClaw Brewing Celtic Fury
Coming in at five percent ABV, it has a pretty typical percent of Irish Stouts. DuClaw Brewing's Celtic Fury boasts a creamy body and a ton of roasted coffee and chocolate notes, which come with your traditional Irish Stout. There are also earthy English hops and a dry finish.
Guinness Draught | Drizly
Guinness Draught Stout is the original nitrogen-infused beer. Although to the uninitiated, it can look dark and heavy, it actually tastes deliciously light and smooth, swirling with notes of roasted barley, caramel, coffee and chocolate.
Check Price
We earn a commission if you make a purchase, at no additional cost to you.

Finishing this list, we have the popular Guinness Draught, arguably the most popular Irish Stout. Guinness Draught is basically the Guinness you can find at any pub, whereas Guinness Extra Stout requires you to look a little more for it. Guinness Draught has a malty sweetness as well as a hoppy bitterness boasting notes of coffee and chocolate. There is also a delicious roasted flavor that comes through as well.
Frequently Asked Questions
Question: What makes an Irish Stout Irish? 
Answer: The key ingredient of a traditional Irish Stout is roasted barley. The roasted barley gives an Irish Stout its distinctive dry coffee-like flavor, dark and deep color, and white foamy head.
Question: Are Irish Stout's bitter?
Answer: In short, they can be. An Irish Stout is pub-strengthened at around four percent and is meant to be drunk in sessions. These beers have a robust flavor, but there can be bitterness as it has tons of acrid malt (which also gives an Irish Stout a roasted flavor) and hops in it.
Question: Does Guinness actually taste better in Ireland? 
Answer: An international taste study actually found that Guinness does taste better in Ireland. Many bars worldwide claim they have the freshest and best-tasting Guinness globally, but they really can't compare to that brewed and tasted in its home country. Many believe that this is due to how the beer holds up to travel long distances, but that isn't completely confirmed.
Question: Will drinking an Irish Stout keep you up if you consume it before bedtime?
Answer: Because of the coffee flavor in an Irish Stout, many believe it will keep you up all night if drinking before bedtime, but this cannot be further from the truth. In fact, experts say they recommend drinking Irish Stouts in later hours as the hops can actually lull you to sleep rather than keep you wired all night long. The caffeine content in an Irish Stout is pretty low.
Question: Why is there a ball in a can of Guinness?
Answer: This "ball" is actually a plastic widget that was developed by Guinness back in 1969. The point of the widget is to give drinkers a silky, creamy head the beer is known for when drinking it from a can. 
Final Word
As we discovered, there are many reasons why Irish Stouts are popular. It is an approachable beer that looks deceivingly heavy, although it is pretty light and easy to sip on. The roasted flavor is also something that draws people in, and the fact that you can have a few without getting weighed down is a huge plus. It is a versatile beer that can be drunk at a traditional Saint Patrick's Day party but can also be sipped during a hot summer day.
If you are looking for a beer that isn't polarizing and has a nice, rich flavor, Irish Stouts have your name written all over it. If you get into this easy sipper, you can upgrade to Stouts that have more of an acquired taste like the ever-so-famous Oatmeal Stout. 
Next time you get a request to pick up some beer from friends or family, consider bringing an Irish Stout; you'll quickly find it is the ultimate crowd-pleaser.