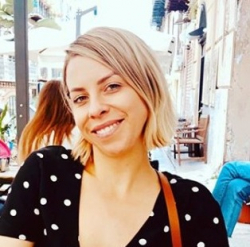 Latest posts by Jodie Chiffey
(see all)
In our Loral hops guide, we will explore exactly what these new hops have to offer to homebrewers.
Loral hops didn't emerge onto the market until 2016, but they have become a popular hop that has been used in various beers and ales. Giving off-flavors of dark fruits., mild citrus, floral, and pepper, you can use these hops on their own or in combination with different hops to create some fantastic drinks.
Let's explore the ins and outs of Loral hops, including what they taste like, their ingredients, how to brew with them, and what alternatives to Loral hops you can use.
What are Loral Hops?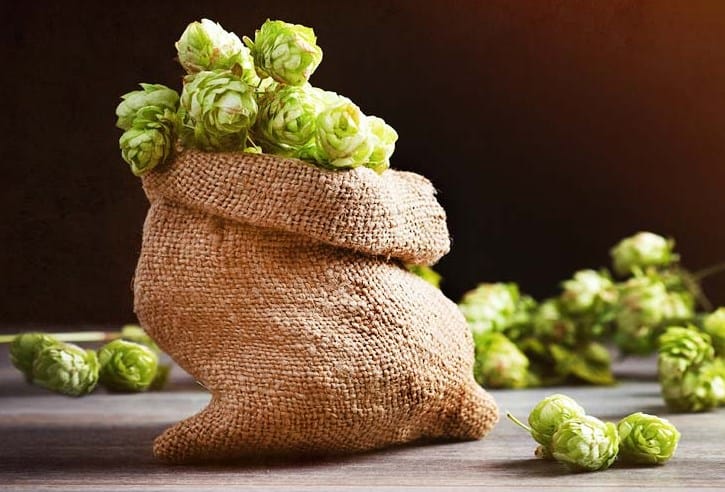 Loral hops are relatively new to the market as they weren't released commercially until 2016. However, the history of the hops goes back much further than this.
The hop was initially known as HBC 291 when it was patented back in 2012. However, Loral hops began life as a single plant in the early 2000s when the Glacier plant was crossed with HBC 9902, and the breeding program lasted for six years.
In many ways, Loral hops sit nicely in the middle between the older hop varieties and the new hops that have emerged onto the market. We will have a dive into how these hops taste in a minute, but the name comes from two primary flavors – lemon and floral.
Flavor Profile
Loral hops, like Amarillo hops, are used as a late boil addition or in the dry-hopping process, although they have also been utilized as dual-purpose hops. These hops are added late on to create a complex flavor to beer and ales, while some homebrewers will use them for the bittering process.
There is a reasonable amount of alpha in these hops, and it can be used for IPAs.
The flavor of Loral hops includes a strong dark fruit presence with some floral and mild citrus notes. You will also find an earthy and herbal composition to these hops, with some hints of pepper.
Some great examples of this hop in action include:
Loral IPL from Tempest Brewing Company
Project Series Pale Ale from Platform Brewing Company
Exalted IPA from Stone Brewing
Scorpion Bowl IPA from Stone Brewing
Loral Hops – Ingredients
These hops have a well-balanced flavor profile with dark fruits, citrus, and a myriad of other great flavors.
Loral hops have a high alpha content which helps to add to the bitter taste of the beer made from these hops. Alongside a good amount of myrcene to add citrus and fruit flavors, Humulene for the spiciness, and Caryophyllene for pepper, the ingredients for this hop are well-rounded.
How to brew beer with Loral Hops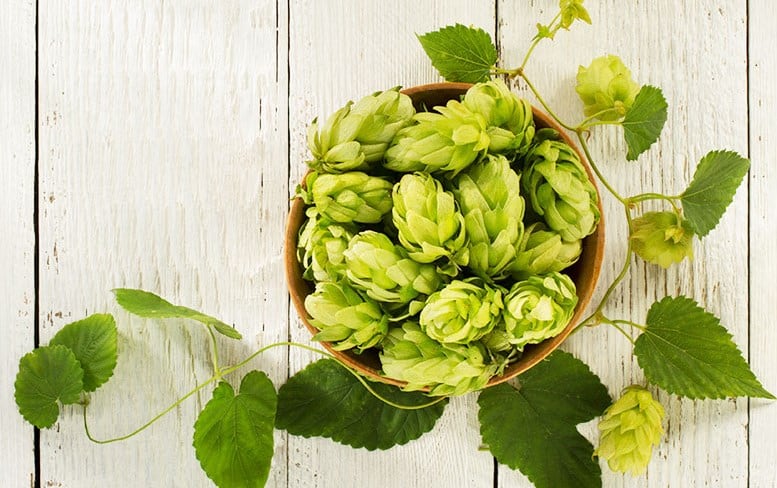 Loral hops are a popular homebrewing ingredient as they produce some fantastic tasting beers, ales, and IPAs. As it doesn't overpower you with being too intense for any of its ingredients, it is regularly used in conjunction with other hops to balance out the flavor. We'll have a look at what hops complement Loral hops a little later on.
Growing Loral Hops
Like Amarillo hops, you can't grow Loral hops as rhizomes are not available. This is because the hop is patented by the Hops Brewing Company (HBC), a venture between John I. Haas and Select Botanicals Group.
These hops are pretty widely available to buy, usually in pellet form; however, as they can only be grown by HBC, you might find availability decrease in a bad harvest year or certain months. This will mainly be down to most hops being sold for commercial purposes before reaching the average homebrewer.
Continue reading our full guide to growing hops.
When to add Loral Hops
Loral hops can serve several purposes, and they can be added to different parts of the home brewing process.
It is a dual-purpose hop. This means that some brewers will add it in the late boil stage or as part of dry hopping. Adding it later in the process will give the beer a floral, dark-fruit, and somewhat citrus taste, or if you use it for dry-hopping, it can work well in an IPA.
Sometimes this hops is utilized or bittering as it contains a higher than average amount of alpha acid.
Complimentary Hop Varieties
Loral hops can be added on their own, or in many cases, they are used in combination with other hops to create some fantastic tasting beer.
Brewers have found that using Loral hops with Dr. Rudi produces a fine beer, and the Loral & Dr. Rudi's Inevitable Adventure Double IPA from Stone Brewing is made from the combination. Dr. Rudi hops have a piney, grassy, and citrus taste.
Citra is another hop that goes well with Lora. If you want to bring out some intense citrus flavoring in your beers, this combination works great, and they complement each other well. The Exalted IPA from Stone Brewing uses both Loral and Citra hops. Also, Mosaic hops can be used with Loral, and the tropical fruit and pine needle flavor of Mosaic produce some fantastic tasting brews.
Acid & Oil Composition
| | |
| --- | --- |
| ALPHA ACID (%) | 10-17% |
| BETA ACID (%) | 1.5-6.5% |
| ALPHA-BETA RATIO | 2:1 – 11:1 |
| HOP STORAGE INDEX | 70% (Good) |
| CO-HUMULONE AS % OF ALPHA | 20-24% |
| TOTAL OILS (mL/100g) | 1.5-3.4 mL/100g |
MYRCENE

 

(flavors – citrus, fruit)

52-58%
HUMULENE

 

(flavors – wood, spice)

17-18%
CARYOPHYLLENE

 

(flavors – pepper, herbs)

5-6%
FARNESENE

 

(flavors – floral, fresh)

0-1%
ALL OTHERS (including linalool, β-pinene, geranoil & selinene)
17-26%
Loral Hops – Alternatives
Loral hops have their own unique flavor and aroma, so replicating this with a different hop can be challenging. However, if you cannot get your hands on Loral hops, there are some other hop varieties that you can use in the homebrewing process.
Citra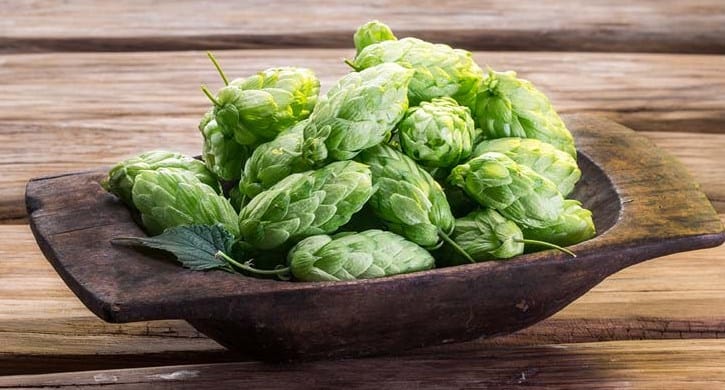 There are some citrus notes in Loral hops, although they can be a bit subdued. Cirta provides a really intense flavor, so it perhaps isn't a direct substitution, but there are some similarities in these two hop types. So if you want to create similar beers and ales, you can use Citra but be prepared for a much more powerful citrus flavor.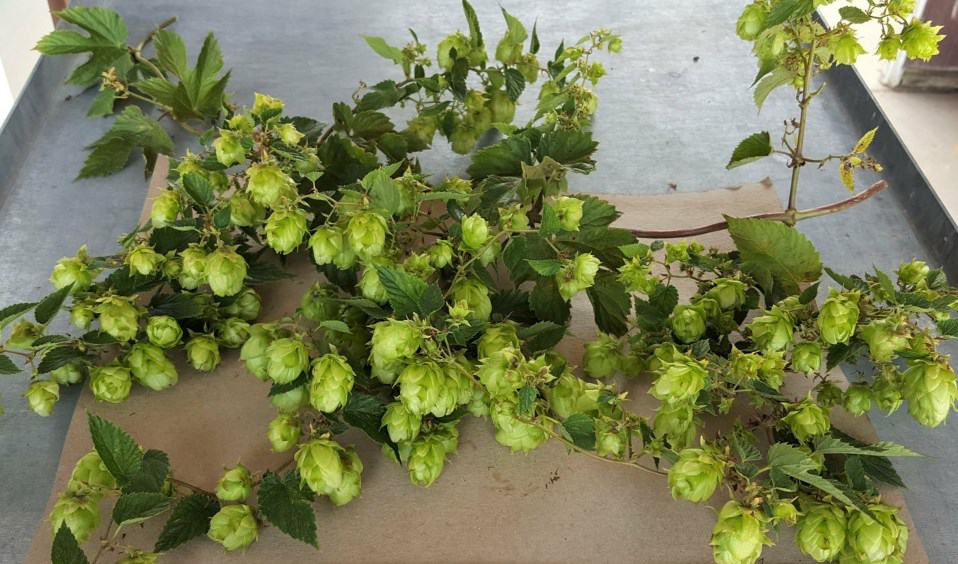 Glacier hops can offer a much more direct substitute for Loral hops as these dual-purpose hops provide flavors of dark fruits such as plum, blackberry, and wood. In addition, glacier hops have a significantly lower alpha acid content, and the bitterness won't be as strong. However, Loral hops were created with a combination of Glacier and another plant, so there is definitely a strong correlation between the two.
Tardif De Bourgogne
Lastly, Tardif De Bourgogne is another hop you can replace Lorap hops if you have trouble getting your hands on. This hop is an older hop that Glacier can trace its roots to, so it also has a historical connection with Loral hops. Tardif de Bourgogne is an aroma hop that has flavors of pine, frankincense, and rose petals, and the alpha acids content is lower, so there will be less of a bitter finish.
Frequently Asked Questions
Question: What do Loral hops taste like?
Answer: Loral hops have a complex taste for the beers that they are made from. Some notes that you will find with these hops include a robust dark fruit aroma, mild citrus, floral, and some hints of pepper with an earthy finish.
Question: Can I grow my own Loral hops?
Answer: No. Loral hops, like Amarillo hops, are patented, so one producer can only grow them. They are currently patented by the Hops Brewing Company (HBC), a venture between John I. Haas and Select Botanicals Group. So, while you can buy loral hops, you can't legally grow them yourself.
Question: Can I use Loral hops for an IPA?
Answer: Yes. Loral hops have successfully been used to brew some great-tasting IPAs. Stone Brewings Ghost Hammer was one of the first to use Loral hops. The fruit and floral aroma of these hops work great for session IPAs and similar brews.
Question: What hops pair well with Loral hops?
Answer: Several hops work well with loral hops to make some tasty beers and ales. This includes Dr. Rudi with its piney, grassy, and citrus aroma; Citra hops, if you particularly want to bring out an intense flavor, and you can also use Mosaic hops with its tropical fruit and pine needle finish.
Question: Where can you buy Loral hops?
Answer: Loral hops aren't as easily found as some other types of hops, and this is down to the patent, which prevents home growers from producing them. However, you can find Loral hops online (here as well) that will allow you to start creating some fantastic tasting homebrews.
Final Thoughts
Loral hops are a relative newcomer to the market; however, they have already been used to create some fabulous beers, ales, and IPAs. The strong dark-fruit and mild citrus combination are popular with many brewers and beer drinkers.
These hops have been demonstrated to work great with many other hop varieties, including Citra, Dr. Rubi, and Mosaic. These hops are a stellar choice if you want to brew some light citrus beers with hints of pepper, dark fruits, and floral.