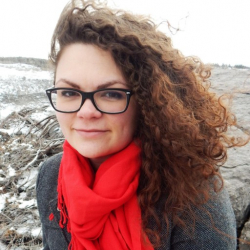 Latest posts by Candace Osmond
(see all)
White stout isn't that popular in all corners of the world, but if you ever get a chance to try it, you'll notice that it's completely different from any other beer you've ever tasted. Fascinated by white stout, we've put together a guide that will tell you more about this unique brew, offering all the information you need to know to find the best white stout beer for your personal taste.
At a Glance:
Best White Stout Brewer 
| Product Image | Primary Rating / Price | Primary Button |
| --- | --- | --- |
| | | |
| | | |
| | | |
| | | |
08/03/2023 10:35 am GMT

Where Did White Stout Beer Come From?
If brew names will usually hint at the characteristics of the drink, white stout is an exception to that rule because it's not white and it's not a stout. The Beer Judge Certification Program and the Brewers Association rules do not recognize this particular stout.
The brew has a more amber hue than a pale ale, and it is primarily made up of a golden or blonde ale base with greater alcohol content. The majority of Whiteys have characteristics that are evocative of a milk stout. Chocolate malts appear to be a more straightforward way to replicate the milk stout flavor.
The first documented use of the term stout for beer was in a text dated 1677 that was discovered in the Egerton Manuscripts and refers to the strength of the brew. This rich brown beer, brewed with roasted malts, was given the term porter for the first time in 1721 when it was introduced to the world.
Because porters were so popular, brewers created them in a range of strengths to accommodate the demand. Stout porters were stronger beers with an alcohol content of 7 percent or 8 percent (ABV). As a result, the histories of porter and stout are intertwined, and the term "stout" has come to be associated with dark beer rather than just strong beer.
White Stout Vs Other Stouts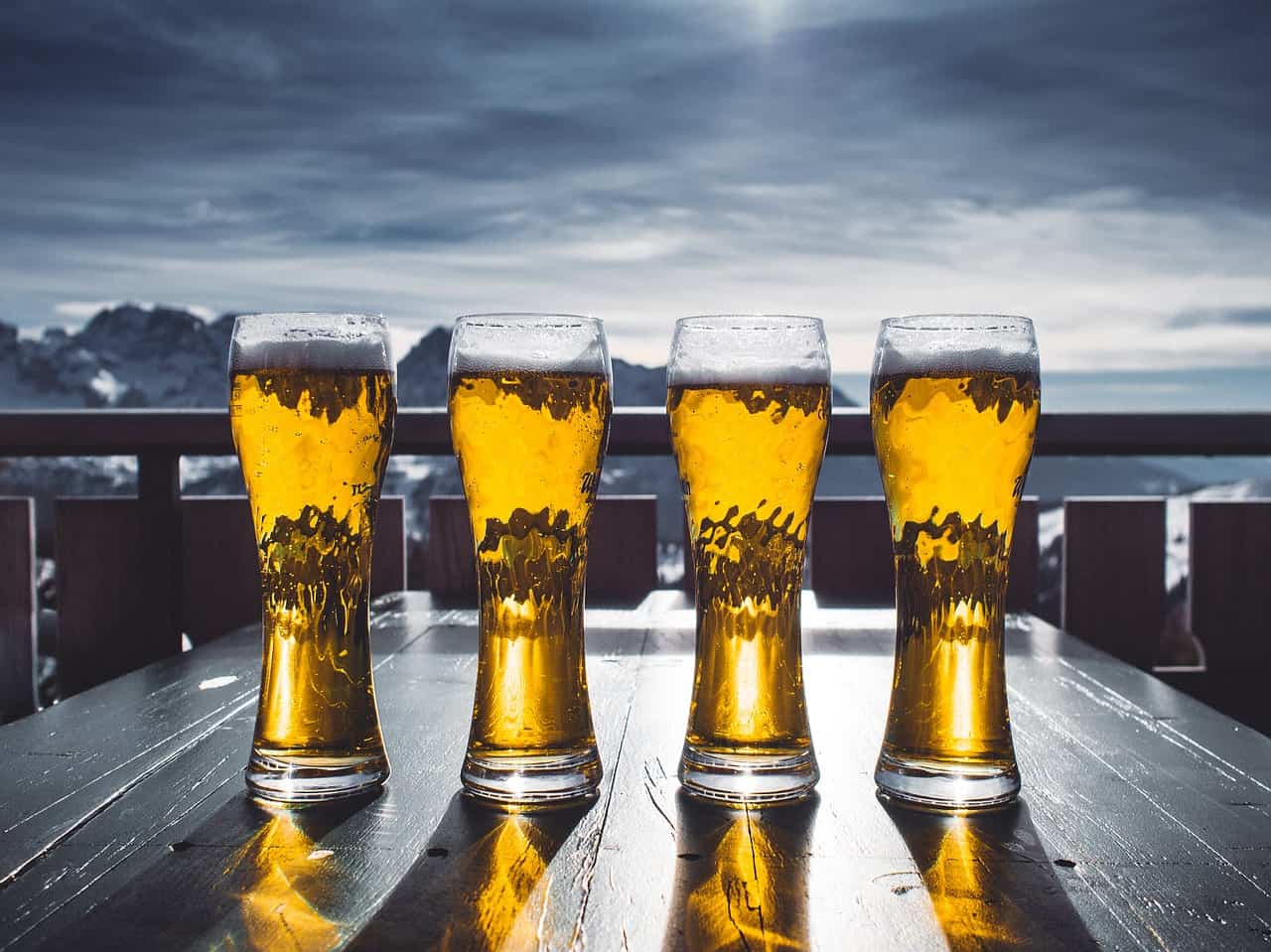 White stout beers are based on recipes that are easy to follow; simply keep the alcohol content low and/or rely primarily on pale base malts and simple sugars to make them. Dark beers aren't difficult to make either; you can turn any beer into a dark one with the right application of malts, depending on the darkness of the taste you're ready to endure. The creation of a white stout with roasted characteristics, on the other hand, demands some ingenuity in the component selection.
What Ingredients Are Found in White Stout Recipes?
Some of the common ingredients added to a recipe to make white stout include cocoa nibs and green/blonde coffee. Needless to say, this changes the flavor of the end result considerably.
Lactose
You can keep the stout flavor theme going by experimenting with substances that have thickening mouthfeel effects. One ingredient that is frequently mentioned is lactose, which appears to be a reasonable inclusion as long as it is not overdone.
Barley and Wheat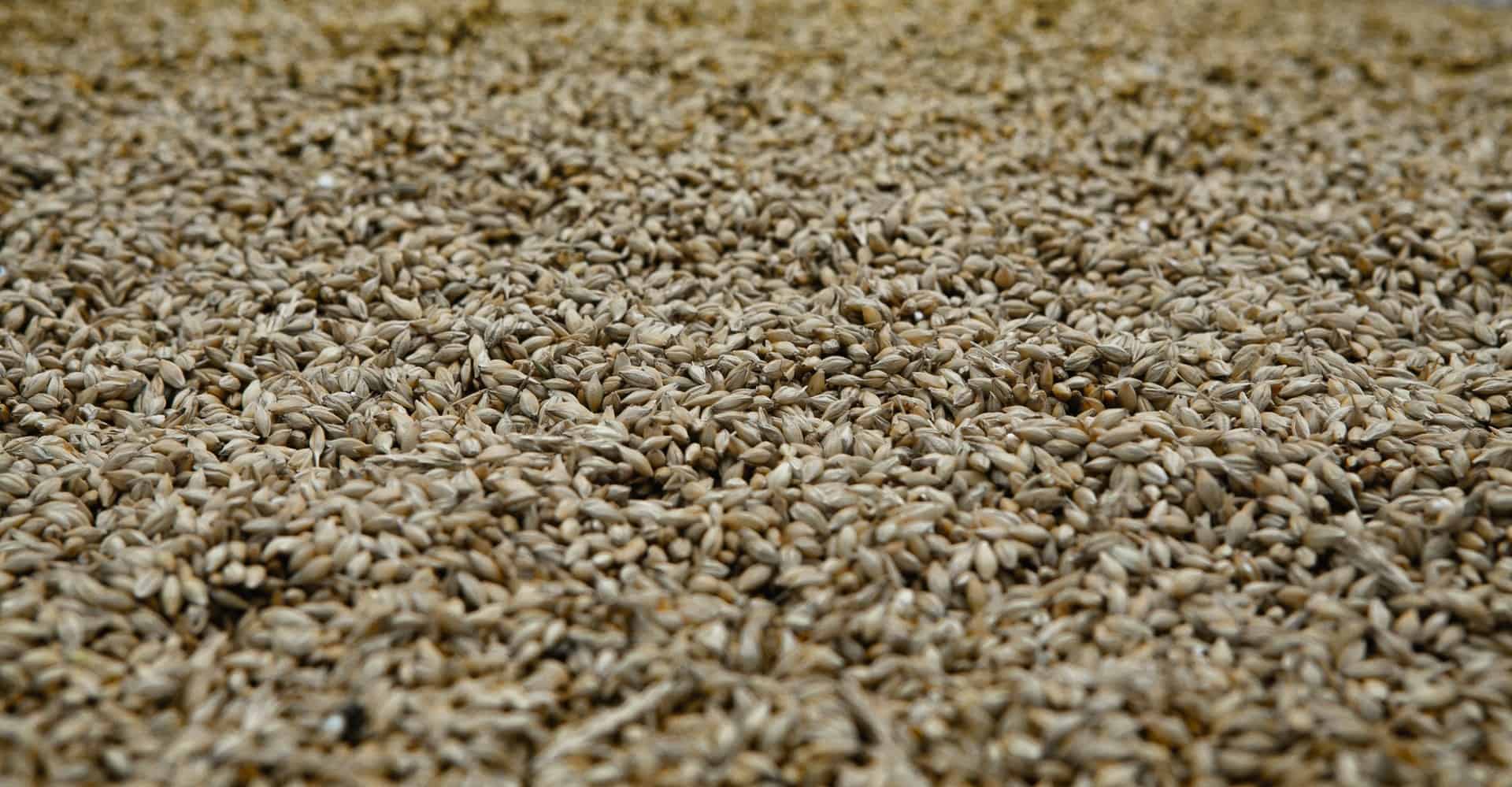 Alongside flaked barley, flaked oats and flaked wheat are also popular choices. Vanilla extract or (ideally) vanilla bean is also commonly used in stout recipes to induce a common stout-like flavor and trigger the senses to try to deceive the palate into thinking it is drinking a stout.
Malts
As far as malts are concerned, there are plenty of options to choose from, just as you do with many other varieties. Some brewers place a strong emphasis on pale ale over all else. In contrast, others have a higher color tolerance and like using lower-Lovibond versions of typical stout–recipe grains, but expect this to result in a somewhat darker beer.
Lighter Malts
For those who prefer a lighter color, a base of Maris Otter is the typical choice, with some medium and light crystal malts thrown in for good measure. These beers use the same base malts as the lighter-colored beers, but instead of crystal additions, pale chocolate finds its way into the mix, alongside Briess roasted barley or a little bit of black patent malt to modify to reduce color addition.
Cocoa and Coffee
To give the cocoa nibs and coffee more opportunity to shine, some argue that normal 2-row pale malt should be used. The reasoning behind this is because richer or spicier base malts could conceal the faux-roast characteristics. Even if that isn't strictly incorrect, experts recommend going on the side of the greater overall flavor.
The cacao and coffee should be used in proportions of 2–4 ounces to begin with. Cacao can be extracted by soaking it in a vodka tincture, and you can use a cold-steep method for the coffee.  When making your white stout batches, you may always make adjustments to meet your desired flavor contributions!
See also: How to Find the Best Coffee Stouts.
Grains
Flaked grains and base malts account for 85–95 percent of the ingredients in most formulations, with tiny amounts of chocolate or crystal malts. For a sweeter variety, lactose and/or vanilla can be added as needed.
Hops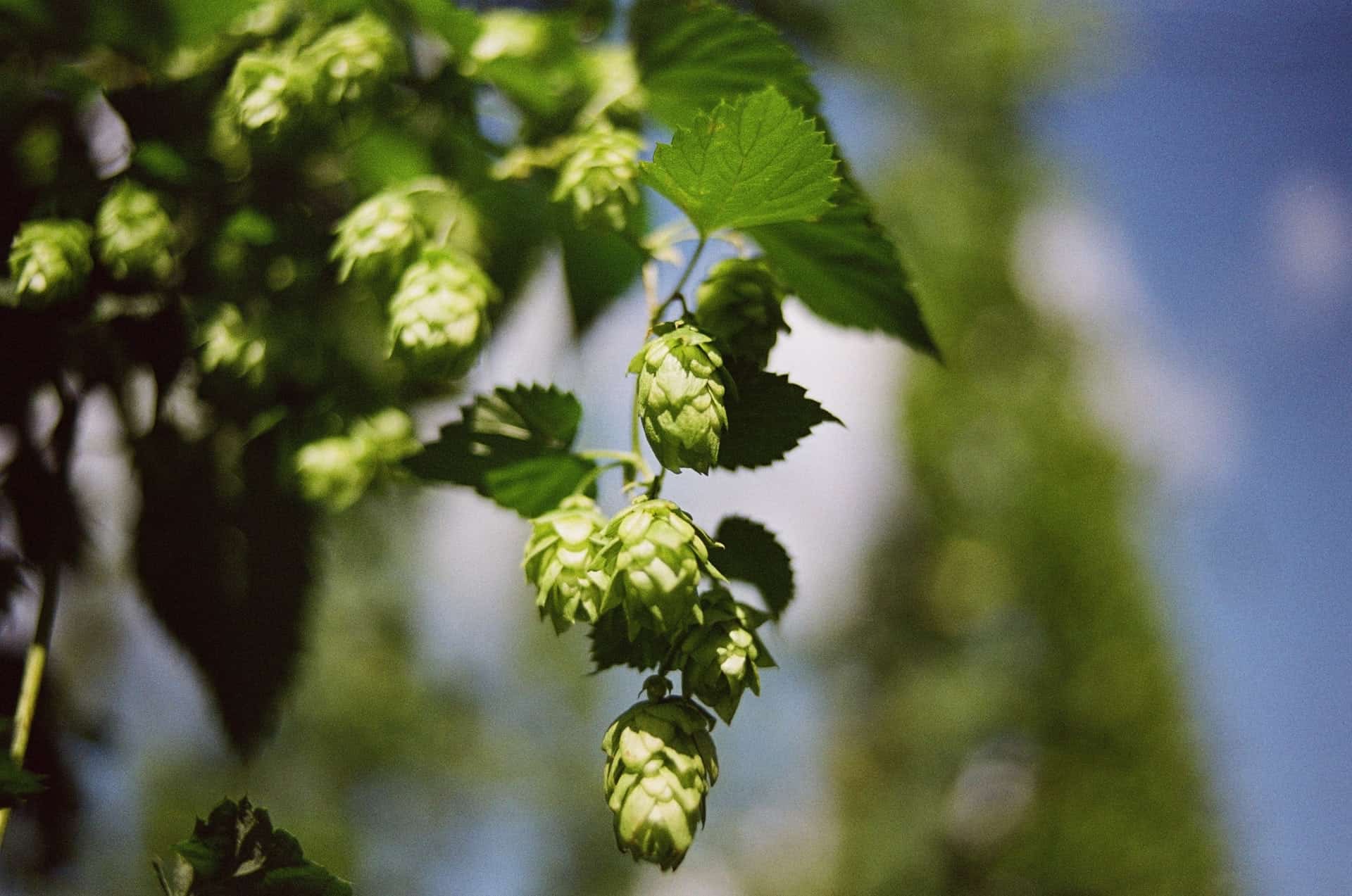 When it comes to hops, the most commonly used variety is a normal high-alpha acid hop variety, with the addition of an occasional late German or English hop type. In contrast, IBUs are found all over the place.
Yeast
Yeast is also a natural part of the white stout brewing process. There is some broad consensus on both hops and yeast, which is convenient. When it comes to making a white stout, nearly everyone agrees that a crisp English ale yeast is the optimal choice. It appears that this stuck from original white stout recipes, which were written in the 1800s.
Most brewers would have employed English ale yeast anyhow, so it is expected that in the absence of a compelling reason to switch gears, the vast majority will simply not fiddle with the yeast choice.
Can You Get Drunk on White Stout?
Yes. Even if white stout usually has a lower alcohol content compared to regular stout or even compared to other alcoholic beverages, you can still get drunk when drinking it. Of course, there are plenty of factors to consider when it comes to how drunk you can get, as this depends on how many beers you drink or how your body assimilates alcohol.
What Foods Go Best with White Stout Beer?
White stout beer has a very rich and distinct flavor, which is pretty different compared to all other beers you've consumed before. If you were always told that beer doesn't pair well with sweets, things are different with white stout. It is a drink that pairs well with desserts and chocolate, but can also be combined with oysters, braised dishes, smoked foods, stews, barbecued and roasted foods.
A Guide to the Best White Stout Beers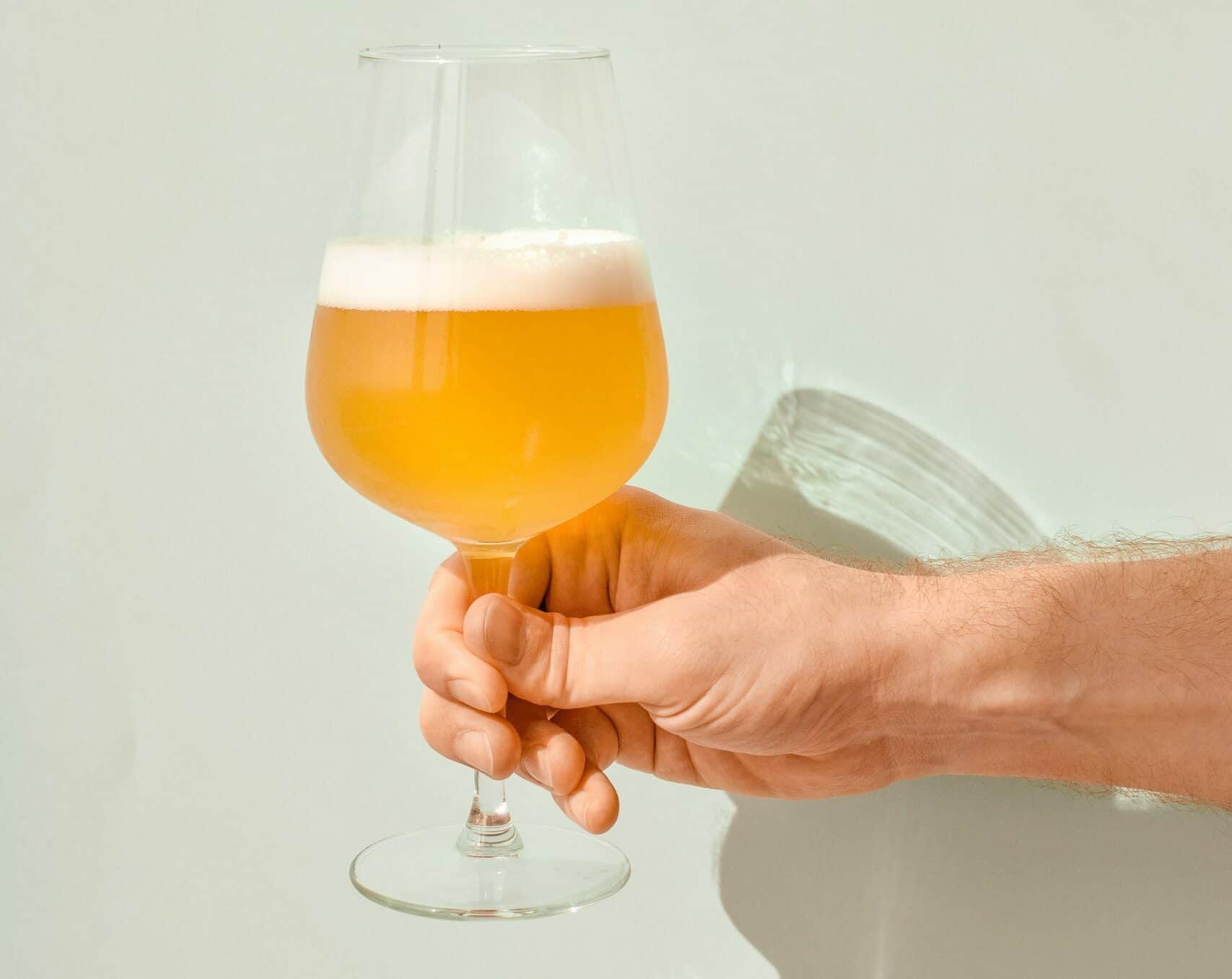 Even if there are a lot of breweries that would not dare venture into this white stout mission, there are still a considerable number of brands out there that make remarkable white stout beer. Here are some of our favorites.
Noble Ale Works Naughty Sauce Stout
Noble Ale Works is a brewer specializing in producing, pouring, and drinking beer. They began brewing in 2011 after establishing the company in 2009 and growing their own ingredients. With the completion of a major expansion, they were able to increase their production capacity by more than double almost immediately.
The Naughty Sauce Stout is milk sugar and oatmeal-based beer that uses coffee rather than grain for creaminess; then, it is chock full of nitrogen to give it more delicious creaminess and body than usual. Full-bodied, deep gold in color and smooth, tasty layered hints of pecan pie, cookie dough, and cinnamon is what this white stout delivers. This beer has such a rich flavor; it's like sweetness exploded in your mouth.
 

Style: American sweet milk stout

 

ABV: 5.4%

 

Aroma: pecan pie, cinnamon, cookie dough
Big Shed Golden Stout Time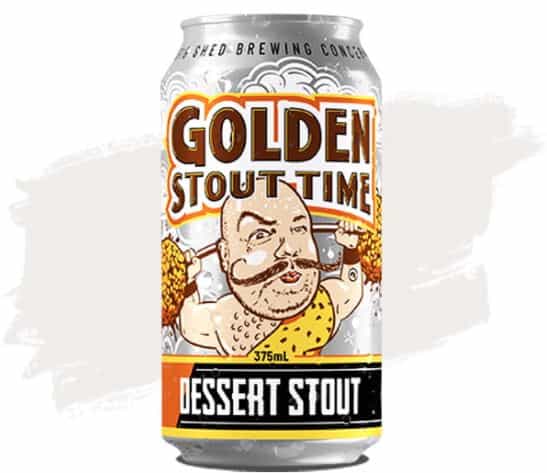 The two owners of Big Shed Brewing first started brewing in 2002 in a shed located on a rented property in Barossa. The shed was enormous; a typical farmer's shed with more than enough space for the brewing equipment, vehicles, the Scalextric track, hardware, tools, and anything else imaginable.
After everything came together, the owners were able to make their first batch of beer through the system in December 2013, with FrankenBROWN. Since then, they've expanded their core product line to include F-Yeah, Californicator, and Kol Schisel. Big Shed Brewery opened its tasting bar and kitchen in September 2014, with great success. With six taps and food that pairs well with their beer, everyone can enjoy a beer tasting at its finest.
Golden Stout Time is designed to bring back old memories, while also creating new ones. With notes of honeycomb and toffee and a little dose of hops, this rich beer will transport you back to your childhood summers spent eating Golden Gaytime ice cream. Even though it derives from a popular summer delicacy, it is best consumed in the middle of the winter.
 

Style: Australian golden stout

 

ABV: 5.4%

 

Aroma: honeycomb, toffee
Mikkeller Oregon Fruit Series: Flat White Sweet Cherry
Originally based on the so-called "cuckoo," "phantom," or "gypsy" mindset, Mikkeller was created in 2006 in Copenhagen, Denmark. The ethos implied that the company does not maintain an official brewery, instead, they collaborate with other brewers to make their recipes or experimental one-off beers.
Founded by a high school teacher named Mikkel Borg Bjergsø and a journalist called Kristian Klarup Keller, the goal of this company was to bring home-brewed beer to the public, daring to bring new tastes that followed the American unconventional way of brewing different alcoholic beverages.
The Flat White Sweet Cherry stout was brewed and canned by Mikkelle as a result of their collaboration with Oregon Fruit Products. The flavors of this white stout are incredibly unique and intense, pairing Ethiopian coffee with sweet cherries and lactose to create a creamy and flavor-packed stout.
 

Style: Danish pastry-flavored white stout

 

ABV: 7.5%

 

Aroma: coffee, sweet cherries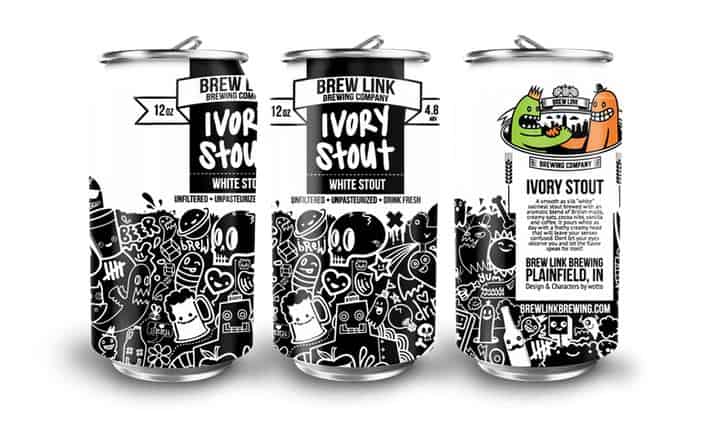 Oak Tree Golf Course is home to Brew Link Brewing, a small-town brewpub located on the course. They have 24 different beers on tap that you may match with a selection of freshly prepared foods from their restaurant menu. As a veteran-owned and operated business, Brew Link Brewing tries to provide the greatest quality beers, fresh handcrafted food, and exceptional customer service.
With an amazing flavor profile, the Ivory White Stout is an award-winning stout that has the appearance of blonde ale but has all of the flavors and aromas associated with dark ales. This beer is made even better by the addition of coffee, vanilla, and chocolate.
 

Style: American stout

 

ABV:  4.8%

 

Aroma: chocolate, coffee, vanilla.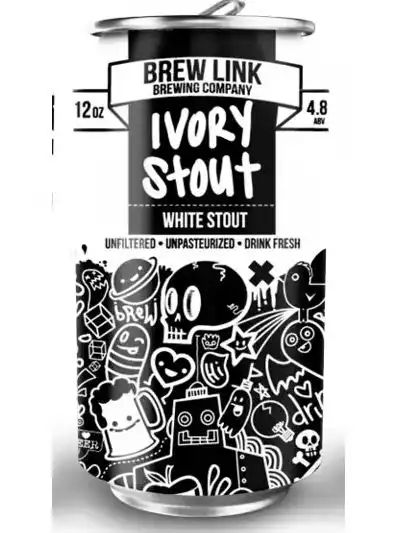 Brew Link Ivory "White" Stout | Drizly
This award winning white stout is a mind blowing ale that looks like a blonde ale yet has all of the flavors from a stout. Chocolate, vanilla and coffee along with oats are added through the brewing process allowing it to stand up to any stout around.
Check Price
We earn a commission if you make a purchase, at no additional cost to you.

Arizona Wilderness White Canyon Blonde Stout
Founded by Jonathan and Patrick, Arizona Wilderness is a brewery fueled by passion. Their passion for Arizona and its immense wilderness motivates them to create high-quality, elegantly brewed beers that highlight local agricultural ingredients and encourage the use of environmentally friendly practices.
With the addition of star anise, the finest Belize cacao nibs (Zak's Chocolate), and the Sunrise & Venetto blend (Superstition Coffee Co.), this brewer was able to achieve the full flavor profile of an imperial stout. Coffee and mild caramel flavors are prevalent in this blend, leaving a pleasant aftertaste but also a rich mouthful with every sip of this white stout.
 

Style: American stout

 

ABV: 6.7%

 

Aroma: light caramel, coffee
Brew Your Own White Stout Beer
While plenty of people enjoy having their cold beer served to them, others just love to be included in the brewing process. If your time, space, and resources don't allow you to set up a full-sized brewery, how about we show you some kits to make your own small-scale brewery at home?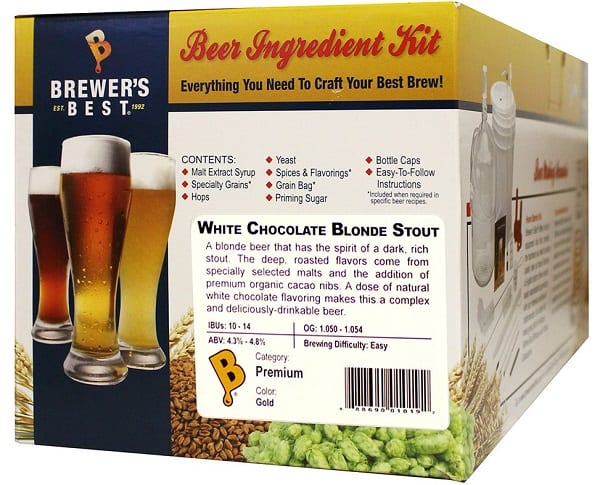 The first kit suggestion is packed with a set of instructions, as well as ingredients that include priming sugar, grain bad, spices, flavorings, yeast, hops, specialty grains, oat extract syrup, and bottle caps. While there are various kit options with different contents based on the type of brew you want to make, the option here will give you some white, blonde stout. The flavor profile is given by the organic cocoa nibs and the resulting beer will have an ABV of 4.3 to 4.8%.
Pros:
 

Multiple flavor kits to choose from.

 

Makes 5 gallons of white stout.

 

Uses organic cocoa nibs.
Cons:
 

Complaints about some kits being incomplete.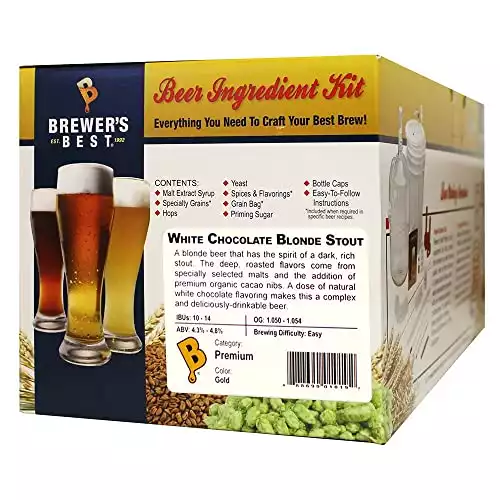 Brewer's Best White Chocolate Blonde Stout | Amazon
A blonde beer that has a spirit of a dark, rich stout. The deep-roasted flavors come from specially selected malts and the addition of premium organic cacao nibs.
Buy at Amazon
We earn a commission if you make a purchase, at no additional cost to you.
08/03/2023 10:35 am GMT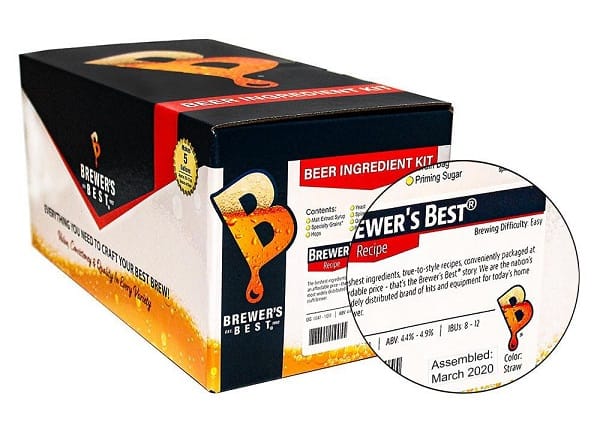 Another kit that we recommend from Brewer's Best contains everything needed to make Irish stout. The contents of the package are almost identical to the ones listed in the review above, but the end result is pretty different.
With this kit, you will be able to make a dark, roasty, creamy stout that's almost black in color, but features a medium body with a dry finish added by the roasted barley contents. Your resulting stout will have an ABV between 4.5 and 5%.
Pros:
 

Very easy to make.

 

Makes 5 gallons of stout.

 

Ideal for beginners.
Cons:
 

Some kits had missing contents on delivery.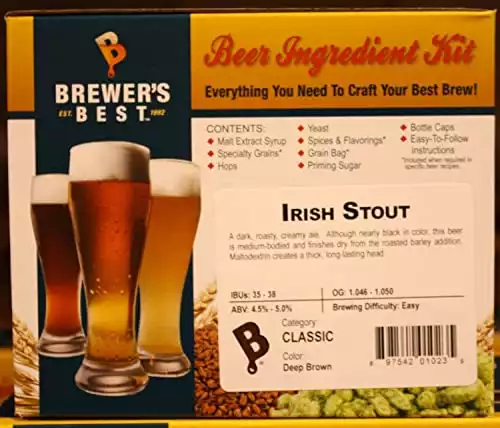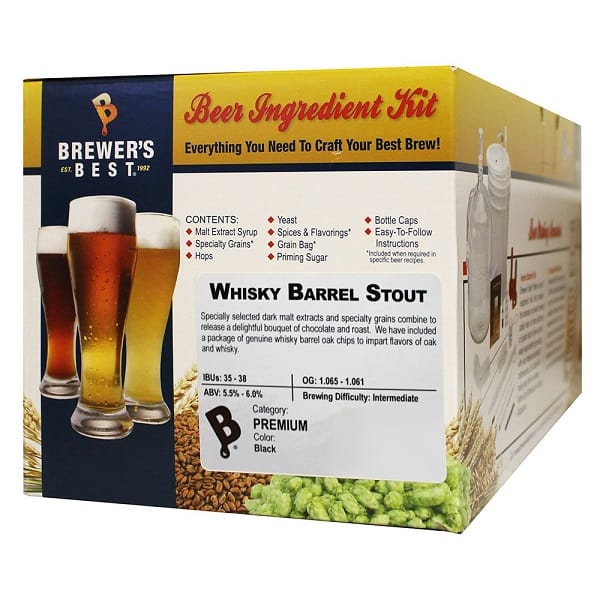 Our final suggestion is another kit from the same manufacturer as before, a great kit for beginners that are enthusiastic about making their own stout. This particular kit is designed to help you make whisky barrels stout using dark malt extract and specialty grains that result in a beverage with roasty chocolate flavors.
Aside from the usual contents of a Brewer's Best kit, this one also comes with a pack of whisky barrel oak chips that will impart these specific flavors you crave for. The resulting brew will have an ABV of 5.5 to 6%.
Pros:
 

Very detailed and good instructions.

  The r

ecipe is easy to modify as needed.

 

Makes 5 gallons of stout.
Cons:
 

Some more items are needed except for kit contents.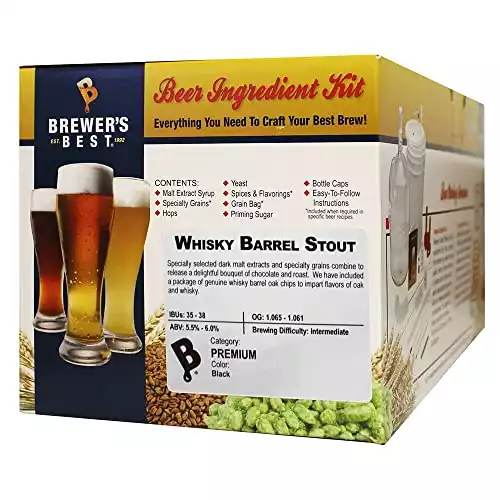 Brewers Best Whiskey Barrel Stout Beer Ingredient Kit | Amazon
Specially selected dark malts and specialty grains combine to release a delightful bouquet of chocolate and roast. This premium recipe all-malt ingredient kits are big in taste and bold in flavor, not for the weak of heart!
Buy at Amazon
We earn a commission if you make a purchase, at no additional cost to you.
08/03/2023 11:01 am GMT

FAQs
Question: What is a white stout beer?
Answer: In order to make a white stout, dark, roasted malts are removed from the grain bill and replaced with cold-steeped coffee, vanilla beans, or cacao nibs, among other ingredients.
Question: What do white stouts taste like?
Answer: The flavor of white stouts will depend on the ingredients used to make them. For instance, stouts made with cocoa nibs will have a chocolate-like flavor while milk stouts have a very sweet taste.
Question: Who makes white Stout?
Answer: Some of the brands that make good white stout include Noble Ale Works, Big Shed Brewery, and Mikkeller in collaboration with Oregon Fruit.
Question: Do white stouts have lactose?
Answer: Yes, but not all of them. Certain white stout recipes contain lactose, so make sure you read the ingredient list if you're concerned that a certain product might be made with lactose.
The Final Word On White Stoutsfa
It's very difficult to tell you which of these beers is best because each recipe has a different body and genuinely subjective flavors. Every one of the white stouts listed above is a winner in spite of the different flavors they embody. Feel free to check our website for more craft beer and home bar ideas!
| Product Image | Primary Rating / Price | Primary Button |
| --- | --- | --- |
| | | |
| | | |
| | | |
| | | |
08/03/2023 10:35 am GMT