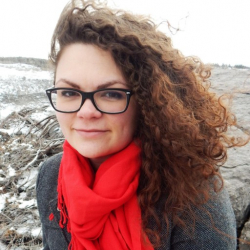 Latest posts by Candace Osmond
(see all)
Taking it back to the 18th century, Mississippi Mud Black & Tan Beer mimics the famous English style of beer that blends pale and dark beers to get this "black and tan" effect. Let's get on with our Mississippi Mud Beer Guide.
This is a slow-brewed combination of beers that features a robust English porter with a smooth, continental pilsner. Each of these flavors is delicately preserved by the other, so you get a classic taste of each within one single beer.
Blending these two beers was an American concept that helped develop this famous black and tan concept. This beer pours in dark amber with a huge white head of foam that will keep its retention for much longer than most other beers. Aromatics of chocolate malts, hops, spice, and yeast will fill your nose as you take sip after sip.
This is a dark pour beer with notes of roasted chocolate, mild hops with some bitterness, and a smooth after the finish. This beer was traditionally found in quart size only, but most recently, it has been distributed in 12-ounce cans, so you can take this beer with you anywhere to enjoy.
About the Brand
Mississippi Mud Black and Tan are brewed by Hornell Brewing Company, Inc. There is a partnership between brewing and distributing between Hornell Brewing Company and F.X. Matt Brewing Company out of Utica, New York.
Hornell Brewing Company was established in 1934 and had been selling a wide variety of beer for about eight decades. F.X. Matt Brewing Company is family-owned and started in 1888, making it one of the oldest family-owned breweries in the United States.
Their most popular line of beers is the Saranac line, which includes a variety of black and tan stouts, pale ales, IPAs, and a variety of lagers and seasonal white Belgian beers. They are also known to come out with beers of the week, featuring a brand-new beer with an interesting flavor profile every week or so.
F.X. Matt Brewing Company founded Saranac Brewing to help develop craft beers in the mid-1980s.
Helping the Community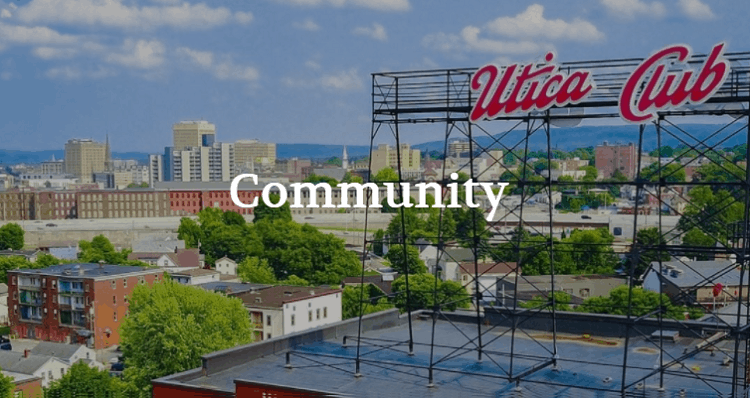 F.X. Matt Brewing Company, also known as Saranac Brewing, is very family and community-oriented, hosting community days every Thursday in order to support the individuals and families that have given the brewery so much success.
During the summer months, each Thursday, the brewery will host a party with a variety of beer, food, and music for neighboring communities to enjoy, as well as raising money for the local United Way. Throughout the year, the brewery hosts other beneficial events to help raise funds for several nonprofits throughout the area.
With several different subsidies under F.X. Brewing Company, such as Saranac, a long history of beer making makes surrounding communities proud of its legacy.
Mississippi Mud Black and Tan at a Glance
This dark amber is notorious for its thick, white, foamy head and aromatics of chocolate malt, hops with spice, and deep yeast notes. It's an amber beer that tastes like a roasted lager, blending some of the best beers into one single pour.
Alcohol Content: 5% ABV
Color: Dark Amber
Taste: Pilsner followed by the dark, rich porter. Bready, light, with some dark roasted malts and vanilla notes on the tongue.
Mouthfeel: Light and clear
Type: Pilsner and Porter blend
Where is Mississippi Mud Brewed?
Mississippi Mud Black & Tan is brewed at Hornell Brewing Company with partnerships with F.X. Matt Brewing Company in Utica, New York. The brewery is one of the oldest family-owned breweries in the United States that is known for its variety of beers in IPAs, craft beers, pale ales, lagers, and stouts.
Pros and Cons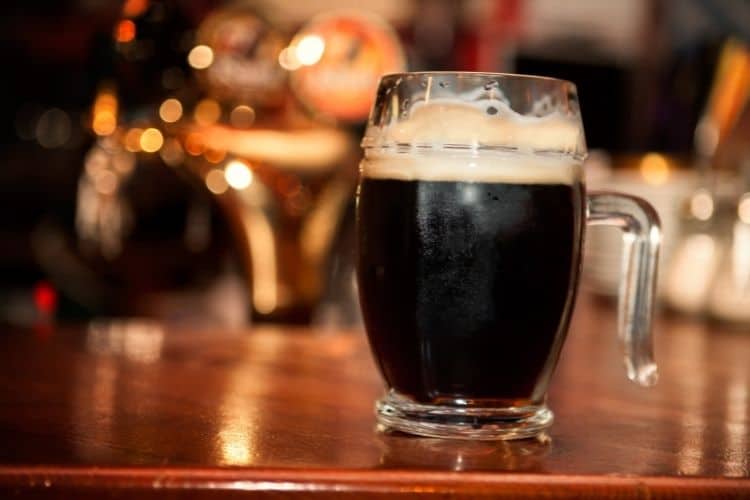 There is so much to love about Mississippi Mud Black & Tan, and here are some of the major standouts.
Pros
A blend of porter with pilsner

Light and crisp on the tongue

Easy to drink at a 5% ABV

Interesting blend

Has notes of roasted chocolate and malts

Good cold-weather beer
Cons
Might be too much foam for some

It may be a bit too bready for some

Warms up fast

Not everyone may like the taste of a pilsner mixed with a lager
Bottling and Packaging/Branding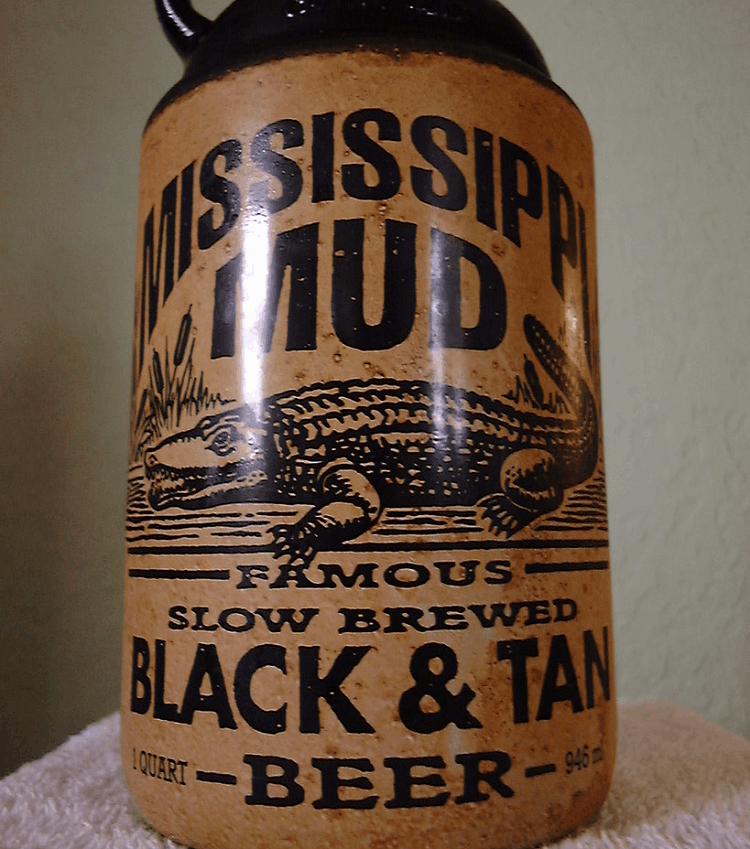 Mississippi Mud Black & Tan is packaged in a notorious liter bottle that looks like an old whiskey bottle, complete with a notch at the top to easily slip your thumb into for easier drinking. Until very recently, the brand came out with cans in order to make this beer easier to transport and enjoy anywhere.
The glass bottle has a raised label ingrained within the glass with their famous alligator logo with the words "Black & Tan Beer" emblazoned on the very front of it. It's an old brew beer that maintains that classic, old-fashioned look in their liter bottles.
The newer can version of this beer retains that old-fashioned feel with brown and cream labeling on an aluminum can instead of a giant glass bottle. The brand is known to have remained the same since it was first brewed in New York, so it is important to maintain that old-timey feel to their packaging, as well.
Ingredients
While the variations of notes and tones throughout this beer are exquisitely combined due to the combining of a pilsner and a porter, the basic ingredients of the Mississippi Mud Black & Tan remain simple:
Malted barley

Hops

Ale yeasts

Pilsner malt

Water

Yeast
All of these ingredients combined form the ever-popular black and tan color and taste, combining a traditional pilsner with an English porter.
Nutritional Information
Mississippi Mud Black & Tan is not overly high in fat, considering it is a blend of two richer beer types: a porter and pilsner. A 12-ounce pour will bring in 160 calories with 14 grams of carbs. There is not a significant amount of fat or saturated fats within this beer, which makes it a pretty good option to enjoy or indulge in.
While this beer may be pretty neutral on the calories, the carb intake may be an issue for those who are watching their carb numbers. Other than that, at a 5% ABV, this beer is pretty easy to drink and won't make you feel too lightheaded after one or two.
This is not a beer to drink all night long due to the strong aromatics and flavor, but it's a great beer to have on a cold autumn night or while you are hanging out with family during the holidays.
What Foods Does Mississippi Mud Black & Tan Go with?
Mississippi Mud Black & Tan is highly drinkable and definitely not too heavy, which makes it a great beer to pour with all types of foods. As this beer comes in with plenty of chocolate and coffee aromas, this beer would best be paired with heartier foods or brunch foods.
Anything from a warm stack of pecan pancakes to a hearty sausage and potato breakfast skillet would make this beer taste amazing, and vice versa. Since there are sweeter notes within this beer, brunch and breakfast foods would be the best types of food to pair it with, but that's not to say it wouldn't go well with heartier dinners, too.
This could also make a really great go-to holiday beer since it has a bit of sweetness brewed throughout the beer, making it reminiscent of the holidays. It could be a specialty beer that you only drink during certain occasions or holidays, making it that much more special.
How to Pour Mississippi Mud Black & Tan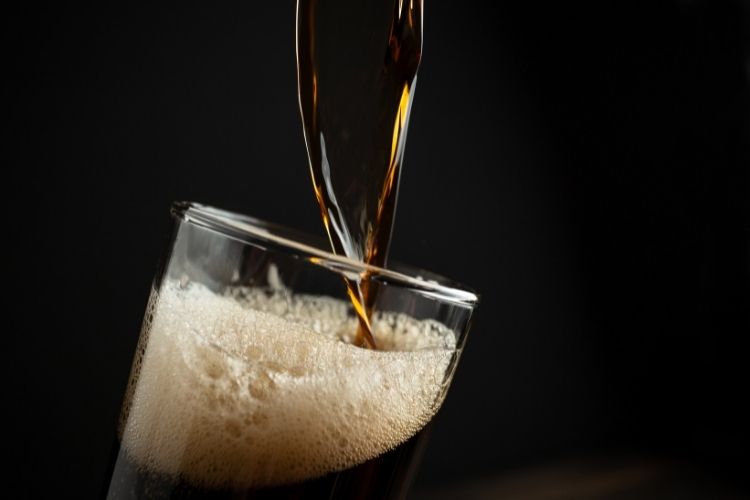 To fully appreciate the notes of roasted chocolate, coffee, and sweetness, Mississippi Mud Black & Tan should be poured in a way that will bring out all its natural flavors. The following steps will allow you to get the most out of your beer so you can catch all these aromatics in your nose and on your tongue.
Step One
Since this beer is a combination of a pilsner and a porter, you can pour your beer with the same delicacy as a porter to get all the chocolate notes. To do this, hold your glass at a 45-degree angle and stick the tip of the bottle into the glass. Always point your bottle toward the side of the glass so that it will easily flow down instead of mixing up too much and popping all the carbonation bubbles.
Step Two
Pour in your beer, focusing on hitting the wall of your glass, relatively quickly in a fast and easy stream. Allow the foam head to settle before pouring in the rest of your beer. Once your head is even, then you can start to pour again.
Step Three
You can then start to straighten out your glass when it's about two-thirds of the way and allow your foamy head to settle all the way. This part won't last long, maybe just a few minutes. Let the foam settle, and then you are free to enjoy your black and tan.
How is This Kind of Beer Made?
Mississippi Mud Black & Tan is a unique beer as it blends a porter with a pilsner, giving it that distinct color, smell, and taste. The colors of the respective beers will sometimes separate, and you can see the distinction between the porter color and the lager color all within one glass.
This beer combines a blend of ingredients such as malted barley, hops, ale yeasts, pilsner malts, noble hops, water, and more yeast. It is a blend of chocolate aromatics with coffee which makes this beer so great to breathe in as you go in for your first sip.
Similar Alternatives to Mississippi Mud Black & Tan
Saranac Brewing, a subsidy of F.X. Matt Brewing Company, has a variety of fine brews ranging from seasonal beers for fall and summer, IPAs, lagers, stouts, and different combinations of fruit and wheat beers. Here are just some of the favorites within this brewery you should try if you love Mississippi Mud Black & Tan.
Oktoberfest Lager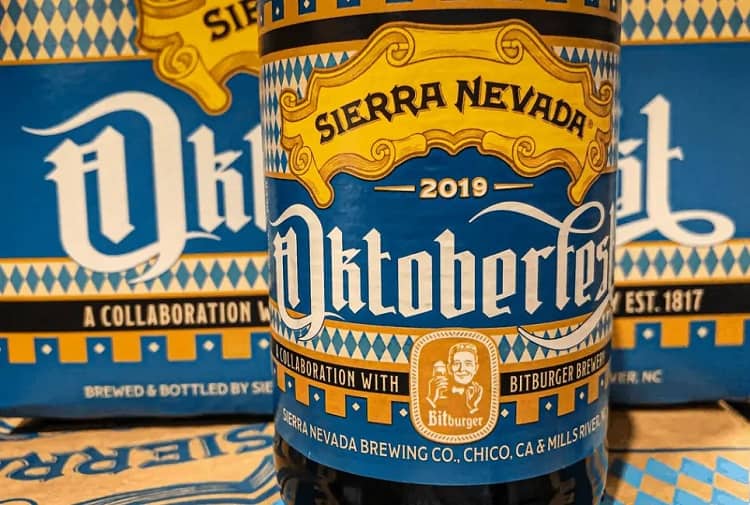 Oktoberfest Lager comes in at a 5.4% ABV and a 20 IBU. It's a blend of toasty, malty aromatics in an authentic German-style lager that has been passed down from generation to generation. It's supposed to be an authentic German brew reminiscent of the brews you'd find in Munich.
12 Beers of Oktoberfest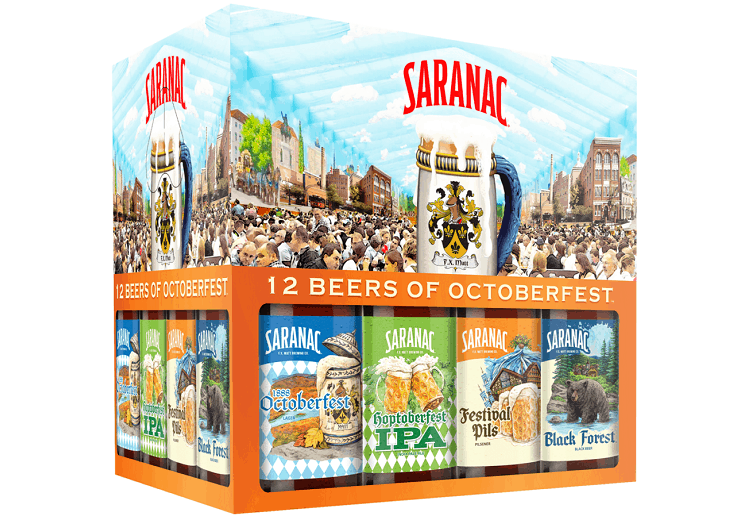 All perfectly compact in an easy-to-carry variety pack, this variety of seasonal fall beers includes Hoptoberfest IPA, Festival Pils, 1888 Octoberfest, and Black Forest.
Hoptoberfest IPA is a blend of German-inspired IPA, and U.S Bavarian hops to give you flavors of citrus, pine, spice, and maltiness. Festival Pils is an easy-to-drink pilsner, 1888 Oktoberfest is a German-style lager, and Black Forest is a German-style Schwarzbier.
Pumpkin Ale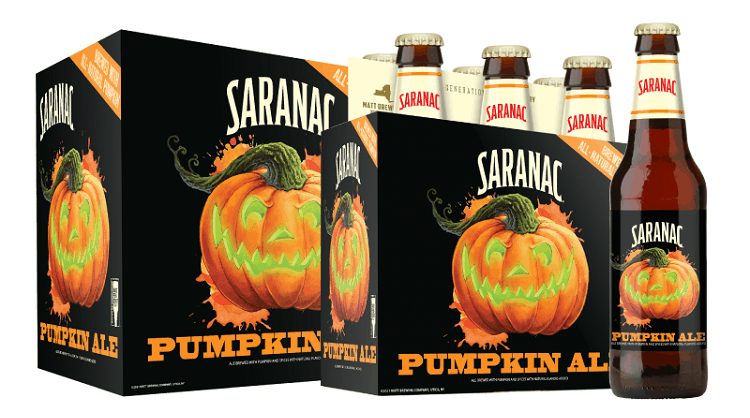 There is nothing better about the changing of the season than all these pumpkin flavors starting to spark up. This pumpkin ale uses real pumpkins from a sustainable farm on Stahlbush Island to deliver 3,000 pounds of pumpkins to the brewery. The pumpkins are then brewed with cinnamon, allspice, cloves, and ginger to get you the most authentic pumpkin ale you can drink.
L'il Hazy Ale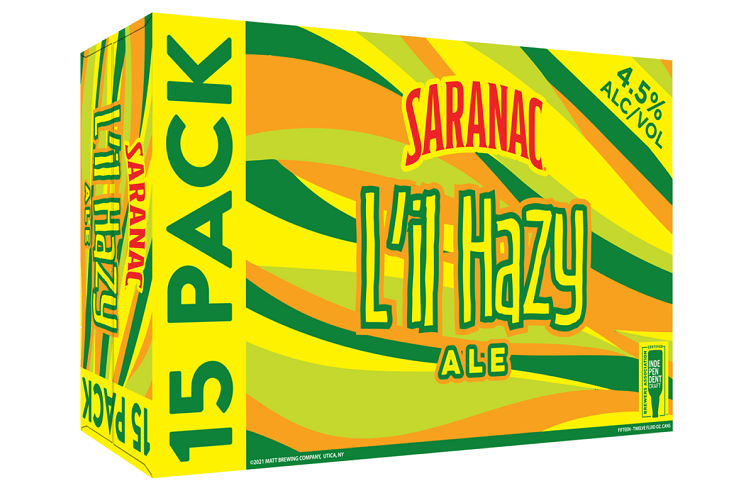 If you prefer lighter beers to enjoy in the summer or the hotter months, look no further than L'il Hazy Ale which brings in a full-flavored and smooth IPA. This is a full flavor beer with low calories, so it's great even for those who are a bit more health-conscious. It has a 4.5% ABV and 33 IBU.
Blueberry Blonde Ale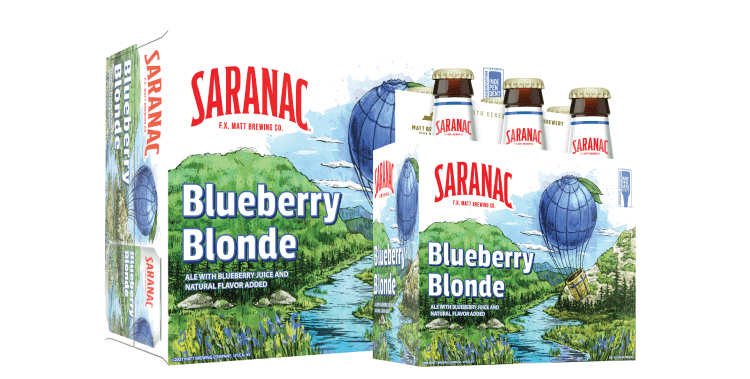 What's not to love with a blonde ale and plenty of blueberries? This traditional blonde ale is made with real blueberry juice. It has an ABV of 5% and 18 IBU, which makes this ale a super easy pour to drink at home, on the beach, or on the porch in the middle of a summer's hot day.
12 Beers of Summer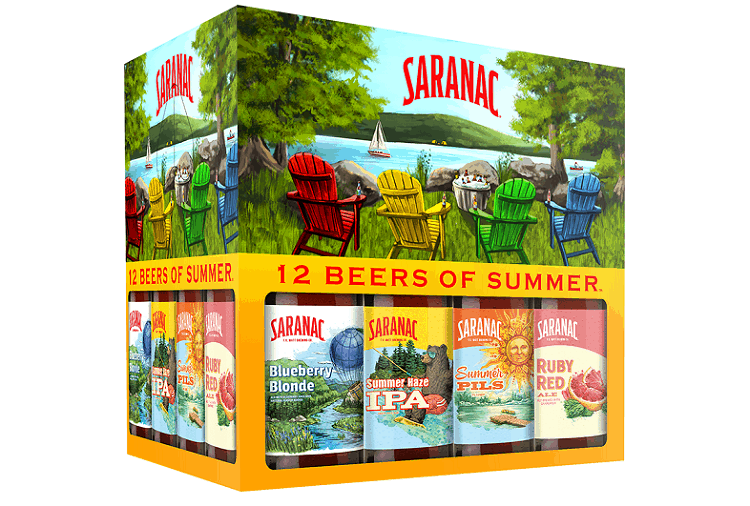 If you are someone who is a fan of variety packs because you want to try out all the seasonal flavors, then this summer pack is ideal for the hotter months.
This variety pack includes Summer Haze IPA, which is an unfiltered IPA with citrus and tropical notes, Blueberry Blonde Ale, Summer Pils, which is a crisp and refreshing pilsner, and a Ruby Red Ale, which is citrusy, fruity, and refreshing as a wheat ale.
Clouded Dream IPA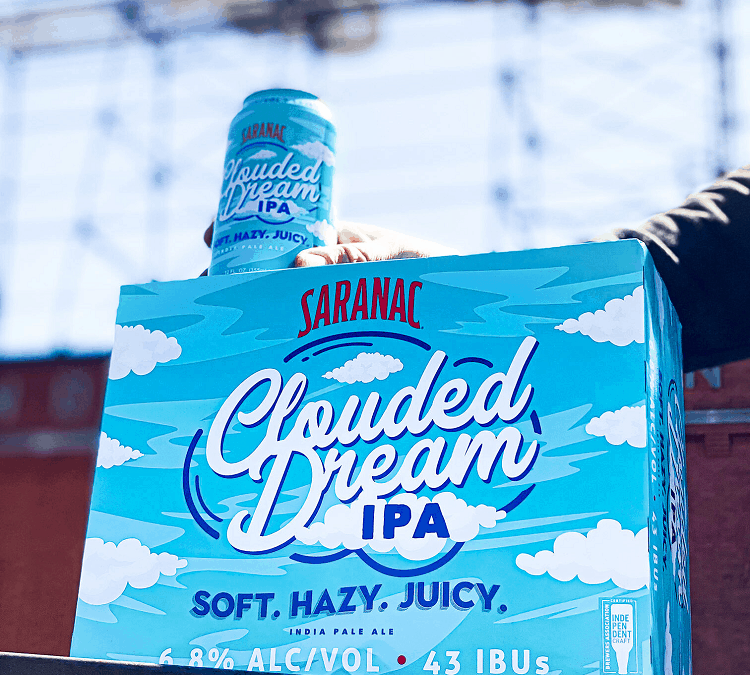 In Hazy IPA style, Clouded Dream IPA is a higher fruity hoppy beer that uses special fruity ale yeast to make a beer that is softer and more drinkable. This beer is ideal for IPA drinkers and people who may not love IPAs but still want to try one.
Adirondack Lager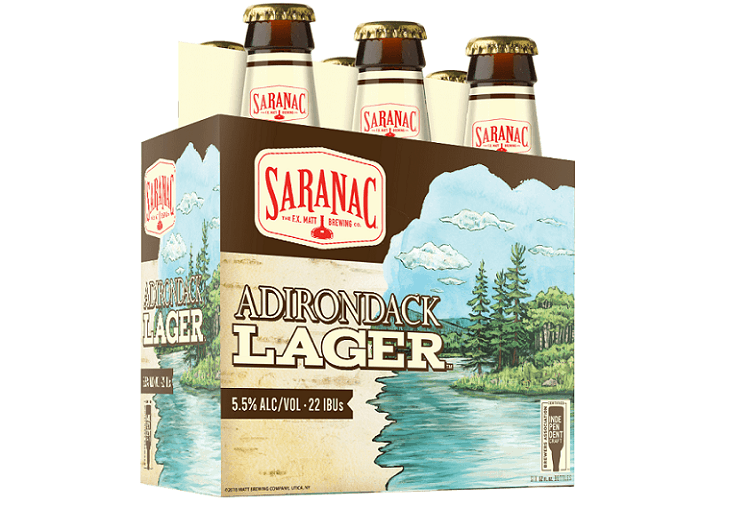 Adirondack Lager is actually the first-ever Saranac beer that has quickly grown to be a favorite among local and nationwide consumers. It won gold at the GABF in 1991 for its taste and unique aromatics. This lager is a 5.5% ABV and has a 20 IBU, which makes it a bold choice, but a great choice.
FAQs
Question: How do you get Mississippi Mud Black & Tan?
Answer: You should be able to find this brew at any of your local liquor stores, but if you can't find it, there is a beer search within the Saranac website that can direct you to where to find it closest to you.
Question: Is Mississippi Mud Black & Tan a dark beer?
Answer: Yes. Since Mississippi Mud is a blend of a porter and a pilsner, the porter color is what makes it a dark amber-colored beer. It is a darker beer, but the pilsner helps lighten it up on the tongue, so it is easier to drink.
Question: What Alcohol Percentage is Mississippi Mud Black & Tan?
This beer comes in at a 5% ABV, which makes it an easy beer to drink.
The Verdict
Whether you decide to make Mississippi Mud Black & Tan your new favorites and a refrigerator staple, or you want to make this a special occasion, cold weather, or holiday beer, once you taste it, you are going to want to keep it within your favorite beers' rotation.
It's such an interesting blend and comes with so many rich aromatics that you will never tire of the countless aromas and flavors swirling within this beer. It's a great cold-weather beer due to the amount of coffee and chocolate aromatics within it, but you can also enjoy this beer pretty much any time of the year.
A dark, creamy porter cut with a sharp pilsner makes for a refreshing beer that lays light on the tongue with plenty of carbonation and aromatics. Whether you prefer the jug or the can, you will get the same kinds of flavors from this interesting pour of dark roasted chocolate, malts, and plenty of hops.
For more awesome, unbiased reviews of the best brews, check out our guide to Voodoo Ranger Juicy Haze IPA!