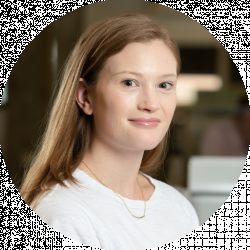 Latest posts by Lauren Staehle
(see all)
Whether you're on the hunt for a new patio pounder or just perusing the beer aisle for something new, Blue Moon Mango Wheat is a refreshing beer bursting with summer flavor.
This award-winning fruit beer first launched in 2016 at Blue Moon Brewing Company's Denver outpost, and took home the silver medal for Best Fruit Wheat Beer at the Great American Beer Festival. It's now available year-round in 6-packs and in Blue Moon's share packs. In this Blue Moon Mango Wheat review, I'll discuss what set this beer apart from its competitors, and how it skyrocketed in popularity. 
The Ingredients
The light fruity beer contains water, barley malt, wheat, mango, yeast, hops, honey and other natural flavors. Barley Malt gets top billing on the grain list for all of Blue Moon's products, while the true signature flavor and texture is derived from the wheat.
Wheat provides a full body and luscious mouthfeel, and also contributes to the hazy color of the beer. The subtle use of hops lends to a lighter, more refreshing flavor, but preserves the classic foam head.
Of course, the Mango Wheat wouldn't be complete without a sugary kick from real mango and honey, which creates a sweeter ripe mango flavor that the classic, citrus-heavy Blue Moon doesn't have.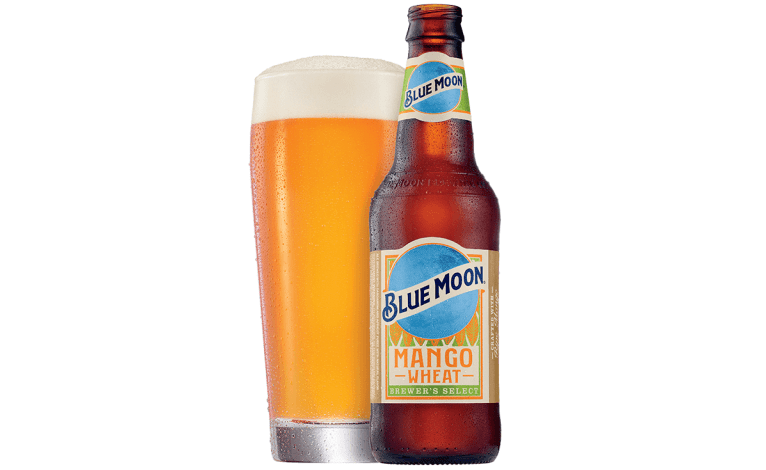 Pros and Cons
Pros
Refreshing and appealing to a wide audience

Nice balance of flavor and bitterness

On the lighter end of the wheat beer spectrum

Pairs nicely with a wide variety of foods

Widely available in most states

5.4% ABV for easy drinking

 
Cons
Sweetness might be overpowering to some beer fans

Pricing tends to be more in line with "craft" beer, but without much of the same artistry and uniqueness

 
Pairing Suggestions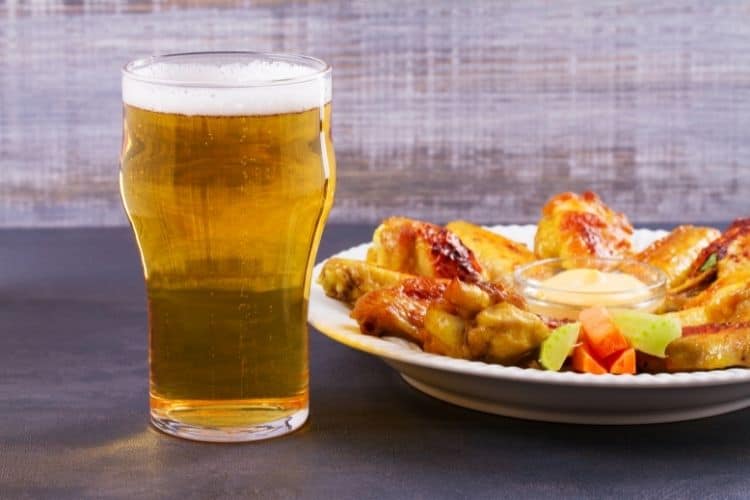 As one might expect, the Blue Moon Mango Wheat pairs nicely with many classic summer flavors. It's a great complement to grilled chicken or shrimp, but may be too sweet for heavily charred items or red meat. Fish tacos, pork tenderloin or a spicy coconut curry would also be lovely pairings for this beer.
Naturally, fresh ripe Mango will draw out the tropical fruit notes of the beer, and a mango salsa would be an excellent way to balance out the drink's sweetness with a bit of heat. You might also try sprinkling some salt and chili powder over fresh mango slices for a poolside treat!
Some beer fans may also be surprised to learn that Blue Moon recommends some dessert pairings with this Mango Wheat. In particular, they suggest french vanilla ice cream, which will certainly accentuate the malty richness of the beer and the sweet honey notes.
If you're all in this combination, try a beer float with a scoop of vanilla ice cream and some mango puree on top!
Where Can you Purchase Blue Moon Mango Wheat
Fortunately for fans of the Mango Wheat, this once seasonal beer is now available year-round and in both stand-alone and mixed packages.
While you're still likely to come across the classic Blue Moon before this tropical version, it's widely available in grocery stores like Safeway, Giant, and Harris Teeter as well as in local liquor stores and Total Wines around the United States.
Target is also a large supplier of Blue Moon products with over 1,200 of Target's 1,800 US stores now able to carry alcohol.
Blue Moon also partners with several online alcohol delivery services, such as Drizly, which offer convenient on-demand shopping services. In addition to Drizly you can often find Blue Moon Mango Wheat on Minibar, Instacart and Saucey.
For those looking to enjoy a beer out on the town, Blue Moon Mango Wheat can be found in bars and restaurants around the country. You can often find this summery beer on rotating tap lists, thought many bars will carry it only as a seasonal offering.
Blue Moon has become so popular its reach has expanded to 25 countries, including Canada and several European countries. If you are visiting our Canadian neighbors though, be sure to say Belgian Moon instead of Blue Moon.
The beer launched in Canada in 2015, but did so under the name Belgian Moon in order to differentiate itself from Labatt Blue beer, which is a popular Canadian lager. This company trademarked the "Blue Moon" name before Coors, owners of Blue Moon, were able to snag the phrase.
Blue Moon's History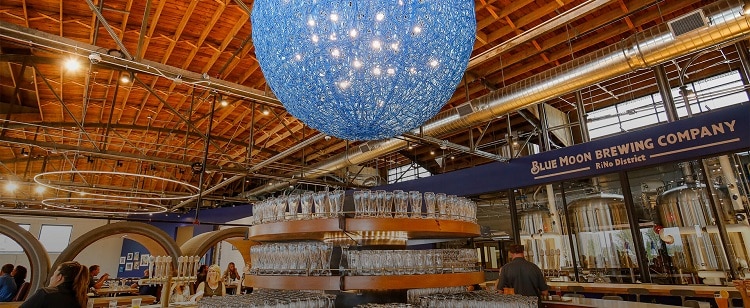 Brewmaster Keith Villa began his beer-making journey as many people do – with a passion for drinking and home brewing. He began his attempt at making beer in his own dorm room at the University of Colorado in 1983, fueled by his knowledge and studies of science.
Although he intended on pursuing a career as a pediatrician, a flyer from Coors Brewing inspired him to work as a fermentation researcher with the beer giant.
Blue Moon came about in 1995 out of a love for Belgian style wheat ales, which he acquired at the University of Brussels while earning his Ph.D. in brewing.
Villa returned to the U.S. to work at the Sandlot Brewery at Coors Field in Denver, Colorado, and this is where he experimented with this unique, citrus-packed brew.
The beer was originally called "Bellyside Wit," mimicking the class Belgian Wit name. However, there were distinct differences in style that came from Villa's attempt to adapt the beer to the American market.
In particular, he incorporated more sweetness and the iconic Valencia orange to balance the wit's sharp tartness.
With Coors backing his experiment, there was tremendous pressure on Villa to produce a unique brew suited to the American palate.
And yet, the beer was an almost instant failure when it first launched. Customers were put off by the beer's cloudiness and were overall just unwilling to accept this new Belgian style of brewing.
The saving grace? A bright, juicy orange peel. That's right, Coors attempted to boost sales by asking bartenders to serve the brew with an orange slice. The orange was also incorporated into all advertisements and marketing efforts, and slowly but surely the product gained traction.
Soon beer drinkers everywhere were getting excited about this refreshing new style of beer, and Blue Moon is now among the top selling brews in the United States with a goal of $1 billion in yearly revenue by 2023.
Coors even opened its very own Blue Moon brewery in Denver's RiNo Point where the brand experiments with new flavors and products just like the Mango Wheat!
What is a Belgian ale?
In order to understand Blue Moon's origin story, it's important to acknowledge the tradition of Belgian brewing and the style of beer that inspired Villa to create his own version.
Witbiers or "White Beers" date back to 14th century Belgium, and are characterized by their large proportion of wheat compared to barley. The addition of spices like coriander and lemon peel are quite traditional and offer a unique flavor to balance the beer's refreshing tartness.
The high levels of wheat also contribute to the signature cloudiness of the beer, though it retains a pale color. These beers are typically lower in alcohol and light despite the full mouthfeel. They have become synonymous with summer because of their thirst-quenching freshness and bright flavor!
The Controversy
Both lifelong beer fans and new adopters will likely be familiar with the term "craft beer." It's a widely used, yet virtually unregulated, term that's meant to identify small, independently owned breweries.
The Brewer's Association, a community of over 5,400 craft brewers, has even noted that a brewery must produce less than 6 million barrels of beer a year in order to be considered "craft."
Based on this definition, it's already difficult to understand why Blue Moon Brewing Co totes the label "craft beer" when it's owned by industry giant MillerCoors, which produced a whopping 137 million barrels in 2019 after its merger with Anheuser-Busch.
But then there are other, more subjective ways to argue why Blue Moon is not a craft beer. Many aficionados call Blue Moon an entry-level beer that offers little in the way of complexity and uniqueness, while some argue that it simply lacks flavor.
Another important element to this controversy is the classification of Blue Moon as a Belgian-style Wheat Ale. Since Blue Moon is of course not produced in Belgium, the confusion around its branding has led to lawsuits and other trademark disputes.
Then there's the fact that the beer itself does not follow all the traditions of a Belgian Wheat beer. Villa took many liberties in Americanizing the palate and adding his signature Valencia orange peel for sweetness.
The Mango beer version is also a great example of a very untraditional take on this centuries-old style of brewing.
Ultimately, Blue Moon's craft beer lawsuits and trademark disputes were thrown out, but there are still many beer lovers and industry experts who worry about the impact of big companies labeling themselves as "craft."
If you're someone who is passionate about supporting small businesses, then you may opt to stay away from Blue Moon. But if you simply want to enjoy a refreshing brew on a warm day, then sip away!
Other Options from Blue Moon
Blue Moon Belgian White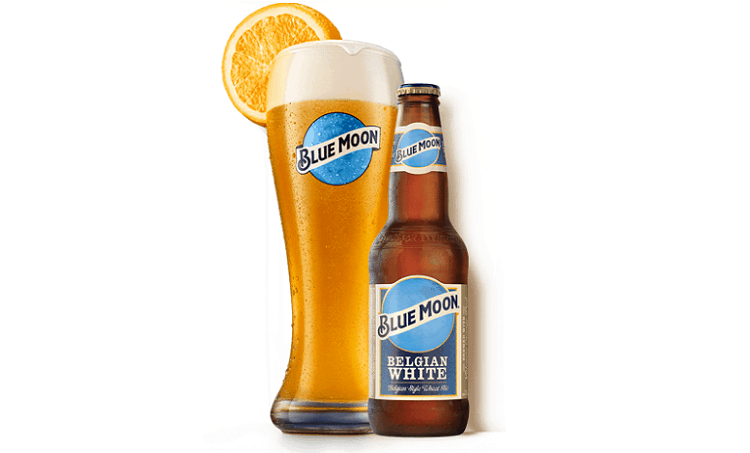 If you really want to understand what the Blue Moon brand is all about, then it's best to start with the classic. Blue Moon's Belgian White is readily available at grocery stores, convenience stores, and liquor stores across the country, and will offer a more classic wheat beer flavor than the mango version.
The Belgian White is brewed with the brand's signature Valencia orange, and will provide a much more powerful citrus kick. It's subtly sweet, but a bit less fruity than the Mango Wheat. The classic Blue Moon is also a better bet for food pairings, as it will go with anything from burgers to pizza to grilled fish.
Blue Moon LightSky Citrus Wheat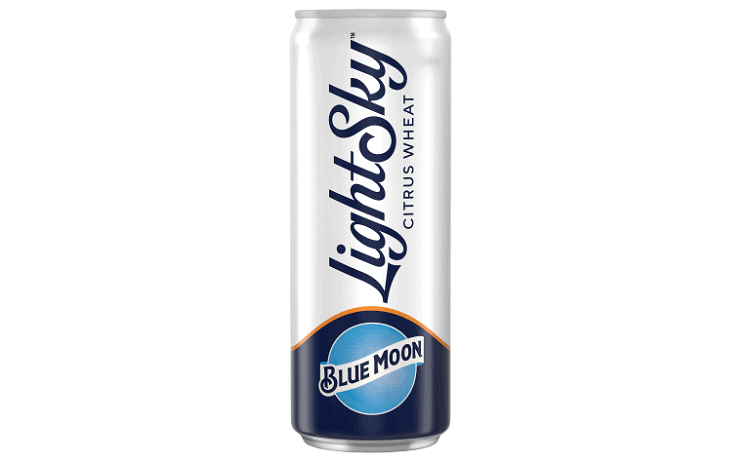 As evidenced by the seltzer trend that's sweeping the nation, it seems that everyone is looking for refreshing drinks with a lighter take these days. Blue Moon's answer is a light version of the classic Wheat Ale, brewed with tangerine instead of the punchier Valencia orange.
The LightSky clocks in at only 95 calories and 4.0% ABV, making it a great option for hot summer days or evenings on the beach. Fans of the traditional Belgian Wheat flavor will likely be disappointed though, as the LightSky offers a more muted flavor profile and almost watered-down consistency.
Blue Moon Iced Coffee Blonde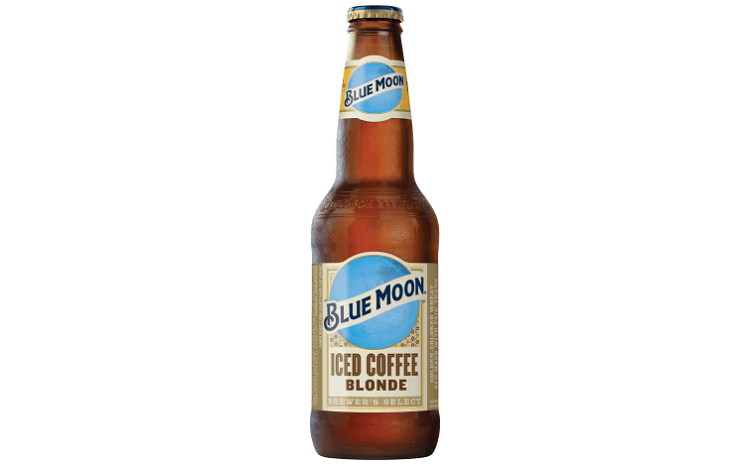 Talk about breaking from tradition, Blue Moon's latest seasonal release is an unlikely combination of beer and coffee that attempts to maintain at least some of the classic wheat beer flavor.
As with the recent craze around blonde-roast coffee, this version is a lighter take on the coffee flavor, meaning fans of heavy coffee stouts or other rich brews will be left with something to be desired.
You'll certainly get some light coffee aromas right off the bat, followed by a subtle maltiness and a hint of honey. The pale golden color is reminiscent of the classic Blue Moon, while a lingering, spicy sweetness certainly sets this coffee brew apart.
Blue Moon Honey Daze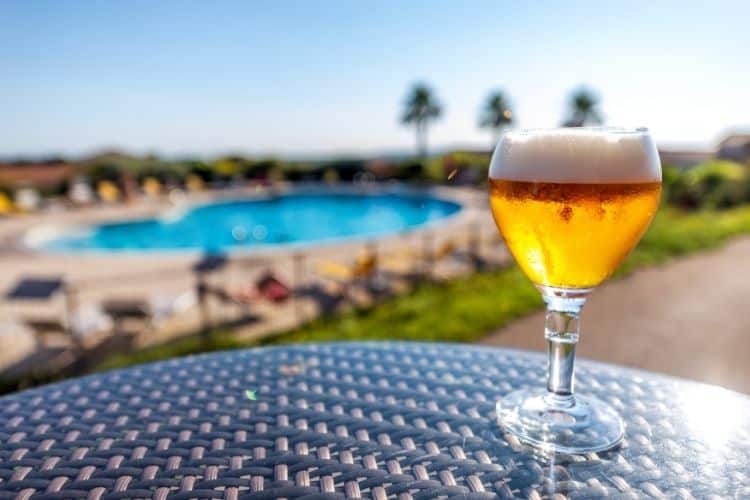 The Blue Moon Honey Daze is all about embracing the sweet life of summer, and similar to the LightSky, it strives to be a more crushable version of the classic Blue Moon. The Honey Daze clocks in at 114 calories and 3.9% ABV, and also offers slightly more flavor and sweetness than the LightSky.
You'll note a distinct honey flavor on the palate with a lingering flavor of clove and other warm spices.
The true distinguisher of this beer is the dark golden color and medium bodied mouthfeel, which surprisingly doesn't detract from its overall bright freshness. If you're looking to switch things up, the Honey Daze is certainly a refreshing choice on a hot summer day!
Blue Moon Harvest Pumpkin Wheat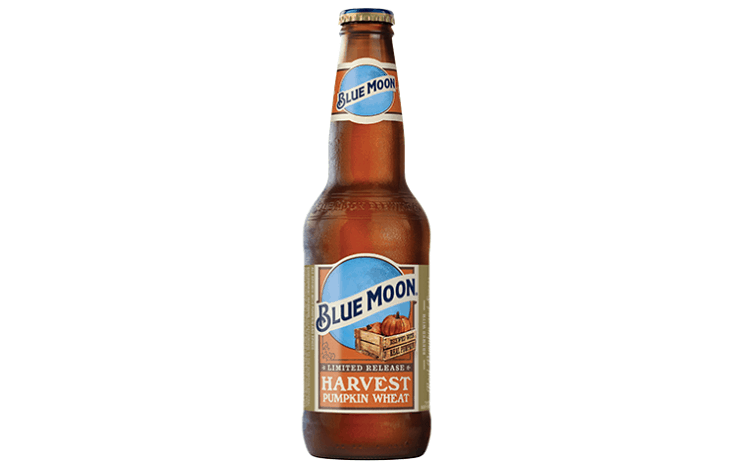 As the weather starts to cool, it's inevitable that you'll find the shelves stocked with pumpkin flavored beer, and Blue Moon was quick to hop on the bandwagon.
Their Harvest Pumpkin Wheat is definitely packed with pumpkin flavor, thought many find that it lacks the complexity and spice of other options on the market.
A deep amber color promises to pack a punch, and aromas of clove, cinnamon, vanilla and bread dough are enticing.
A malty, clean finish is characteristic of many Blue Moon brews, though it does seem to wash away some of that spicy goodness. But if you're in the mood for a simple, fall refresher, it's sure to hit the spot!
FAQs
Question: Is Blue Moon Mango Wheat seasonal?
Answer: Blue Moon Mango Wheat is now available year-round!
Question: What Does Blue Moon Mango Wheat taste like?
Answer: Fans of Blue Moon's traditional Belgian White wheat beer will find the same bright, citrus notes in this tropical version, with an equally supple and refreshing finish.
Its uniqueness comes from a distinct biscuity sweetness with aromas of ripe mango and malt. You might even detect a hint of honey that lingers on the palate between sips.
Question: What's the Alcohol Content in Blue Moon Mango Wheat?
Answer: Blue Moon Mango Wheat contains 5.4% ABV.
Question: Is Blue Moon a Wheat Beer?
Answer: Yes, Blue Moon and Blue Moon Mango Wheat contain wheat as one of the main ingredients.
Conclusion
Blue Moon may carry more history and controversy on its shoulders than other brand name brews, but it's undeniable that the beer has made an impact on the industry.
From college parties to retirement celebrations, you can pretty much find Blue Moon anywhere you go, and its approachability is what really makes this beer worth drinking.
The Blue Moon Mango Wheat is simply a fun, bright and easy-drinking beverage that encompasses summer in a bottle.
Those looking for complexity and depth may not find it here, but ultimately, Blue Moon has achieved their goal of creating a fruity take on their popular wheat beer. It's a lightly sweet fruity beer with well-balanced flavor that's very easy to drink. So grab a case to bring to your next party, because in the end, this beer is best when shared with loved ones.