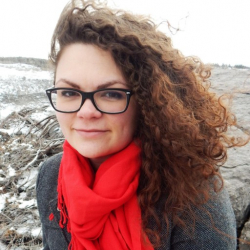 Latest posts by Candace Osmond
(see all)
If you are someone who loves the taste of a dark, creamy stout then a Kentucky Brunch Brand Stout just might be your next favorite stout beer. Aged in a barrel to perfection, Kentucky Brunch Brand Stout takes its time to mature in order to develop the lingering notes of mocha, espresso, and maple syrup on the tongue. Continue reading our Kentucky Brunch Brand Stout beer review to find out everything you need to know about this beer.
After just one sip, you will see why this is branded a brunch stout, as the sweet notes of maple candy and dark chocolate sweeps the palate. This is the type of stout that you crave on a cool November morning when you're hanging out with friends for a brunch meetup.
About the Brand
Kentucky Brunch Brand Stout was born out of Toppling Goliath Brewing Company in Iowa. The company was founded in 2009 by Clark and Barbara Lewey and the brewery is best known for their IPA beers which have become world-renowned and their barrel-aged stouts, just like the Kentucky Brunch Brand Stout.
Toppling Goliath Brewing Company has raked in several awards for their interesting flavors and bold blends, such as securing the spot in second place as best brewery in the world by Beer Advocate. The Kentucky Brunch Brand Stout won the title of number one beer in the world since 2015.
The company Toppling Goliath not only specializes in high-quality stouts, but they have a myriad of IPA's, limited-release beers, flagship brews, rotational beers, and collaborations. They specialize in canned beers, bottled beer, and flavorful pours within their taproom.
Helping the Community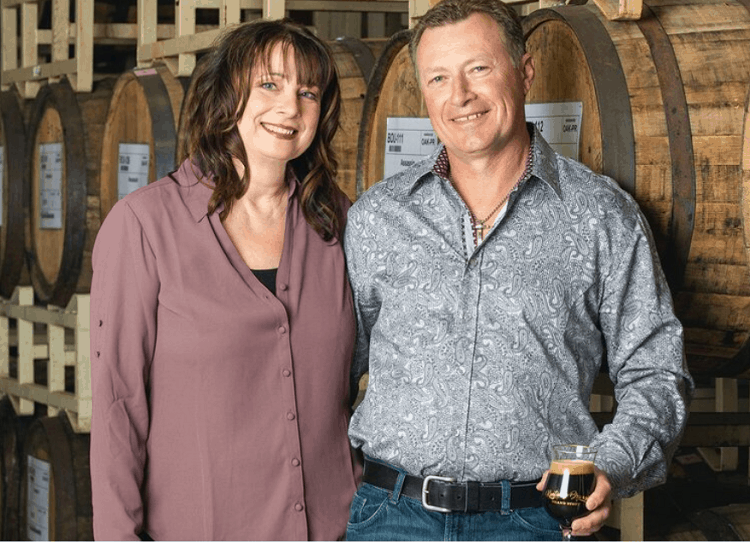 Aside from award-winning beers, Toppling Goliath Brewing Company has been in the spotlight for spectacular community endeavors.
They have hosted an annual fundraising gala for the Winneshiek County Fire Department each year, on top of being a member of Seed Savers Exchange, a program that aims to conserve and promote America's culturally diverse garden and food crop heritage.
They created the collaborates beer Valkyrie Strike to celebrate the Vesterheim Museum's history of tattoos exhibit promoting Norwegian American heritage. Toppling Goliath team members help annually at the Holiday Lights exhibit to help raise funds for the Helping Services for Youth & Families program in northeast Iowa.
To promote water conservation, the brewery joined the Upper Iowa River Alliance with Lua Brewing Company and Big Grove Brewing Company to promote watershed needs within the community.
They also donate to the Decorah Community Food Pantry each year, and most recently became a partner of the Project First Responder program.
It's always great to know that the brand of beer that you choose is also doing great things for the community they serve, so Toppling Goliath Brewing Company has plenty to provide their community.
Kentucky Brunch Brand Stout at a Glance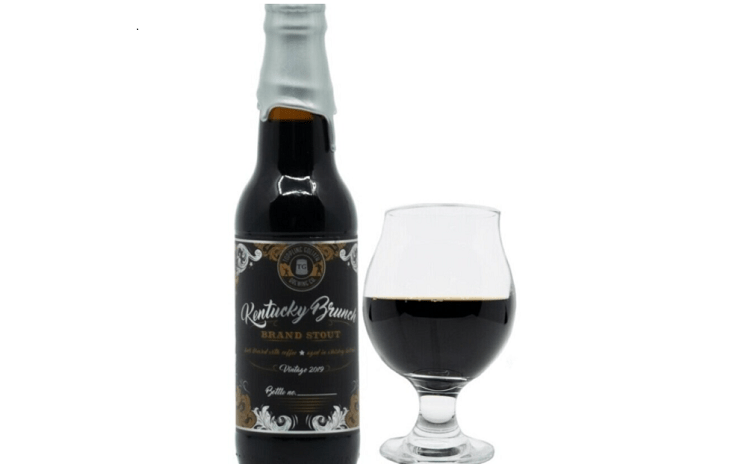 Unlike lighter, white stout beers, this one is dark and flavorful. If this stout's thick, foamy head and warm mouthfeel doesn't sound inviting, then maybe some of these general specs will.
Alcohol Content: 12% ABV
Color: Dark Brown
Taste: Hints of chocolate with maple syrup and espresso with bourbon.
Mouthfeel: Thick, soft
Type: American Imperial Stout
Where is Kentucky Brunch Brand Stout Brewed?
Kentucky Brunch Brand Stout is brewed in Decorah, Iowa out of Toppling Goliath Brewing Company. Along with the award-winning stout, Toppling Goliath Brewing Company is known for their equally popular beers: KBBS, Mornin' Delight, Assassin, Vanilla Bean Assassin and King Sue IPA.
Pros and Cons
There is so much to love about Kentucky Brunch Brand Stout, and here are some of the major standouts.
Pros
Strong, thick mouthfeel
Maple syrup and bourbon aroma
A hardy stout at 12% ABV
Pairs well with desserts or rich, decadent foods
Perfect to enjoy after a large breakfast
Colder weather stout
Cons
May be too thick for some
A bit strong
Can fill you up
Tends to warm down quickly
Bottling and Packaging/Branding
Kentucky Brunch Brand Stout comes to you in a thick, dark brown bottle sealed with a strategically placed wax melt in silver. The dark color of the bottle helps preserve the rich, dark chocolate and maple flavors so that while in transit, none of the flavors are depleted by the sun.
A bold level in silver and brown announces the bottle with intricate designs in swirls and vintage lettering. The bourbon drenched flavor within this beer makes this a suitable beer to have on chilly mornings in the fall and it is an ideal beer to pair with all types of brunch foods.
The wax seal to this bottle makes this an even bigger standout, as it is usually only the top tier, interesting brews that warrant such an extra, intricate bottling step.
Since this stout is aged so long in bourbon casks, the brand wanted to make sure that there were extra standouts to the packaging to highlight the product as interesting as the stout itself.
Ingredients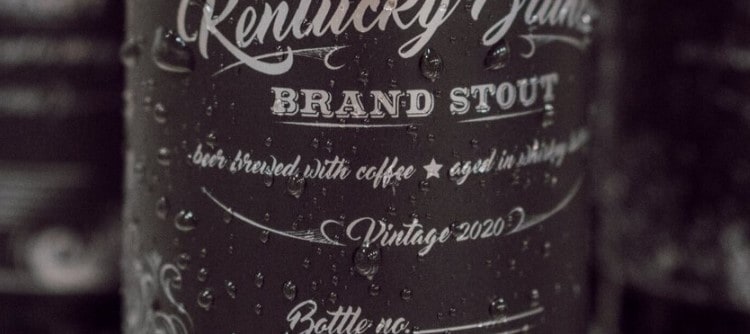 While the variations of notes and tones throughout this beer are exquisitely combined, the basic ingredients of the Kentucky Brunch Brand Stout remain simple:
The flavors infused within this stout include mocha, espresso and maple syrup aromatics and bourbon maple candy with a chocolate finish.
Nutritional Information
While most stouts are a heavier, more indulgent beer due to the amount of barley and hops that are brewed into it, Toppling Goliath's Kentucky Brunch Brand Stout can be a bit heavier of a pour. A 16-ounce pour will come in at 300 calories, 50 grams of carbs and 9 grams of fat.
While this may not be your everyday sipping beer, the care and consideration that has gone into the exquisite brewing of Kentucky Brunch Brand Stout makes this beer a stout to be savored and sipped delicately.
The higher calories and carb amounts found within stouts may be a bit off putting for those diet consciouses, but kind of like a really good piece of pie, it's perfectly fine to enjoy in moderation. Plus, once you taste how great all these aromatics blend together, you will gladly skip the pie for a long pour of this stout.
What Foods Pair with Kentucky Brunch Brand Stout?
Since Kentucky Brunch Brand Stout is a thicker, heavier beer, it's good to pair it with foods that will only complement the flavors and won't fill you up too quickly or make you feel overfull and uncomfortable. Perfect foods to pair with this stout include delicate roasted foods, smoked foods, richer foods like stews and thick soups and, of course, desserts.
Roasted Meats
Smoked Meats
Soups
Stews
Cheeses
Since there is so much mocha and maples infusions within this stout, it makes an ideal brunch stout to pair along with pancakes, waffles, scrambled eggs and bacon, maple infused sausages and even oatmeal or grits.
Pancakes
Eggs and bacon
Maple flavors
Oatmeal
While it may seem like too much food would be too much to pair with a thicker, sweeter stout, it's meant to be sipped in companion with these types of foods to get the full mouthfeel and aromatic experiences. So, you don't want to overindulge in too much food when sipping this stout as you could become very full very fast.
How to Pour Kentucky Brunch Brand Stout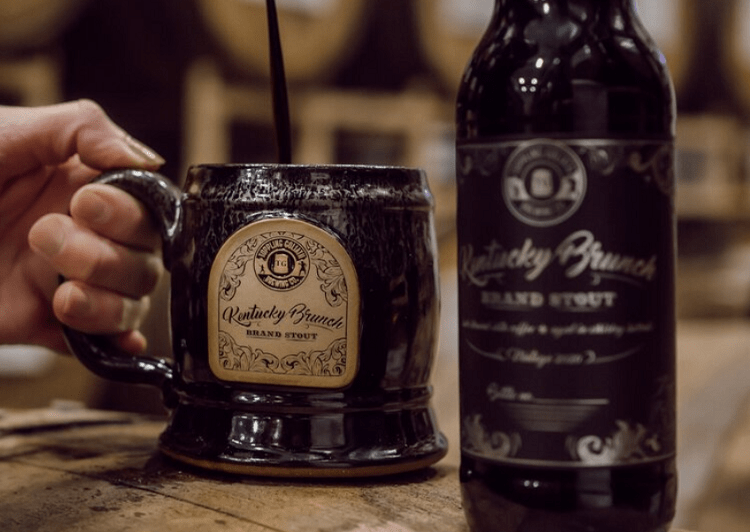 To fully appreciate the delayed release of mocha, maple and bourbon, the Kentucky Brunch Brand Stout needs to be poured just as delicately as it is savored. These easy steps will help you get the most aromatics with your pour and enhance the flavor on your palate.
Step One
Hold your stout glass at a 45-degree angle and position it one inch below your beer tap or bottle. This will provide plenty of airflow from the brew to your glass to infuse it with enough air to get the full spectrum of aromatics.
Step Two
Open the tap or bottle and slowly at your 45-degree angle allow the stout to fill the glass, focusing on hitting the liquid on the glass wall instead of directly toward the bottom. This needs to be a delicate pour to preserve the light carbonation of the stout and enhance the delicate flavors.
Step Three
Once your glass is three quarters of the way full, you can release your tap or place down the bottle. Allow your stout to sit for just a few seconds to allow the head to recede so your first drink isn't all foam. The flavors beneath the foam will prove to be flavorful, maple infused and provide a soft, warm mouthfeel.
How is This Kind of Stout Made?
The Kentucky Brunch Brand Stout is a dark beer that is a rich blend of roasted barley, hops, water, and yeast. This 12% ABV stout is brewed with coffee with mocha tones that has been aged in whiskey barrels.
A limited release stout, this brew takes it's time within a barrel room to appropriately age and release all the tones of mocha, bourbon, and maple syrup, so when you finally get to taste it, you can tell just how long it took for this beer to reach its peak flavor.
Similar Alternatives to Kentucky Brunch Brand Stout
Toppling Goliath Brewing Company makes several award-winning beers, including a menagerie of stouts that are just as impressive as Kentucky Brunch Brand Stout. Here are a few of their top selling stouts to try out the next time you visit their taproom.
Assassin 2021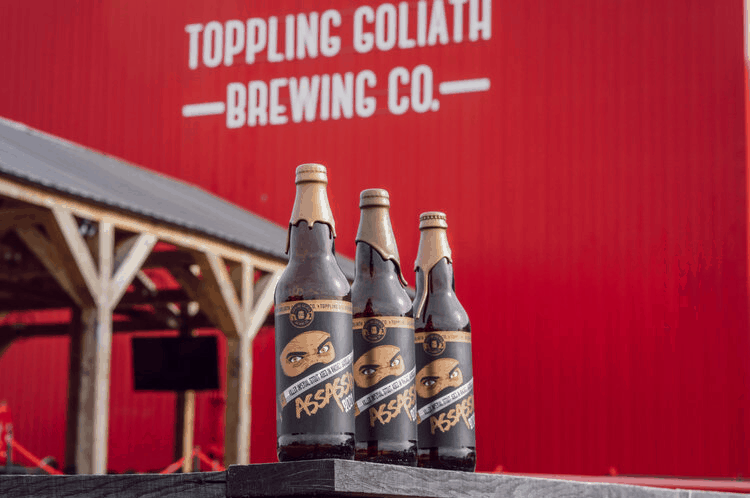 Another barrel aged stout that takes almost two years to age, this impressive brew has plenty of aromatics including bourbon and fudgy chocolate. The rich flavors and light consistency make this stout a wonderful pour with an exquisite mouthfeel.
Assassin 2020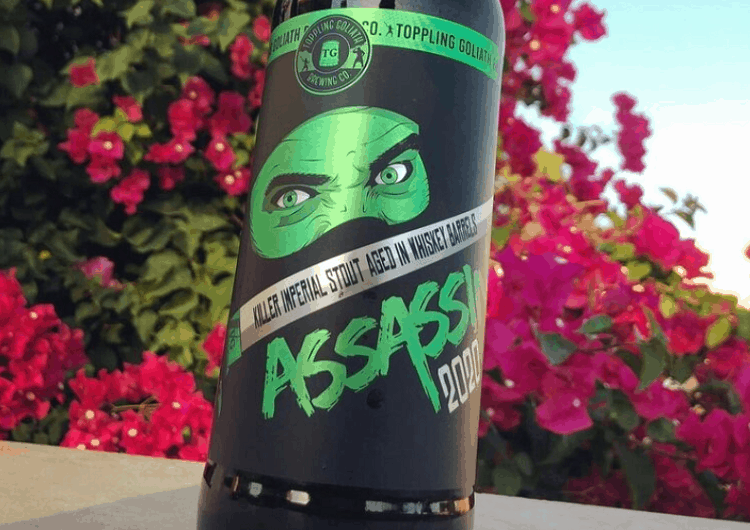 Much like the Assassin 2021, this stout also takes almost a year to age within whiskey barrels and the bourbon infusion makes this stout ideal for enjoying on your next camping trip in the chilly mountains.
BA Pastry Stout Apple Cinnamon Strudel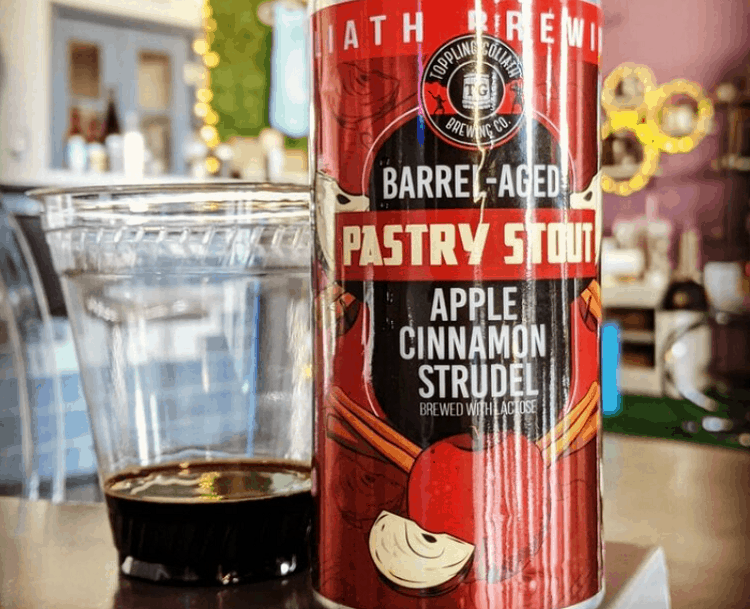 Sort of like a creamy apple cinnamon latte, the BA Pastry Stout Apple Cinnamon Strudel delights the senses with warm toasted strudel notes. It has been aged in a bourbon barrel to give your that bourbon forward taste with just the right number of spiced apples and cinnamon flavors that have been grounded into the brew.
BA Pastry Stout Maple Granola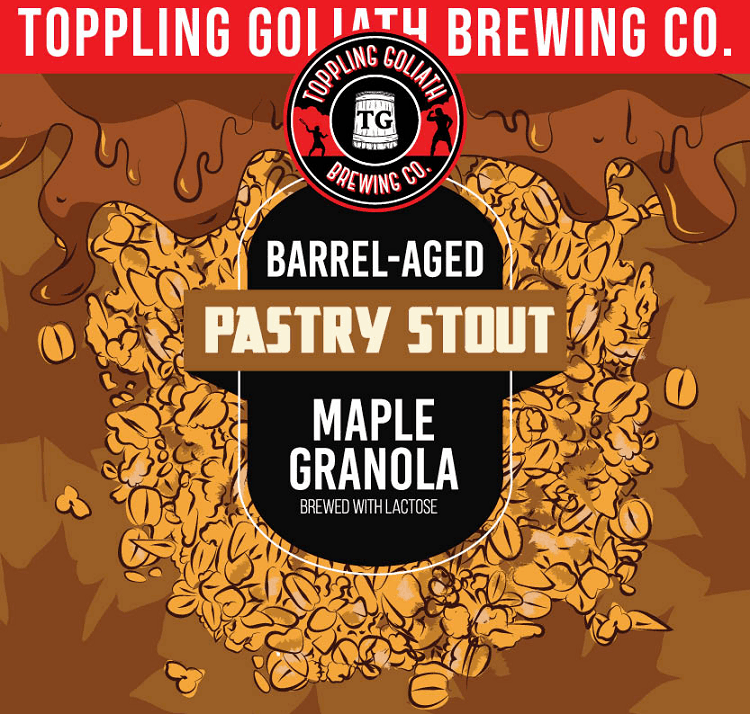 An imperial milk stout that is creamy and rich on the tongue, the BA Pastry Stout Maple Granola brew has aged for more than a year in bourbon casks. This beer is the ideal pour to warm you up on even the coldest nights with plenty of flavors of granola and maple.
Term Oil Coconut Monster Cookie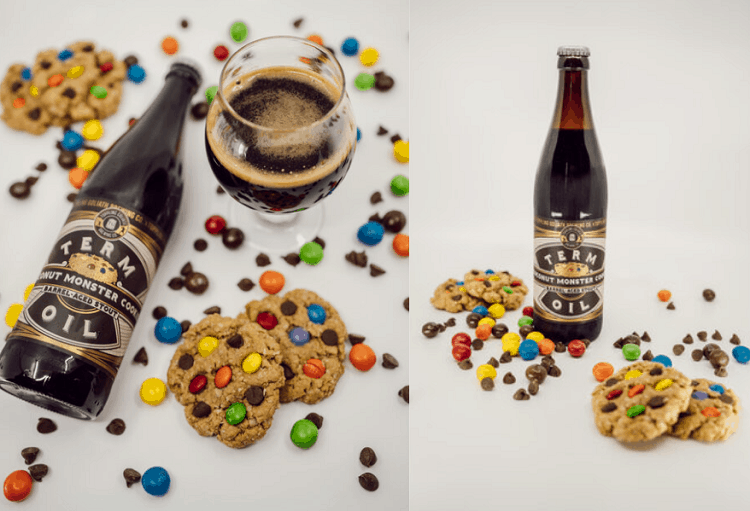 This bourbon barrel aged stout will impress your sense with fresh notes of monster cookies topped off with plenty of honey glazed toasted coconut. This brew comes complete with aromatics of peanut butter and chocolate with a hint of candy.
Mornin' Delight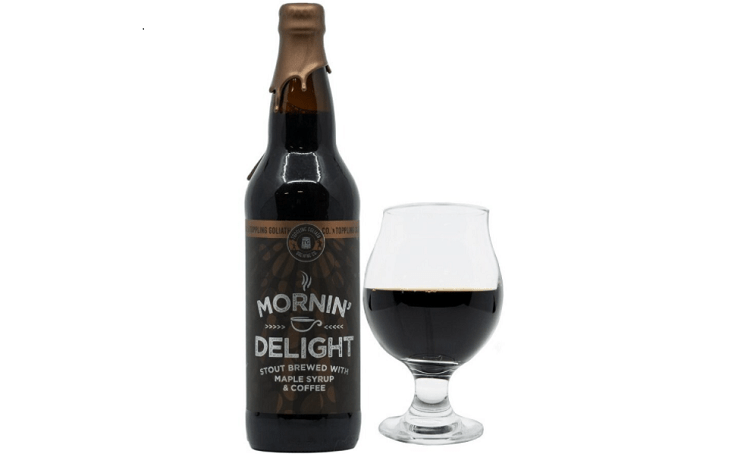 Another fantastic imperial stout that has immense espresso aromas with strong notes of maple syrup and even more coffee. This is a perfect stout that falls just along the same lines as the Kentucky Brand Brunch Stout, since it will wake you up like a strong cup of coffee.
Naughty Temple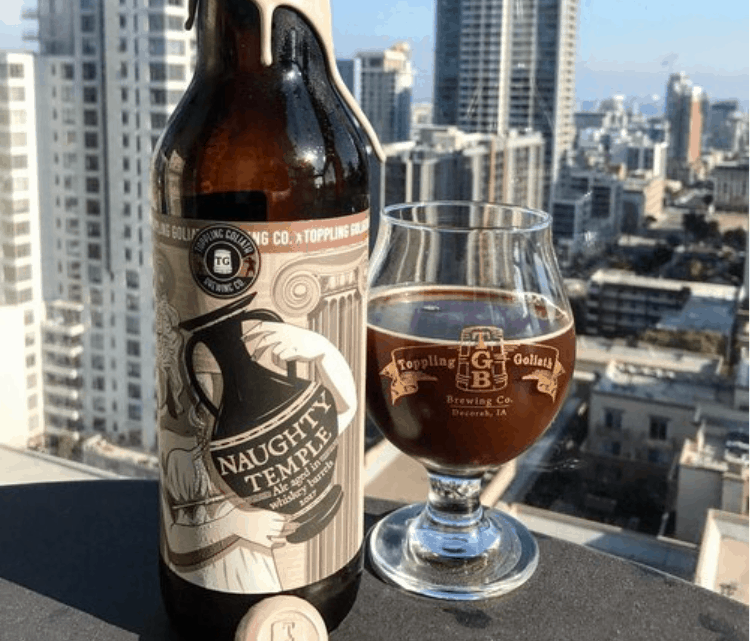 Barrel aged and rich in color, this stout has a warm caramel flavor that has been steeped with the aroma of whisky. Whiskey barrels is what has made this amber stout so delicious, as the caramel and whisky work in unison to create this interesting stout.
FAQs
Question: How do You Get Kentucky Brunch Brand Stout?
Answer: This is a traditional beer, so if you can't get a fresh pour from the taproom in Iowa, you'd need to check with your local liquor store to check on the availability. These are limited edition bottles so if they do arrive at your local liquor store, you might want to pick them up fast as they are sure to sell out quickly.
Question: Is Kentucky Brunch Brand Stout a Dark Stout?
Answer: Yes. This is a dark, thick, and heavier stout with strong aromatics of maple, chocolate, and bourbon.
Question: What Alcohol Percentage is Kentucky Brunch Brand Stout?
Answer: Anywhere from 12 to 13 percent, depending on the year and how long it has aged in bourbon barrels.
Kentucky Brunch Brand Stout Beer Review: Final Words
Kentucky Brunch Brand Stout is an ideal stout to enjoy on a chilly day – whether that means enjoying it at brunch down at the lodge with friends or sitting around a campfire and sipping it to enjoy its deep dark aromatics – that's entirely up to you.
A thicker beer with a heavier mouthfeel, this is the type of beer to enjoy almost as a dessert within itself, instead of trying to drink it all day long. While it's a great stout to drink any time of the year, there is just something about cooler weather and pairing it with this beer that makes the feeling very unique.
This beer would go great with all types of breakfast foods, which is partly why it has brunch in the title, including thicker soups and stews if you are planning to eat a little, as this stout will for sure fill you up if you aren't careful.
Its higher alcohol content also means it should be sipped in moderation and not paired with other types of alcohol.
This is a perfect sipping stout to enjoy a cool evening with friends, or even sipping it while you watch one of your favorite holiday movies. It's a wonderful stout that comes in strong with the aromatics of mocha, and some even describe it as having a chocolate chip pancake finish, which is never a bad thing.
Check out our other awesome reviews of stout beers like this guide to the best Irish stout beers!