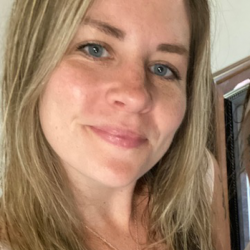 Latest posts by Thea Engst
(see all)
Sloop Brewing Company has been making waves with its tasty beer selection since they hit the scene. Founded in a garage in Poughkeepsie, NY, in 2011, Sloop now occupies a large, former IBM plant in East Fishkill, NY.
They got their start selling their beer at farmer's markets on the Hudson River in 2014 and haven't looked back since.
The brewery continues to grow, and seeks to continue to bring a good name to upstate NY craft beer. In my experience, I can say: so far, so good, Sloop!
What's in a Name?
Sloop is the name for boats that once carried passengers, traders, and travelers up the Hudson River. Their slogan is also tied to their relationship with the nearby body of water: "Grounded roots, open water". You'll notice blue water at the bottom of the Sloop Juice Bomb IPA box as a gentle nod to the river.
New England IPAs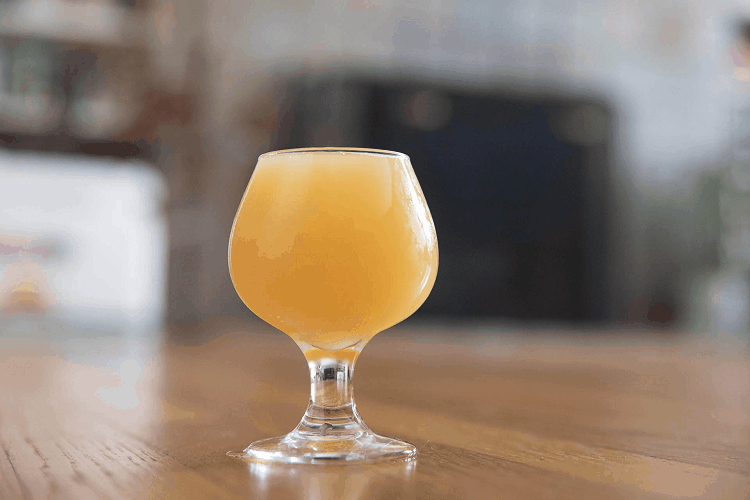 Sloop's Juice Bomb IPA is a New England Style IPA. You're probably seeing a lot of those nowadays, and if you're not, you might want to get your eyes checked.
The New England Style IPA is a newer version of an IPA or India Pale Ale, that was brought to the market by The Alchemists' iconic Head Topper IPA out of Vermont. Vermont brewers fully embraced this trend and now, it's a widely sought-after and produced style of beer throughout the entire country.
While West Coast IPAs are more light and dry in their bitter tasting notes, New England IPAs strive for a completely different mouthfeel. They are purposefully 'hazy' to the point where some brewers add flour just to get the right aesthetic! I once heard a bar owner describe the look as appearing like "chicken stock".
Why with the haze? The intention is to give the beer a different mouthfeel than with West Coast IPAs. So where a West Coast IPA is dry and light, a New England IPA is going to be more full-bodied and creamy.
What Does the Sloop Juice Bomb Taste Like?
The nose of the Sloop Juice Bomb IPA is fermented pineapple and tropical hops. Right away you know you're in for something good!
The hops offers slight bitterness, but not much at all. Instead, it walks a delicate balance of juiciness with a touch of bitter. This usage of hops really showcases how hops can be used to add more than just bitter to an IPA. This is a really fantastic element of New England IPAs.
At first sip I feel like I'm biting into a super ripe orange, followed by the slight bitterness akin to the pith of a white grapefruit. The taste I'm left with is resin and juice. While pineapple is the first flavor I got, that fleshy, juicy, orange is the resounding flavor on my palate.
It almost feels like I just took a big swig of orange juice, the way it lingers on my tastebuds. I'm left wanting more, and trust me: I had more!
What Does the Sloop Juice Bomb IPA Look Like?
True to the category of New England IPA, this beer is hazy. It is a lovely golden color, as light as a pale ale, but so cloudy that you can't see through the glass. This look matches the mouthfeel of being full-bodied and creamy.
The head of the beer did not disappoint either. When I poured it into the glass, the foam rose just above the glass rim and stayed thick and creamy for pictures. It offered beautiful aroma of fermented pineapple, mango, and other tropical fruits.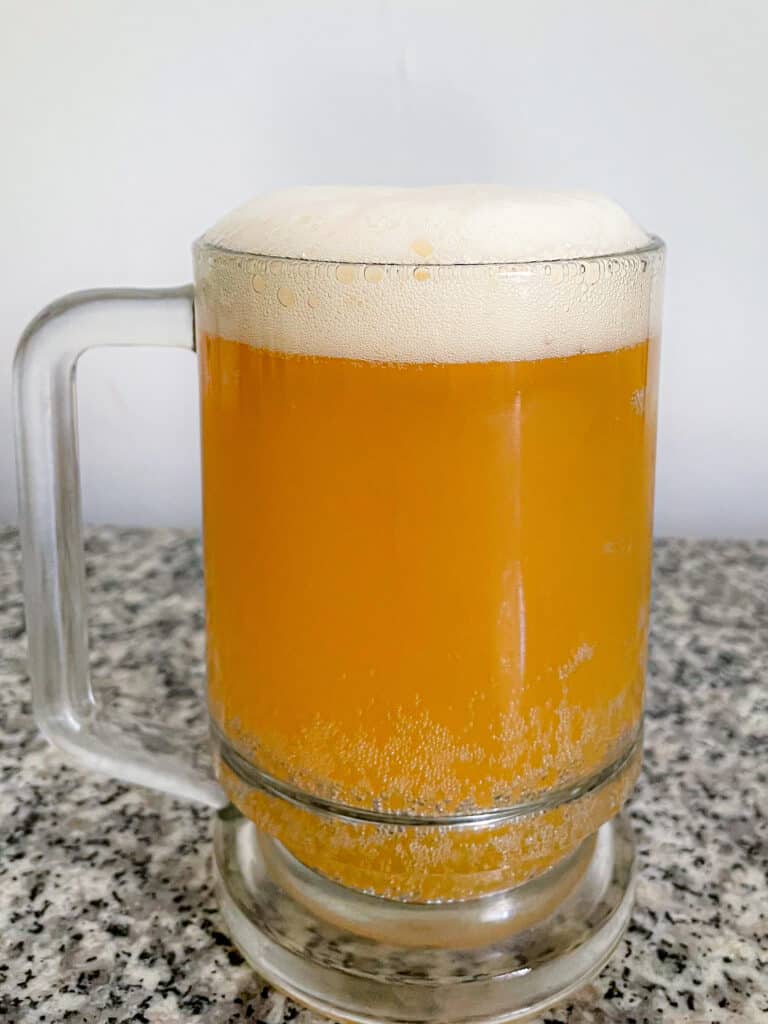 American Hops
There's not a lot of information about how Sloop brews their beers or what exact hops are involved in their Juice Bomb IPA. All I can find is American Hops, which is obviously a very large range, so let's talk about what that means.
Pre-colonists, there were already hops in America but colonists brought over English Hops to plant in their new home as well. Obviously, they didn't know what they were getting into when they crossed the ocean to the colonies.
As time wore on, the colonists blended their English Hops with the native hops that already grew in their regions. This began a new selection of American Hops: both hops native to the Americas, and hops that were imported, and of course all their varietals from cross-breeding the various hops.
Being a rich and fertile environment ideal for farming, the upstate New York region along with a lot of the northern midwestern states were optimal for growing hops. However, their humid climates created issues with mold and mildew and hop growing continued to migrate west to slightly drier climates.
Currently, the majority of the American Hops growing industry happens in Idaho, Washington State, and Oregon. Fun fact: America produces the most hops in the world!
The hops themselves vary immensely due to the English Hops that were long ago crossed with the native American Hops, the selection of those two categories plus their hybrids has made a lot of varietals.  So the world of hops in general is huge and the world of American Hops is significant.
Amarillo, Willamette, Cascade, Summit, Liberty, Simcoe, Sterling, Glacier, and Nugget are just some examples of American Hops. There are roughly eighty different hops plants, each with their own varietals and now we even have the manmade Cryo Hops, which will surely give way to more hops like them.
So for Sloop to say that their Juice Bomb IPA is brewed with American Hops is them leaving a large window of possibilities as to what exactly is in this beer. This could mean that it changes to ensure high-quality and consistency of taste which is not out of the ordinary, and totally okay.
My issue is the lack of transparency in the ingredients around this beer. I'm very curious about why Sloop chooses to withhold that information.
Malt
While many IPAs do involve malt in the brewing process, this is not true of all of them. Once again, Sloop Brewing Company reveals nothing of malts used or if they're used at all for their Juice Bomb IPA.
Yeast
We know that the Sloop Juice Bomb IPA is an ale, which means that it uses top-fermented yeast. Unfortunately, Sloop Brewing Company does not give details on their website about yeast strains used, nor could I find more information elsewhere.
Water
Like the yeast and hops, the water used in the Sloop brewery and for the Juice Bomb IPA specifically are unknown.
Key Features of the Sloop Juice Bomb
Flavor: Citrus hops, juicy orange
Color: Hazy, golden
Aroma: Tropical hops, fermented pineapple
Mouthfeel: Creamy, full
Bitterness: Light
Alcohol Content: 6.5%
The Can Packaging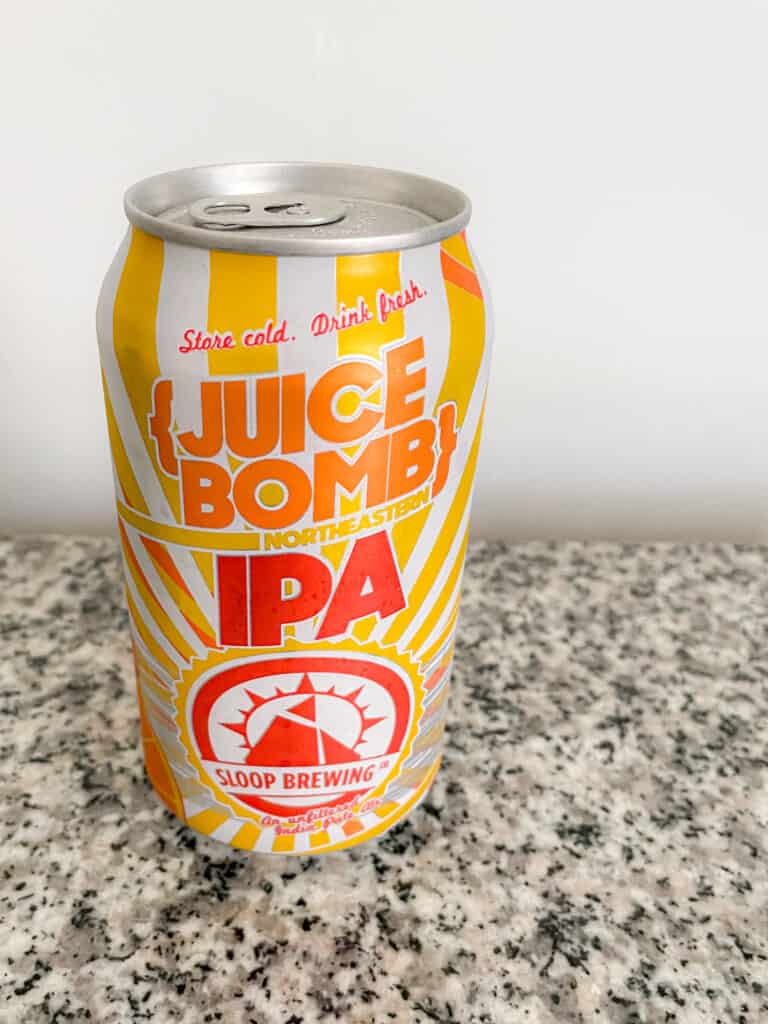 Sloop Juice Bomb IPA is available in twelve ounce cans available in six or twelve packs. The box that the cans come in is like the can: white with bright orange, yellow, and blood orange font and designs, and a blue wavy detail of water for the Hudson River along the bottom.
The packaging game is tough nowadays as for a while it seemed like everyone was going bright and cartoony. Then, there was shift to black labels, or plain white with black font. Whether or not those cans were in an effort to stand out amongst the other labels is a moot point: that was the result. Now, it's hard to say which type of label will make you stand out more!
The Sloop Juice Bomb IPA label manages to grasp the simplicity of the white labels with the flashiness of the cartoony labels. True to their brand aesthetic, they stay bright.
The name "Juice Bomb" grabs your attention first in orange font inside a parenthetical. Above it, in delicate cursive, blood orange script "Store cold. Drink fresh." And beneath "Juice Bomb" is the word "Northeastern" dividing the words "Juice Bomb" and "IPA" in bright blood orange, bold font.
The label succeeds in grabbing your attention and pulling your eyes down to the Sloop Brewing logo, also in blood orange, it shows their sailboat mascot with the setting (or is it rising?) sun behind it.
From the circle containing the logo, yellow rays emanate across the can, making the logo itself a sun. Finally, in small blood orange cursive, the description of the beer, "An unfiltered India Pale Ale."
This label is ideal in a world of flashy labels. The simplicity of the four colors color scheme (blood orange, orange, yellow, and white) succeed in making this a cohesive piece of art. The can stands out on the shelf and the box, which has the same color scheme and design, stands out as well.
Something else I like about the packing is that rather than packaging their beers in plastic pack rings or plastic beer can carriers that are rarely repurposed and often end up in our oceans killing wildlife — Sloop packages their six packs in recyclable cardboard boxes.
This is a new trend that I personally love seeing pop up more and more. Brewers if you're reading this: more of this, please!
Pros and Cons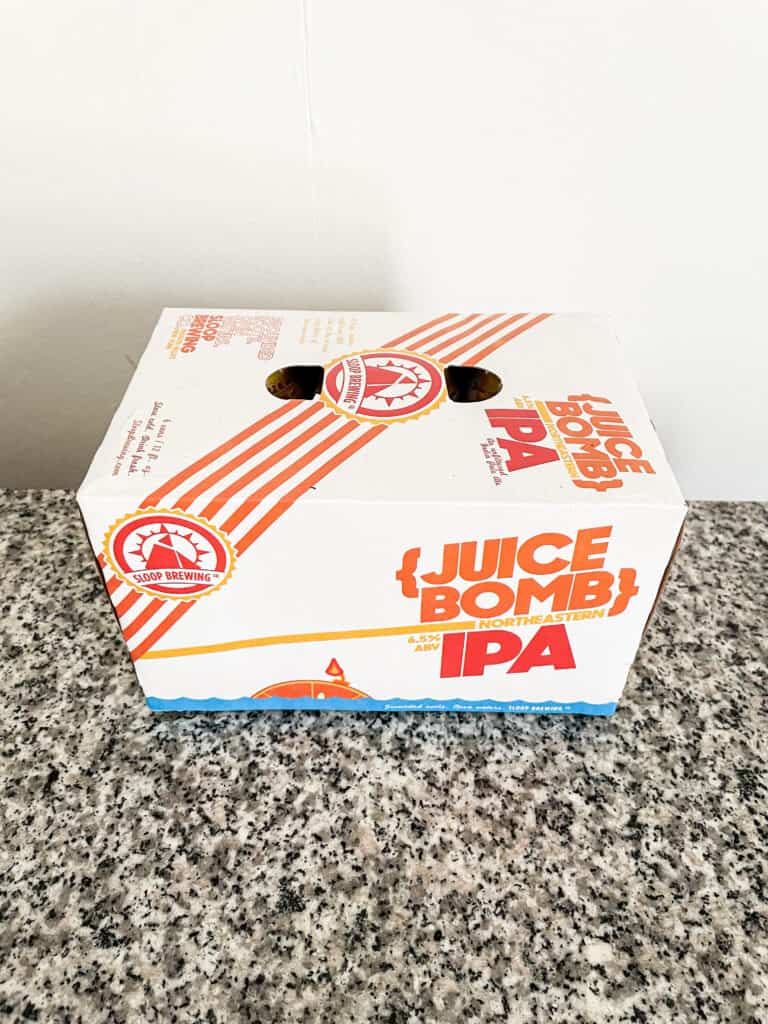 Pros
Delicious and well-balanced
Solid representation of a New England IPA
Strong but doesn't taste strong
Cons
Sloop isn't transparent about the ingredients
Sloop isn't transparent about their process
Slightly expensive. I paid $12.99 for a six pack in Rhode Island. Still, you can pay more for less when it comes to a lot of beers.
Where Can You Purchase Sloop Juice Bomb IPA?
Sloop beer is currently available in nineteen states! Those states are: Alabama, Connecticut, The District of Columbia, Florida, Kentucky, Massachusetts, Maryland, Maine, North Carolina, New Hampshire, New Jersey, New York, Pennsylvania, Rhode Island, South Carolina, Tennessee, Virginia, Vermont, and Wisconsin.
Alternatives to Sloop Juice Bomb IPA
Not in one of those nineteen states? Here are a few juicy IPAs that will scratch that itch Sloop's Juice Bomb is giving you!
Trillium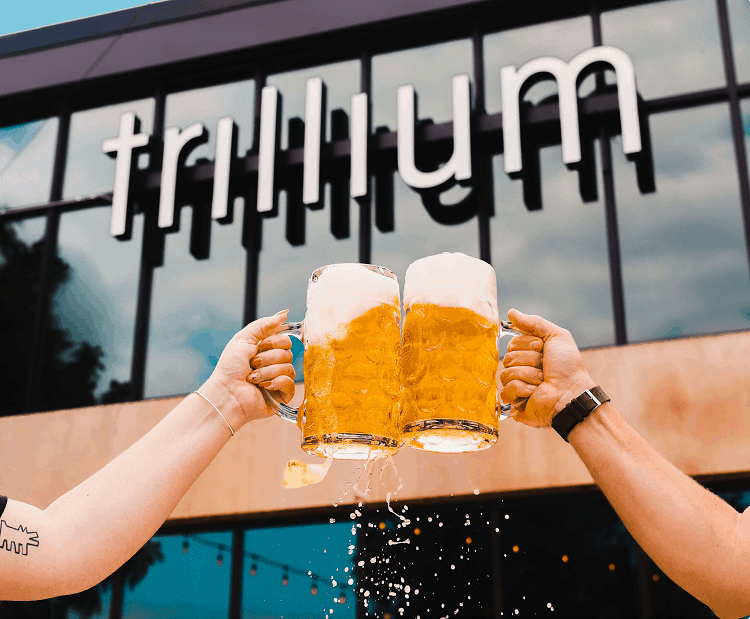 Trillium is one of the most talked-about and sought-after breweries in the country these last few years. Do their beers live up to the hype? In my experience: yes.
They also really excel at the New England style IPAs so you're in good hands if you see any of their interpretations of a New England IPA. I personally love their My Name is Also JC New England IPA. The haze is real deal and the mouthfeel is creamy with those subtle citrus hops balanced by a touch of resin.
Toppling Goliath Brewing Company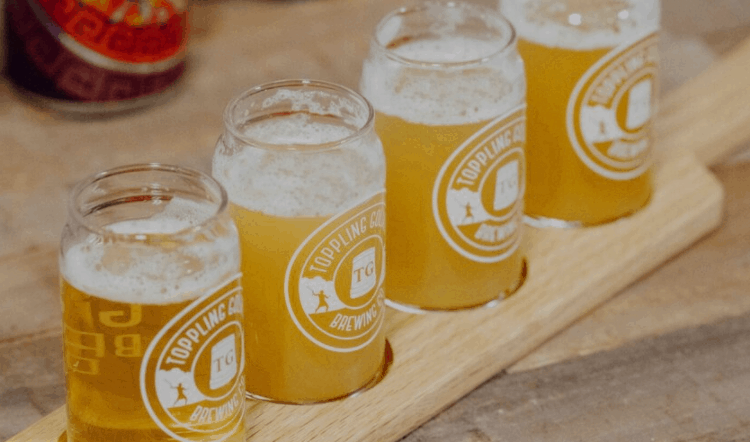 Toppling Goliath Brewing Company is another much-talked-about brewery, straight out of Iowa. One of their flagship beers, Pompeii, is a New England style IPA that is you can't pass up a chance to try. Brewed with Mosaic hops, it's a medium-bodied tropical fruit paradise.
Tree House Brewing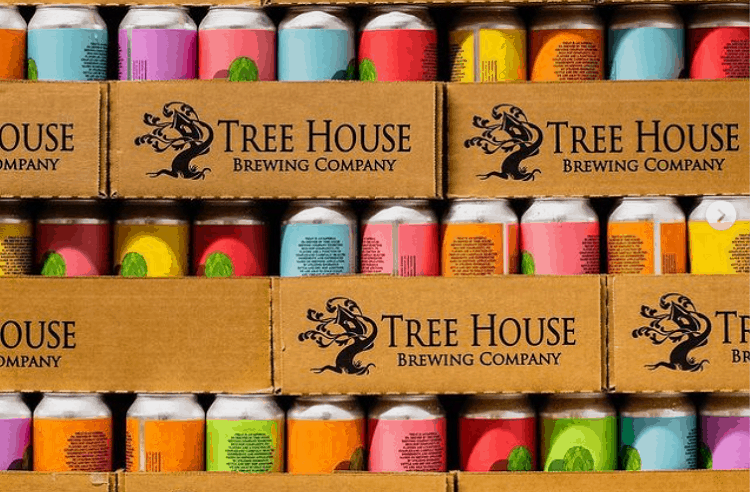 Tree House Brewing has a huge portfolio of amazing IPAs. While they don't categorize their Daze as a New England IPA, they do call it 'hazy' and the flavor profile is very similar to that of the Sloop Juice Bomb. (As we learned earlier, New England IPAs are a new genre, not yet recognized by the Brewer's Association.)
If you're into tropical fruits and hazy IPAs that aren't super heavy, Daze is for you as much as the Sloop Juice Bomb is.
FAQs
Question: How Many Calories is the Sloop Juice Bomb IPA?
Answer: The Sloop Juice Bomb has 220 calories.
Question: Is the Sloop Juice Bomb as Good as People Say it Is?
Answer: In my opinion, yes. This beer delivers on its promise of being a juice bomb without being sweet by balancing the bitterness of the hops with the citrus of the hops.
Question: What's the Alcohol Content of the Sloop Juice Bomb?
Answer: 6.5% which is pretty average for an IPA. It's stronger than most pale ales, pilsners, and lagers which is also normal. While 6.5% is a little high of an ABV, this beer is still super crushable and doesn't taste like a strong beer at all. Consider yourself warned!
Question: What Hops Are in the Sloop Juice Bomb IPA?
Answer: That we don't know. All Sloop Brewing Company reveals is that the hops used are American, which open the possibilities up to over 100 different hops.
Question: Why Wouldn't Sloop Brewing Company Reveal Their Hops, Yeast, and Malts Used?
Answer: It could be a few reasons. It could be that they change their ingredients to match the taste per harvest of hops, it could also be that they want to keep their recipes secret from reproduction. I personally don't see a reason to withhold this information, which is why I listed this fact on the 'cons' list.
Question: I'm New to the World of New England IPAs, Would You Recommend This as a Good Place to Start?
Answer: 100% yes. The Sloop Juice Bomb IPA is everything a New England IPA sets out to be: hazy, juicy, citrusy, crushable.
Juice Bomb IPA Review: Bottomline
I always like to say that the style of beer in question needs to be taken into consideration when reviewed. If you don't like juicy, hazy, IPAs then you will not like this beer.
If you don't know what you like then I would very highly recommend trying the Sloop Juice Bomb. If you like IPAs at all, even if they're West Coast Style, then I also highly recommend trying this beer.
And finally, if you even remotely enjoy a New England IPA, you're a fool for not trying the Sloop Juice Bomb. This beer simply hits a home run when it comes to the hazy, citrus, juiciness one looks for in a New England IPA. It hits all the marks and leaves you wanting more.