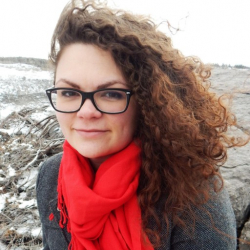 Latest posts by Candace Osmond
(see all)
Azacca hops, also known as the ADHA-483 strain of hops, have an aroma profile of tropical fruit and citrus with piney resinous notes. Our Azacca Hops guide, will look at these brewing hops that were bred by the American Dwarf Hop Association (ADHA), and they were named after the Haitian god of agriculture.
This hop is huge in the citrus and tropical fruit notes, so its high aromatics go perfectly in late to dry hop additions for all kinds of beer styles. These hops are popular among big brewers such as Summit and Northern Brewer as it has plenty of mango aromatics which makes these hops unique.
The intense tropical impressions within these hops make them great for IPAs, which require high hop counts in order to get that fruity bite that IPAs are notorious for. Some brewers are even able to get the hints of pears, apples, and pine needles to come out with these hops for added flavor depth and aromatic profile.
Azacca Hops | Amazon
An intense tropical fruit profile with lingering notes of apricot, ripe mango, pears, apples and pine.
Buy at Amazon
We earn a commission if you make a purchase, at no additional cost to you.
08/03/2023 01:46 pm GMT

What are Hops?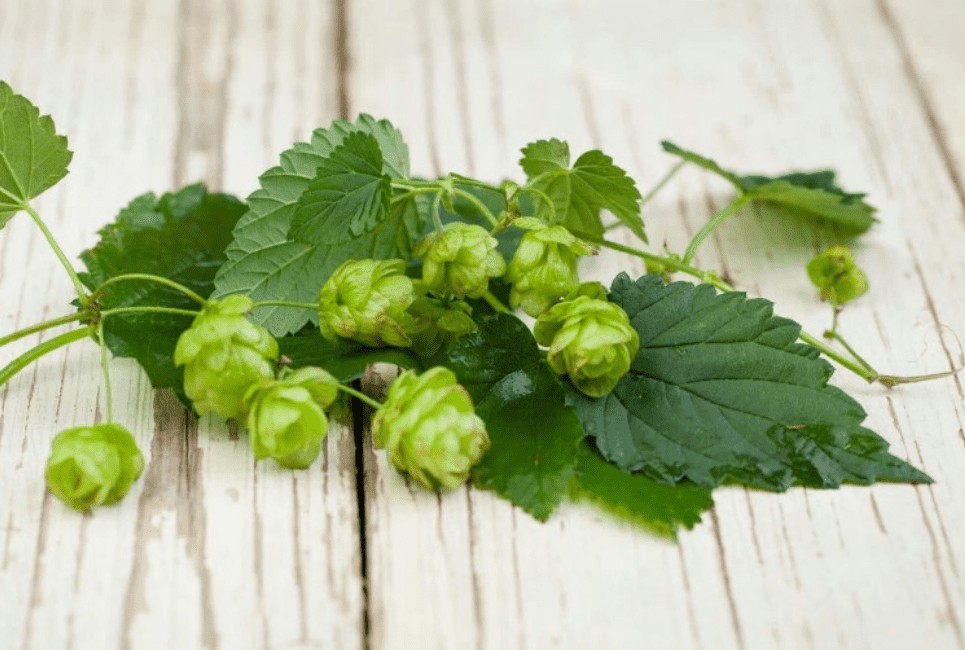 Hops come from the bines (not vines) of hop plants. They are known as the flowers of the plants and are dried out before being sent to breweries across the globe. Hopes are what give beers that fruity bite, along with a little bit of bitterness that works especially well in IPAs.
Bittering Agents
Hops can be used as a bittering agent but also act as wonderful stabilizers for the overall flavor of a beer. Their bitter and floral accents are what make beers so delightful to drink, and they add to the aroma of the beer that you inhale right as you take your very first sip.
Preserves Taste
They also have great preservation qualities, so they will help keep your favorite beers fresher for longer. They are also microbial, so they are able to balance out the bacteria levels that occur naturally in beer during the brewing and fermentation processes.
Adds Flavor
Hops are great for adding in citrus, floral, and bitter notes, and, depending on the region where the hops are grown, they can also add in more delicate notes of pineapple, orchard fruit, herbs, and spices. They are eclectic little blossoms that add so much more to your beer than you may realize.
Where Do You Get Hops?
You can find hops all around the world, as they are harvested and grown in just about every part of the globe. Some of the highest distributing areas of hops include United States, Germany, China, the Czech Republic, Poland, Slovenia, Australia, New Zealand, the UK/England, Spain, and France, each being the higher distributor in the order they are listed.
Variations in the region, including altitude, mountain range, rain amounts, sun amounts, and temperature of seasons, will go into the overall flavors of each hop. So many different temperatures and altitude ranges mean so many different variations of hops that are distributed to all areas of the world.
How are Hops Harvested?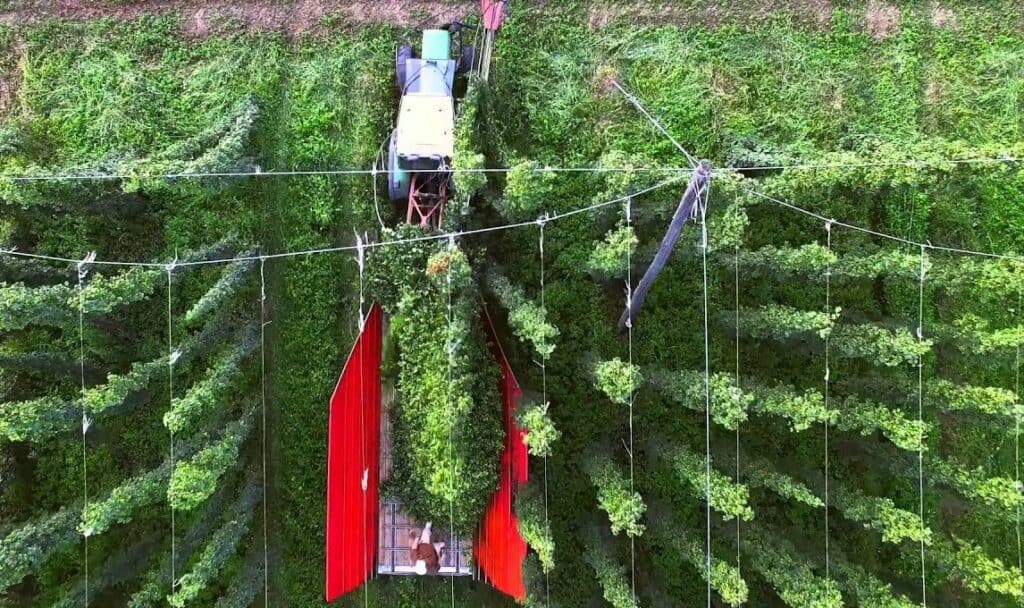 Hops must be harvested toward the end of summer or that respective region's hotter months of the year. Hops are the buds or flowers that come off of hop bines, which are either trellis growing or low to the ground. Trellis growing hops must be cut down at greater lengths, were low to the ground hops can be cut right at the end of the bud.
After being harvested, the precious hops are separated from their bines and placed into a drying house where they can spend days drying out. These special houses have a very high-top floor with heating generators at the bottom, so the heat will rise delicately to properly dry out the hops without making them lose their essential oils.
The goals are to get the most moisture content out of the hops as possible without drying them out completely. After they are dry enough, they are compressed into bales and are prepared to be shipped out accordingly. Each hop requires different shipping storage, so each hop will be specially shipped to whatever region they are going to.
Hops are shipped to breweries all across the globe and are then brewed into all types of different beers, including stouts, IPAs, pale ales, and a variety of lagers and pilsners.
How Do Hops Affect the Smell and Taste of Beer?
Hops affect the smell and taste of the beer due to their aroma levels. While some hops are known to be especially bitter, others are known to be sweeter and more fragrant. While some hops have a huge amount of citrus-forward notes, others tend to be more flowery or sour.
Anytime you smell a beer and notice the hops in it, you will realize just how much hops add into beer. They enhance the overall flavor of the beer but are also preserving your beer, so you get the freshest beer possible with every pour. Hops are also used to help get that thick, foamy head that makes beers so appealing after the first pour.
Hops are multifaceted as they can not only add some bitterness and citrus elements to your beer, but they can also add some earthy notes such as pine or flowers to your beer. Craft beer breweries love hops because they are fun to experiment with, and you can find so many different flavor profiles to work with.
What are the Most Popular Types of Hops?
The most popular types of hops are equated to the amount they are used in beer recipes. Hops are most commonly used to enhance the flavor of IPAs but can be used in a variety of beers. These are the most popular types of hops in the world.
Cascade

Citra

Mosaic

Magnum

Amarillo

Simcoe
About the Brand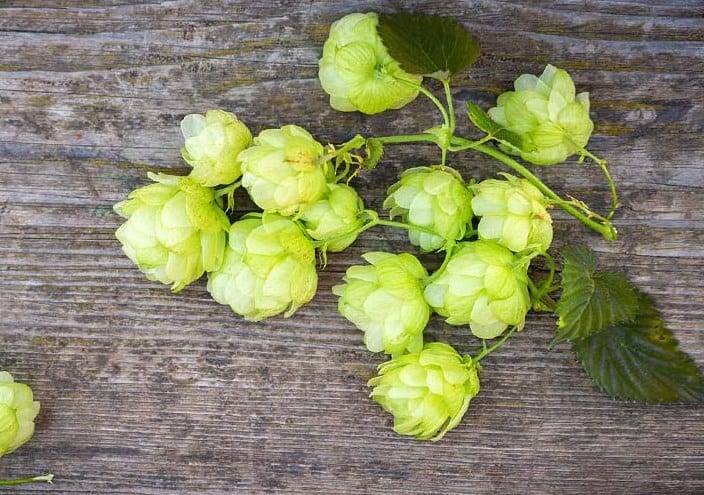 Azacca Hops are cultivated out of the ADHA, which has most recently changed its name from the American Dwarf Hop Association to the Association for the Development of Hop Agronomy as the demand for hops remains prominent and sustainability has become the main endeavor.
The ADHA is a collaboration between hop growers and farmers that are interested in more progressive hop growing practices in the United States and are focused on low trellis production, specifically. An initial venture into dwarf hop variety developments, including the lower trellis production standard, turned into a broader goal.
The standards are to create hop plants that are durable for good agronomy, can be disease resistant, have unique aromas, and can adapt to all kinds of growing regions. They are goal-oriented in developing new hop production techniques that will both be sustainable and prosperous.
Low Trellis Production
The ADHA is known for its work in low trellis production, which means hops are grown closer to the ground than being sent upwards via trellis systems. Specific diverse varieties of hops have been cultivated this way, but this method is not always the best environmentally sustainable.
The organization claims that once the low trellis production methods become sustainably viable again, they will continue research in these practices. Until then, the organization is focused on breeding varieties that will do well with both low and standard trellis systems so they can be prepared for any major shifts in the industry in the future.
Azacca Hops | Amazon
An intense tropical fruit profile with lingering notes of apricot, ripe mango, pears, apples and pine.
Buy at Amazon
We earn a commission if you make a purchase, at no additional cost to you.
08/03/2023 01:46 pm GMT

Azacca Hops has an aroma and taste of intense tropical fruit. There are plenty of impressions of very ripe mango, with orchard fruit tones such as apple and pears, and sometimes pine needles and more earthy tones.
Origin: Washington, USA
Aroma: Tropical fruit, orchard fruit
Alpha Acid: 14.0 – 16.0
Total Oils: 2.1 – 1.6 – 2.5
Maturity: Mid to late season
Recommended Beer Styles: IPA, Pale Ale, Stout
Flavor Profile: Mango, pear, apple, pine
Where are Azacca Hops harvested?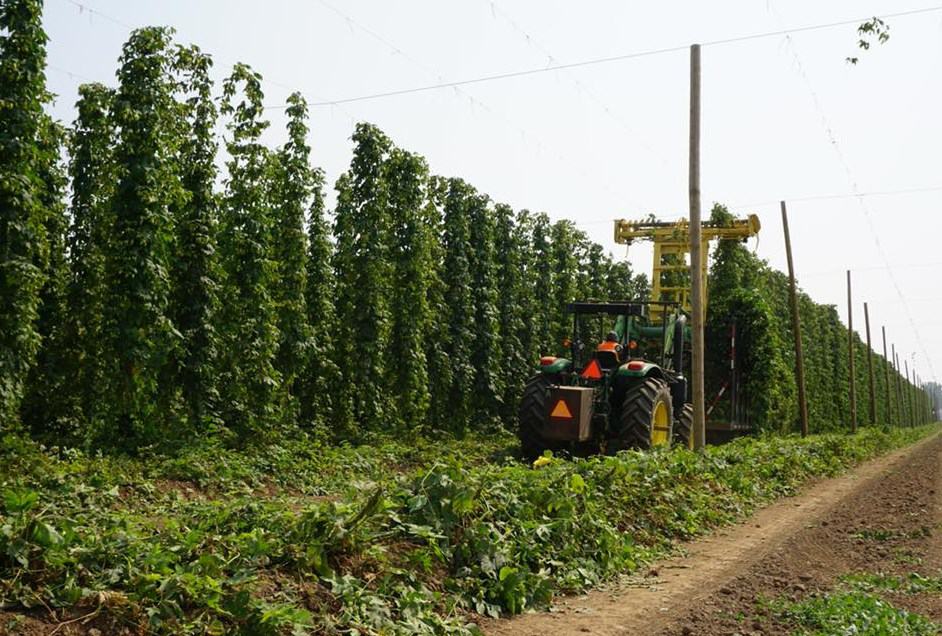 Azacca hops are harvested in Washington within the U.S.A. They are cultivated by the ADHA and are harvested sustainably.
Pros and Cons
Azacca Hops are great if you love a good IPA that has plenty of tropical fruit-forward notes.
Pros
Heavy tropical fruit notes

Subtle hints of pine

Excellent aromatics

Good hop for late and dry hop additions

Multi-sensory

Good for IPAs
Cons
It might be too sour for some

It can come off bitter if not added at the right time

High myrcene fraction

Not great for heavier beers
Packaging/Branding
All orders of Azacca hops must be relegated to each respective distributor. While these hops are mostly grown in Washington in the U.S.A., they can be sent to different distributors across each region. Each distributor will have their own significant specifications on how these hops can be sent out in order to keep them fresher longer.
In each case, the use of airtight containers may be used, as well as requesting your hops order months in advance to ensure that you have the proper amount needed for your brewery. If you are an at-home brewer, smaller batches may be easier to get your hands on at a faster rate.
How is Azacca Hops Brewed?
The most common beer styles using Azacca Hops are IPAs and double IPAs. Leaning toward late addition and dry-hopping, the hop is dual purpose with its high alpha acid content and intensely fruity aroma.
To create an American IPA using single hop Azacca, simply mash for an hour then recirculate or sparge. Boil the wort for an hour and cool. Whirlpool and perform a hop stand until you dry hop on a secondary fermenter using the Azacca hops. Finally, the beer is ready for bottling.
This late addition method will emphasize the tropical fruit aroma of Azacca, although you may also use it for bittering. As dry-hopping, it can also bring out the malty flavors.
Other beer styles for Azacca include American pale ale, American sours, American wild ales, fruit beers, and Saison.
Great Alternatives to Azacca Hops
If you can't find Azacca hops, you can choose hop varieties with similar alpha acids, beta acids, oil content, purpose, aroma tags, and origin such as the following: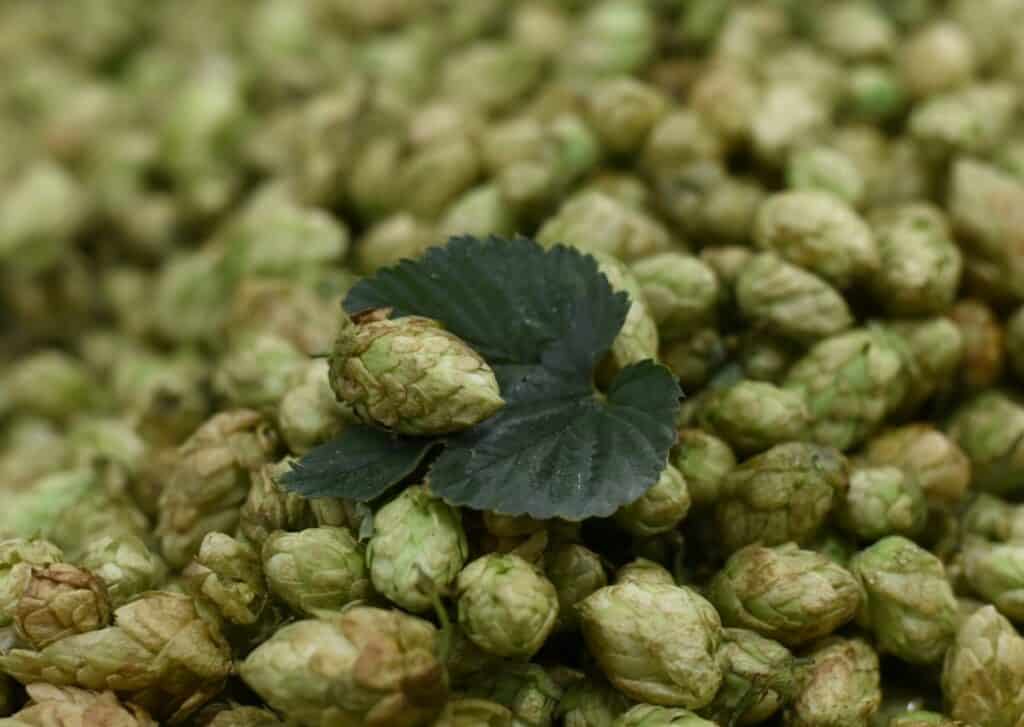 Like Azacca, Amarillo also has a fruity aroma and flavor in beer, including orange and lemon. However, it is an aroma hop that is only used in late boil additions such as dry hopping.
Aside from the citrusy and tropical aroma, Amarillo also imparts a spicy and floral smell, including grapefruits, apricot, melon, and peach.
Amarillo Hop Pellets | Amazon
It features higher levels of alpha acids along with extremely high levels of myrcene for citrus and grapefruit flavors. As a result, it is an excellent dual-purpose variety.
Buy at Amazon
We earn a commission if you make a purchase, at no additional cost to you.
08/02/2023 11:11 pm GMT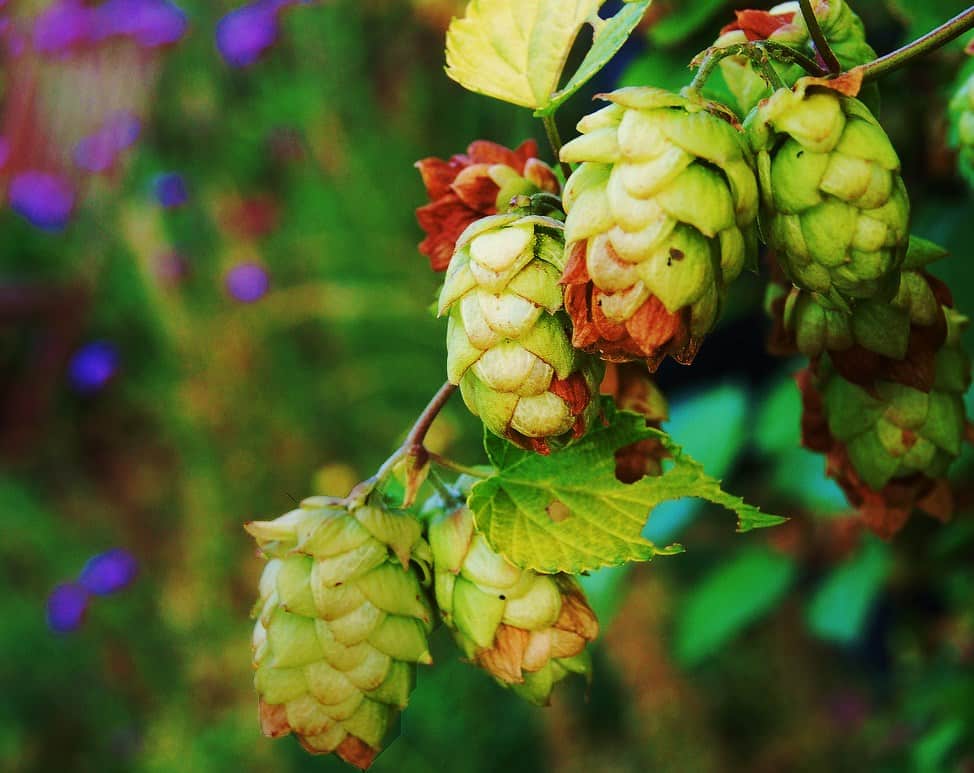 Citra hops are dual-purpose like Azacca. You may use them throughout the brewing process in all hop addition. It also has a citrusy aroma and flavor that includes peach, lime, passion fruit, grapefruit, and lychee.
Citra Pellet Hops | Amazon
Citra hops are highly sought after among craft and home brewers for their intense citrus aroma and flavor. Citra boasts grapefruit and lime aromas along with gooseberry, passion fruit, and lychee notes.
Buy at Amazon
We earn a commission if you make a purchase, at no additional cost to you.
08/03/2023 12:22 am GMT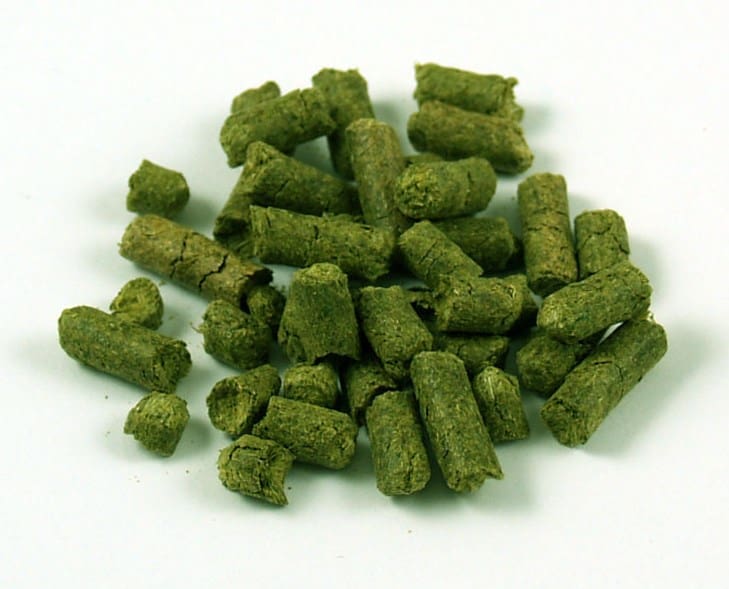 Delta hops are only used in late boil additions like dry hopping for aroma. They have a gentle yet appealing aroma that is the perfect mix of citrusy and spicy.
Delta Hops | Amazon
A slightly spicy aroma that is mild and pleasant, along with hints of citrus and melon. Alpha Acid: 5.5 - 7.0%.
Buy at Amazon
We earn a commission if you make a purchase, at no additional cost to you.
08/03/2023 12:46 am GMT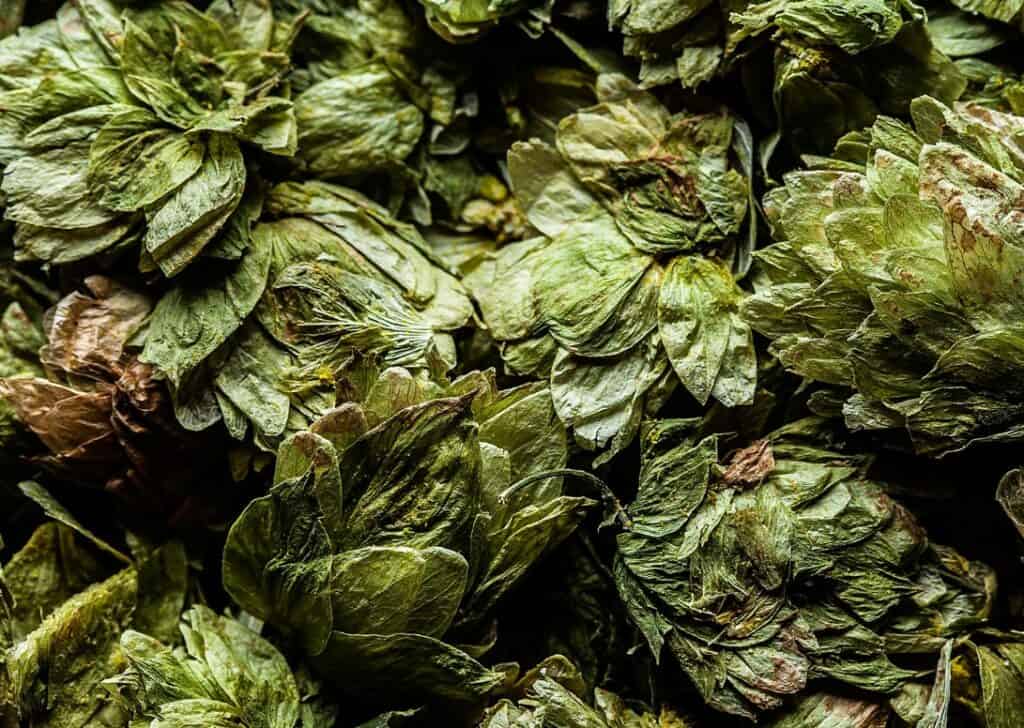 Mosaic has one of the most complicated aromas and flavors. Like Azacca, they are noted for their tropical aromas like citrus, pine, grass, tangerine, and papaya. It also features floral, earthy, and bubble gum descriptors.
This complex combination makes Mosaic a great bittering and aroma hop for brewing.
Mosaic Hops | Amazon
Mosaic delivers an earthy, floral and citrusy flavor and aroma, and has notes of tangerine, blueberry, papaya, rose, blossoms and grass.
Buy at Amazon
We earn a commission if you make a purchase, at no additional cost to you.
08/03/2023 10:49 am GMT

What Hops Pair Well with Azacca Hops?
You can brew Azacca with other hop varieties such as Citra, Chinook, and Mosaic which are used by Victory Brewing Company for the Hop Ranch. Azacca is also combined with Chinook by Virginia Beer Company.
Overall, the six most commonly paired hops with Azacca include the following:
FAQs
Question: What do Azacca hops taste like?
Answer: Azacca hops are super tropical. Most say they can taste hints of mango, tropical fruit, and orchard fruits such as apples and pears throughout these beers that use Azacca hops.
Question: Where are Azacca hops grown?
Question: What do Amarillo hops taste like?
Answer: Amarillo hops are very sweet and citrusy. These hops are incredibly high in myrcene oil, so it will give you aromas of oranges instead of a sourer grapefruit.
Question: What are cryo hops used for?
Answer: Cryo hops are concentrated whole leaf hops that have plenty of resins and aromatic oils. They provide intense hop flavors and aromas.
The Bottom Line
Any IPA lover probably has experience with Azacca hops, as they are a number one hop variety that is used in the more hoppy IPAs. These hops are so popular because they have a bright and refreshing aroma with plenty of mango notes and citrus.
These are dual-purpose hops that are perfect for single-hopped beers as they will do the work of a lot of different blends. These hops make a great whirlpooling hop to maximize all the sweeter, juicier flavors while maintaining a sweeter aroma.
Check out our other helpful tips and guide, like our favorite picks for the best mead yeast!
Azacca Hops | Amazon
An intense tropical fruit profile with lingering notes of apricot, ripe mango, pears, apples and pine.
Buy at Amazon
We earn a commission if you make a purchase, at no additional cost to you.
08/03/2023 01:46 pm GMT