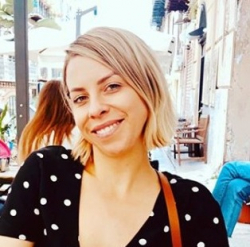 Latest posts by Jodie Chiffey
(see all)
Homebrewing takes place in stages, and a few of those stages involve moving the wort from one container to another without disturbing the trub.
Siphoning beer from a fermenting bucket to another is also known as racking, the process that is used to convert complex sugars the wort contains into alcohol.
It's also one of the most efficient ways of protecting the wort from direct exposure to oxygen and bacteria that would contaminate it or alter its taste.
An auto siphon will enable you to go through the racking and bottling processes effortlessly. This guide to the best auto siphons for brewing will help you determine which of these invaluable pieces of homebrewing equipment is right for you.
Bottom Line Up Front
My favorite auto siphon is the North Mountain Supply Quick Start Automatic Siphon. It's easy to use, affordable, and the kit contains everything you need to get started siphoning.
The Best Auto Siphons for Brewing At a Glance
Model

Attributes

Hose compatibility

Additional

Pricing

Best for Experienced Homebrewers

5/16"

A butterfly valve, a siphon hose, and a clip

$17.99

Best Auto-Siphon Replacement

5/16"

None

$20

Best Mini Siphon

5/16"

Or 3/8"

None

$16.99

Most Durable

⅜"

Hose

$32.99

Best Large Auto-Siphon

½"

Hose

$15.00

Best for Minimizing Spills and Leakage

⅜"

None

$19.99

Honorable Mention — Best for Carboys

⅜"

Hose, Clamp, Air Filter, Carboy Hood

$24.99
What is an Auto-Siphon and Why Do I Need One?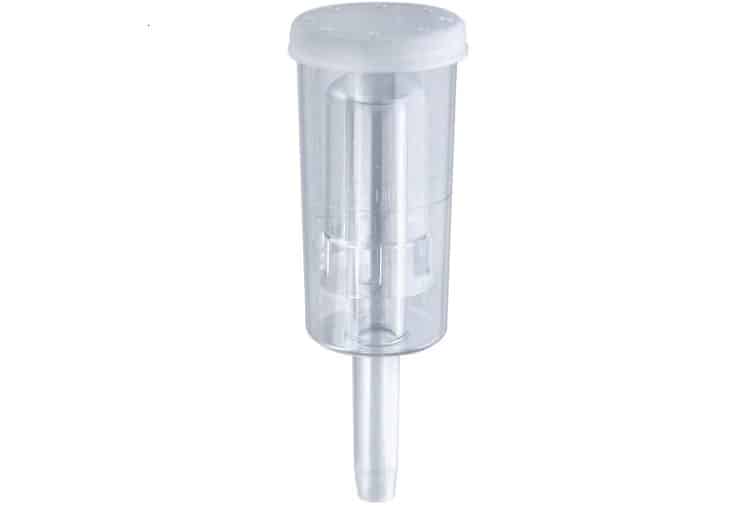 To understand what an auto-siphon is, you first need to know how a basic siphon works. These devices rely upon the laws of physics to transfer fluids from one container to another.
A siphon enables the smooth transfer of liquid from one container to another through gravity, which means the position of containers is vital for the siphoning to work. Position your bucket of wort on a counter or table with another bucket below it.
Submerge one end of your siphon into the wort (if there's trub in your bucket, make sure the end of the siphon stays above the sediment) and place the other end in the bucket below. Gravity will facilitate the flow of liquid through your siphon, though you need to get it started.
Basic siphons can be tricky to use, unsanitary, and can sometimes even leave you with a mouth full of wort! In order to initiate the flow of liquid, you need to take one of the following steps:
Fill the tubing with sanitizer, plugging one end with your thumb and submerging it into the wort before releasing. This will cause the sanitizer to flow from the tube, eventually pulling beer along with it. You can catch the sanitizer in a bowl and then place the free end of the tube into your receiving bucket once the beer starts to flow. It's effective, but difficult to time it right, and messy if you make a mistake (trust me on that one.)
Submerge one end of your siphon into the wort and suck the other end until beer begins to flow. This isn't the most sanitary or pleasant method, especially if you accidentally get a mouthful of wort in the process. .
Auto Siphons don't require you to use your mouth (or cat-like reflexes) to start the flow of liquid. They're also designed to filter out the trub and only transfer wort.
The Main Components of an Auto-Siphon
An auto-siphon is a simple device that consists of a racking cane tube and a hose that transfers fluid from one container to another. Suitable models for moving wort are equipped with a filter at the bottom of the tube that houses the racking cane.
The filter enables the device to separate the trub from the wort so that you don't have to deal with sediment later in the homebrewing process. The racking cane is a plastic tube that is placed inside a larger plastic tube.
You'll find a 90-degree bend on the upper side of the racking cane and a plunger at its bottom that stops the airflow and creates a vacuum within the device.
Much like basic siphons, auto-siphons will only be effective if the siphon tubing is placed in the downward position, which means that the fermenting bucket which holds the wort needs to be above your secondary container.
Sanitizing an Auto-Siphon Before Use
Benjamin Franklin said, 'By failing to prepare, you're preparing to fail.' When applied to homebrewing, Franklin's statement suggests that failing to get each piece of equipment you're going to need to complete a particular step can end up ruining the entire batch of beer.
Sanitization is one of the key preparation methods you need to use before commencing each step of the process since contact with bacteria can make your craft beer undrinkable.
That's why you have to sanitize all parts of the auto-siphon along with the secondary fermenting bucket before you initiate the racking process. The easiest way to do this is to fill a fermenting bucket with the disinfectant bleach solution and then empty it using the auto-siphon.
You should rinse the bucket and the auto-siphon before you start moving the wort from the primary to the secondary container. Apply extra caution when using the racking cane because it can break if you use too much force.
In addition, you should inspect the siphon tubing regularly and get a new hose when you notice stains or dirt.
Using an Auto-Siphon for Racking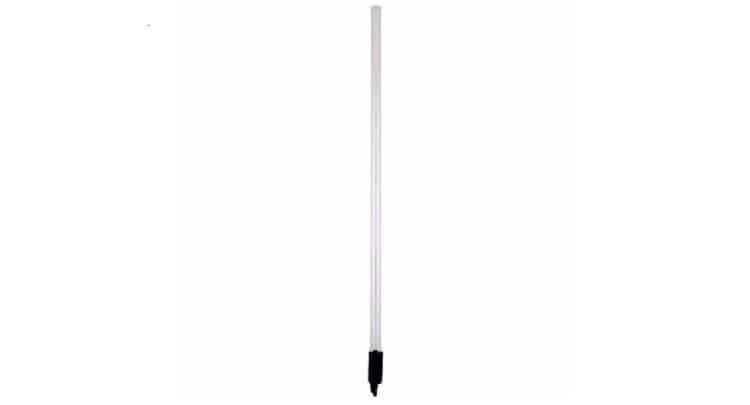 Although the racking process is straightforward, you still have to tread carefully through each step. Arguably, the most important thing you need to do is to move the fermenting bucket that holds the wort you'll be transferring to the desired location a few hours before starting the racking process.
This will give the trub you disturbed while moving the bucket the time to settle at the bottom. When ready, submerge the sanitized racking tube in the wort, and direct the hose into the secondary fermenting bucket that should be located below the primary bucket.
In case, you're bottling beer, you should consider getting a bottle filler that will enable you to control the flow and keep the spillage at a minimum.
You should lift the racking cane while submerging the device in the wort and then push it down to establish the flow of the wort. Making sure that the auto-siphon hose remains under the fluid level will reduce the chances of oxidation.
Managing the Trub
The sediments at the bottom of the fermentation bucket should remain undisturbed throughout the racking process. Auto siphons are equipped with sediment blocking tips at the bottom of the outer tube that prevents a trub from entering the system.
However, blocking tips can't keep all the sediment from entering the tube, and therefore, a certain percentage of the trub will reach the new container.
This isn't such a big deal if you're preparing the wort for the secondary fermentation process, as the sediments will eventually fall to the bottom of the bucket.
You need to pay more attention to the trub while using an auto-siphon to bottle beer because you won't be able to filter it after the bottling process is completed.
Hence, you should avoid moving the bucket hours or even days before racking or bottling your craft beer to ensure that sediments produced during fermentation remain at the bottom of the bucket.
Factors Worth Considering While Choosing an Auto-Siphon for Brewing
The differences between auto siphons for brewing you can find on the market are minuscule. Most models look almost identical. They're usually made of clear, hard plastic that makes them moderately resistant to physical damage.
Whichever model you choose, chances are it will last through several homebrewing sessions. Even if your auto-siphon breaks down, you can replace it for less than $20.
Following a set of guidelines while choosing an auto-siphon will eliminate the need to purchase a new one every time you want to try a new beer recipe. Let's take a look at the factors that can help you find an auto-siphon that will meet all your homebrewing requirements.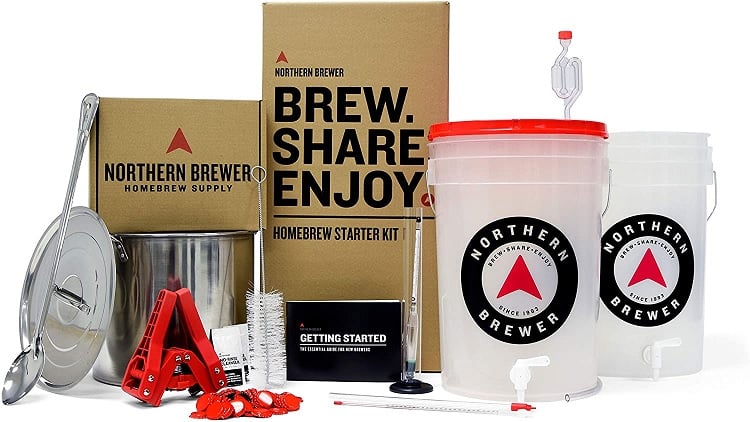 You don't necessarily have to buy an auto-siphon independently from the rest of your homebrewing equipment, because numerous homebrew kits ship with an auto-siphon.
Purchasing a kit like the Northern Brewer Starter Set will supply you with the equipment you need to make beer and the ingredients for Hank's Hefeweizen recipe.
Check the Diameter of the Auto Siphon's Racking Cane
The size of an auto-siphon determines how long the bottling or racking process is going to take. Models that have a 3/8-inch diameter are generally better suited for bottling because the flow of the fluid is slower and easier to control.
½-inch automatic siphons are much faster, which makes them a great choice for racking large amounts of wort or if you want to store the beer in kegs.
Get a Model That Ships With a Hose
The hose, or siphon tubing, is an essential piece of an auto-siphon.
The majority of auto-siphon models come with the matching hose, so you won't have to go through the trouble of searching for a hose that is compatible with the auto-siphon model you got.
However, if you need longer siphon tubing or choose a model that doesn't ship with a hose, you need to check its racking tube diameter and then purchase a hose for homebrewing.
Opt For an Auto-Siphon Made from Durable Materials
Applying too much force to the racking may cause it to break, which in turn may postpone your racking plans.
Choosing a model with a racking cane made of hard plastic will ensure that you can transfer wort without any difficulties.
The advantages of auto siphons for brewing
Prevents Oxidation of Wort
Introducing vast amounts of oxygen into the wort during the racking process can ruin the beer's taste. Auto siphons enable you to minimize the chances of oxidation by transferring wort at a steady rate to another container with minimal splashing.
Protects the Wort from Bacteria
Using an automatic siphon will keep the airborne bacteria away from the wort so that they can't affect the fermentation process.
Simplifies the Bottling Process
Bottling homebrew beer can get messy if you can't control its flow from the fermentation bucket into a bottle. An automatic siphon that is equipped with a bottling wand lets you control the beer's flow, and it minimizes waste.
The Disadvantages of Auto Siphons for Brewing
Upkeep Can be Challenging
Cleaning and sanitizing an auto-siphon before and after every use is necessary if you want to continue racking beer with it.
Ensuring that you've sanitized the auto-siphon properly can be tricky as some components are hard to reach.
The Best Auto Siphons for Brewing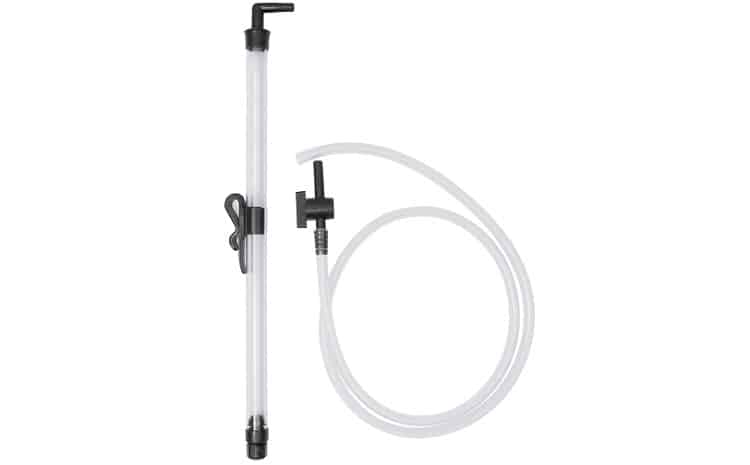 Regardless of the batch size, the North Mountain Supply Quick Start Automatic Siphon offers an easy way to transfer and bottle beer. The model's length is 17 inches, and it comes with a compatible hose equipped with a butterfly valve that lets you control how much fluid you're letting out of the system.
Although it is designed for 1-gallon buckets, you can use this automatic siphon to move up to 5-gallons of wort. Besides the 17-inch version, the manufacturer offers 13-inch, 22-inch, and 24-inch versions of this automatic siphon.
Pros
Made from shatter-resistant plastic

Equipped with a quick start system

Features a butterfly vent

Low upkeep requirements
Cons
short hose

Slow fluid flow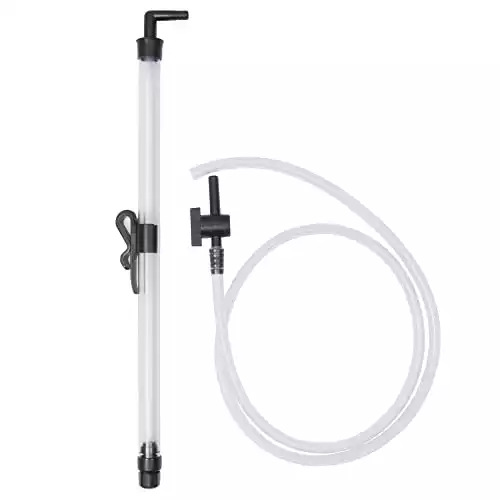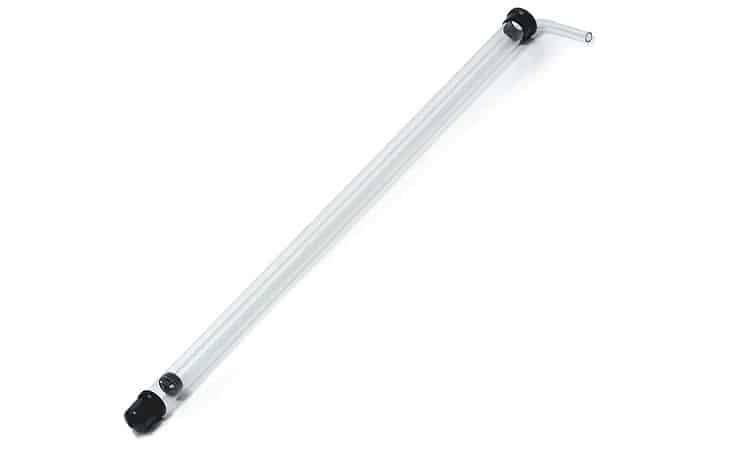 Manufactured by an industry-leading brand, the Fermtech Regular Auto Siphon is an excellent addition to any home brewing kit.
You can initiate the siphoning process with a single stroke without disturbing the trub, and the blocking tip at the bottom of the device prevents any sediments from entering the system.
Fermtech's auto-siphon is compatible with 5/16-inch hoses, but you must purchase the siphon tubing and all additional equipment separately. Disassembling the sterile siphon starter requires minimum effort since you just have to remove the sediment blocking tip to access the racking cane.
Pros
Starting the siphoning process is easy

Highly efficient blocking tip

Suitable for 5-gallon and 6-gallon fermentation buckets

Excellent auto-siphon replacement
Cons
The hose and bottling wand isn't included

Siphoning large batches of beer can take a while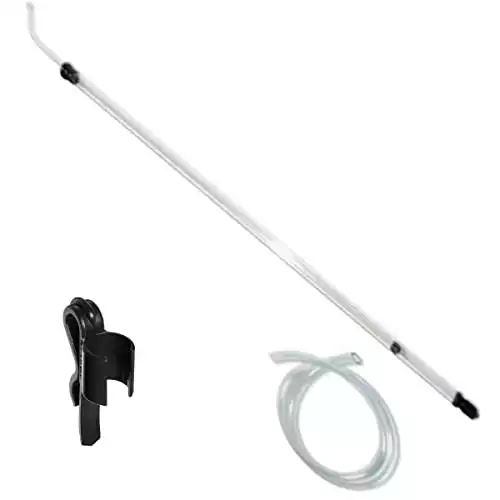 Fermtech Regular Auto Siphon | Amazon
The Auto-siphon is one of the best purchases you can make as a new home brewer. Never again will you have to start a siphon the old-fashioned way.
Buy at Amazon
We earn a commission if you make a purchase, at no additional cost to you.
08/03/2023 02:31 am GMT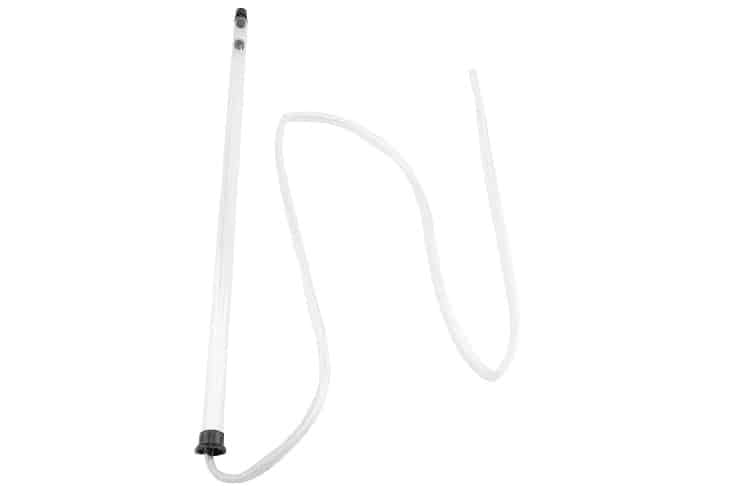 In case you're searching for an auto-siphon you want to use primarily for bottling, then you should take a closer look at the Tanke Auto Siphon . All of the auto siphon's components are transparent, enabling you to monitor the flow of the fluid through the system.
This Tanke's model features a 25-inch racking cane and a standard 3/8-inch hose that fits perfectly onto the cane to ensure maximum accuracy and minimum leakage.
Like most models, the Tank and Auto Siphon uses single stroke technology, which ensures that sediments remain at the bottom of the bucket.
Pros
A high level of accuracy makes the bottling process less messy

Ships with plastic tubing

Single stroke technology

Suitable for racking large beer batches
Cons
Questionable durability

Controlling the flow of the liquid can be difficult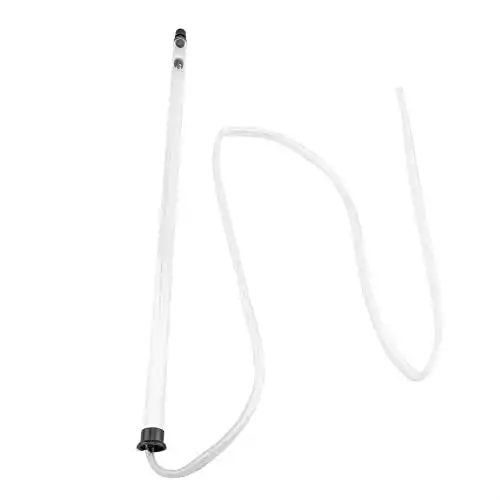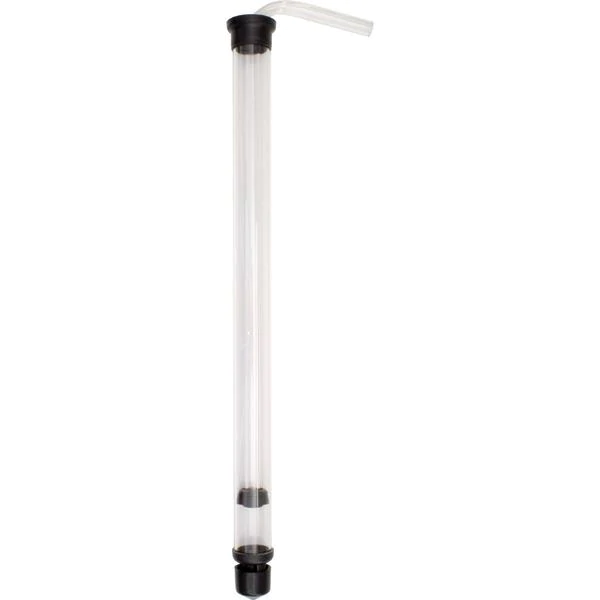 This mini siphon is perfect for bottling or brewing small batches. The small size makes it easy to maneuver and submerge in a sanitizing bucket.
The siphon is only 13.5" long and works best with one gallon buckets or carboys, so if you're brewing a large batch of beer this isn't the auto siphon for you.
You'll need to purchase a hose separately for this siphon, but it is compatible with both 3/8" or 5/16" ID hoses.
Pros
Compact size is perfect for one gallon carboys

Blocking tip minimizes sediment pickup

Small siphon is easy to submerge in sanitizer
Cons
Doesn't include a hose or bottling wand

Won't work for large batches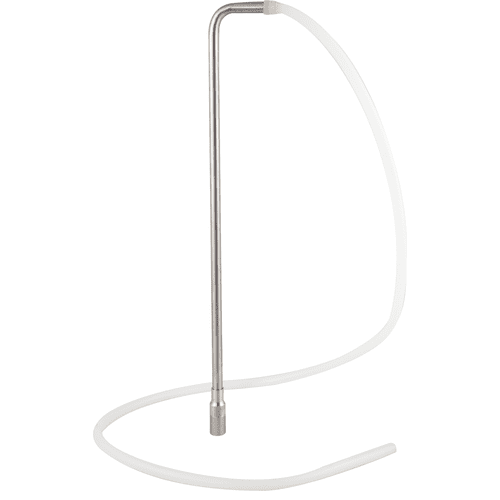 The Easy Jiggler from More Beer is a combination auto siphon and stainless steel racking cane. It's just as simple to use as any other auto siphon, but it's built to last longer than plastic.
The Easy Jiggler doesn't feature the same single-stroke technology as other models, so it may take longer to start the siphoning process. Once you get started, however, this siphon will work just as quickly as any other comparably-sized model.
The 22.5" cane comes with 60" of 10mm (just over ⅜") ID tubing.
Pros
Very durable

Comes with tubing

Will last a very long time
Cons
You won't be able to see the flow of liquid through the cane the way you can with a clear plastic model

If you're not careful, you can crack a glass carboy by accidentally striking it with the cane

More expensive than other models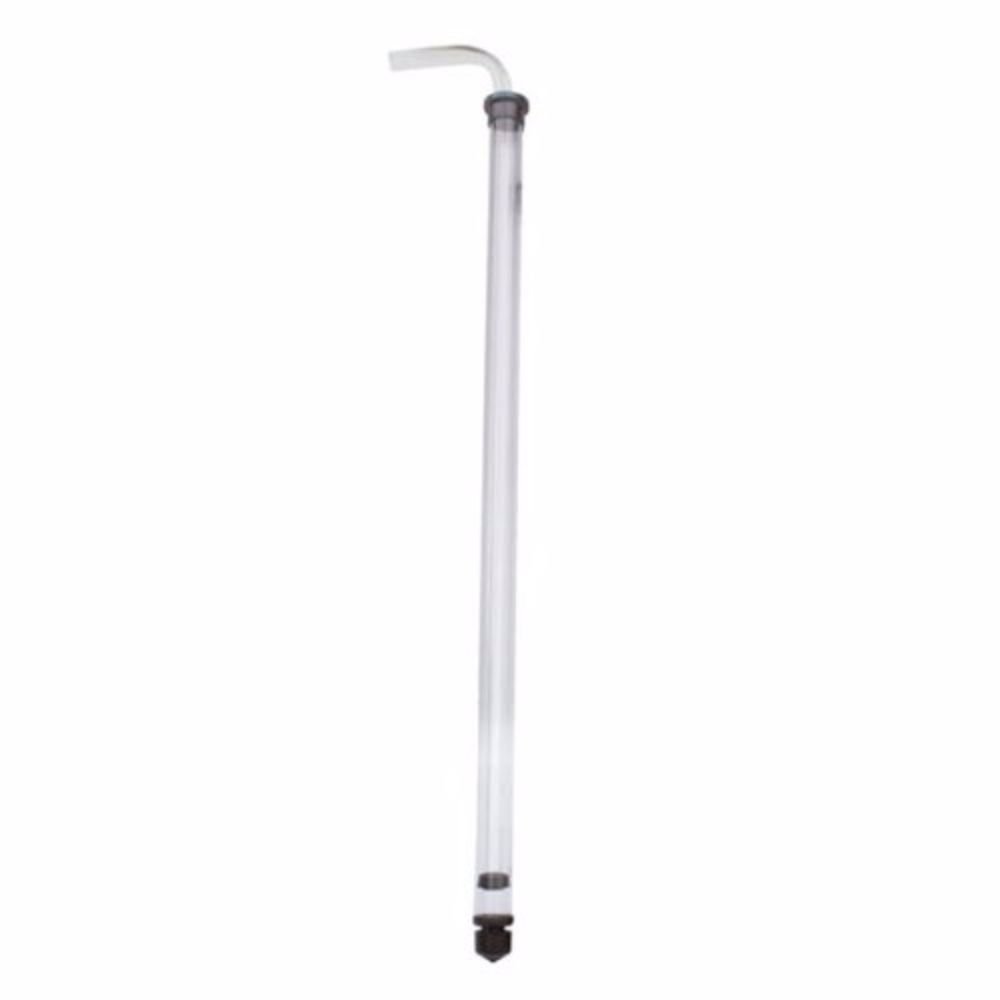 Even though it weighs just 8oz, the FastRack Auto Siphon can reduce the amount of time it takes to move wort from one container to another. Besides, you can use this 26-inch auto-siphon to transfer craft beer from 6.5-gallon or even larger buckets.
Initiating the siphoning process takes several strokes because this model doesn't feature single stroke technology. The model is compatible with ½-inch siphon tubing, and it comes with an 8-foot hose that enables you to reach the secondary fermentation bucket effortlessly.
This auto-siphon is equipped with a removable and highly efficient sediment blocking tip that prevents you from transferring trub.
Pros
Effortless upkeep due to the removable sediment blocking tip

½-inch tubing ensures fast flow

8-foot hose allows for plenty of separation between containers

Affordable price
Cons
Initiating the siphoning process takes a few tries

Bottling accessories aren't included in the kit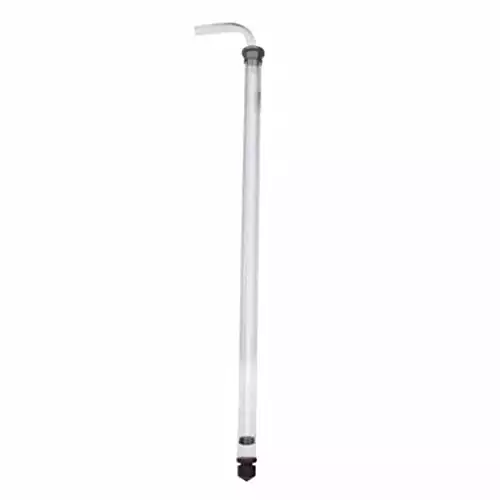 FastRack Auto Siphon | Amazon
This doesn't come with a hose. It is one of the best investments a new home brewer can make is in buying an auto siphon. This product greatly simplifies the racking (siphoning) process by initiating flow with nothing more than a pump or two on the center cane.
Buy at Amazon
We earn a commission if you make a purchase, at no additional cost to you.
08/03/2023 03:15 pm GMT

Syuantech Auto Siphon – Best for Minimize Spills and Leakage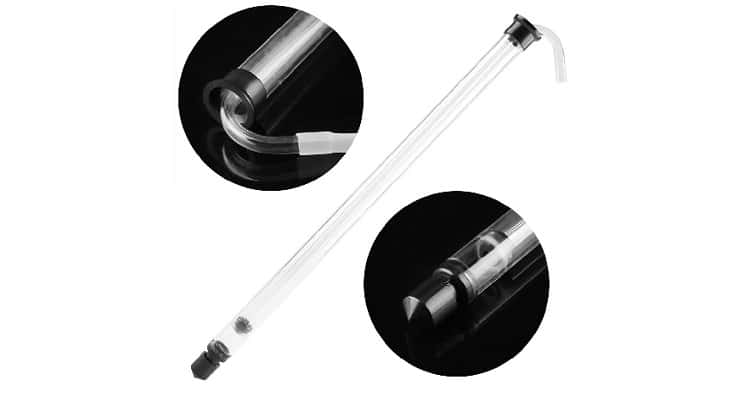 Newcomers into the world of homebrewing should consider getting the Syuantech Auto Siphon because it makes the racking and bottling processes less messy. The 13-inch auto-siphon is a great fit for smaller beer batches as it isn't large or powerful enough to transfer wort from 5-gallon buckets.
This Syuantech's model uses the single stroke technology to initiate siphoning while causing the minimum amount of disturbance to the sediments. In addition to an easy-to-use auto-siphon, you'll also get a hose that is compatible with a wide range of spigots and bottling wands.
Pros
Sanitizing the auto-siphon is easy.

Siphoning process is started with a single stroke

It offers a high level of precision

Made from durable materials
Cons
Aimed at inexperienced homebrewers

Not an ideal choice for large beer batches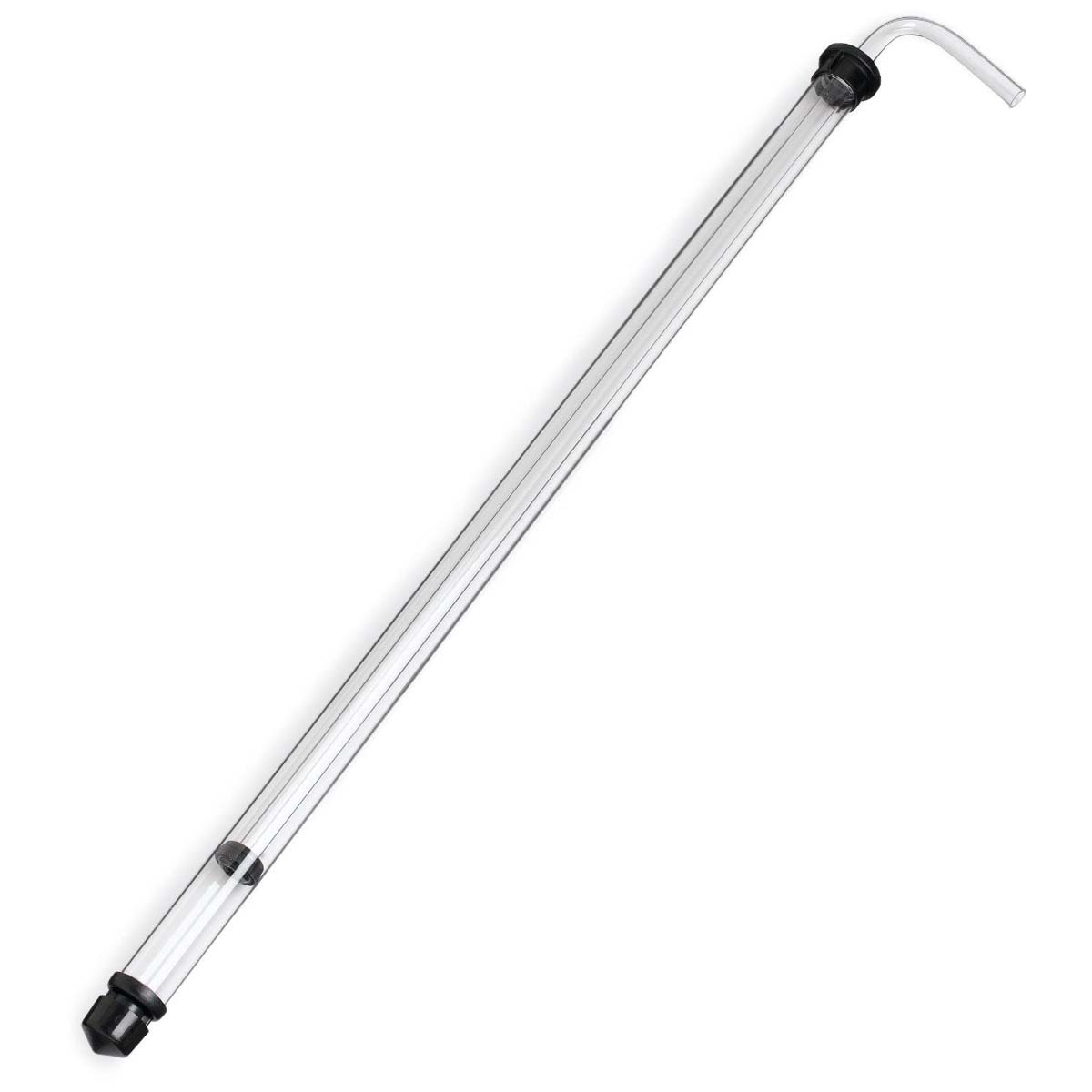 This Auto Siphon from Beverage Factory is specifically designed to minimize leakage. It works well with five gallon brew buckets, and is perfect for novice homebrewers.
The siphon uses single-stroke technology to minimize disturbance to any sediment. It's easy to clean and features a removable blocking tip to filter out sediment.
The siphon doesn't come with tubing or a clamp, but they can be added as optional accessories at an additional cost.
Pros
Very easy to use

Precision design minimizes leakage

Single-stroke technology
Cons
Doesn't come with tubing or accessories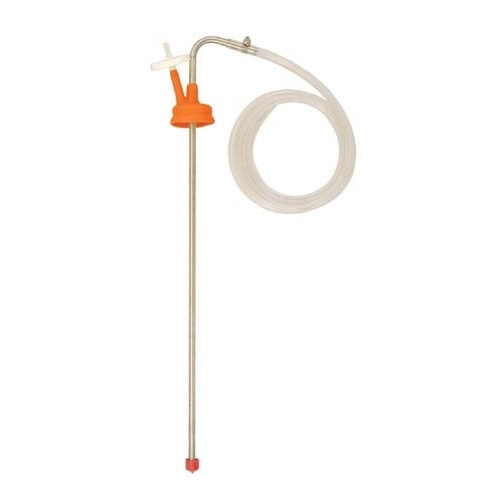 The Sterile Siphon from More Beer isn't technically an auto siphon, but I'm including it here because it works differently from basic siphons. You blow into the sterile filter to pressurize the carboy and start the flow of liquid.
The mechanism is easy to use (think of all those years you spent practicing by blowing bubbles in your chocolate milk!) and you won't risk cracking your carboy by hitting it when you're shaking a stainless steel racking cane.
This siphon comes with all the bells and whistles, including a sediment reduction tip, vinyl tubing, a hose clamp, an air filter, and a carboy blowoff hood.
Note that this siphon only works on glass carboys and will not work if you brew in plastic buckets.
Pros
Very simple and straightforward design

Easy to control the initial flow of liquid

Kit comes with everything you need
Cons
Will only work for glass carboys

Over $20
Frequently asked questions about auto siphons
Question: Can I rack beer with a basic siphon?
Answer: Yes, you can, but doing so will disturb the sediment at the bottom of the fermenting bucket, and sucking the air out of the tube with your mouth might expose the beer to bacteria.
Question: How long does the racking process take?
Answer: The duration of the racking process depends on the size of the beer batch, but transferring a gallon of wort to a secondary fermentation bucket can take between 10 and 20 minutes
Question: Are auto siphons expensive?
Answer: No, they're not. You can purchase an auto-siphon capable of transferring gallons of beer for less than $20.
Question: Is it possible to transfer beer with a racking cane?
Answer: Yes, it is. Auto siphons include a racking cane in the setup, but you can get rid of other parts of the system and just use a plastic or metal tube that is bent at the top to siphon beer from one container to another.
The verdict – How to Know Which Auto-Siphon Model is the Best for Brewing?
The necessity of secondary fermentation has been a hotly disputed topic among homebrewers around the globe.
Even if you think that racking beer is an unnecessary step that leaves too much room for error, potentially ruining the entire batch of beer, you're still going to want an auto-siphon to complete the bottling process.
These devices all operate the same way, relying on gravity to transfer fluid from one container to another.
For the average homebrewer, I recommend the North Mountain Supply Quick Start Automatic Siphon because it contains all the components you need to start a racking process.
Homebrewers in need of an automatic siphon capable of transferring large quantities of beer from one bucket to another should consider getting the FastRack Auto Siphon.
| Product Image | Primary Rating / Price | Primary Button |
| --- | --- | --- |
| | | |
| | | |
| | | |
| | | |
08/03/2023 12:16 pm GMT

Was this guide to the best auto siphons useful? Leave a comment and let us know.