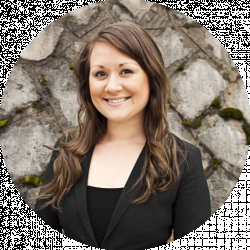 Latest posts by Lacey Jackson
(see all)
When my better half announced, "I'm bottling today," I was very happy. I left for some meetings, which got out a few hours sooner than expected. So, I came home ready for lunch, and they had just about finished. Starving, I carefully walked through the kitchen only to realize my feet were sticking. Everywhere I stepped was tacky. 
Given that I was the one who had cleaned the kitchen before leaving, I was faced with an opportunity for some emergency meditation. 
Turns out, sticky floors (and counters, and sink, and ceiling, somehow) are a common part of the bottling process. 
But they don't have to be. 
With the best counter pressure bottle fillers, the risk of sticky, sticky spills drops significantly for the experienced or new home brewer.
Bottom Line Up Front
Bottling should be fun and fast. I recommend modern counter pressure bottle fillers like OneBom for their speed and their efficiency. If you want a more official setup for a dedicated brewing space, then go with WilliamsWarn.
Why Use a Counter Pressure Bottle Filler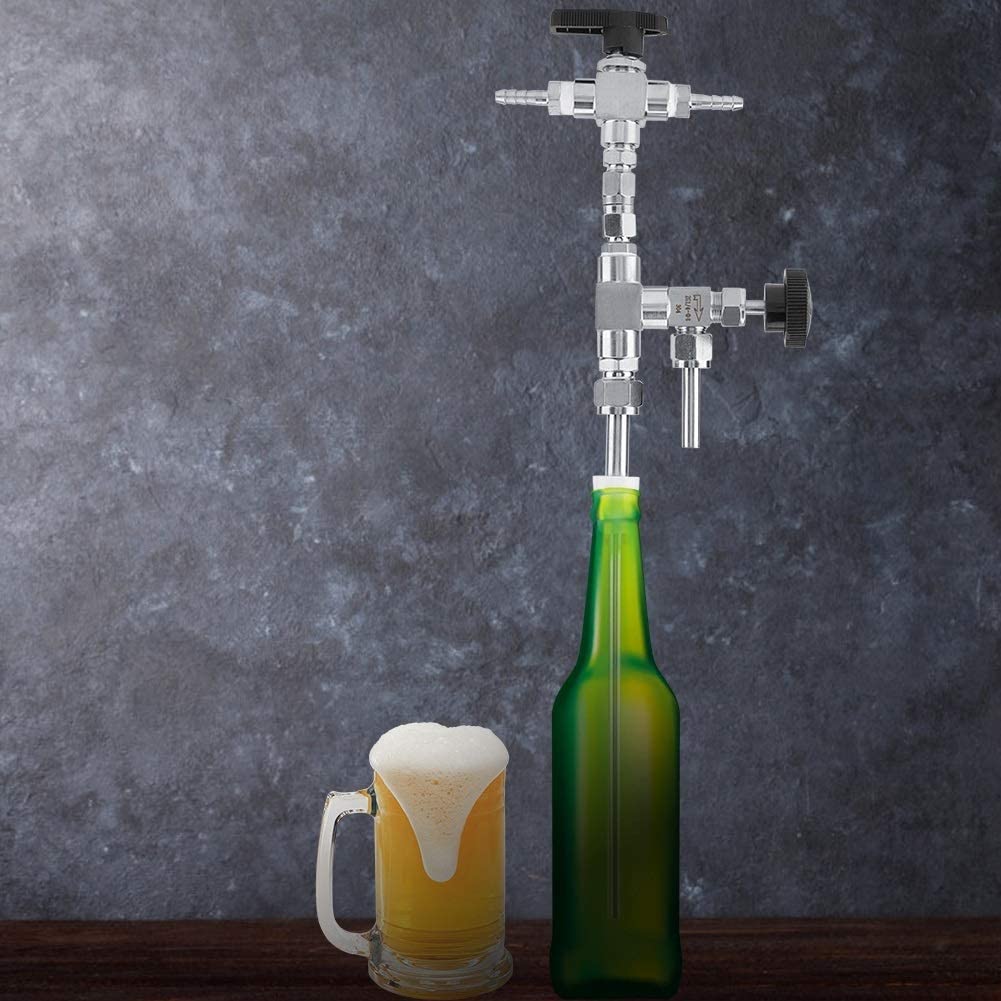 A counter pressure bottle filler can help you fill bottles or cans for bulk storage without any carbonation loss. So, you can use it for bottling:
Beer

Sparkling wine

Soft drinks
A counter-pressure bottle filler maintains constant carbon dioxide pressure while the bottle gets filled. It works by pressurizing the bottle with carbon dioxide, opening the valve, and then venting the bottle while it fills with beer from the bottom.
My dad has a massive built-in bar in his home, complete with half a dozen flat-screen televisions all playing different sporting events at the same time, a pool table, dartboard, pinball machines, multiple kegs, and an impressive L-shaped bar and multiple bar tables and bar stools scattered throughout. 
He prefers keeping his favorite beer on tap at all times because there are certain brands that he can get in a keg that he can't buy at the store individually. However, he also lives about a mile away from the beach. So whenever he heads down to the beach or a friend's house, he uses a counter pressure bottle filler just to fill up a quick six-pack and bring it with him. 
Tips:
No matter which of these best counter-pressure bottle fillers you choose always sanitize the components before you start the bottling process. Let everything sit in a starsan mixture before you put it all together and start bottling.
To maintain the right carbonation, always cap on foam. This means capping your bottle as foam is still spilling out of the top.
Features of the Best Counter Pressure Bottle Fillers
If you brew your own beer, evaluating the best counter-pressure bottle filler comes down to the features, the quality, and the ease of use.
Features
You need to pay attention to the different features of each counter-pressure bottle filler. Some bottle fillers have temperature regulations to help prevent the loss of carbonation during the transfer. This might be very important to you, especially because that influences the taste of your brew. 
Others have adjustable functions for the height of the bottle, which can expedite the bottling process if you are working with different sizes, something I do regularly because I like to give beer away as gifts, but I give people smaller bottles just in case they don't like it (I don't want to be wasteful). 
Quality
Quality is important when assessing anything to do with home brewing. Just because something is really expensive doesn't mean it's the best quality, but on the flip side, you certainly shouldn't pick the cheapest option just because it's the cheapest option. 
The different features and the ease of use will influence the cost, and in some cases, getting extra sanitation tools as part of your purchase might be well worth the slightly higher cost. Stainless steel has no chance of bacteria, lasts longer, and is more durable. Of course, stainless steel counter pressure bottle fillers are more expensive.
Ease-of-use
I don't want to use overly complicated tools. If you are brewing beer at home, you should verify how easy something is to use, how big it is, and whether you can move it from your garage to your kitchen and back again. 
Some counter pressure bottle fillers are very high quality with a lot of features, but they're also very large and require permanent installation. People who brew at home generally want to avoid that and just need something that can be brought out of the closet or the garage when the time comes.
Selection Criteria
For each of the items I selected, I reviewed the features, the quality, and the ease of use. I included a range of the best counter pressure bottle fillers based on how easy they are to operate and clean, what features they have that someone who is brewing at home might need, and the quality of the materials. 
Best Counter Pressure Bottle Fillers
OneBom

OneBom is one of the absolute best counter pressure bottle fillers because it is easy to use. It is inexpensive, around $40, and it's made to last and constructed from stainless steel. It's super easy to use. You must sanitize the pieces, connect them, and then apply the right pressure to start the beer flowing into your bottles. As soon as you release that pressure, it stops flowing, so you don't have any spills or sticky messes that leave your partner actively meditating in the middle of the sticky kitchen.
You get a sanitizing brush to clean the inside of the tubing, which is very important. If you aren't prompt and fastidious after brewing, you might find a little bit of residue or growth on the inside. If you can't get rid of this, you'll have to buy replacement tubing, which is why it's so important to use these tools and starsan before and after bottling. 
This model has a wider diameter than some of the other pressure fillers, so if you are working with really narrow necks, it might not fit as well, so you might have to improvise a bit to get it to fit the narrow spigots. Otherwise, it works very well with traditional beer bottles. 
Pros:
It can be used for beer and for wine, so if you're like my family and you make the leap from beer to mead to wine, you can use the same homebrewing equipment. 

It has six feet of food-grade plastic tubing. This is important if you are preparing beer to sell at local shops or restaurants. 
Cons:
The knobs are the cheapest part of the tool, so they might fall off before the rest of it breaks; don't worry, you can buy replacements. 
Hgkeke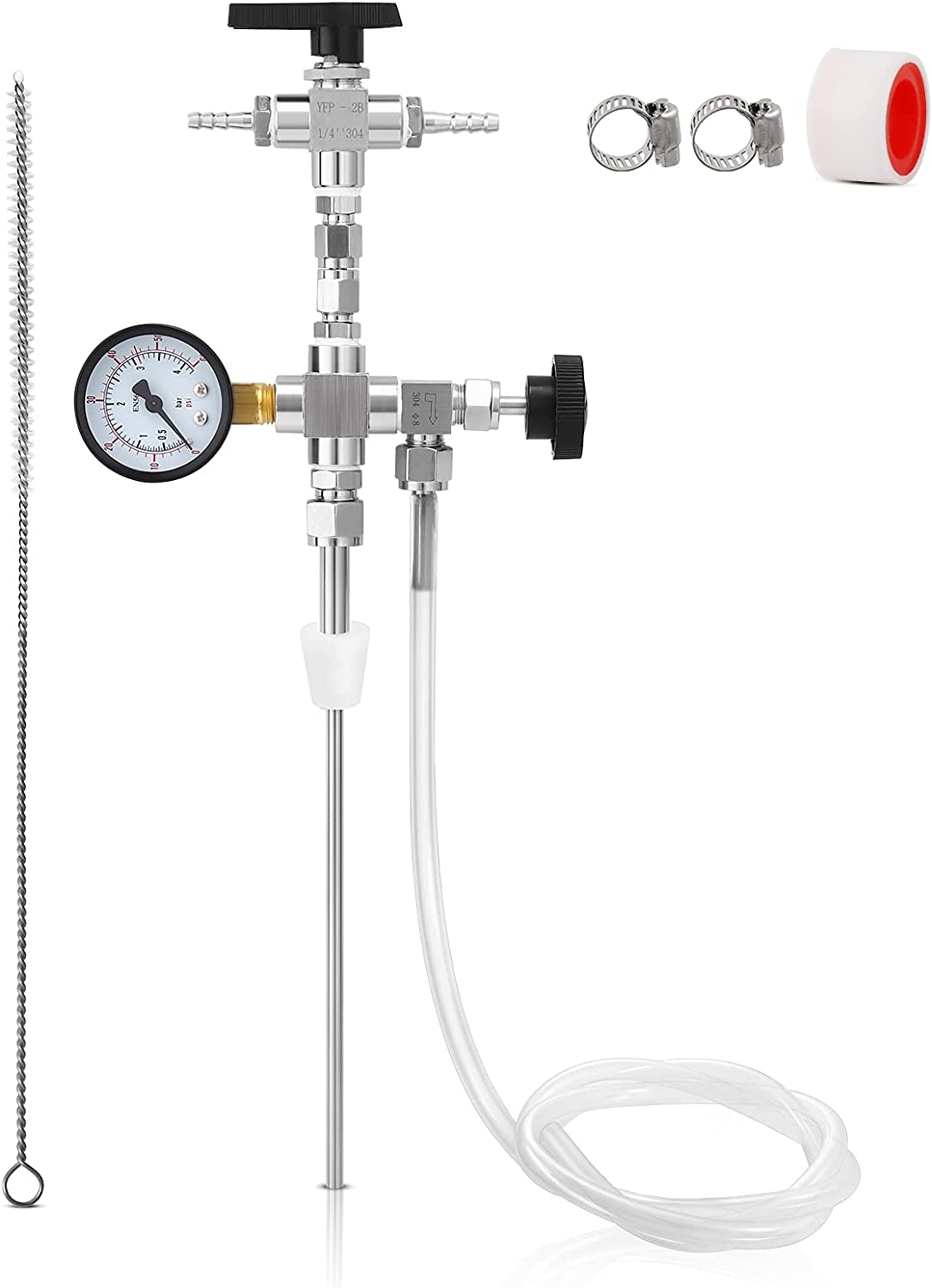 Hgkeke deserves its place on the list because it is very similar to OneBom but comes with a few more features. It has a three-way valve that is very easy to use. Using the bottle filler is very simple. You just close off the valves, connect the lines, one going to the gas and one going to your beer, put the silicone stopper in the neck of the bottle, turn on the gas, bleed out the oxygen, pressurize the bottle again, and add beer directly to it.
Pros:
 I absolutely love that it has a seat silicone stopper. That silicone stopper means no matter the neck diameter of the bottles you are using, the silicone stopper will rest at some point securely, and you can hold it in place very easily while operating the rest of the valves. This is one feature that is lacking in a lot of the other designs. 

It has a very easy-to-read pressure gauge that helps you monitor the pressure inside the bottle accurately.
Cons:
It is not a hands-free device. One hand controls the three-way valve, and the other holds the bottle in place.

Bottles you use have to be taller than 6.6 inches, and the opening can't exceed .86 inches for the stopper. If it does, you can purchase additional stoppers separately. 
WilliamsWarn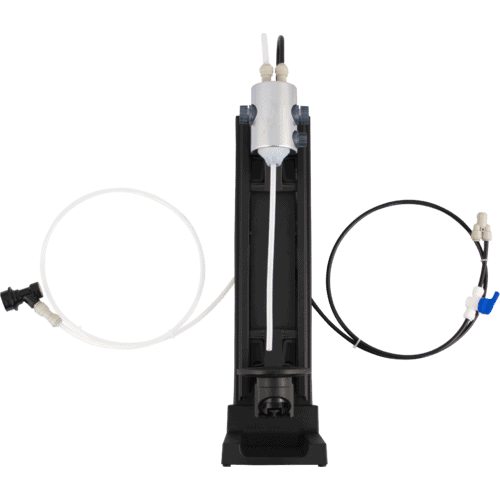 If you don't like the idea of dedicating one hand to holding a bottle in one hand to operating your counter pressure bottle filler, then get ready to mount your bottle filler to the wall and enjoy all the benefits of a high-end design.
WilliamsWarn is a great counter pressure bottle filler, one that has gas and beverage hoses. I like this one because it's a standalone unit that can sit on your countertop, and fill a variety of bottle types, including the 3-liter growlers. Because it sits on its own, you don't have to hold it with one hand and then try to fill your bottles with the other. 
But that's not the only reason why it's so great. They make operating the bottle filler simple for Everyone by including an instructional video which you can view below:
You put CO2 pressure into the bottle on the left side, bleed out any oxygen, and filled it with beer. You can adjust the pressure relief valve to control the flow rate so that your bottle doesn't foam. I love this because other models I've used didn't have it, and you had to manually adjust the pressure and hope for the best. 
It also has adjustments for the height of the bottle, so you can easily fill a bottle that is only eight inches or a bottle that's 14 inches. It works really quickly, so your bottles fill up in a short amount of time which, anyone who has done home brewing can attest, is a godsend. It can fill one pint in 40 seconds, so if you have a full 5-gallon keg to bottle, it shouldn't take more than 30 minutes to complete the process with this tool. 
Pros:
It produces little overflow, which, again, keeps your bottling area clean and doesn't waste your hard work. 

It functions as a free-standing unit that keeps your hands free. However, you have to mount it to the wall for maximum safety. 
Cons:
It is a bit more expensive compared to other models. 
Deluxe 
The Deluxe bottle filler is a durable design that is easy to use and comes with an array of features. 
Firstly, it has a dedicated valve through which you can control the dispensation of carbon dioxide and beer. Secondly, it has a stainless steel tube which is much safer in terms of antibacterial properties. Thirdly, it offers a flared connection that contributes to easy sanitation after each usage. 
This model is about twice the cost of the OneBom, however, because of the higher quality materials, it will last longer and won't require any replacement parts (unless you accidentally trod on it while tiptoeing through a very full beer closet, which I did). 
Pros:
It comes with an integrated pressure gauge so you can keep track of your work. 

It is really easy to transfer the beer.

The clean-up process is simple, and the high-quality stainless steel tubing keeps things sanitary. 
Cons:
Your beer has to be cold to use this, so you might save time in the bottling process but have to use that time to cool the beer beforehand. 
Blichmann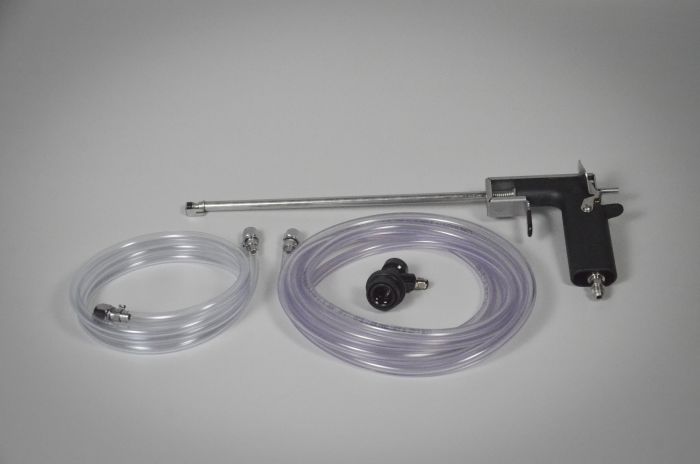 Blichmann is an odd one but worth mentioning. It is odd because its product it's called a beer gun. It's a counter-pressure bottle filler, but it is shaped like a gun and uses a very similar trigger system. So it's almost like an adult version of a squirt gun which is why I like it.
In addition to being fun and ergonomically much friendlier than any other counter pressure bottle filler, it has a much more intuitive usability. It's very easy to clean and a set up, it reduces the foam, and it only takes one hand to operate.
Pros:
You can use the beer gun with an auto-fill level and feel each of your bottles perfectly. 

It is really easy to use by yourself, so you don't need anyone to help you bottle.

It comes with an accessory kit and an integrated carbon dioxide valve. 

The design contains antimicrobial properties, so your beer and all of the components you use are sanitary. Everything comes apart, so it's really easy to clean afterward as well.
Cons:
Their proprietary Quiescent Flow Technology comes at a cost; it's about twice the cost of the other models. 

The tip gets loose with regular use, and if it's too loose, it might 

plop

 right off into your beer. 
FAQs
Question: How does a counter pressure bottle filler work?
Answer: It works by maintaining a steady level of carbon dioxide gas pressure on your brew as you fill the bottles. By chilling your beer ahead of time (like you have to do with the Deluxe model, you can reduce the amount of foaming during bottling).  
Question: Is there a way to keep a filling from foaming?
Answer: When you are bottling, your goal is to reduce foam and spills. Being careful about the position of the nozzle and the speed when using a counter pressure bottle filler is important. 
Question: What is the best way to clean bottle fillers?
Answer: I start by rinsing everything and washing it with a mild detergent. Once that is done, I use starsan. I actually keep a large bucket of starsan mixed and ready at all times so that I can just pop in there when I need and do a quick dunking. It makes it a lot easier to rack things, make yogurt on the fly, or remove labels from used bottles. 
Bottomline 
For the regular home brewer, go with OneBom. It has the features, ease of use, and durability that you want in a counter pressure bottle filler. If you want something wall-mounted that you can use above a sink in your brewing room (not something you cart back and forth), invest in WilliamsWarn.