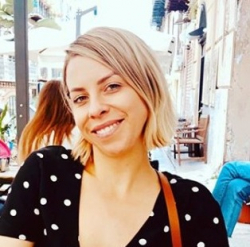 Latest posts by Jodie Chiffey
(see all)
Once you start on your homebrewing journey, you'll quickly find that not only can you get plenty of homebrewed beer for next to nothing, you can also open up a huge range of different doors leading to a myriad of different flavors. And one of the best ways to do this is to mix up your hops. So while there are over 80 varieties of hops, today I'm here to tell you all about one in particular in this Simcoe hops guide.
Hops are one of the essential home brewing ingredients. While many starter kits will play it safe with foolproof hop varieties, if you're feeling funky and fruity, you can step up your homebrewing game a couple of notches and take the plunge with a new and different variety of hop. In my opinion, there's no better hop to use than Simcoe hops. But what are they?
Read on and find out how you can start using Simcoe hops in your next batch of beer today.
What are Simcoe Hops?
Smooth and complex – you'd be forgiven if you thought I was talking about something else, to be honest! However, I'm actually using those two words to describe Simcoe hops, one of the more popular and well-known hop varieties that homebrewers and craft brewers alike have used throughout the years.
Charles E. Zimmerman first developed Simcoe hops with the assistance of the Select Botanicals Group, and finally released this variety of hops through Yakima Chief Ranches back in 2000. If you know your brews, then you'll surely recognize the name Yakima Chief Ranches – they're one of the big companies in the US to produce homebrewing equipment.
To say Simcoe hops are popular is an understatement. In 2015, it was reported that there were an astonishing 3,200 acres of Simcoe hops in the US, and it's not just the US that loves them. For example, Brew Dog Brewing Company in Scotland claimed that it was one of the biggest buyers of Simcoe hops in the world – so we're dealing with a popular variety here, that's for sure!
Flavor Profile
This is the question on many a brewers' lips – what will Simcoe hops make my beer taste like? The chances are that, knowingly or otherwise, you've sampled the delights of Simcoe hops. It's a diverse and complex hop variety with a wonderfully smooth bitterness to finish it off. It's often compared to Cascade hops – and is sometimes called "Cascade on steroids!"
It can be described as being both earthy and fruity, with a flavor and an aroma that is complex and somewhat unique. For example, in a batch of beer brewed with Simcoe hops, you can expect to get the following flavors:
Apricot
Passion fruit
Pine
Mixed herbs
Citrus zest
Grapefruit
Berry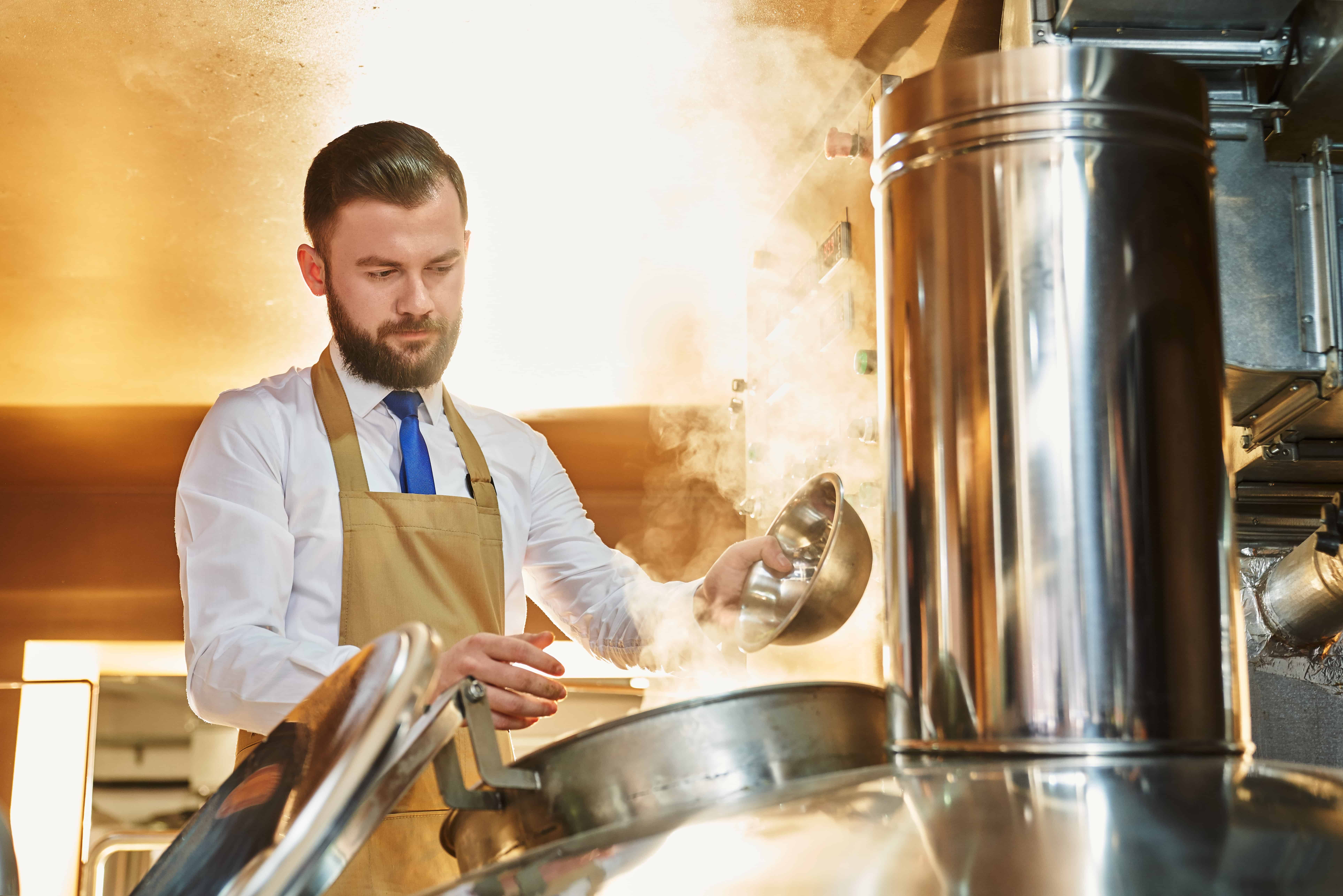 Simcoe Hops – Ingredients
Many hop varieties nowadays, and in particular the ones that are used in the homebrewing and commercial brewing world, are, in fact, hybrids or inventions. Hop farmers nowadays are like crazed professors, developing and combining their hops, splicing together different strands of different varieties to create unique and complex hops.
Simcoe is another one of these hybrid hops, created back in 2000. Unfortunately, many of these farmers and hop developers keep the parentage of these new hop varieties safely locked away, and Simcoe hops are no different. However, keen beer fans have continually noted the uncanny resemblance to Cascade hops, so there could be a link along those lines.
Simcoe is a patented hop. This means that if you wanted to grow it in your own garden and create your own beer from scratch, you wouldn't be able to as the rhizomes, or roots, are not available to the general public. However, Cascade hops, the close relative to Simcoe hops, are available to grow if you so wanted.
How to Brew Beer with Simcoe Hops
Not all hops are suited to all beers – though that certainly hasn't stopped people from trying, and there's nothing to say that you shouldn't have a go yourself if you're so inclined! So what about Simcoe hops, then? Well, even though you can't grow your own, you can still buy Simcoe hops to brew your own beer.
Simcoe hops are a dual purpose hop variety with both bittering and aromatic properties. As Simcoe hops are such a popular variety, they have been tried and tested in many different styles of beer – which is great news for all you budding brewers. However, some of the biggest and best success stories, from homebrewers and commercial brewers alike, come from brewing the following typical beer styles with Simcoe hops:
Ale (red, brown, amber, black, pale)
Barley wine
American Pale Ale
Porters
Stouts
Wheat beers
As you can see, it's a pretty versatile variety of hops and can be used in a whole load of different styles of beer. So whichever style of beer takes your fancy, you can be pretty sure of the fact that you'll end up with a great beer, no matter what!
When to add Simcoe Hops
Simcoe hops is a variety of hops commonly known as a dual purpose hop. This basically means that you can add them at any point during the brewing process. However, more often than not, people use Simcoe hops as a bittering hop addition to creating a lovely smooth bitterness that makes Magnum hops spring to mind.
You can also use Simcoe hops as an aroma addition or use it for dry hopping. It creates an utterly irresistible spicy aroma and bright citrus flavor when used like this and gives off some gorgeous fruity and earthy notes and aromas.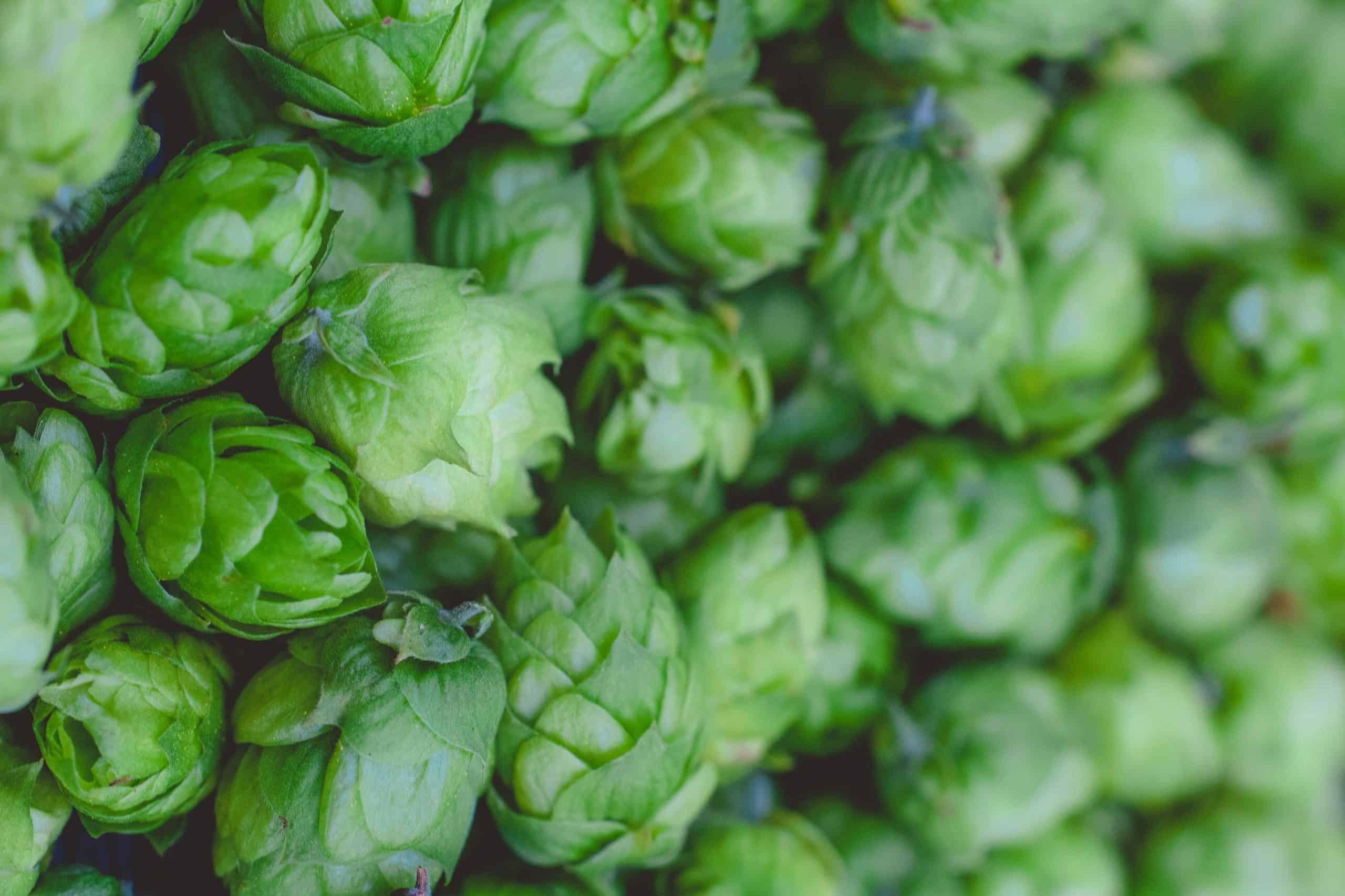 Complimentary Hop Varieties
Blending hop varieties together can create some unique and irresistible brews – but it can also result in some absolute disasters! The only way to truly find out which hops goes with which other varieties is by trial and error – if you don't have this time, patience, and supreme love of beer to do this yourself, then I have you covered.
The following hops compliment Simcoe hops really well, so if you want to try out a blend, then definitely look into using one of the following blends:
Acid & Oil Composition
Acid Composition
| | |
| --- | --- |
| ALPHA ACID (%) | 11.5 – 15% |
| BETA ACID (%) | 3 – 4.5% |
| ALPHA-BETA RATIO | 2:1 – 3:1 |
| HOP STORAGE INDEX | 24% (good) |
| CO-HUMULONE AS % OF ALPHA | 17 – 21% |
| TOTAL OILS (mL/100g) | 2 – 2.5mL |
Oil Composition
MYRCENE

(flavors – citrus, fruit)

40 – 50%
HUMULENE

(flavors – wood, spice)

15 – 20%
CARYOPHYLLENE

(flavors – pepper, herbs)

8 – 14%
FARNESENE

(flavors – floral, fresh)

0 – 1%
ALL OTHERS (including linalool, β-pinene, geranoil & selinene)
21 – 25%
Simcoe Hops – Alternatives
Let's not beat about the bush – you'd be in for a challenge if you were to try and find a variety of hops as unique, complex, and versatile as Simcoe hops. However, sometimes they might not be on sale, or you might want to experiment or try out a brew that features some of the characteristics of Simcoe hops. So, let's take a look at some alternatives to Simcoe hops:
Cascade
Truly the quintessential American hop variety, Cascade hops are an essential addition to any American IPA or pale ale. They are often discussed in hushed tones when Simcoe hops are mentioned. Packed full of spiciness and fruitiness, you can definitely see why Simcoe hops are frequently discussed concerning Cascade hops.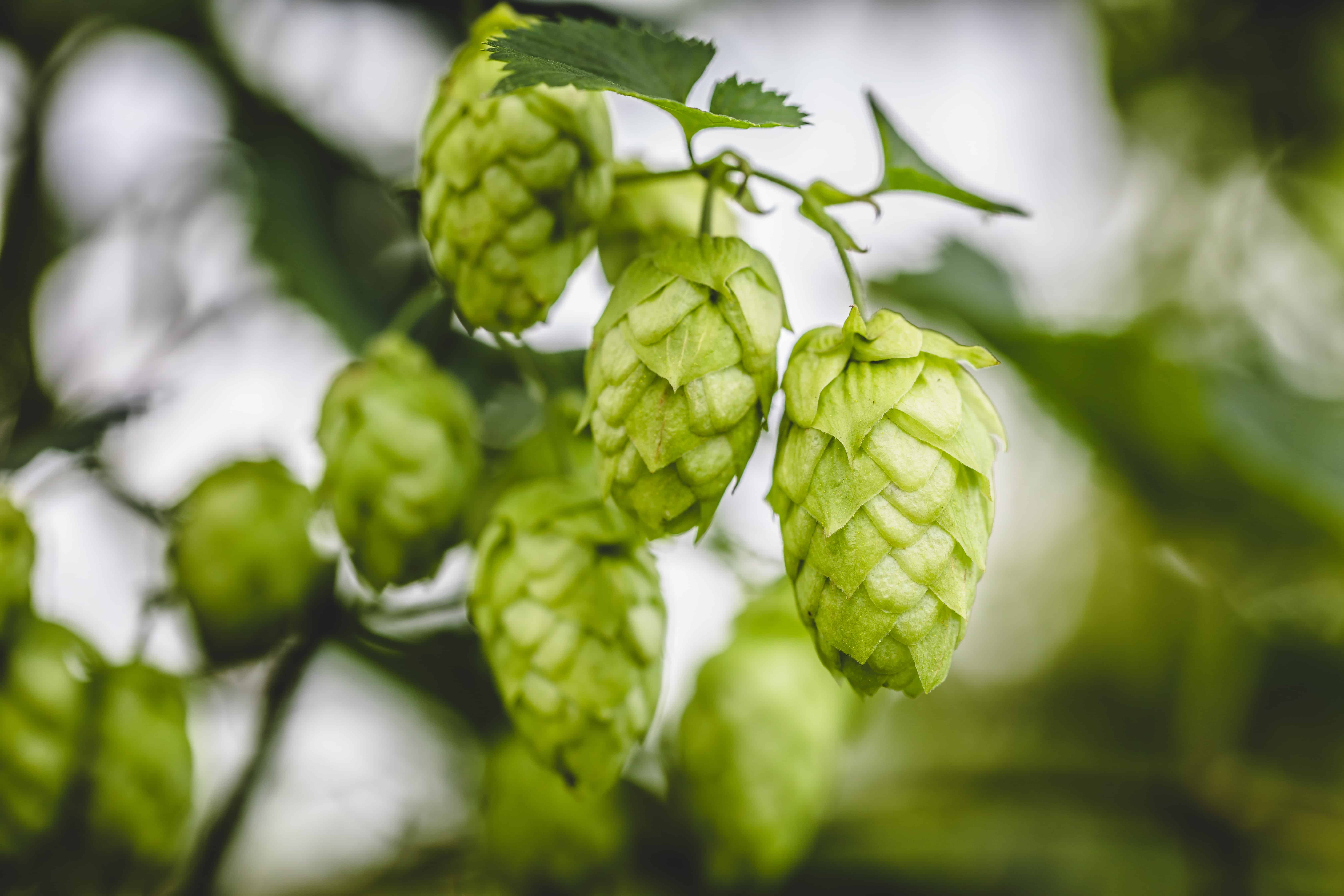 Centennial
If you love the pine freshness and gentle earthiness you get from a Simcoe hops brew, then you'll love using Centennial hops. With a clean, bright bitterness, delicate floral notes, and some very gentle citrus aromas, too, Centennial hops aren't quite as fruit-forward as Simcoe – but sometimes you want something a little fresher!
Amarillo
On the other hand, if you're looking for a hop variety that packs a serious citrus punch – perhaps even more so than Simcoe hops and Cascade hops – then you can do no wrong with Amarillo hops. Tropical and spicy, with citrusy vibes (think oranges and lemons), Amarillo hops are an ideal alternative to Simcoe hops if you're looking for a fun, funky citrusy hop.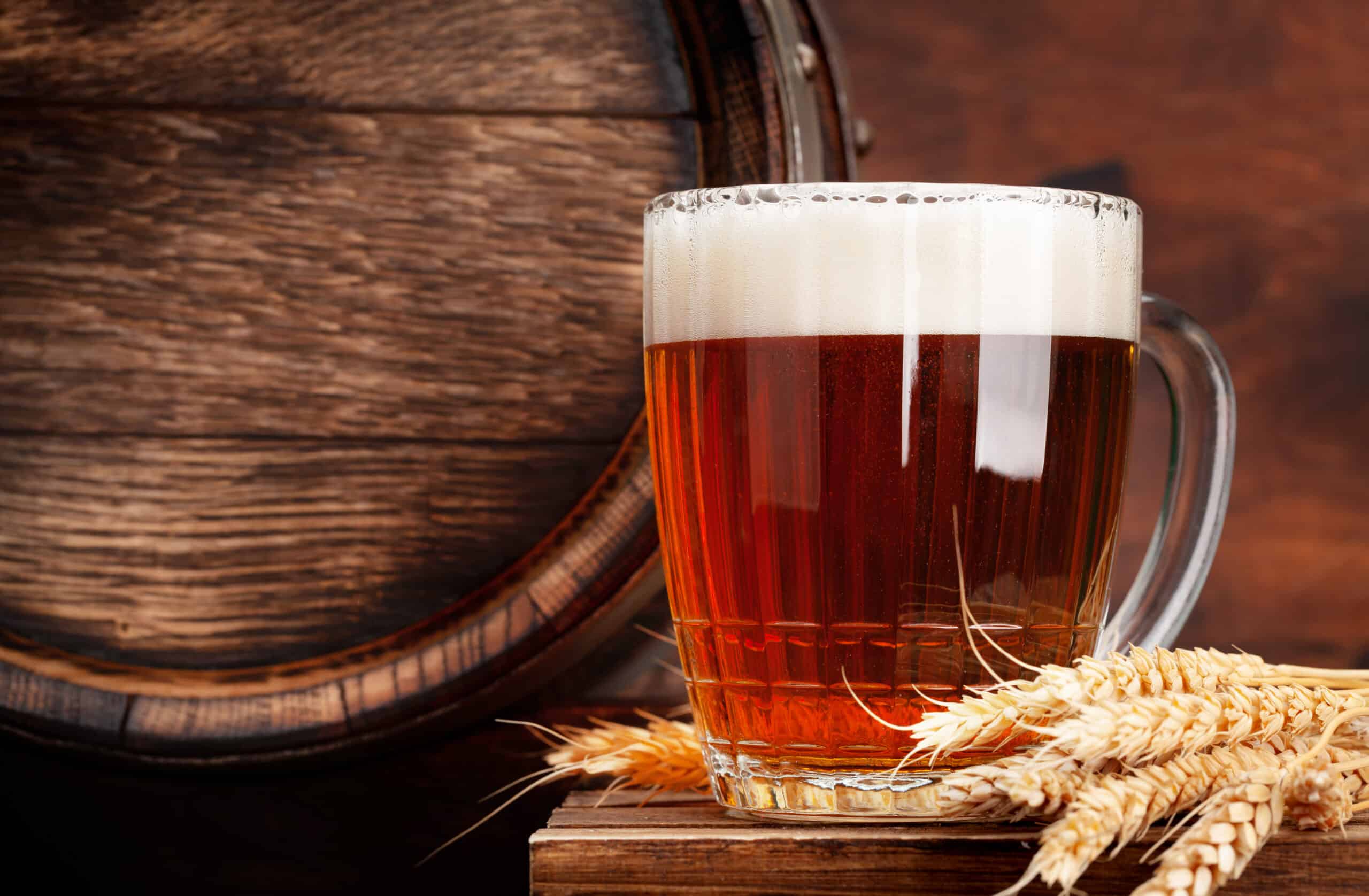 Frequently Asked Questions
Let's have a look at some of the more commonly asked questions surrounding Simcoe hops and their use in homebrewing.
Question: Is Simcoe a good dry hop?
Answer: Simcoe hops are an excellent option for dry hopping, as they impart a really great orange crush vibe to your beer. It's for this reason that they're frequently used in IPAs and double IPAs across the world.
Question: What do Simcoe hops taste like?
Answer: In a nutshell, you can expect a brew made from Simcoe hops to be both earthy and fruity, with citrus notes, passion fruit, apricot, and berry tones as well. In addition, you'll also get some gorgeous pine and earthy aromas to it too.
Question: Which hop varieties go well with Simcoe hops?
Answer: Simcoe hops is definitely not a one-trick pony. Sure, single hopping with this variety can create some wonderful brews. Still, it also works fantastically well with other hop varieties, including, but certainly not limited to, Cascade, Centennial, Chinook, and Citra hop varieties.
Question: Where can you buy Simcoe hops?
Answer: As they're quite a popular variety of hops, you can find Simcoe hops fairly easily. If you want to make sure you end up with the real deal, though, make sure you go for the Yakima Chief brand of Simcoe hops. It comes in a 1lb sack, so you should be sorted for some time!
Final Thoughts
If you have been considering stepping up your homebrew game a level or two, but you weren't too sure where to start, then I hope that this comprehensive Simcoe hops guide has proven useful. They're a really great, fun, funky variety of hops to use, and you can't really go wrong with them, making them ideal for anyone looking to add some pizzazz to their homebrew.