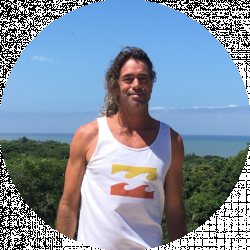 Latest posts by Gavin Eales
(see all)
Jameson has stumbled across something quite brilliant with their Jameson IPA Whiskey. Jameson whiskey is of the highest quality, and with a triple-distilling process, it is well-known to be incredibly smooth and full of natural flavors.
Allowing this whisky to mature in IPA barrels is genius, and offers numerous additional tastes and aromas. It might seem like an odd combination but the tastes, flavors, and aromas all come together beautifully to create a very tasty and extremely satisfying whiskey.
Jameson and Son currently make two varieties of delectable IPA Whisky's. The first is called Jameson IPA Edition Whisky, and this style represents and is inspired by traditional IPA Craft Beer.
The second is called Jameson Caskmates, and this style represents and has been inspired by Stout Styled IPA Craft Beer. Let us find out exactly what they are all about.
Pros and Cons of Jameson IPA Whiskey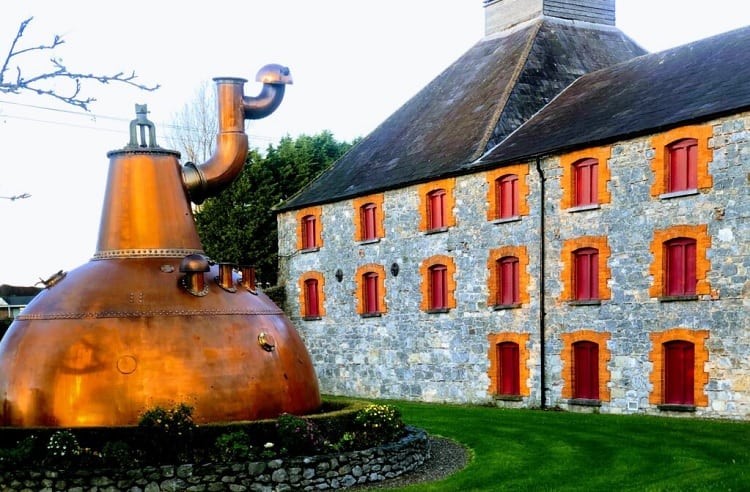 Jameson IPA Edition Whisky is a bold step in the world of whisky and could leave some hard-core traditionalists with raised brows or even with their noses up in the air. I think it is fair to say that this combination might not be for everybody, so let's take a look at some of the Pros and Cons of this interesting creation:                                   
Pros
Exceptional whisky that has been triple-distilled and delivers a smooth and satisfying finish

Jameson IPA Edition offers hoppy, spicy, and fruity flavors with a full-bodied taste

Jameson Caskmate offers fruity and hoppy bitterness, followed by caramel and chocolate goodness

Well packaged with a stylish and attractive label

Easily accessible

Reasonably priced when compared to other products in this category  
Cons
It is difficult for me to find anything negative to say about these products, except that maybe some whisky purists out there might not appreciate this combination.
The Whisky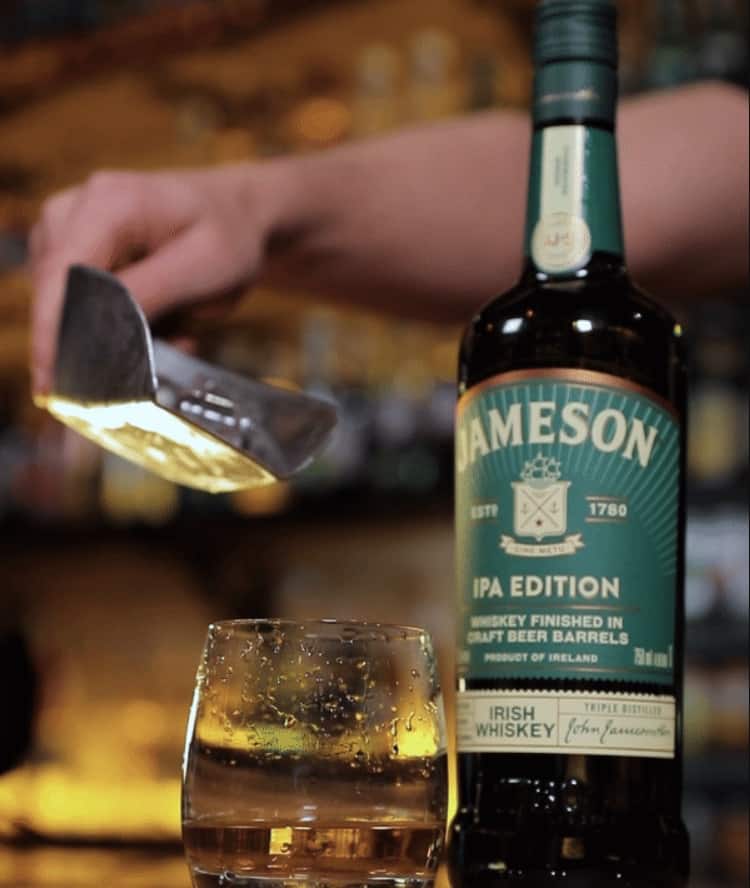 The Jameson Distillery was first opened in 1780 in Dublin, Ireland. Initially, it was called the Steins Family Bow Street Distillery, by the 1730s their Kennetpans distillery was the largest in the world. In 1805 a Scotsman named John Jameson acquired the Bow Street Distillery and John Jameson and Son was born.  
Jameson Irish Whisky is expertly made from a blend of single pot still whisky and grain whisky, combined with unmalted and malted Irish barley.
Traditionally the barley was dried in a closed kiln fired by anthracite coal, but today the distillery only uses natural gas to fire the kiln. Jameson is so focused on quality and consistency that they only use barley that has been sourced within an 80km (50 miles) radius of the Cork distillery.
Jameson Whisky is well-known for being exceptionally smooth, this accomplishment largely comes down to the triple-distillation process. Today, most Irish Whisky has been distilled a minimum of three times and although this increases production costs greatly, the result is a smooth, rich, and delectable whisky. 
All Jameson Whisky has been matured for at least four years. To achieve the smooth, sweet sherry, and spicy finish, the whisky has been matured in old well-flavored sherry and bourbon barrels.
What is IPA?

IPA is an acronym for India Pale Ale, and it has an interesting history. In the 1800s when the British Colony ruled supreme over the subcontinent, thirsty troops couldn't bear the thought of not having any beer on their long voyages home. To preserve their beloved brew, they used substantially more hops in the brewing process.
This resulted in a beer that was significantly higher in alcohol content with a bold full and hoppy taste, and the India Pale Ale was born.
The Maturing Process of Jameson IPA Edition Whisky
Traditionally, Jameson Whisky has always been allowed to mature in oak barrels, this is what gives it the delectable earthy flavors and aroma. In the case of Jameson IPA, once the exceptional whiskey has matured in the ex-sherry and ex-bourbon barrels, it is then transferred to authentic India Pale Ale Barrels.
These oak barrels initially absorbs the taste, flavors, and aromas from the India Pale Ale while it was maturing. Once the whiskey is introduced to these Indian Pale Ale Barrels, they gently infuse the whisky with the very same delicate taste, flavors, and aromatic properties.
The Maturing Process of Jameson Caskmates
Just like the Jameson IPA Edition Whisky, this whisky spends at least four years maturing in traditional ex-sherry and ex-bourbon barrels. The whisky is then transferred to wooden barrels that previously housed Irish Stout Craft Beer.
The flavors and aromas of these Irish Craft Beer Barrels are vastly different from the IPA barrels used in the Jameson IPA Edition Whisky, and the result is vastly different too.
What does Jameson IPA Edition Whisky Taste Like?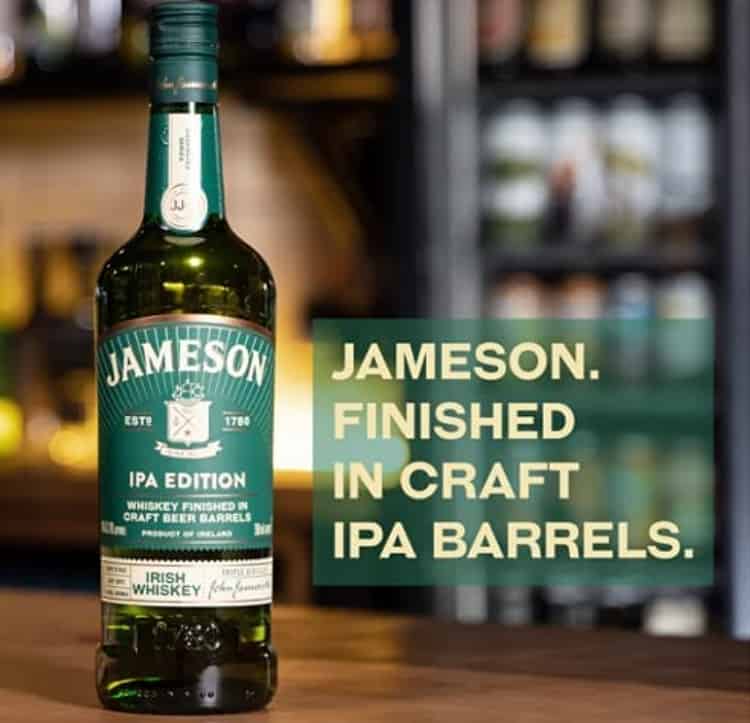 Jameson IPA Edition Whisky has a unique flavor and your first sip can leave you somewhat confused. You see it going down but what you get is vastly different from what you were expecting.
Lovely flavors of citrus and spice hit you upfront without overpowering the whisky. This is followed by the delicate bitterness of the hops, again without overpowering the whisky. On the finish, the quality triple-distilled whisky shines through leaving you satisfied and licking your lips (literally).
What does Jameson Caskmates Taste Like?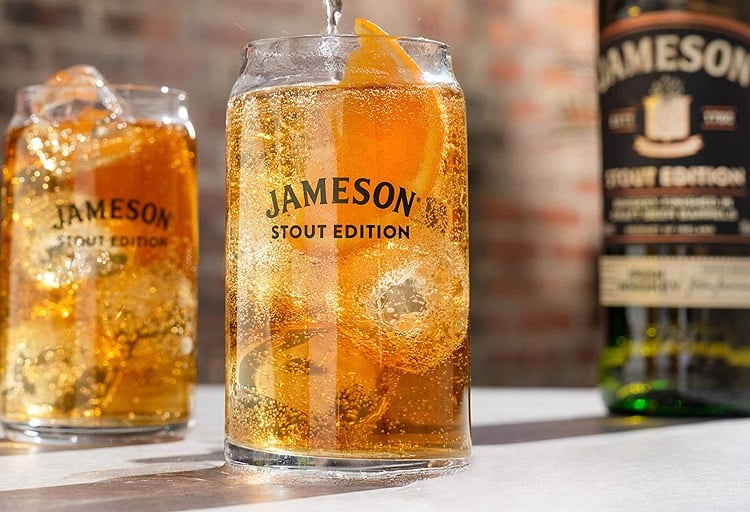 Jameson Caskmates is a delicious combination of quality whisky and subtle stout flavors and aromas. Upfront the whisky comes through pretty quickly and is subsequently followed by fruity hoppy bitterness and sweet creaminess of cocoa beans. This whisky goes down easily with a lingering flavorful finish.
The Color
Jameson IPA Edition has a bold yellow color, whilst the traditional Jameson whisky has a pale gold color. The Jameson IPA whisky is similar in color to that of a quality craft beer. It is a combination of the wooden barrels, flavors, and aromas that contribute to this bold yellow color.

Jameson Caskmates Stout Edition is slightly darker in color when compared to the Jameson IPA Edition Whisky, but not by a great margin. The aging Stout barrels don't influence the color as much as you might think, and the whisky ends up with an enticing rich golden color.
How is Jameson IPA Priced?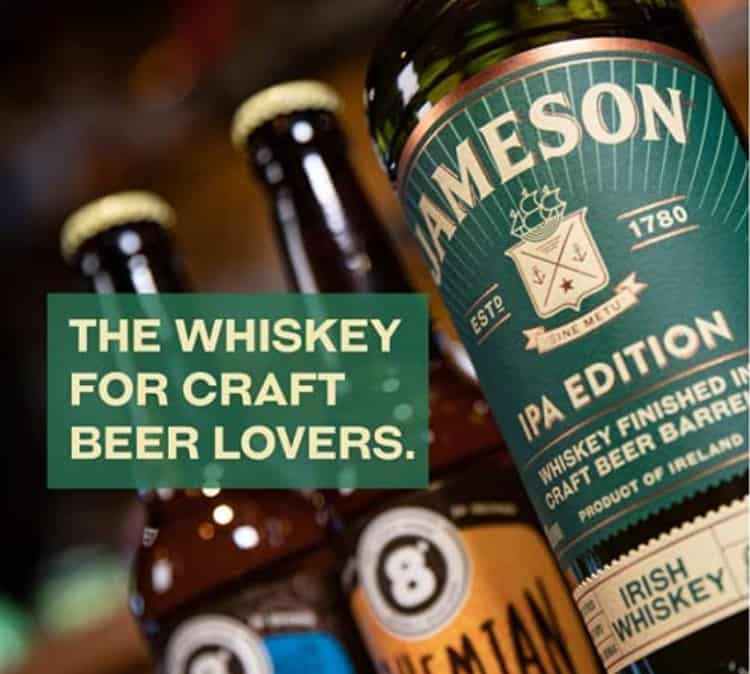 Jameson IPA Edition and Caskmates are, in my opinion, reasonably priced and their prices don't differ much from traditional Jameson's whisky. This is surprising when you consider the amount of extra costs and energy involved.
Packaging
Jameson IPA Edition Whisky is beautifully presented in a 750ml glass bottle, with a stylish and elegant green label. The Jameson logo is simple yet sophisticated, and immediately catches your eye when you look at it. This is offered in a professional cardboard box for extra protection and an additional touch of class.

Jameson Stout Edition Whisky is presented in a 750ml glass bottle, with a similar label to the IPA Edition. It is also stylish and elegant, with a charcoal color and copper trim. This quality whisky is also professionally packaged in an attractive cardboard box. 
Where Can You Buy Jameson IPA Whisky?
Jameson IPA Edition and Jameson Caskmates are relatively new products, and as a result, are not as easily accessible as traditional whisky options. Particularly with regards to small independent outlets and privately owned liquor stores. Most of the larger wholesalers and distributors should be keeping it on their shelves.
You can try Southern Glazers, Break Thru Beverage group or Young's Market Co. If you are unable to locate a bottle you can always try online, numerous companies will deliver it to your door, regardless of your location. The most popular online distributors are Drizly, Liquorbardelivery  and Liquor Liquidator.
Jameson IPA Whiskey Alternatives
In many ways, IPA whisky is still in its infancy stage. A relative newcomer to the market, numerous companies are currently experimenting with this recipe.
Below is a list of four IPA Whiskies that are great alternatives to Jameson IPA Edition Whisky:
Grant's Ale Cask Finish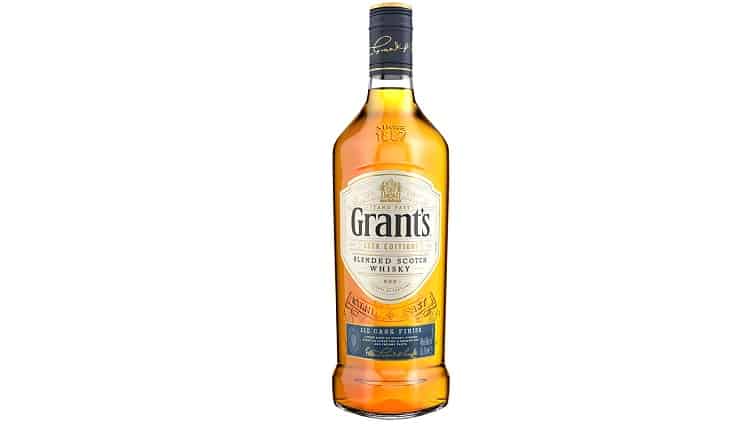 Grants Ale Cask Finish offers the traditional Grant's blended whisky, infused with delectable flavors of fruit, honey, and oak. Additional smooth and creamy malt flavors result in an interesting and satisfying whisky. The whisky is allowed to mature for four months in seasoned beer barrels that originated from a small Scottish brewery. 
New Holland Beer Barrel Bourbon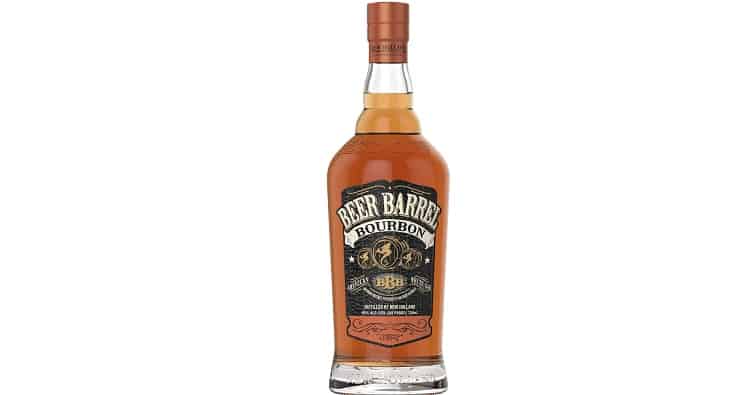 New Holland Beer Barrel Bourbon originated in Michigan and was created by New Holland Artisan Spirits.
This outstanding three-grain bourbon is initially aged in unused American White Oak Barrels, and could take numerous years before the bourbon is perfect. It is then finished in New Holland Brewing's Dragon's Milk Stout barrels for exactly three months.
This exceptional stout lends sweet flavors of caramel and toffee, combined with creamy and malty warm cookie flavors. New Holland Artisan Spirits were the first company brave enough to age bourbon in beer barrels. 
Glenfiddich India Pale Ale Cask Finish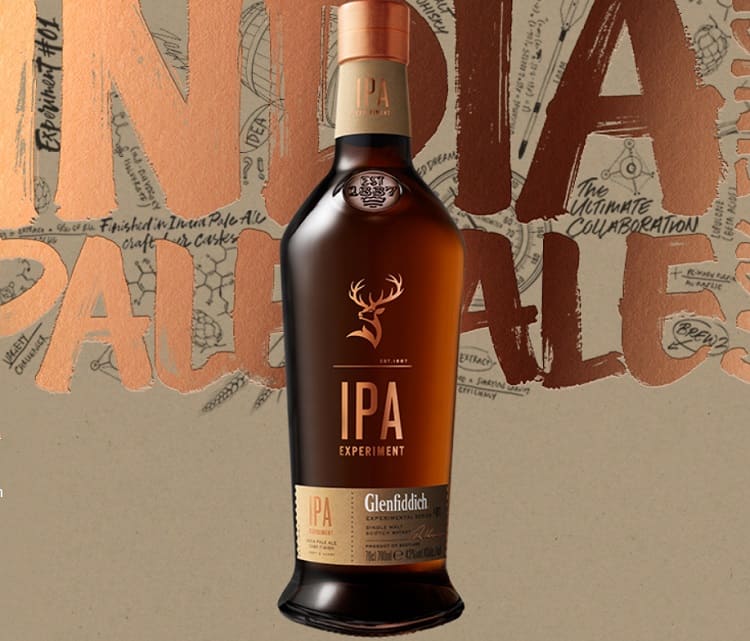 Glenfiddich India Pale Ale Cask Finish source their IPA from a Speyside craft brewer. This local brewer seasoned American oak barrels with a beer specifically produced for Glenfiddich.
These flavorful barrels are then filled with premium single malt scotch and left to finish. When done the transformation is significant, the whisky is initially overpowered by bold flavors of apple, vanilla, oak, and fresh aromatic hops.
On the finish, the distinct flavors of the single malt Scotch whisky come through to remind you just what it is that you are drinking. Glenfiddich was the first guy to introduce single-malt Scotch whisky into IPA barrels and the result is unique and interesting.
Alexander Murray & Co. Polly Oaks

Alexander Murray uses shipping barrels that were once seasoned with Firestone Walker proprietor's Vintage, these finely seasoned barrels are filled with Tullibardine single malt scotch whiskey from the highlands.
The Tullibardine single malt Scotch whisky is subsequently infused with flavors of mild smoke, spice, and grain. Alexander Murray is well-known for producing premium spirits under private labels, so this limited edition whisky may be difficult to find.
Best Beer Pairing Options
Jameson IPA Edition and Jameson Caskmates Whiskies are not only unique but are also quite versatile. Depending on your personal preference or palette, there are numerous types and styles of beer that pair well with these IPA Whiskies.
Jameson IPA Edition Whisky
This style of Whisky has matured in traditional IPA aging barrels, with tastes, flavors, and aromas you would associate with Lager or Pilsner beer. When pairing this whisky, I recommend that you pair it with a beer that shares and compliments those flavors.
You can tone the flavor of IPA Whisky down by pairing with a light-medium American lager or kick it up a notch with a full, intense German-Style Pilsner.
Best Lager Pairing Options

Singha – Singha is a quality beer from Thailand and offers a full flavor with strong malty characteristics. It compliments most food and pairs really well with IPA Whisky. The additional malty goodness adds to a full and refreshing flavor.

Heineken – Heineken compliments IPA Whisky beautifully. The crisp clean flavor of the lager brings the best out of the whisky, and greatly enhances the long smooth finish. 
Best Pilsner Pairing Options

Victory Prima Pilsner – Made in Pennsylvania, this bold Pilsner offers a strong and lingering bitterness. Brewed with Czech and German hops, it adds additional IPA flavors that forcefully compliment the IPA Whisky.

Prince of Pilsen – Made in Georgia, this traditional Pilsner offers a fruity aroma with strong dry hop characteristics. The flavors are bold and intense with outstanding levels of bitterness. 
Jameson IPA Stout Edition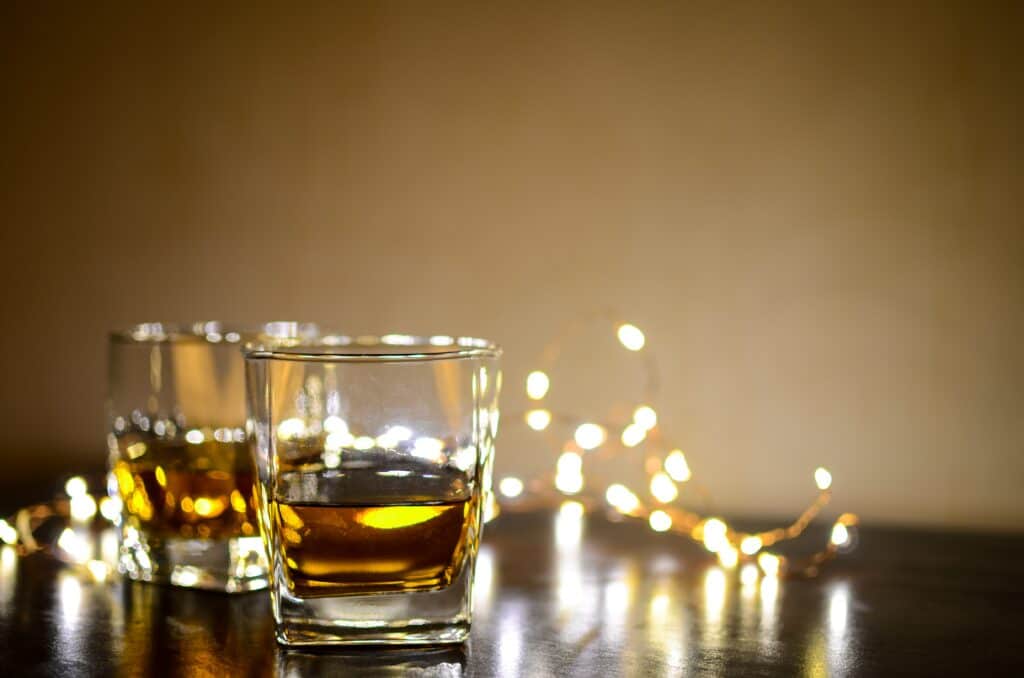 This style of IPA Whisky has matured in Irish Stout Craft Beer barrels, with tastes, flavors, and aromas that you would typically associate with this dark, malty and creamy beer. When pairing this whisky, I recommend you pair it with stout and stay true to the traditional roasted malt and chocolate flavor.
Best Stout Pairing Options
Guinness Extra Stout – The pride of Ireland and the most famous of them all, and for good reason too. Guinness Extra Stout offers a full, malty, creamy taste infused with roasted barley. These flavors pair well with Jameson Stout Edition IPA Whisky, and offers additional tastes and aromas for a delicious and satisfying experience.

Kilkenny Irish Cream Ale – This red ale is seriously smooth and creamy, and offers a delectable caramel flavor. The caramel undertones elegantly compliment the chocolate notes of the IPA Whisky, and results in a smooth delicious finish.
Frequently Asked Questions (FAQ)
Question: How do You Drink Jameson IPA Edition Whisky?
Answer: This whisky is best enjoyed when mixed with lemonade and traditional pale ale. Mix two parts lemonade, two parts traditional pale ale to one part Jameson IPA Edition whisky. Serve in a highball or medium-sized beer glass over ice and garnish with a slice of lime or lemon. 
Question: Who Made the First IPA Whisky?
Answer: The first IPA whisky was the Jameson Caskmates, which was finished in IPA and Stout barrels. 
Question: How Long Has Jameson IPA Whisky Matured For?
Answer: All Jameson Whisky is matured for at least four years in their traditional sherry and bourbon aging barrels. Once they are transferred to the IPA aging barrels, they are left to mature for an additional six months before being bottled.
Question: How do You Drink Jameson Caskmates Stout Edition?
Answer: Fill a highball glass with ice and add 40ml Jameson Caskmates Stout Edition. Add a slice of fresh orange and top up with either still or sparkling water. Finally, add a couple of drops of bitters (optional) and enjoy.
Question: When did Jameson Stout Edition Come Out?
Answer: This interesting blend was first introduced in 2013.
Conclusion
Jameson IPA Edition and Jameson Caskmates are interesting blends of traditional Whisky and bold IPA flavor. I strongly recommend that all beer and whisky lovers give it a try, you might just be pleasantly surprised.
Unlike other types of IPA whiskies, the exceptional flavor of the Jameson is not lost but elegantly complemented by the hoppy, fruity, malty, chocolate, and spicy flavors of the IPA. The IPA flavors gently compliment the Jameson upfront and become more evident on the long smooth finish.
Jameson IPA Edition is something that you can drink any time of the day or night. I enjoy one mixed with lemonade and a medium pilsner when watching the sunset. It is light, slightly hoppier, and refreshing.
If you are a fan of Stout Style Beer, then the Jameson Stout Edition is for you. With creamy malty and chocolate flavors, this is the perfect "after-dinner" drink.