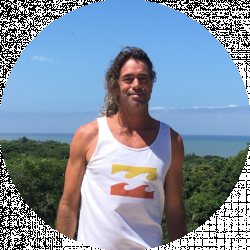 Latest posts by Gavin Eales
(see all)
Guinness Blonde is an American-style Lager that is a collaboration between Guinness, Ireland, and the Latrobe Brewery, Pennsylvania, USA. It is a full-flavored and light-bodied beer, with lovely citrus zest aromas, and fresh hops.
Rich malty flavors are complemented by floral notes and subtle undertones of freshly baked cookies, followed by a crisp and satisfying finish. Guinness Blonde has been executed perfectly, and the result is a type of beer that I can imagine being consumed in the midwest in the early 1900s in large quantities.
Pros and Cons of Guinness Blonde Lager
Pros
Great collaboration between the United States and Ireland

Decent beer with lovely aromas and tastes

Crisp, thirst-quenching, and satisfying finish

 Accessible

reasonably priced
Cons
Not as good as Guinness Gold which has been discontinued
What does Guinness Blonde Taste Like?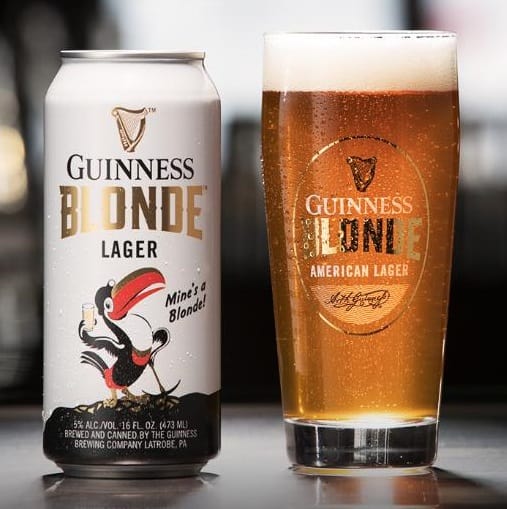 Guinness Blonde is an easy-drinking American Lager that is light-bodied and full-flavored. Upfront you get wonderful aromas of fresh hops and citrus zest. Elegant flavors of rich Malt and freshly baked cookies are followed by a crisp, dry and refreshing finish.
What does Guinness Blonde

Look Like?
Guinness Blonde is a beautiful golden amber color, with medium carbonation, and a thick creamy head. This Lager looks appealing, both in the original bottle and when poured into a Pilsner glass.
The Ingredients
Guinness Blonde is expertly brewed using only the finest ingredients. With exception of the yeast strains, all ingredients are grown and sourced in the United States.
Yeast
Guinness only uses their World famous 125-year-old proprietary Guinness yeast strain, and that was the only condition when collaborating with the Latrobe Brewery to create this unique beer.
Believed to have originated from the world-renowned Saccharomyces cerevisiae yeast strain, the Guinness Proprietary yeast strain is a closely guarded secret that has been passed down from generation to generation.  
Hops
American hops are the soul of this beer, and when creating the recipe, it took numerous attempts before the head-brewer achieved the exact flavors and aromas that Guinness, Ireland were searching for. They eventually decided on these premium ingredients:
The Mount Hood Hop thrives on the pristine Yakima Valley but the strain originated from the infamous Hallertau hop growing region in Germany. It's a versatile hop that works with a wide range of beer styles and is drawn from numerous traditional and modern German beers.
The Mount Hood Hop is prized for its aromatic qualities and offers lovely aromas of floral and spice.
The Willamette Hop is successfully cultivated in the United States but the strain originates from the English Fuggle and Fuggle Tetraploid hops. It offers delicate aromas of floral, fruit, and spice. Willamette hops are typically used to enhance the aroma of the brew and don't offer much in terms of bittering qualities.
The Mosaic Hop is typically used for its exquisite aromatic qualities, particularly those of fresh berries and stone fruit. Additional aromas include spice, herbs, citrus, mango pine, and tropical fruits. When compared to other hops, the Mosaic Hop has a complex fruity profile which results in an extremely versatile and highly sought-after brewing ingredient.
The Mosaic Hop was created by Select Botanicals and the Hop Breeding Company (HBC) in the Yakima Valley, Washington, and has evolved into the sixth most popular hop in the United States.
Malt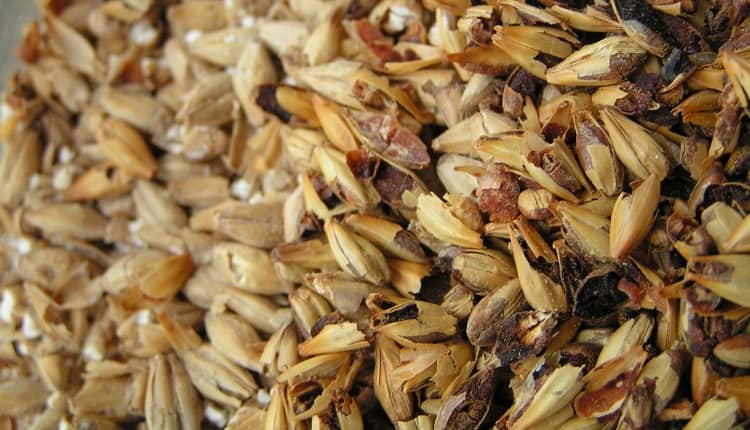 Crystal Malt is a highly sought-after ingredient and a fantastic addition to numerous types of brews. The malting process first allows for the barley grains to be thoroughly soaked and then germinated.
Next, the moisture levels are reduced by about 50%, and while still wet the barley grains are slowly moved past the kiln to the roasting drum. The resulting Crystal Malt forms part of the traditional British Malts, alongside black, amber, chocolate, and brown malts.
Water
The Latrobe Brewery uses high-quality freshwater from mountain streams in the area. Large reservoirs were dug in strategic areas to capture the large amounts of pure mountain water that regularly come down the surrounding mountains. This water is of the highest quality and is rich in minerals, perfect for brewing quality beer.
Alcohol by Volume (ABV)
Guinness Blonde offers an average ABV of 5.0%.
The Fermentation Process
Guinness Blonde is expertly brewed using a bottom-fermentation process. This process allows specialty yeast strains to operate at the bottom of the wort during this vital stage of the brewing process. This method is typical when brewing most Pilsners and lager-style beers, but there is something unique about the Guinness Blonde fermentation process.
Bottom-fermentations (Pilsner and Lager) take place at cooler temperatures than those of top-fermentations (Ale and Pale Ale). The maximum brewing temperature for bottom-fermentations is considered to be 15 degrees C (59 Degrees F). When completing the first test batch, the head-brewer was not satisfied with the result.
He brewed the next batch at 18 degrees C (64 Degrees F) which was previously unheard of and subsequently catapulted the brewing temperatures into the Ale and Pale Ale category. The result was the Guinness Blonde that we are all drinking today, and each bottle is brewed to that same recipe.
Packaging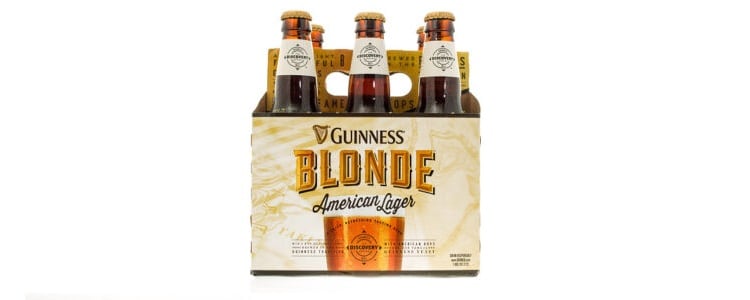 Guinness Blonde is professionally presented in brown 11oz glass bottles and 12oz cans. Each bottle and can features an attractive label that gives the feel of an all-American Lager. It is subtle with white with black and gold font. I think it is the subtleness and great color choices that make this label so appealing.
The 11oz glass bottles are available in convenient and sturdy 6 packs cardboard, which are professionally branded and feature a comfortable handle. The 12oz cans are available in 24 pack cardboard boxes that are professionally branded and easy to carry, transport, and store.
Where Can You Purchase Guinness Blonde?
Guinness has a massive footprint globally therefore Guinness Blonde American Lager can be purchased almost anywhere. In the United States, you can get Guinness Blonde (bottles and cans) from local liquor stores, convenience stores, and numerous gas stations.
Supermarkets like Tesco and Walmart also carry stock, and large liquor distributors like Joe's Channel, B-21 Fine Wine and Spirits and Total Wine and more ship Guinness Blonde all over the United States.
My preferred method is to purchase online. There are numerous companies like Drizly, BottleBuzz, and Taste that will deliver delicious Guinness Blonde to your doorstep.
About the Brewery
The Latrobe Brewery has a rich brewing heritage dating back to the 1800s. It was founded as part of the Pittsburgh Brewing Company in Latrobe, Pennsylvania. In 1939, the Brewery introduced the Rolling Rock beer, a great tasting beer combined with iconic small green bottles.
Rolling Rock beer put the brewery on the map and it quickly grew into one of the largest beer producers in the United States.
In 1987 the brewery was sold to the Labatt Brewing Company and was then purchased by Interbrew in 1995. Interbrew was a Belgium brewing conglomerate corporation that merged into InBev in 2004.
Additional Guinness Products
Guinness has over 20 different types of beer and continues to push the brewing envelope with the same passion and love as when they first started brewing back in 1759. Stout), they are all interesting and note-worthy brews:
Guinness Hop House 13 Lager

This Lager is big on hops and is full-flavored. Traditional Guinness yeast, Irish Malted Barley, and an interesting blend of Australian and American hops all come together nicely to form a crisp, dry, and refreshing Lager. Upfront you get aromas of floral, fresh hops, and citrus, followed by bold hop flavors with subtle notes of peach and apricot.
The finish is crisp, dry, and satisfying. Guinness Hop House 13 Lager is a modern and surprising beer, it is rich golden amber in color, features a thick white head, medium to high carbonation, and an ABV of 5%.
Guinness West Indies Porter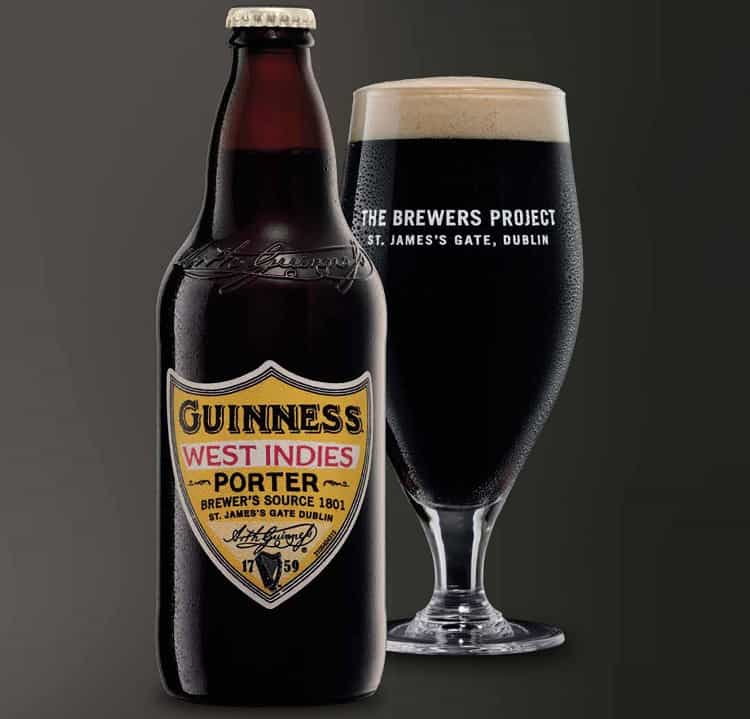 This quality Porter was inspired by an ancient Guinness recipe dating back to 1801. Upfront you are overwhelmed with lovely aromas of caramel and toffee, with light notes of chocolate.
These lovely aromas are followed by delectable flavors of chocolate and coffee. The finish is smooth, sweet, and refreshing. Guinness West Indies Porter has a wonderful ruby ​​red color, features a thick meaty head, and an above-average ABV of 6%.
Guinness Golden Ale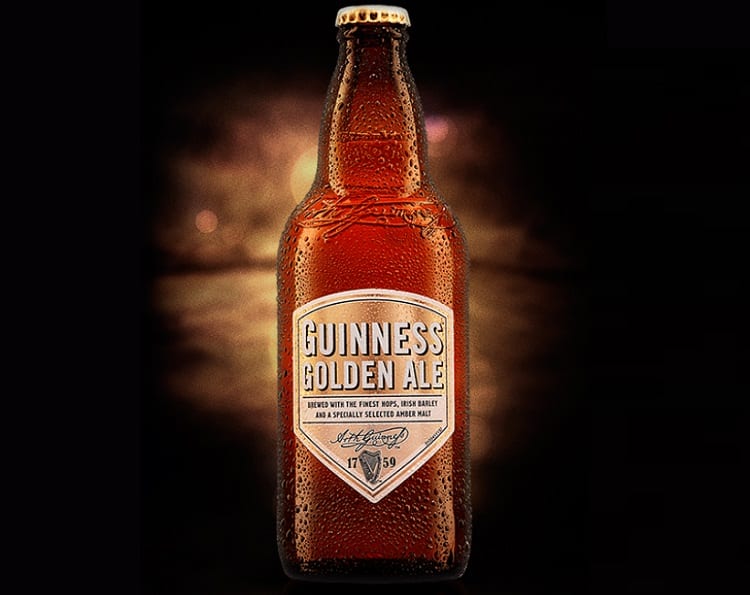 The lighter side of the Guinness beer, the Golden Ale is slightly sweet but still offers fresh flavors from the Celia hops. Upfront you get fresh hop aromas with subtle notes of Irish malt. Lovely tastes of freshly baked cookies and malt are followed by flavors of fresh hops. The finish is clean, crisp and dry.
Guinness Golden Ale is rich golden-yellow and offers an ABV of 4.5%. This is a great tasting Ale and I strongly recommend that all beer lovers give it a try.
Guinness Black Lager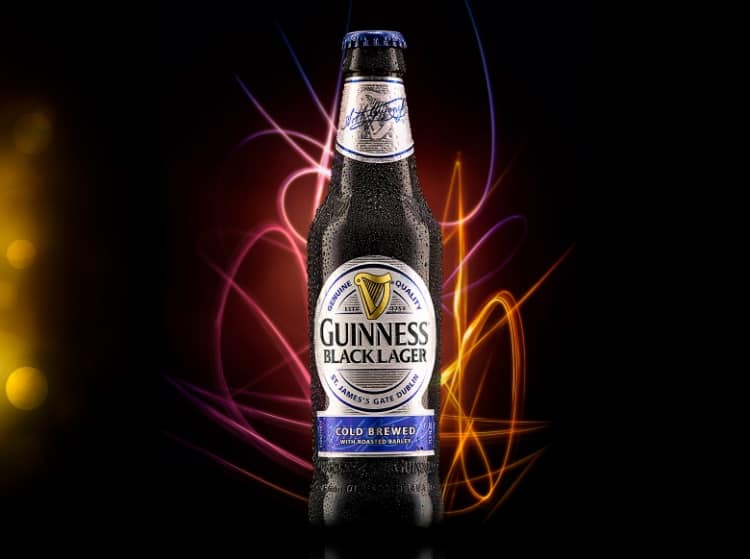 This is a type of Lager you would expect from the St. James' Gate Brewery in Dublin. It has a deep dark color, a small frothy head, and an ABV of 4.5%. Guinness Black Lager offers lovely fruit and floral aromas, perfectly balanced with soft notes of roasted malt.
Flavors of sweet and roasted malts are followed by a crisp, light, and slightly hoppy finish. The use of American Cascade and Saaz hops works well and results in a traditional Lager taste and feel. Guinness Dark Lager looks dark and heavy but is surprisingly light and fruity.
Guinness Smooth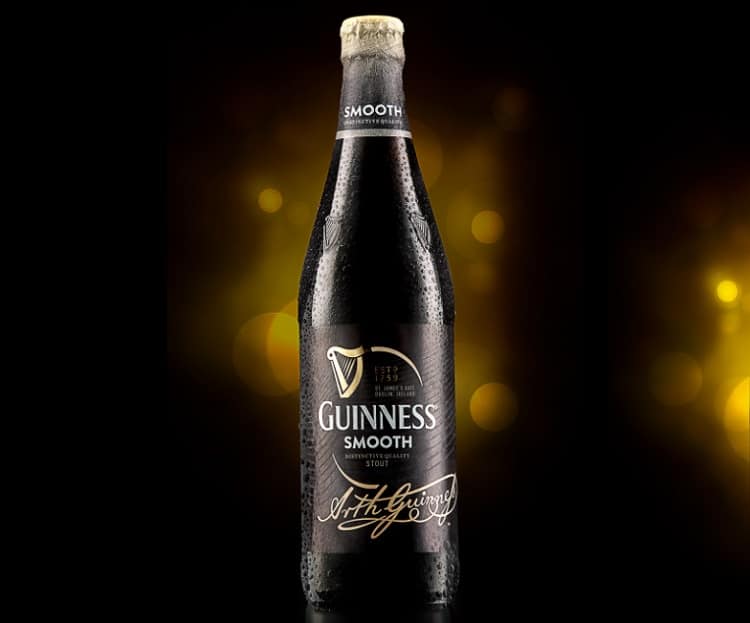 This elegant beer offers all the qualities of traditional stout with an incredibly smooth finish. The exceptionally smooth finish is achieved by infusing the Stout with Nitrogen Gas, a practice created by Guinness in the 1950s. Guinness Smooth offers aromas of sweet roasted barley and malt, followed by tastes of malt and roasted barley.
American Cascade and Saaz hop perfectly balance the sweetness of the roast, offer mild hoppy bitterness and the result is a world-class beer. Guinness Smooth is dark in color, features a thick creamy head, and offers an ABV of 5%.
Guinness Foreign Extra Stout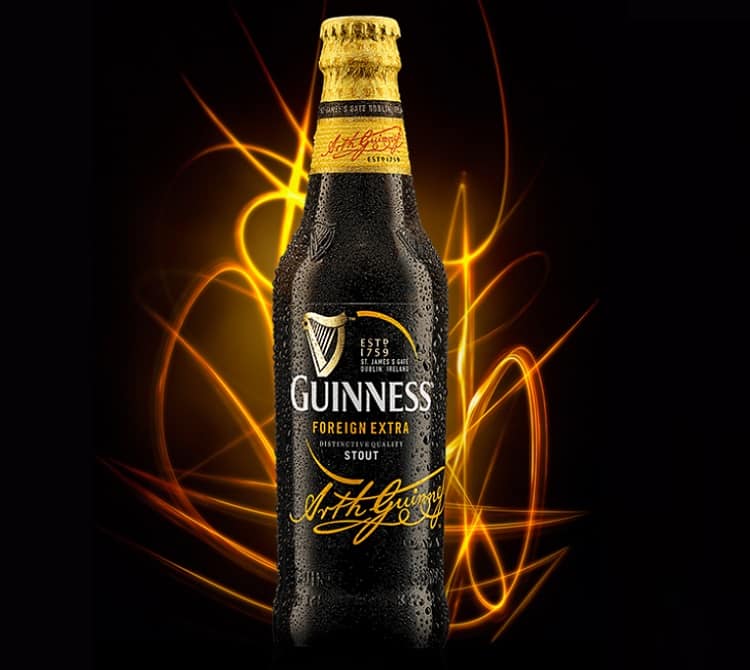 This is a fantastic full-bodied and full-flavored beer with strong aromas of roasted malt and sweet fruit. Tastes of sweet fruit and roasted malt are followed by a dry and refreshing finish.
Guinness Foreign Extra Stout has a dark black color and features an attractive creamy head. Except for intense hop flavors and aromas, this beer is indicative of a full-flavored IPA beer with an impressive ABV of 7.5% to match.
Guinness Blonde Alternatives
Below are five quality alternatives to Guinness Blonde American Lager:
Redhook Blonde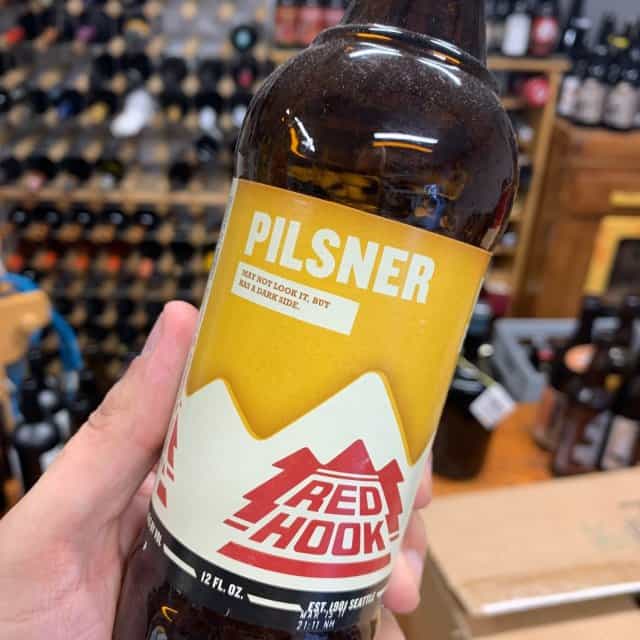 Redhook Blonde is a wonderful combination of authentic Ale and a traditional Lager. Produced by the Redhook Brewlab in Washington, it uses two types of hops and three varieties of malt to achieve its unique and refreshing taste. Flavors of hops, wheat, and lightly roasted malts are followed by a smooth and delightful finish.
Goose Island Blonde Ale
Goose Island Blonde Ale is proudly produced by the Goose Island brewery in Chicago. This interesting light-bodied beer offers aromas of fresh grain and sweet malt that are followed by lovely fruity flavors of pear and juicy nectarine. It offers a decent frothy white head, medium carbonation, and an ABV of 4.2%.
Kiwanda Cream Ale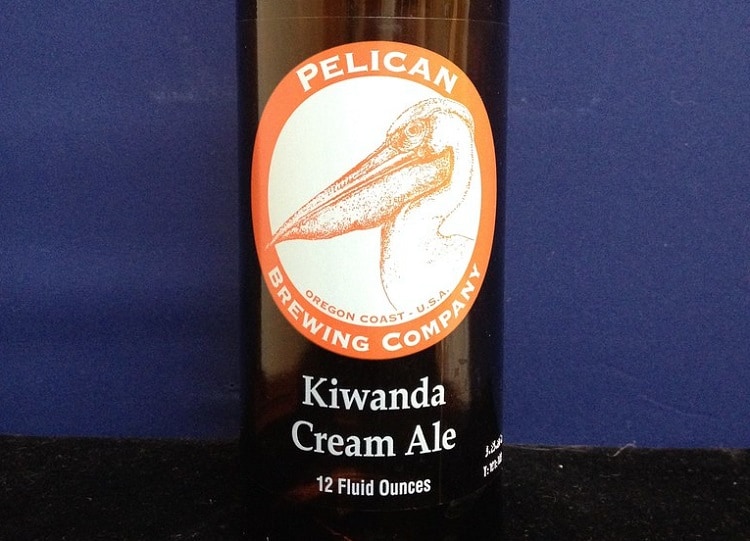 Kiwanda Cream Ale is produced by the Pelican Brewing Company at the start of the gorgeous three Capes Scenic route in Oregon, and is inspired by a 200-year-old recipe.
This delicious beer offers fresh fruity and floral aromas with lovely tastes of sweet rich malts. The finish is well-rounded, dry, and refreshing. Kiwanda Cream Ale is pale gold, offers a thin medium head and an above-average ABV of 5.4%.
Busty!

Farmhouse Blonde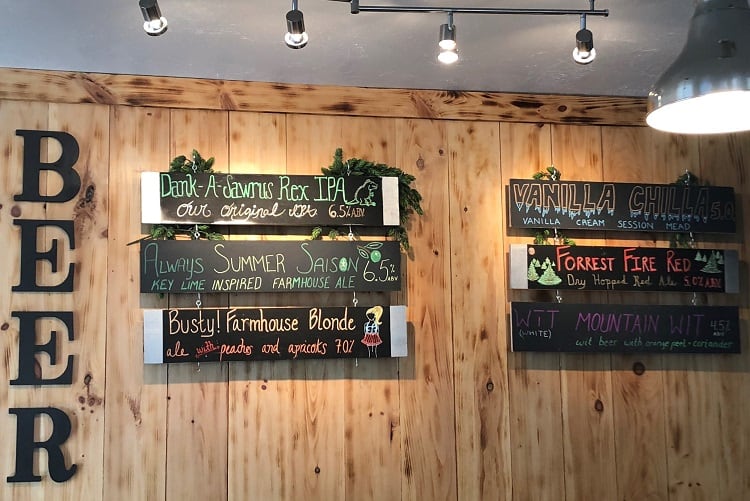 Busty! Farmhouse Blonde is as interesting as its name. Produced by the Burnt Timber Brewing Company in Wolfeboro, New Hampshire. Upfront you get bold and intensely fruity aromas of apricot and peach, followed by smooth flavors of fresh vanilla, sweet honey malt, and fruity hops.
The finish is smooth, crisp, refreshing, and memorable. This light-bodied red is full of flavor and offers an ABV of 7.0%.
Big Wave Golden Ale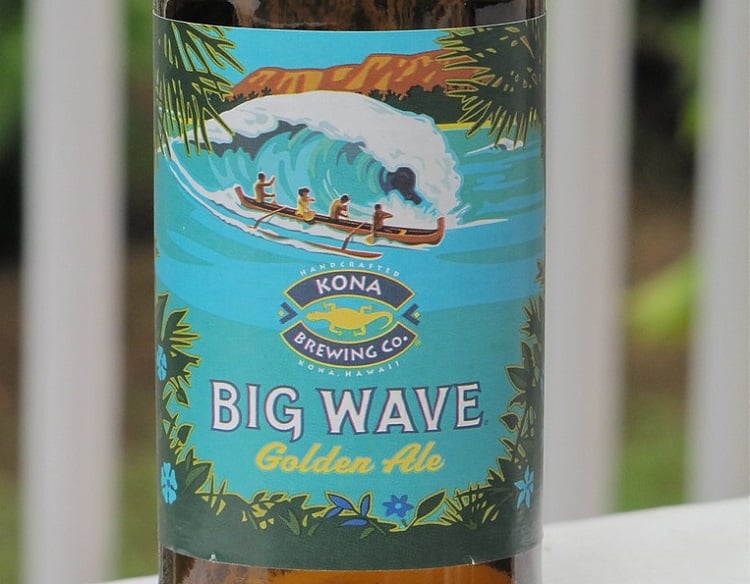 This quality light-bodied Ale is produced by the Kona Brewing Company in Kailua-Kona, Hawaii. A laid-back easy drinking Ale that offers aromas of fresh hops and tropical fruits. Elegant flavors of fruity hops and rich caramel malts are followed by a delicious, smooth, and thirst-quenching finish.
Big Wave Golden Ale offers an ABV of 4.4%. This is another beer that you must try, it is delicious and leaves you wanting more.
Frequently Asked Questions (FAQS)
Question: Does Guinness Still Make Guinness Blonde Lager?
Answer: Since its launch, Guinness Blonde has been brewed by the Latrobe Brewing Company in Pennsylvania. An additional 100 hectoliter brewery has been built on-site, to continue brewing Guinness Blonde American Lager.
Question: Is Guinness Blonde a Hoppy Beer?
Answer: Guinness Blonde has been brewed using Mt. Hood, Willamette and Mosaic hops. It can be considered a hoppy beer with bold hop aromas, mild levels of spiciness, and an above-average hop bitterness when compared to other American-style lagers.
Question: How Long does Guinness Blonde Lager Last?
Guinness Blonde is made with all-natural ingredients with no condoms, therefore it should be consumed while it is still fresh. It has a maximum shelf life of ten months and should be consumed within this period.
Question: Is Guinness Blonde a Nitro Beer?
Answer: No, Guinness Blonde is an authentic American Lager that has been brewed and fermented naturally. Nitro Beers undergo a process whereby the beer is infused with Nitrogen Gas, this process ensures an exceptional finish to the beer.
Question: Is Guinness Blonde an IPA?
Guinness Blonde is not an IPA (Indian Pale Ale), although the company has recently introduced an IPA-style beer called Guinness Nitro IPA. This IPA is brewed using more hops and results in a full-flavored beer with a high ABV.
Additionally, this IPA-style beer has been infused with Nitrogen Gas to create a full-bodied and full-flavored beer with a silky smooth finish.
Conclusion
Guinness Blonde is a light-bodied and full-flavored beer that offers lovely aromas of fresh citrus and fresh hops. Sweet malty flavors are elegantly complemented by floral, earthy notes and subtle undertones of freshly baked cookies. The finish is crisp, slightly dry, and satisfying.
I wouldn't say that Guinness Blonde is a world-class or even a great beer, but it is a good beer. To create an authentic American Lager, Guinness put massive amounts of trust into Joe Gruss from the Latrobe Brewing Company.
Except for the yeast strain, all ingredients are sourced from the US and the entire brewing and fermentation process takes place on US soil under the watchful eye of an American brewer.
This could not have been easy for Guinness but in doing so they have achieved their goal and created an authentic beer that is deserved by the name "American Lager".
Guinness Blonde is an easy-drinking beer that goes down well during the day and at night. Although it is full flavored, it is a light beer and pairs well with food, particularly seared fish and pasta. I enjoy a cold Guinness Blonde on a Sunday afternoon while watching sports.