A classic old-school IPA with a juicy taste and medium-light body, the Fiddlehead IPA is an easy-to-drink ale. This flavorful beer is a by-product of three different strains of hops.
Even with less alcohol by volume, the Fiddlehead IPA promises to give you a good drinking experience! Continue our Fiddlehead IPA Review and Guide to find out everything you need to know about this IPA.
Key Features of Fiddlehead IPA
Flavor: Sweet flavor with a hint of citrus undertones
Color: Honey-colored with a frothy white head
Aroma: Citrus, pine, and tropical aromas
Mouthfeel: Juicy yet dry
Bitterness: Mild bitterness
Alcohol Content: 6.2% – 6.5%
What Does Fiddlehead IPA Taste Like?
The golden yet hazy pale orange pour is a blend of magnificent hops combined with yeast, water, and malt. While it has a bit of a dry aftertaste, the semisweet flavor will leave you wanting more.
A hint of grapefruit, lemon, and citrus with a malt base gives the Fiddlehead IPA a pleasing bitterness that beer lovers go for.

The Color
The Fiddlehead IPA is a pale honey-colored cloudy beer with a two-finger head. The long-lasting beer foam leaves sheets of glace as the foam recedes. This hazy amber pour has a frothy white head with excellent retention.
Fiddlehead IPA Ingredients
Water: As discussed in the Bass Ale review, water is the key ingredient of any beer recipe. When it comes to brewing Fiddlehead IPA, the pH of water identifies and decides the bitterness to sweetness ratio in the beer.
Hops: Fiddlehead IPA Beer is made with hop varieties. Hops keep the Fiddlehead IPA frothy and give it a fresh flavor. Moreover, hops give beer its taste and fragrance. The hops used in creating Fiddlehead IPA are Simcoe, Centennial, and Citra hops.
Yeast: For every beer, let it be Fiddlehead IPA or any other, yeast is necessary for efficiently breaking down glucose particles into alcohol and CO2.
Malt: Malts contribute the most in laying down a solid foundation of Fiddlehead IPAs taste. The hazy light yellow color of the beer is driven straight from the malts used.
The Fermentation Procedure
As straightforward as it may sound, the fermentation procedure isn't easy at all. It is the most crucial stage of beer-making because this step decides what the beer looks, tastes, smells, and feels like.
The fermentation procedure of Fiddlehead IPA can take between a week or two. The Fiddlehead IPA fermentation starts like every other beer fermentation. The process begins with the wort getting placed into a fermentation vessel that has already gotten injected with yeast.
Once the fermentation of Fiddlehead IPA takes the lead, all sides of the fermenter get sealed to ensure no air is entering the fermenter. Outside air is likely to enter the fermenter and contaminate the yeast if the openings of the machine aren't sealed properly.
As the fermentation process is carried forward, the yeast starts settling down the fermenter. Once the beer is at the peak of its fermentation, all the yeast accumulated on the downside. After the fermentation procedure of The Fiddlehead, IPA beer is completed, the yeast is removed and extracted to be used in future fermentations. The remaining yeast can be used as long as it mutates and develops an unrecognizable flavor.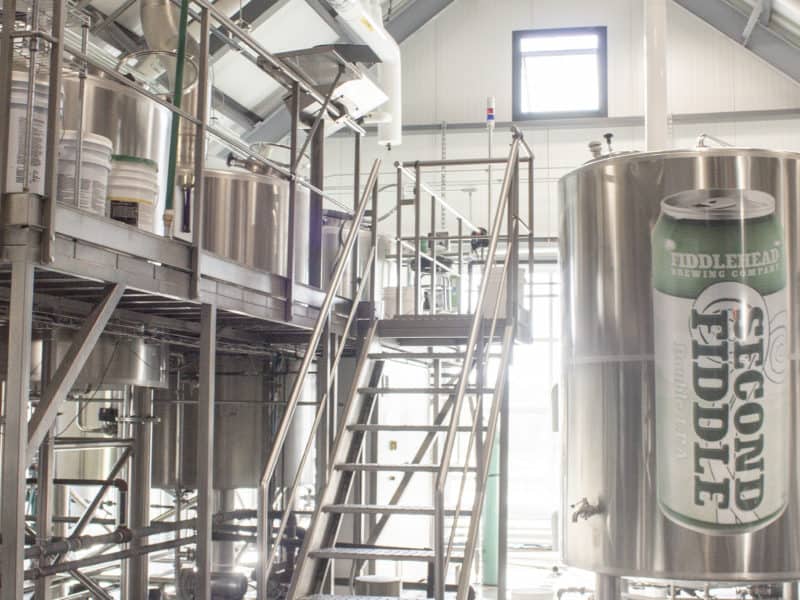 The measurement of alcohol content is the next step that should be completed. When a specific gravity level is acquired after fermentation, the alcohol content is measured. The long vent vessel that emits CO2 is closed if the Fiddlehead IPA beer has an appropriate alcohol percentage.
The vent tube is now closed and packed, and the fermenter has absorbed all of the carbon dioxides. This starts building up pressure in the beer, and carbonation to the fermenter is added. However, more carbonation is added to the Fiddlehead IPA when it reaches the last stage.
The beer is left to relax after it has been carbonated and the fermentation process has been completed. The remaining yeast settles down after the liquid is cooled, allowing it to be removed and saved for upcoming fermentations. Other solid particles, such as undesired protein, are also removed from the solution during the chilling stage.
Moving towards the end of the fermentation procedure, the Fiddlehead IPA moves from the fermenter to the filter, where it is settled for cooling down. The beer then proceeds to the Bright Beer Tank.
This is the part where carbonation is manually added to the Fiddlehead beer through a porous stone. From this stage, the beer is sent to be bottled and kegged.
Fiddlehead IPA ABV (Alcohol by Volume)
With a 6.2-6.5 percent ABV, the Fiddlehead IPA is a delicious and superb beer. It has an IBU rating of 53. This hazy, well-balanced IPA has a little bitterness, a medium body, moderate carbonation, and a crisp finish! It gives off a strong grapefruit, pine, papaya, and resinous state. It is pronounced as the perfect beer to satisfy your taste buds, give you a worthwhile after-taste and a slight buzz!
The Bottle Packaging
The Fiddlehead IPA's bottle design is sleek and contemporary. The pour is housed in a 12.0oz bottle with a unique design. These bottles and cans come in 6-, 12-, and 24-pack cardboard packaging, making them easy to transfer and carry from one location to another.

Where to Purchase Fiddlehead IPA?
Since 2011's New Year's Eve, the Fiddlehead IPA beer became popular among all beer lovers. Now after almost a decade, it is widely available across all states. You can buy Fiddlehead IPA from local liquor shops and supermarkets like Walmart. You can also buy it from online retailers such as Hopculture, Craftshack, Drizly, and total wine.
How did Fiddlehead Brewery Begin?
The doors to Fiddlehead Brewery were opened on New Years' Eve of 2011 by Matty O Cohen in Shelburne, Burlington. The brewery was initiated with only 30 barrels of capacity and 15 barrel systems. The Fiddlehead IPA gained enough recognition and support from people in the first month at more than 50 bars and restaurants in Vermont.
With time, the brewery and Fiddlehead IPAs demand increased, and soon a 10000 square foot brewery was opened in 2017 for production behind the tasting room. With more space, more fermenters and equipment were brought to increase production.
Where is Fiddlehead IPA Brewed Today?
Although the Fiddlehead IPA is distributed in many states of the USA, such as New York, Manhattan, New Jersey, and to this date, it is brewed and tasted in Shelburne. The tasting room, however, remains at the original Shelburne Rd. location.
Pros and Cons of Fiddlehead IPA
Pros
Very flavorful with a lasting taste
Moderate carbonation
Widely available in stores and online
Delectable flavors of malt
Cons
It gives off a dry and bitter aftertaste
Expensive- a little overpriced in the IPA beer segment
The last sips create a minor burning hop sensation which is evident in the taste
Additional Fiddlehead Brewing Company Products
Second Fiddle Beer
The Second Fiddle IPA is a bright amber beautiful beer with a very dense white head. The taste of the beer is super minty. Giving a hint of flavors such as Citrus, Pine, and Tropical, the Second Fiddle IPA is juicy yet very dry-hopped.
With an alcohol by volume of 8.2%, this beer is the best for those who are hunting for a blast of alcohol with more flavors and less bitterness.
Golden Grillz Beer
A dusty golden peach-colored beer with a very thin, less foamy head, the Golden Grillz Beer is considered an easy-drinking pale ale. With an alcohol concentration of as low as 5.2%, this beer is dry semi-sweet to the bitter aftertaste.
After Fiddlehead IPA, this is the perfect summer brew for you!
Ghost Hits Beer
If you are a fan of vanilla-flavored low-on alcohol beers, choose Ghost Hits to get a good hit. This beer contains 5% alcohol by volume and is brewed with Vanilla beans and lactose.
Rarefied Air Beer
The Rarefied Air Beer is a must-try for all those who are diggers for herbal bitterness in beers. This beer has 5% alcohol by volume, is super refreshing yet light to drink.
Mastermind Beer
The Mastermind Beer is high alcohol by volume drink with citrusy hops and moderate bitterness. It is orangey, grassy, and herbal in taste, yet an easy-to-drink beer especially given the 8.1% ABV. A must-try!
Fiddlehead IPA Alternatives
Hitachino Nest White Ale

Hitachino Nest White Ale is a white ale brewed in Hitachino, Japan. It is a pleasant Belgian-style beer with a rich taste of coriander, orange peel, and nutmeg that is gently hopped. It is considered one of the top-selling beers in both the USA and Japan.
Wipeout IPA

The wipeout IPA by Port Brewing Company is a drink of celebration. This West Coast India Pale Ale is brewed in the San Diego style and comprises Amarillo, Centennial, and Cascade hop. With an Alcohol concentration of 7%, this fine beer is available all-round the year.
Interboro Premiere IPA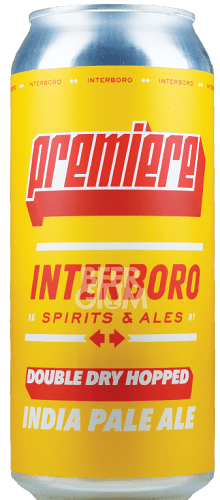 Interboro Premiere is a hazy yellow IPA with tropical and citrus aromas. This IPA is specifically brewed with Vienna and Pilsner malts. This beer is a light, refreshing beer double hopped with Mosaic hop dust pellets.
Frequently Asked Questions
Questions: Is drinking Fiddlehead IPA healthy?
Answer: Although drinking Fiddlehead IPA can be very beneficial for the body, excessive consumption of anything is always bad. If a moderate quantity of Fiddlehead IPA is consumed, it can offer you benefits such as prevention from inflammation, strong building and maintenance of bones, and can be a great help in preventing kidney stones from forming.
Questions: What is the alcohol by volume in Fiddlehead IPA?
Answer: The Fiddlehead IPA is a tasty and fine brew with an ABV of 6.5%. The IBU rate of this beer is 53. This hazy and neatly balanced IPA has mellow bitterness, a medium body accompanied with moderate carbonation, and a clean finish!
Questions: What are the main ingredients used in Fiddlehead IPA beer?
Answer: The Fiddlehead IPA beer is a blend of 3 different strains of hops, water, yeasts, and malts. Unique fermentation procedures and beer crafting techniques are utilized to craft this beer. Although it is a low ABV beer, the buzz it gives is all you need to have in an easy-drinking beer.
Questions: Where is the Fiddlehead IPA brewing company located?
Answer: The crispy yet dry beer, Fiddlehead IPA, is manufactured and distributed by the Fiddlehead IPA Brewing Company. The company is located outside of Burlington, in the Shelburne town. It was initiated by a beer lover back in 2011, on New Year's Eve, and since then, the Fiddlehead IPA brewing company has gained worldwide recognition.
Questions: What does Fiddlehead taste like?
Answer: The unique beer is a combination of three different strains of hops. The taste emphasizes the crisp, accompanied with grassy, lemon, and orange-ish notes. The feel of this beer is juicy yet dry. The body of the Fiddlehead IPA is medium-light while the drink is incisively carbonated.
Questions: How many calories are there in Fiddlehead IPA?
Answer: The all-year favorite beer, Fiddlehead IPA, is considered a low to medium-calorie beer with a score of only 170 calories. The carbs in this beer are relatively lower, too, with only 10 grams. With the seasonality of year-round, this American IPA is pronounced as an easy-to-drink beer.
The Bottom Line
Fiddlehead IPA is a delicious and satisfying beer. Super easy to drink, the Fiddlehead IPA contains a moderate volume of alcohol.
The pale honey-colored cloudy pour has moderate carbonation and is created using the finest fermentation techniques. Running and winning hearts since 2011, Fiddlehead IPA is now easily accessible all over the world.
It's worth the shot if you are looking forward to a nice, foamy, and classy IPA beer!