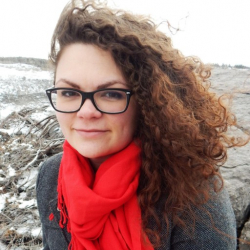 Latest posts by Candace Osmond
(see all)
Measuring a beverage's alcohol content doesn't have to be a long and complicated process. To get the job done, I'm guessing you've been thinking about investing in a refractometer or hydrometer.
Both of these helpful tools can be used for measuring alcoholic percentages, but which one is best?
I'll answer that question, weigh the pros and cons of  Refractometer vs Hydrometer, and go over the key features of these essential homebrewing equipment pieces down below.
There's really no substitute for them, so if you're serious about making your own delicious brews at home, you'll need at least one or the other!
What's a Refractometer?
This is a nifty tool that's used throughout the world for measuring the concentration of alcohol, other beverages, and chemicals.
By adding a few drops of liquid onto a plastic flap covering a prism, the light will refract through the droplets, prism, and the lens to give you a number value on the refractive index.
When making alcohol and testing it with a refractometer, the lower the number that light has been refracted onto the index inside the lens means the higher your alcohol concentration.
Once you get a number reading, you'll need a calculator to solve an equation relating to the type of alcohol you're making. You'll have to add in the number you got from the refractometer's index to get a true reading of what your alcohol concentration is.
What's a Hydrometer?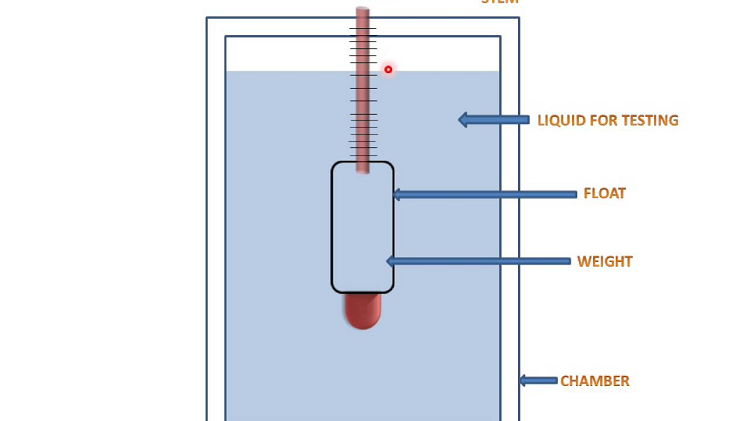 Though these tools are slightly less accurate than refractometers, they're also much easier to use. Hydrometers measure how dense a liquid is. You can buy hydrometers specifically made for measuring the density of alcohol.
You'll need to measure the alcohol's density before and after it ferments. By calculating the difference, you can figure out what percentage of alcohol your beverages contain.
You'll need a few parts to make the hydrometer do its job. Pour your alcohol into the test tube, and then place the float inside to measure the density.
Main Differences Between a Refractometer vs Hydrometer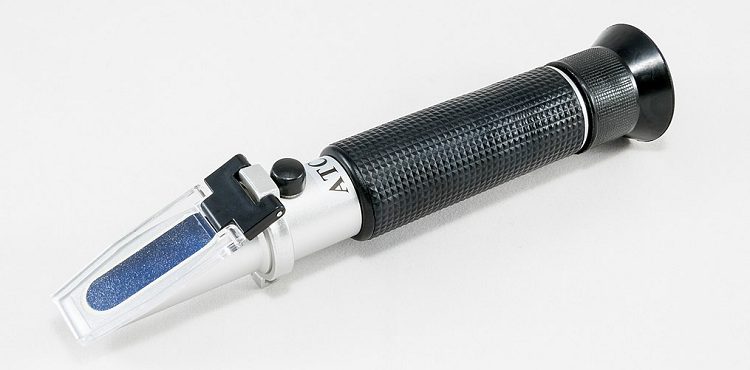 Both refractometers and hydrometers do the same job, but they do it a little differently. Here are some of those differences that set these two vital equipment pieces apart:
Refractometers only require a few drops of liquid, whereas hydrometers need a jar full
Refractometers only require one reading, whereas hydrometers require two readings
It's more difficult to calculate alcohol content using a refractor than a hydrometer
Hydrometers require two pieces of equipment, whereas refractometers only require one
Refractometers measure light refractions, whereas hydrometers measure density
You can get a more accurate reading with a refractometer than a hydrometer
Bottom Line Up Front
The bottom line is that refractometers are more precise than hydrometers, so in terms of quality and results, refractometers win.
Even though refractometers are more expensive than hydrometers, they still aren't very pricey. I wouldn't pay over $50 for a refractometer, so don't expect to spend hundreds on this piece of equipment.
That's not to say hydrometers don't get the job done. If you're home brewing drinks for yourself, friends, and family, there may not be any sense in shelling out the extra money for a refractometer.
Parts of a Refractometer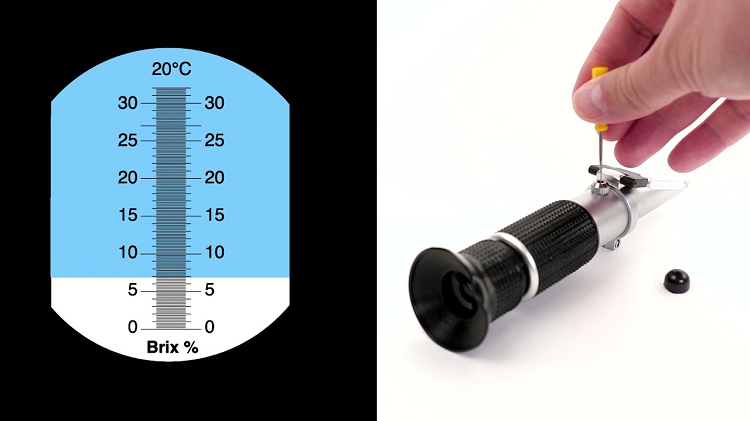 If you do choose to buy a refractometer, it's important to understand what its different pieces do so you'll understand how it works. This is a quick rundown of all the major components of a refractometer. If anything here sounds complicated, don't worry!
The tool itself is doing all the hard work, so all you'll have to do is place a few drops of alcohol on the plastic plate and look through the eyepiece.
Clear Plastic Plate
This is the plastic flap that covers the prism. It's on the opposite end of the refractometer from the eyepiece. Keep the plastic plate covering the prism so that the alcohol only touches the plate.
Prism – This is the piece under the clear plastic plate that will create light refractions. Since light that passes through a prism slows, bends, and expands, this prism will allow light that passes through the alcohol and then into the prism to be measured by the human eye.
You'll be able to measure your drink's alcohol content based on the angle light is being refracted.
Calibration Screw
This is the little knob on top of the refractometer that you can turn to the left or right. Every time you want to use your refractometer, turn the calibration screw and look through the eyepiece so that the scale is set to zero.
Bimetallic Strip
This piece is running along the inside of the refractometer, so you won't be able to see it. When you turn the calibration screw, the bimetallic strip moves so that the refractometer can be adjusted back to zero.
Scale
This is what you'll be looking at through the eyepiece. It will show a vertical number scale that usually reads between 0-20 or 0-25, but the scale can be higher than this.
Focus Adjuster
This circular part just above the eyepiece that moves left and right allows you to adjust your view of the scale.
Eyepiece
You look through this piece to view the scale. It's typically made of hard plastic.
Parts of a Hydrometer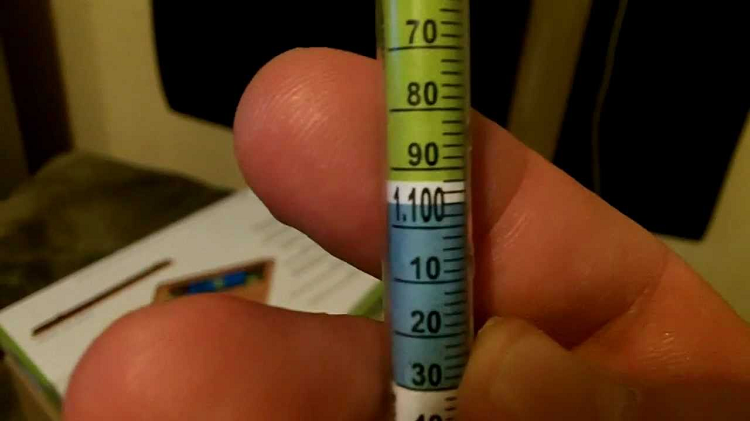 Let's take a look at the parts of a hydrometer so you'll understand how this simpler tool works, too. You'll notice hydrometers have fewer pieces, so there is less to keep track of.
Test Tube
This is the large vial you'll be pouring your alcohol sample into. It should be tall and cylindrical. These are generally made of glass.
Float
This is the small cylindrical glass piece that floats on top of the alcohol in the test tube. It holds the graduated stem and ballast.
Graduated Stem
This is the long measuring stick that sticks out of the float. You need this part to measure water displacement.
Ballast
This is the metallic piece that sits at the bottom of the float to keep it weighed down. With a ballast, the float won't try to capsize in the test tube.
Pros and Cons of Refractometers and Hydrometers
Let's compare what makes refractometers and hydrometers great and not so great. It's necessary to buy one or the other in order to test your alcohol accurately, so these charts can give you a better idea of which is better for you.
Refractometers
Pros

Highly accurate
Not very expensive
Only requires a few drops of alcohol
Very portable

Cons

Pricier than a hydrometer
Can be difficult to understand at first
Hydrometers
Pros

Very accurate
Incredibly affordable
Easy to understand
Not as much math is involved

Cons

Not as accurate as a refractometer
Requires a sizable sample of alcohol
Alcohol must be at a specific temp for hydrometer to function
Key Features of Refractometers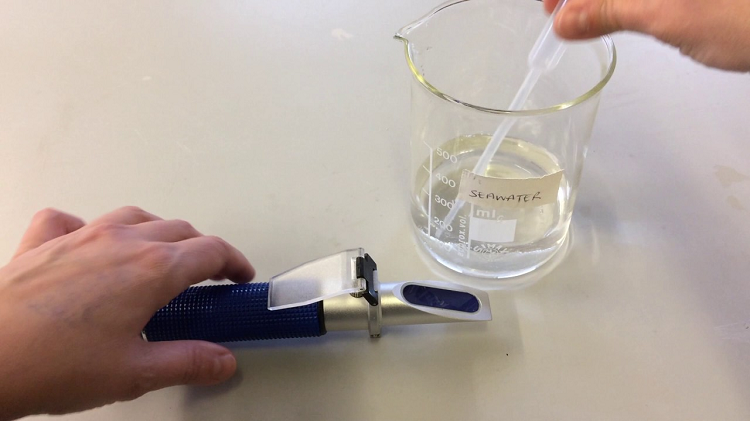 Let's go over some of the key features of refractometers to summarize what we know about them. When you choose to invest in a refractometer for your at-home brewing, know that these handy little tools:
Measure the angle of refraction, which means the angle of light changes in direction
Provide the most accurate readings
Are small and easy to transport
Only require a few drops of alcohol for a sample
Allow you to look through a small lens to obtain your reading
Require more mathematical calculations than hydrometers
Key Features of Hydrometers
Now, let's take a final look at hydrometers. Hydrometers are the less expensive option, and many home brewers agree they've never had issues with inaccuracy when using one. If you choose this tried and trusted tool, it:
Measures the displacement of water to give you a reading
Provides a highly accurate reading, but not as accurate as a refractometer could
Is not as portable since it is typically made of glass
Requires a much larger sample of alcohol than refractometers for your tests
Requires fewer calculations to give you your reading
Is generally accepted as the beginner-friendly option, since they're easy to use
Decision Making Tips
It's time to get serious! When it comes to making a decision and your money is on the line, you want to make sure you get the product that's going to work best for you.
Run through this list of considerations before making your final verdict on whether a refractometer or hydrometer would be the better choice:
Consider how serious you are about making alcohol
Think about how much money you're willing to invest
Research for a well-reviewed and professionally-licensed brand
Consider how much math you're willing to do
Decide which tool would be easiest for you to use
Think about whether you'd like to buy both and see which is best for you
My Best Suggestions for Refractometers and Hydrometers
I'm going to be upfront here and tell you there is no real replacement for a refractometer or a hydrometer. That's why it's essential that if you're making your own brews at home to add at least one of these two tools to your arsenal.
Neither are very expensive, so you won't have to worry about breaking the bank over this. Check them out!
Aichose 0-80% Brix Meter Refractometer for Measuring Sugar Content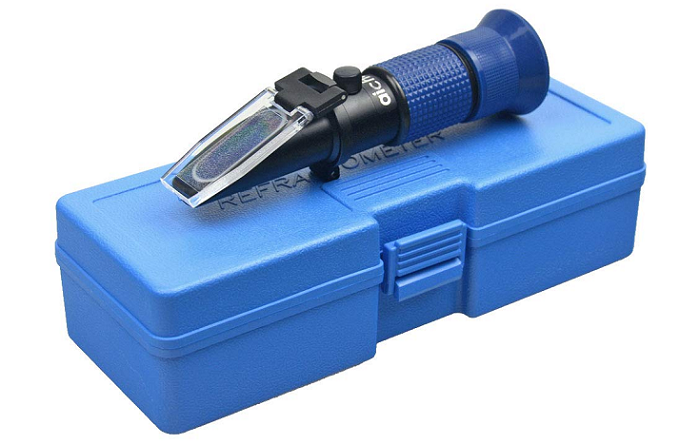 Best For: Accuracy
I love how budget-friendly yet incredibly accurate this refractometer is. Refractometers aren't very big, so they're very easy to transport. This one even comes with a matching blue case. It's able to measure the alcohol content with only a few droplets.
The index on the lens is easy to read, so you won't have to worry about straining your eyes. It also gives a bit of peace of mind that many previous customers left positive reviews.
Key Features
Price Range: $18-$28
Warranty: 30-day free returns policy
Best Feature: Highly accurate
Pros
Portable and comes with a travel case
Easy to use
No batteries required
0-80% large scale range
Cons
More expensive than the hydrometer
Hydrometer – Alcohol – 0-200 Proof and Tralle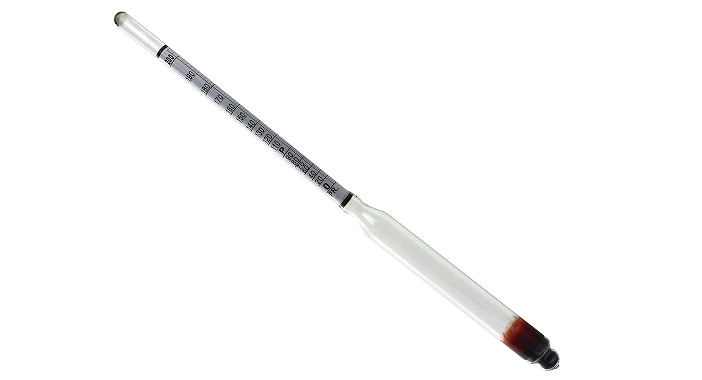 Best For: Price
This hydrometer is very inexpensive, but also very effective. You'll need to buy the hydrometer jar separately, but that won't cost very much, either. What I like about his hydrometer is that it can measure alcohol content from 0-200 proof, or from 0-100%.
That's an even higher range than the refractometer! Keep in mind, this hydrometer is accurate when used with liquor. Don't count on it being as accurate as it needs to be if used on beer and wine.
Key Features
Price Range: $3-$13
Warranty: 30-day free returns policy
Best Feature: Inexpensive
Pros
Very budget friendly
Provides suitably accurate readings
Can test proof ranges of 0-200%
Cons
This doesn't come with a hydrometer jar
Vee Gee Scientific BX-1 Handheld Refractometer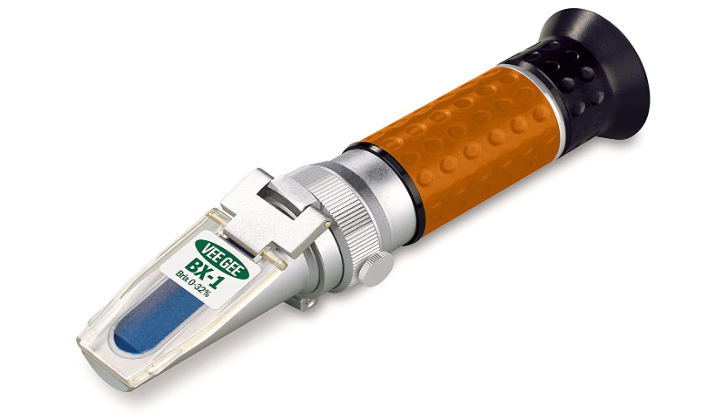 Yes, this refractometer is on the pricier side, but reviewers say it's 100% worth it. It's made with high quality and attention to detail.
It's very accurate in reding sugar contents of not just what you're brewing but also sugary drinks, honey, soups, and even industrial solvents. This is an all-around tool to have in your arsenal.
Key Features
Price Range: $100-$110
Warranty: Check with the Manufacturer
Best Feature: Multi-use tool
Pros
Can be used for several applications
High-quality
Accurate readings
Cons
Triple Scale Hydrometer for Home Brewing

This awesome little hydrometer measures sugar content for beer and wine brewing so it's definitely multi-purpose and great if you do a wide range of home brewing.
It tracks the fermentation process so everything is as accurate as it can be. You should get a great batch every time you brew.
Key Features
Price Range: $8-$10
Warranty: 30-day money-back guarantee
Best Feature: Dual-use
Pros
Compact and portable
Very accurate
Multi-purpose
Cons
FAQs
Since I've said most of what I have to say about refractometers and hydrometers, I'll take some time to answer your most frequently asked questions about both.
Question: Should I Use a Refractometer or Hydrometer?
Answer: Ultimately, the choice is up to you. I recommend refractometers because they're more precise.
Refractometers are more expensive than hydrometers, and they require a tad more math, but I think they're worth it for the accuracy. If you want an exact reading, then you want a refractometer.
Question: Can a Refractometer Replace a Hydrometer?
Answer: Yes, a refractometer can replace a hydrometer. Both perform the same job. Either tool will be essential to you in measuring alcohol content percentages. If you like to ferment your own alcoholic drinks at home, make sure to pick up at least one of these.
Question: Why is a Refractometer Better than a Hydrometer?
Answer: Refractometers give you more precise readings than hydrometers. Due to this, they're generally accepted as the "better" tool. Hydrometers are still quite accurate, but some of us are sticklers.
The Final Verdict Is…
You guessed it! Refractometers take the cake! As you saw above, refractometers are hardly more expensive than hydrometers, yet they give you a considerably more accurate reading.
As long as you don't mind pulling out a calculator and solving a few equations, then I recommend a refractometer for your home brewing. If you wanna learn more about essential brewing equipment, then head over to our website!